Cars and Watches! We are back with another luxury watch, fine jewelry, and supercar collaboration. We paired up a couple of Rolex watches, a stunning sapphire ring and a 2019 Carbon Edition Ford GT, all of which share one element, BLUE grandeur.
After all, the 2020 color of the year is blue!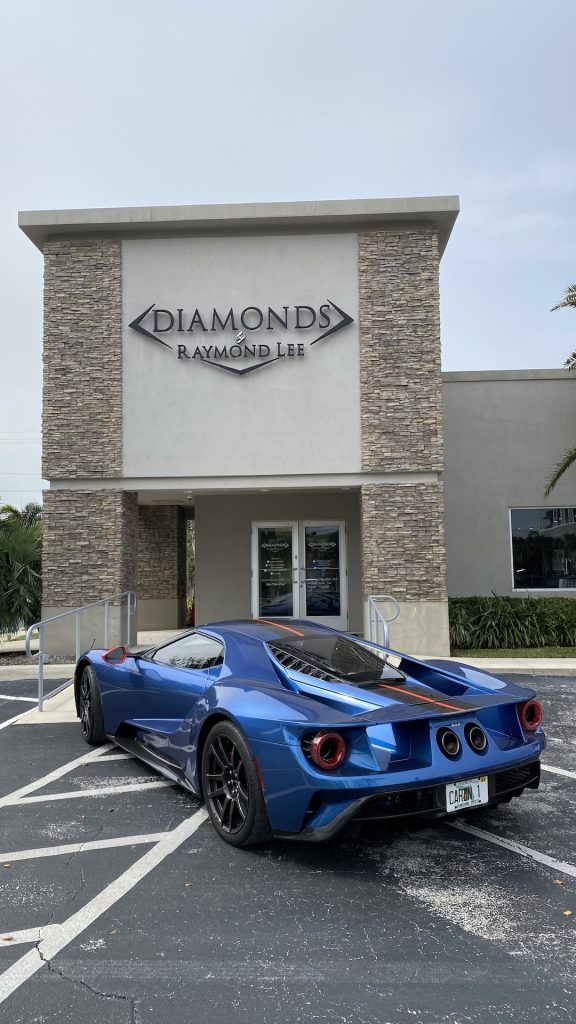 For this photoshoot, we are simply demonstrating how luxury watches and fine gemstone jewelry goes with super cars like Larry's Carbon Edition Ford GT in such a powerful way. This is pure elegance, opulence, and style. This is pure BLUE.
Prepare to be blown away by a combination of natural and man-made beauty. If you love cars and watches like we do, and your favorite color is blue, you are going to enjoy this luxurious ride…
LIQUID BLUE 2019 FORD GT "CARBON EDITION"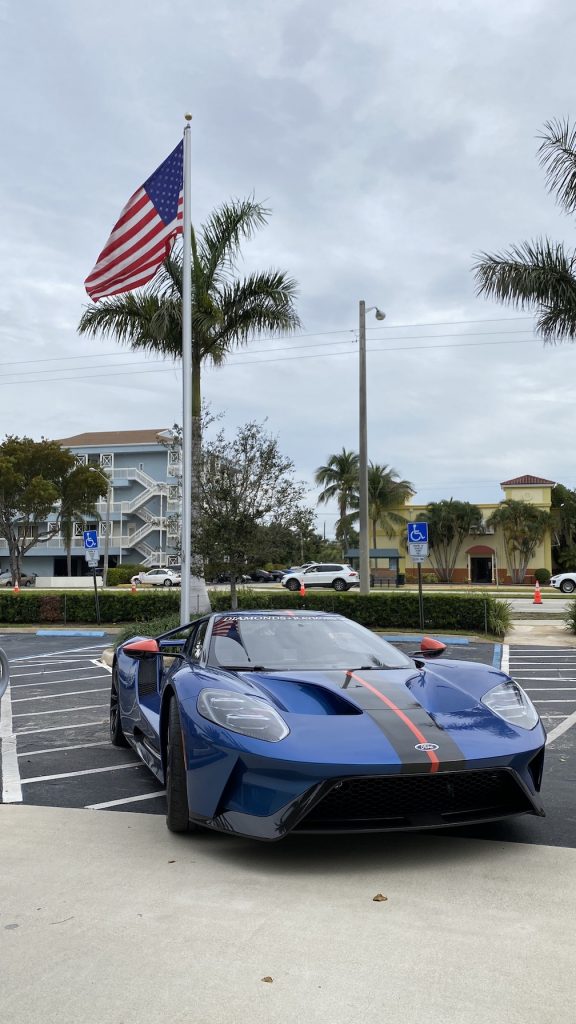 This car is owned by our good friend and Boca resident, Larry Coe.
It is a liquid blue 2019 Ford GT, Carbon Edition!
The Carbon Edition Ford GT is the lightest GT ever made. This is all thanks to its use of carbon fiber, a lightweight material best known for its use in F1 racecars.
Carbon Fiber Everywhere
Although previous GT models have employed carbon fiber in their bodywork, exterior, and interior, none have used it to the extent of this GT, which is why it was donned the "Carbon Edition".
The car features visible carbon stripes, which are highlighted with orange streaks at the center. It also sports carbon side skirts and carbon wheels.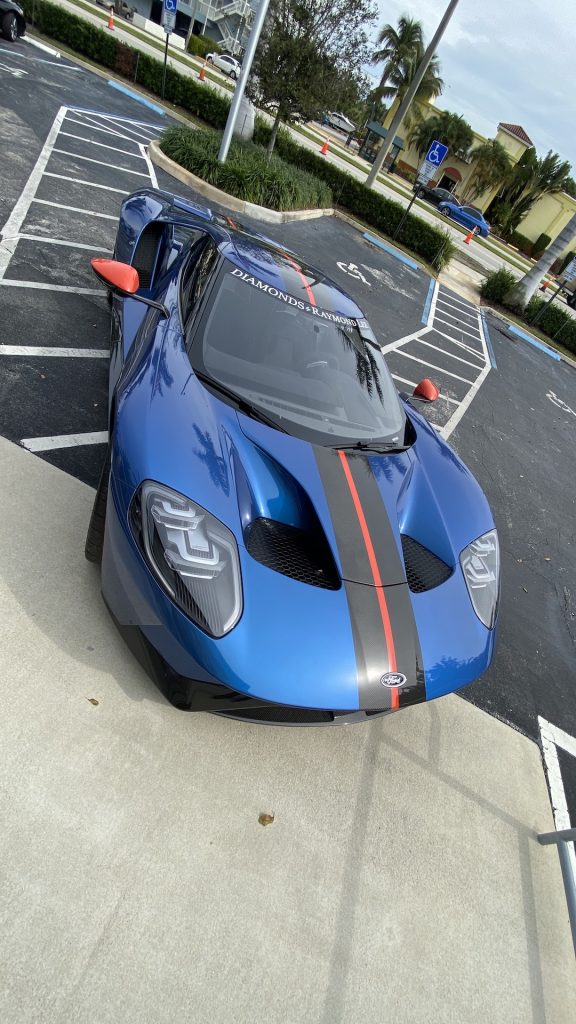 Of course, that's not all. It's the Carbon Edition after all…
It has a carbon base and carbon pillars, taking off a significant amount of weight and helping to boost the speed to "insane" level.
On the interior, the carbon work continues with carbon door sills and a carbon center console. What's more, this car forgets about any unnecessary elements, it is stripped of anything that isn't supercar worthy. Speed over everything…
Rather, it stepped up style and innovations with facets like gorgeous new seat trim and transparent anodized aluminum shift paddles.
The innovations don't end there, this car is aerospace-inventive. We are talking titanium exhausts, titanium lug nuts, and a polycarbonate engine cover and rear hatch.
All of this isn't simply for looks (although it does look badass), it is about taking off weight and jacking up speed too. And this, coupled with a 3.5 liter twin turbo V6 engine that produces 647bhp, makes the GT Carbon Edition really FAST.
How fast is the Ford GT Carbon Edition?
Well, it hits a top speed of 216mph! Faster than most people would ever dare…Moreover, the acceleration is crazy, booting a 0-60 mph in 2.8 seconds. Ford surely took it to the next level with this one.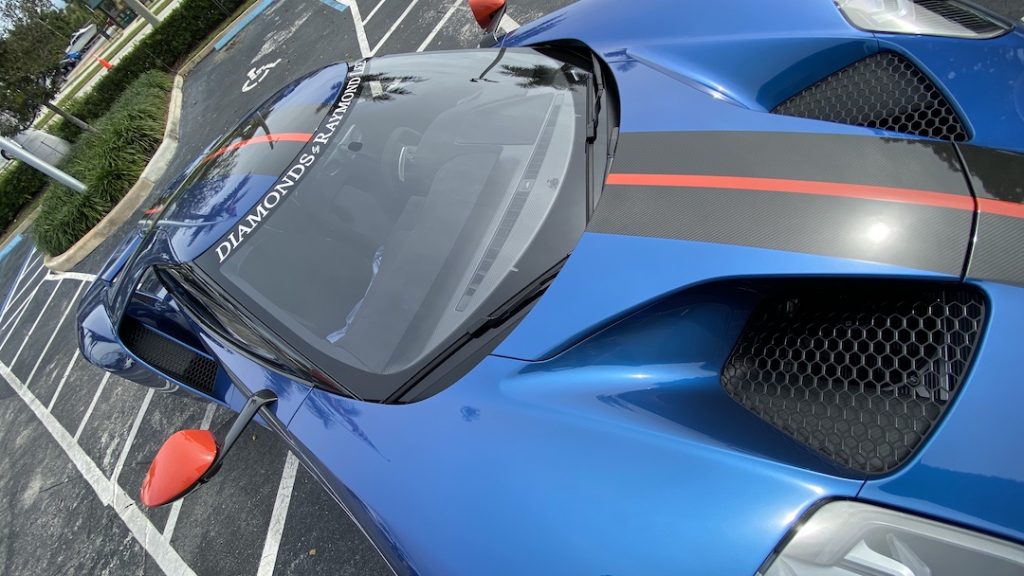 Altogether, this car is the whole package. It has that pure, aggressive, super sports car look, yet with a completely distinct GT appearance, especially when you peep it from the back. It has speed and power that will rival any of the greatest supercars. And, it handles the road and the track with control that brings a kids rhyme to mind, "Jack be nimble, Jack be quick". Jack being the GT. Strange thought…maybe, but very fitting, as this car never turns off the flame.
ROLEX DATEJUST II 116234 – STAINLESS STEEL SUNBURST BLUE DIAL WITH ROMAN NUMERAL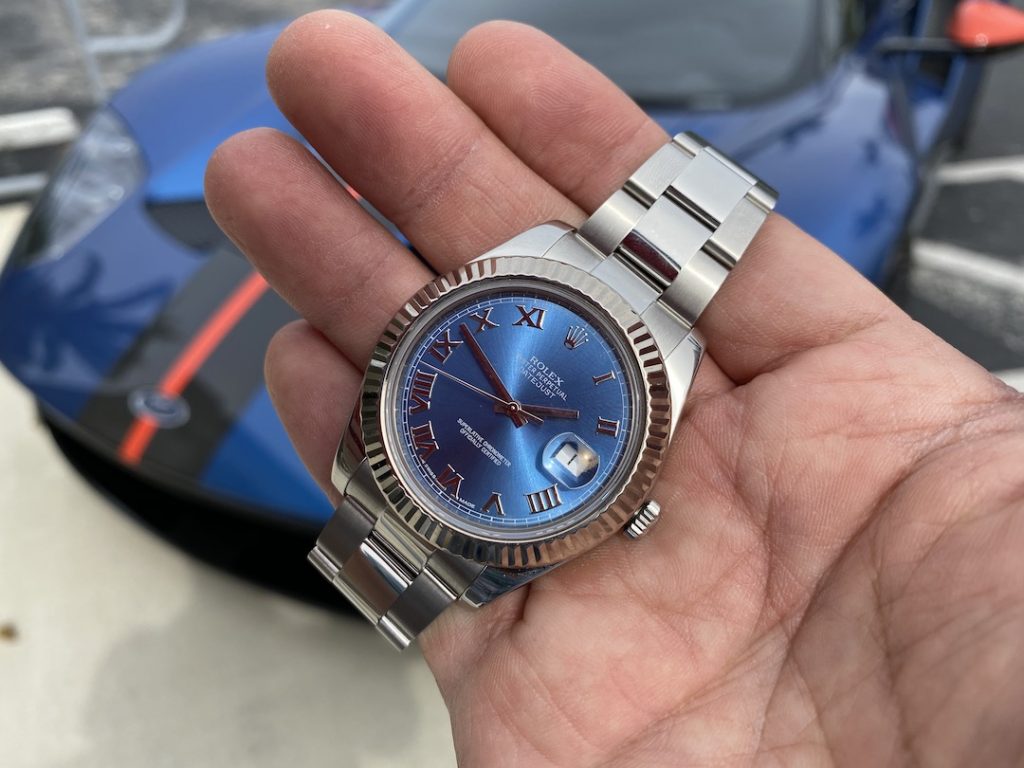 There may be no better partner for this blue Ford GT Carbon Edition than a timeless 36mm stainless steel sunburst blue dial Rolex Datejust. The design and beauty of the Ford GT pairs beautifully with the sophistication and class of the Rolex Datejust II. Both art, both science, and both collector-status.
Reference 116234 is the most modern take on the classic 36mm Rolex Datejust. It succeeds in retaining the DNA of the original Datejust line, yet it brings to attention the modern standards of post-2010 vanguard in luxury timepiece fit, finish, and features. This fluted bezel sunburst blue dial Datejust II in stainless steel is the quintessential representation of grandeur and elegance in the modern time.
Supercar Worthy Rolex
Now, as we all know, the Datejust line comes in a plethora of varieties, having been around since the 1940s. However, this version is particularly righteous in our opinion, especially when it comes time to hop into a sports car of this caliber.

The Oysterbracelet, fluted bezel, sunburst blue dial, Roman numerals, railroad style minute track, and overall classic stainless steel structure is so perfectly fitting for a classy motorist driving at high speed or cruise mode.
The watch is as polished and stylized as the car. However, this Rolex knows its place, allowing the liquid blue Ford GT to be the center of attention…as it should.
It's simply an impressive, versatile accessory that every affluent driver needs, yet not all will have.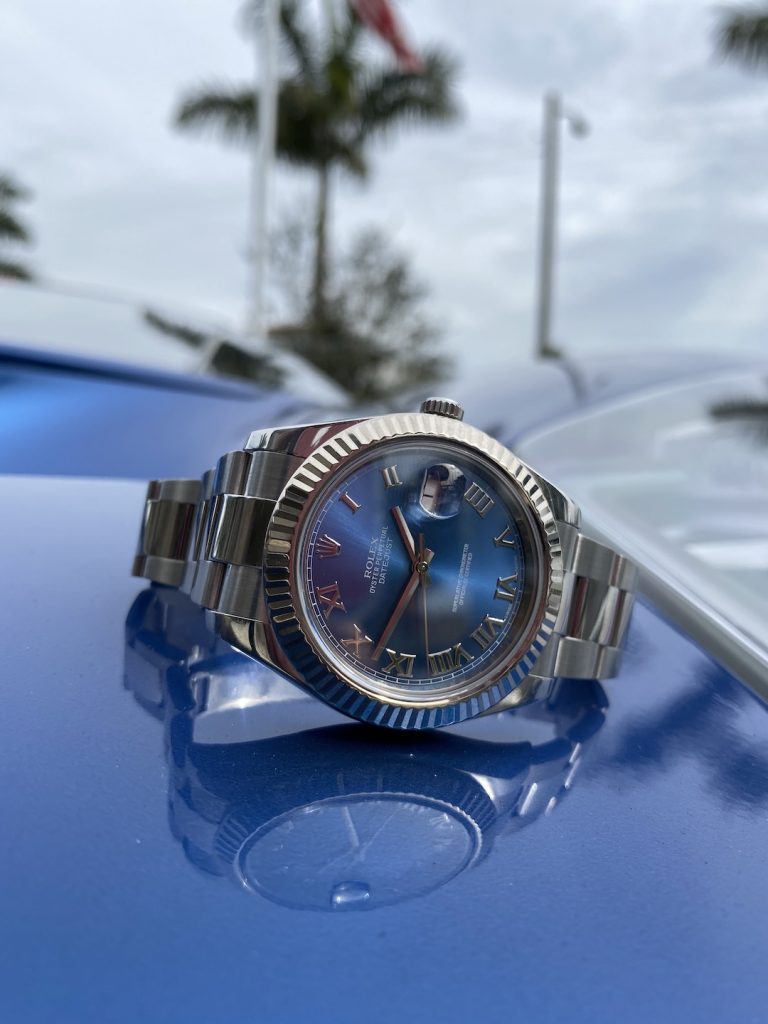 Rolex Datejust II 116234 On The Wrist
The watch is 36mm across the broad of the case, yet the case has a cushion shape rather than a round one, so it wears larger. That said, it is quite slim, measuring 11.5mm in height. This offers the best of both worlds, meaning a strong wrist presence without all the clunk. It's comfortable and it will easily slide under a tight sleeve or dress cuff. It can be seen, it can be heard, but it will never get on your nerves.
As for weight, it has a good heft to it, giving it a substantial feel that watch purists appreciate. This is because it has the super and latest version of the Oysterbracelet, which is tremendously solid. So you can forget about any rattle. Moreover, it is a typical sports watch bracelet, so it offers you a sporty feel for an otherwise graceful dress watch. If we base it on a spectrum of 'sporty to formal', it would land right in the middle…Again, best of both worlds.
As for the dial, it is striking and even more so with how the bezel accentuates it. Even with it only be a 36mm, it has a powerful appearance thanks to the stunning graining and grand texture of the dynamic sunburst blue face. The dial captivates, shifting and transforming depending on the lighting, going from soft in dark settings to explosive in sunlight. It is without a doubt one of our favorite wearing aspects of this watch.
In terms of precision, the watch is COSC certified so it is extremely accurate and reliable. It has a 48 hour power reserve. Therefore, you can take it off after a long week and throw it back on Monday without concern.

This Rolex watch is a winner both on and off the track, just like the Ford GT Carbon Edition.
STAINLESS STEEL YACHTMASTER II REFERENCE 116680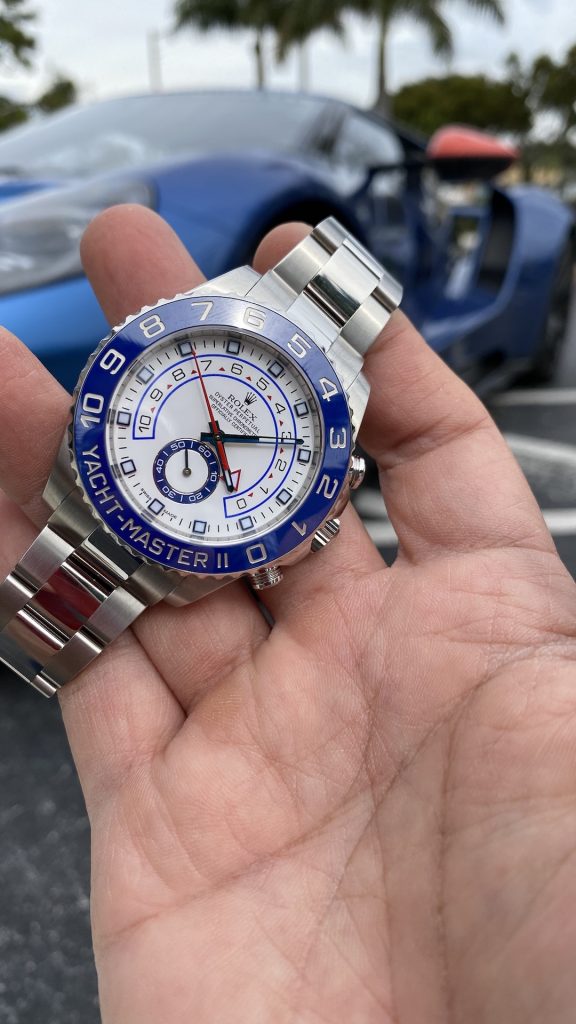 For drivers who like things bigger and more complex, the Yachtmaster II is the watch. It is a far cry from the Datejust II. There's just so much going on with this watch and the sheer size will make it so it never goes unnoticed.
Programmable, Flyback, Regatta Chronograph
First, let's talk about complexity. The Yachtmaster II is Rolex's most complicated watch. It has a programmable, flyback, regatta chronograph. And although it is extremely complicated in engineering, it is super easy to use. This is the genius of Rolex.
Even though it was made for yacht skippers, the functions are very useful for race car drivers too, as you can program a countdown timer from 1 to 10 minutes and synchronize everything on the fly using its Ring Command Bezel. Learn more about the Yachtmaster II and its functions – Yachtmaster II Review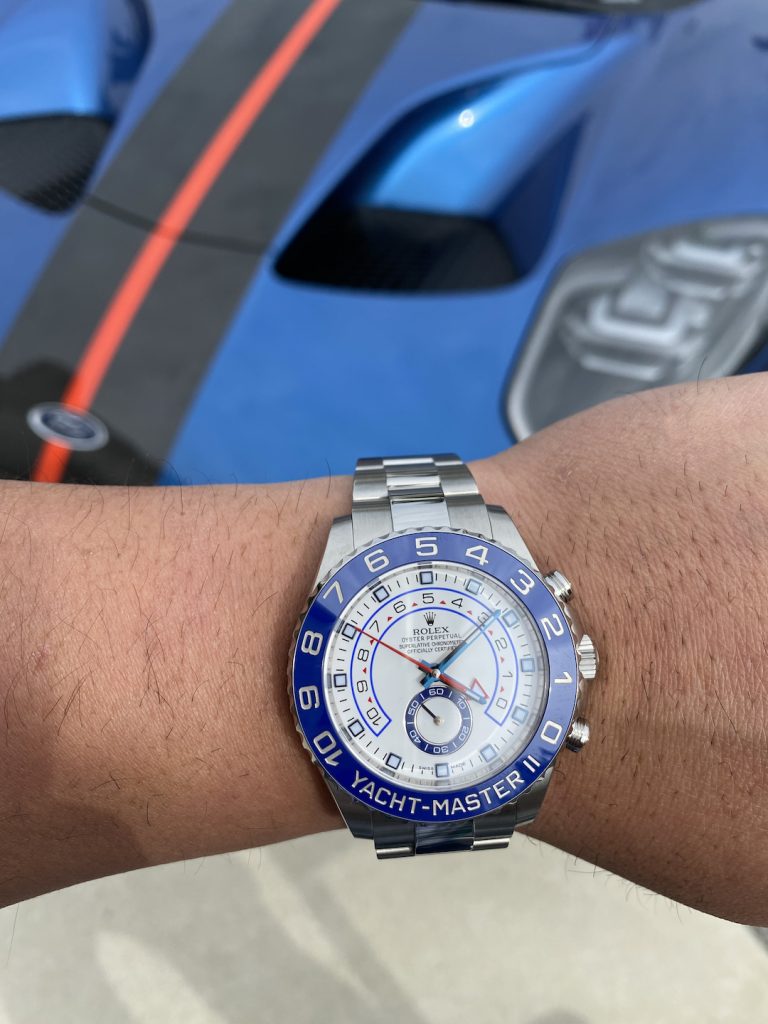 Now, the Yachtmaster is not only the most complicated watch in Rolex's entire catalog, but it is also the biggest! It rivals that of the Hublot Big Bang and King Power. It is the epitome of "contemporary oversized sports watch".
Rolex's Biggest Sports Watch
The Yachtmaster II is 44mm across and 53mm from the outer most croppings of the lugs. What's more, it wears even larger than that due to the design of the case and lugs. This is as big as Rolex sports watches get.
Even with a Ford GT Carbon Edition, the Rolex Yachtmaster II rivals in drawing attention. On the wrist, the electric blue bezel with large Arabic numerals and the matte-finished white dial with blue accents makes for a great spectacle. The stainless steel case and Oysterbracelet only amplify this effect, which is why we absolutely love the stainless steel version of the Yachtmaster II. It made for an instant classic.
What's more, just one look at the dial and you are consumed in its intricacy. There's a lot going on and there's a level of uniqueness that is incomparable. From the 60 minute sundial at the 6 o'clock and the 10 minute regatta timer to the square hour markers, red hands, Chromalight, display and partly skeletonize deep blue hands, the Yachtmaster is incredibly distinct. Moreover, it somehow manages to fit all of this on the dial in an uncluttered manner, which is a feat even at 44mm.
All in all, the Stainless Steel Yachtmaster II is easily one of our favorite sports watches EVER, and it pairs with the Carbon Edition Ford GT like a match made in heaven.
18 CARAT BLUE SAPPHIRE DIAMOND HALO PLATINUM RING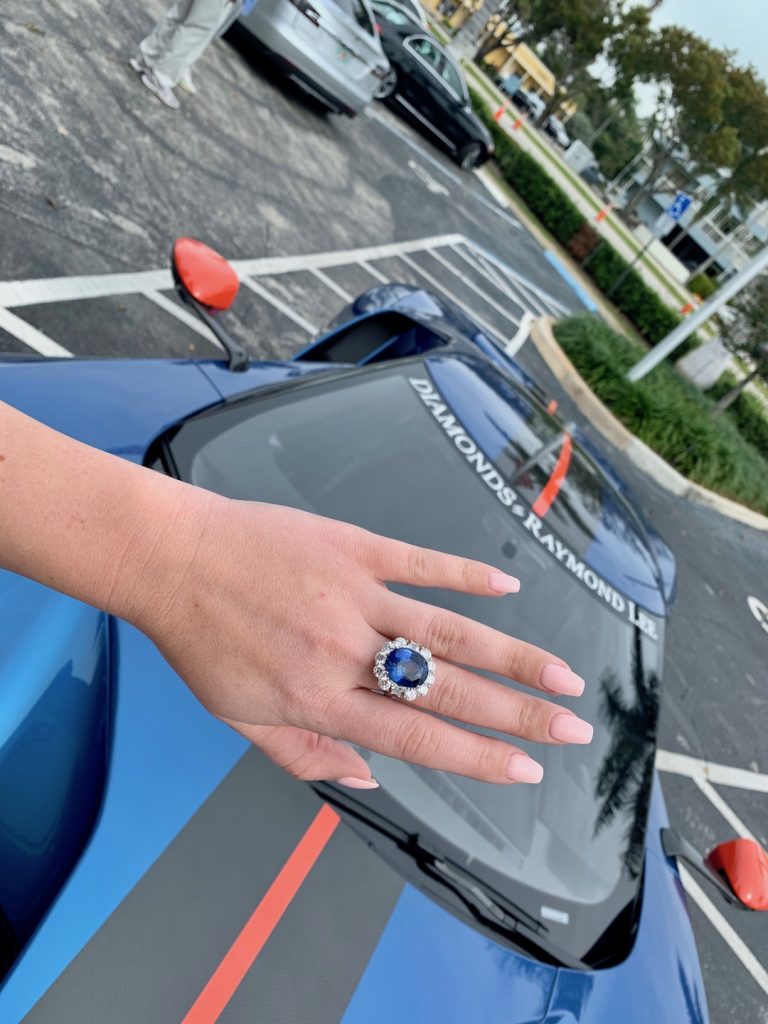 Blue gems are all the rage these days. The price for sapphires has significantly risen over the last decade. This makes a rich blue sapphire diamond halo ring like this a smart investment for your lady in the passenger seat. Not to mention, it matches beautifully!
Now, we should note, women wearing men's watches is a hot style that has exploded over the years. So, the watches above can go either way. For women who love speed, you can take the wheel with the watches or this ring…or both!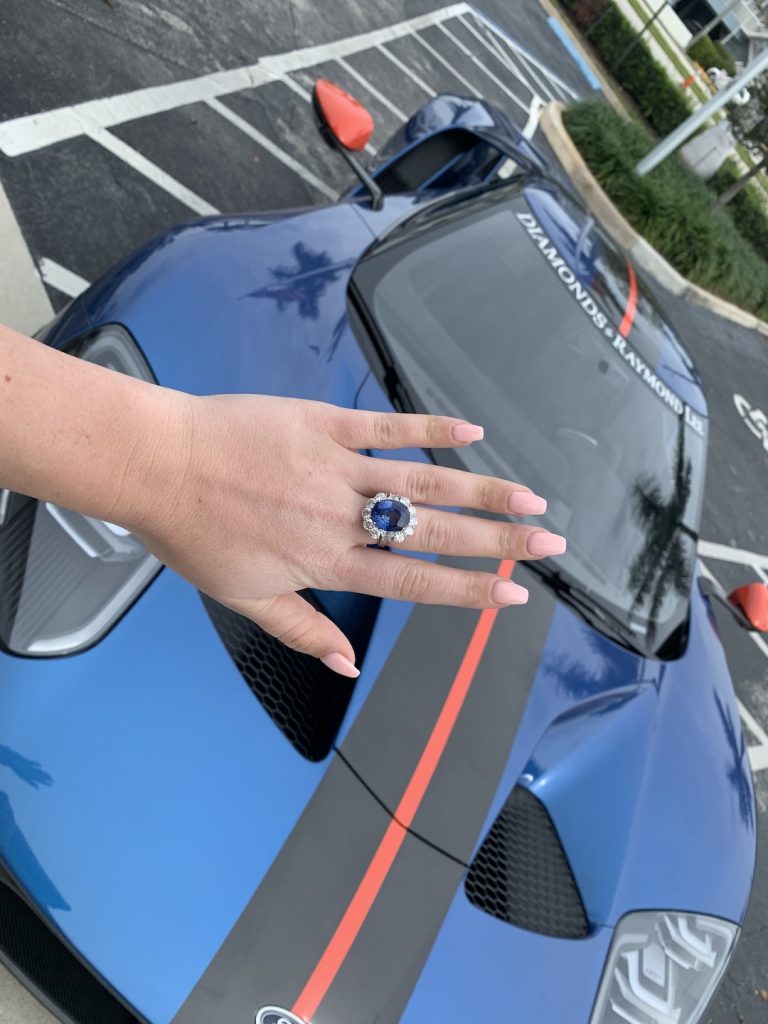 In any case, this blue sapphire ring is the perfect feminine touch of opulent grace for when it's time to hop in the whip. A ring like this will captivate with its majestic beauty. One glance into the sapphire and you will enter the realm of the corundum.
Overall, we felt it was a good time to show off this ring, not only because it matches this Ford GT Carbon Edition amazingly, but also because the sapphire ring itself is immensely impressive. The large round brilliant diamonds (which total to 4 carats) form a halo around the sapphire (which is a whopping 18.28 carats!), offering incredible contrast to the enchanting Kashmir blue centerpiece, and together, it gives the ring a floral motif that is incontrovertibly elegant.
See the full sales listing for this Blue Sapphire Diamond Halo Ring
Want to see more Luxury Watches, Fine Jewelry, and Car Collaboration?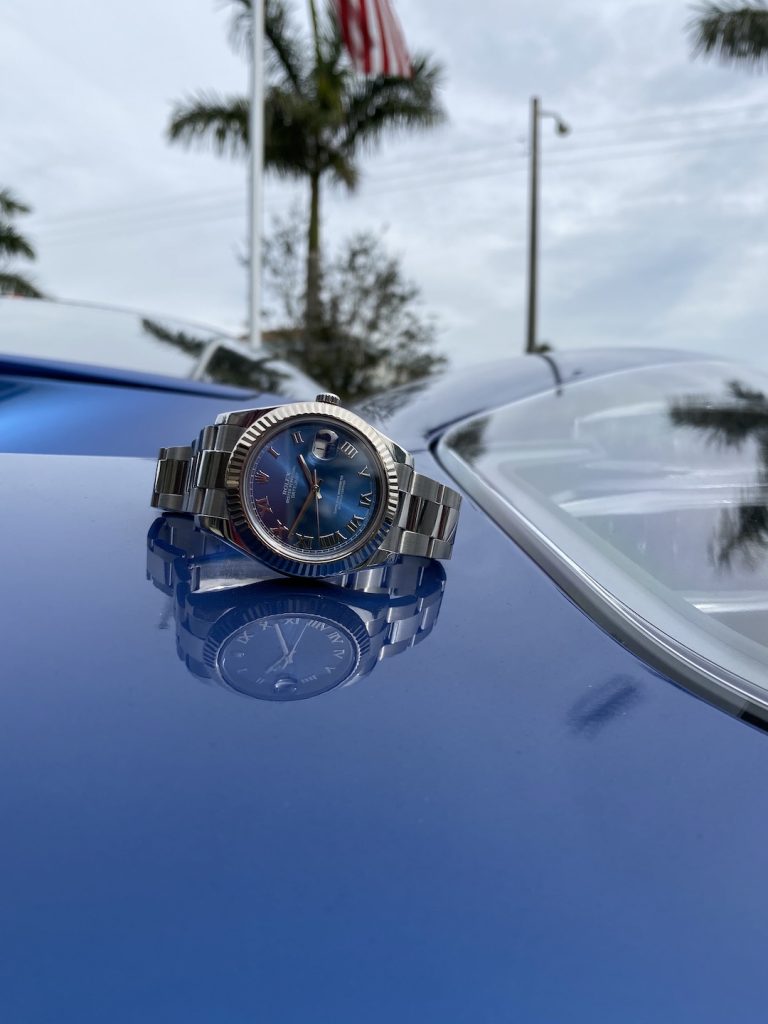 Let these 'Cars and Watches' features inspire you on your next Swiss watch or fine diamond and gemstone purchase:
McLaren 720S x Richard Mille RM11-02
Ford GT Carbon Fiber Edition x Rolex Smurf
Porsche 911 GT3RS X AP Rubberclad
White Hublot King Power x BMW M6 Grand Coupe
Emerald Bezel Rolex Milguass GV x McLaren 600LT
All Black Lambo Aventador x Stainless Steel Sky-Dweller and Diamond Ring Stacks
Shop Diamond Jewelry and Swiss Watches at Diamonds By Raymond Lee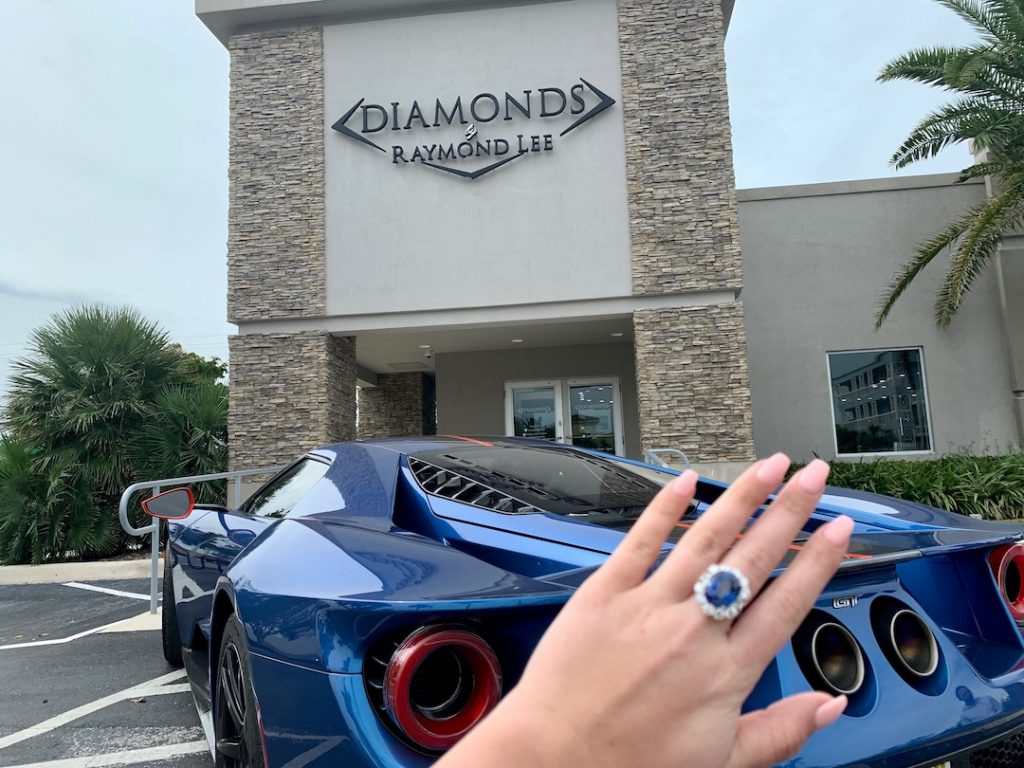 Want to see the most jaw-dropping jewelry, luxury Swiss watches, and sports cars the world has to offer…IN PERSON?!
If your answer is YES, then you need to make your way to our next Diamonds and Donuts Car Show at Diamonds By Raymond Lee. Our car show sees the planet's best sports cars and supercars from all makes and models and we open up our showroom for guests to try on watches and jewelry from our extensive, recherché collection, which is sure to impress even the most heavy hitters.