All Black Lambo Aventador S x Stainless Steel Sky-Dweller & Diamond Ring Stacks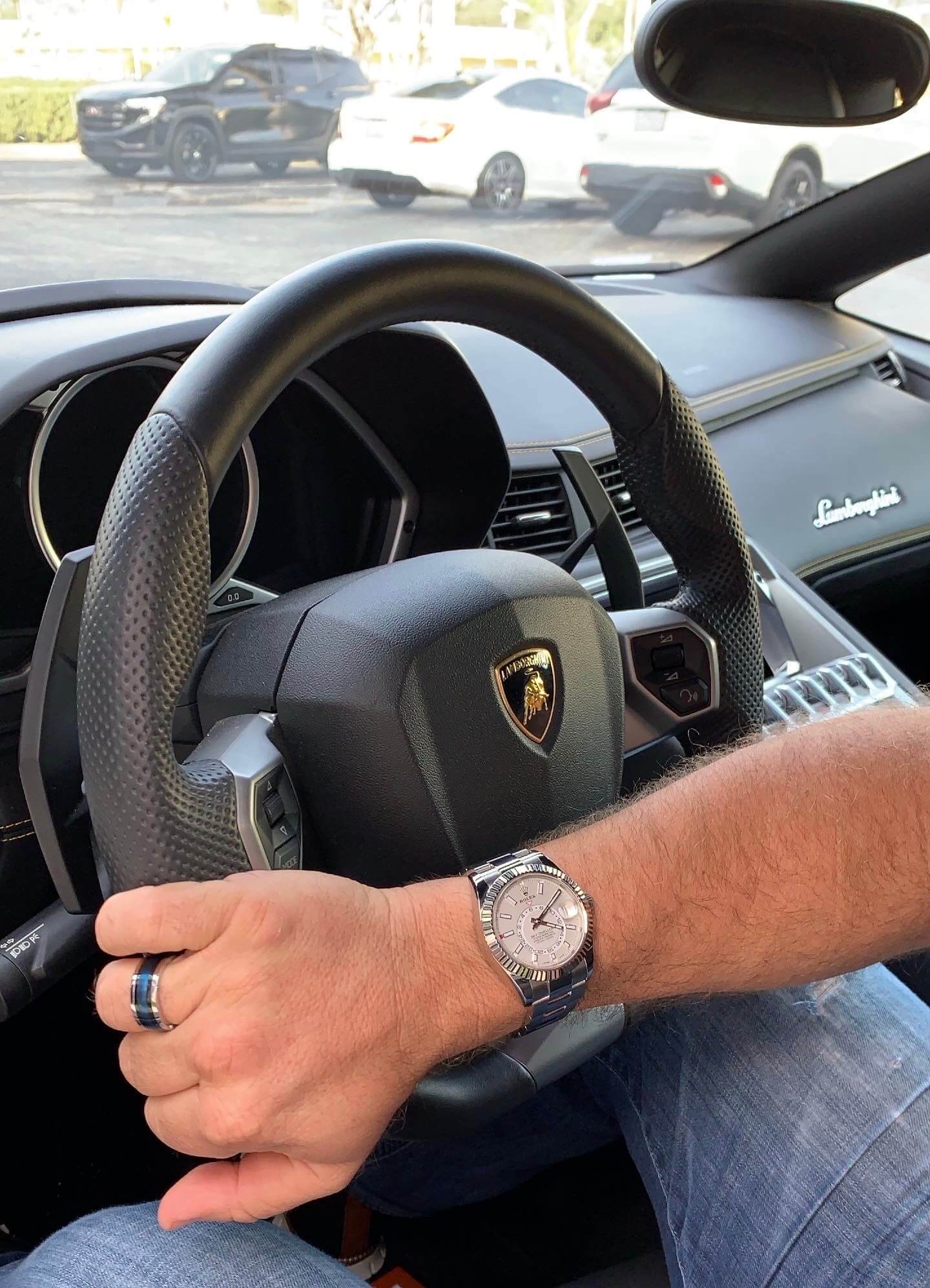 Supercars and Swiss watches, it's a match made in heaven. If you scratch the surface of any car fanatic, you are sure to find a watch enthusiast, and the same vice versa. This is why there have been so many collaborations between the most iconic brands of watches and supercars. The heritage of the two dates back over half a century and overtime the relationship of timepiece and track has only strengthened. Not only do the two complement each other perfectly, they have striking similarities too, as most best friends do. They are both mechanical objects that focus on design, function, and aesthetic. They're art and science, craftsmanship and technology, passion and investment. They evoke the soul of our being. We strive to collect them and we cherish them throughout generations as they transcend time.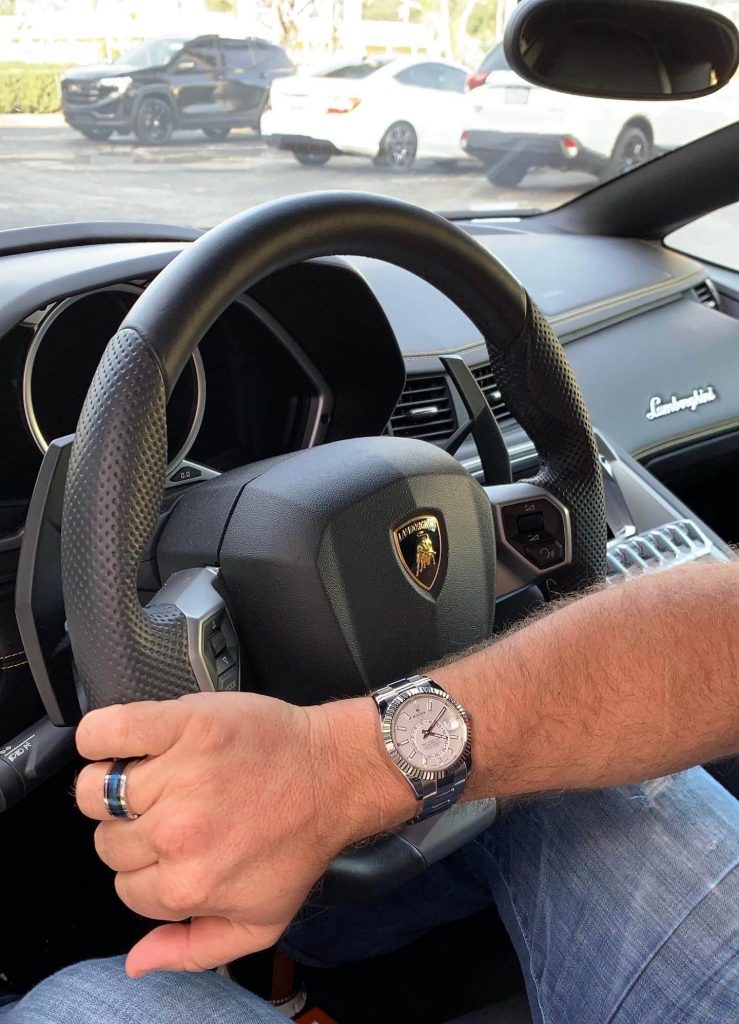 So, with this relationship top of mind today, we thought we'd present our newest Supercar x Swiss watch collaboration, a Lamborghini Aventador S and a Rolex Sky-Dweller Stainless Steel Rolesor. We also included some new fine diamond rings, which are available at Diamonds By Raymond Lee, because with the three together, it's more than a relationship, it's a party.
ALL BLACK AVENTADOR S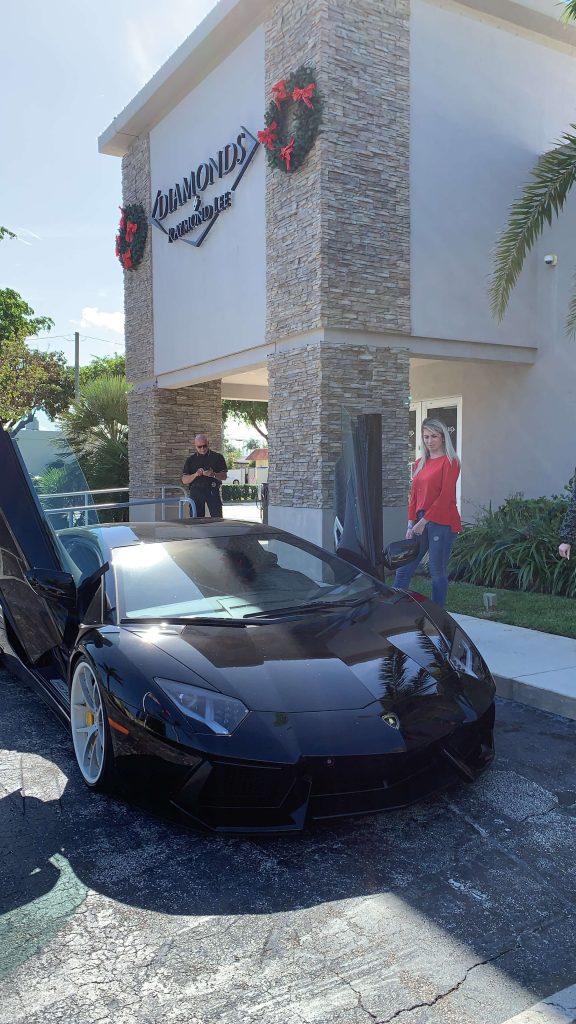 When an all black Aventador pulls up to our lot, you know we make time to take some shots for the supercar fanatics like us out there.
The Black on Black Lamborghini Aventador S is not only an extraordinarily high performance supercar, it is also a fashion icon. It's the car everyone is talking about, even your grandmother…
As a matter of fact, the Aventador is supercar royalty, and its' kingdom spans the entire world.
Wildly Powerful and Prepossessing
The Aventador is as wildly powerful as it is prepossessing. It carries the torch of its Lamborghini predecessors with a flame of unparalleled intensity. Its aerodynamic body and low-rider stance elicit the true DNA of the legendary Italian Raging Bull. However, in performance and technology, it is unlike anything before it, and that is saying a great deal.
The Aventador is the supercar of the future, yet it is in the now. It features an exclusive Lambo design, innovative tech, a carbon fiber monocoque, and Lambo's iconic V12 engine.
On the road
Thanks to the new V12 engine, the Aventador is capable of producing 740 horsepower. With a mesmerizing wail, the king of Lambo does 0-62mph in 2.9 seconds, 0-124 in 8.8 seconds and 186mph in 24.4 seconds, if you are ballsy enough to attempt it.
The speed and acceleration are jaw-dropping by anyone's standards. Supersonic Jet Pilots included…
What's more, the Aventador S spotlights the new LDVA (Lamborghini Dinamica Veicolo Attiva/Lamborghini Active Vehicle Dynamics), which gives the Raging Bull an unprecedented driving experience. The cornering control is one of the best in the game, bar none.
Exterior
Through refinement in design, the Aventador has strengthened the nature of Lamborghini to new levels. It is more aggressive than ever before, and this is a statement that is not to be taken lightly…
By the use of sharper lines and revolutionary aeronautics, the Aventador increases front downforce by 130% while also reducing turbulence tenfold, ultimately giving this whip immensely enhanced efficiency. It's the great white shark of the road, powerful and fierce…yet this predator has evolved to be faster and much more elegant.
And when it comes to badassery, the all black hue is unrivaled in its demeanor. It gives the Aventador's already dynamic look even more assertiveness and dominance. It's the dernier cri of supercar complexion.
Interior
Open up the switchblade doors and witness an interior that is nothing like you've ever seen. The cutting-edge technology exhaustively extends from the outside in, and then all the way to the guts of this car…
The Lamborghini Aventador S features avant garde materials of the highest quality, giving this beast a one-of-a-kind sophisticated look internally, with comfort that puts it in an exotic supercar class of its own.
Lamborghini Aventador S Price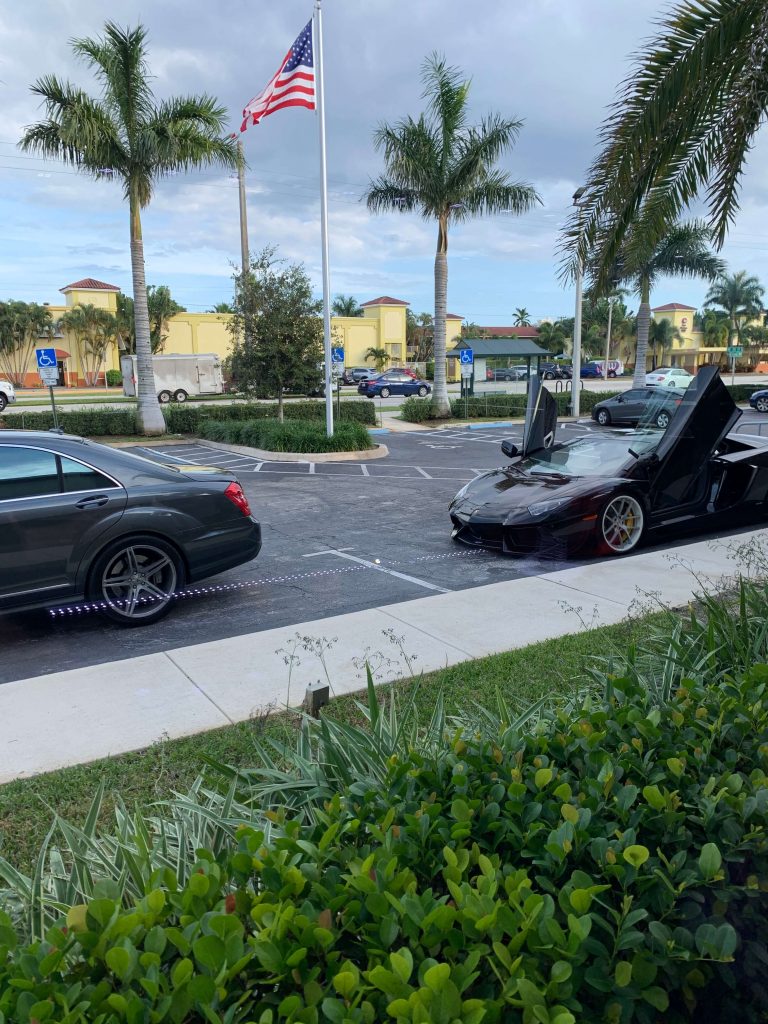 The Lamborghini Aventador S costs nearly $400,000. So, owning an Aventador S is obviously exclusive to the elite members of society.
For a baller like our good friend, this makes owning a collection of Rolex watches easy work.
So, using the as an accelerated segue, let's have a look at the Stainless Steel Sky-Dweller that was the Aventador's companion on this particular day.
STAINLESS STEEL SKY-DWELLER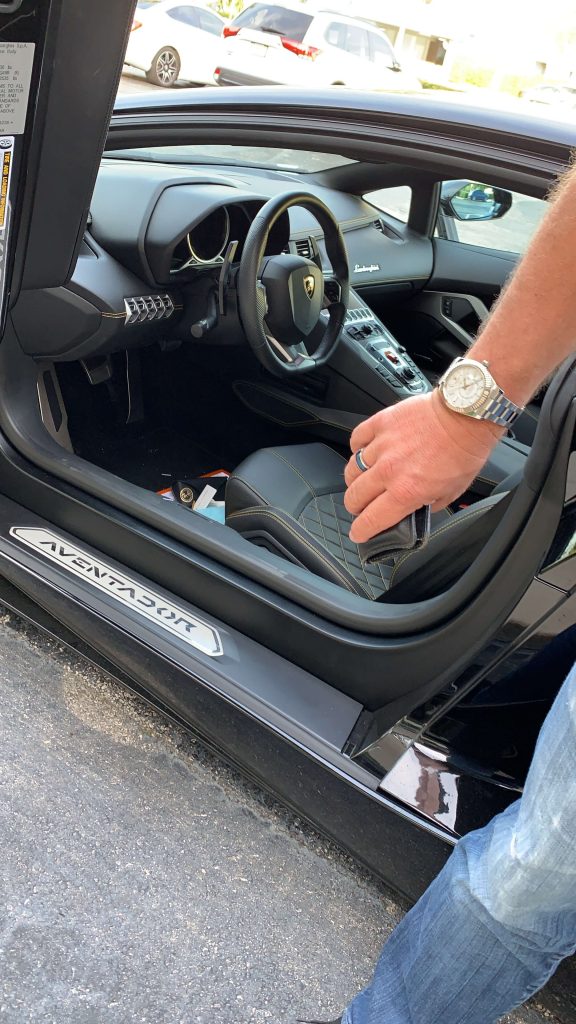 As the name suggests, the Sky-Dweller is made for jet-setters who travel the world. It's not exactly one of the Rolex watches you think of when talking supercars. However, at its core, it is the watch of adventures, and no body can be considered more adventurous than people who travel at damn-near sky-level speeds on the ground.
The Sky-Dweller is a very special watch. In fact, it is the most complicated watch in Rolex's catalog. Yet at the same time, it is made to be an everyday practical watch. It is extremely durable, simple to use, and a pleasure to live with. This makes it perfect for hitting the roads at top speed.
Initially, the Sky Dweller was only available in precious metals, but in 2017, Rolex released the stainless steel Sky-Dweller (along with the steel and white or yellow gold versions), flipping the price of the most practical and complicated watch on its head. You could say, the Stainless Steel version brought this Rolex Sky Dweller model down to earth. The precious metal versions run around $40,000, but the steel version is only half that. The best part is, it is every bit as arresting for the purest sport watch fanatics out there.
Not that price is much of a concern in the case of this Lambo Aventador x Sky-Dweller collab, as the choice of a Stainless Steel version is simply a matter preference. Nothing screams "classic sports watch" like good old stainless steel polished to perfection…
Now that we've somewhat introduced the Stainless Steel Sky-Dweller, let's go over the finer details of this timepiece, as this is one of our favorite Rolex's out right now. Moreover, it's one that has become immensely iconic in popular culture.
The Case & Bezel
Not only is the Sky-Dweller the most complicated and practical watch, it is also one of the most imposing. The case is 42mm, so it offers serious wrist presence.
What's more, the watch is actually referred to as the Stainless Steel Rolesor, "Rolesor" being a Rolex term for two-tone stainless steel and gold.
What's gold on the Sky-Dweller Stainess Steel Rolesor?
The fluted bezel is, in fact, made from 18K white gold. That's the singular gold component on this watch (excluding what's underneath the sapphire crystal) and it's a sexy touch we might add. Even the most low-key, incognito sports watch enthusiasts appreciate this subtle touch of extra luxury.
Ring Command Bezel
The white gold fluted bezel is a Ring Command bezel so it interacts with the movement to enable international travelers easy access to the watch functions.
The bezel turns to one of three position, which allow you to change the date, local time or reference time. Once you are in the position of the desired change, by simply winding the crown, you can rapidly adjust the selected function.
The Ring Command bezel is the perfect example of how complicated engineering can lead to uncomplicated functionality.
White Dial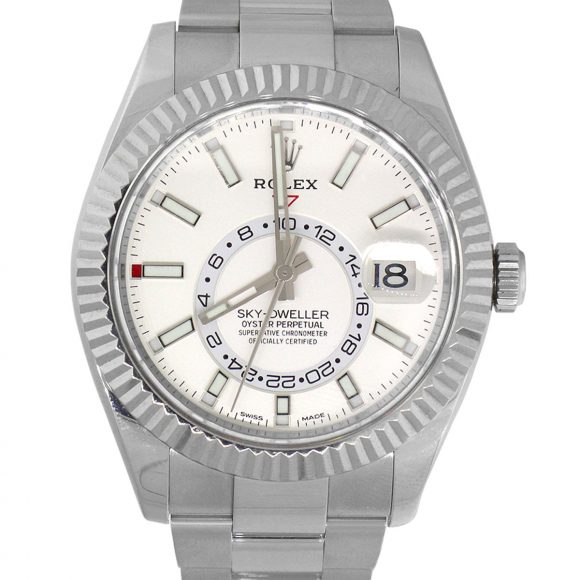 We are featuring the white dial reference. It's a tough choice choosing between this one and the blue dial, but we went for the "white out" look to contrast the all black Aventador.
For those familiar with the first Sky-Dwellers, released in 2012, you'll notice the newer version here has rectangular baton hour markers rather than Arabic or Roman numerals. This was a smart move by Rolex as the numeral dials had a somewhat cluttered and cramped look. Additionally, the hands are longer on the new Sky-Dweller, which better points to the time. Speaking of hands and hour markers, they are made from 18k white gold, as is the Rolex Crown, and they are filled with luminous Chromalight, so it is impeccably legible in the dark.
On the whole, the monochromatic dial is incredibly unique and unlike any other Rolex. It features a 24 hour ring above the 6 o'clock, which is smart for dwellers of the sky as you immediately know if its day or night,
You'll notice two red accents on the face as well, one triangle marker above the off-centered sub-dial and one square marker along the minute track. The red square above the hour markers indicates the month, so in the above picture the month is September. And the triangle hour marker indicates the time in the second time zone, so you'll never lose track of what time it is back home. The red accents are ingenious in their functionality, one quick glance and you know what you need to know. Not to mention, similar to the white gold bezel, it is a subtle touch that really pops. Presentation is key, and nobody is more sophisticated in their presentation than Rolex.
Bracelet
As with the case, the Oyster bracelet is beautifully polished. The center links use a gloss finish while the outer links employ a beautiful satin finish. So you get the best of both polishing techniques and it makes for gorgeous contrast.
Furthermore, the entire bracelet is made with solid links, so the bracelet feels tremendously robust. Moreover, it balances out the larger case perfectly.
9001 Movement
Like the Lamborghini Aventador S, the Sky-Dweller is a mechanical masterpiece. It is equipped with a calibre 9001, which is a self-winding movement and one of the most complex calibres ever developed by Rolex.
All in all, every component of the watch displays the incredible class of workmanship that goes into crafting a Rolex Sky-Dweller. You can immediately tell the quality is of the highest standard. Everything about the watch is integrated, intuitive, and innovative, which is why this watch has over 11 patents.
JEWELRY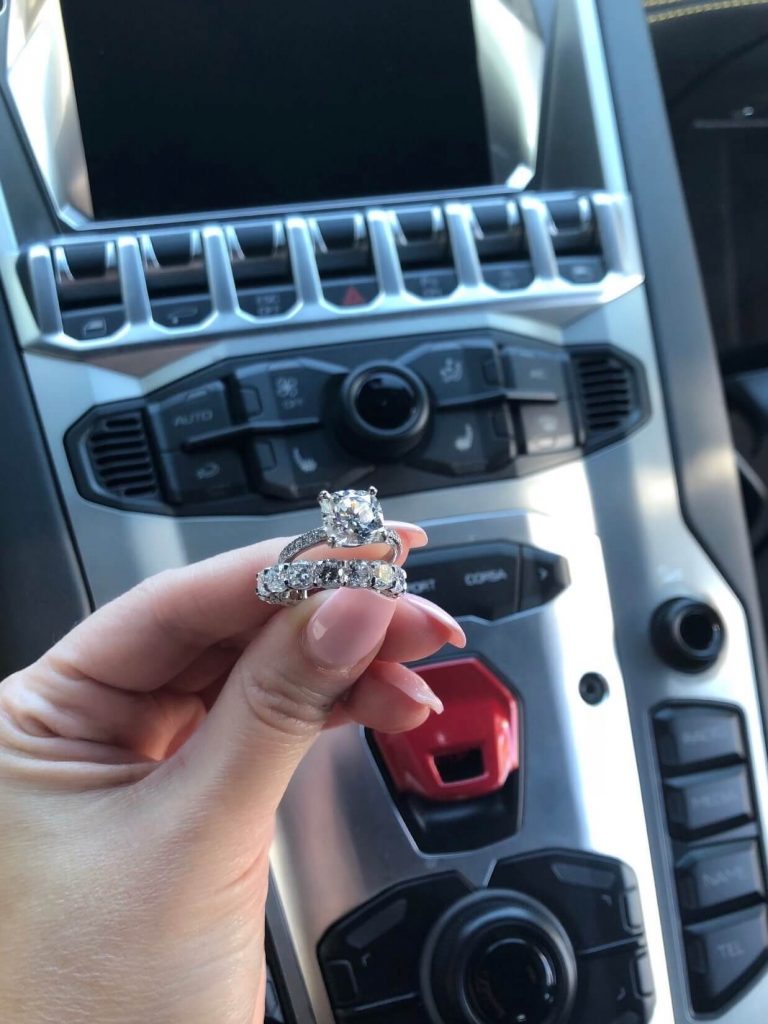 Let's not forget about fine diamond jewelry, and women out there who love supercars and watches as much as men.
Yellow Gold Engagement Ring Stack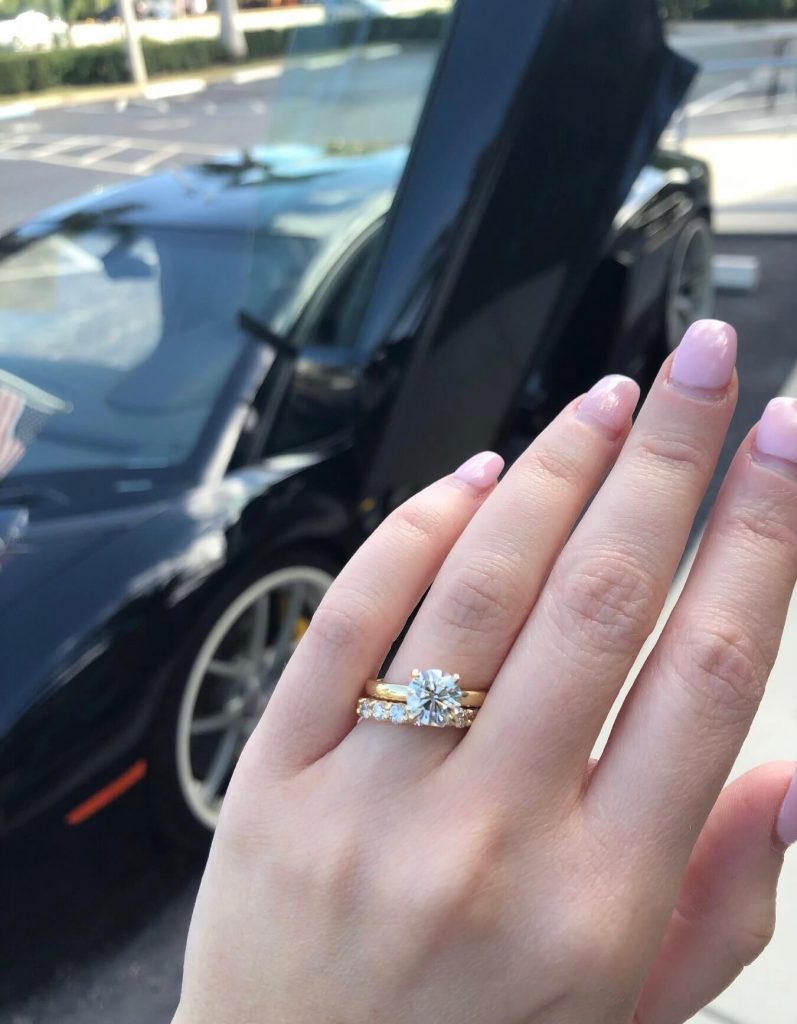 A yellow gold round brilliant solitaire engagement ring is the most classic style of them all. It provides a timeless, vintage-inspired, soft look with major glam.
Here we have an 18K yellow gold 1.15 round brilliant cut engagement ring. It uses a four prong setting, allowing the diamond to shine in all of its grandeur.
The engagement ring is paired with a 14K yellow gold wedding band that features 10 round brilliant diamonds totaling 1.23 carats.
Together, this quintessential stack will stand out from the crowd with an authoritatively stunning presence.
White Gold Engagement Ring Stack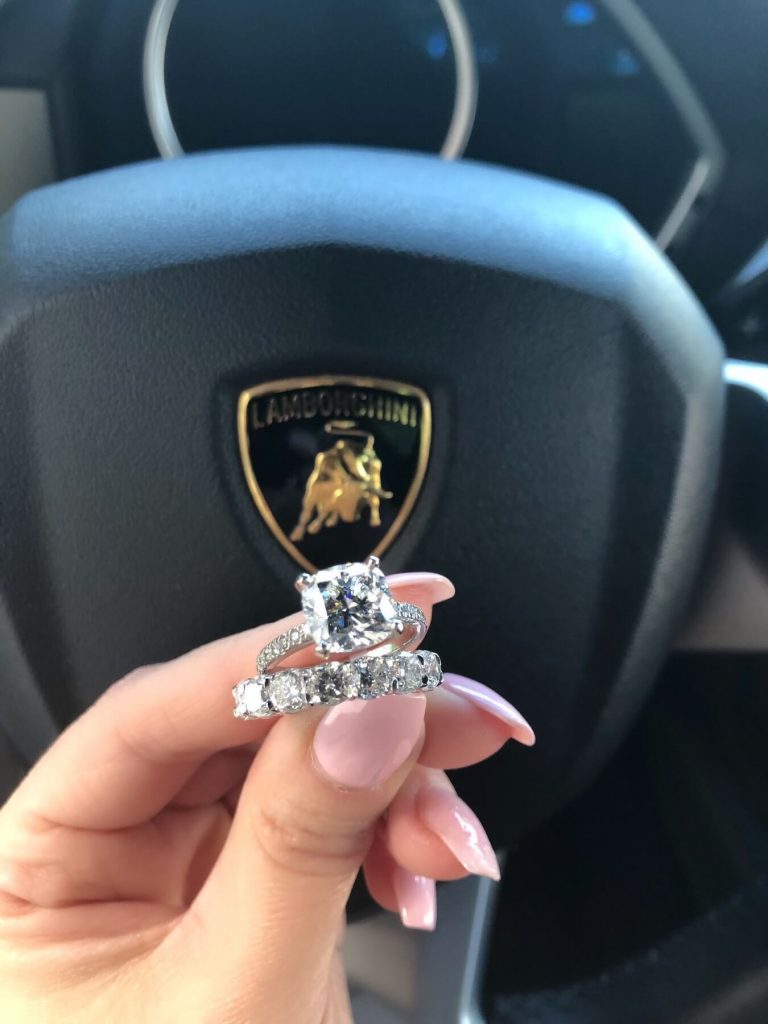 A white gold engagement ring stack is the epitome of contemporary beauty. It's been the paradigm for contemporary brides for generations.
Here we are featuring an 18K white gold 1.51 cushion cut diamond solitaire engagement ring with an equally breathtaking 18K white gold 5.04 carat round brilliant diamond eternity ring.
Modern brides are increasingly drawn to eternity rings in place of wedding bands. So much so that the two are now interchangeable. We wrote an article on wedding bands vs eternity rings which you can check out to see what option is right for you (or your loved one).
Diamonds By Raymond Lee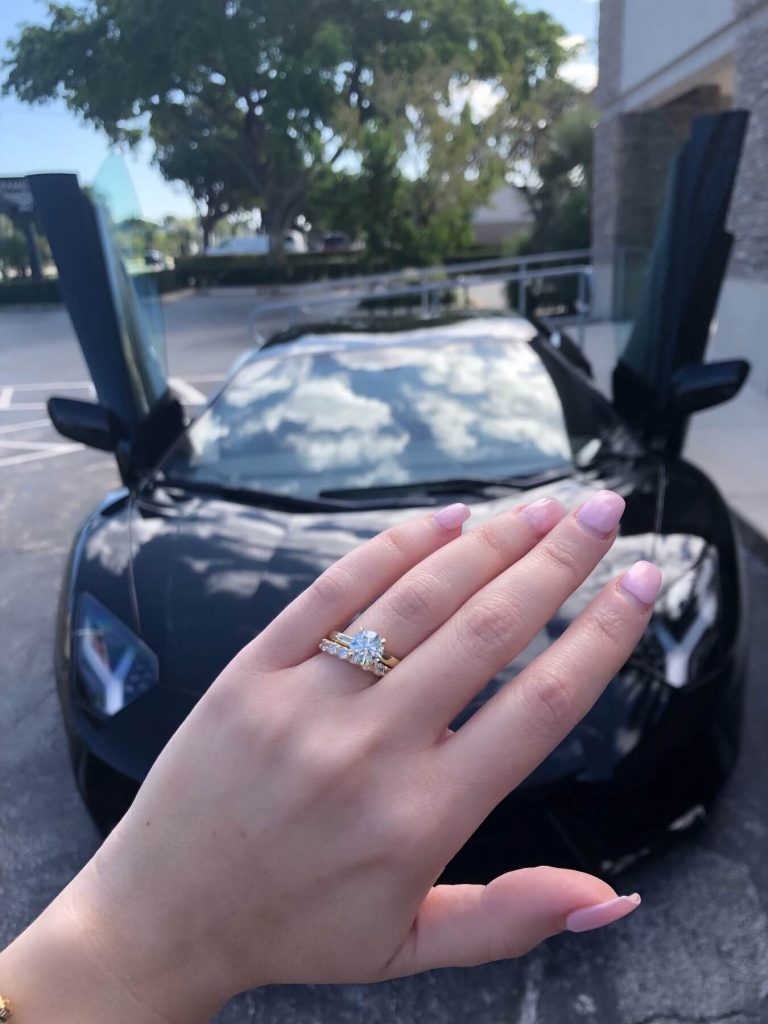 At Diamonds By Raymond Lee, there is nothing we are more passionate about than supercars, watches and fine diamond jewelry. So, you can expect to see more Supercars, Swiss watches and new diamond jewelry collaborations like this Black Lamborghini Aventador x Stainless Steel Sky-Dweller.
Here are some of our past Supercars x Swiss Watches collabs:
Lamborghini Aventadors x AP Watches
Porsche 911 GT3RS x AP Rubberclad
McLaren 720S x Patek Philippe and Audemars Piguet
Ford GT Carbon Edition x Rolex Smurf
McLaren 720S Spider x Richard Mille RM11
Diamonds and Donuts Car Show (Cars, Watches, Jewelry and more – The Best Car Show in Boca Raton).
Want to see more luxury Swiss watches?
View our extensive collection of Rolex watches.
View our collection of luxury Swiss watches.
Can't get enough of diamond rings?
See more eternity rings and wedding bands.
See more engagement rings.