Porsche 911 GT3RS x AP Rubberclad: Green Car & Watch Combo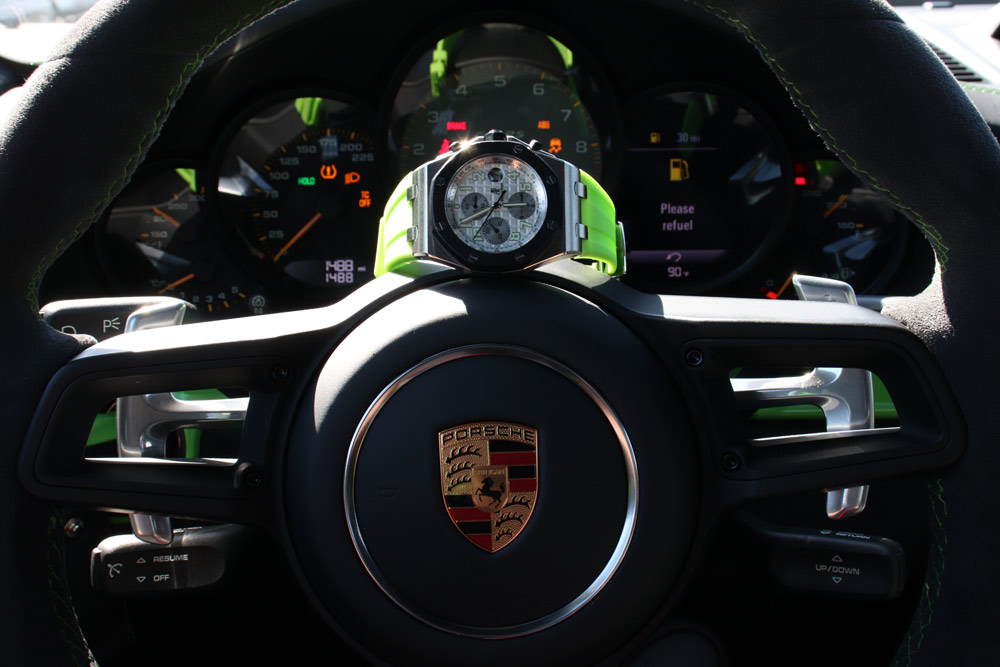 You know you have true baller status when you are matching your car to your watch…and we aren't talking about matching a Kia Sorento with a $200 watch found on Amazon. We are talking about matching a 2019 Porsche 911 GT3RS with a first generation Audemars Piguet Royal Oak Offshore Rubberclad – all made possible thanks to a green Horus Watch Strap.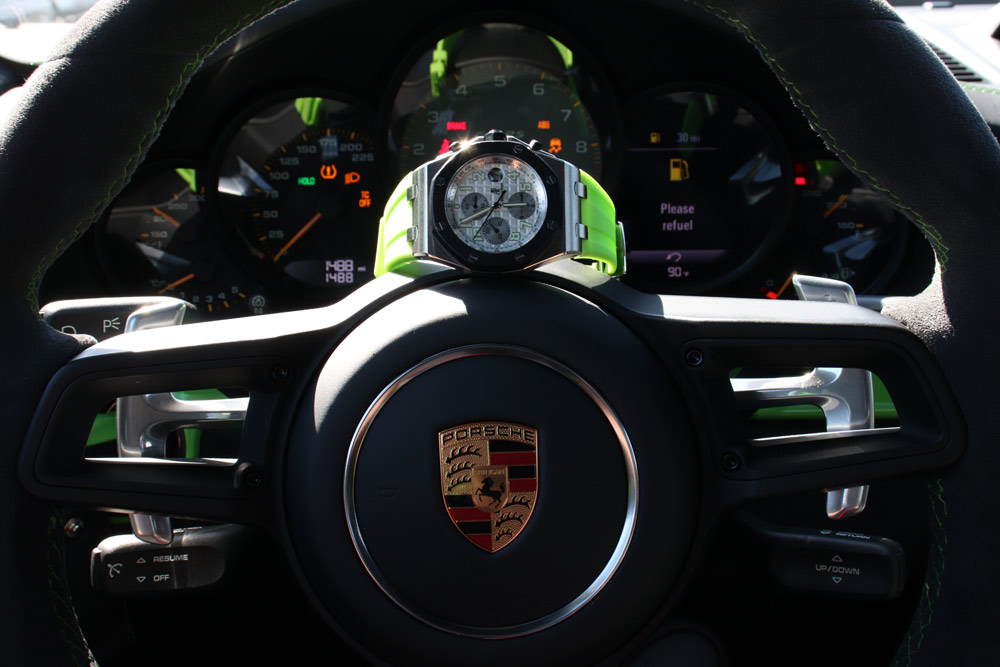 Both the car and the watch are lime green. The color leaps out at you with uncontrollable sexiness. They instantly make us think "money", "spending power", and "harmony".
Now, a GT3RS and an AP Rubberclad are pure fire no matter what color they are, but green, green is incredibly staggering. It truly amplifies the majesticness of both of these luxury commodities.
This duo is unmistakable, impossible to miss, and utterly illustrious.
It really doesn't get much better than this.
Green Porsche 911 GT3RS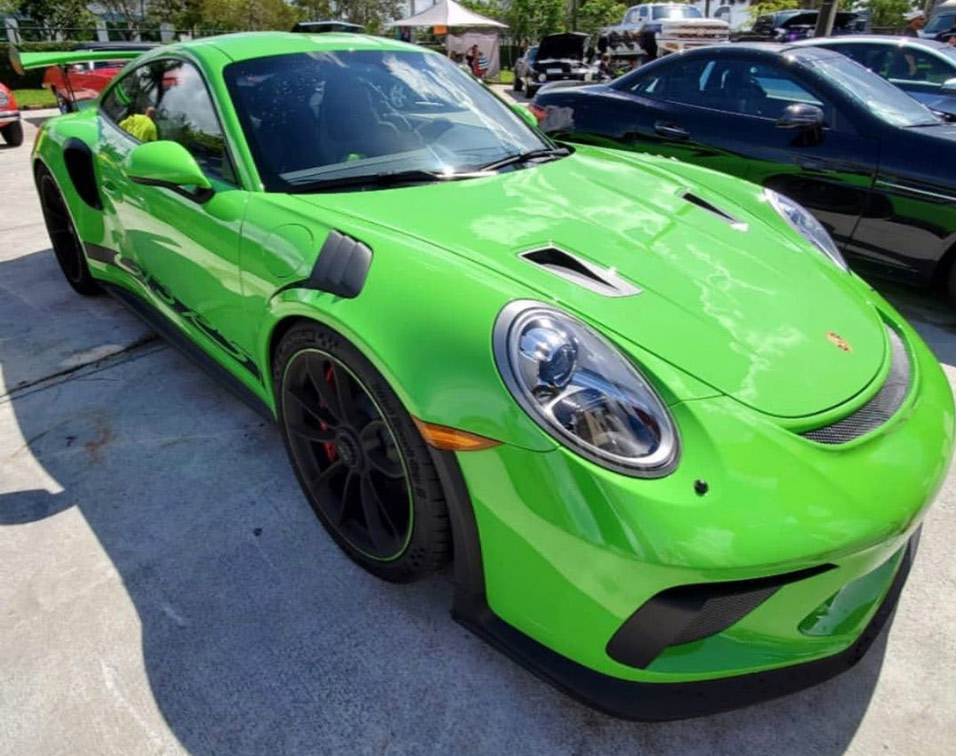 Feast your eyes on one of the greatest and most extreme Porsche 911s ever made, the GT3RS.
It is equipped with a naturally aspirated, 4 liter, 9,000 RPM engine. FLAT 6.
It has 520 horsepower, 346 pound-feet of torque, and it does 0-60 in a skin-pulling 3 seconds. What's more, it can hit a top speed of 193 miles per hour.
Now, it's not as fast or as powerful as a 911 Turbo or Turbo S, but this beast was made for more than just pure speed. The GT3RS is about finesse, just as much as it is about power. If you are a talented driver, you can take the GT3RS to the track and embarrass everyone and everything out there.
This is a full blown racing version of the 911, do not mistake it.
The car is sharp and ultra responsive when taking turns and it is smooth and supremely stable when hitting a straightaway.
And when it comes time to stop, you are dealing with world class braking.
We absolutely love this car.
It is extremely capable and extremely noticeable.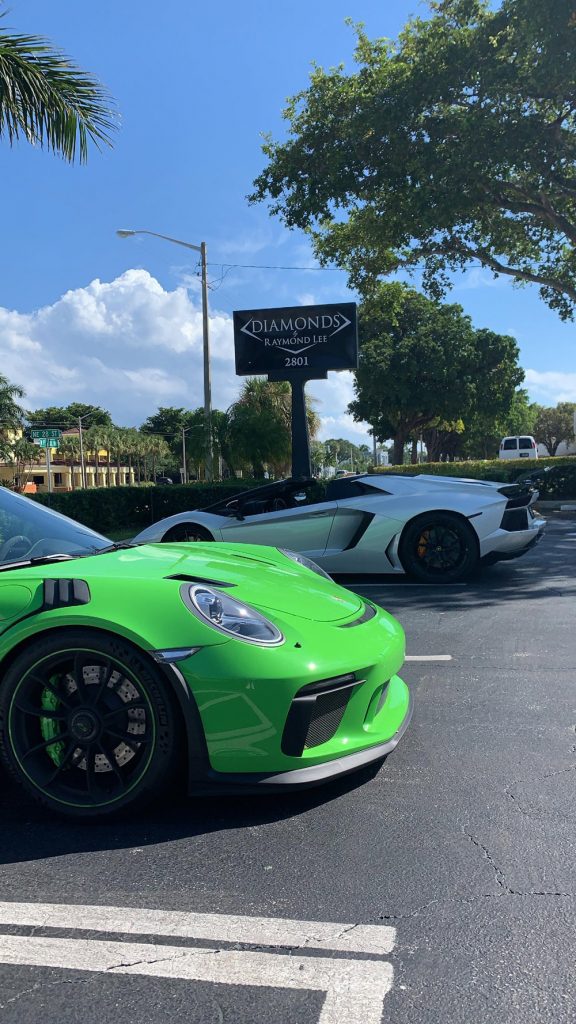 Besides the visually stunning, eye-catching bright green factory wrap and the innately Porsche 911 ergonomic aerodynamic design, the carbon fiber fixed rear ring became more prominent and prouder than ever. It's like it was given a few cycles of steroids, as it is substantially larger than past generations.
And that's not the only thing that has swelled on the new GT3RS. The body has too.
The 74 inch width takes up more road surface now, which means you need to be careful when powering along sharp turns…
Thankfully the GT3 RS's cornering grip is massive. Not to mention, it has the best electrically assisted power steering in the game…
Now, let's not confuse size with weight. The GT3RS is actually much lighter. It got rid of a lot of unnecessary "fat".
Power is great, but lightness is better…
Of course, it did keep essential luxuries. Just peaking at the interior you can see that. It's futuristic, minimalistic, and downright gorgeous.
This might be the best driver's car currently on the market. Getting behind the wheel is an unforgettable experience.
The only thing that could make it better is having an equally impressive watch as your co-pilot, and the owners of this car have that on lock too.
AP Royal Oak Rubberclad with Green Horus Strap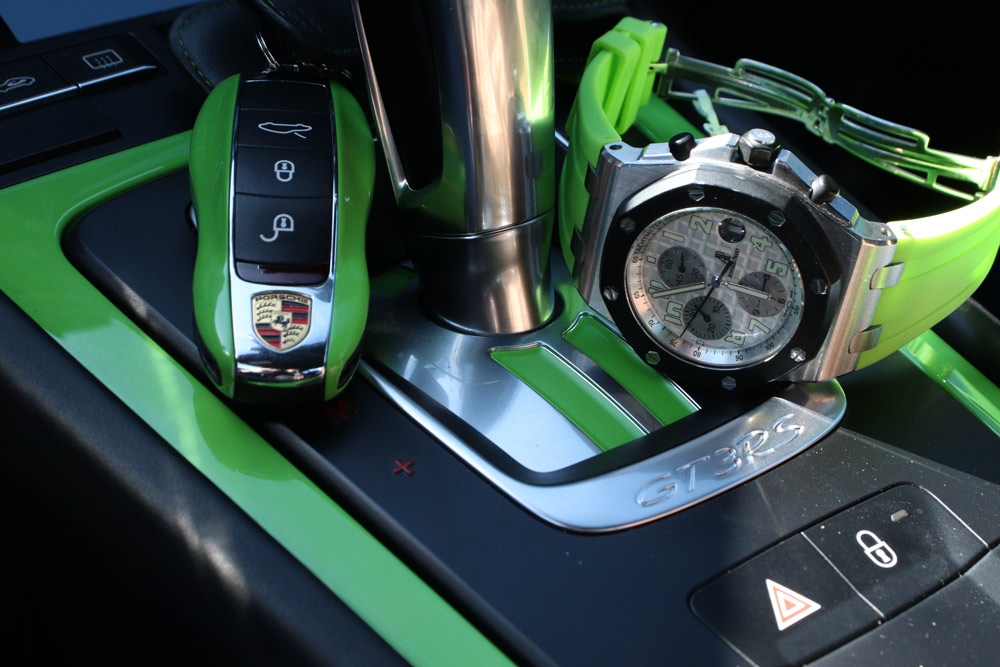 Let's take a close look at the AP Royal Oak Offshore Rubberclad and discuss the finer details of this watch…
First, let's just put it out there. This watch matches the car as easy as one, two, three. Why? Because that's how long it takes to put on a Horus Watch Strap.
An Audemars Piguet Royal Oak Offshore could match pretty much any vehicle, outfit, shoes, etc., simply with the switch of a strap. In this case, the Porsche is lime green, so we sought out a lime green rubber diver strap from Horus Watch Straps to bring harmony to this duo.
So, yes, it is easy to match watches with cars thanks to companies like Horus Watch Straps, but this particular strap and watch combo is unrivaled in perfection…
The Audemars Piguet Rubberclad ref. 25940SK.OO.D002CA.02 goes insanely well with the lime green strap thanks to a small yet prominent feature in the dial – the lime green Arabic numerals of course! Like you didn't already see that 😉
Although the watch technically comes with a black rubber OEM AP strap, it honestly looks like it was meant to have this lime green diver strap. It's just too perfect. Then you add the vibrant lime green Porsche 911 GT3RS to the scene and it's a match made in heaven.
But, enough about switching straps and matching timepieces with sports cars, that's easy work for people like @winfarnsworth and @saraxtine_ (owners of the car and watch)…let's dive into the specifics of this legendary oversized watch known as the Rubberclad. Because it is a watch worth appreciating for more than its color, much more in fact.
Iconic & Legendary
The Audemars Piguet Royal Oak Offshore Rubberclad ref. 25940 needs no introduction to watch enthusiasts as it was instantly one of the most iconic and legendary APs since it was first released in 2002.
Nevertheless, it is a watch that even if people know all about it they still can't get enough of it. So let's go more in-depth…
The Rubberclad, uses rubber as one of its main components, as you may have guessed by the name. It's the rubber bezel. This was the first watch to utilize rubber this way, ever…not just Audemars Piguet, the whole watch industry.
The AP Rubberclad got even more fame from the fact that so many celebrities and AP fanatics were drawn to it. Thus, it was the talk of the watch circle for years, and it still is.
The watch is a pure testament to the pride and skill that Audemars Piguet has for horology innovations. They have been consistent and non-stop since the first launch of the Royal Oak in 1972.
There's a reason why Audemars Piguet is part of the Big Three in Haute Horology, and the Rubberclad is just one of many motivational factors for people claiming that Audemars Piguet is one of the greatest watch brands of all time. It's not even a question at this point, it's a fact.
Rubberclad Bezel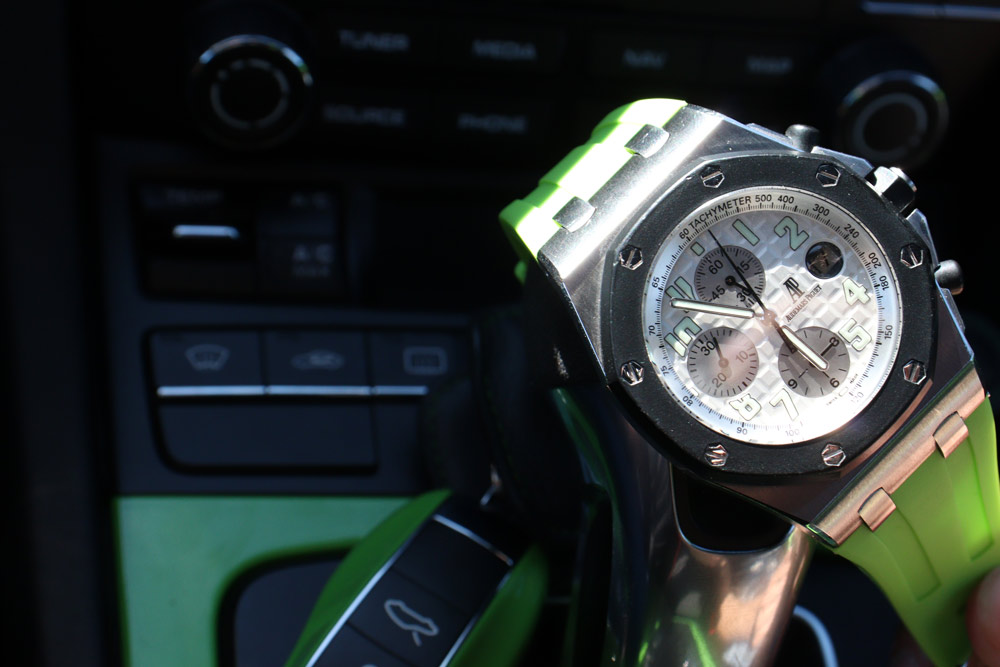 For those who don't know, the classic AP octagonal bezel on the Rubberclad is not just a piece of rubber. Actually, it is a rubber clad (i.e. coating) that wraps around a stainless steel bezel (or 18K rose gold for ref. 25940OK).
Who else would dare to cover metal with rubber and call it an impressive iteration?
Better yet, who else could do it and have it be a winner that will go down in history as one of the best sports watches?
Only AP could pull this off with such magnificence, grandeur, and eminence. It's just so fitting for the Royal Oak Offshore line. It's awesome and it makes sense…
The AP ROO Rubber Clad is easily a favorite amongst high-end watch collectors.
The watch is unique and refined, and this particular reference has been discontinued, making it even more coveted.
First Generation
This AP Royal Oak Offshore Rubberclad reference 25940SK.OO.D002CA.02 was one of three watches in the original first generation of the Rubberclad series.
So, you are looking at a first generation purebred here.
The 42mm Case
The case is considerably compact (at least for a Royal Oak) at 14.6mm thick and it spans 42mm across the round of the case, which doesn't include crown, guards, and chrono pushers. When you add in those assets, you are looking at an imposing 54mm lug to lug measurement. That means this thing wears large (and in charge).
The stainless steel case combines the perfect amount of hard edges with curved lines. The character lines of the case align with the bezel flawlessly and the definition is stunning – point, blank, period.
To top it all off, it is hand finished with an immaculate polishing that one would only expect from AP…and, of course, Patek Philippe as well.
The Mega Tapisserie Dial
The Rubberclad's mega tapisserie (i.e. chequered, Clous de Paris) dial is striking.
The clean, textural, eye-catching bichromatic dial is further invigorated with a splash of color by the key lime pie luminescent coating covering the Arabic numerals.
It's an exceptionally dynamic design with outstanding integration among all the details and every single element…
But not only is it aesthetically phenomenal, it also has superb functionality.
Along the perimeter, you'll find a Tachymetric scale that allows you to gauge the speed of an object over a fixed distance (e.g. a standing mile).
What's more, it has the classic Offshore sunken date modular chronograph.
There are 3 silver sub dials: constant seconds, chronograph 30-minute totalizers, and 12-hour totalizer.
And then when you understand what's at the heart of this watch, its unique functionality becomes even more apparent.
The Movement
This AP Rubberclad features an in-house Audemars Piguet calibre 2226/2840.
The movement uses a vertical clutch chronograph module and it comprises 370 parts…and somehow, it is magnificently thin.
The natural movement of your wrist will completely power the Royal Oak Rubberclad and you can take it off for up to 40 hours without having to reset the time.
Furthermore, it features a hacking seconds so you can pause the seconds and constant seconds to synchronize a reference time. Moreover, there is a quick set for the date so you can set it at the drop of a dime.
Overall, it's a supremely precise, accurate and reliable movement that was made for the fast lane…just like the lime green GT3RS.
The Green Diver Strap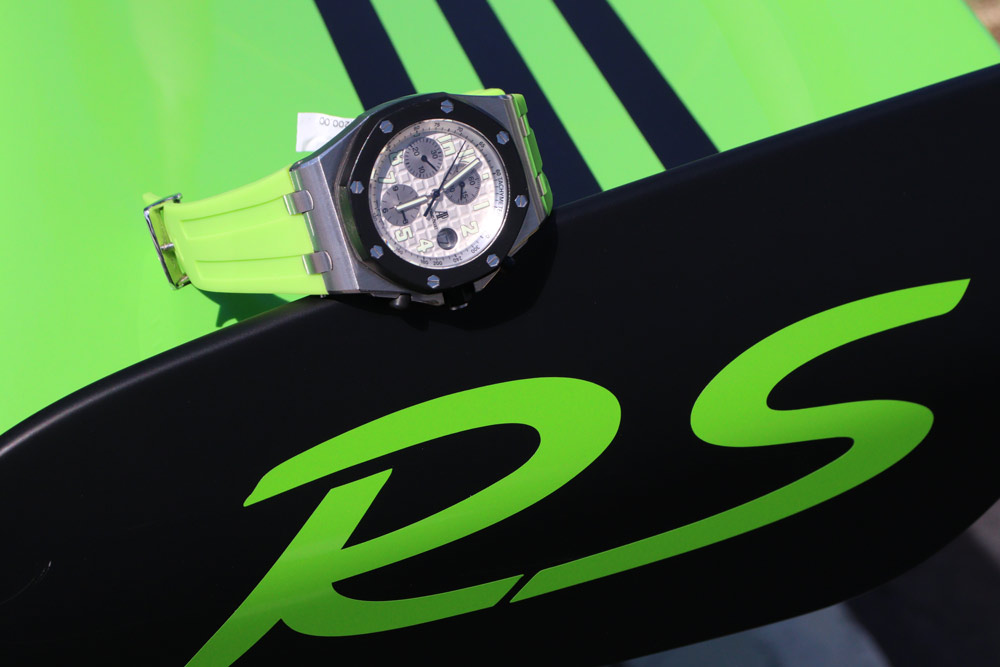 The strap is a HORUS Lime Green Rubber Strap that was specifically made for a 42mm Audemars Piguet Diver. It comes preinstalled with a PVD black tang buckle.
The strap integrates with the watch flawlessly, just like a OEM AP rubber strap does.
The lime green color really galvanizes the charm of the entire watch and it also brings out the color of the Arabic numerals on the dial sublimely.
What's more, it is extremely comfortable. It balances the large case perfectly as it sits on this wrist with a comfort level of 100 thanks to its ergonomic design, quality rubber and deburred edges along the buckle.
The strap is not too thick or too thin. It's not too hard or too soft. It is flexible but never flimsy…honestly, it is exactly how you'd want a rubber strap to fit and feel.
All in all, it's a great watch strap that is fun and functional, and it is surprisingly affordable for such superb quality.
This strap is just a little over $200.
So, for a couple of hundred bucks, you can give your watch a completely new look…
New Strap = New Look
Changing a strap literally makes it feel like a brand new watch. This is because the strap is the most noticeable aspect of a watch when first glancing at the wrist.
Therefore, matching your car with your watch and feeling brand new is a simple as buying a Horus Watch Strap at Diamonds by Raymond Lee.
Horus Watch Straps
Horus Straps is an innovative high quality watch strap company that was founded in 2014.
They design and produce replacement watch straps for the finest Swiss watch brands in the world. Such as Audemars Piguet, Rolex, Breitling, IWC, Omega, Tag Heuer, and more Swiss watch brands.
They are independently owned and are not affiliated with any other company.
Horus Straps has been invigorating the watch strap industry year after year with their unrivaled sense of fashion and design. They use trending and classic colors on ergonomic straps to create a wrist presence that people have been gravitating to across the globe.
Colors like Pink, Miami Blue, Yellow, Red Digi Camo, Blue Camo and more. All vibrant and ultra-stellar.
Their bands are not only aesthetically sound, but they are super comfortable as well.
Their mission is "to inspire challenging the norm, pushing past boundaries and standing out from the rest."
Horus Watch Straps currently spans 5 continents with authorized retailers in over 50 cities.
We, at Diamonds by Raymond Lee in Boca Raton, are one of those authorized retailers.
Horus Straps at Diamonds by Raymond Lee
Diamond by Raymond Lee is an authorized retailer of Horus Straps. Come into our showroom to try on any Horus Straps to see which one is best for your watch. If you purchase a Horus Watch Strap from us, we will fit it for you right there on the spot so you can enjoy a new look for your favorite watch ASAP.
Horus Straps Available Now at Diamonds by Raymond Lee! Contact us for pricing.
For any questions or to make appointments with one of our watch specialists, please feel free to contact us or give us a ring at 561-750-7808. You can also pop into our retail location at any time during our hours of operation. We are located at 2801 N Federal Hwy, Boca Raton, FL 33431.
Special Shoutout to the Owners of the Porsche 911 GT3RS
We want to give a special thanks to @winfarnsworth and @saraxtine_ for letting us take photos of the AP Rubberclad Green Horus Strap watch with their Porsche 911 GT3RS.
The GT3RS x AP Rubberclad combo was one of our favorites so far.
Stay tuned for more watch and car combos. And hopefully, we can do another with these two special people soon…as you can see, they have a few more champions in their garage awaiting a feature.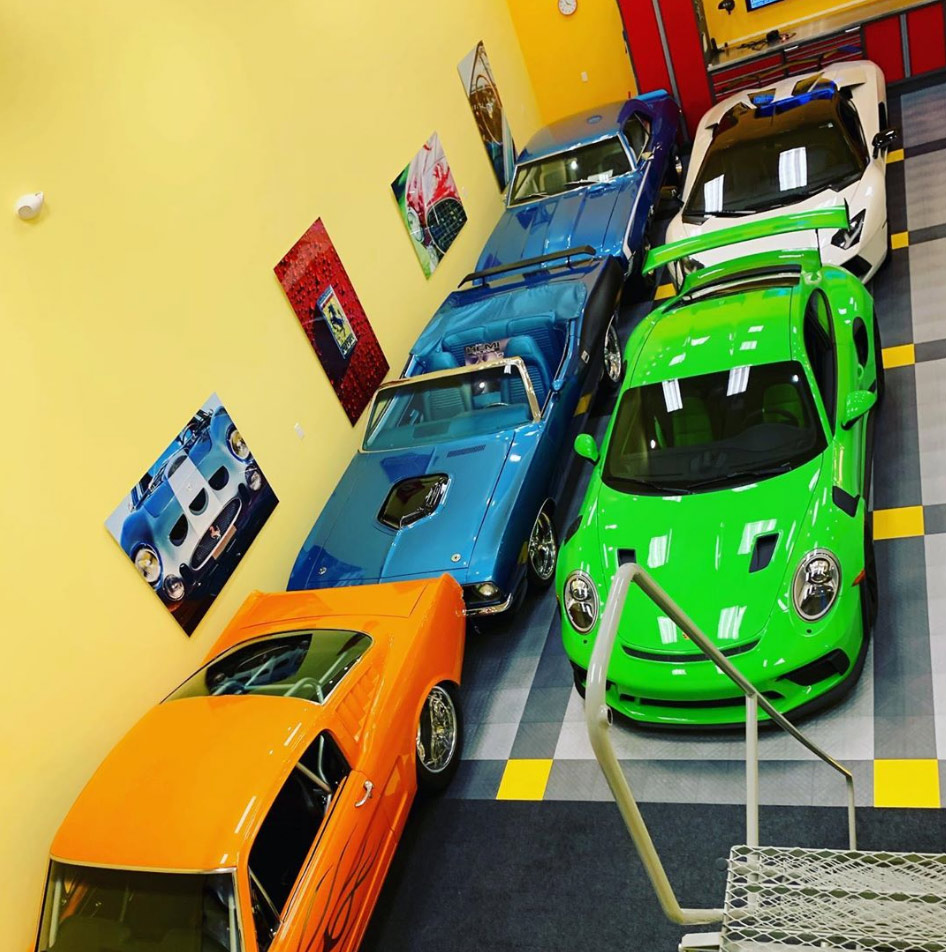 Past Car x Watch Features:
McLaren 720S x Richard Mille RM11-02
Ford GT Carbon Fiber Edition x Rolex Smurf