Raymond Lee Jewelers & Diamonds by Raymond Lee Deliver Top Quality Jewelry Repairs and Custom Design
Fill Out the Form Below for Service with Your Jewelry Repair
    At Raymond Lee Jewelers and Diamonds by Raymond Lee we carry out all jewelry repairs in our very own jewelry repair centers located on-site in both of our beautiful, convenient Boca Raton locations, ensuring your valuable jewelry never leaves our stores and is kept safe and secure at all times. We provide a complete array of jewelry repair services to meet the different repair needs of jewelry owners. We have 30 years of experience in the business and can repair jewelry practically of any type, from contemporary to period and antique pieces. It can be a difficult to find a place you can trust with the cleaning and repair of your precious jewelry. Many customers don't know about the practice of  jewelry stores simply sending jewelry repair jobs to an external trade jeweler due to their lack of in-house capabilities. We pride ourselves on keeping our clients' jewelry repairs in Boca Raton, on-site at our locations, under our own surveillance, lock and key, and armed guards. This lets us ensure quality control, knowing that only the master jewelers we trust and employ have operated on our clients' prized possessions.
    Most jewelry repairs can be completed between two days to two weeks, depending on how complex the job is. While you wait, jewelry repair can be completed on simple issues like ring sizing, clasp replacement or basic chain soldering. In all repair job we accept, we will provide a quote and estimated time of completion to the customer and wait for their approval before starting any work.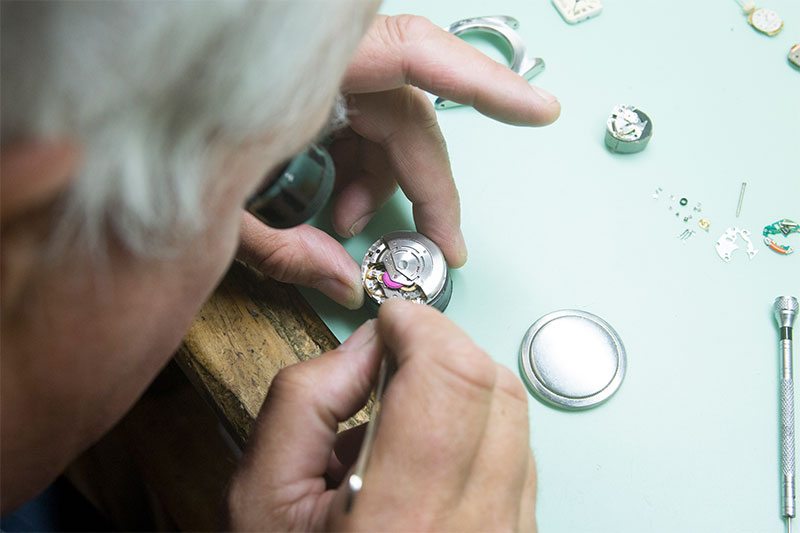 Our Range of Jewelry Repair Services
Raymond Lee Jewelers offers the following jewelry repair services:
Restoration
Refinishing
Redesign
Ring resizing (women's and men's rings)
Pearl re-stringing
Prong re-tipping
Claw repairs
Shanks replacement on rings
Chain or bracelet soldering and repairs
New clasp fitting
Safety chain repair
Charms soldering
Stone re-setting or replacement
Gemstone cleaning
Jewelry polishing
Rhodium plating
And others!
    We fully guarantee the highest quality of our service on all jewelry repairs we complete. We are known for high standards of workmanship for which we constantly receive many referrals from satisfied customers. Take your gold, diamond and gemstone jewelry to the expert jewelers and technicians at Raymond Lee Jewelers and Diamonds by Raymond Lee for exceptional jewelry repair in Boca Raton. Get a free, no-obligation estimate on repairs and let us restore your jewelry for you to enjoy it for many more years to come.
A Combination of Talent and Tools
    We employ full-time jewelers in our stores with several decades of combined experience in the field of jewelry repair and design. With skill and precision, our expert jewelers repair jewelry using our on-site state-of-the-art devices and machinery such as bench-mounted zoom microscopes and the latest laser welding technology. Combining skills and advanced equipment, our jewelers are capable of performing complex jewelry repair and restoration work that only a few can handle today.

High-Tech Laser Technology
    As the most trusted jewelers in Boca Raton, we owe it to our customers to deliver quality services. So we make sure to invest in the best technology out there that will help our people do their job well. Using our Laserstar iWeld 990, previously impossible repair jobs can now be carried out by our jewelry repair technicians. This latest laser technology eliminates the need to heat large areas to facilitate repair. Instead, the laser beam is controlled through a computer to precisely pinpoint heat at target areas where metals need to be joined, melting only a very small area.
    The iWeld 990 is so precisely focused that we can make welds as close as .5 mm away from precious gemstones with no damage. This allows work to be done around heat-sensitive gemstones and intricate parts without putting the jewelry at risk of damage or melting. Repair centers without a laser welder carry a serious risk of damage to jewelry when they work on pieces with large gemstones so don't risk sending them your gemstone jewelry. Entrust the repair of your precious items to someone who cares enough to invest in the best technology and that's Raymond Lee Jewelers and Diamonds by Raymond Lee for state-of-the-art jewelry repair in Boca Raton.
Custom Jewelry Design
    Our jewelers are experts not only at fixing and restoring your treasured jewelry pieces but also at creating custom unique pieces. Without question, the best thing about owning custom-designed jewelry is that only you have that piece, a unique and irreplaceable item. So, if you love the idea of having a truly unique piece of jewelry for your own collection or as a special gift to someone, our custom jewelry designer in Boca Raton, at either of our showrooms, can turn your one-of-a-kind dream jewelry to a reality. Bring us your own design or discuss your requirements with one of our designers.
    You may also want to order a custom piece of jewelry that will signify something special to you, which may not necessarily be unique, or perhaps you simply inherited a piece of jewelry from a loved one and you want to make it your own. Whatever reason you're looking for custom jewelry design and whatever style or design you have in mind, we'd love to talk about your ideas. Contact us to schedule a meeting with our jewelry designer in Boca Raton. What can you do with custom-designed jewelry? Well, anything you want! Since our jewelry designer will create the piece just for you, you have the freedom to select the type and/or color of metal and stones to be used as well as the finish you want so that the end product is exactly just as you want it.
Need Expert Jewelry Repair?
    Whatever issue you may have with your jewelry, we can help. Come in to Raymond Lee Jewelers or Diamonds by Raymond Lee for any jewelry repair needs. Our expert jewelers will carefully examine and repair your most precious jewelry. They will also offer helpful tips so you can keep your pieces looking beautiful and damage-free. So if you have any broken jewelry just sitting in your drawer, bring them in today and we'll fix it so you can proudly wear it again.