Eternity Ring vs Wedding Band: Everything You Need to Know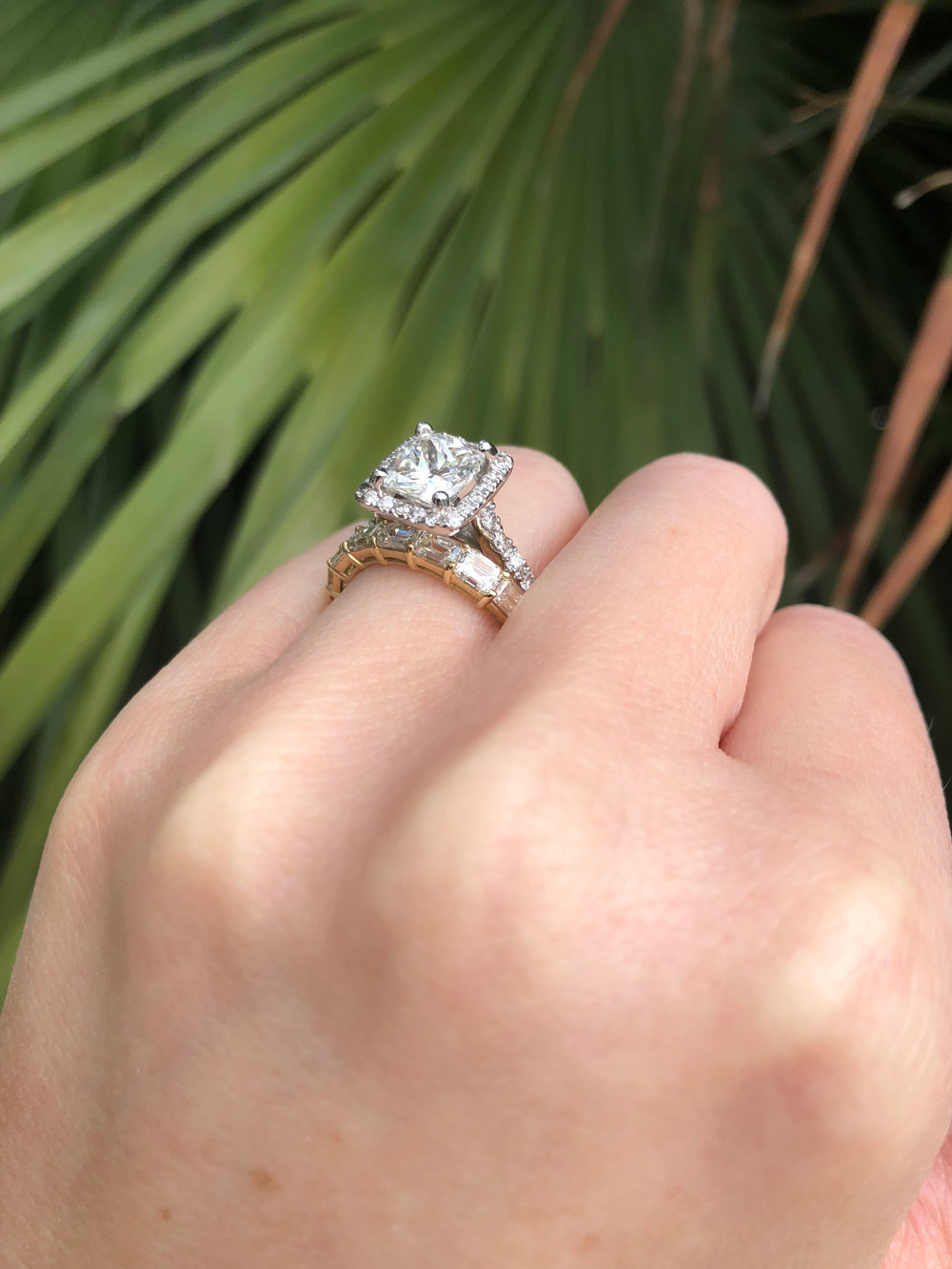 Are you on the hunt for a wedding band? Have you considered an eternity ring instead? These days, giving an eternity ring as a "wedding band" is the norm. More and more brides-to-be love and prefer the look of an eternity ring over a wedding band. Thus, men are buying eternity rings rather than wedding rings for the "big day". Because of this, "eternity ring" essentially has become interchangeable with "wedding band"…No matter what you call it, when making your decision, you probably have some questions you want answered, and there are probably questions you didn't even think of. So, we are going to cover everything you need to know in this "Eternity Ring vs Wedding Band" feature.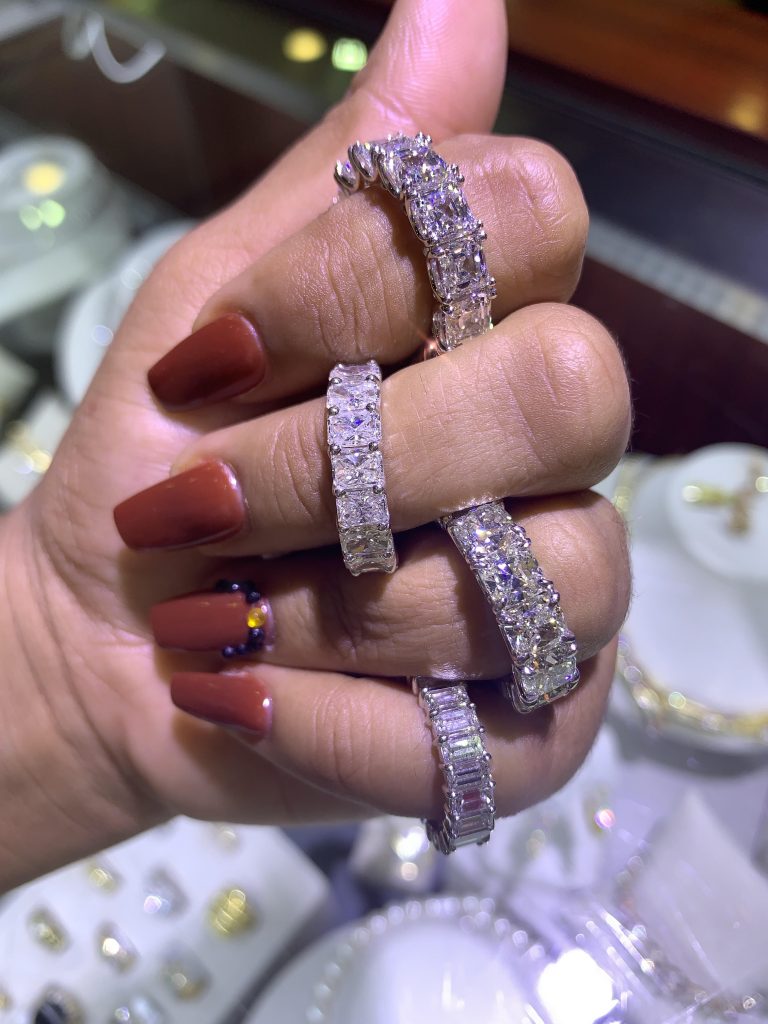 We will discuss the differences between wedding bands and eternity rings, such as the styles, meaning, symbolism and when they should be given. We will also discuss a somewhat controversial topic, "can you use an eternity as an engagement ring?"
So, put your diamond hats on, and let's get started with our Eternity Ring vs Wedding Band discussion.
Eternity Ring vs Wedding Band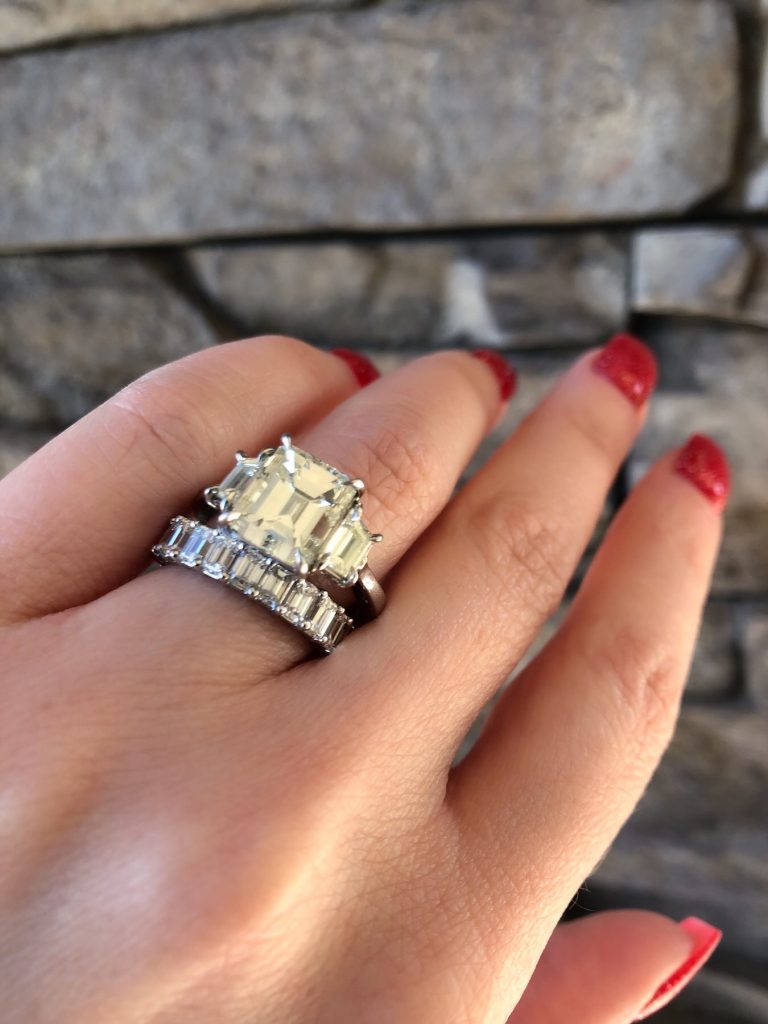 Wedding rings and eternity rings originated in ancient Egypt millenniums ago. Of course, they weren't exactly the same as they are today, as they were mostly made from sedges, rushes, and reeds, among other materials, rather than precious metals. Moreover, the use of diamonds in jewelry didn't occur until some time after.
Overall, the two types of rings had different purposes, but ultimately they were decorative ornaments worn by women of those days…
But what about in modern times…what is the distinction between the two?
Wedding band and Eternity ring
Throughout the generations, eternity rings have received various names (i.e. infinity rings) and have represented a multitude of different meanings depending on the culture. Conversely, wedding rings have always served a singular ubiquitous purpose for those cultures who pledge rings upon marriage (many cultures don't have this tradition, although it is becoming more widespread in the 21st century).
Now, when talking about differences, we are going to start with the style of the rings, then we will discuss the meaning and symbolism behind the two. And finally, when they are supposed to be given, traditionally and contemporarily speaking.
Wedding bands
With wedding bands, traditionally they are made from precious metal and are plain, as this makes them comfortable for everyday wear. For those who appreciate a flashier look, there are, of course, wedding bands that come partially fitted (just the top side) with diamonds using a channel setting. In fact, diamond wedding bands have become the most popular style for modern brides.
Most often, wedding bands are on the thinner side, however, jewelers do create larger size bands with multiple rows of diamonds to better suit an engagement ring with a big centerpiece. Moreover, many wedding bands come with an engagement ring. They are sold in sets as to ensure they fit together perfectly flush. This makes for a harmonious look and it prevents damage. That said, these days it is more popular to mix and match engagement rings and wedding bands. This allows people to express more creativity.
Here is an example of a wedding band.

Eternity Rings
When it comes to eternity rings, the bands are made from precious metal (yellow gold, white gold, rose gold, or platinum) too. However, unlike wedding bands, eternity rings have diamonds encircling the entire band. They also use various diamond settings. Eternity rings use prong, channel, pavé and cut down settings to fix the diamonds in place. The most popular is the shared prong setting as this allows the diamonds to shine in all of their grandeur.
What's more, eternity rings come in various sizes. They can be large or thin. Because of this, you will find eternity rings with small, medium or big diamonds. Some have one row, two rows, three rows and even more. Furthermore, eternity rings come in all different kinds of diamonds shapes and cuts, and they may use fancy colored diamonds or precious gems like sapphires.
One thing that stays consistent with all eternity rings is that all the stones along the band are the same size. This is so the eternity ring can maintain perfect symmetry and a circular shape. With wedding bands, they aren't all perfectly circular (although the majority are), as some are designed specifically to fit flush with an engagement ring.
Here is an example of an eternity ring…

So, to sum it up…
What's the difference between a wedding band and an eternity ring?
Wedding Bands:
Precious metal band.
Plain or set with diamonds on the top side; (Note: some wedding bands do have diamonds along the entire band using a channel setting).
If it's a diamond wedding band, the vast majority will use a channel setting and round brilliant diamonds.
Often comes as a set with an engagement ring.
Bands are circular or uniquely shaped to fit with an engagement ring.
Eternity Rings:
Precious metal band
Perfectly Circular
Diamonds set all along the entire band
Various diamond sizes, shapes and colors.
Typically one row of diamonds, but they can be made with three rows or more.
Various diamond settings.
Half eternity ring
Now, there are also half eternity rings too, which can make things a little ambiguous.
What is the difference between half and full eternity rings?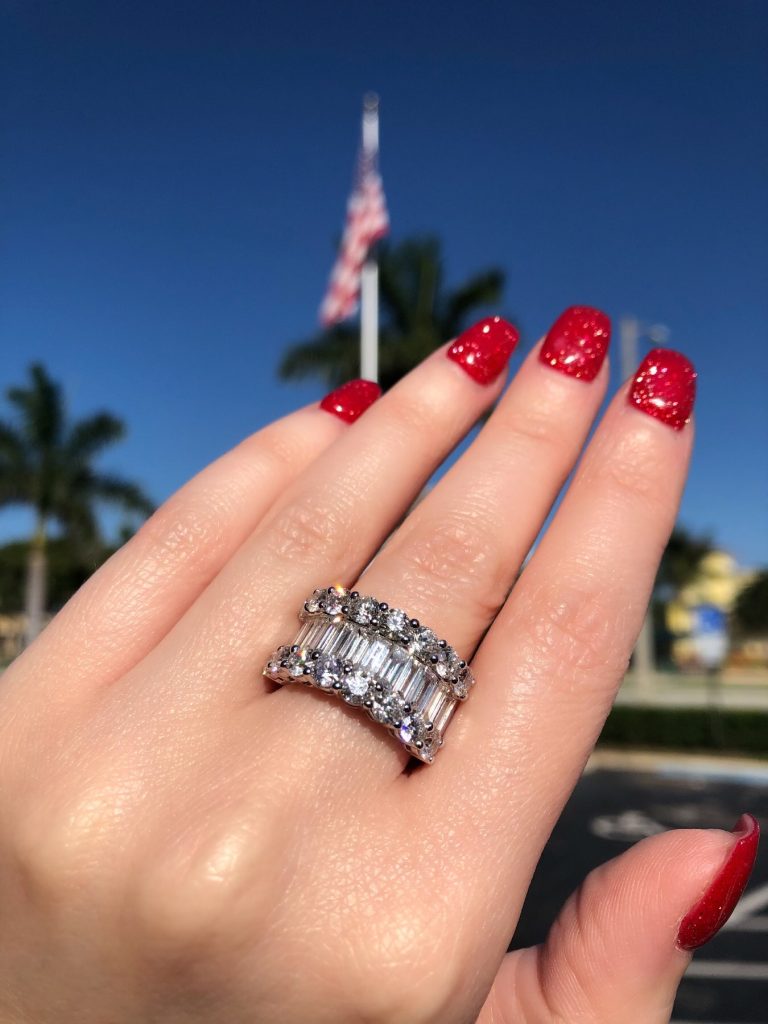 Eternity rings come in 2 different styles, half and full eternity rings. The only difference is that the diamonds are set half way around the band for half eternity rings and diamonds surround the entire band for full eternity rings. The name makes it clear, so it's pretty self-explanatory. Besides that, everything else applies. They can use different diamond sizes and shapes, various settings, they are perfectly circular, etc.
Besides the design, people often say half eternity rings are more comfortable than full eternity rings as the underside is a plain band. This is especially true with bigger eternity rings. Moreover, half eternity rings are easier to care for in terms of cleaning them as there are less diamond. Also, there is less potential to lose a diamonds, again as there are less of them.
Note: You can't tell the difference when it's on the finger, as half eternity rings fall seamlessly into the crease of the finger. So you get the comfort of a half eternity ring with the look of a full eternity ring.
Meaning and Symbolism – Wedding Ring vs Eternity Ring
Besides style, there is a difference in meaning and symbolism, which we will explain in a brief manner.
What does a wedding ring symbolize?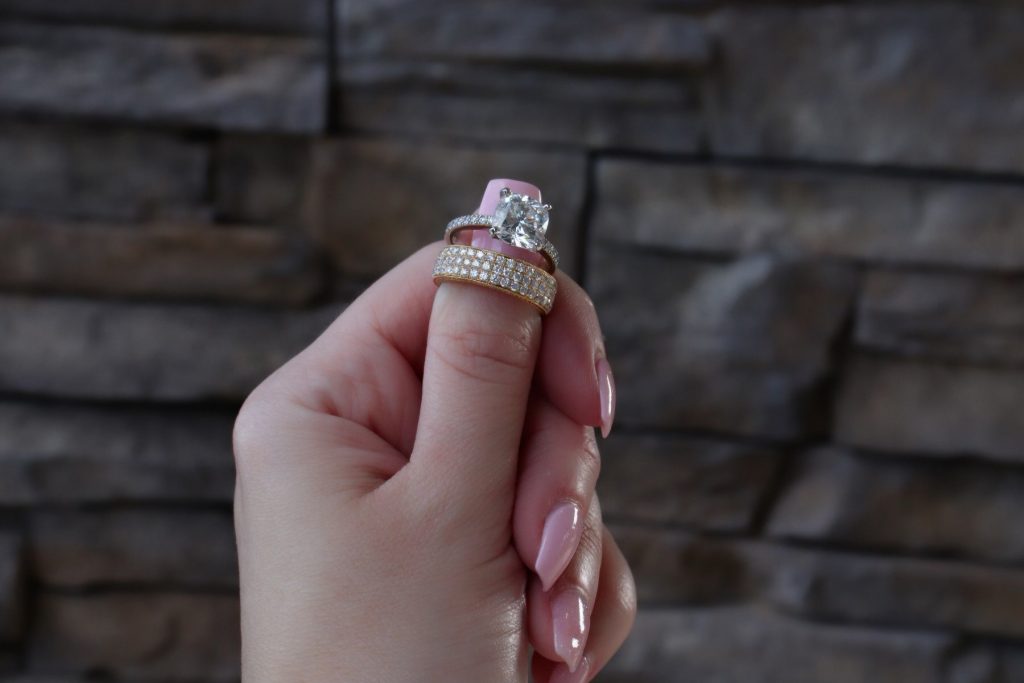 Wedding rings are given during a wedding ceremony. They represent an unbroken, never-ending circle of love. The ring is meant to be placed on the ring finger of the bride by the husband. What's more, with wedding bands, the man also receives a wedding band by the woman. This isn't the case with an eternity ring.
All in all, a wedding ring symbolize commitment, and it isn't supposed to be taken off. Traditionally, the wedding band and engagement ring are worn together everyday, unless of course it's necessary to take them off – for example: hospital work, labor work or sports.
What does an eternity ring symbolize?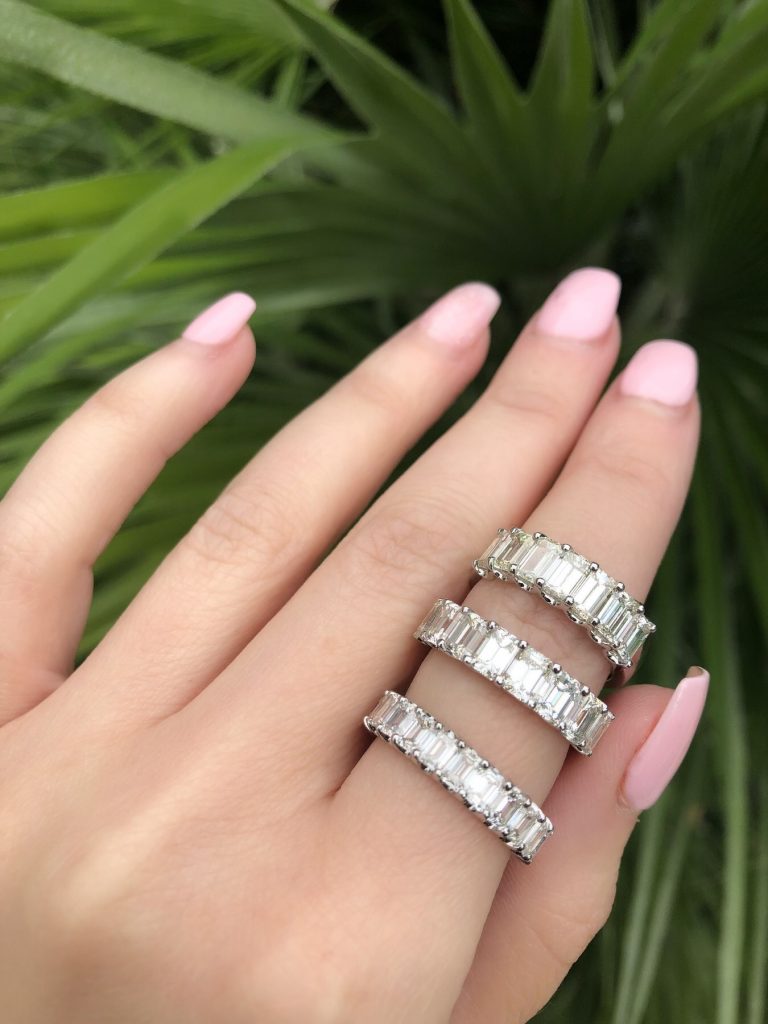 Eternity rings symbolize everlasting, boundless love. The diamonds are spaced tightly together along the entire band, so you can't see where the ring begins and ends. Hence the name "eternity".
This also means there is no "right way up" for a full eternity ring, as the entire band is the same no matter which way it turns.
Another big difference is when an eternity ring is traditionally supposed to be given.
When to give an eternity ring?
We know wedding bands are given during a ceremony. But eternity rings are traditionally given during special occasions in a person's life or a milestone in a relationship.
They may be given for an anniversary. This is why "eternity ring" is synonymous with "anniversary ring". They can also be given during the birth of a child, a promotion at work, or any other occasion. They can even just be given simply because you want to give a gift to your significant other. Moreover, women often buy eternity rings for themselves just because they like the style.
All in all, there is no wrong or right time to give an eternity ring.
Another difference with eternity rings and wedding bands is the finger it is worn on.
What finger do you wear an eternity ring on?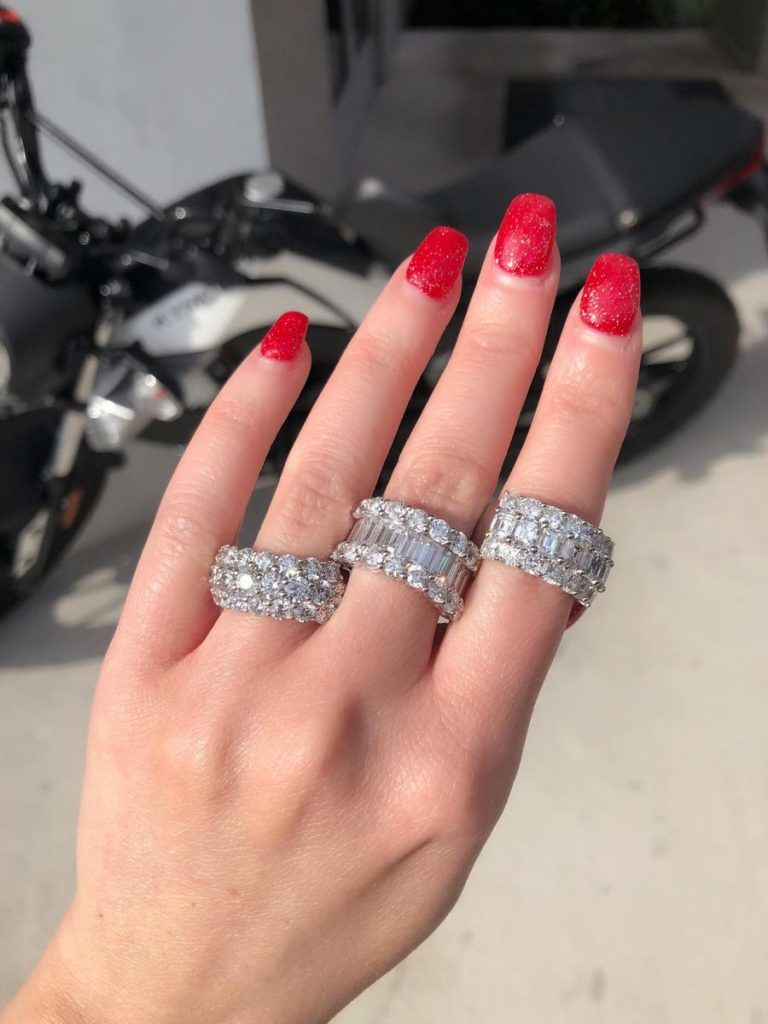 Again, speaking traditionally, eternity rings are worn stacked with the engagement ring and wedding band.
It's a stack that normally builds over time. It starts with the engagement ring, then the wedding band, and eventually an eternity ring.
However, due to the very hot trend of stacking rings, women are stacking rings straight away. They may stack multiple eternity rings or they will stack eternity rings with their engagement ring. This has become a highly sought after look.
Now, what's special about eternity rings is that they don't need to go on the same hand and finger as the engagement ring and wedding band.
While a wedding band goes on the left hand's ring finger, an eternity ring can be worn on any hand and any finger. You can move it around at anytime you like. This makes it one of the most versatile rings you can buy. There are no rules with eternity ring. And the line of "tradition" is becoming more and more faded, as we are about to explain with another very common contemporary question.
Can you use an eternity ring as a wedding ring?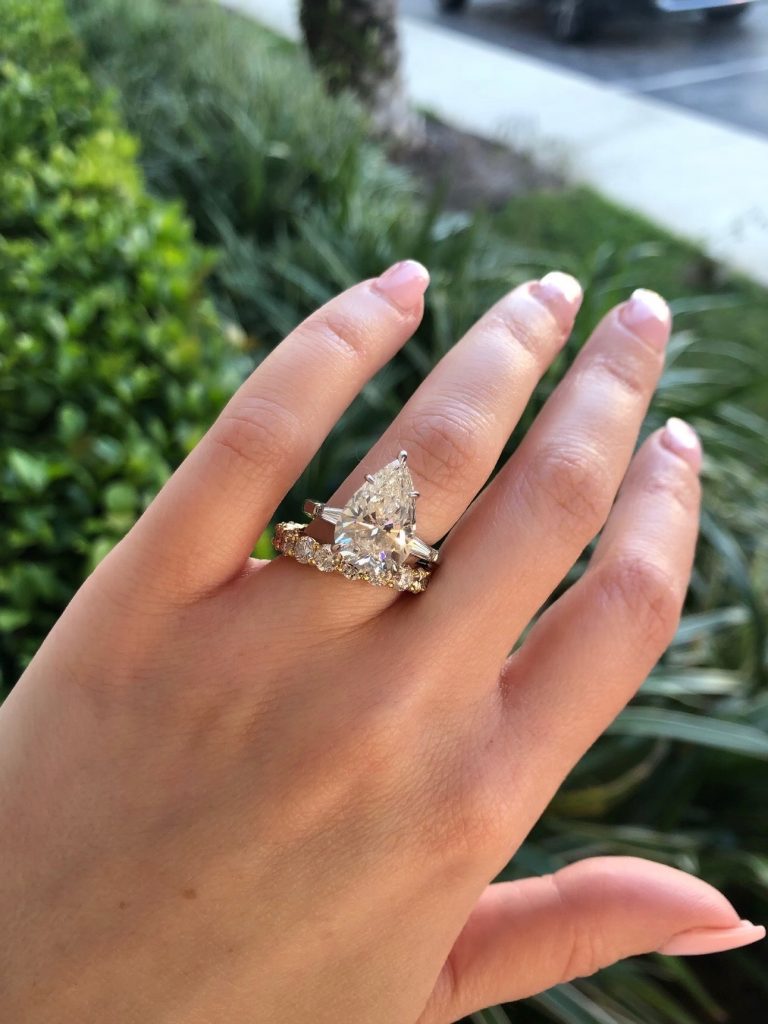 Nowadays, eternity rings are very often used as wedding bands. Many men (and women) are opting for an eternity ring as a "wedding band" as they prefer the style. Eternity rings offer a lot more options that the modern bride prefers. It provides immense sparkle, which what woman doesn't appreciate? And it allows women to be more unique.
Plus, an eternity ring looks equally as good paired with an engagement ring as a wedding band…if not more.
Here is another example of an eternity ring used as a wedding band.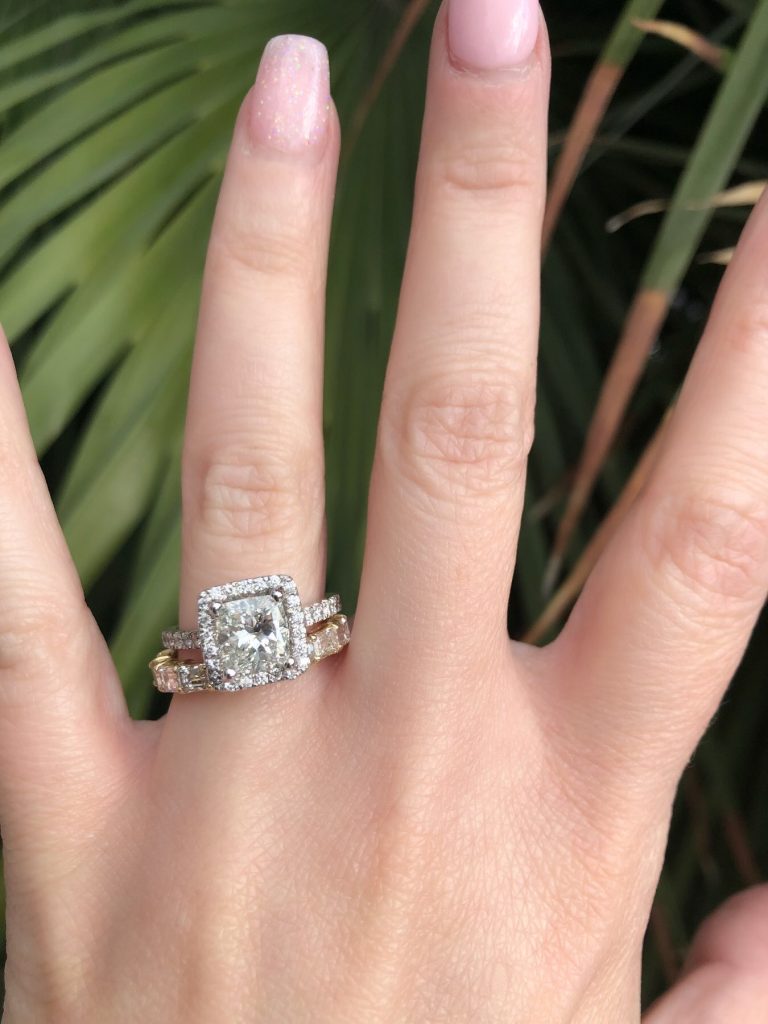 There is another common trend emerging, and this one may surprise many of you. It may also enrage the purists out there.
Can Eternity Rings be used as an Engagement Ring?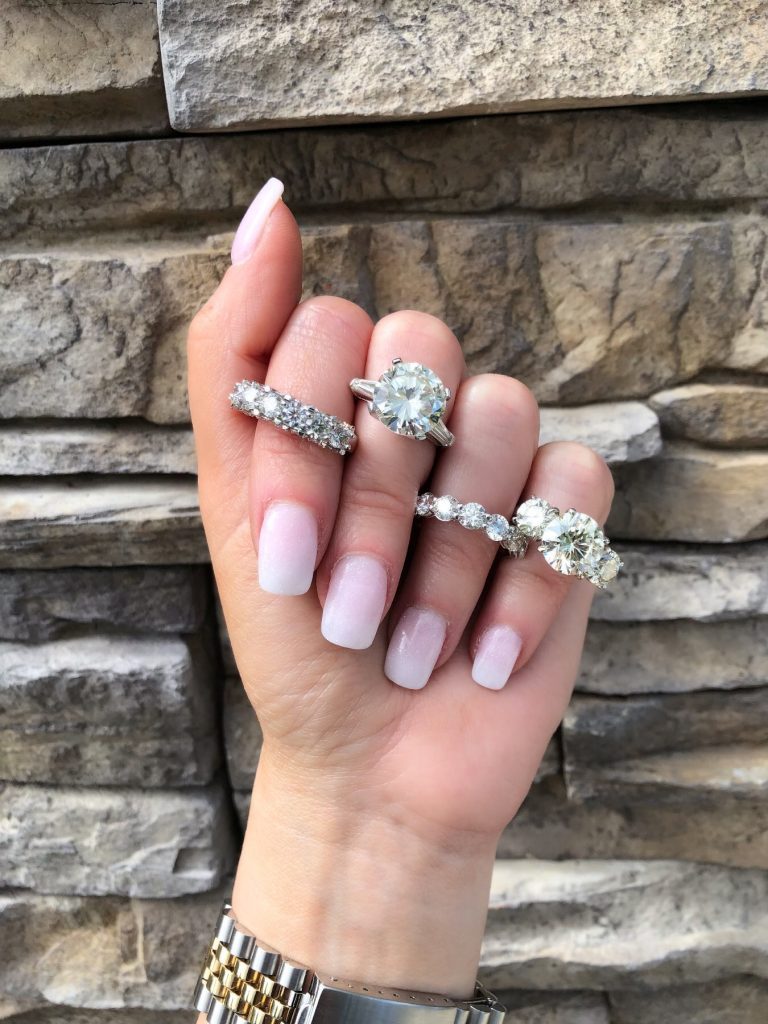 If you are comfortable with breaking tradition, there are some benefits to buying an eternity ring in place (or technically before) an engagement ring. There are also some other factors to consider.
First, buying an eternity ring in place of an engagement ring for the purpose of proposing is becoming increasingly popular. And it's not as if the woman will not get an engagement ring. Most men are buying an eternity ring as the ring of proposal as it allows women to have more say in the engagement ring. Once he gets the "yes", the two can shop together for an engagement ring. This way, there is no "he got the wrong engagement ring" or "I don't like my engagement ring" situation. After all, the vast majority of woman deeply desire an engagement ring, but they want one they actually like; one they are proud of; one they can show off! Men are becoming more aware of the importance of including their girlfriend in the process of choosing an engagement ring. Modern times call for modern thinking.
So, it's not that an engagement ring is being replaced, it's just that the timing is.
Note: Be sure to tell her you want to shop for an engagement ring together, or she might think she's not getting one!
All that said, there are two main things to consider. First, it's not likely to be cheaper. Many worthy eternity rings are quite expensive since there are diamonds covering the entire band, and they are often quite big in total carat weight. Second, if the woman is undeniably traditional, she will be expecting an engagement ring. In this case, you can always discuss the type of engagement ring that she will like, in a subtle way, beforehand.
Another benefit of getting an eternity ring first is you are quickening the process for a woman to be able to create her beloved three ring stack. And trust us when we say, this is a style many contemporary woman want. She will have the engagement ring shortly after and then a wedding band on the wedding day. So, she has a two ring stack from the get-go and her three ring stack on her wedding day – the most extravagant bride possible!
Again, on the flip side, you need to understand this is going to be a more expensive process, at least initially. Instead of being able to save for an eternity ring for a future anniversary, you will need to pay up everything in an expeditious manner.
If money is not a concern, we think offering an eternity ring during proposal is the way to go.
Something to think about!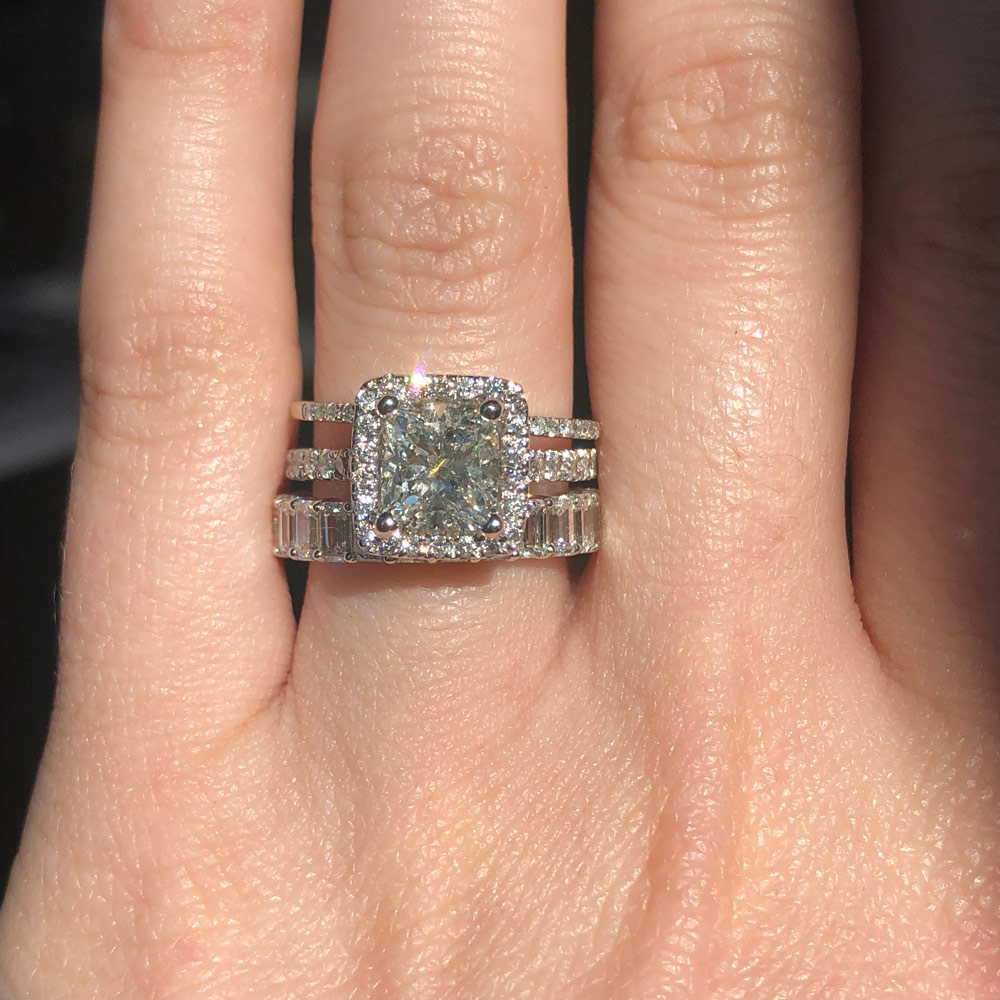 Where to buy eternity rings, wedding bands and engagement rings?
At Diamonds By Raymond Lee in Boca Raton, you will find the most extensive collection of stunning eternity rings, wedding bands and engagement rings. This is why we are the premier diamond ring retailer in Boca Raton and South Florida.
We are confident that you will find the perfect ring. And if you want something more "personal", we can create you a custom ring from scratch!
We've been serving South Florida's insatiable need for diamonds for over three decades, so we know what people of all generations want and need, especially the younger generation.
Contact us if you have any questions. We look forward to hearing from you!