Couples spend hours (and plenty of money) finding the perfect diamond, designing custom settings and even reworking heirloom pieces into new creations, all in the quest for a personalized symbol of their love. Your wedding and engagement rings are a very public statement, and you will probably talk about them and show them off again and again throughout your engagement. But, there is another, less noticeable way to personalize your rings. Like a private love note between the bride and groom, engraving the inside of a wedding ring adds a sweet and sentimental touch.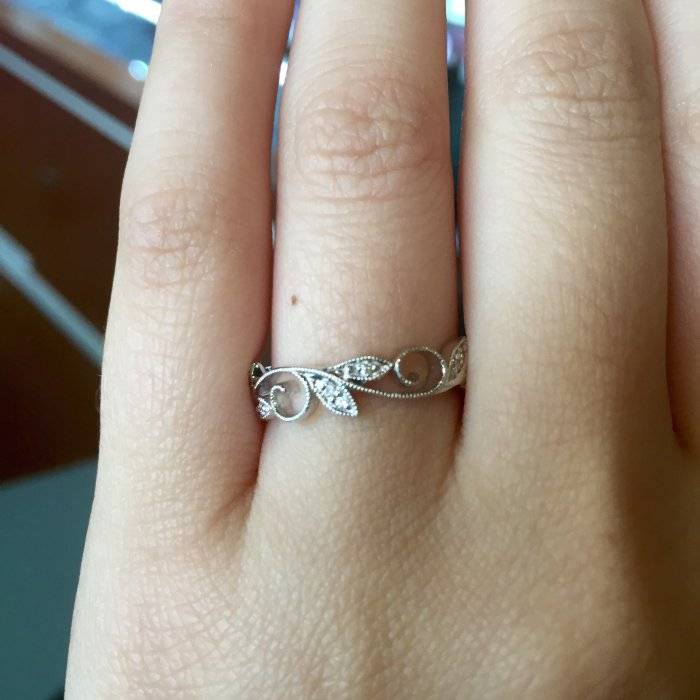 How it works
Most jewelers can engrave a message inside the band of a wedding or engagement ring, so that it sits against your finger, unseen, when worn. If your jeweler doesn't offer this service, they will certainly be able to refer you to someone.  However, there is another, less common engraving technique, which can be arranged by many jewelers. A message, or even an image can be laser etched onto the diamond.  The result is invisible at a casual glance but can be seen through a jewelers loop, making it a sweet secret. This technique gets bonus points because it also serves as a method of identification if the stone is lost or stolen.
Expense & timing
You can have a ring engraved at anytime, but most couples choose to have them done when they order or purchase them. But, it's also a nice touch to have added later as a wedding day surprise or as an anniversary present down the road. Just don't wait until the last minute. While some jewelers can complete engravings the same day, it can take several weeks or even a month.
Engraving is a surprisingly affordable way to customize a piece of jewelry, but the cost can vary widely depending on the jeweler and the method used. Hand engraving, which is less precise and has a hand-crafted look, is generally more expensive due to the labor involved. Expect to see prices starting at around $75 for 10 characters for this service. Machine engraving is less labor intensive and usually costs a bit less. We charge $35 for the first 15 letters for our machine engraving. However, inscriptions are an area in which you get what you pay for. For a special piece like a wedding or engagement ring, don't skimp on quality.
What to say
Finally the fun part!  The sky is the limit when deciding what to engrave inside your rings. Remember, for the most part, the two of you are the only ones that will see the message so feel free to use an inside joke or a private nickname. The only thing that matters is that it is meaningful to you.   If you need a little help to spark your creativity, consider these options.
The dates you met, got engaged and wed – not just sweet memories, it may prevent forgotten anniversaries
The longitude and latitude of your wedding location, or the spot you met
The words "I love you" in another language, perhaps from where you will honeymoon
A quote from a favorite book. For longer quotes, consider splitting it between his and her rings.
A scripture or line from a poem that will be read at your wedding
A line from your special song, such as the one that was one the radio during your first date, or the one for your first dance