Meira Tis one of the hottest names in designer jewelry. This line, chock full of stunning bracelets, earrings, necklaces, rings, handbags and more, is gorgeous and reflects the modern sensibility of today's jewelry lover. Meira T pieces expertly combine the luxury of precious gemstones with the delicate, streamlined look of everyday wear. These accessories work beautifully during the day or dressed up at night.
Meira T is famously "designed for a woman by a woman" and the woman behind these gorgeous pieces is Meira Tugendhaft. Meira draws inspiration for her creations from her life in New York, her upbringing in Germany and Belgium, and devotions to both travel and fashion. Meira started out in the diamond business, and after working for a diamond company yearned for a way to express her creativity. The unique, organic designs of Meria T were born. Her designs and business also reflect her love for family – her daughter Nurielle is director of business development for the brand, daughter Chantal is the brand's legal counsel, and daughter Brigitte, her assistant designer, collaborate with their mother to maintain the brand's signature style. Her husband, Tobie Tugendhaft, expertly sources the brand's gemstones.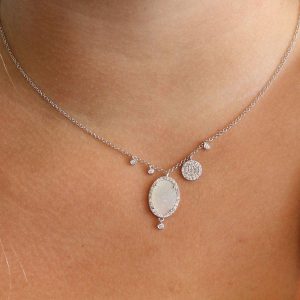 Meira T is based in midtown Manhattan where she crafts pieces from 14 karat gold, 18 karat gold, gemstones and diamonds. The signature style balances delicate charms with organic shapes and slices. Meira T's trademark off center charms lend each piece an edginess that strikes a perfect balance. Her exquisite work with opals, in particular, makes us drool.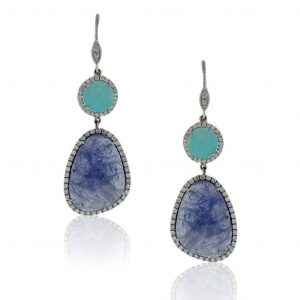 Meira has said of her work:
I have a very specific aesthetic and vision as to how I like my designs to be made. I hope that when consumers look at Meira T they appreciate the design element as well as the workmanship and quality. My brand offers women fine jewelry that is both sophisticated and cool. I like to think of my pieces as playful and feminine. They transition perfectly from day to night. As a woman, I know how busy we are and I try to make pieces that we can do anything in whether it be attending a dinner party, going to a class at the gym, or a jumping into a warm shower at the end of a busy day.
Meira's tributes to nature especially strike a chord with women who love the more organic look on jewelry:
 I travel to Asia, the Middle East, Italy—these are all such vastly different places. I would say my rough stone collection is inspired by the landscapes and colors and artistry I see as I explore. I also try to incorporate symbols from various cultures I encounter through my travels. I design with the tree of life and Om symbols as well as religious symbols such as crosses, evil eyes, and hamsas. My yellow gold collection is inspired by my love of nature. I love to visit beaches, go hiking, and biking. I often make castings of real leaves, shells, or other artifacts I find. The shapes, hues and dimensions of nature are always presenting themselves in ways that are surprising and help give me a fresh viewpoint.
Again, this fits beautifully with Meira's design philosophy of "by women, for women." Today's female jewelry lover enjoys shopping for herself – our customers love to treat themselves, and with perfect designs like these they fit the aesthetic that our customers love. Which is why we are thrilled to welcome Meira T to our designer showcases! Raymond Lee Jewelers is now an authorized retailer of these fabulous pieces.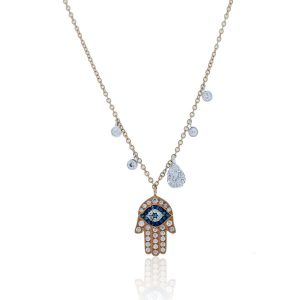 We invite you to stop by, admire these gorgeous designs, play dress up with any of our team of experts, and lose yourself in the stunning designs of Meira T.