Hunter Loring Presents Another Showcase of Supercar & Swiss Watches
The Watch Boss of Boca, Hunter Loring, brought in another one of his good friends and clients this past month to purchase a Rose Gold Audemars Piguet Royal Oak Offshore 44mm…This man is clearly a baller as he rolled up in a brand new white McLaren 720S.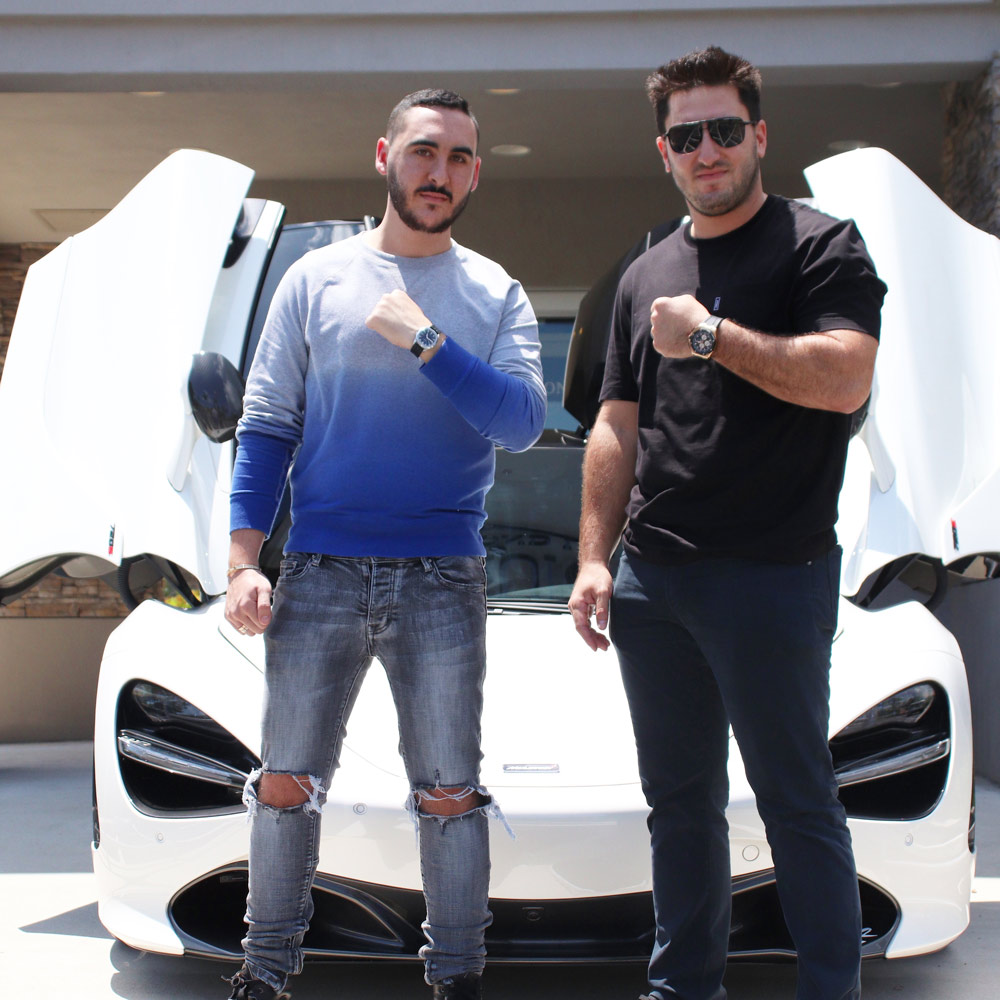 We decided to take pictures as there was so much fire going on between Hunter's client's McLaren 720S and his AP Royal Oak Offshore Rose Gold 44mm Chronograph. Not to mention, Hunter was wearing a clean Patek Philippe Aquanaut 5065 Jumbo…
Now, we put it all together to showcase everything for you.
In this post, we are going to talk about the AP ROO Rose Gold 44, the Patek Philippe Aquanaut Jumbo, and, of course, our new favorite McLaren, the 720S. 
McLaren 720S White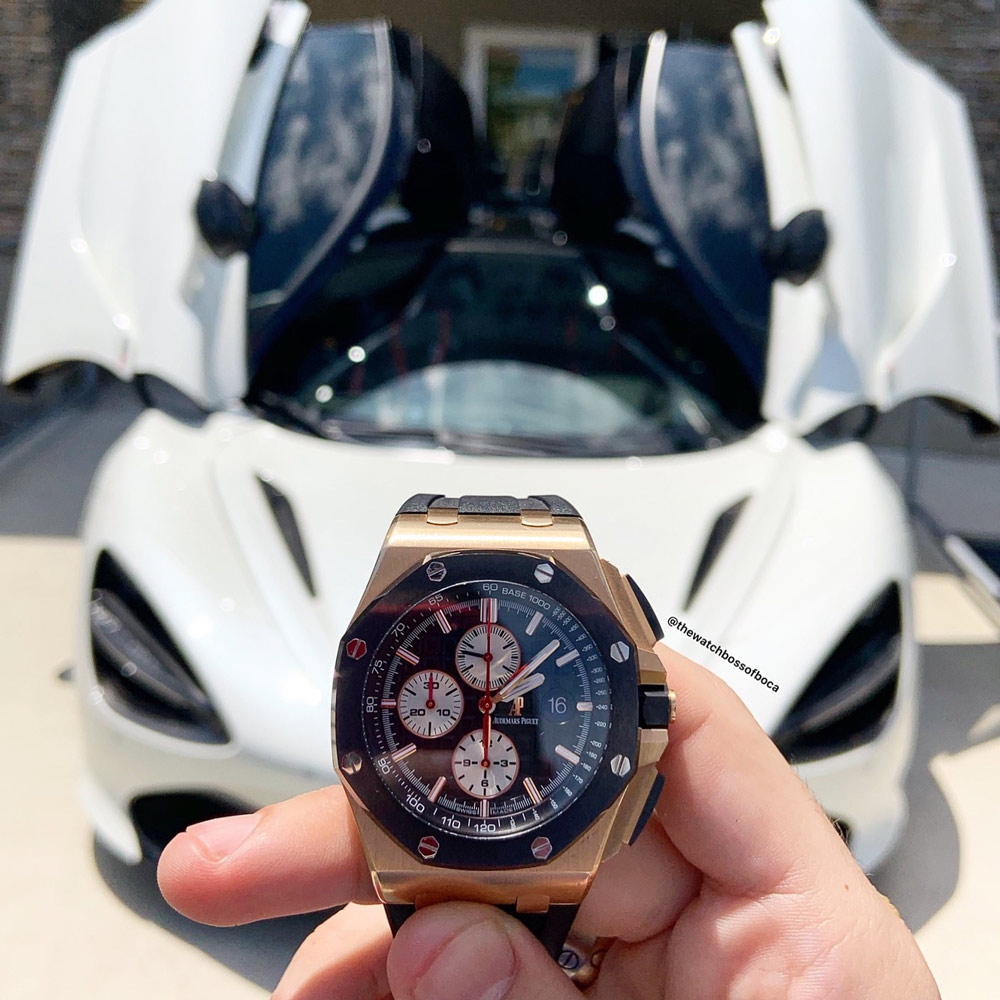 The McLaren 720S is one of the most accomplished super sports cars we've ever witnessed.
It's stupendously fast with a high-speed balance and steering that feels great.
The 720S is truly a major accomplishment for McLaren.
It's development dates back to 2013, even before the 650S was announced. After only 4 years (in 2017), they had their first full validation car built and on the road. That's an incredibly fast path to market.
According to McLaren, 91 percent of the 720S is brand new, with the larger 4.0L engine featuring 41 percent new elements, such as the turbos, intercoolers, cylinder heads, etc.
The McLaren 720S wears a lot of carbon fiber. Because of this, the car is a lot lighter. Its "Monocage II", which is a chassis structure with an upper structure and windscreen surround, makes the car even lighter and more rigid than the 650S. Part of the Monocage is visible, exposing material on the inside of the A-pillar.
What's more, the car has an improved center of gravity due to the engine being longitudinally mounted 150mm lower than previous models.
The car is like a jet fighter with its all around inimitable vision thanks to an all-glass cockpit. Not to mention, it's lightning fast.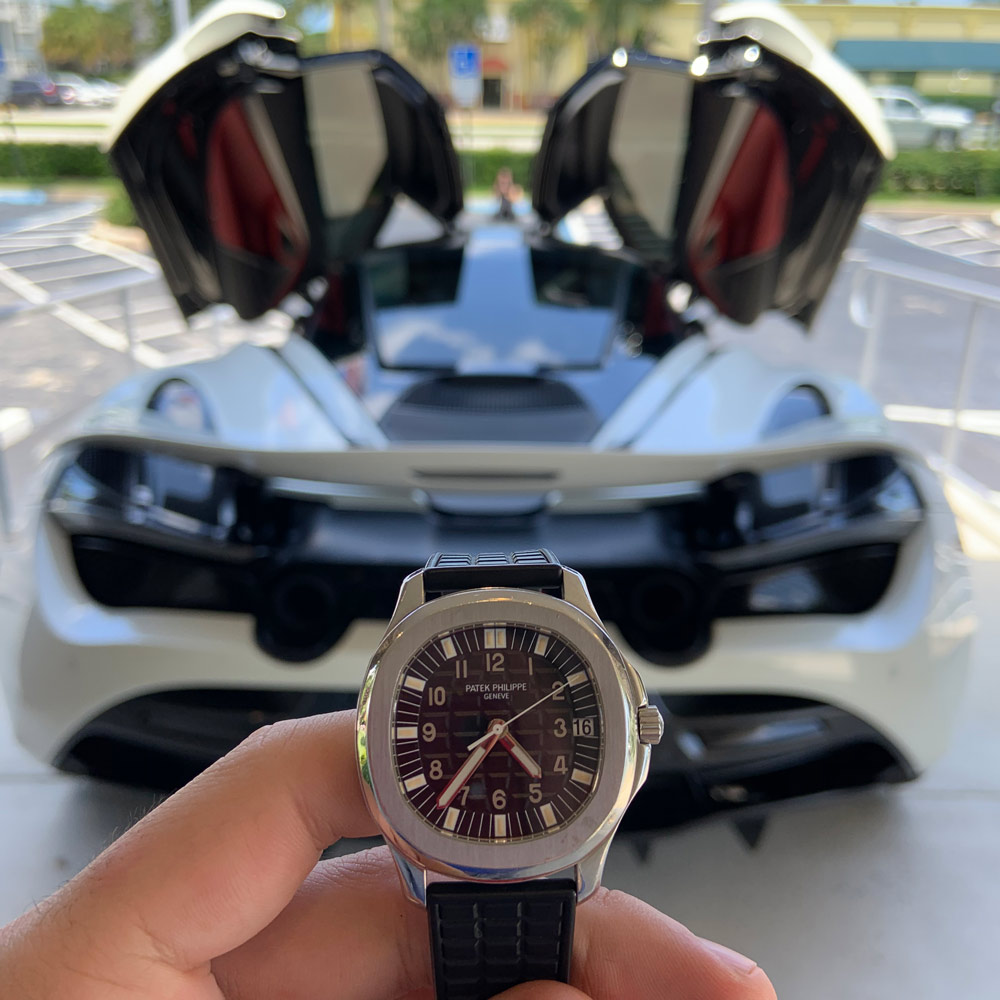 How fast is McLaren 720s?
The McLaren 720S has 710bhp, 568 torques and can do 0-60 in 2.9 seconds; 0-124 in 7.8 seconds; and 0-186 mph in 21.8 seconds. Moreover, it has a (theoretical) top speed of 212mph.
A big reason for its off-the-charts speed is the aerodynamic work. The panel at the head of the car disperses the turbulent high pressure air to the side. This increases downforce by 50 percent more than the 650S. Furthermore, a channel at the top of the doors pushes high velocity cooling air into the radiators in the engine bay. Comparing to the 650S, the 720S has two times the aerodynamic efficiency and 15 percent better cooling capability.
Overall, the car is a beast and is absolutely sexy as hell. Its speed is P1-level at some increments and the braking capability is too. It can go from 124mph to a dead stop in 4.6 seconds and only 117 meters.
We love the McLaren 720S for many reasons. One, in particular, is the fact that it's a monster on the track but it can also be used for everyday use in the streets. It's a powerful gentleman.
How much are McLaren 720s?
The 2019 McLaren 720S has a starting MSRP price of $285,000.
How many McLaren 720s are made?
McLaren plans to produce 1500 720S' each year.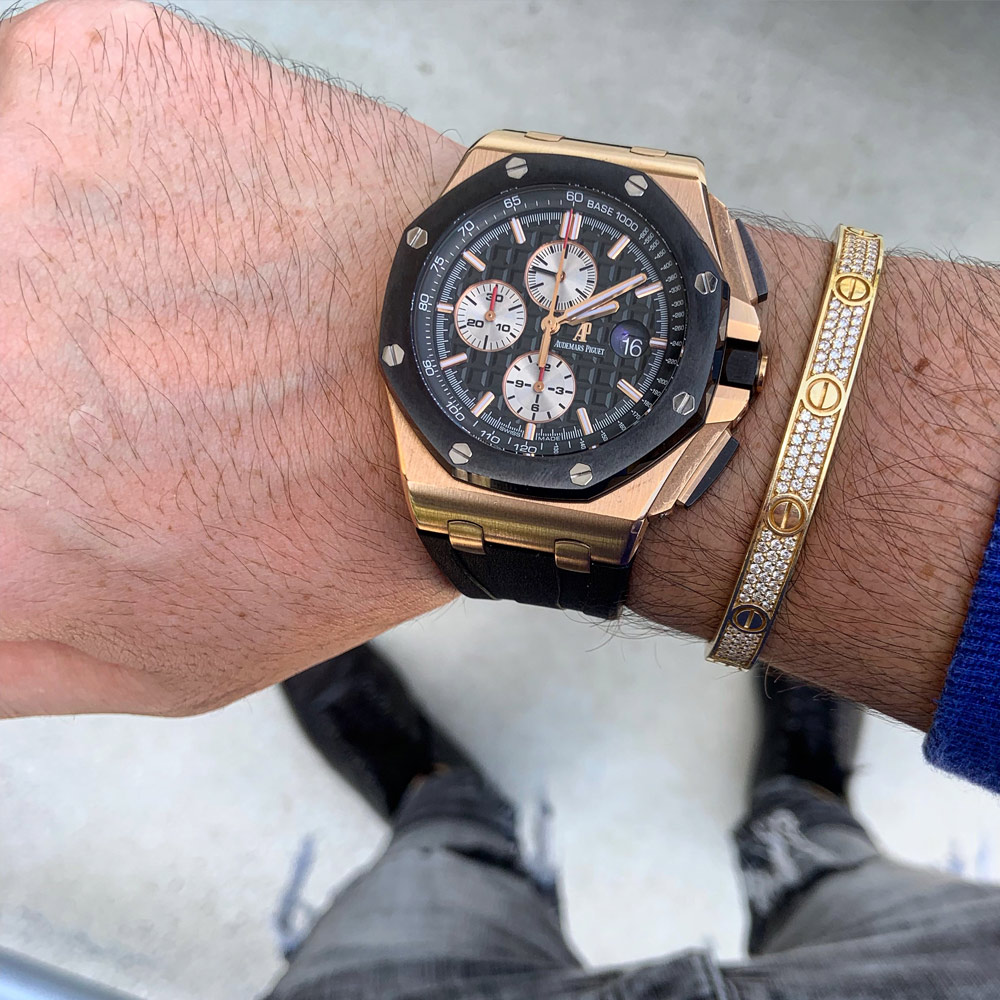 This is Hunter's client's Audemars Piguet Royal Oak Offshore Chronograph 44 ref. 26401RO.OO.A002CA.01 in 18K rose gold.
After this watch's release, which was just a few years ago, the AP ROO 44 in rose gold immediately became the favorite rose gold watch amongst AP enthusiasts.
The Royal Oak Offshore 44mm is one of the "Big Boy" watches from Audemars Piguet. It is fitted with a remarkably large and robust case, even by Royal Oak Offshore standards. Not only is it big in width, but it is also big in thickness too, measuring in at 14.12mm tall…
Nowadays, this variation of the Rose Gold Audemars Piguet Royal Oak Offshore Chronograph 44, with its black dial and off white silvered chronograph registers, is easily one of the most popular Royal Oak Offshore watches of all time.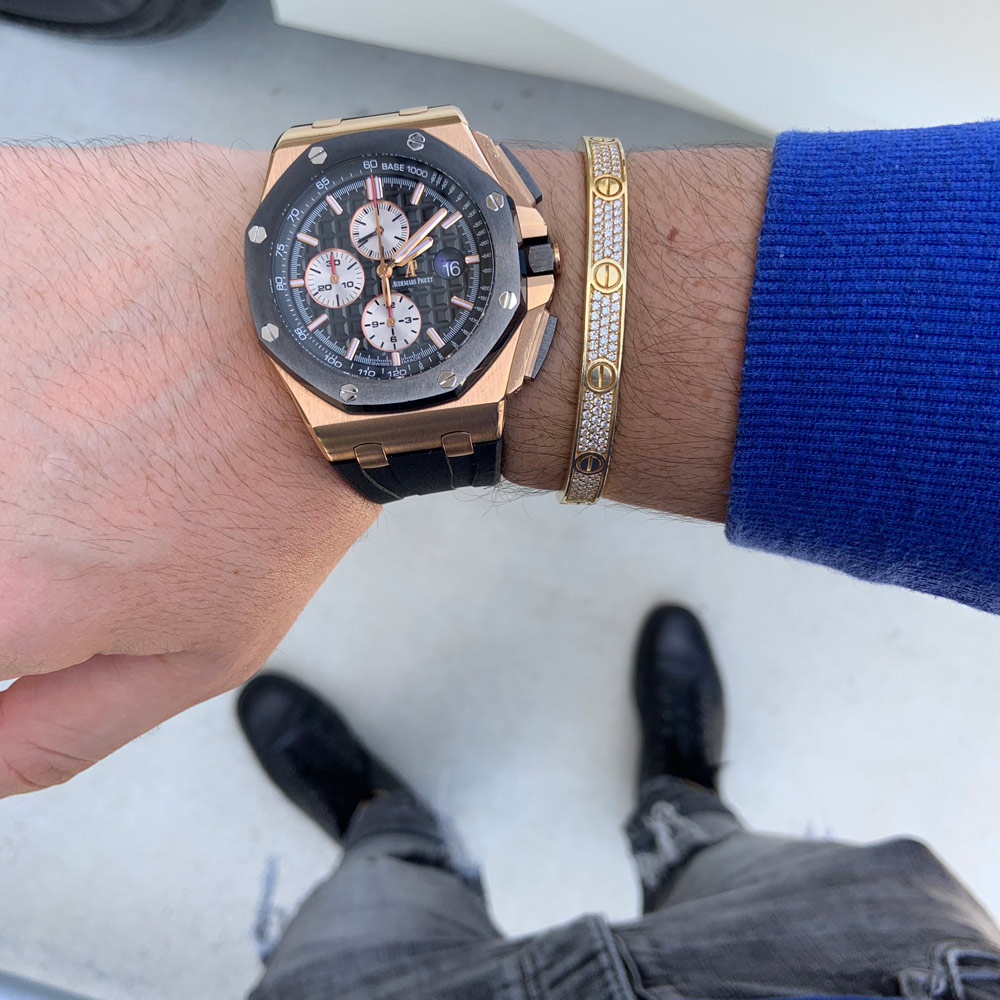 The dial has a Méga Tapisserie pattern with off-white silvered counters that are surrounded by rose gold. The hour markers and hands are also rose gold with luminescent coating.
The red accent on the seconds hand and sub dials give the face of this watch that extra sporty look.
Although there is a lot going on in the dial, it remains flawlessly readable. Plus, all the details have function, whether that is for time telling purposes or design…
Now, the strap is made from a special rubber. So it is anti-dust, anti-fade, and anti-sweat. It's super comfortable and it balances out the weight and size of the case to perfection. It really brings this piece together. The black strap matches the bezel and dial and creates a phenomenal contrast between the rose gold.
As for the movement, we have a calibre 3126/3840 with 59 jewels and 365 parts. The movement can be seen, in full, from the exhibition caseback.
So, one thing we love about this movement is the partially skeletonized galvanic coated oscillator. It clearly states that you are dealing with something of the utmost quality.
What's more, this AP ROO has a 60 power reserve, so you can take it off for the entire weekend without needing to reset the time on Monday.
All in all, the design is absolutely impeccable and the rose gold with black color makes this watch pop perfectly for any occasion.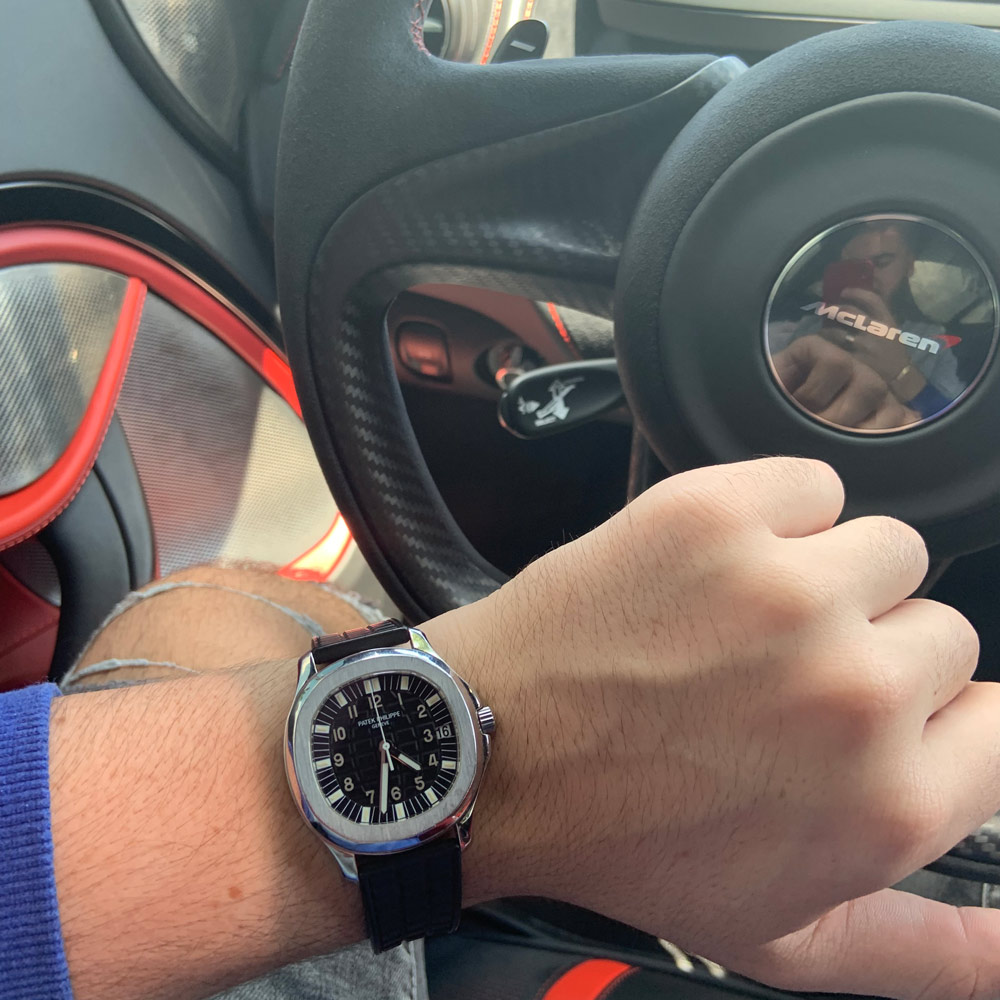 Hunter was rocking the Patek Philippe Jumbo Aquanaut. So, let's talk about this special timepiece…
In 1997, Patek Philippe released their first Aquanaut. This was around Patek's 20th anniversary of the highly successful Nautilus.
The Aquanaut was the first Patek Philippe to be fitted with a rubber strap, and the two references they introduced at that time (5060A and 5060J) were limited to 1,000 pieces.
Shortly after the 5060A and 5060J were launched, Patek Philippe released the iconic Aquanaut 5065A.
The Patek Philippe Aquanaut "Jumbo" was in production from 1997 to 2006, and is now a highly sought after model for watch collectors around the world.
The "Jumbo" features a 315 SC calibre movement and the case size is 38mm in diameter. The case is made from extremely high quality stainless steel and has wonderful, Nautilus-like ergonomics to it. Furthermore, the three-piece case is very simple, with only a screw down crown on the side. As the name suggests, the watch has the perfect water-resistance capability of 120 meters.
What's more, the Patek Philippe Aquanaut 5065A Jumbo watch uses a sapphire display caseback, which is a nice change from the solid steel casebacks of the first versions of the Aquanaut.
The Aquanaut revamps many of the signature details and design elements of the Nautilus. For instance, the octagonal round bezel and supreme level of finishing with brushed surfaces on the top of the case and high polished, beveled edges and flanks.
The dial features a black checkerboard texture that matches the rubber strap so well it's almost as if they are integrated together. The Arabic numerals, which includes the 3 o'clock next to the date window (a wonderfully unique touch), are embossed with silver. As for readability, the Aquanaut 5065A is wonderfully legible in both day and night. This is thanks the perfect amount of powerful superluminova.
Back to the movement, the Patek Aquanaut Jumbo 5065A utilizes a self-winding 315 SC calibre movement, as mentioned. This movement was first employed in 1984 and it features 29 jewelers, a straight-line lever escapement, shock absorber mechanism, a self compensating flat balance spring and a monometallic balance. Furthermore, the rotor is solid gold, finished with the traditional Patek Philippe touch and circular Geneva stripes. The best part is, this is visible from the caseback.
So, the Aquanaut in this post, which Hunter Loring is wearing, has all of its original parts and is in impeccable condition. This is definitely one of our favorite simple and elegant yet sublimely luxurious sports watches in our line up right now.
If you want to see more Luxury Sports Watches Patek Philippe by Patek Philippe, read this article we recently wrote on our 3 Must-Have Patek Philippe Sports Watches.
Hunter Loring, The Watch Aficionado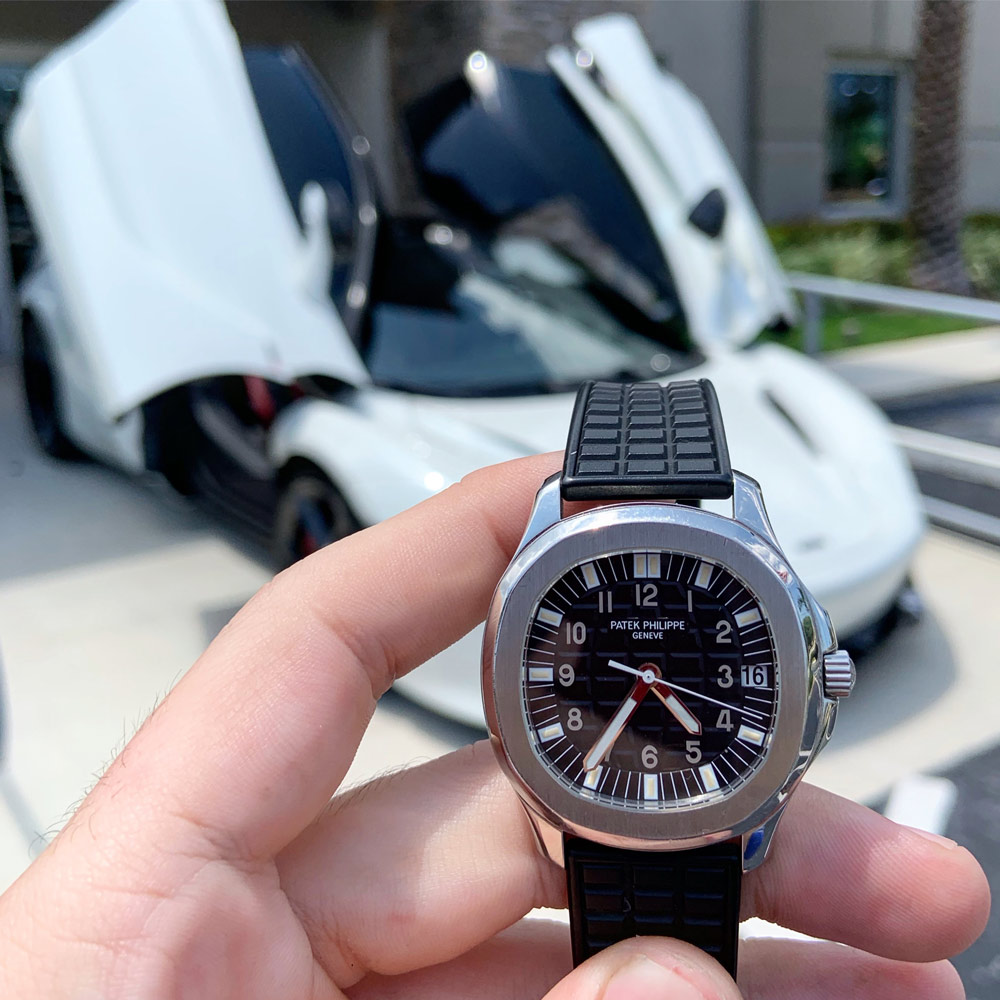 Hunter Loring, AKA 'The Watch Boss of Boca', is a well-established yet still-rising-star in the watch and jewelry industry here in South Florida.
He has many affluent clients with opulent tastes, as he knows people…and he knows luxury goods. He helps clients find the perfect timepiece and jewelry, consistently exceeding expectations on all fronts.
Hunter Loring, who is from the Boca area, will always be seen wearing stunning Swiss timepieces and fine jewelry but he is never showy about it. He understands the culture. And, he will surely direct anyone to the hottest watches in that game that transcend time in terms of style. The watches his clients buy are not just fashion accessories, they are investments and commodities that are bound to appreciate.
If you ever need inspiration on luxury watches and fine jewelry, all you have to do is check out his IG @thewatchbossofboca. He posts stunning pictures of iconic watches, highly desirable diamond jewelry, and exotic supercars that will make your eyes drool, or cry…or whatever you want to call it. Put simply, his content is top-notch.
If you want to talk to Hunter in person, contact him to see his availability. He might just be able to help you out on your next Swiss watch or diamond jewelry purchase.
Read another feature on Hunter and a client of his who owns a Rolex Smurf and a matching Ford GT Carbon Fiber Edition:
SUPERCAR & LUXURY WATCH FEATURE: FORD GT CARBON EDITION + ROLEX SMURF
About Us – Diamonds By Raymond Lee
Diamonds by Raymond Lee is Boca Raton's most recommended sales and service centers for watches, diamonds, and high-end jewelry. Our business is family owned and operated. We have over 30 years of experience selling fine certified luxury watches. In that time we have built an unparalleled reputation for fair, quality dealings in South Florida.
Our goal is to meet the needs of our customers at our Boca Raton retail store and online. And, to provide our community with the best possible experience. We combine value, quality, and cost with the remarkable ability to meet and understand the needs of the people we serve.
We buy, sell, trade, appraise and customize jewelry and watches.
Diamonds by Raymond Lee takes old traditions that never fade and combines it with modern thinking and trends that never fade. Therefore, we are able to meet the needs of people of all ages.
And on top of all that, we are simply just a group of guys and gals who have a strong passion for jewelry, watches, and cars.
So, if you have any questions, don't hesitate to come on into our store. We are always ready to help.
Diamond By Raymond Lee's Showroom in Boca Raton, Florida:
2801 N Federal Hwy, Boca Raton, FL 33431
Hours of Operation:
Monday – Friday 10AM – 6PM
Saturday 10AM – 5PM
Closed Sunday
Phone: 561-750-7808
Let us know which watch you like more, the Aquanaut Jumbo or the rose gold AP Royal Oak Offshore in the comments below. And, if you want to learn more about the McLaren 720s, check out our Feature On Boop's Red McLaren 720S Spider.