Diamonds and Donuts Car Show October 20th, 2019 Recap (Part 2: Exotics)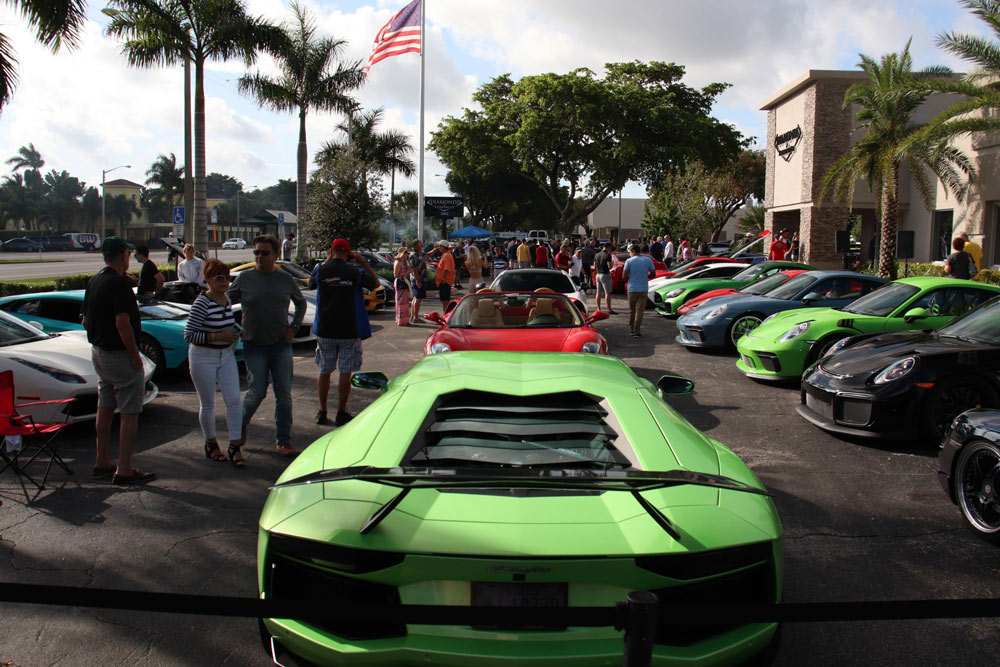 Welcome to October's Diamond and Donuts Car Show Recap Part 2 – Exotic Supercars.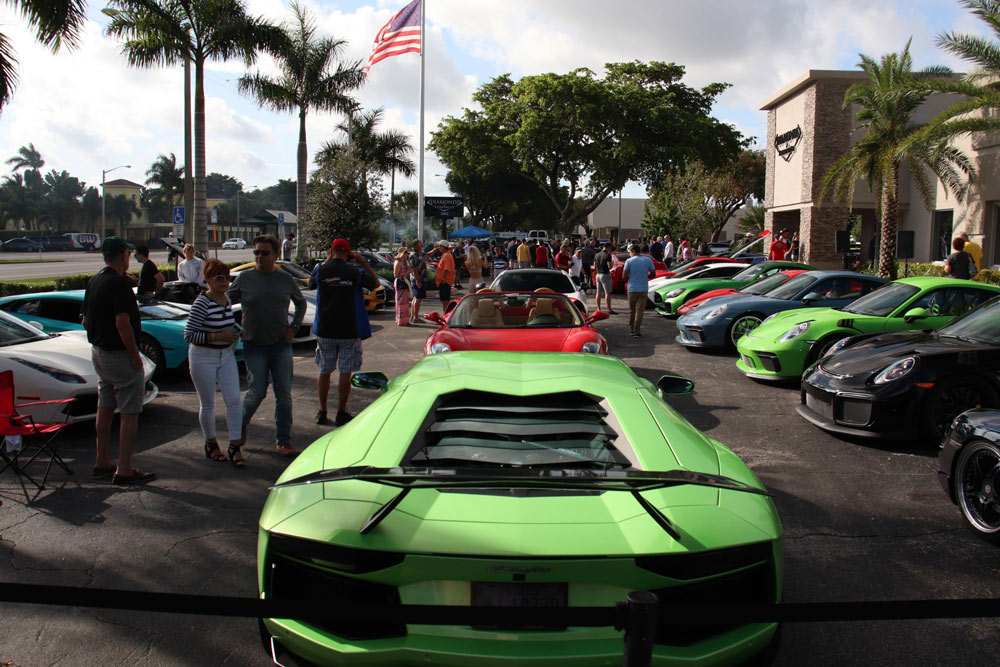 In case you missed it, here's the October 2019 Diamonds and Donuts Recap Part 1. In Part 1, we featured Krispy Media, Fully Built Imports, and a gang of Teslas. So if that sounds interesting to you, definitely check that one out. The custom built imports were super dope.
In this "Part 2" recap, we are going to look at all of the exotic supercars that came out to our show.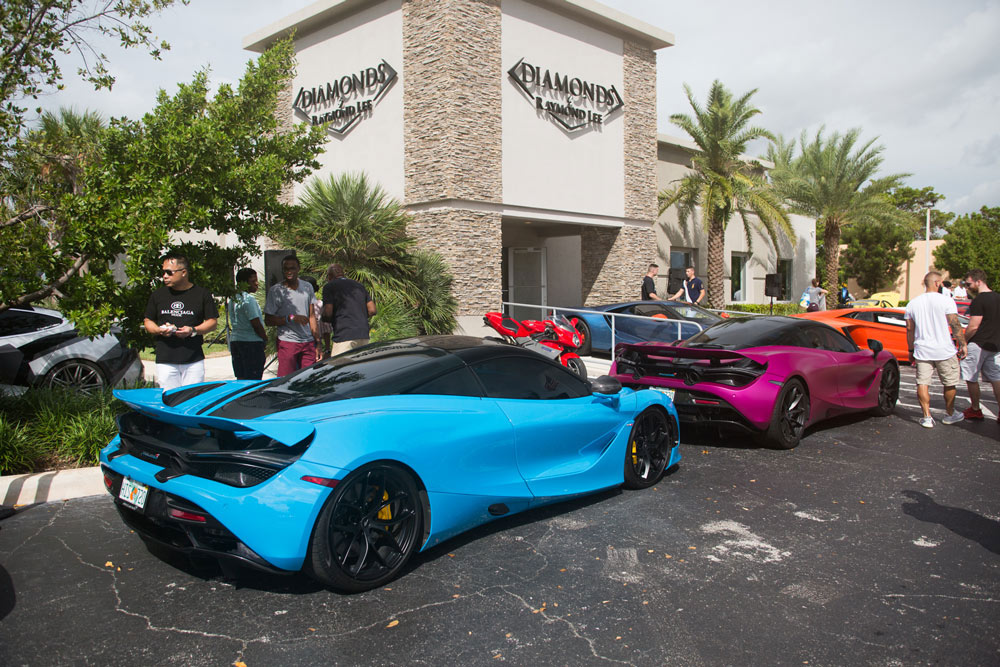 As per usual, we had gangs of Lamborghinis, Ferraris, McLarens, Porsches, and more…and although we had an immensely diverse group of cars, and they all played well together, we did group many of the cars off by makes, models and classes. It works well for the show.
So, with that, you will see squads of Aventadors parked together, mobs of Carrera GTs, and so on…
After all, it's nice to stay organized.
Diamonds and Donuts Recap Part 2 – October 20th, 2019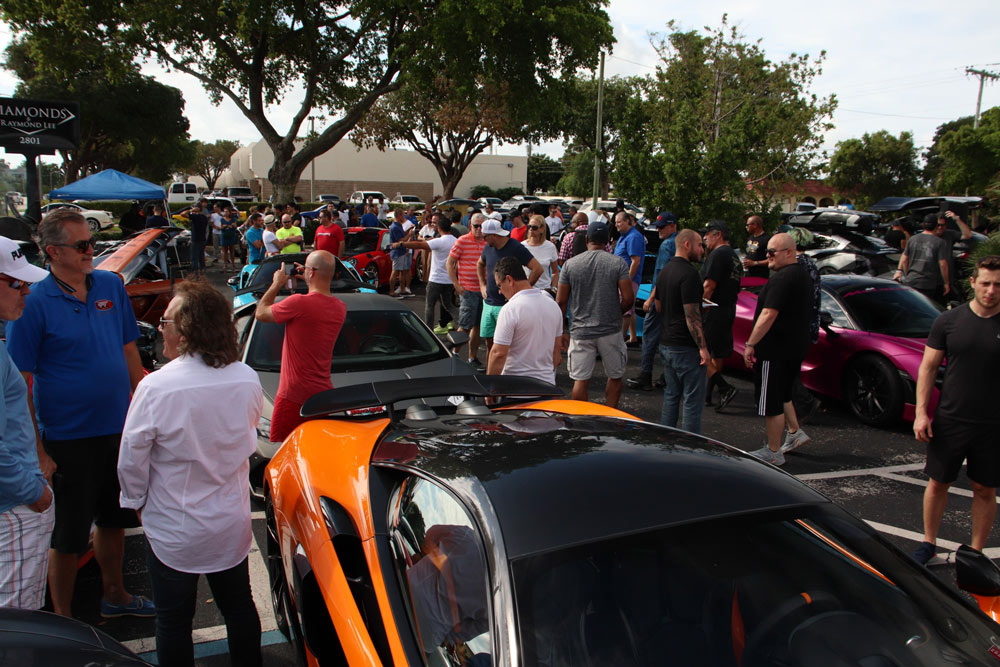 As you can see in this picture above, Diamonds and Donuts was jammed packed this month.
There were so many cars, of all different classes, makes and models, and everyone was having a blast.
We had supercars with every wrap imaginable. From a lime green Lamborghini to a blood-red Ferrari to a vibrant purple McLaren 720s, there was literally a supercar in every color. Our parking lot looked like a rainbow Rolex.
Highlights of Exotic Supercars From This Past Show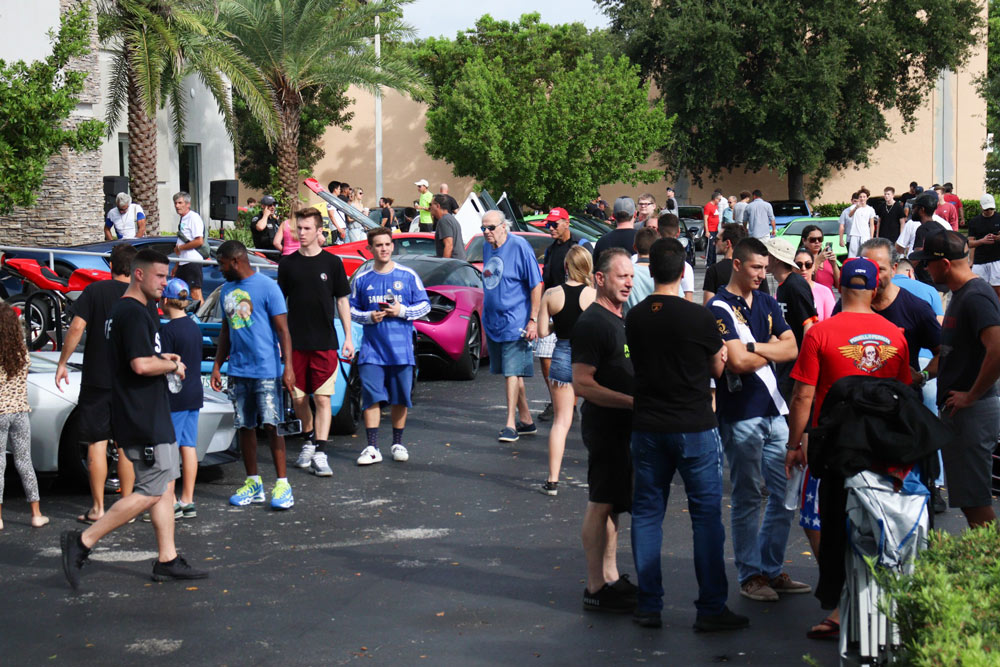 Let's take a drive through some of the most illustrious and badass cars (and people) that turned up…
The Supercar Couple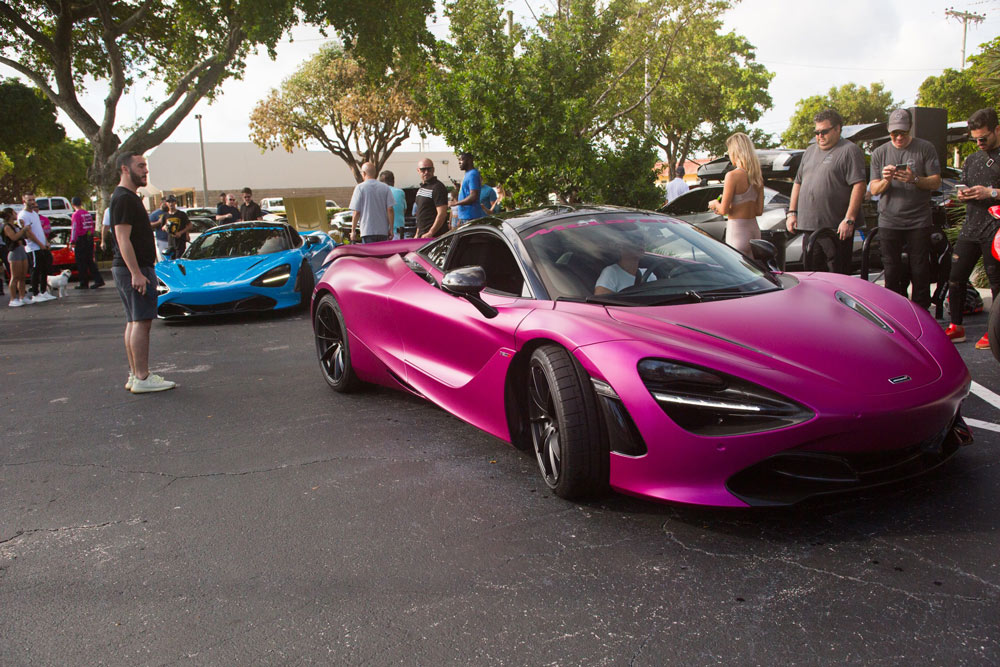 One of our favorite supercar couples came out to our car show again this month. Their names are Wendel and Caroline.
Wendel and Caroline are regulars at Diamonds and Donuts. They love the show.
The first time they came to a Diamonds and Donuts car show, Wendel rocked up in his Giallo Modena Yellow Ferrari 488, while Caroline casually whipped in with her Ventura Orange McLaren 570s.
Ever since then, they've been rolling in with different exotics every Diamonds and Donuts event they come to. Hence their nickname, The Supercar Couple.
They are one of those couples that are the life of the party. And that's not even considering their marvelous selection of supercars.
For the October 20, 2019 Diamonds and Donuts, Wendel and Caroline showed up with two McLaren 720S', hitting us all like a thunderbolt. Apparently they both got the same car, albeit Wendel's has an electric blue wrap and Caroline's is a vibrant purple.
McLaren 720S²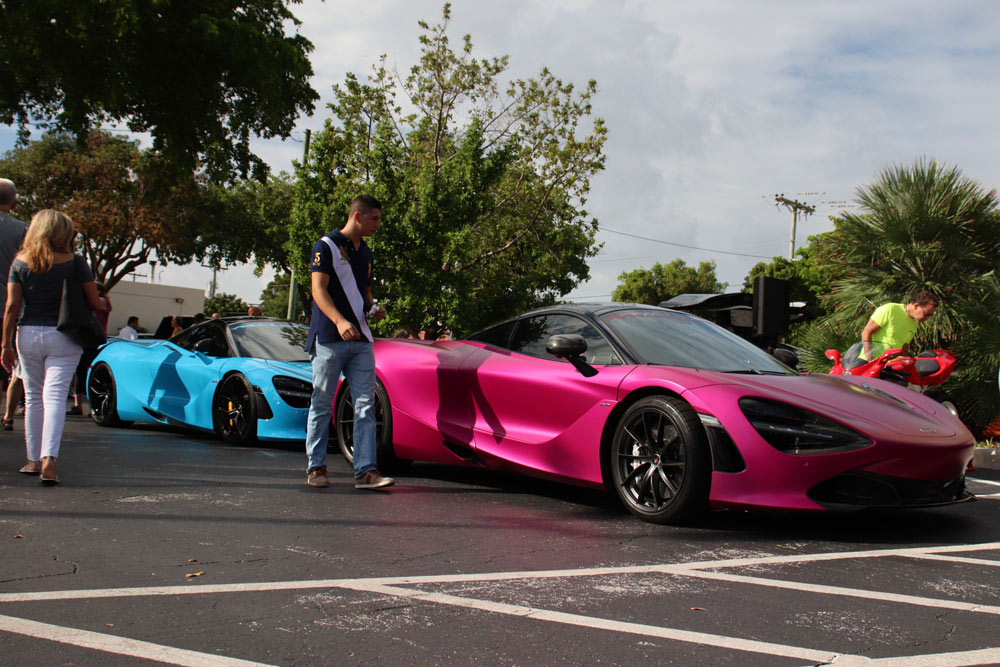 The McLaren 720S is one of the hottest cars in the game right now. Everyone wants one, but not everyone (not nearly) can get their hands on one, let alone even see one in person. After all, they have a heavy base-price tag of around a quarter million dollars and there's only a limited number of them produced.
The McLaren 720S has pushed the limits of what anyone thought was possible, even for a supercar. The design is impeccable and unequivocally striking, both inside and out.
Overall, the car just embodies relentless power. It has a top speed of 212 mph and it does 0-62mph in 2.9 seconds, all thanks to its 4.0 liter M840T Twin-Turbocharged V8 engine, which has a rated power output of 720 PS (530 kW; 710 hp) at 7,000 rpm. Hence the name 720S.
This is easily one of our favorite cars on the market, so it was a blessing to have The Supercar Couple at Diamonds and Donuts this month.
Aventador SV in Blu Glauco "Chiara"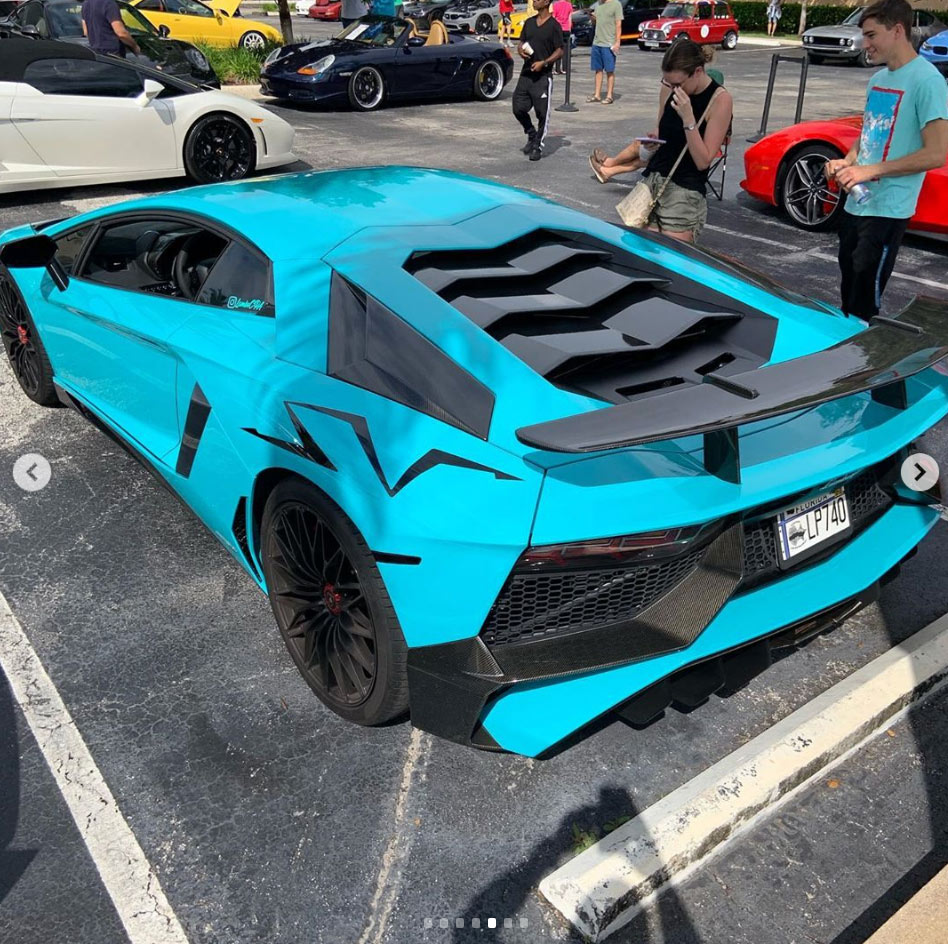 Our friend Adam (@lambocpa) honored our Boca car show with his Blu Glauco Lamborghini Aventador SV named "Chiara".
This is probably one of the best colors for an SV that we've ever seen. It's incredibly stunning.
Most of us car fanatics know all about the SV, but let's run through some of the basics just to show off.
The Lamborghini Aventador Superveloce (SV for short), is arguably the most insane street legal car in the history of Lamborghini. The half-million dollar price tag somewhat reflects that.
The car has a top speed of 217 mph, it hits a 0-62 in a firm 2.8 seconds, and a 0-124 in a jaw-dropping 8.6 seconds. Not to mention, the SV's cornering is groundbreaking…
If you love speed, then you will love everything about the SV. It still remains the fastest production Lambo to date.
Porsche GT2RS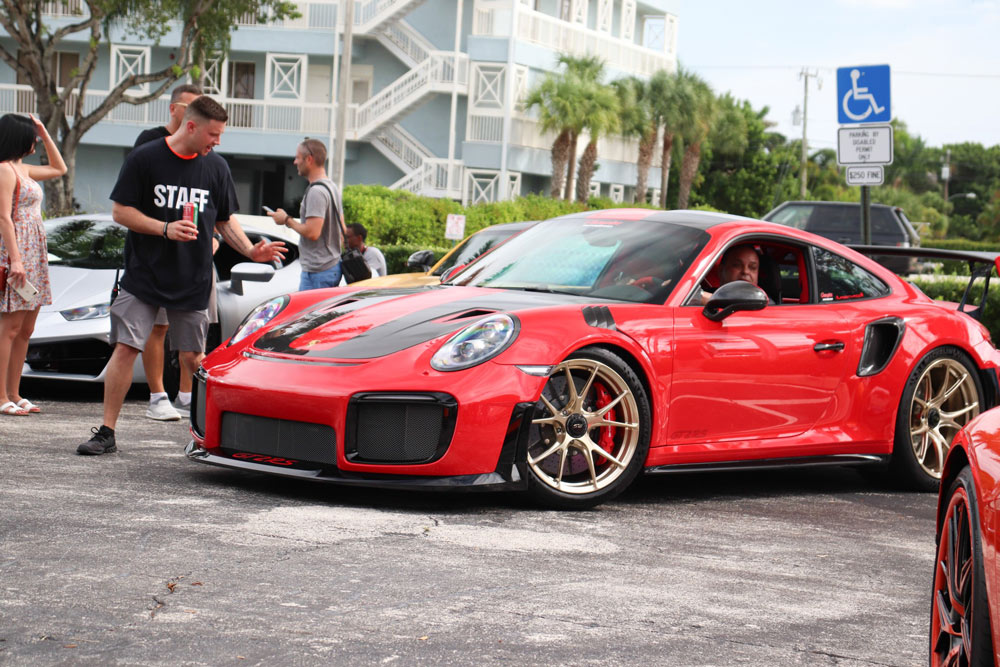 Speaking of fast, our boy Jason Yaco came through in his red Porsche GT2RS.
The GT2RS is one of the most impressive Porsche 911s ever produced.
Why?
Because it is the most powerful 911 ever built.
The GT2RS has a 3.8 liter, six cylinder, twin turbo engine that produces 700 hp. With that, it has a top speed of 211 mph, and it does a mind blowing 0-60 in 2.7 seconds.
It's a car that can be driven on a daily basis. And then it can be taken to the track to absolutely demolish any car in sight.
The aerodynamic design allows for optimum downforce and maximum air supply. Moreover, its lightweight construction gives it that pure athletic finesse.
It's a luxury sports car with super sports car performance.
All we can say is, we can't wait to see this Porsche 911 GT2RS again. We'll be dreaming about it tearing up the streets until then.
Diamond Girls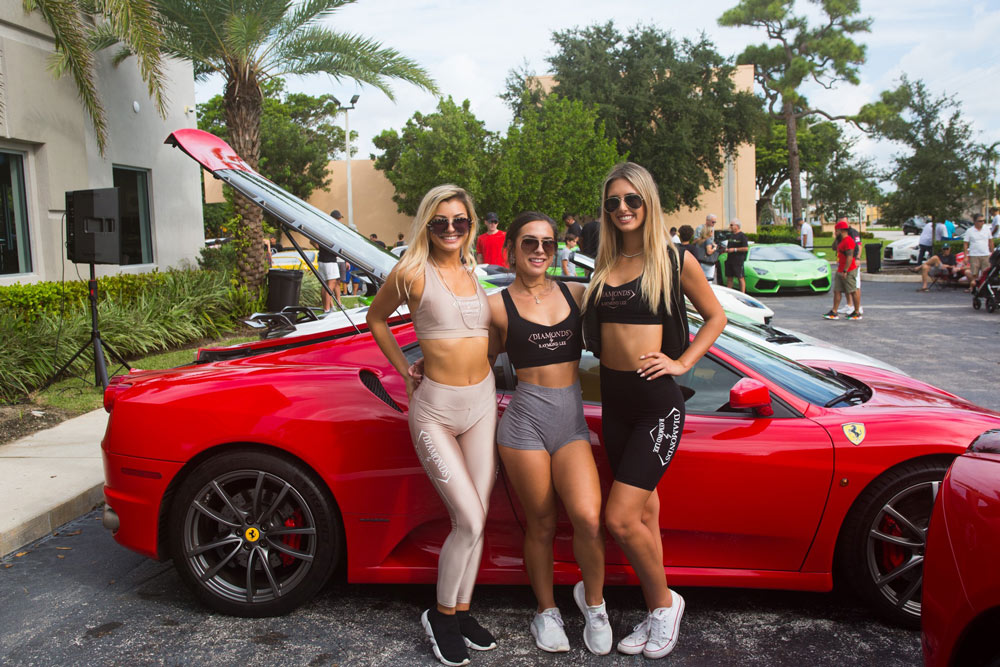 Let's pause from gawking at all these exotic supercars for a moment to admire the beauty of these three lovely ladies!
From left to right we have Britney Burton, Janeece Sinclair and Lily Lindquist – all reppin' Diamonds by Raymond Lee outfits.
Our "Diamond Girls" do a great job of livening up our car show, so we want to extend our greatest appreciation. It's always a pleasure having them around.
They are as super as the supercars that surround them…
Super cool, super friendly, super stunning, and super fun, and they love supercars.
Audi SQ5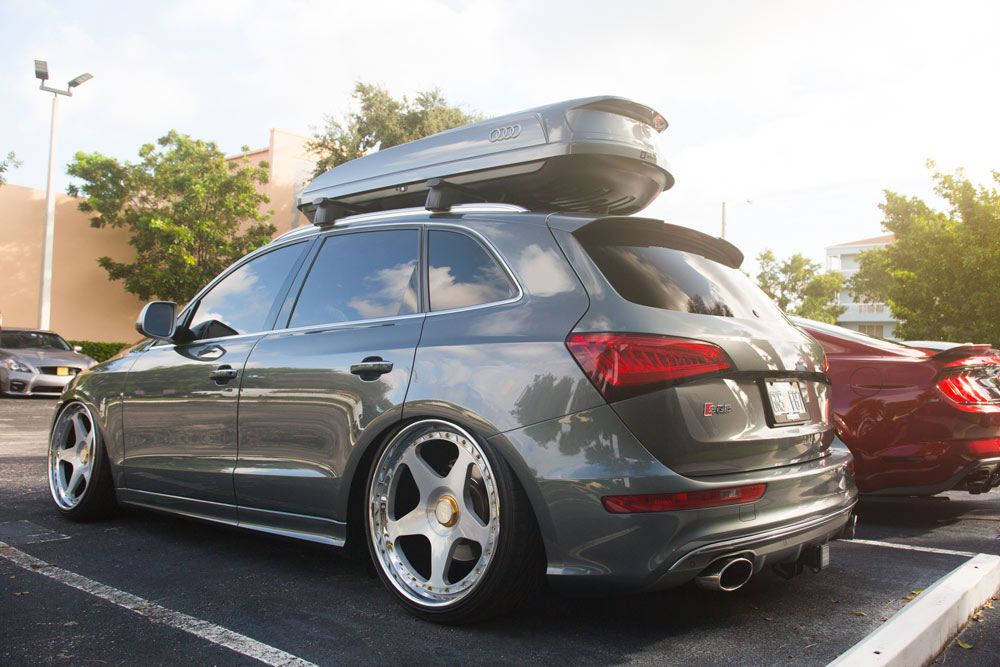 Here's another unique ride that came out to October's Diamonds and Donuts car show.
It's a clean Audi SQ5.
The SQ5 is a high performance, sporty version of Audi's midsize, five-seat luxury crossover. It has an athletic design that flows seamlessly from its Singleframe® grille to its LED taillights.
This is the type of car that makes a bold statement thanks to its sharp design and unparalleled craftsmanship. The SQ5 simply exudes luxury…
And this SQ5 even more so with its special customizations. The owner, @sq_five_, gave it an airlift performance upgrade along with Toyo Tire and Roti Form Wheels.
If you had to cruise the country, this would be the car to do it in.
Lambo Line Up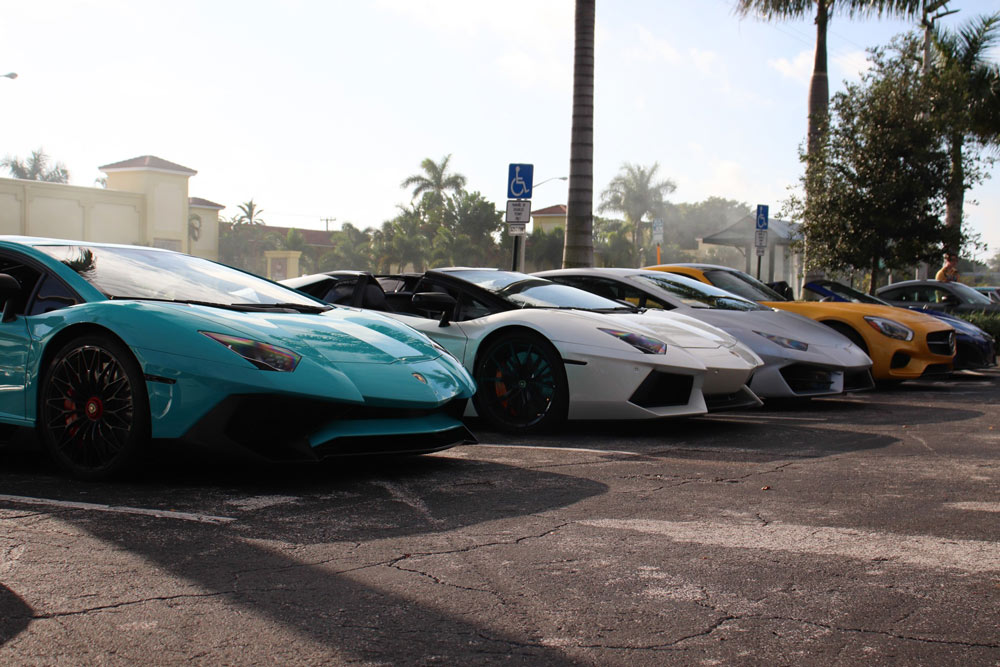 It's not every day that you see a pack of Lamborghinis parked up next to each other. However, at Diamonds and Donuts, it has become the norm.
In the pic above, we have a Lamborghini Aventador SV, an Aventador, and a Huracán.
Gang of Porsches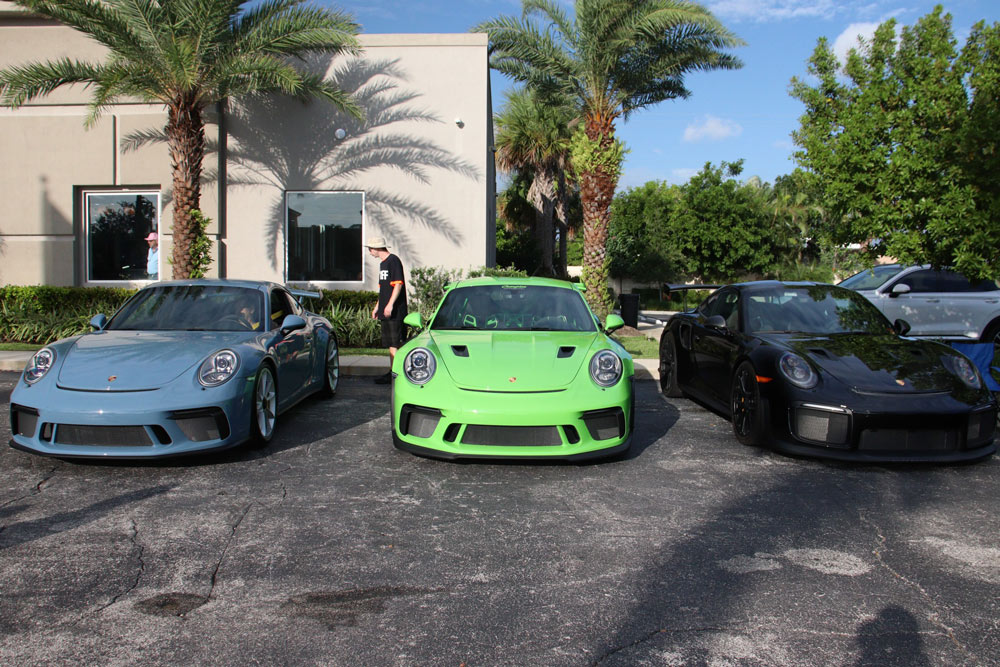 Stroll down a few lanes and you will find a gang of Porsches too.
These 3 cars showcase the best of the 911s.
VIP Parking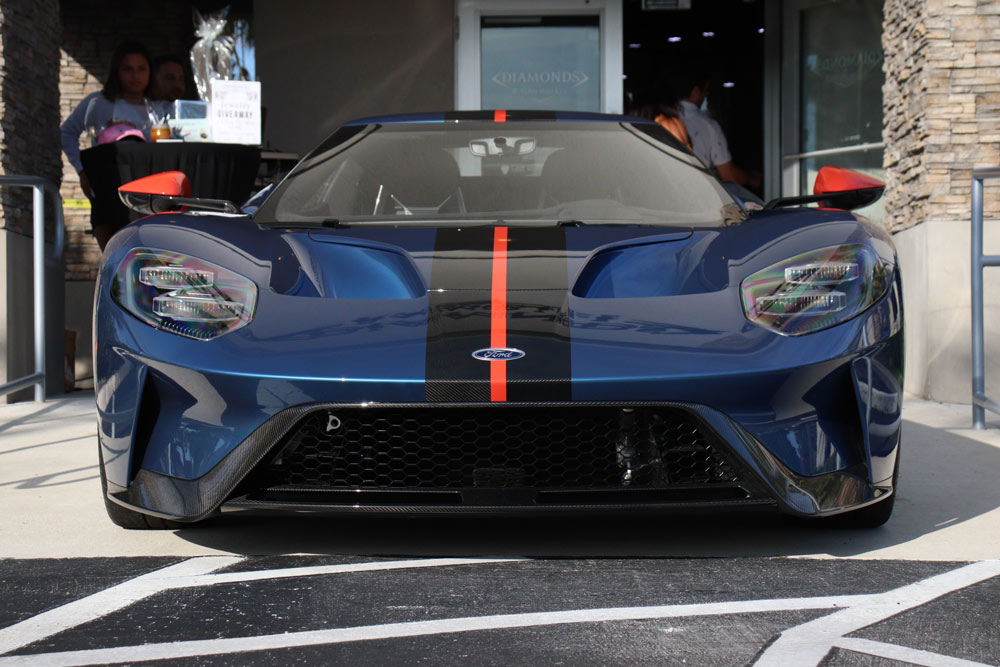 VIP parking went to our good friend Larry Coe's Carbon Edition Ford GT.
This isn't the first time this magnificent Carbon Fiber Ford GT got VIP parking right at the front door. Back in April 2019, we had a Diamonds and Donuts Ford GT Edition Car Show, and Larry's GT received special attention…and rightfully so.
Stormy's Ford GT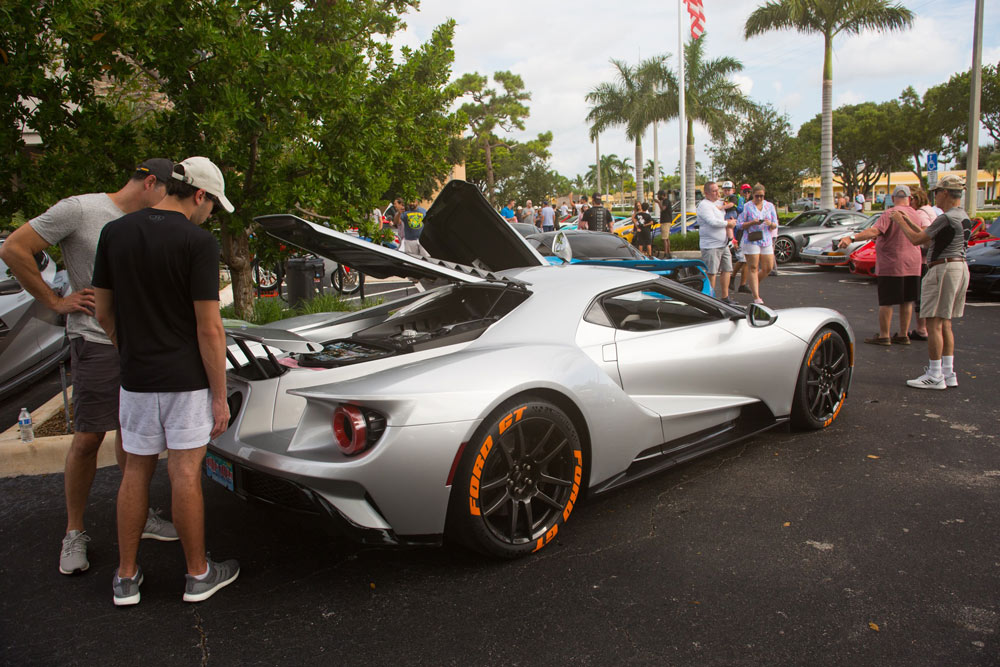 You are probably seeing a theme here…Diamonds and Donuts is in no short supply of outstanding vehicles…so here we have the Stormtrooper.
Stormy has taken his white Ford GT to a few Diamonds and Donuts car shows in 2019, however, this October, we had a nice surprise as he showed up in a brand new Ford GT…
This is one of those cars that makes you even more proud to be an American.
Pair of Aventadors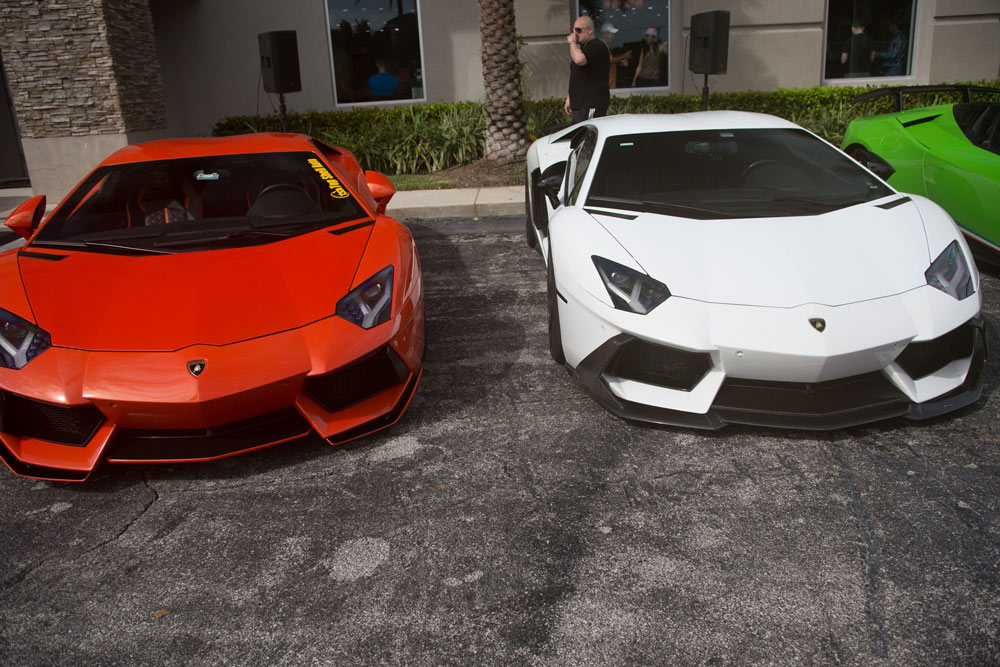 You know what they say:
"You can never have too many Aventadors at a car show"
The deep orange Aventador is owned by @topshelfauto.
And the pearl white Aventador is owned by @954_mr_xi.
What beautiful contrast these two exotics make together.
AMG GTS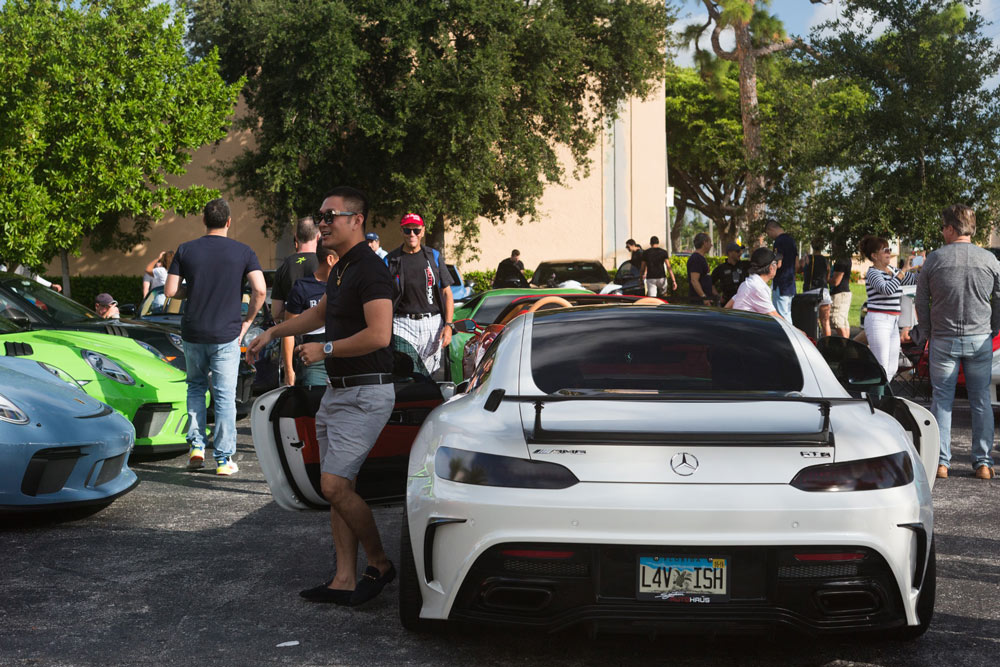 Tommy Le rolled through in pure star mode with his AMG GTS.
The Mercedes AMG GTS is ridiculously sexy and absurdly underrated.
This is the car that not many people talk about, but everyone is impressed by.
Beyond the sheer opulence that this car oozes, it has some serious performance too.
Mercedes created the AMG GTS to be powerful. This 2-seat sports car packs a mean punch with its 500 hp. It hits a 0-60 time in 3.5 seconds.
We love everything about this car. From the aggressive, attractive sports car styling and design to the plush interior that is downright comfy. Not to mention all of the tech going on inside.
This is the car that you can cruise around in with maximum comfort and style, and then the next second kick it up to skin-pulling speed and ghost whoever is next to you.
The AMG GTS gets an easy 10 out of 10 in our books. With this as an everyday car, there is no doubt that you are living on cloud nine.
Showroom's Open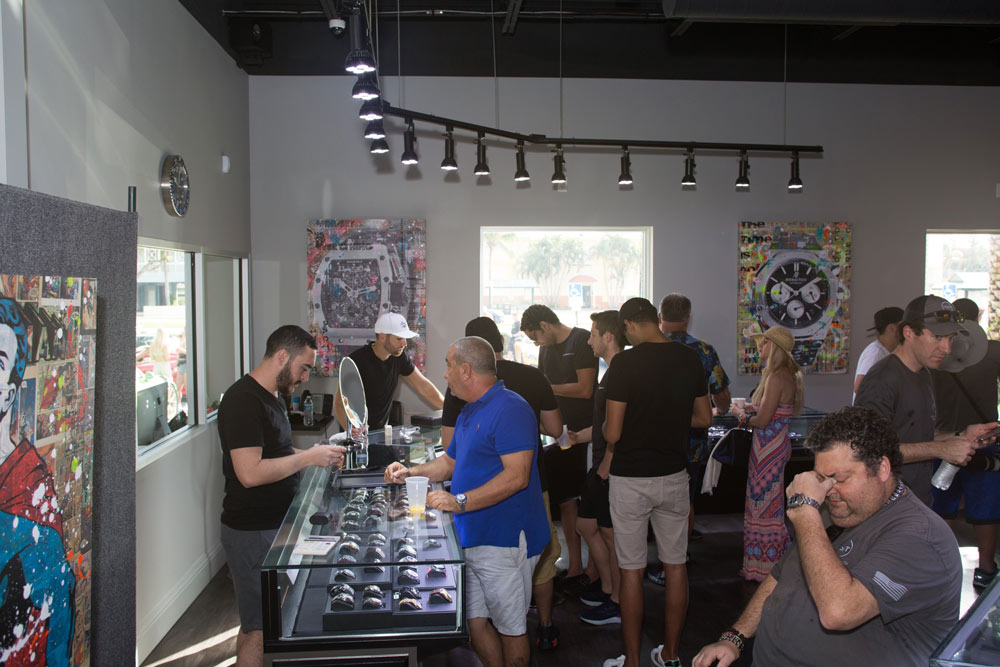 With every Diamonds and Donuts car show, we open up the doors to our showroom so people can come in and check out our extensive jewelry and watch offerings.
Attendees get to come in and ask questions to our jewelry experts and try on fine diamond jewelry and luxury Swiss watches.
At Diamonds by Raymond Lee, we have a stunning, recherché collection of diamond jewelry, both private label and top designer brands. And we have one of the largest collections of Swiss watches in South Florida.
To give you an idea, check out some of the new jewelry and timepieces available at Diamonds by Raymond Lee.
Tri County Animal Rescue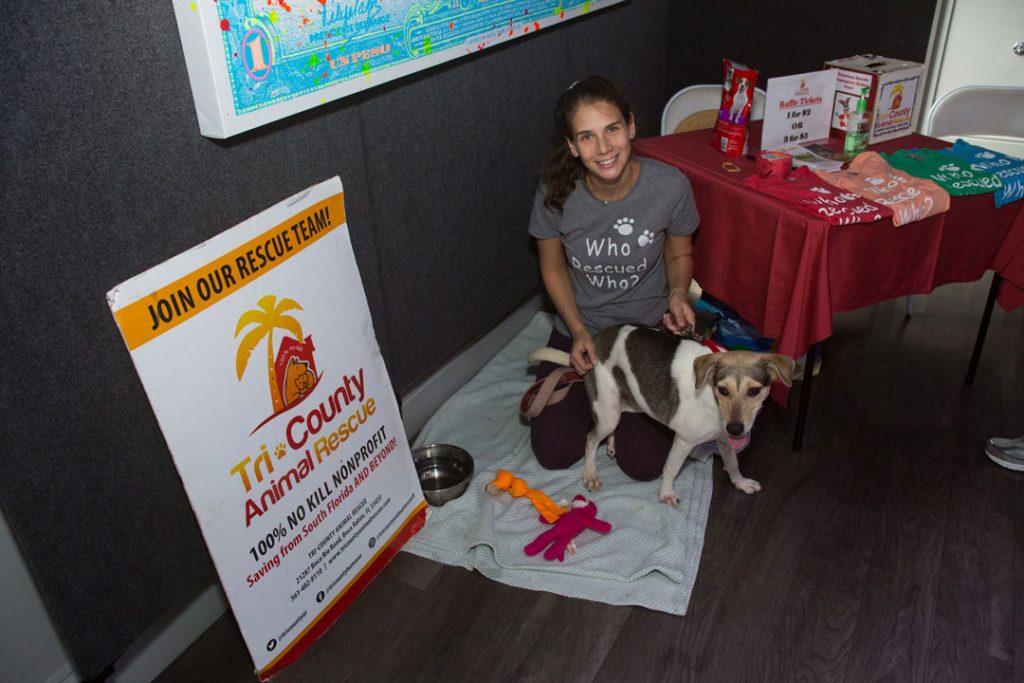 We brought out Tri County Animal Rescue again this month to raise awareness for the importance of adopting dogs and to give some pups some forever homes.
Sadly, there are over 170,000 unwanted pets in South Florida alone. But thankfully we have Tri-County Animal Rescue, a non-profit animal shelter, helping combat this problem.
Since founding, Tri-County Animal Rescue has saved over 55,000 domestic animals from euthanizations by finding them permanent homes with good owners.
We are honored to be able to help support this cause at our Diamonds and Donuts car shows.
So remember, "adopt don't shop".
Breast Cancer Awareness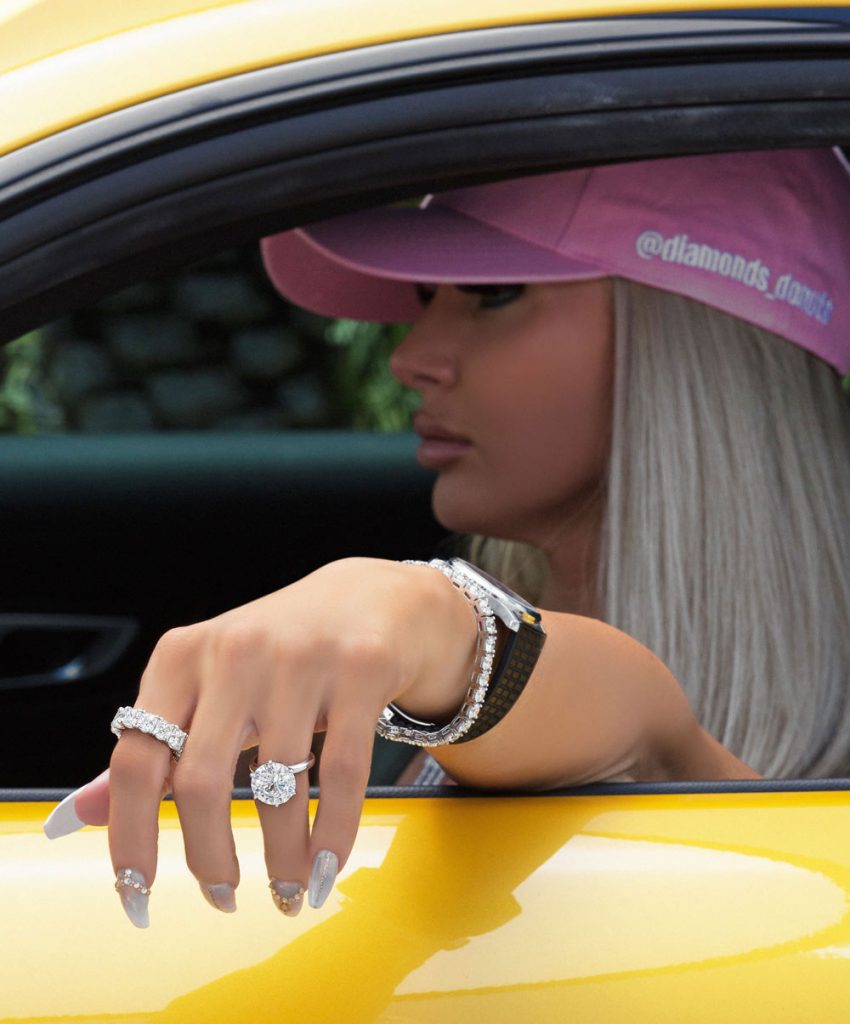 For October 2019's Diamonds and Donuts car show, our charitable efforts went to Boca Regional Hospital Foundation.
We sold Diamonds and Donuts hats at the show and we will be giving all of the proceeds to Boca Regional Hospital Foundation as a way to support breast cancer and women's health.
Additionally, we raised money this past weekend at our Vegan Fest for the same foundation by selling Kombucha, which we had on tap inside our store. We sold each glass for 5 dollars and all of the proceeds were combined with October 2019's Diamonds and Donuts proceeds and will be going to Boca Regional Hospital Foundation this coming week.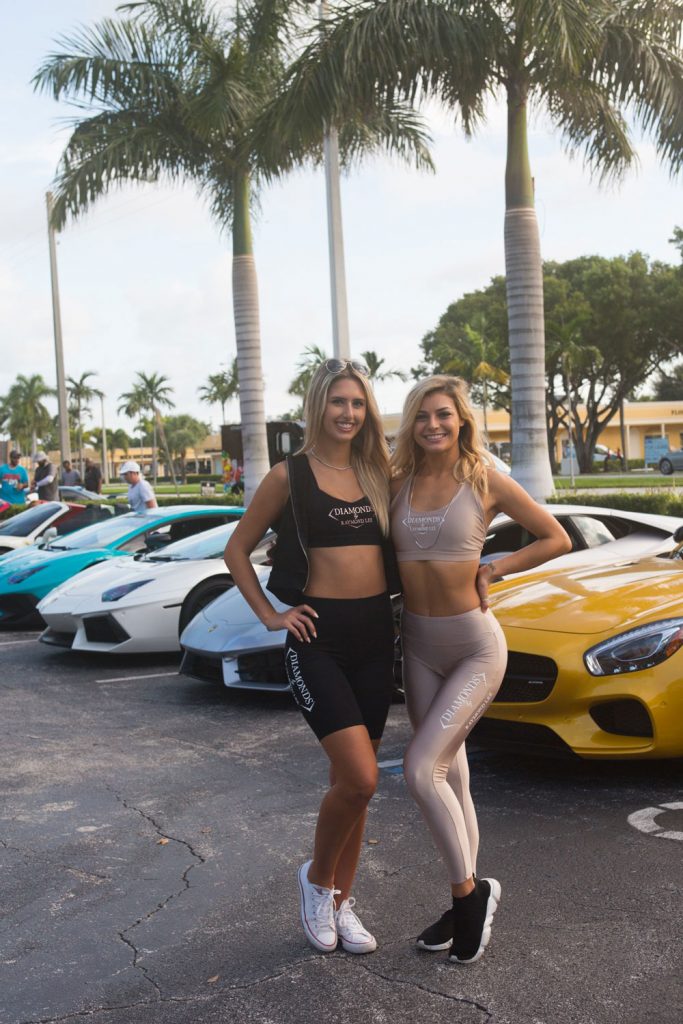 Stay Tuned For More Diamonds by Raymond Lee Events
November 15, 2019 – Art Night Boca Raton (7PM to 11PM)
The Entire South Side of Diamonds By Raymond Lee's building will be coming alive this November by turning into Boca's First Mural. During this event our very own local artist Kristin Pavlick will be working away on her mural at Diamonds by Raymond Lee. Live Music, Entertainment and food as alway at our events. A select few other local artists will be at the venue working on pieces live.
November 16, 2019 – Seafood Fest Boca Raton (5PM – 10PM)
Island Boyz Conch Shack is hosting another Seafood Fest at Diamonds by Raymond Lee! Gather your friends and family and join us with an empty stomach so you can chow down.
This will be our second Seafood Fest and now our fifth Food Truck Night. These have been a major success. If you love good eats, you'll definitely want to come to this Seafood Fest at Diamonds by Raymond Lee in Boca Raton.
Diamonds by Raymond Lee Event Schedule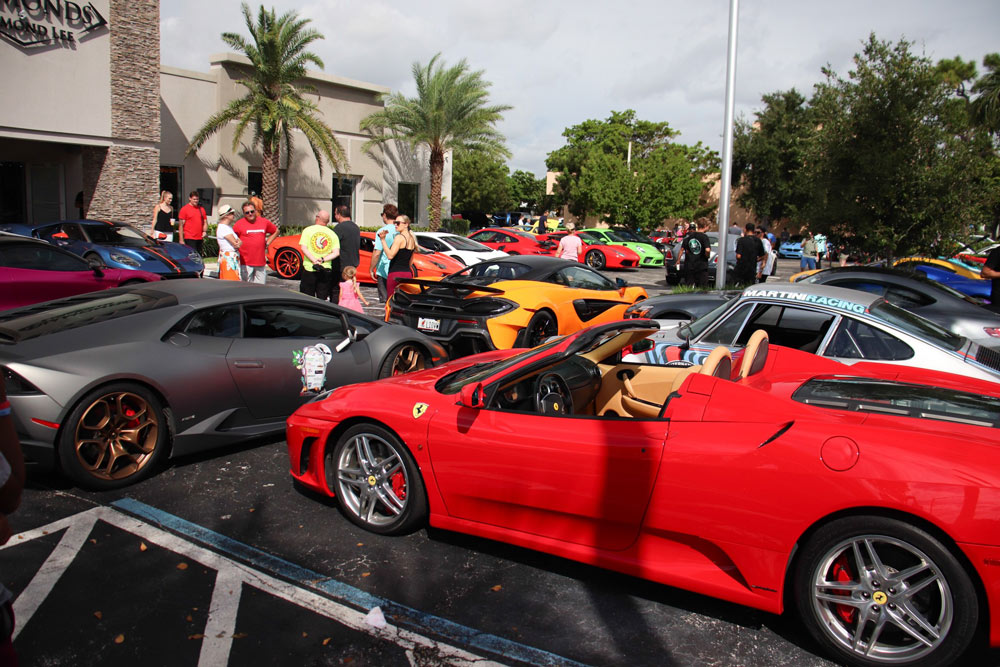 When's the next Diamonds and Donuts Car Show?
We don't have an exact date yet, but be sure to stay tuned as we will let everyone know as soon as it is set.
Follow Diamonds and Donuts on Instagram and FB, so you don't miss it!