Diamonds and Donuts Car Show October 20th, 2019 Recap (Part 1)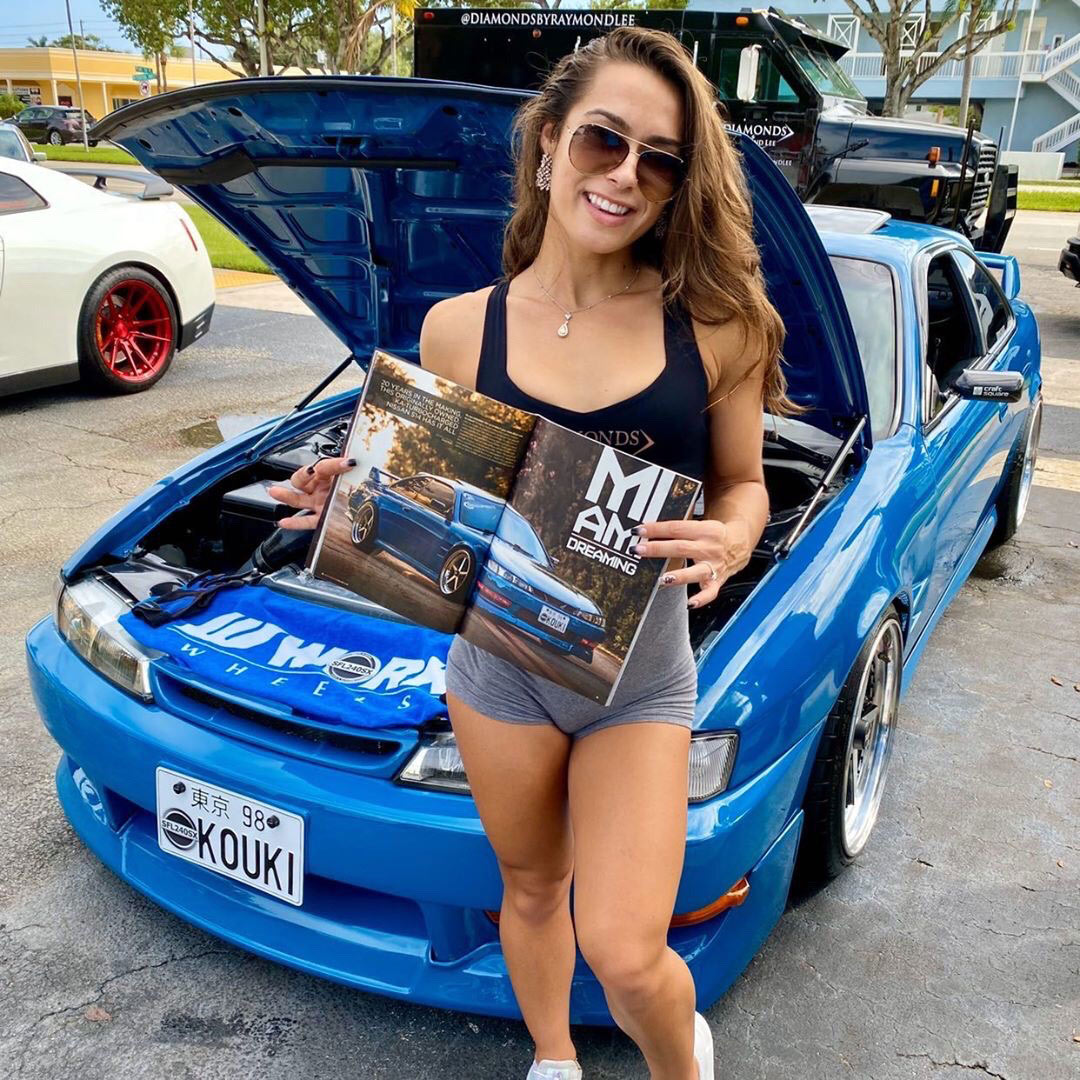 Here is our October 20th, 2019 Diamond and Donuts Car Show Recap (PART 1), featuring Krispy Media, Fully Built Imports, and a gang of Teslas.
October's Diamonds and Donuts Car Show is in the books and it was another incredible event full of amazing cars and people…and we don't say that lightly.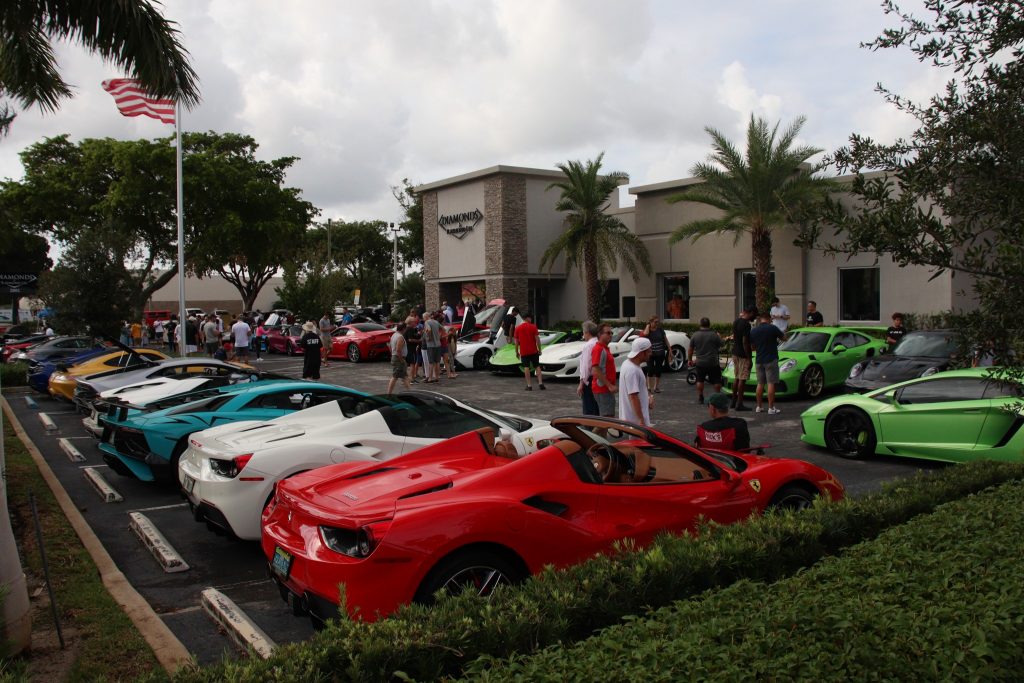 This Diamonds and Donuts Car Show was definitely a special, action-packed one, which is why we are breaking it down into two parts.
This is PART 1 and October's Diamonds and Donuts Recap PART 2 will be released next week on Tuesday. You won't want to miss it, as we have a lot more extraordinary cars to share with you all…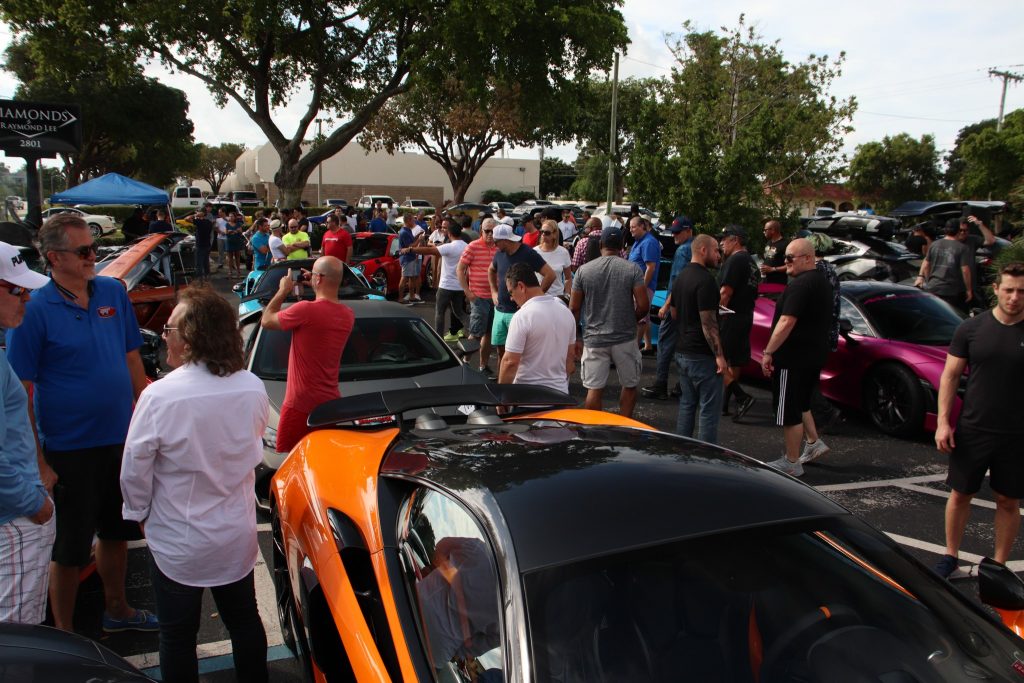 So, without further ado, here is the first half of our Diamonds and Donuts Recap from October 20th, 2019.
October 20th, 2019: Diamonds and Donuts Car Show Recap PART 1 'Imports'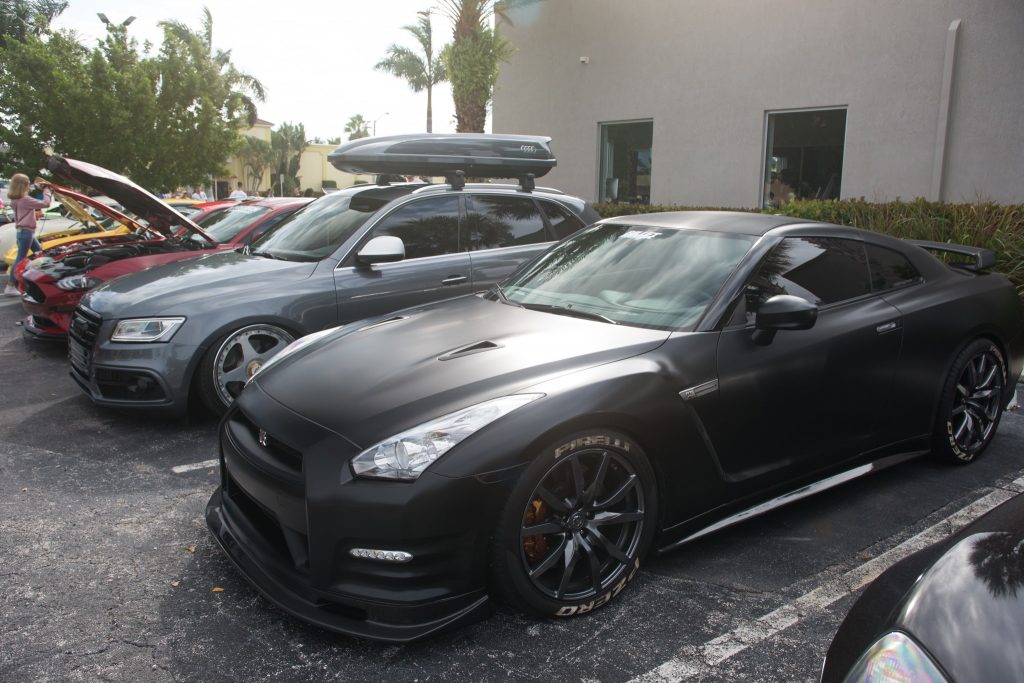 First off, the weather forecast was showing rain all day, but thankfully Mother Nature held off on the rain until after Diamonds and Donuts ended. This allowed everyone to go full force.
As usual, we had exotic supercars out the wazoo, many of which were new to the Diamonds and Donuts scene.
We also had many vehicles that extend beyond our exquisitely typical supercars from the likes of Lamborghini and McLaren…
This Diamonds and Donuts Car Show saw a fleet of fully built imports, a few of which rolled through in honor of being selected to be featured in our Diamonds and Donuts Film with Krispy Media.
And when we say fully built, we mean FULLY BUILT. We had one guy, who we are going to extensively feature in this post, send us a list of his modifications and it took up multiple pages on a word document. Clearly South Florida car nuts don't play games when it comes to their hot rods!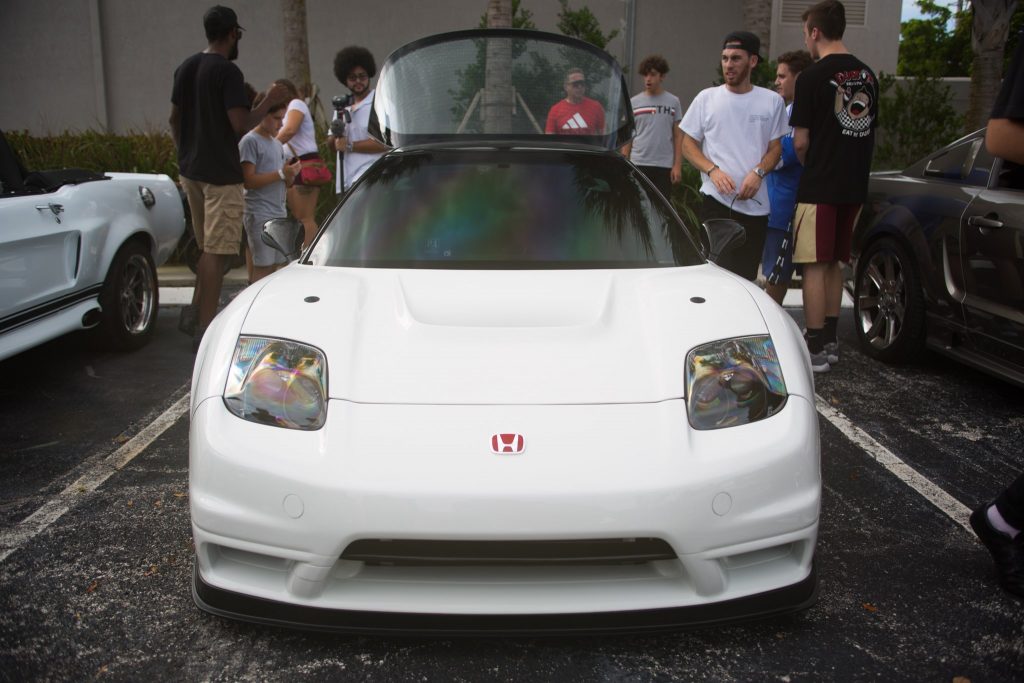 So, in this "Part 1" of October's Diamonds and Donuts Car Show, we are going to drive through the import section of our parking lot, and we are going to share some personal stories from the owners…
But first, let us tell you about the phenomenal team at Krispy Media and what they were doing at Diamonds and Donuts this month.
KRISPY MEDIA x DIAMONDS AND DONUTS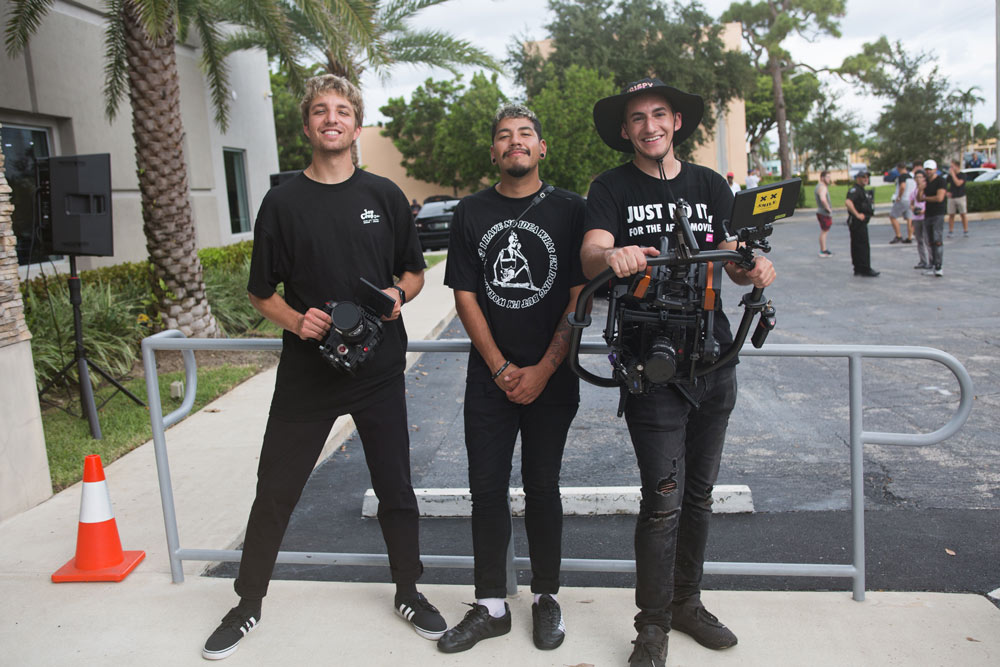 As most of you Diamonds and Donuts heads already know, we are doing a major video production with Krispy Media to showcase not only our Diamonds and Donuts Car Show but also some of the exquisite fully built, souped-up import cars and exotic supercars that call South Florida home.
We've been recruiting special cars across the South Florida area for the past couple of months. Giving a few lucky owners the chance to be featured in a film created by the celebrated cinematography company, Krispy Media. We are talking about cars that have seen years of modifications and unwavering dedication poured into them.
We are going to feature a couple of these remarkable cars below, but hold your horsepowers 😉 we are still talking Krispy.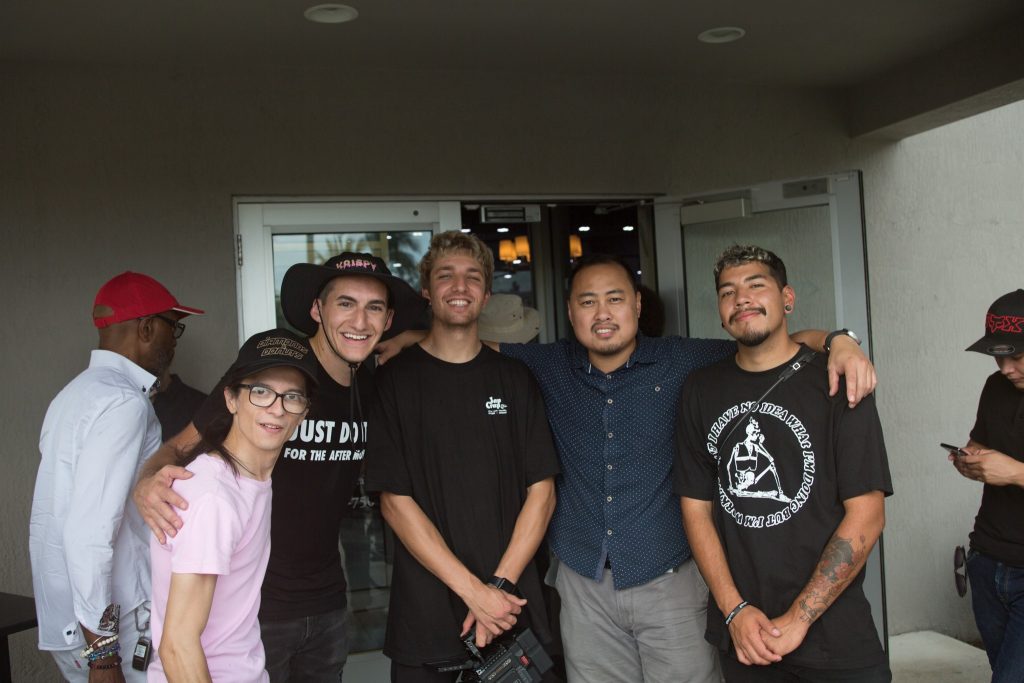 Krispy Media
The founder of Krispy Media, Chris Petruccio, is a 26-year-old from New York who has a strong passion for cars and cinematography. Luckily for him and the car fanatics across the world, he is not only passionate, he is incredibly talented…in fact, "gifted" would better describe Chris. You can just tell he was born to do this.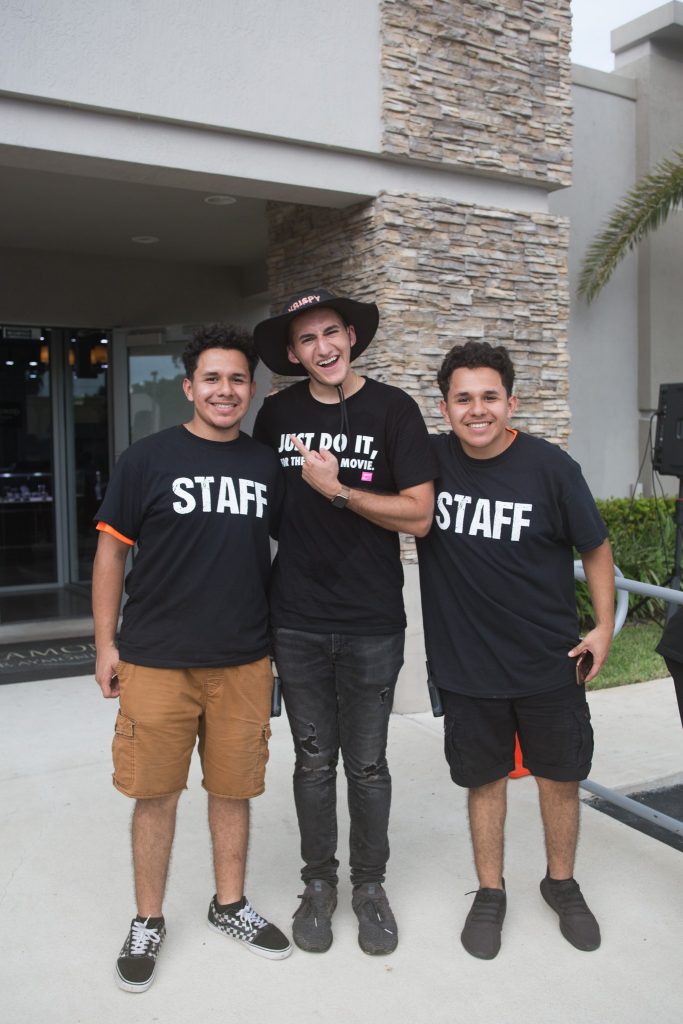 You can follow Chris on Instagram (@Krispy) to see exactly what we mean.
Krispy Media also comprises of a solid film crew, all of whom are long-time friends.
You have Mike Koziel (@mkoziel). Mike is also a cinematographer who has worked with big-name artists like Post Malone.
And you have Sebastian Rodriguez (@srodriguez92), who is immensely passionate about cars and photography, and has worked with big-name rappers as well.
Only the best of the best make up Krispy Media.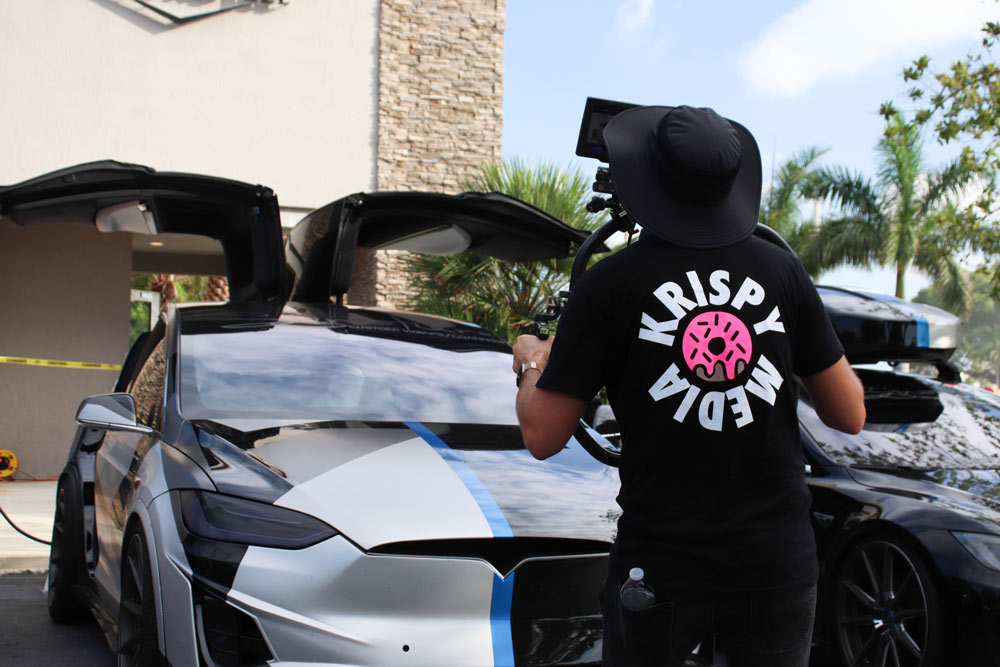 All the talent of this crew instantly shows when you watch a Krispy video production. Moreover, it shows when you meet them on the streets as they are working their magic.
They are super likable and relatable too, which is another reason why they have fans flocking to wherever they go.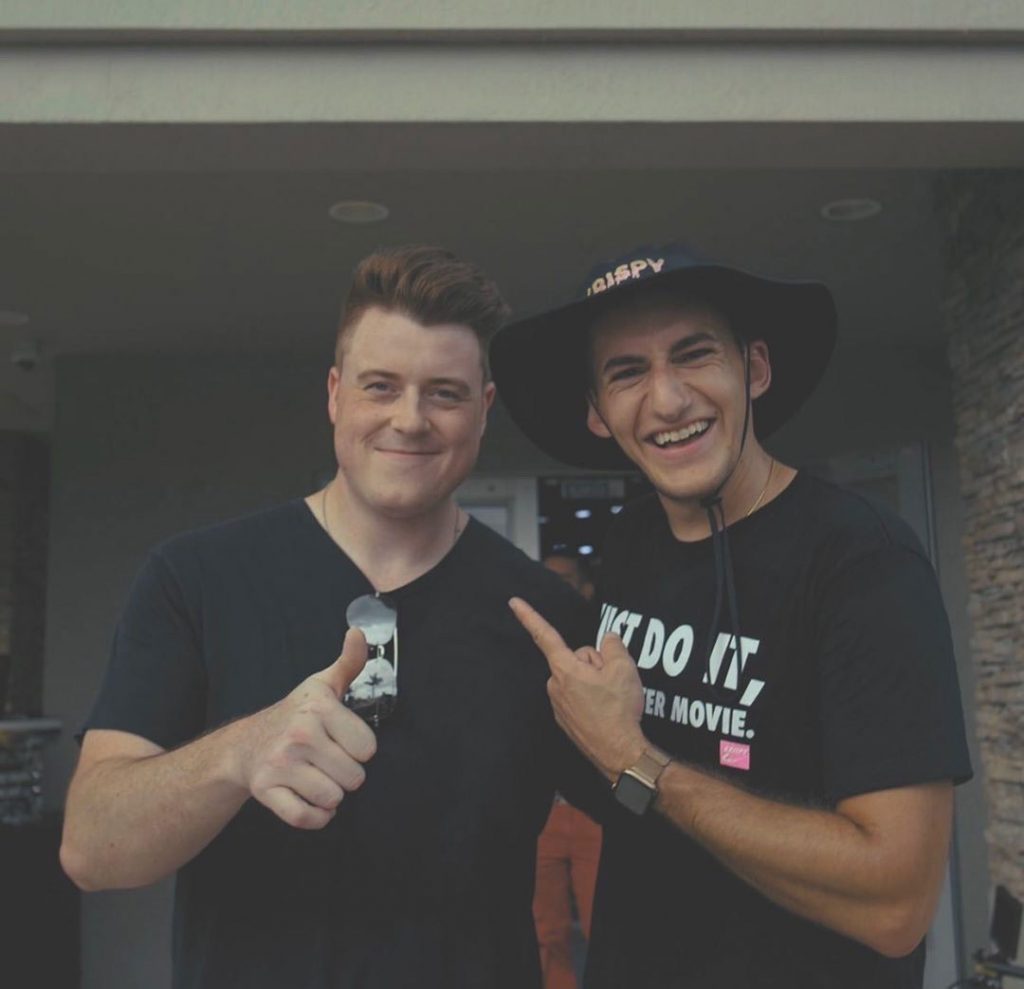 Now, here are some of the custom-built import cars from this Diamonds and Donuts Car Show and the upcoming Krispy Media x Diamonds and Donuts Car Film.
1998 Nissan 240SX Kouki S14 SE (Owner: Kyle Murphy)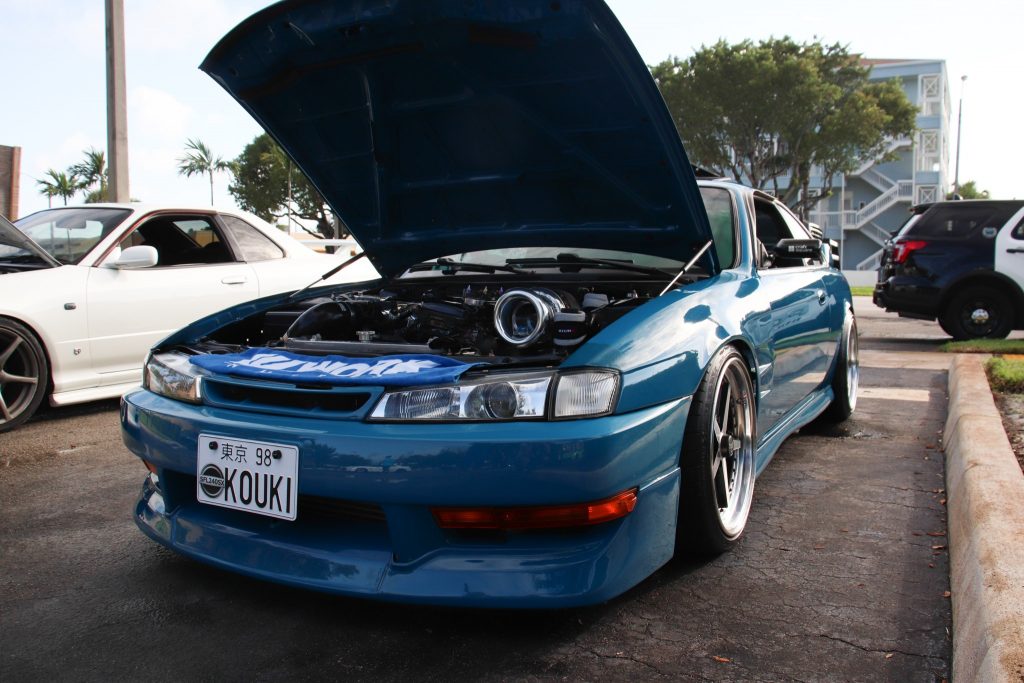 One of our favorite cars from the import fleet at our Diamonds and Donuts car show this month is a 1998 Nissan 240sx S14 SE.
The owner of this car is Kyle Murphy of Miami, Florida.
Kyle was born and raised in Miami and he is the founder of SFL240SX (aka South Florida 240sx). He has also been the host of SChassis & Skyline Meets since 2000.
Kyle was previously sponsored by BF Goodrich Tires and is currently sponsored by Dress Up Bolts.
Kyle and his baby, the Nissan 240SX, go way, way back. He got it back when he was in high school 20 years ago!
When he bought it, it was brand-new and completely stock.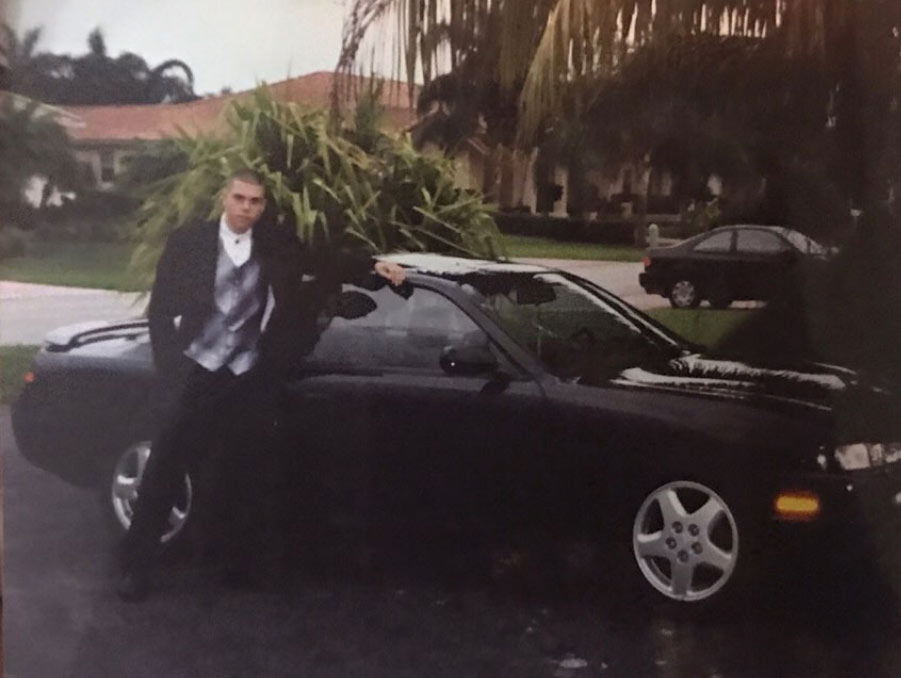 It was one of just a few brand-new 240s still available for sale in the entire US at the time.
Since day 1, he has been customizing and modifying it with immaculate deliberation.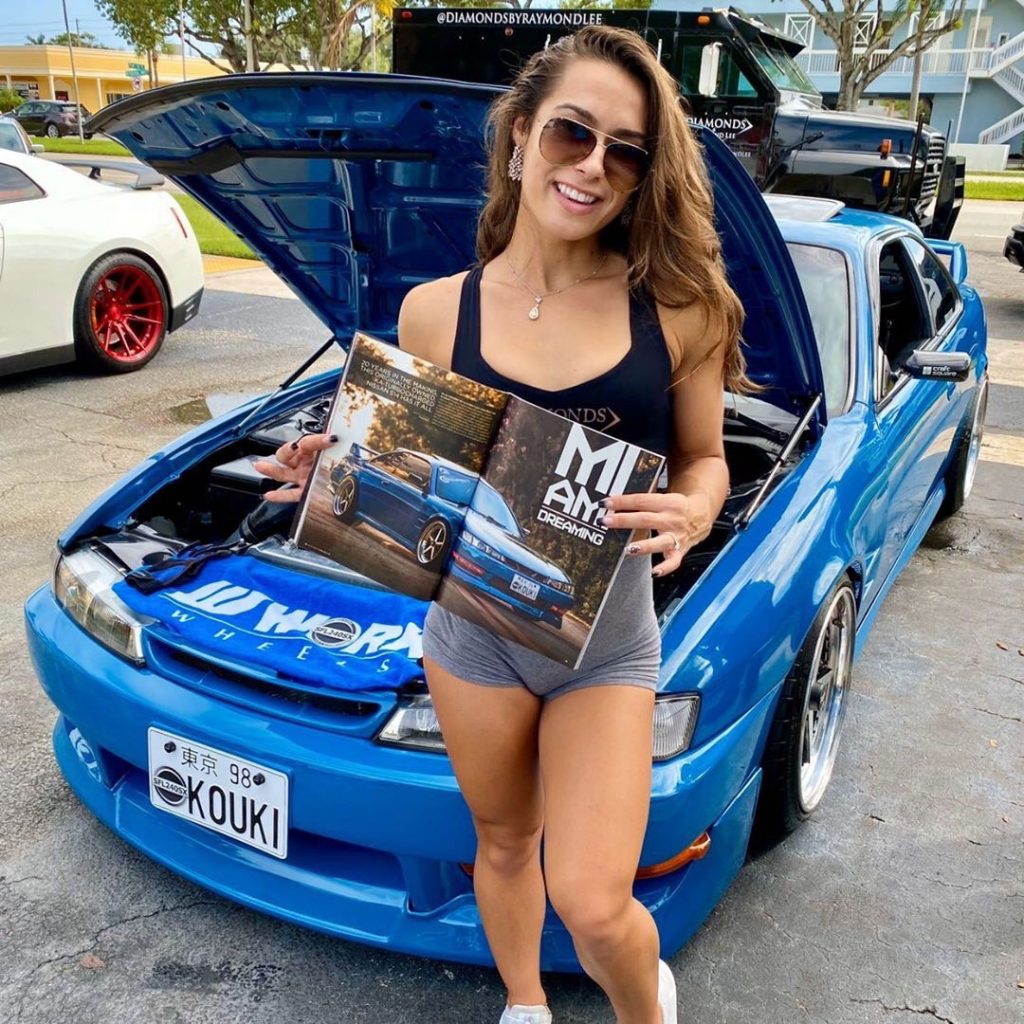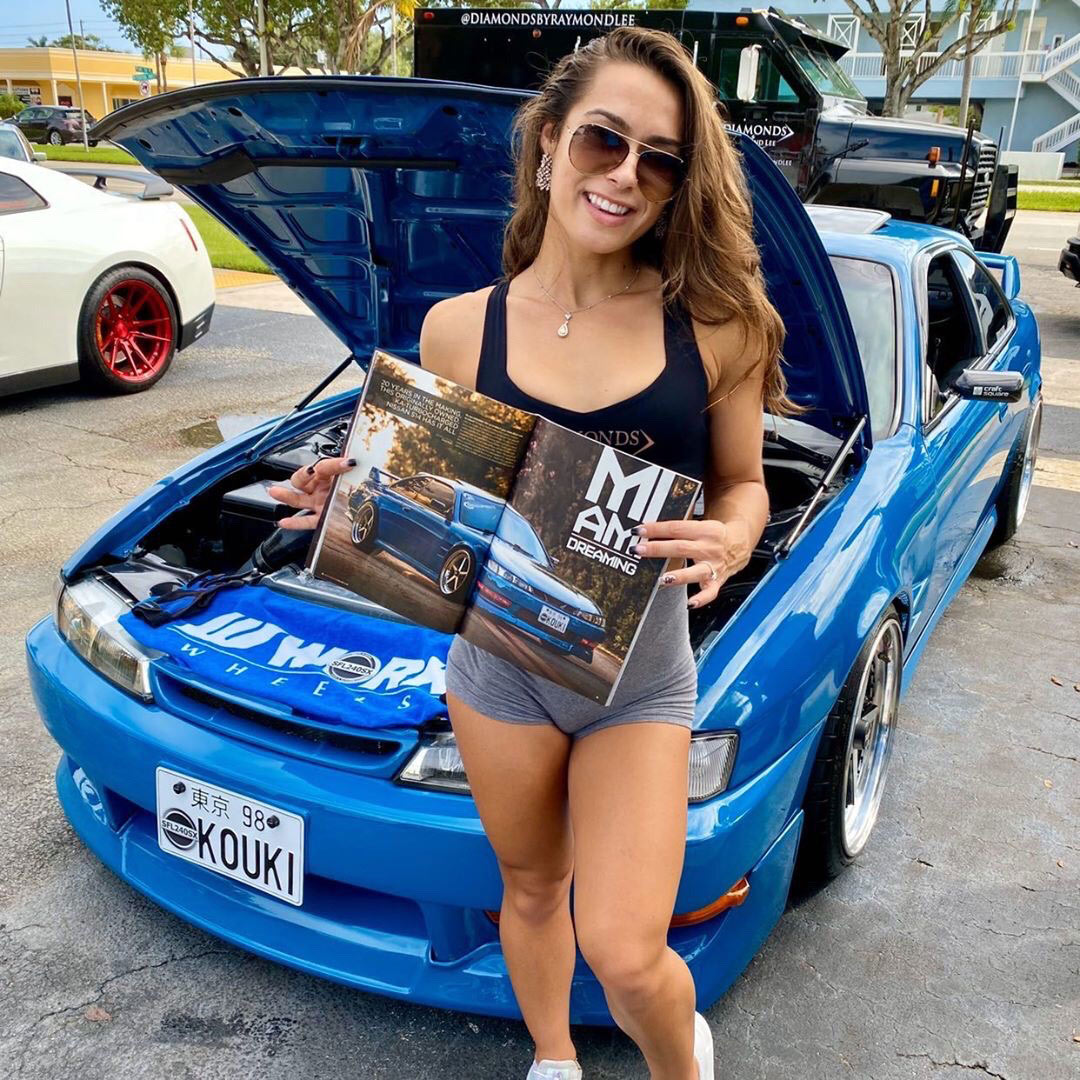 Now, let's talk about all the fastidious modifications his car has undergone.
Modifications
Being a fan of the Kouki S14 factory look, with its "aggressive styling and angry eyes" – quoted from Kyle in Super Street Magazine, he has always scrupulously chosen upgrades and modifications that complement and strengthen the native personality and disposition of the 240SX rather than alter it.
This is even more apparent when you open the hood and see he still has the original KA24DE engine…albeit with a plethora of upgrades that take the unremarkable stock engine from 155 hp to a highly remarkable souped up 600 hp.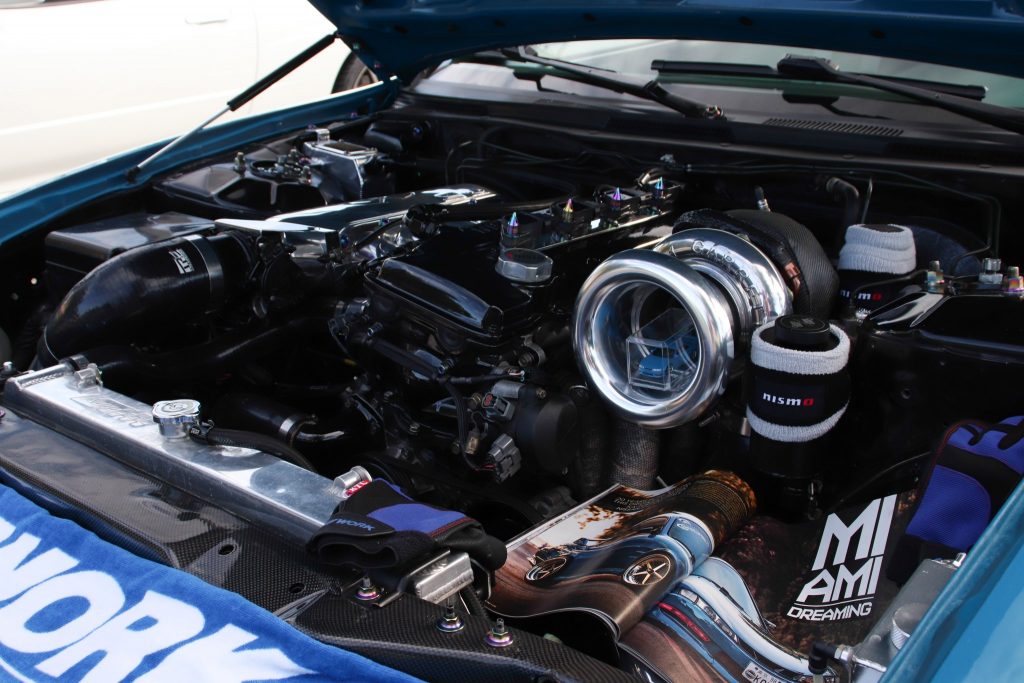 Kyle was adamant to let us know that he didn't do this all by himself.
He built the current motor set up in his garage with his great friend and professional tuner Armando Alvarez.
Kyle states "we wrenched MANY nights together on the engine build."
Together, through many long days and nights and for many years, Kyle and Armando rebuilt the block using Wiseco Pistons (.20 over Pistons with 10.5 Compression) and Carrillo Pro H-Beam rods. Furthermore, the head was granted Supertech components and Brian Crower cams.
Of course, that's not all.
A Garrett GT3582R turbo was bolted to a Ground Zero equal-length header, which resulted in the four cylinder engine being able to produce 500 lb-ft of torque.
And that's just the internal.
Externally, the KA24DE engine saw Wiring Specialties Pro Harness, Polished Xcessive Intake Manifold, and a Ground Zero Equal Length 304 Exh Manifold…to name but a few from a long list of performance mods.
All in all, the car is glaringly quicker and more powerful than anyone would have ever imagined 20 years ago when Kyle first got it. The thing is a beast.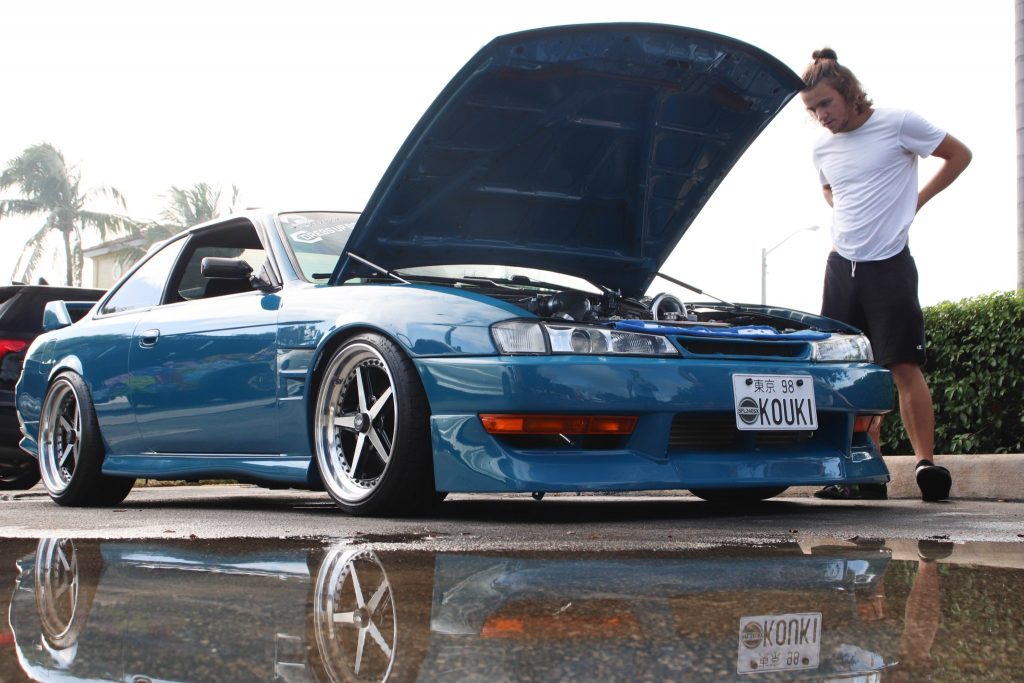 Getting out from under the hood, we have plenty more modifications to look at.
The traditional S14 body lines remain, yet they are slightly widened.
One of the most noticeable changes is the Laguna Seca Blue paint job, a paint acquired from the BMW E46 M3. It's an undeniably stunning look and one that is unseen in any S-Chassis builds, as far as we know.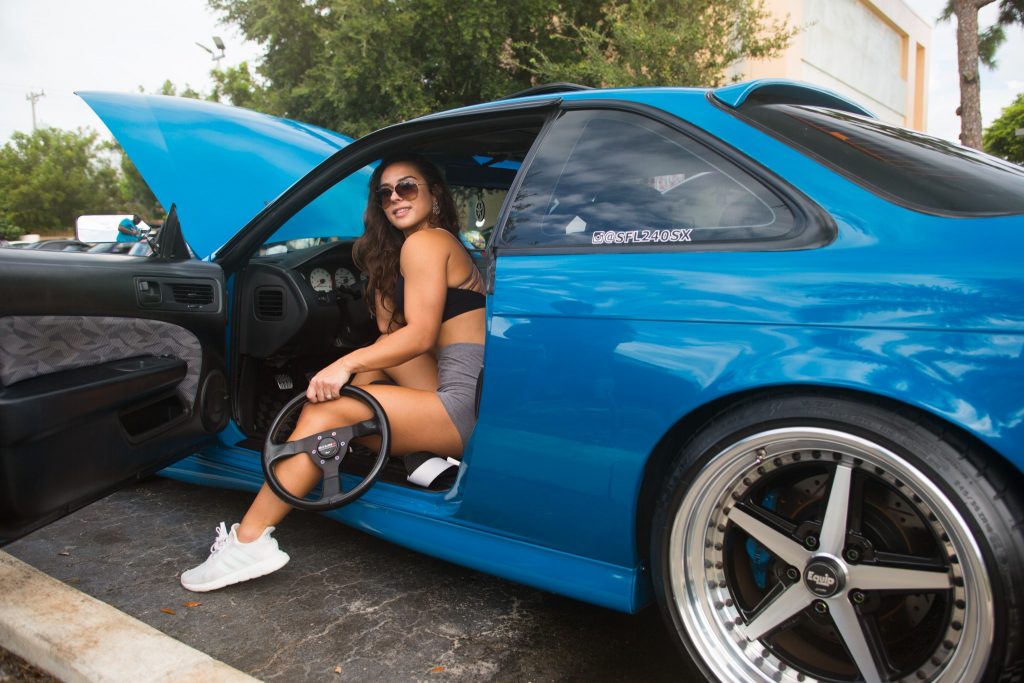 On the interior, you'll discover NISMO parts everywhere you look. We are talking Nismo Seats, Nismo GT Spec 4 Point Harnesses, Nismo GT Spec Harness Pads, Nismo Full Pedal Cover Set w/ Dead Pedal, and the list goes on and on.
Moreover, Kyles got a collection of rare parts, some equipped, some at home waiting for their turn.
Honestly, if we were to go through all of the work that Kyle and Armando have done to his Nissan 240SX, we'd be able to write a book. From the bolts to the engine to the drivetrain to the wheels to it ALL, Kyle has modified, with extreme care and consideration, every single element of his car. He is truly a genius with this stuff.
We want to show our greatest respect for Kyle. It was an honor having him at our car show. And including him in our upcoming film, which is soon to be released.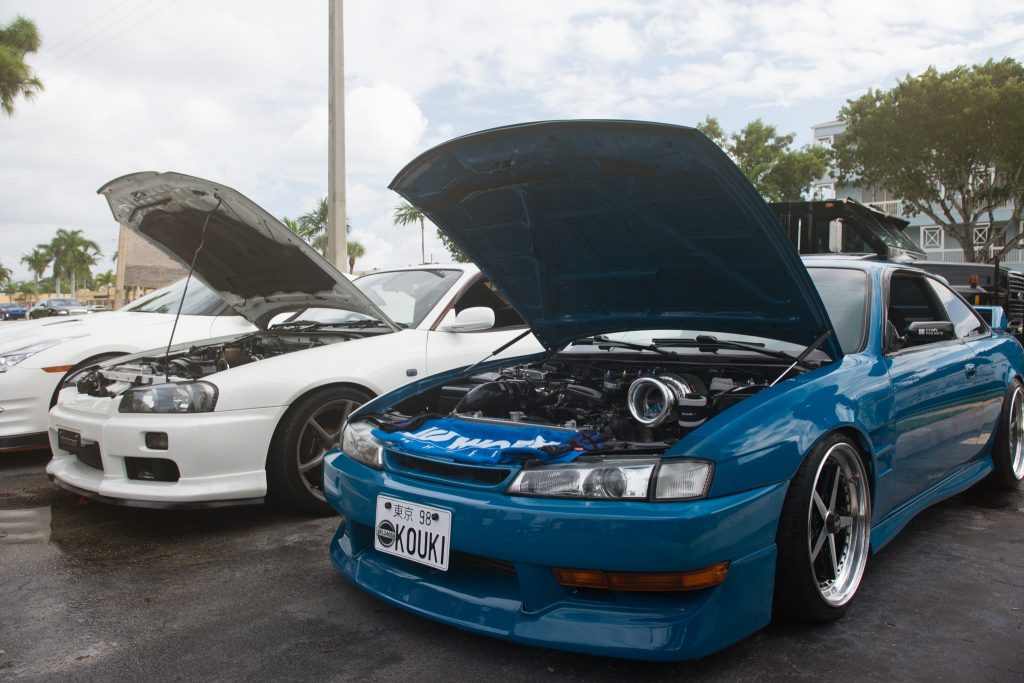 Fire Breathing RX-7 FD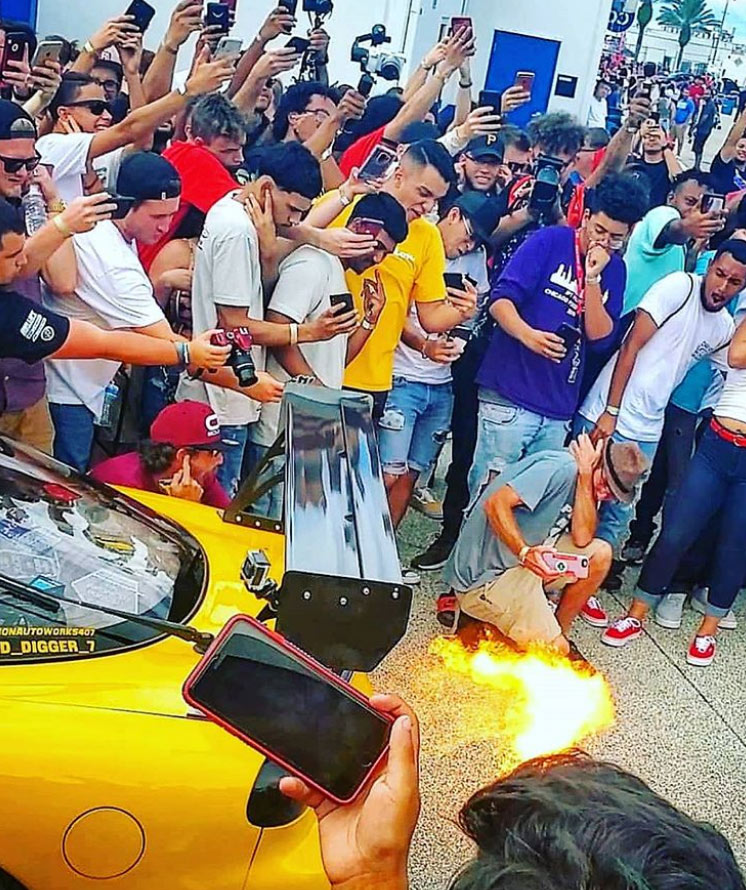 Another car that will be featured in our upcoming film by Krispy Media is a fire breathing 1993 Mazda RX-7 FD.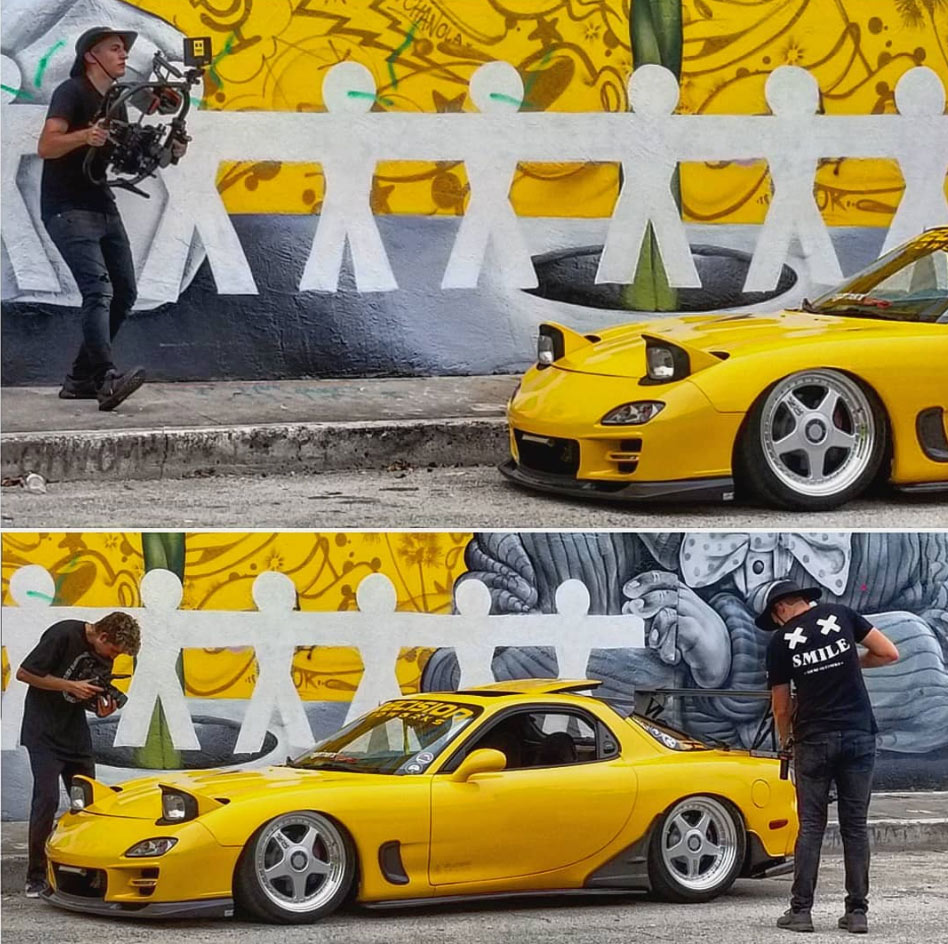 We love what the owner of this car (@gold_digger_7) had to say about his involvement in this video production
"Feeling so humbled and accomplished at the moment. 3 years ago, when I began the journey of building my RX7 ( gold_digger_7 ). My only goal was to PASSIONATELY build a super rare BRAPPIN "Reliable Rotary Powered FD" that I could daily drive. Well, that build got really outta control REAL QUICK… It seemed like it was a never ending story with why the FD build needed more and more and more parts…. I always had a valid reason everytime I made another purchase (I tricked myself to believe anyways) lol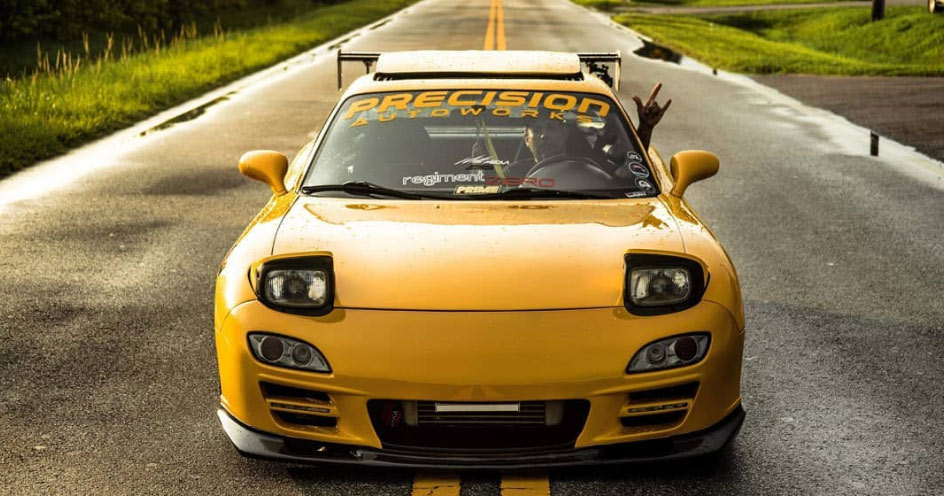 So after this weekend. Today, I FINALLY have a few minutes to sit here in my shop after a really testing and hard week of work; looking for a cool pic to post FOR ALL OF YOU and I realize as I'm scrolling thru the pics I took this past weekend.
DAAANG!
I've had the privilege of having some of the very best, very respected, looked up to, Cinematographers/Directors/Videographers in the Automotive Community film my gold_digger_7.
I have to make sure to voice that the honor is truly mine!
Here I present you all with a small peek at @krispy @krispy_media working on her this past Friday in @wynwood. Thank you for putting in the hard work. Thank you for choosing my RX7. I appreciate all the concentration, time you took with her; the hard work and the Great Tips you passed down to me while we took that ride around downtown Miami in the RX7. It means more than you know.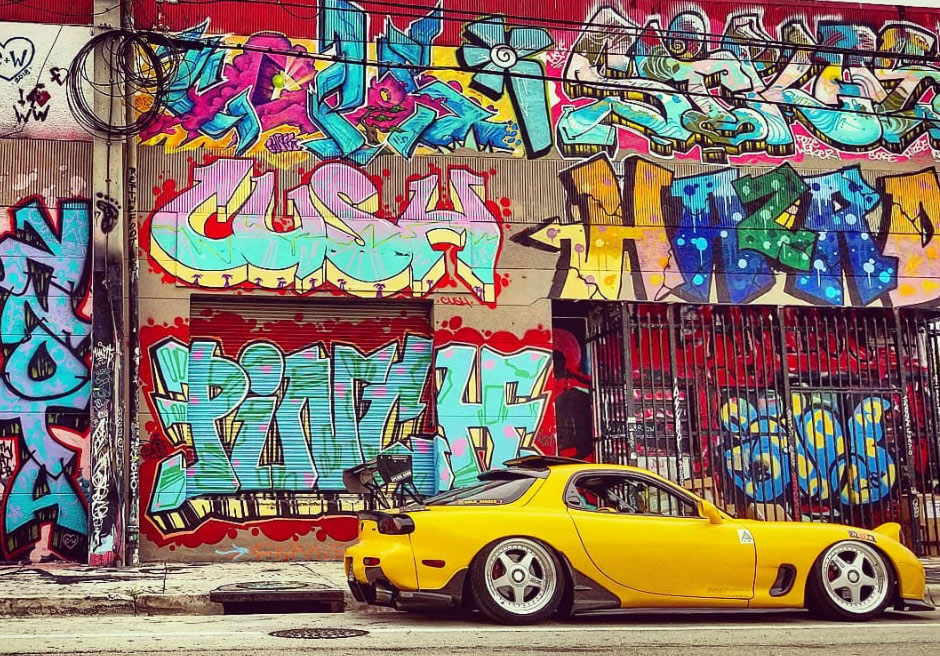 Thank you @diamonds_donuts
Thank you @srodriguez92 and @mkoziel for all the hard work as well. It didn't go unnoticed. I really hope we can do it again sometime.
#feelingblessed"
Imports on Imports on Imports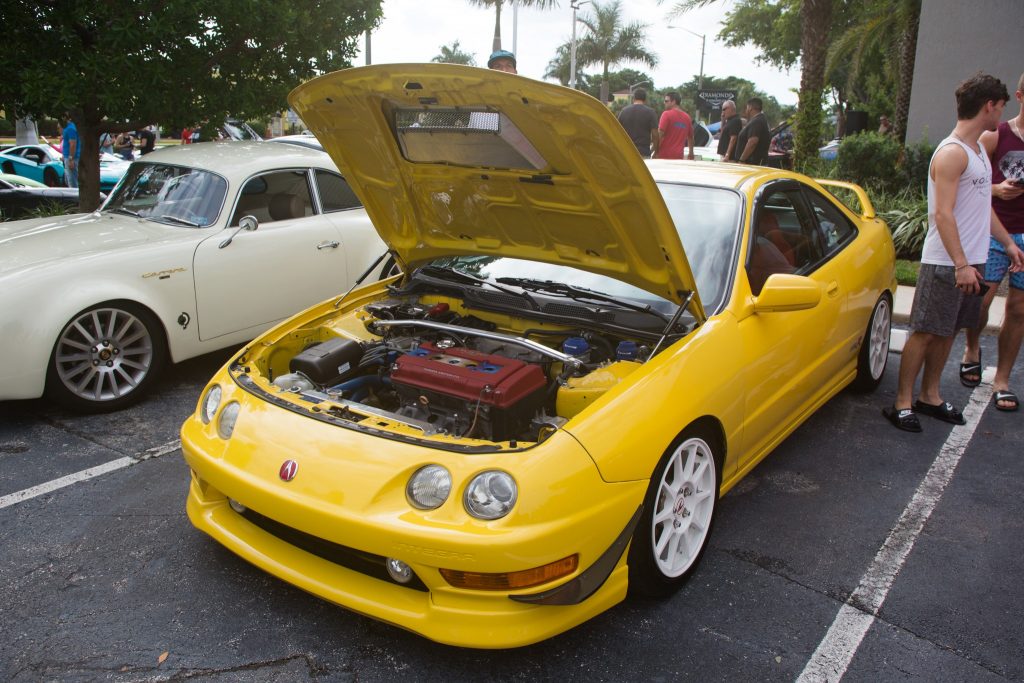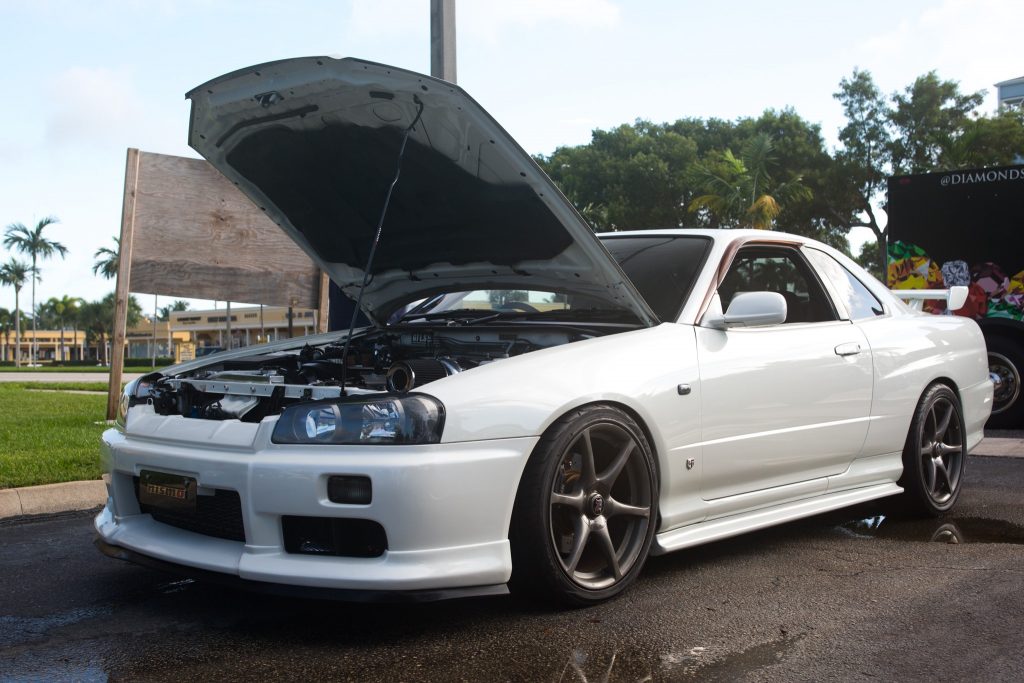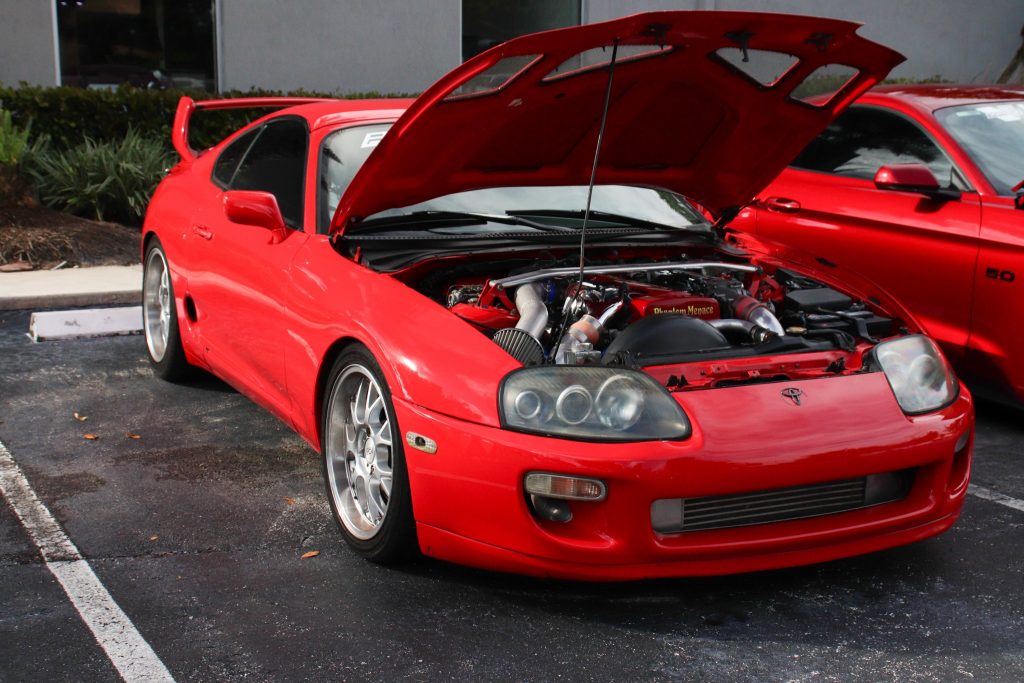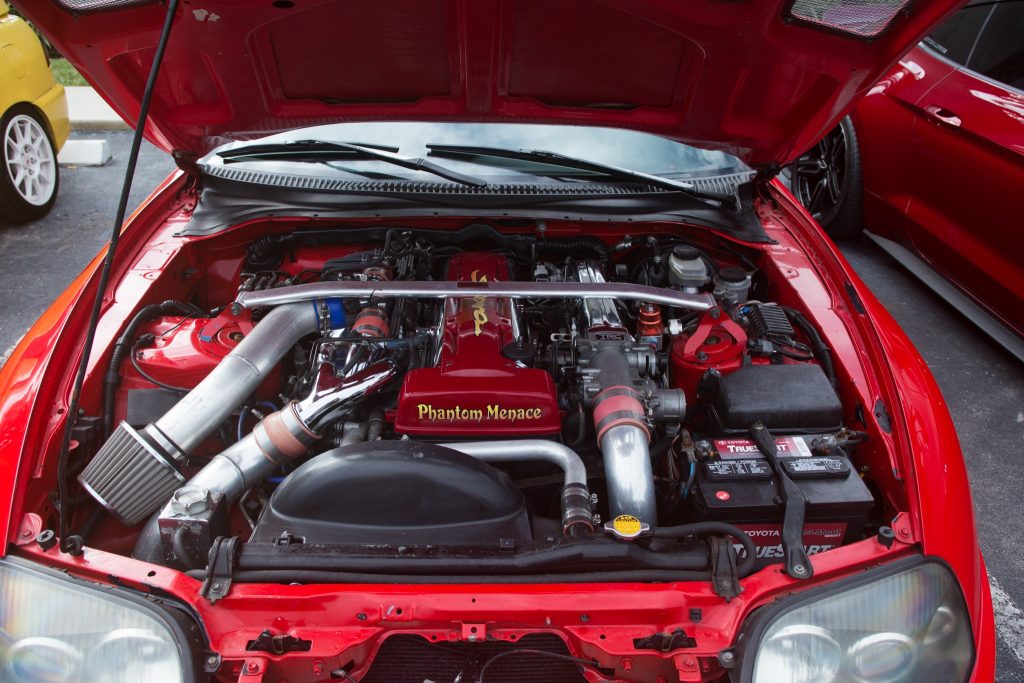 MORE SNEAK PEEKS FROM KRISPY MEDIA'S UPCOMING FILM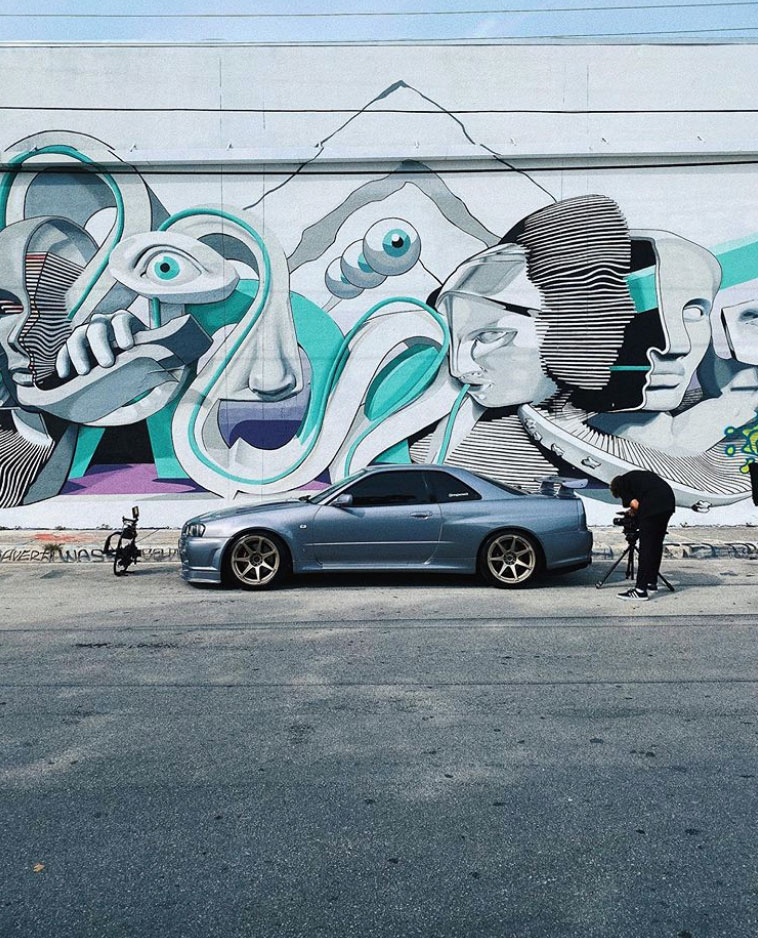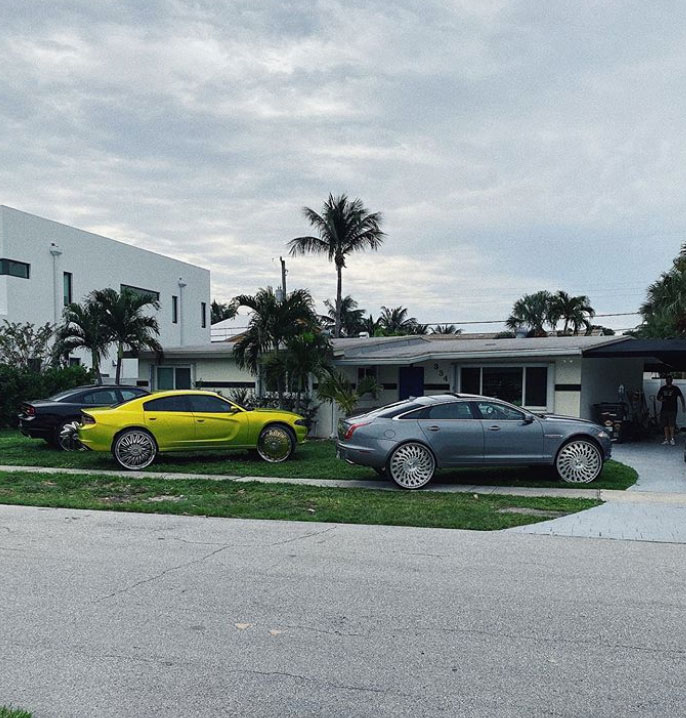 It's Electric! Boogie Woogie, Woogie!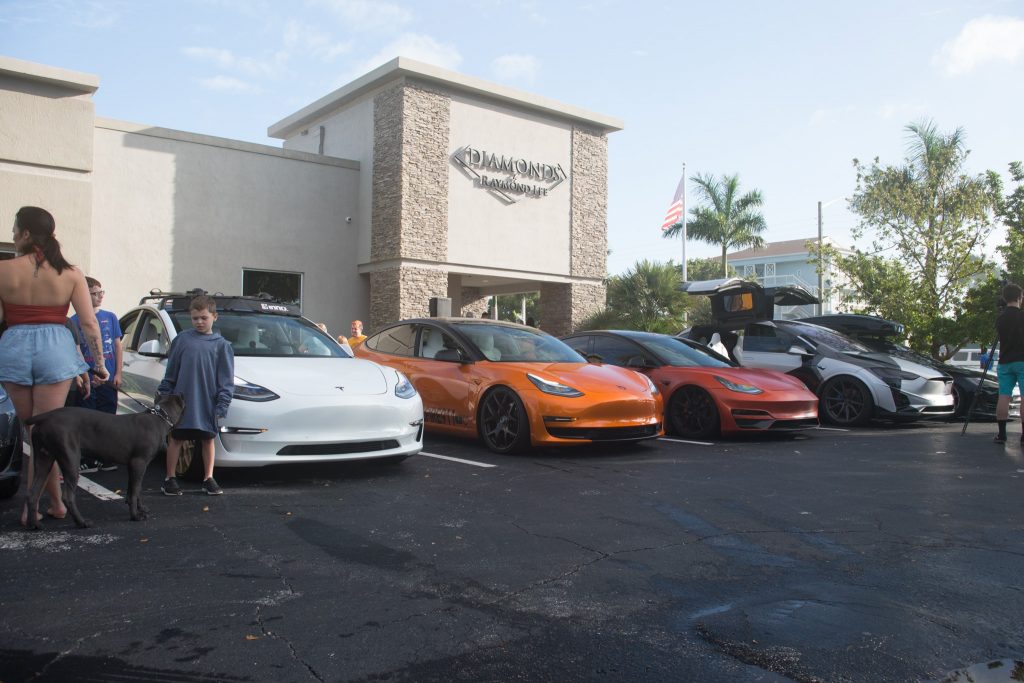 As you can see, we had a gang of Teslas show up and take over every single Tesla charger in our lot!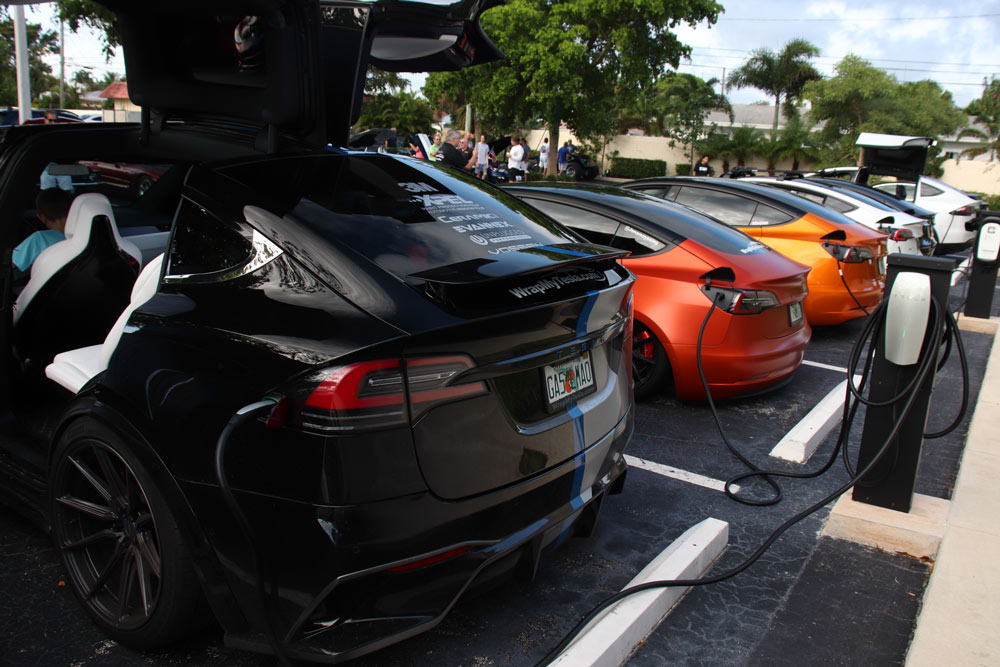 Tesla Model 3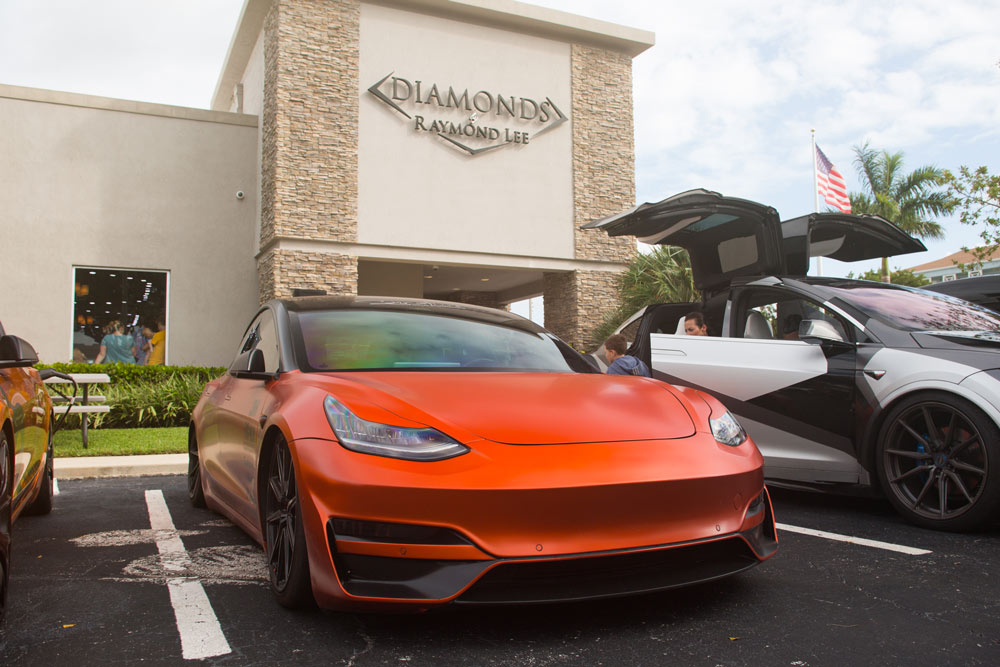 Let's have a look at one of the hottest Telsa's that blessed Diamonds and Donuts. The Tesla Performance Model 3, owned by Jen Mayesing (@jenamayesing).
You see, it's not just Imports that have undergone fascinating modifications. This Tesla Model 3 has had its fair share of upgrades and personalizations too.
Jen's Tesla 3 is bagged with adjustable air suspension from @airtekk. The wheels are @vossen HF3s in gloss black. It has a 3M Fiery Orange wrap with a custom satin laminate top…
AND…the interior is white with a black Alcantara headliner; the calipers are custom-painted orange; and she has a bunch of other goodies from Unplugged Performance.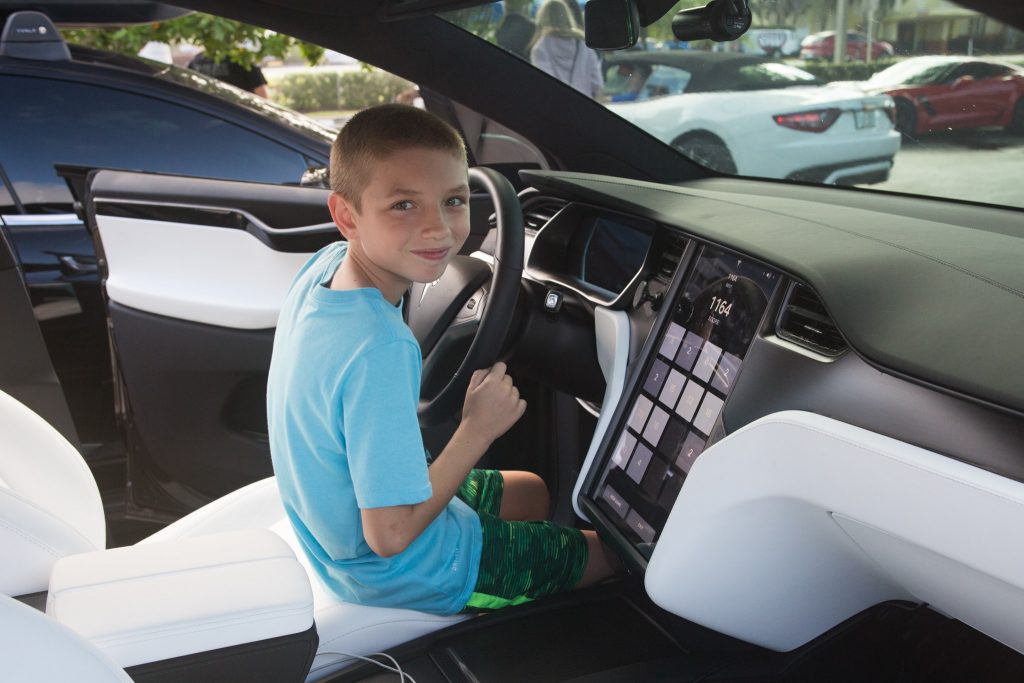 All of this was inspired by Jen and the work was done by South Florida's renowned @signaturecustoms.
All in all, this isn't your average Tesla. Far from it. This car is straight from the future where unbelievably sexy and fast electric cars are the norm…a future we want to be in, that's for sure.
STAY TUNED FOR THE OCTOBER 2019 DIAMOND AND DONUTS CAR SHOW RECAP PART 2 – 'Exotics'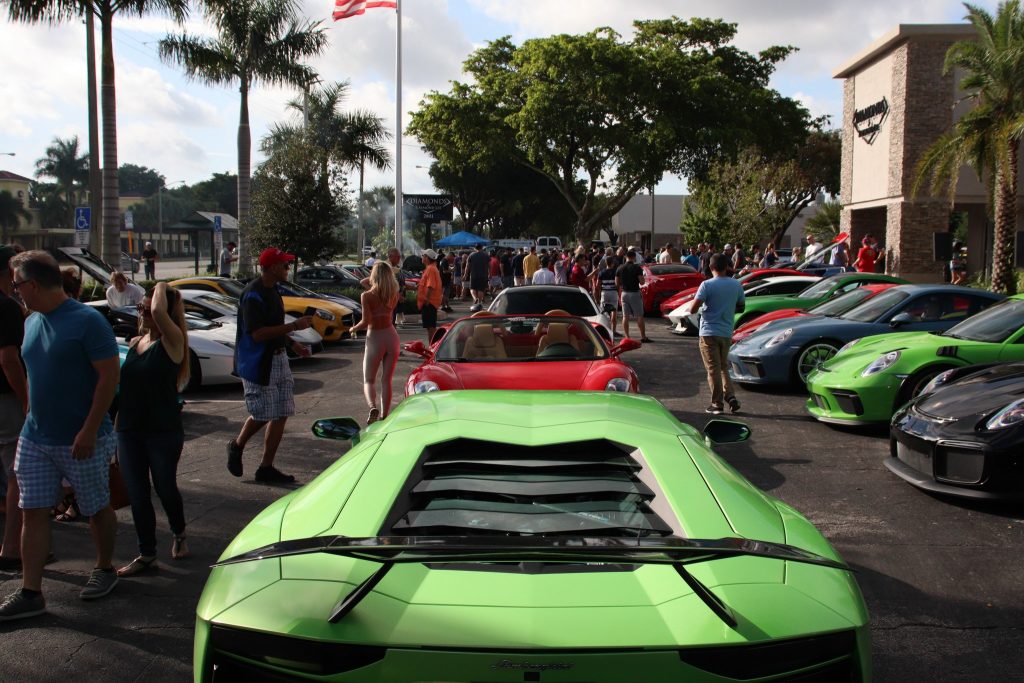 Next week on Tuesday, October 29th, we will be releasing part 2 of this October's Diamonds and Donuts Car Show.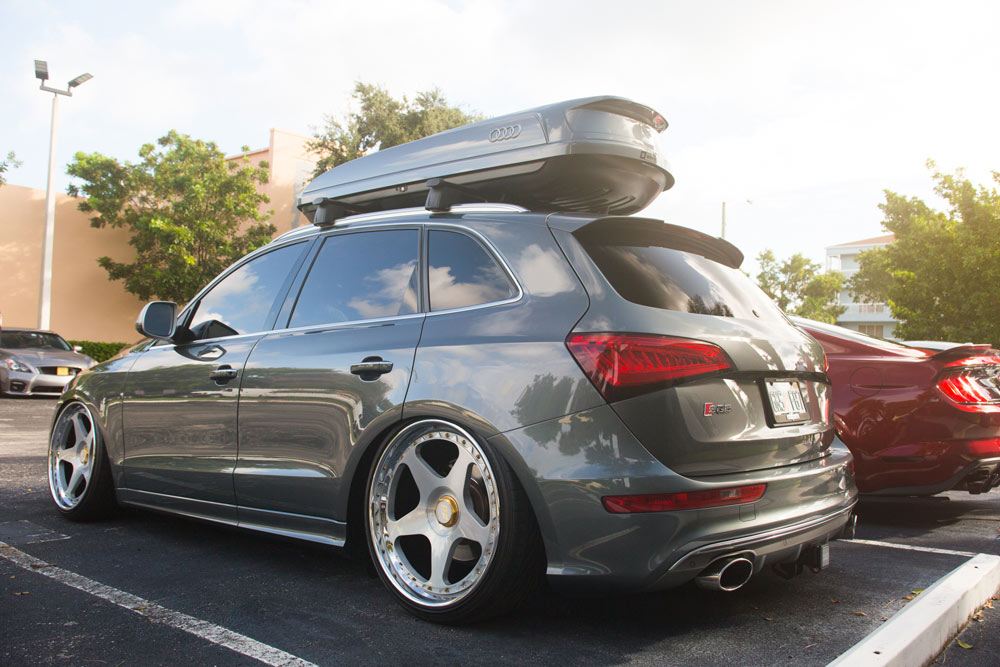 We will be featuring more cars and owners, such as a unique Audi SQ5, a supercar couple named Wendel and Caroline, and many more of the hottest exotic cars that showed up to our car show this month.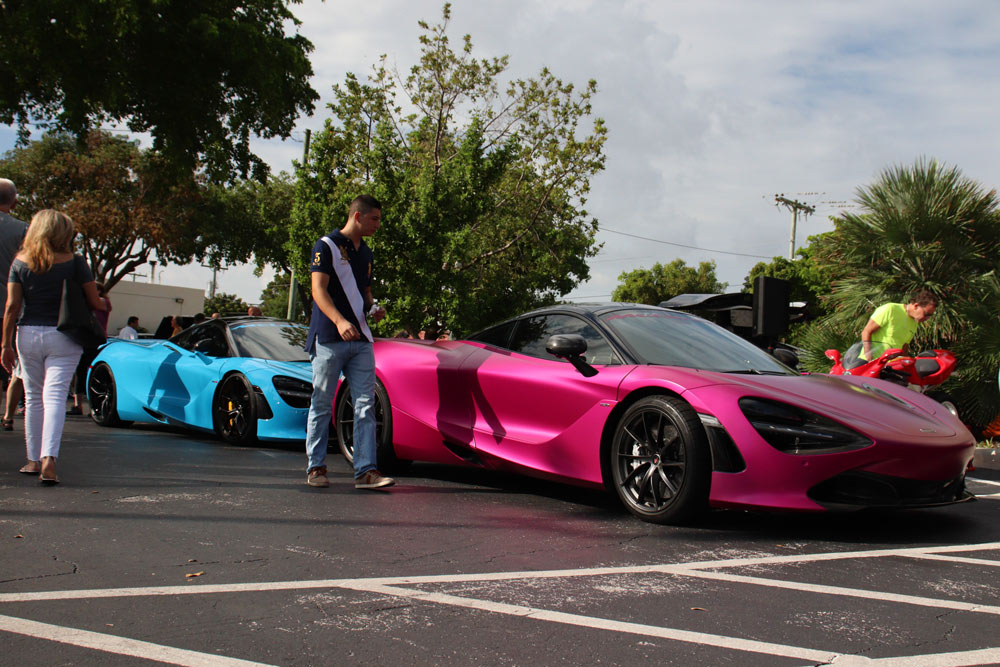 Breast Cancer Awareness Month
This month we are raising contributions and awareness in honor of Breast Cancer Awareness Month.
At Diamonds and Donuts last week, we sold Diamonds and Donuts hats and all of the proceeds will be going to Boca Regional Hospital Foundation at the end of the month.
We have more going on for Breast Cancer Awareness Month, which we will discuss more in Part 2 on Tuesday.
In the meantime, if you want to get involved, get yourself a Diamonds and Donuts hat! Rep an awesome car show and make a difference by supporting an extremely important nationwide cause at the same time!