New Diamond Jewelry Photographs featuring Dana Lynn of Devotion Nutrition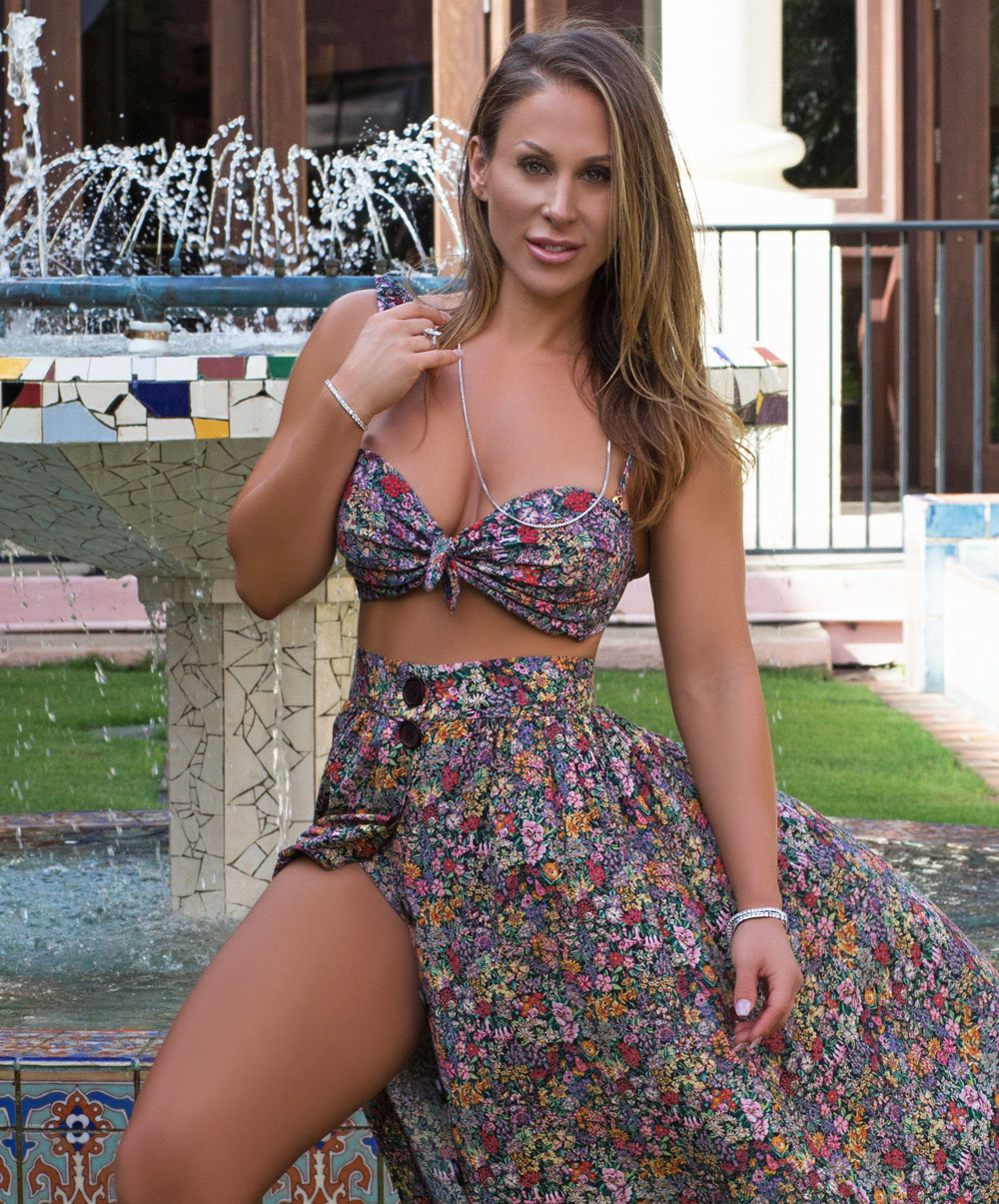 Welcome to another Diamond Jewelry Photoshoot at Diamonds by Raymond Lee in Boca Raton, featuring the incredibly gorgeous and unbelievably fit Dana Lynn Kaye. In this post, you will be deluged with fine diamond jewelry and luxury watch photographs that will not only take your breath away but also inspire you on your next diamond jewelry and luxury Swiss watch purchase.
Prepare to have your strongest jewelry desires come to light.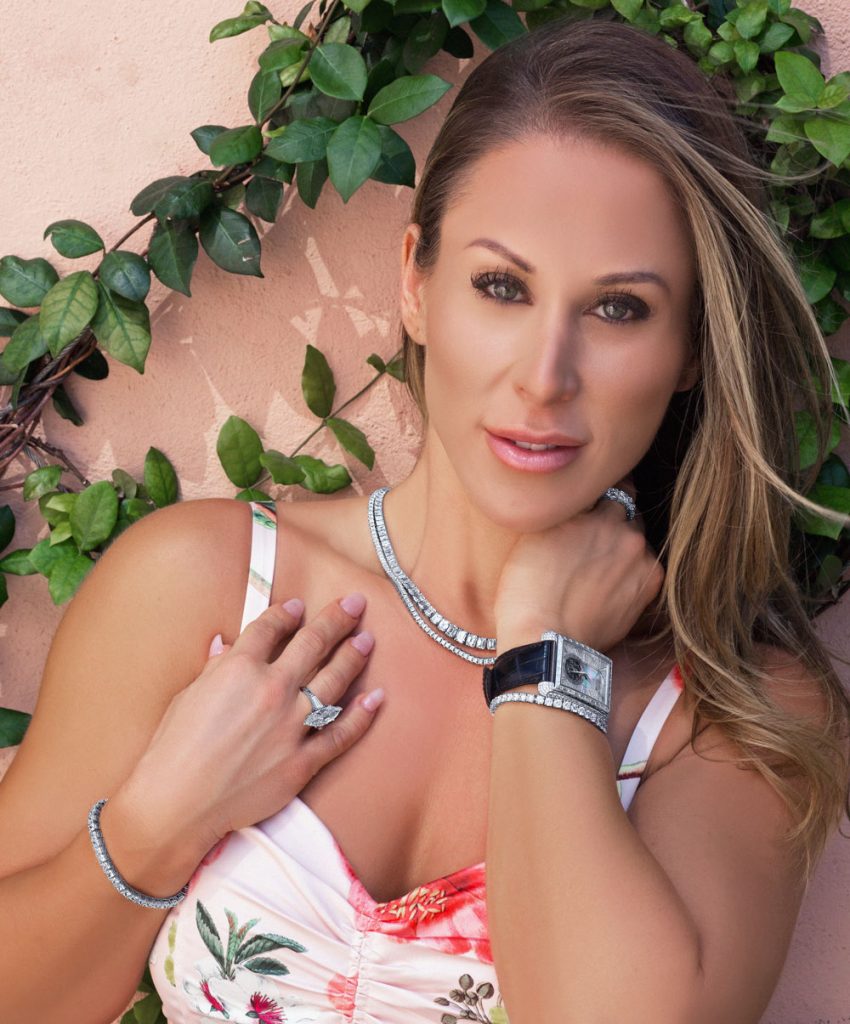 Dana Lynn
Before we start discussing all the different jewelry featured in these jaw-dropping diamond jewelry photographs, let's talk a bit about Dana Lynn.
First off, Dana Lynn is not only beautiful and super fit, but she is also astonishingly impressive in the way she speaks and carries herself, and in her career.
She's competed in the National Physique Committee (NPC), which is the largest amateur bodybuilding organization in the United States, in 2013, 2015, and 2016.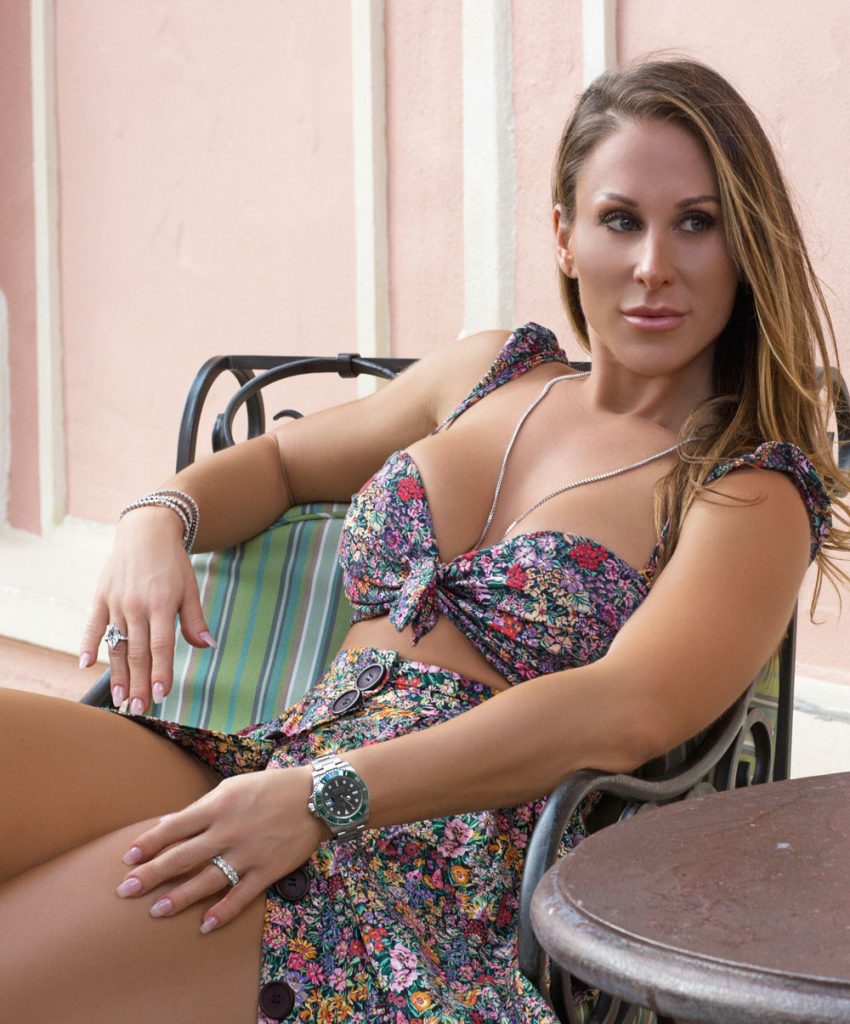 Dana Lynn looks like she is 25, but in fact, she is coming up on her 40s soon. She also has 3 kids, two of whom are twins! How does she keep in such great shape? You are probably thinking genetics…Well, in fact, it comes down to hard work, eating right…and DEVOTION.
Cue her company, Devotion Nutrition. Dana took her wealth of nutrition knowledge and endless work ethic and created a successful supplement and health food brand.
In the words of Devotion Nutrition, "Dana Lynn Kaye brought to fruition her dream of a flavorful world and the end of boring, bland foods. With passion and persistence, she acted on that dream to make a positive change for herself and in the lives of others."
This statement becomes immediately apparent when speaking with Dana. She is anything but boring and bland, just like her products. Dana puts her heart, her emotion, and her passion behind everything she does, and we deeply commend her for that.
We highly recommend checking Dana Lynn out on Instagram. Her devotion to being her best self is contagious and inspirational.
It was truly a pleasure collaborating with her to create these wondrous diamond jewelry photographs right here in Boca Raton.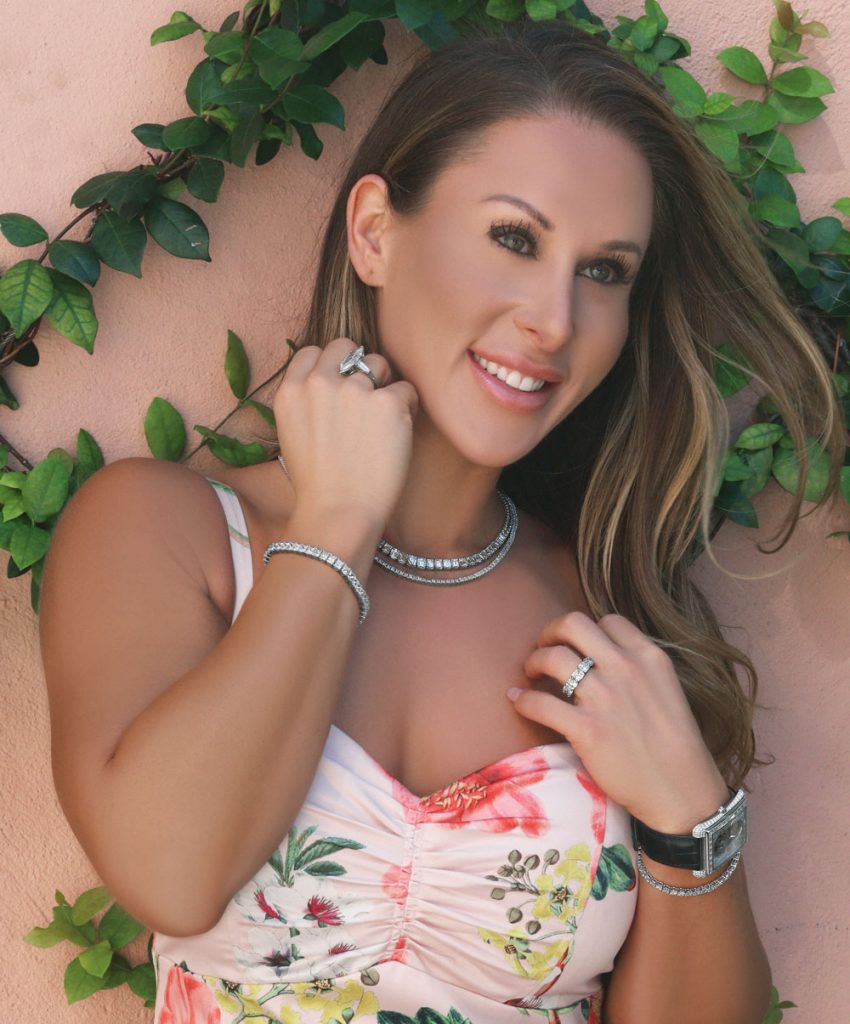 Diamond Jewelry Photos with Dana Lynn
Note: All of the products featured in this post are available now at Diamonds by Raymond Lee and Raymond Lee Jewelers in Boca Raton. You can see the full sales listing and price for each product by following the accompanying links below.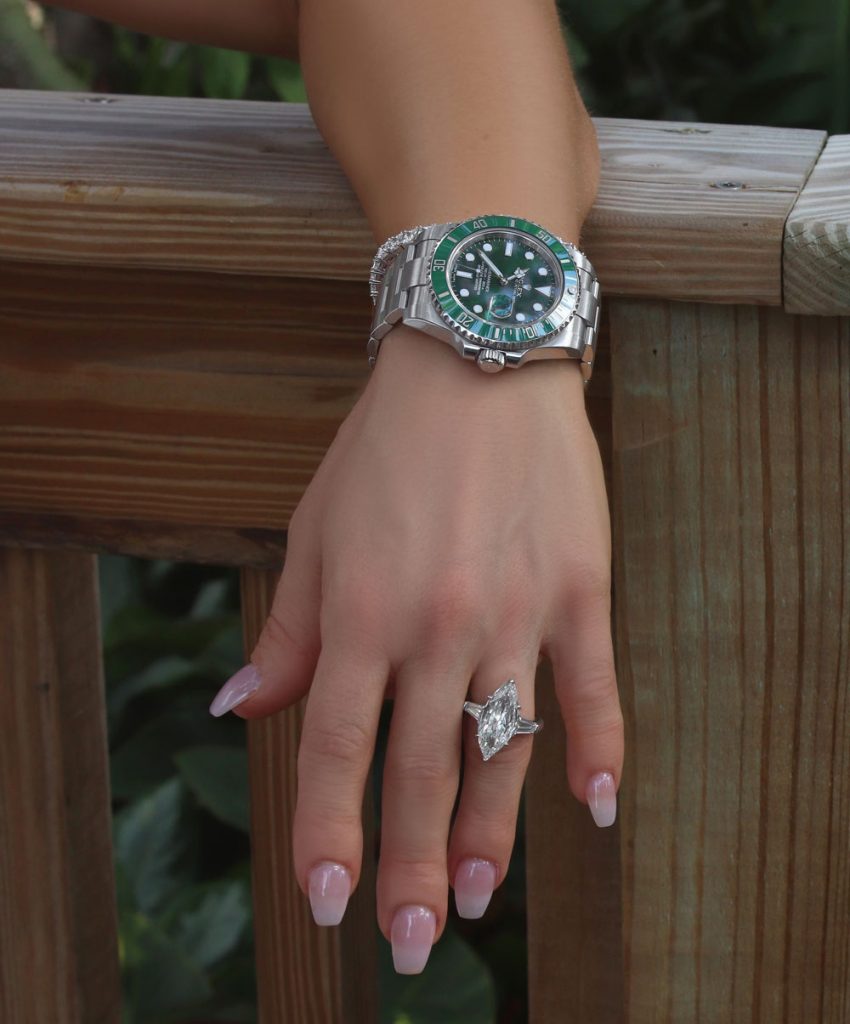 Dana is rocking the Rolex Hulk here to perfection. It looks absolutely fantastic on her…
The "Hulk" is easily one of the most popular Submariner watches out right now.
The Rolex Hulk has been discontinued as of earlier this year.
A new Rolex Hulk was known to always have a long waiting list, similar to the stainless steel Daytona.
Thankfully, if you are in the Boca Raton area, you can come to Diamonds by Raymond Lee and get yourself the Rolex Hulk in excellent condition without the wait…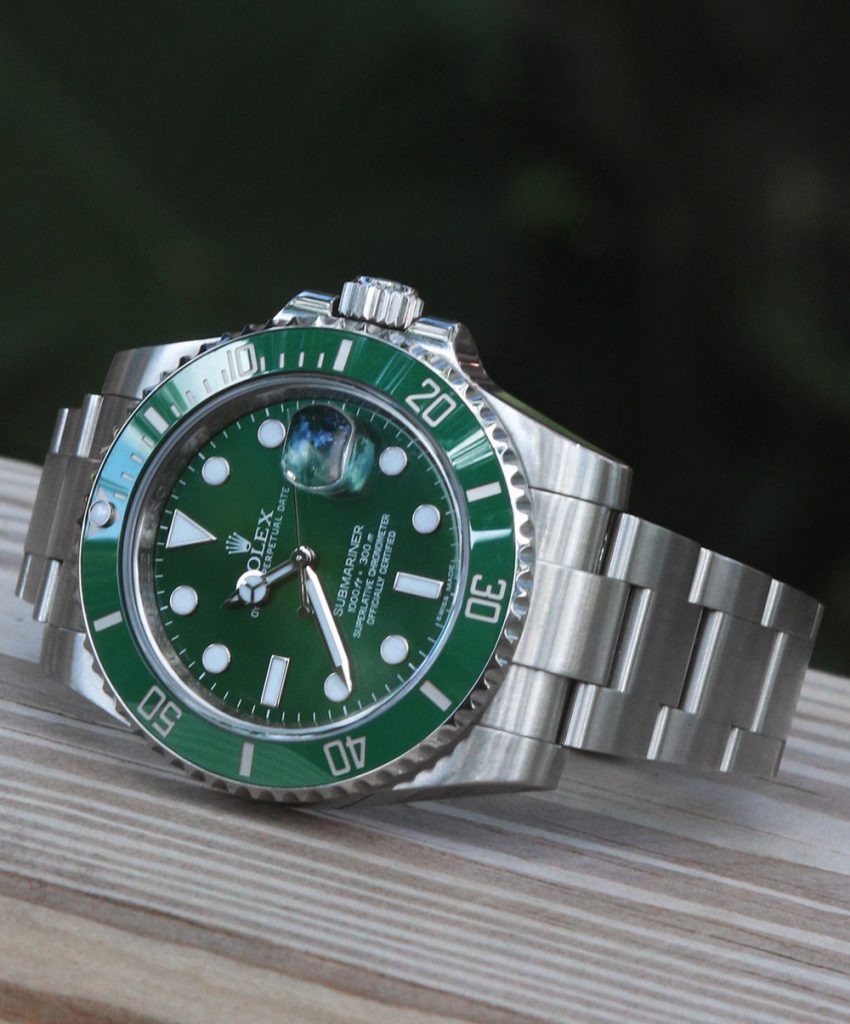 Now, for those who don't know, the Rolex Hulk (reference 116610LV) was specially created for the 60th anniversary of the Submariner. This was back in 2010.
Rolex chose green as they have used that color in their branding for a long time. But they only have a few references with the color green (such as the Rolex Kermit, which was the predecessor of the Hulk).
It was actually the first time Rolex used a different color other than black and blue for their dial (the Kermit only had a green bezel).
So, it definitely made for a very unique Submariner model.
Green represents wealth and prestige, which is ultra fitting for the mammoth-ly iconic brand that is Rolex.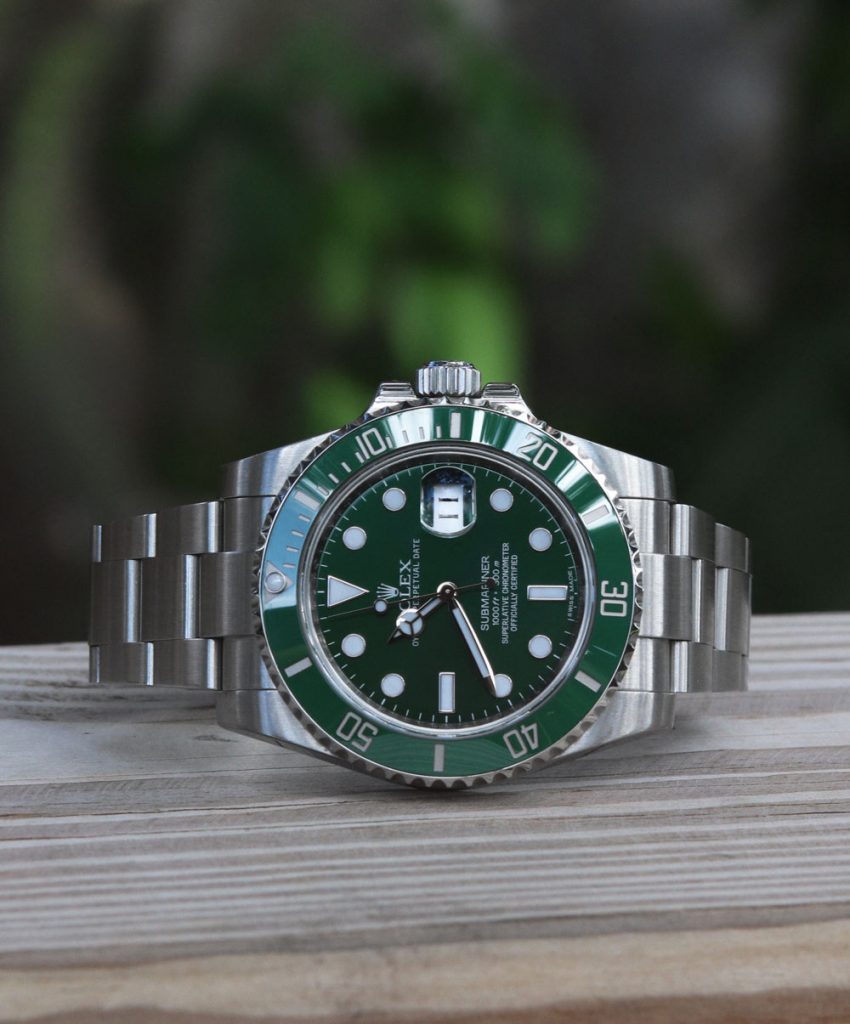 The Rolex Hulk has a green ceramic bezel with whitish silver graduations and a green dial with white gold hour markers and hands, all generously filled with white lume. The rest of the watch is crafted from stainless steel and polished flawlessly with a combination of brushed and high polish finishing. The Oyster case is 40mm. So, although large for a woman, it is still wonderfully suitable, as you can clearly see by how it fits Dana.
View the full sales listing for the Rolex Hulk online at Diamonds by Raymond Lee.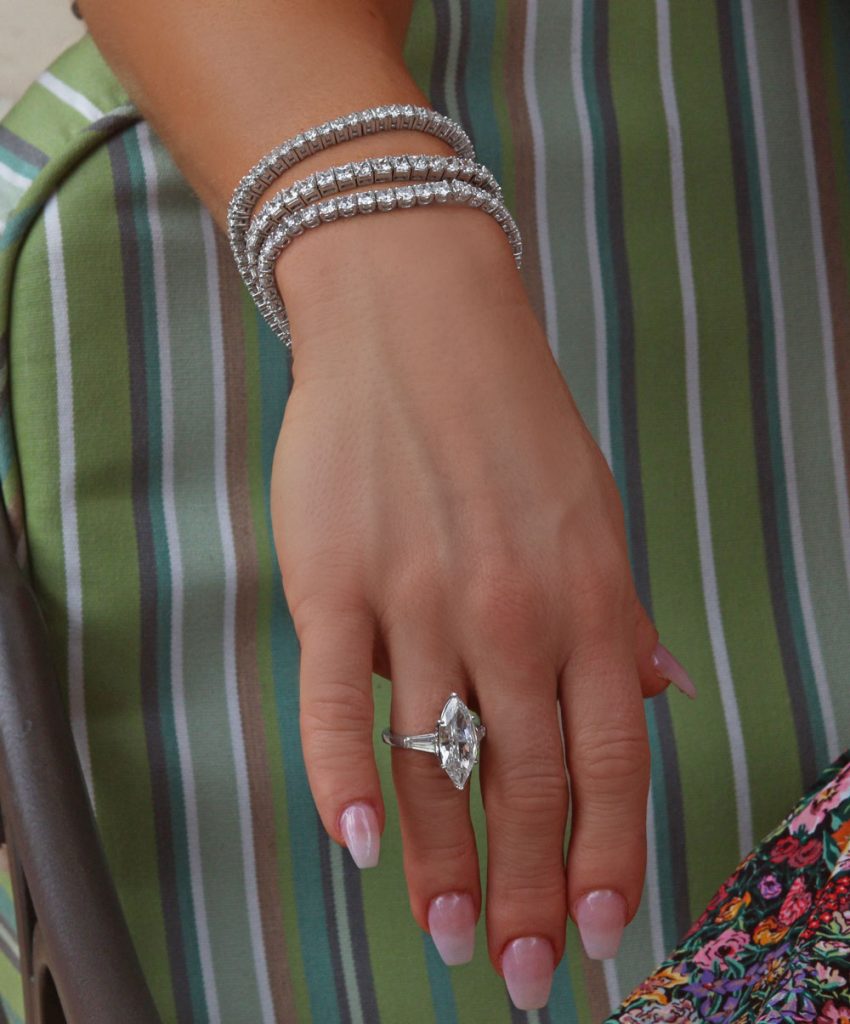 One of the most distinctive pieces and a main attraction for this jewelry photoshoot starring Dana Lynn is the marquise cut diamond engagement ring.
The ring features a 4.54 carat marquise diamond centerpiece and two .25 carat tapered baguette side stones. The ring itself is crafted from gorgeous and highly durable platinum.
Altogether, the ring is utterly stunning, as is the price tag, which weighs in at heavy $71,995.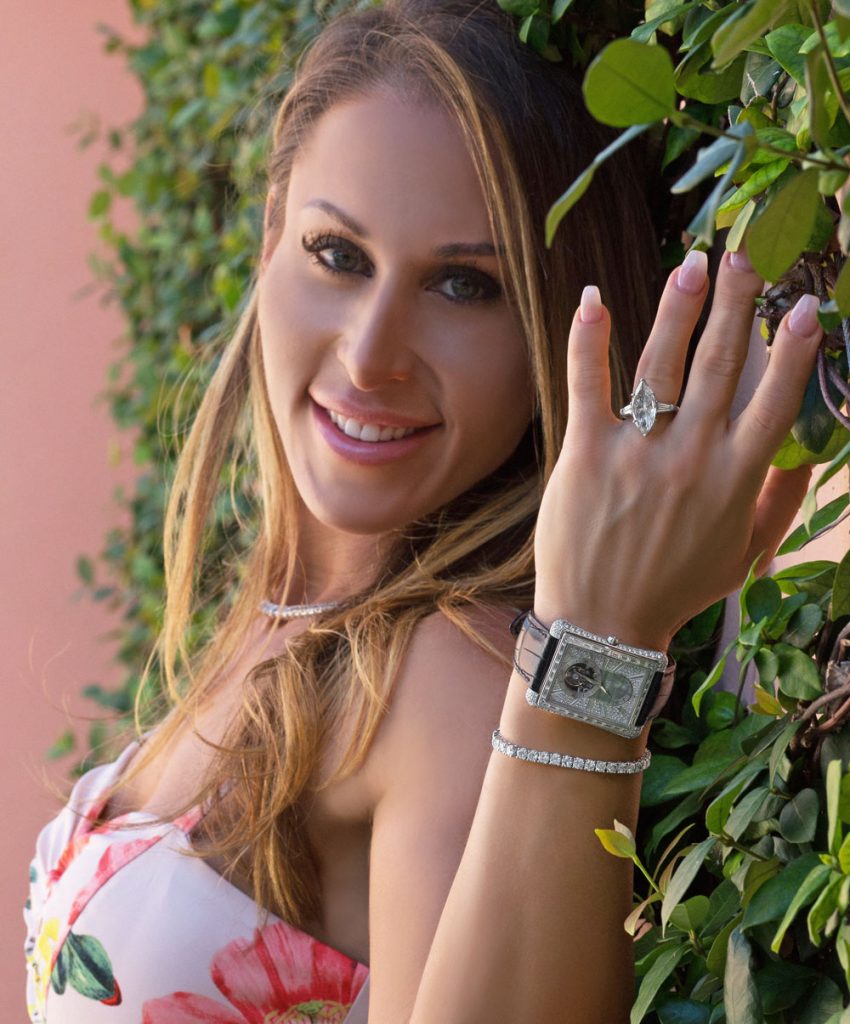 History of the marquise cut diamond
The marquise cut diamond has a very interesting history dating all the way back to the 1700s.
During the 18th century's King Louis XV rule, the King commissioned a jeweler to create a diamond shape that resembled the lips of his mistress, the Marchioness Madame de Pompadour.
The name "marquise" relates to a hereditary rank above a count yet below a duke. Courtiers wore marquise cut diamonds as a way to show off their rank.
Marquise diamonds are also called "navette" diamonds in France, which means "little ship", as they have a boat-like structure.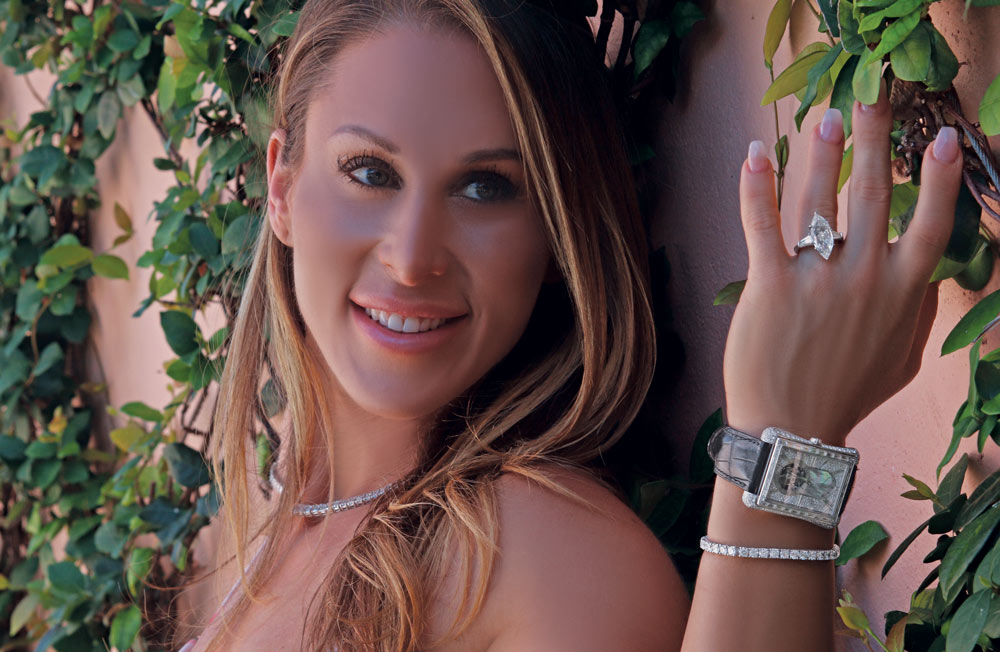 Nowadays, the marquise diamond is popular because it allows a woman to show her uniqueness. Moreover, the marquise cut diamond has a special way of slenderizing fingers while also appearing bigger in size than some other diamond shapes of the same carat weight.
Celebrities like Ashley Simpson, Victoria Beckham and Catherine Zeta Jones all have a classic, large marquise cut diamond engagement rings similar to this platinum three stone marquise diamond engagement ring.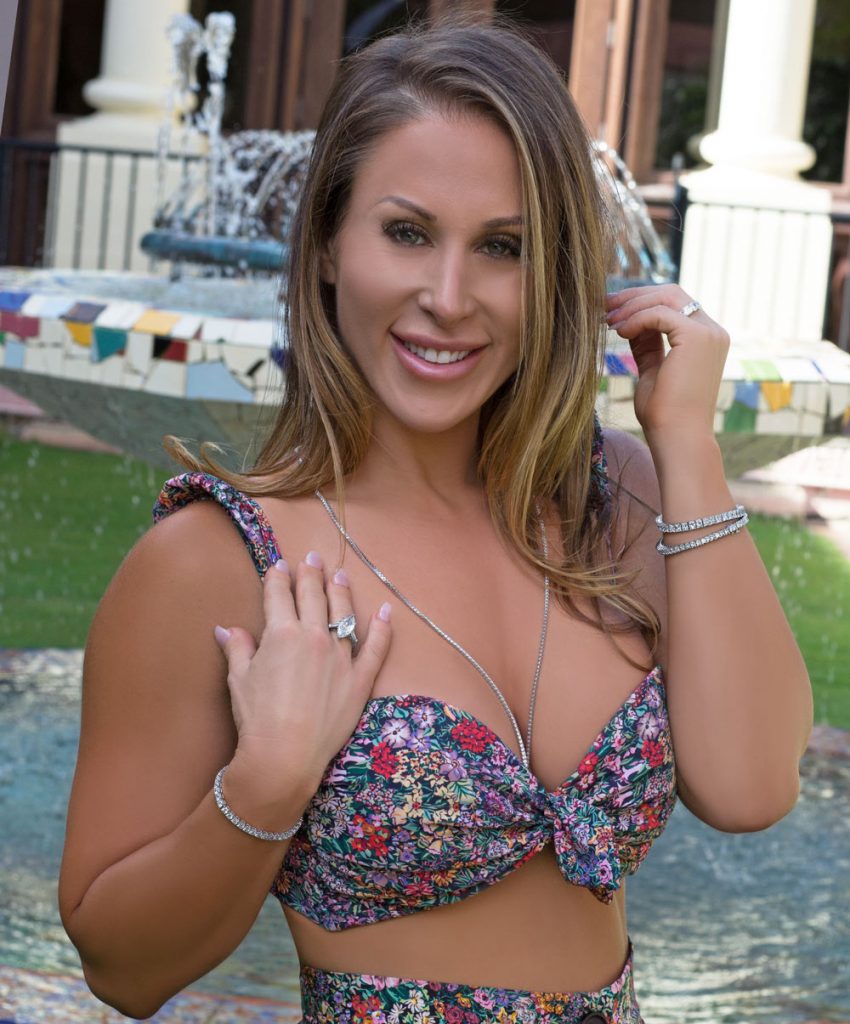 Dana Lynn is sporting 3 dazzling diamond tennis bracelets.
You'll notice she stacks them differently throughout the photoshoot. This goes to show just how amazingly versatile they are.
Diamond tennis bracelets are remarkably beautiful and flexible, and they are made to be worn every day.
Moreover, they go so well with other diamond jewelry and luxury timepieces.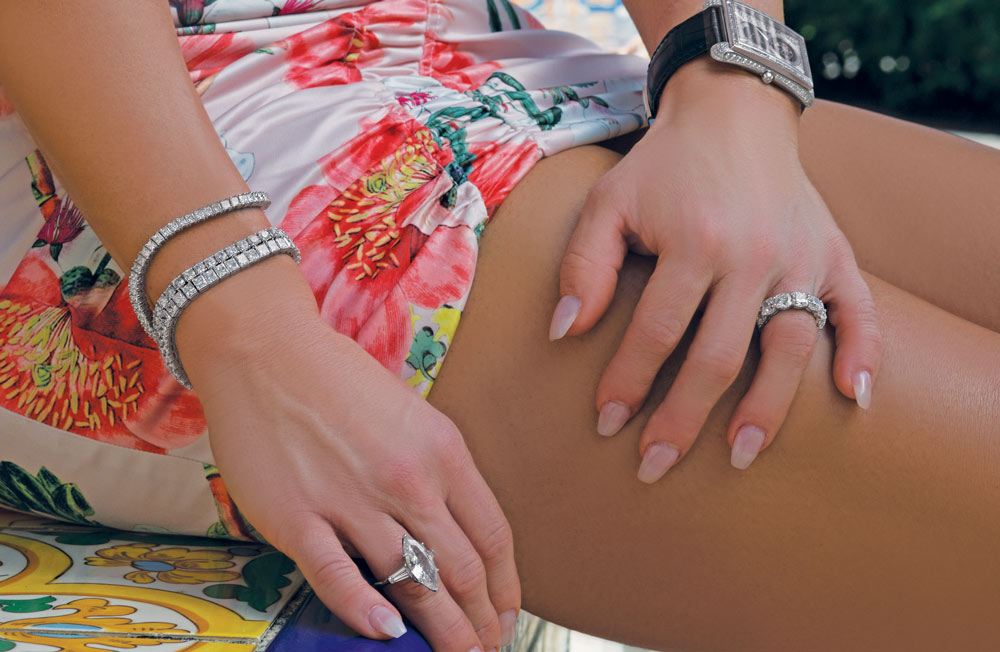 They look great stacked with sports watches and dress watches alike. They also look fabulous stacked together all on one wrist.
Diamond tennis bracelets can be worn to a classy get-together or a ball, and they can be donned on a casual day out with friends, on a hike or even while playing sports like tennis…which is the perfect Segway to explain how this quintessential bracelet got its name.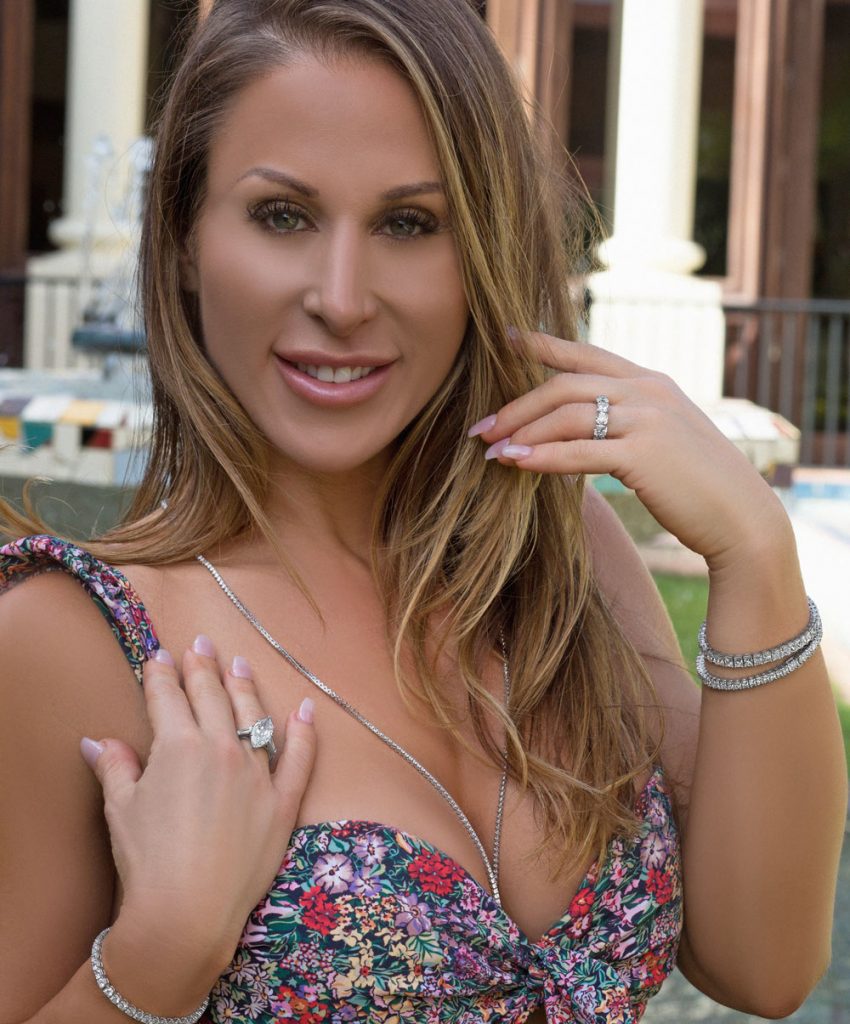 How Tennis Bracelets got its name?
In 1987, while US Open tennis star Chris Evert was playing a fervent tennis match with a bracelet made from a continuous loop of diamonds (a style that had been around since the 1920s), she had to ask the officials to stop the match because her bracelet had become unclasped and fell to the court. Ultimately, it made for a big story. And by the end of the 1987 US Open, the name "tennis bracelet" stuck…and it's been that way ever since.
So, that's just a fun little tidbit about tennis bracelets for those who aren't familiar with the history…
All in all, Diamond tennis bracelets make for an undeniably extravagant look and they are a must-have for any classy lady like model slash CEO Dana Lynn.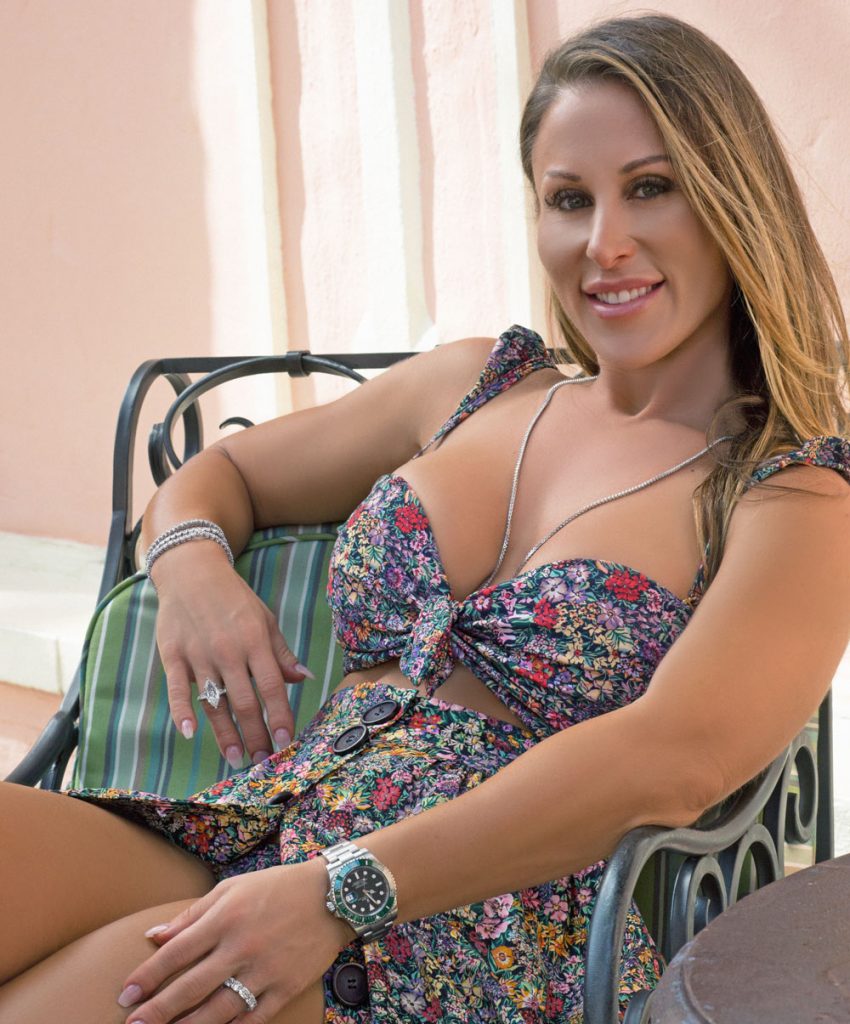 It's not only diamond tennis bracelets that are ever-popular and a staple in fine women's jewelry. Their counterpart, diamond tennis necklaces, are as well.
A Diamond Tennis Necklace is a classic jewelry piece that contains a single, long strand of diamonds. Each diamond is carefully selected for size, cut and clarity, to create uniformity along the entire length of the bracelet.
Just like diamond tennis bracelets, diamond tennis necklaces are versatile and they play very well with other jewelry.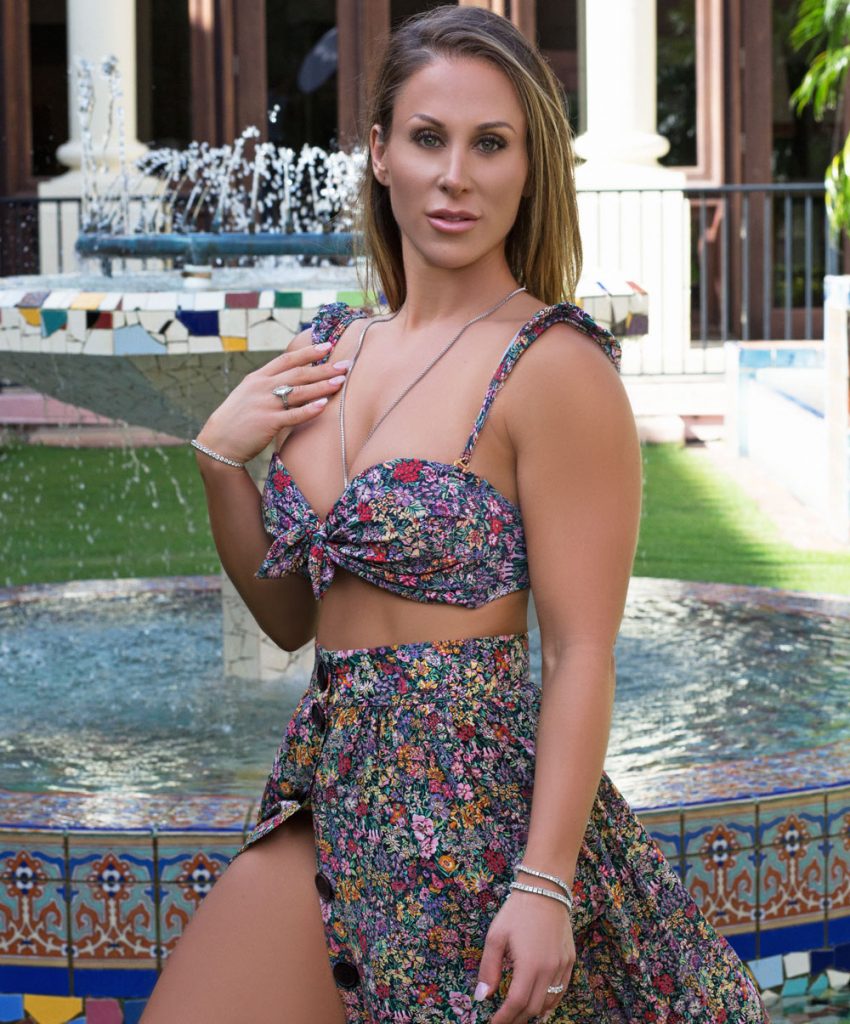 Most importantly, diamond tennis necklaces are unequivocally breathtaking and exceptionally elegant.
They appear as a strand of diamonds floating around the décolletage, encapsulating and diverting light in the most beautiful manner.
Therefore, if you like sophisticated jewelry, and you want to shine and sparkle bright, just like Dana Lynn, a diamond tennis necklace is an obvious choice.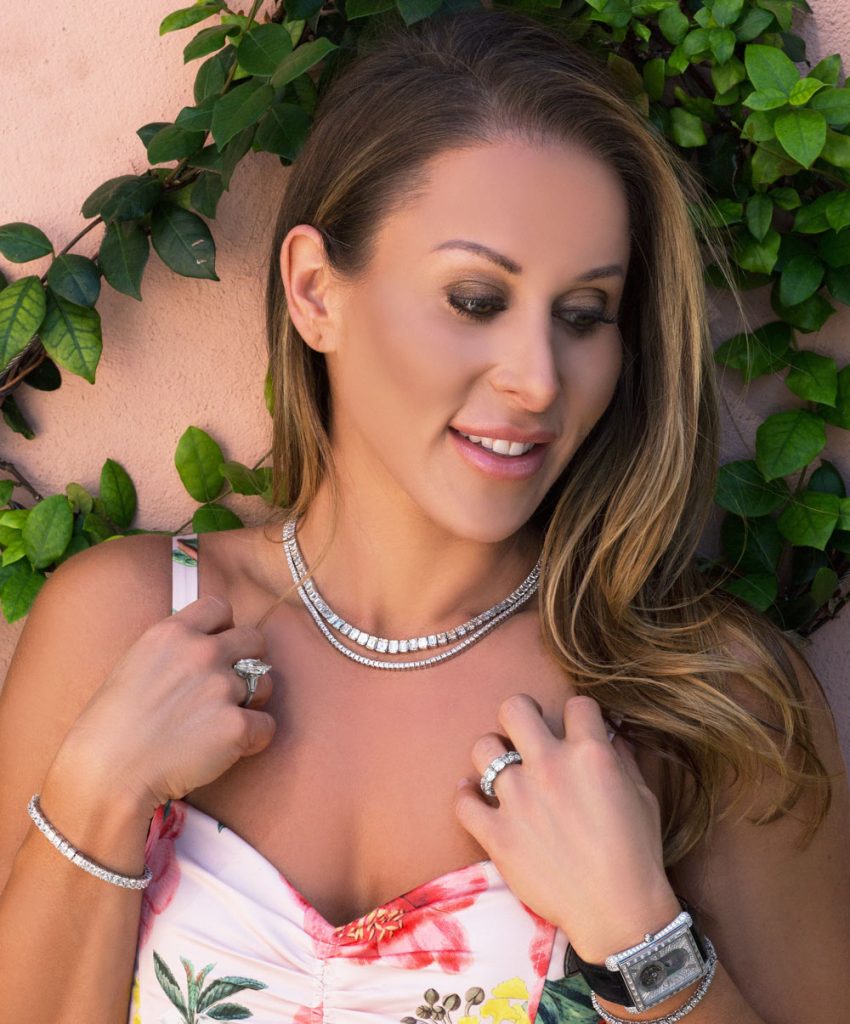 On Dana's left hand she is wearing a large eternity ring. The size and beauty of this eternity ring is simply impressive. The ring itself is surely overstated. But the way it is styled with the other jewelry makes for a lavish yet graciously understated look.
The eternity ring features a blinding 12.55 carats of cushion cut diamonds set into 18k white gold using a prong setting. The diamonds are I/J in color and VS-SI in clarity.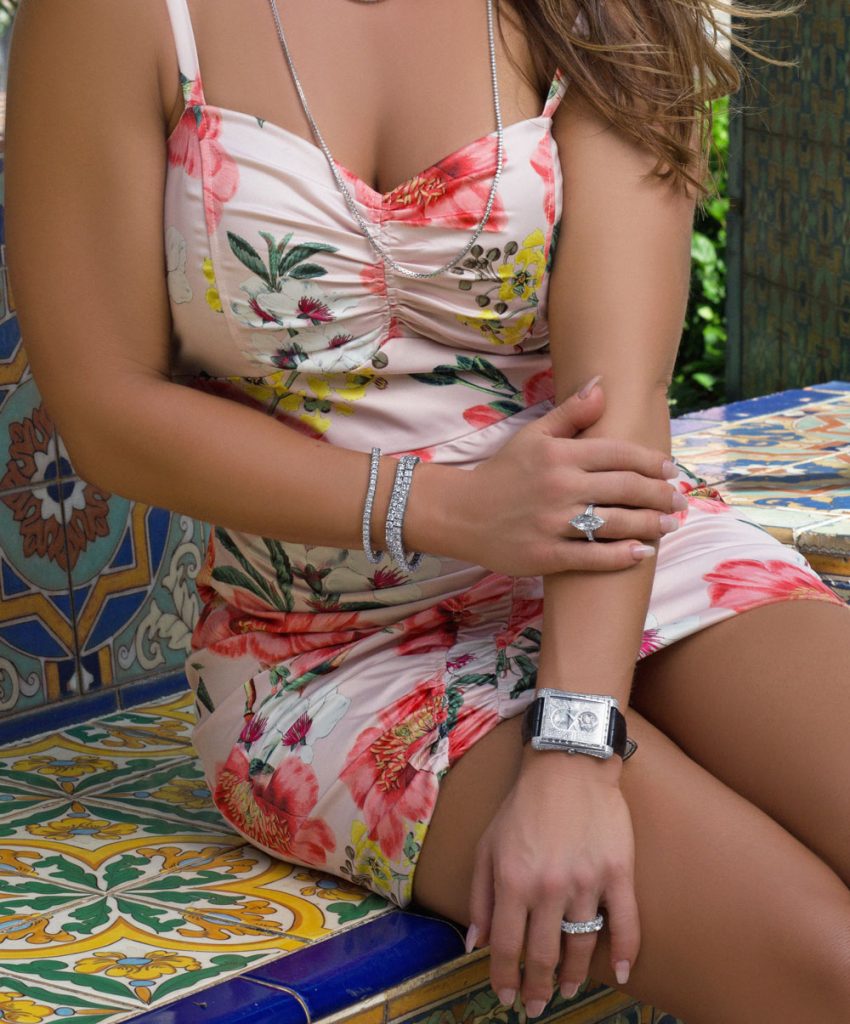 We love the way the identical cushion cut diamonds are set in this eternity ring. Each diamond pops on its own in a protruding fashion, but together they all unite for the ultimate grandeur.
This is truly a one-of-a-kind piece made for a one-of-a-kind woman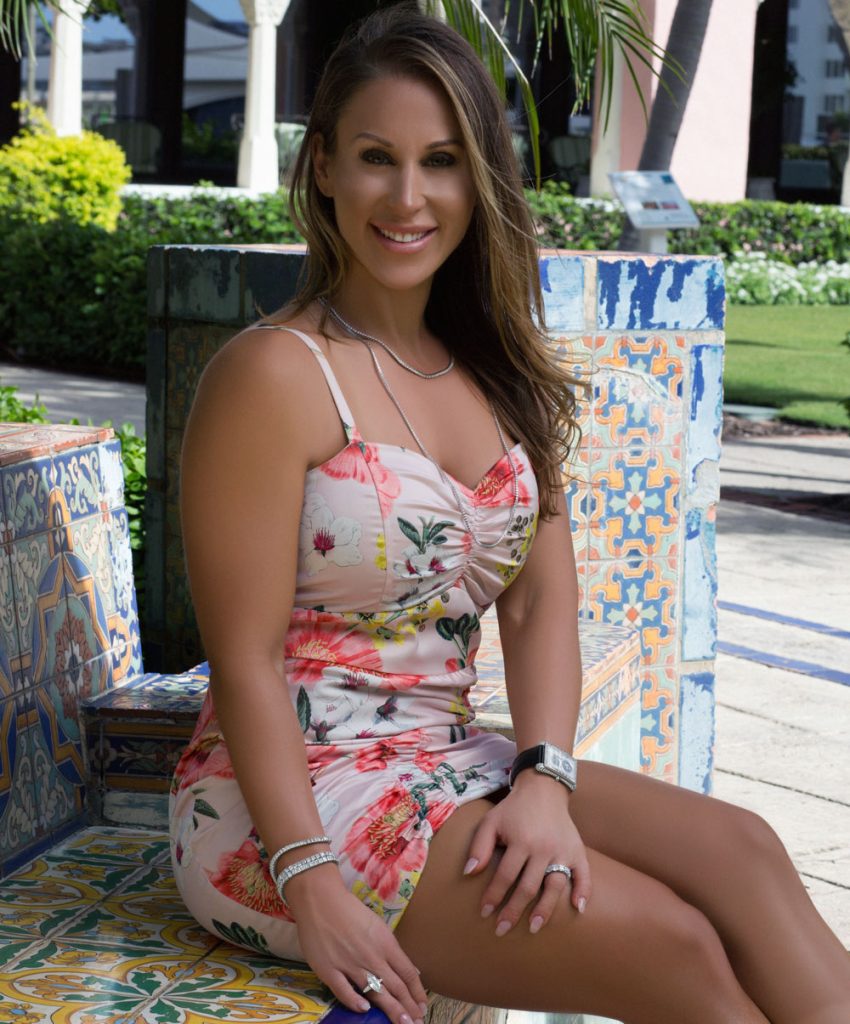 If you or your loved one has a special milestone coming up, an eternity ring is a perfect opportunity to show your love and appreciation (to yourself or to your significant other). You literally can do no wrong with a gift of a flawless eternity ring.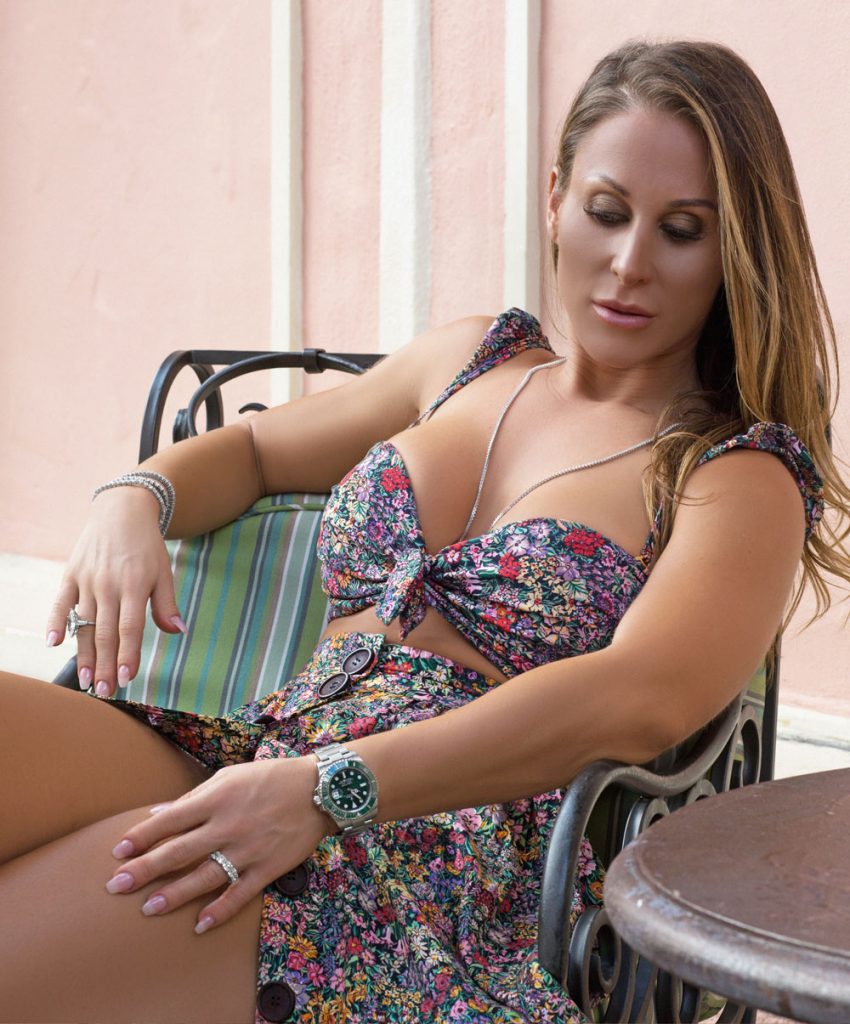 Eternity rings are another staple for any elegant woman's jewelry collection. It's a type of jewelry that has been around for not only centuries but millenias.
Yes, millenias. 4,000 years, in fact.
The Ancient Egyptians gave eternity rings to special people in their lives as a token of eternal love and life.
However, it was until the 1960s that eternity rings got their name and truly blew up in popularity.
And what a lot of people don't realize is, eternity ring designs come in a plethora of size, shapes and colors.
The possibilities for eternity ring styles are as endless as the name claims itself.
Have a look at our extensive recherché collection of unprecedented eternity rings to see for yourself.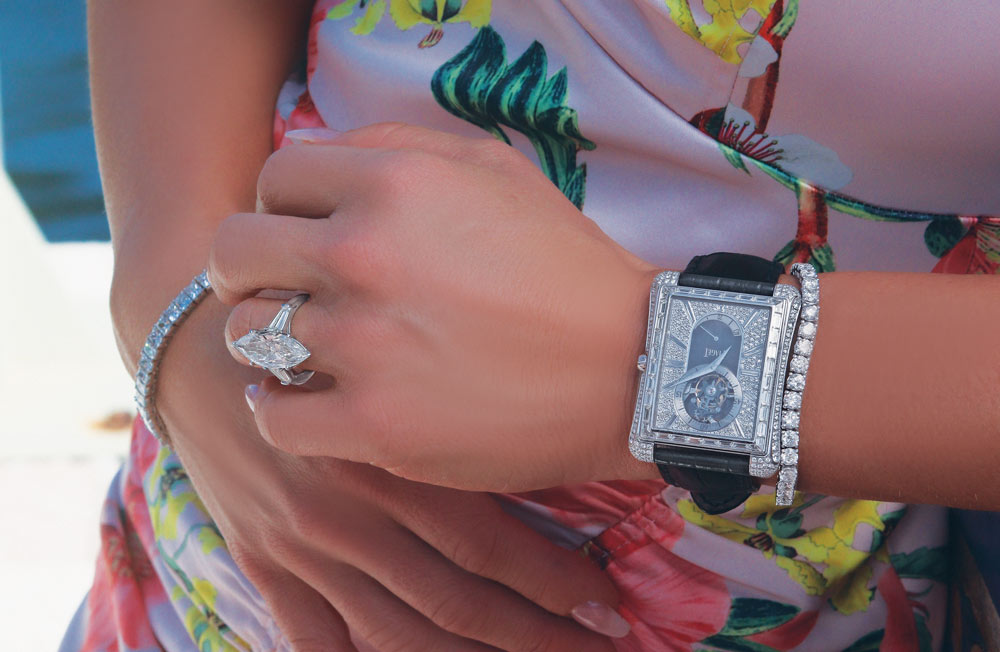 At the center stage of this diamond jewelry photoshoot is a Piaget GOA33078 Emperador 18K white gold diamond watch with a leather strap.
This timepiece is mind-blowing, and we aren't even talking about the exorbitant price tag. However, when you take the price into account, it doesn't just blow minds, it is straight-up spontaneous combustion.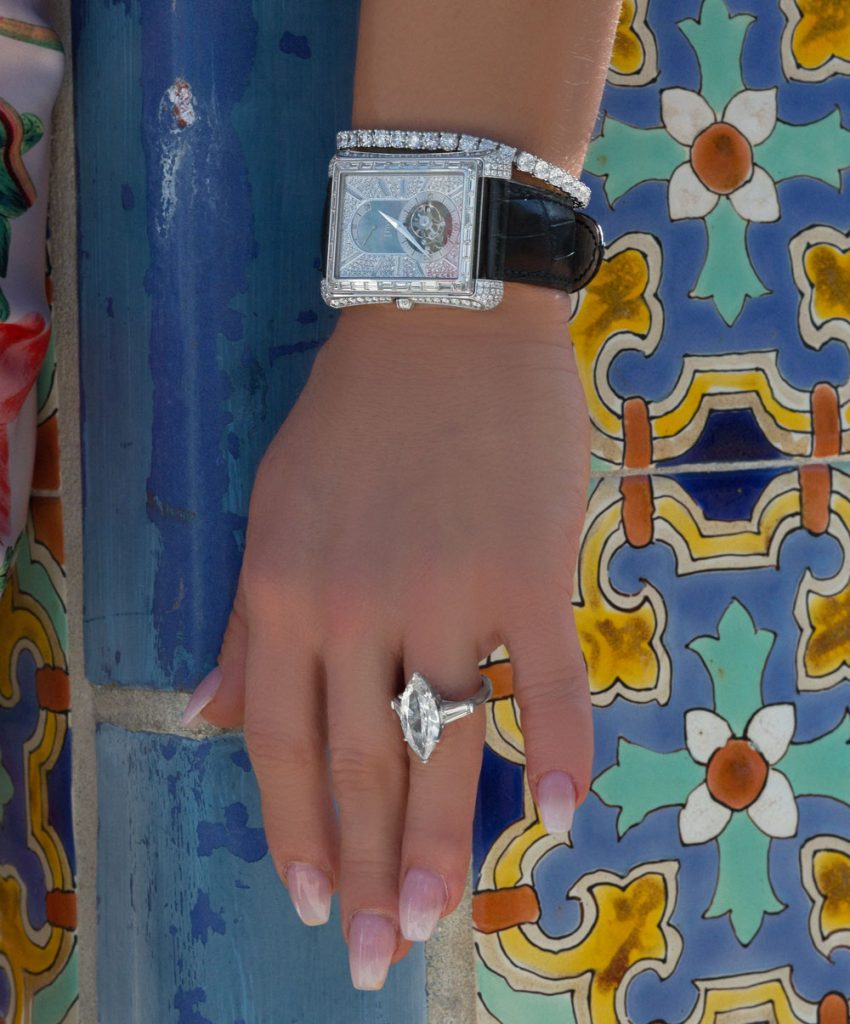 The watch features over 8 carats of exceptional diamonds. The dial and case have countless round brilliant diamonds that radiate and gleam at every angle and with every movement. And the bezel displays a continuous line of baguette diamonds, which produce a different type of dazzle than the round brilliants. The baguette diamonds produce the flash of light hall-of-mirrors effect on both the wearer and anyone in its presence. The combination of the two diamond cuts creates an unparalleled alluring mystique.
What's more, even the caseback is fully set with round brilliant diamonds! This was definitely a unique touch by Piaget, albeit, surely not an austere one.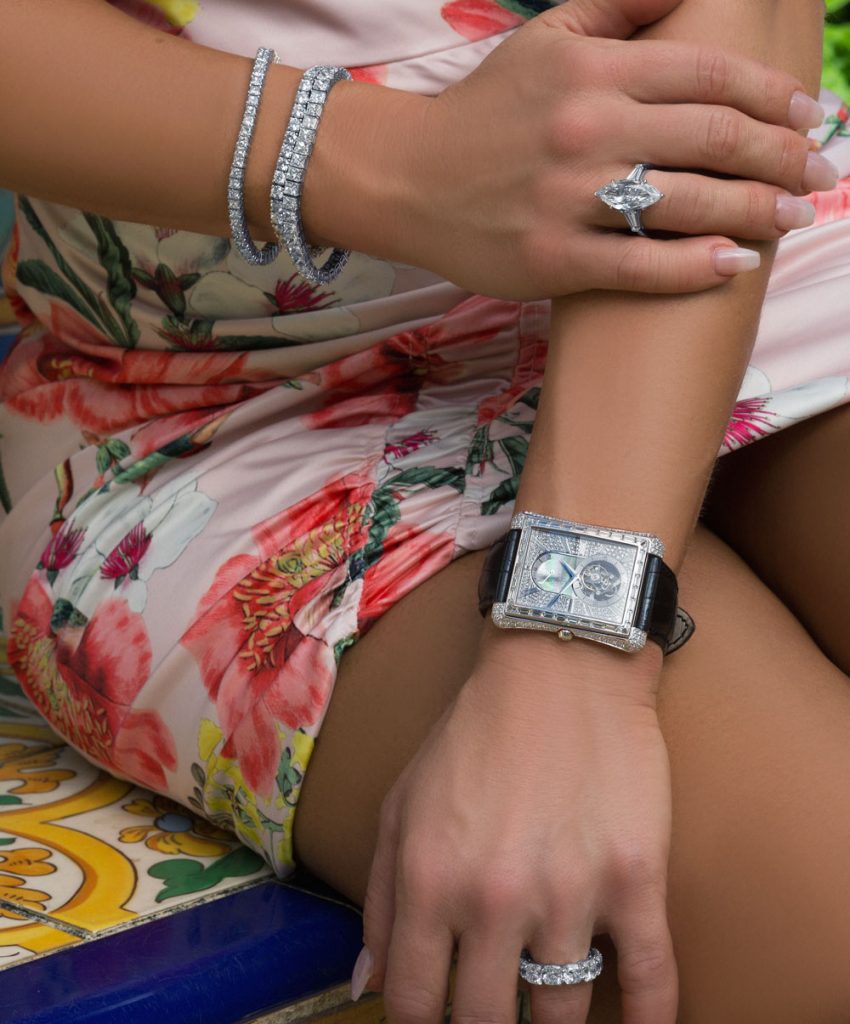 Another wonderful design aspect that we love about this watch is the case's shape. It is incredibly refreshing to see a gorgeous ergonomic rectangular shaped case rather than the typical round case that most Swiss watches employ.
But this watch is much more than just staggeringly beautiful and dazzling, it is also sophisticatedly complicated. It highlights a flying tourbillion, exposed at the 12 o'clock on the Mother of Pearl dial.
If you are in the market for a watch that is out of this world, yet undoubtedly earth (crust) based, this is a next-level choice.
This is the type of watch that states "spending power" and "I'm on a new level".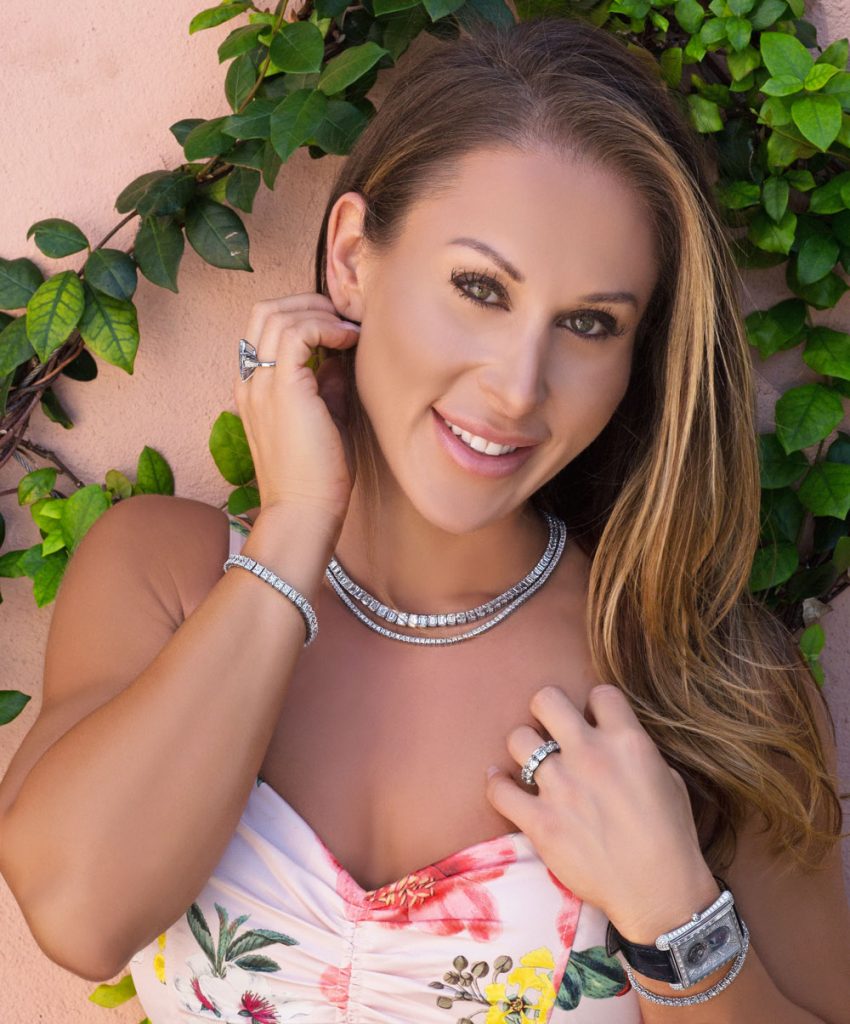 Just as you can stack diamond tennis bracelets, you can stack diamond tennis necklaces to an marvelously luxurious effect.
In this diamond jewelry photograph, Dana Lynn shows off all of her jewelry at décolletage level. It's hard to know where to focus with all the incredible jewelry featured in this photo…But let's draw our attention to her neckline.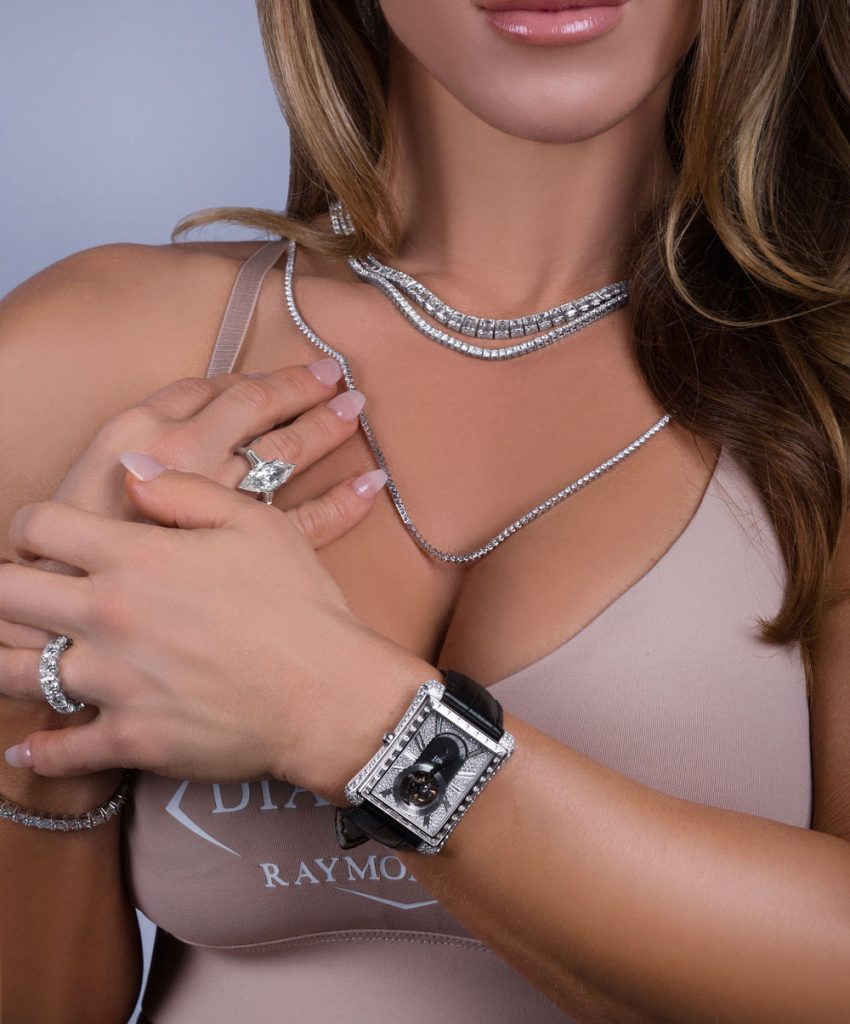 Dana is wearing 3 diamond tennis necklaces of different sizes. When stacking diamond tennis necklaces, you can create a fabulous look by using different necklace lengths and different diamond sizes and even shapes.
If you really want to stand out, throw on a few diamond tennis necklaces at your next party. You will instantly win over anyone who lays eyes on you.
See our full collection of stunning diamond tennis necklaces.
Appreciation & Accolades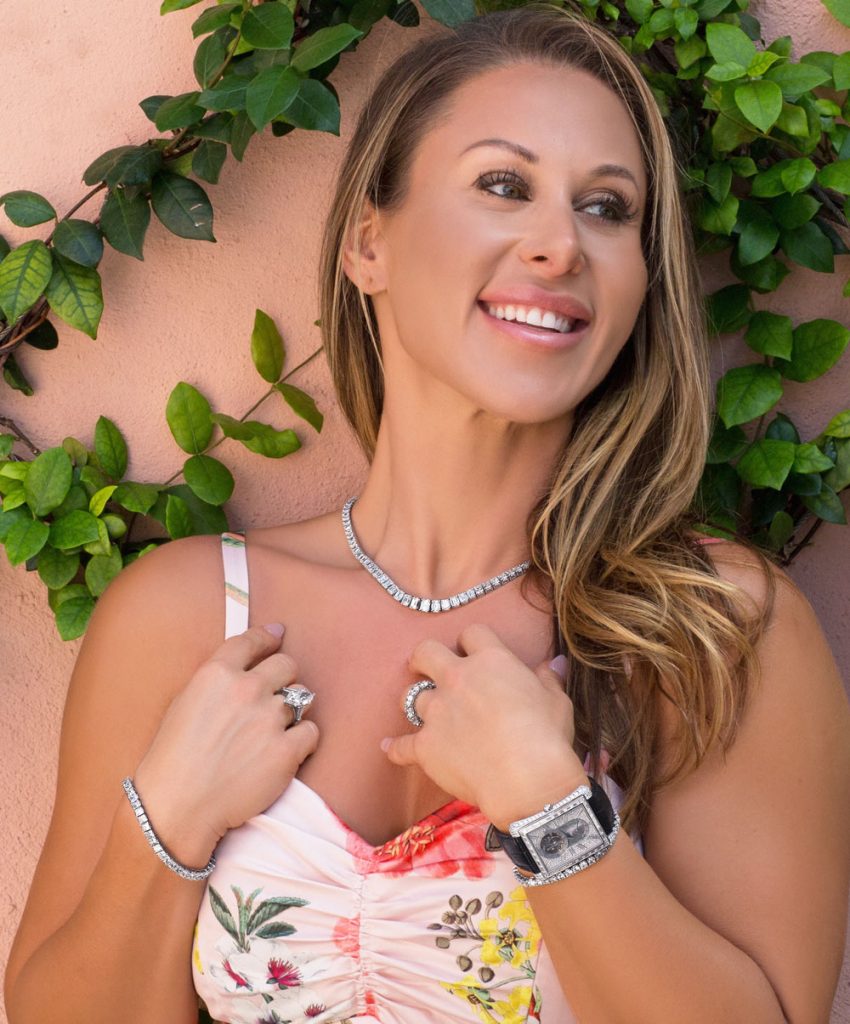 We want to give a big, special thanks to Dana Lynn for working with us on these Luxury Watch & Fine Diamond Jewelry Photographs.
Again, all of the fine jewelry and luxury watches featured in these photographs are available now at Diamonds by Raymond Lee and Raymond Lee Jewelers in Boca Raton.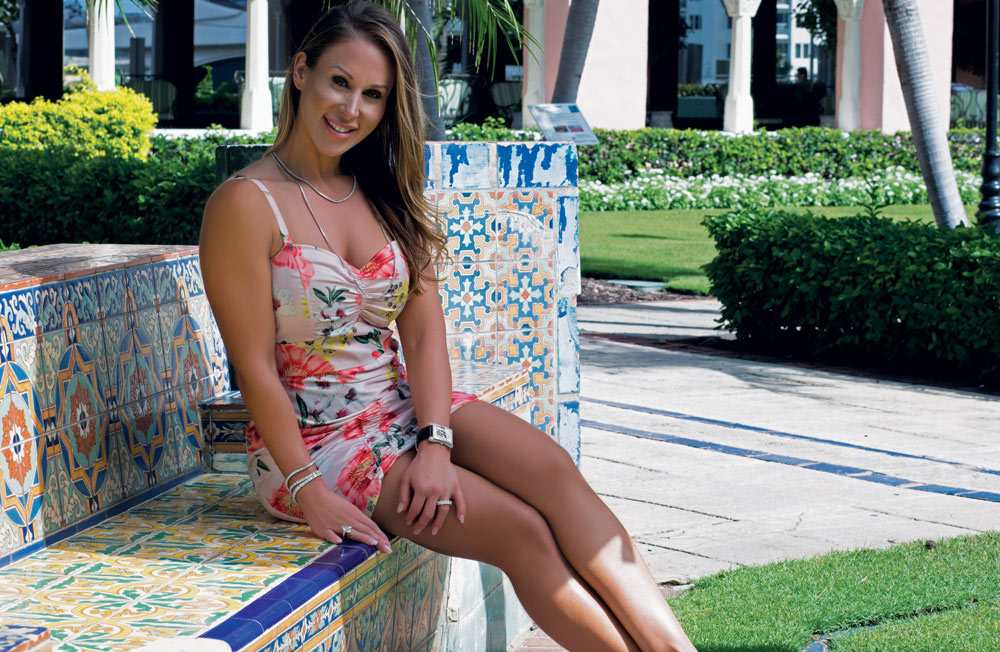 More Breathtaking Diamond Jewelry Photographs Featuring More Gorgeous Local Boca Raton Models:
Isabelle Flores Diamond Jewelry Photos at Diamonds by Raymond Lee
Diamond Jewelry Photos with CiCi
Elizabeth Hubbard Diamond Jewelry Photos
Janeece Sinclair Aventador x Luxury Watch
Lais Freitas Fine Jewelry Photos
Alexa Collins x New Fine Diamond Jewelry at Diamonds by Raymond Lee in Boca Raton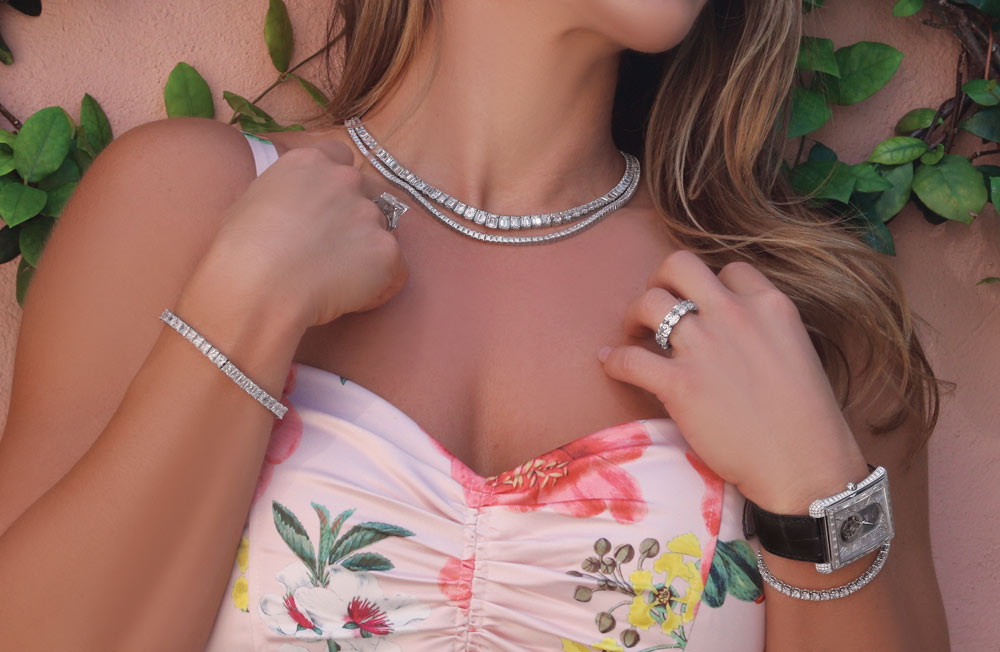 Let us know what's your favorite jewelry or watch from these diamond jewelry photographs at Diamonds By Raymond Lee in Boca Raton by leaving a comment below.