White Hublot King Power x BMW M6 Gran Coupe | Sports Watches & Cars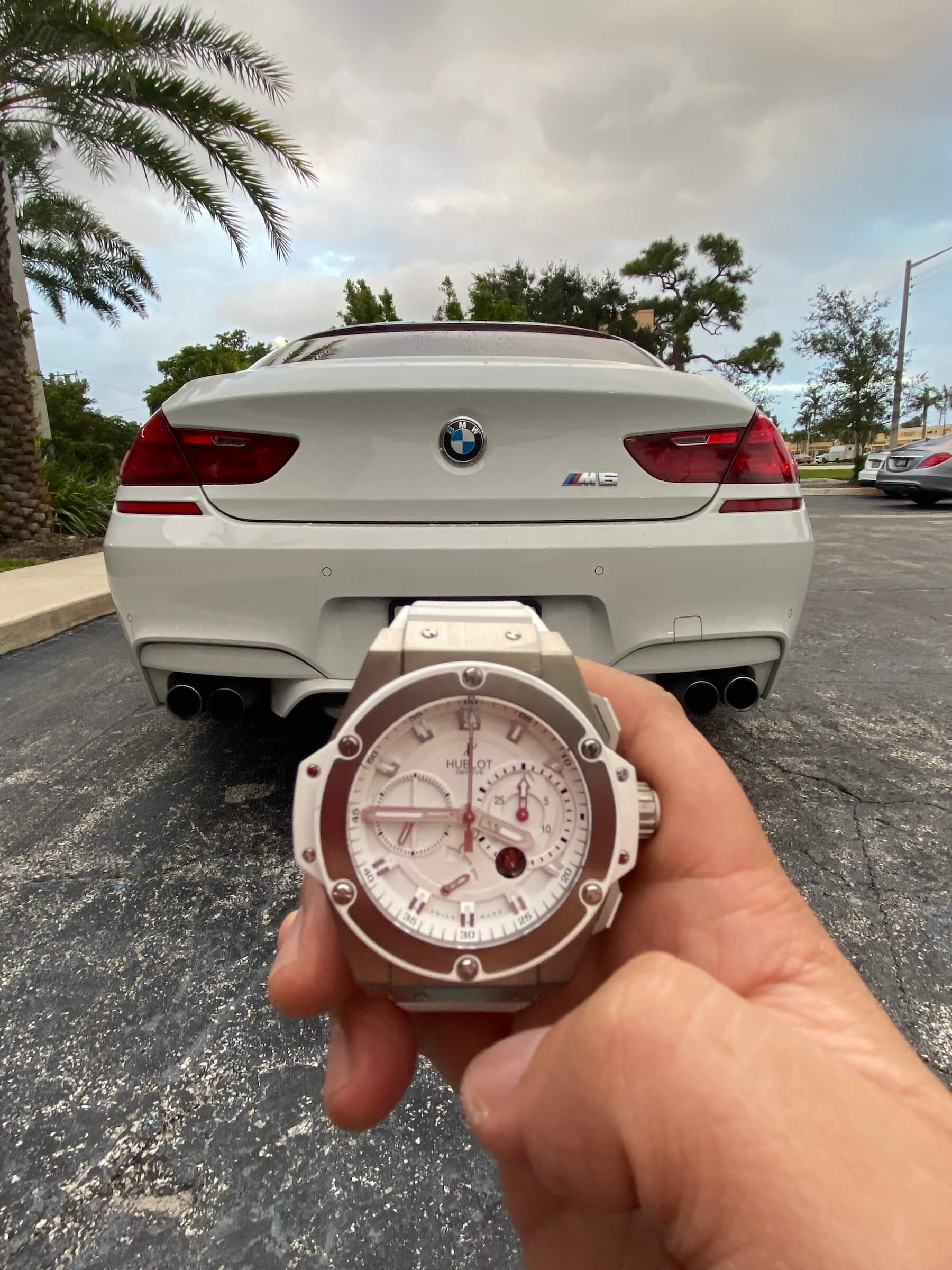 We recently acquired a limited edition piece by Hublot. It is a White Hublot King Power Big Bang Titanium & Zirconium watch, and only 100 were ever made. On that basis, we felt it was only right that we gave it an in-depth review. Moreover, being that we are avid car enthusiasts, and one of our customers pulled up to our lot with a white BMW M6 Gran Coupe, you know we had to do a quick photoshoot with the matching luxury car. After all, there's nothing that gets us more excited in the luxury world than cars and watches, especially ones that complement each other so well.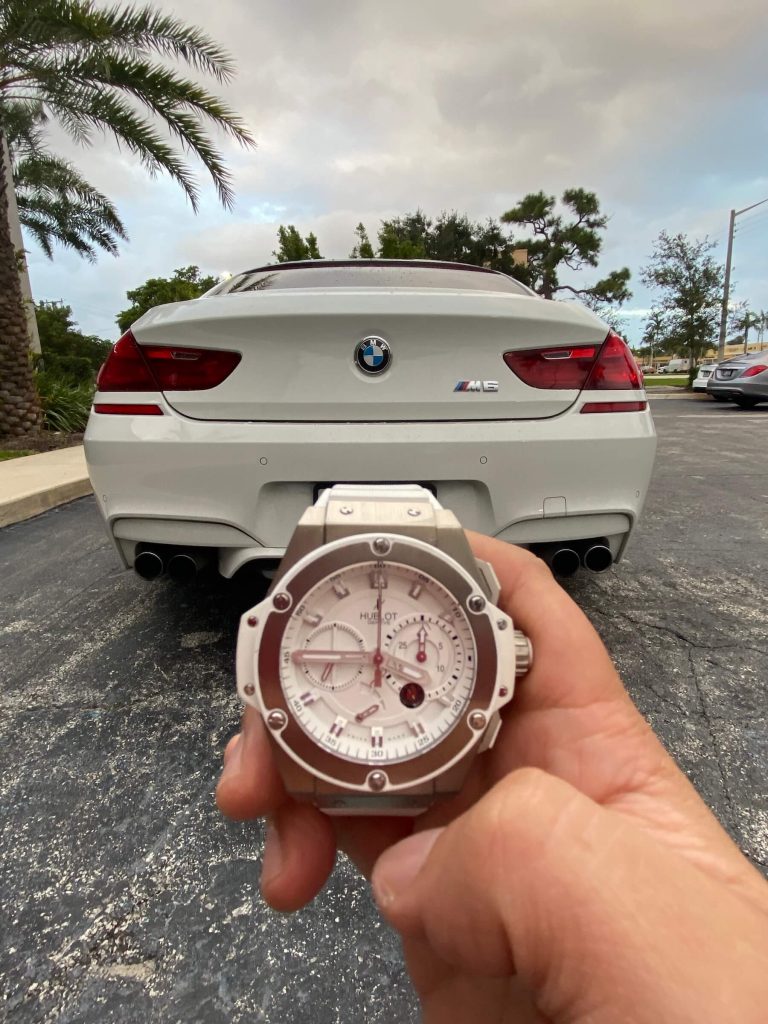 REVIEW: White Hublot King Power Big Bang Titanium & Zirconium Watch – Reference 709.ZE.2110.RW
Hublot is known for their incredibly versatile and creative designs and materials, and their equally multifaceted marketing tactics. They have so many watches that attract the attention of the most keen watch connoisseurs, your everyday casual watch appreciators, and the worldwide mass media…Nevertheless, with its formidable 48mm case and "white out" presence, this King Power is one of the most standout watches by the iconic maison Hublot that we've seen in a long time.
In this review, we are going to cover the history of the Big Bang King Power collection and all aspects and features of this impressive, avant-garde, pearl white timepiece.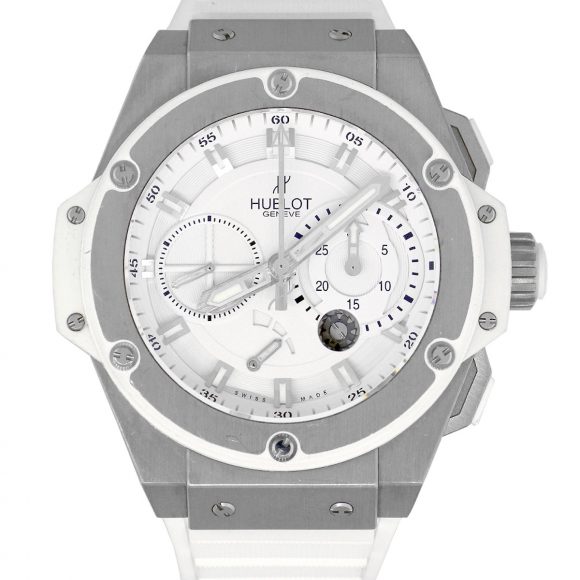 The Big Bang King Power
Hublot's King Power collection represents a more robust and conspicuous extension of the Hublot Big Bang line. It epitomizes the character of a modern sports watch, with its imposing structure, innovative materials, exclusive designs, and excellent workmanship. And, since first debuting in 2009, it has featured some of the world's most coveted timepieces. It is a collection that has helped the celebrated maison reinforce their position among the best in high-end luxury sports watches.
King Power watches have a powerful 48mm case size, screwed bezels with rubber inserts, multidimensional dials, and a congruous fusion of diverse, cutting-edge and precious materials.
Limited Edition references
The King Power collection is home to various limited edition watches, such as the feature of this review, a limited edition King Power Big Bang Titanium & Zirconium, of which only 100 pieces were ever produced.
King Power Ambassadors
King Power is also a collection that has created several powerful, noteworthy ambassadorships, such as:
Formula 1
Manchester United, Bayern Munchen, and Juventus
The Miami Heat and Dwyane Wade
Usain Bolt
Jay-Z
…and more
All in all, the groundbreaking King Power collection has forever left its mark on the watch industry. It still one of the most talked-about collections in the history of Hublot. So, getting our hands on this watch has been a real treat, and we expect it is going to sell to one lucky Diamonds By Raymond Lee patron FAST.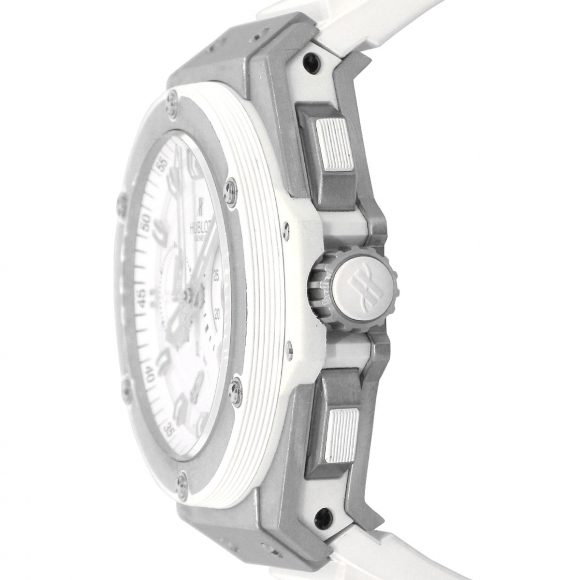 Close Examination of the Titanium & Zirconium White Hublot Big Bang King Power
Now, let's take a look at all the features of the limited edition, rare, exotic, and absolutely stunning White Rubber Strap Zirconium & Titanium Hublot King Power.
THE TITANIUM & ZIRCONIUM CASE
The inimitable Hublot King Power case is truly a work of art. It has a multi-layered construction that gives it a wonderfully original silhouette. Just by looking at and learning about the King Power inventive porthole case, you can get an understanding of Hublot's philosophy.
The case's diameter measures in at a whopping 48mm, excluding the crown and pushers. This puts it among the largest watches Hublot has ever made. Moreover, this is one of the largest watches in the game. Because of this, this striking King Power will only appeal to a niche market of oversized sports watch fanatics.
THE TITANIUM & ZIRCONIUM BEZEL WITH RUBBER INSERT
The Hublot King Power Big Bang case could never be complete without its trademark bezel. The perfectly round bezel features visible PVD titanium "H-screws", for that quintessential sporty look. Then, sandwiched between the titanium case and bezel is a white rubber insert with ears that only add to the incredible depth and sheer size of the signature King Power Hublot case.
Titanium & Zirconium Fusion
The case and bezel are crafted from a fusion of titanium and zirconium, which makes the watch unbelievably lightweight for its size. Moreover, it is incredibly durable, scratch resistant, and corrosion resistant. This is the epitome of "avant grade" in watchmaking. We are talking aerospace, Formula 1, high-tech materials that you will only see in the most advanced, cutting-edge industries…
So, here is how the fusion is done. The components are formed from titanium, again, giving it incredible corrosion resistance and a weight-solidity ratio that makes it lightweight and durable. Then zirconium is used as a refractory coating and opacifier, immensely adding to its corrosion resistance. It also gives it a wonderful grey-white appearance that complements the otherwise all-white watch beautifully.
Finally, the case and bezel are completed with an expertly…better yet, a masterly… satin brushed finishing. Satin finishes are the hottest look in sports watches. It gives the watch an eye-catching, gorgeous luster. Furthermore, the soft glow goes amazingly with the white dial and bracelet.
Crown and Pushers
The crown and pushers use the same conglomeration of materials. They are constructed from titanium and zirconium and they are topped with white vulcanized natural rubber.
Water Resistance – 100 Meters
Of course, the watch features the mandatory water resistance of 100 meters. More than enough for standard divers and those who simply like to play in the ocean.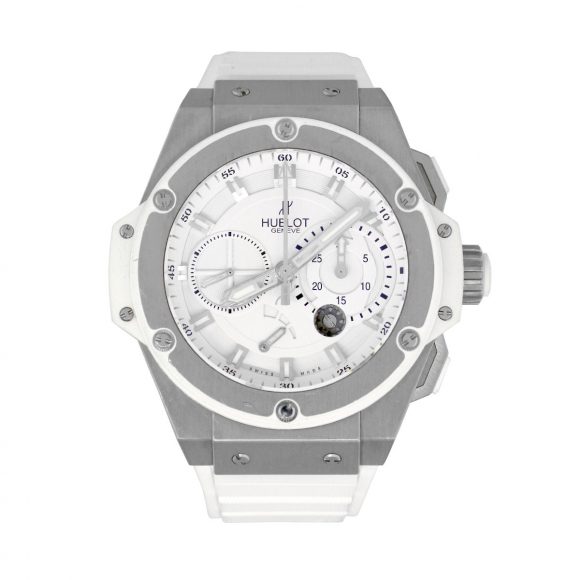 WHITE MULTILAYERED DIAL
The dial is one of our favorite aspects of this watch. And the more time we spend with it, the more we love it. It's ridiculously captivating and there's a lot going on within the dial's real estate.
The dial is so sophisticated and it has so much depth. The chapter rings, the applied indices, the cut of the dial at its center, the individual sub-register scales, and the hands all are highly stylized. As you discern it all, it only continues to intrigue.
But this King Power is clearly more than just "good looks", it is immensely complicated too. This timepiece accommodates a self-winding split seconds foudroyante chronograph movement, manufactured in-house by Hublot.
All in all, the dial is so much fun in its functionality, and you can be sure it will play a number of visual tricks on you. It's simply a dial that is impossible to get bored of.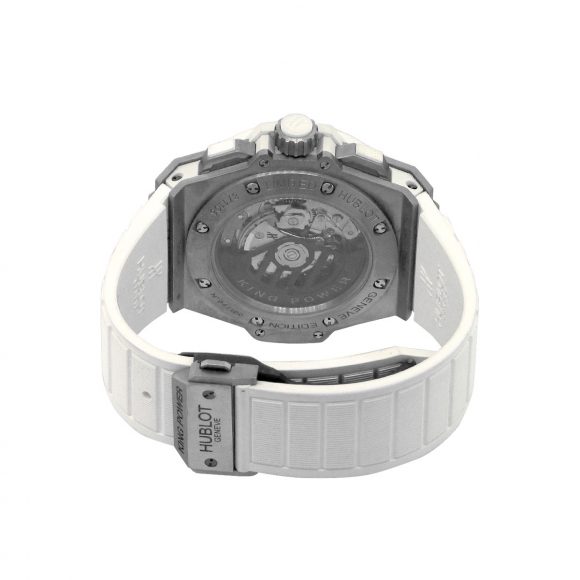 VULCANIZED WHITE RUBBER STRAP
Integrated with the watch to perfection is a natural vulcanized white rubber strap. The strap features striations on the top to add visual definition, detail and articulation, but also to create dividing points to enable the strap to flex easily around the contours of the wrist.
For anyone familiar with Hublot, you know that rubber is an integral material for this maison. Their vulcanized rubber is so comfortable and supple and it is extremely resistant to wear and tear. Moreover, it is waterproof.
Twin Triggered Deployant Clasp
It has a twin-triggered deployant clasp made of the same material as the case and bezel. With a snap and click, the clasp will be secure enough for the most active wearer.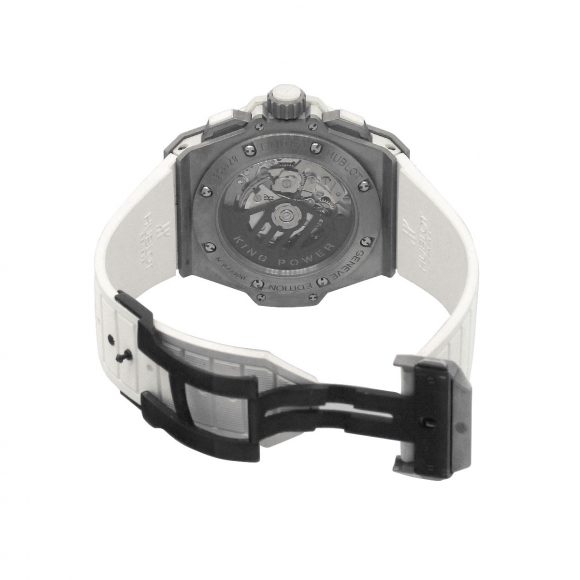 WHITE HUBLOT BIG BANG KING POWER TITANIUM & ZIRCONIUM – ON THE WRIST
Although the case is large, both in width and height, it is tremendously comfortable. This is thanks to the materials used and the design. The titanium makes it lightweight and the ergonomic design and short lugs enable it to camber around the wrist…and yes, this even applies to smaller wrists.
Overall, it's a watch for those who love BIG, and it is made for everyday daytime wear. It's the perfect companion for any casual outfit. Think blue jeans and white tee, and basketball shorts and tank tops. Moreover, it is the supreme consort for a car like the all white BMW M6 Gran Coupe.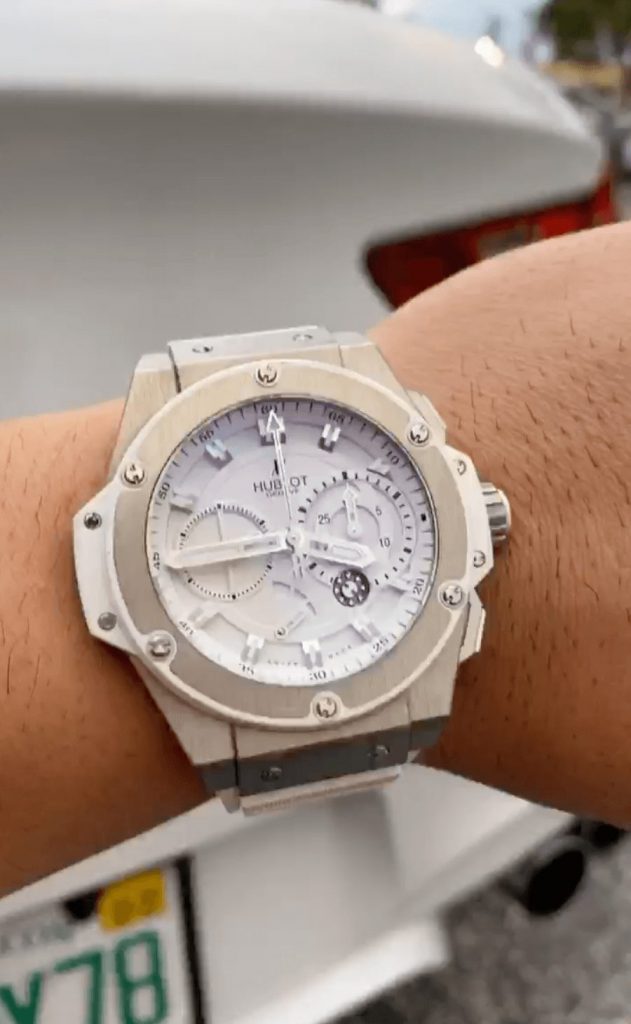 Luxury Cars and Swiss Sports Watches
With a new all-white BMW M6 conveniently making its presence at Diamonds By Raymond Lee just after we acquired the white Hublot King Power, we figured it was a great time to display how luxury cars and watches make the perfect pair. Anytime we can match up an exquisite car and an exquisite watch, we jump on it.
White BMW M6 Gran Coupe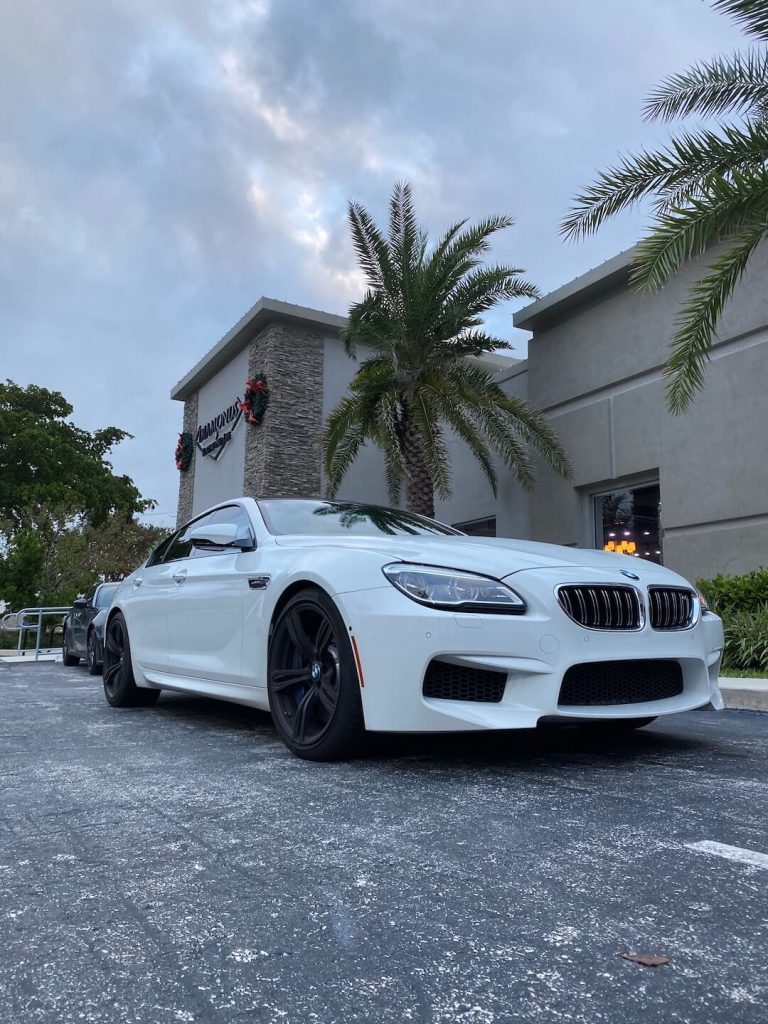 Apart from the i8, the four-door BMW M6 Gran Coupe is the most expensive and luxurious car that BMW sells, and it is the most expensive in the high-performance "M" class.
The car is super sleek and without a doubt one of the brand's most desirable cars right now. It boasts a 4.4 liter twin-turbo V8 engine, allowing the car to produce 552 horsepower and a massive 680Nm of torque.
With that, the max speed is (a limited) 155 mph. However, if you get the limiter removed, you can hit 190 mph. As for acceleration, it boots a 0-60 in 4.1 seconds.
Most importantly, the M6 Gran Coupe handles insanely well. For a car that weighs in at almost two tons, this is something that impresses us the most.
And while it's not the fastest car in the "M" brand, it is, in our opinion, the most pretty, both inside and out.
Alpine White Exterior
The BMW M6 Gran Coupe is low, wide and undeniably menacing. It represents the DNA of the 6 series beautifully.
It has M-specific wheels, modifiable LED headlights, LED fog lights, LED taillights, and a quad exhaust outlet system that is finished in chrome.
Opulent Interior with State of the Art Technology
The upholstery is leather and the legroom is sizable. With the car's low roofline, once seated, you'll notice the low rider driving position. Great if you like a sporty ride. Overall, it's incredibly comfortable.
Within the interior you'll find carbon-fiber trim, which also adds to the sporty allure of the cabin. Everything is simply gorgeous. You can tell BMW didn't hold anything back in terms of opulence.
As for technology, features and infotainment, there's a great wealth of all that.
It has all the standard features. Think auto stop/start, keyless entry, soft-close automatic doors, four-zone automatic climate control, rearview camera, seated heats, and more.
Of course, it has tons of safety features like dynamic cruise control, automatic high beams, parking distance control, forward collision rolling, and more.
In regards to infotainment, the BMW M6 Gran Coupe has an excellent iDrive interface with a 10.2 inch display screen. It is unquestionably one of the best in the game.
If you like music, you are in luck with that too. The 16 speaker Harman Kardon surround sound system is off the charts.
Other infotainment includes BMW TeleServices, navigation, BMW Assist eCall, and advanced real-time traffic information, enhanced USB, Bluetooth connectivity, a Wi-Fi hotspot, HD radio, and, yes…MORE.
On the whole, it's a car that you wanna be in and look at.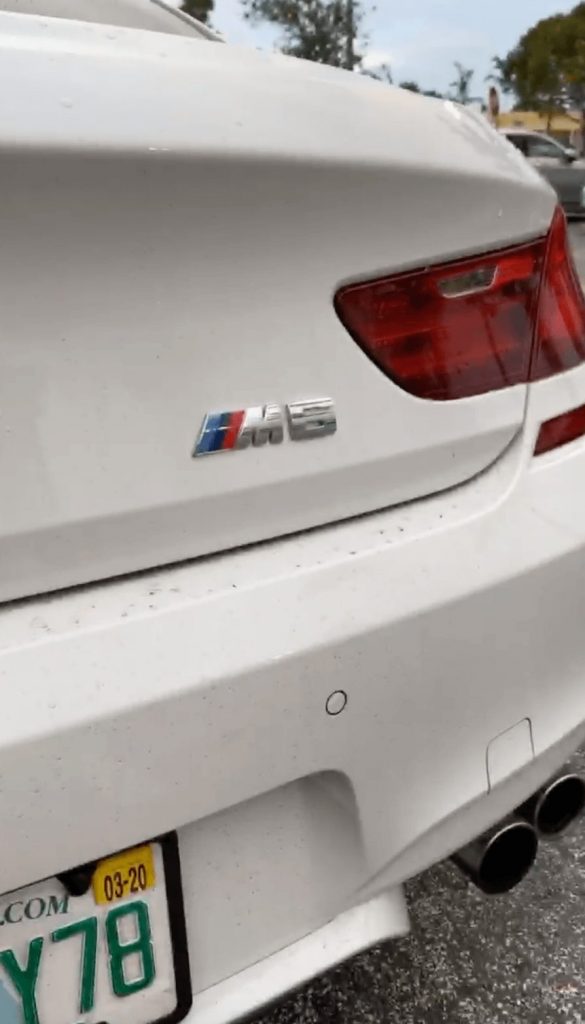 M6 Gran Coupe Price
Of course, we aren't selling this bad boy, but if you are curious, the base price for the M6 Gran Coupe is $120,000.
What we are selling, though, is the white Hublot Big Bang King Power Titanium Split Second Foudroyante Chronograph watch.

It is pre-owned but it is in excellent condition, so it looks brand new. Moreover, it comes with the Original Hublot Box and Paperwork.
White Big Bang King Power Titanium Watch Price
We are selling it at a very competitive price of $16,500.
If you want to learn more about it or if you have any questions, please feel free to contact us.
If you already know it must be YOURS, you can come into Diamonds By Raymond Lee in Boca Raton to try it on and purchase it from us directly or you can buy it online. See the full sales listing of this Hublot Big Bang King Power timepiece, reference 709.ZE.2110.RW.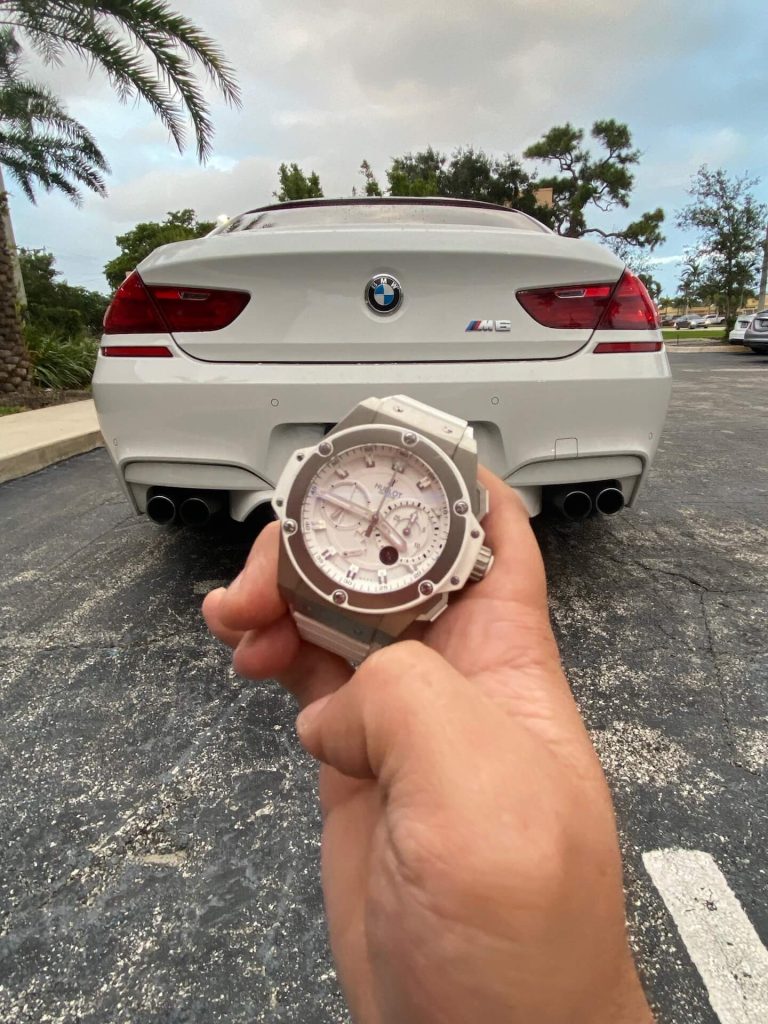 Want to see more luxury cars and Swiss watches?
Check out these past blog posts on matching cars and watches…
McLaren 720S x Richard Mille RM11-02
Ford GT Carbon Fiber Edition x Rolex Smurf
Porsche 911 GT3RS X AP Rubberclad
Let us know what you think about this White Hublot Big Bang King Power watch and what watch and car combo you'd love to see next in the comments below.