We have an intense ride for you guys with this one. We are featuring one of the newest, most fervent and vivid supercar and Swiss watch collaborations of the year, a new lime green McLaren 600LT Spider and a Rolex Milgauss GV (Glass Verte) with an emerald aftermarket custom made bezel. This car and watch combination is next-level sexy, producing unrivaled zeal for the most conspicuous of us.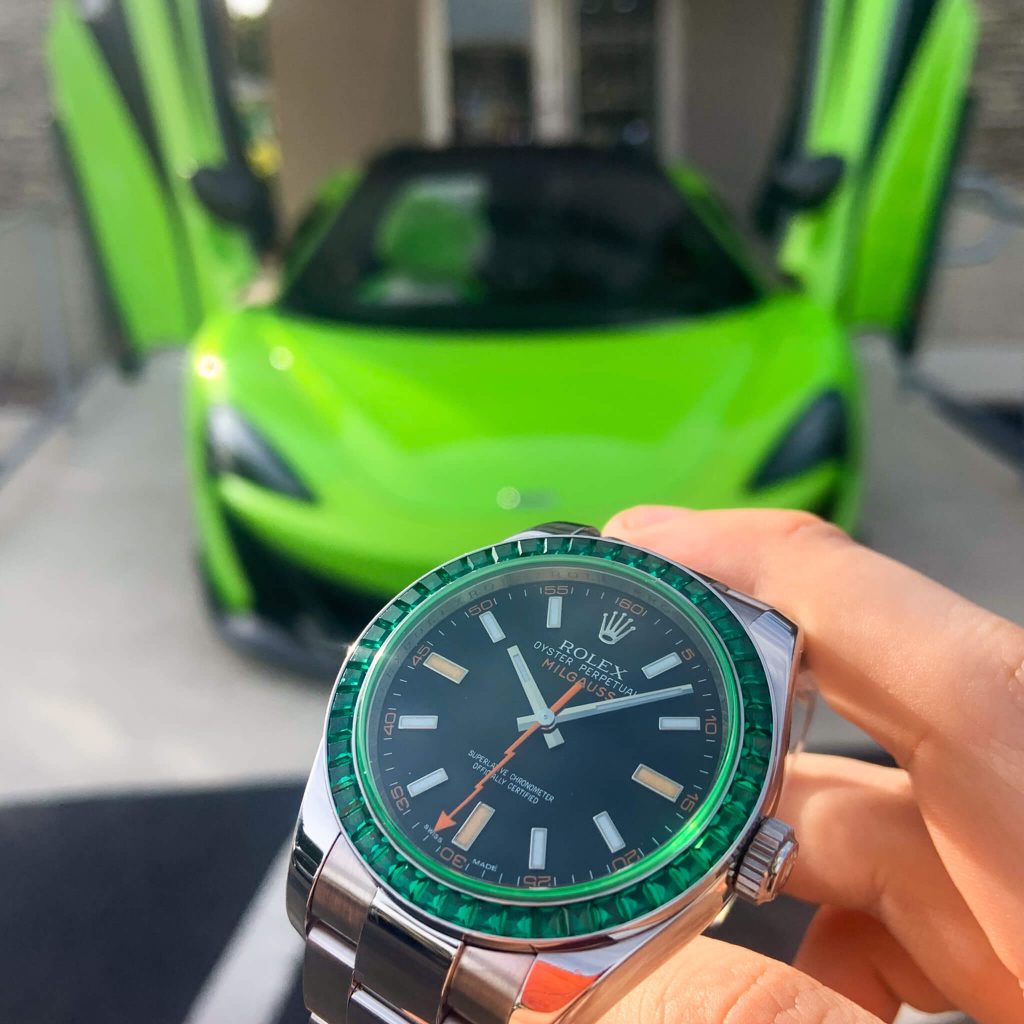 Our good friend and long-time patron @yoshilambo came to us with a new request, he wanted to take his Rolex Milgauss GV and embellish it with emeralds. More specifically, he wanted us to make a custom made emerald bezel from scratch. Being the visionary that he is, he had the inclination to match the Milgauss GV's celebrated and special green crystal sapphire with a custom vivid green emerald bezel, not to mention his green McLaren 600LT. We must say, it was a brilliant idea…just look at how it turned out.
Rolex Milgauss GV Custom-made Emerald Bezel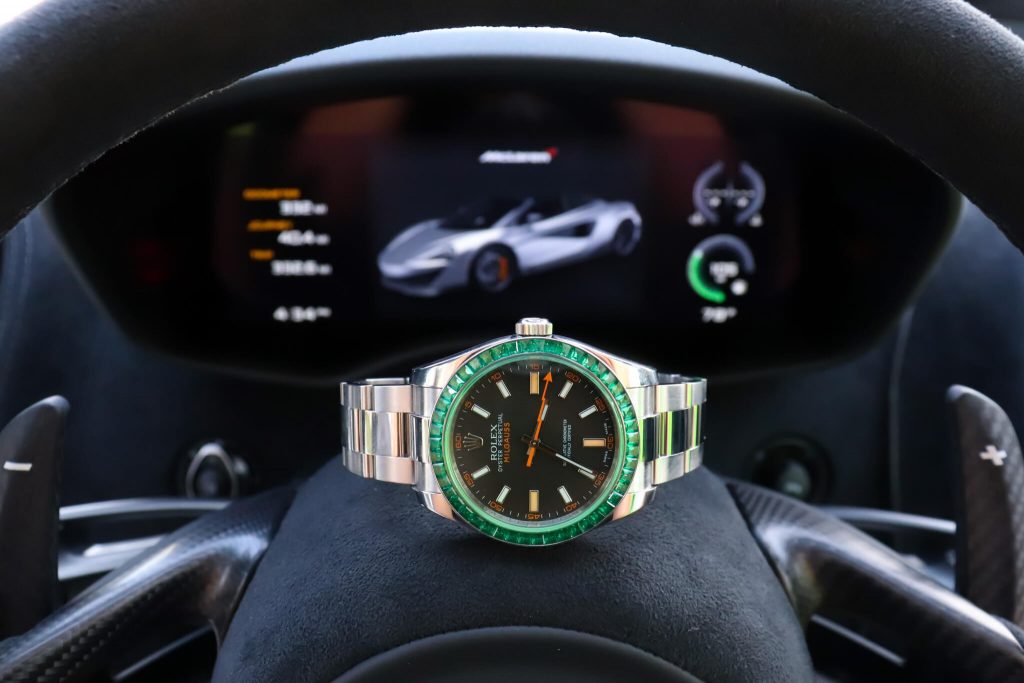 @yoshilambo knows we do custom aftermarket pieces for Swiss watches…and that we are the best in the business down here in South Florida. So he came to us with this request.
He had the vision, and we took action. We created a custom made emerald stainless steel bezel, in house, and from scratch, using a CAD (computer aided design) and pure skillful workmanship…
In our mind, there's no better way to make a Rolex Milguass GV (Glass Verde) more grandly than with emeralds. Many people have thought about embellishing their Rolex Milgauss GV, but they wonder "how to do it without overdoing it?" The answer is simple, a vivid green emerald aftermarket bezel like this one. It goes remarkably well with the Milgauss GV. So perfectly in fact, you'd be surprised to learn that Rolex doesn't do this themselves. It's like emeralds were meant for the Milgauss 116400 GV.
So, now that we've expressed our adoration for our creation and our client's new grandiose Rolex Milgauss GV Emerald Bezel, let's take a deeper look into what the Milgauss GV is all about and our process for creating a custom made emerald-set bezel for it.
The process went down like this:
Select the finest emeralds from our extensive collection of gemstones. Each emerald is the same exact cut and size.
Produce CAD of the bezel.
Bring the design to life with a wax model.
Carefully carve the wax model to get a perfectly precise fit of the emeralds.
Cast the bezel using 904L stainless steel.
Polish the steel bezel with a high polish finish.
Set the emeralds in the bezel.
Finishing touches.
Set the bezel on the Milgauss GV and relish in its immaculate perfection.
Present the custom emerald bezel Rolex Milgauss GV to the dapper, debonair @yoshilambo.
See another one of our recent custom made gem-set bezels and learn more about our process for creating bezels from scratch.
Rolex Milgauss GV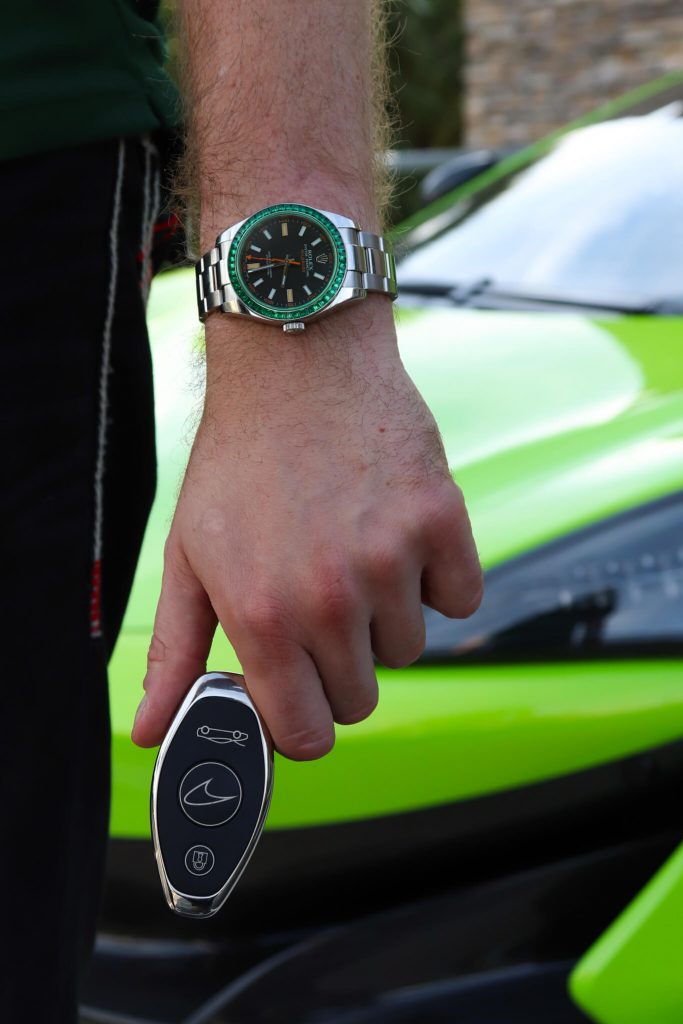 The Rolex Oyster Perpetual Milgauss timepiece was introduced to the world in 1956. It has never been one of Rolex's most popular models, but it has been one of their most special. It's the watch born for scientists and here's why…
What does the Rolex Milgauss do?
Many scientists work around electromagnetic fields, and although there are many wristwatches in the industry with some anti-magnetic capabilities, there are none quite like the Milgauss. The Rolex Milgauss can withstand magnetic fields up to 1,000 gauss (hence its name). This is an insane amount of anti-magnetism.
Rolex initially created this watch to help the scientists at CERN – European Organization for Nuclear Research. CERN is a highly respected center for research and back then they were being talked about left and right, as they were doing big things in nuclear physics (and, of course, they still are to this day).
So, back to the Rolex Milgauss. Here's how this timepiece is able to withstand immense magnetic fields and why that is useful for scientists.
Faraday Cage
First, if you were to expose a non anti-magnetic watch to a magnetic field, it will magnetize the hairspring and balance wheel, making it run too fast or too slow. As you can imagine, for scientists, having a correct measurement is essential. Without perfect precision, the research process can become downright detrimental.
Insert the Rolex Milgauss with its Faraday Cage.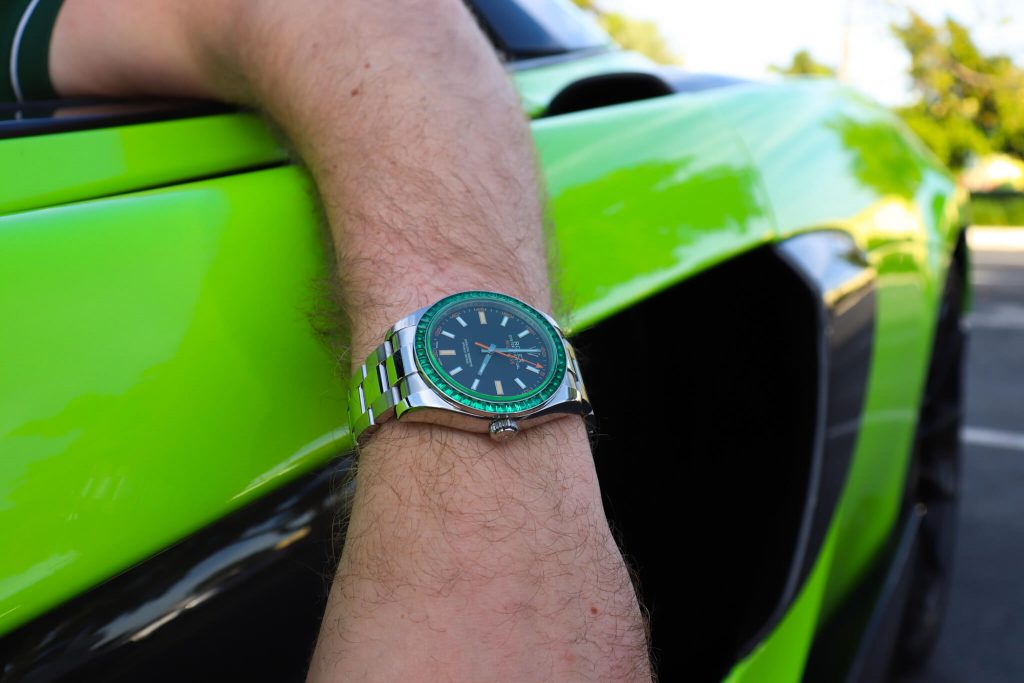 What is a Faraday Cage?
The Faraday Cage is basically a shield made with ferromagnetic alloys that covers the movement. It protects the sensitive hairspring and balance wheel of the movement…
Was this a Rolex invention? No, it was created by Michael Faraday back in 1836 and it had no connection to watches. Rolex decided to use this invention to create their "watch for scientists".
So, any brand can use a Faraday Cage, and a watch is considered anti-magnetic if it can manage 60 gauss (6% of the Rolex Milgauss). Ergo, it's apparent that there was more to the Milgauss' incredible anti-magnetic capability than just the Faraday Cage.
Note: The Rolex Milgauss is one of the most anti-magnetic watches in the world. And it was the first of its kind.
So, to increase its anti-magnetism, they also used anti-magnetic properties (niobium and zirconium) for its parachrom (Rolex's proprietary alloy) hairspring and the escape wheel is paramagnetic too. This acutely increased its defense against magnetism, giving it its 1,000 gauss protection way before any other watchmaker.
Now that you have a better understanding of what the Rolex Milgauss can do, let's talk about the craftsmanship that we can actually see. After all, the average person isn't exposed to magnetic fields…nevertheless, it's always interesting to know the story behind a Rolex watch, as they all have one.
Rolex Milgauss GV Dial, Case and Bracelet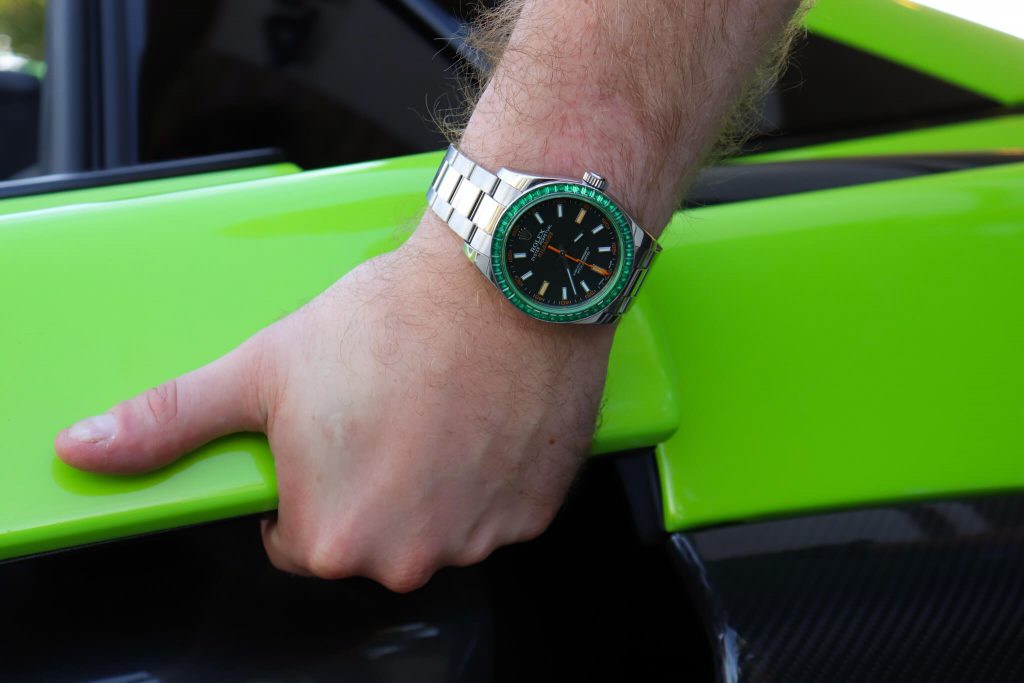 The Rolex Milgauss GV features a clean, matte black dial with a mix of luminous orange and pearly white hour batons. The rest of the dial uses the same color schemes of white and orange. The minute track is white but the numerals are orange. The writing on the dial is also white, with the 'Milgauss' in orange. As for the hands, they are made from white gold, and the seconds hand is a vibrant orange that takes form in the shape of a lightning bolt (orange painted white gold). The lightning bolt seconds hand makes the dial pop beautifully, uniquely, electrically…and it makes recording time super easy. What's more, this is the signature mark of the Milgauss. It lets you know the nature of this timepiece. Instantly. With Lightning Striking Speed. Ok, maybe not, but it does give you an idea.
GV = Glass Verte aka Green Glass
Covering the dial is a green-tinted sapphire crystal, hence the name Glass Verte (GV). There's no better color for orange than green. They go together beautifully, and it gives this watch an undeniable one-of-a-kind look. The green sapphire crystal becomes more or less noticeable depending on the light. But you can usually always see it along the edges as it reflects off the Oystersteel of the inner bezel.
As for the case and bracelet, they are made from Rolex's proprietary Oystersteel, which is one of the best stainless steel alloys ever made. The case is 40mm, so it is a big watch, but not too big. Moreover, it integrates perfectly with the Oysterbracelet. As for the finishing, as per usual for Rolex, it is superlative and meant to last a lifetime and beyond. It uses a high polished finish on the case and the centerlinks of the bracelet. However, to add some contrast, the bracelet uses a satin brushed finish on the outerlinks and edges of the Easylink clasp.
One thing we will note is, on the wrist, this watch is heavy due to the Faraday Cage inside covering the movement…
Speaking of movement, the watch has a 3131 calibre movement, which all Rolex Milgauss references have. It is a self-winding, highly precise, mechanical movement developed and produced in-house by Rolex.
McLaren 600LT Spider Green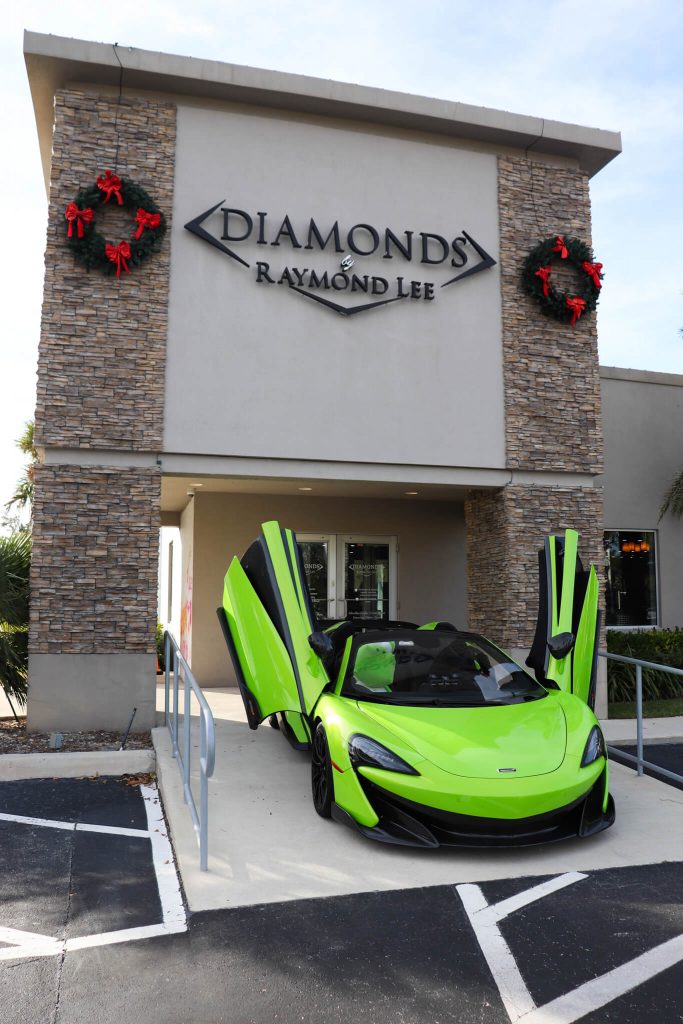 Now to the McLaren's top range Sport Series, the McLaren 600LT Spider – a faster, lighter, nimbler version of the 600LT, and a supercar that pushes performance limits to the edge "and even further".
The new 600LT Spider heightens every sensation with its intense, vehement, intuitive and unforgettable driving experience.
Most can only imagine owning a Milgauss GV with an Emerald Bezel, let alone a McLaren 600LT Spider. For @yoshilambo, it's reality.
Exterior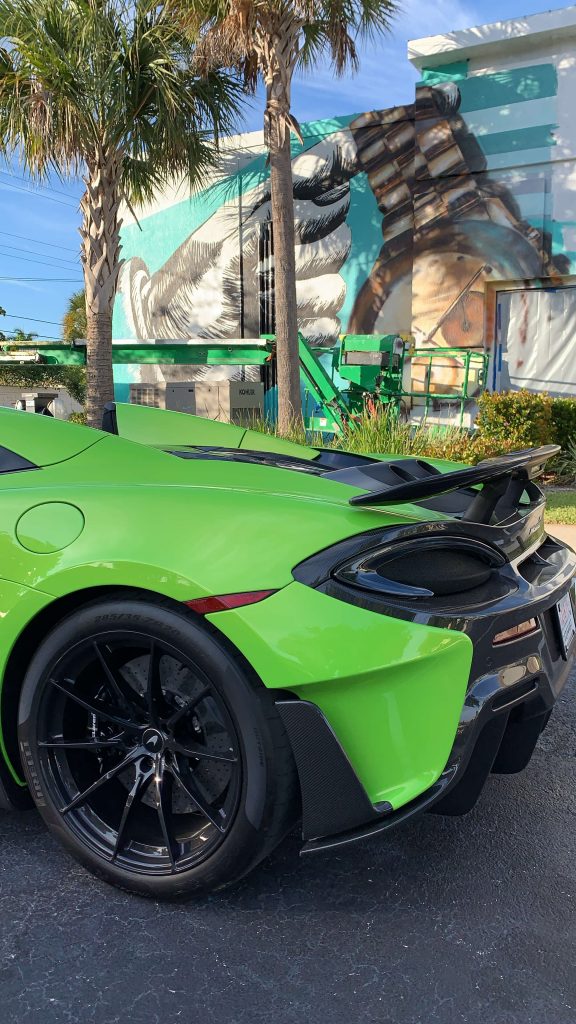 The 600LT may very well be the best looking car in the McLaren lineup. The lime green color evokes the deepest true nature of the driver – confidence, liveliness and creativity. It is a color born for a supercar. It leaps out and catches the eye no matter where it is, just as it should.
Now, to give you some details…
With a press of a button, the McLaren 600LT Spider's two piece carbon fiber tonneau cover folds under in 15 seconds, exposing the driver (@yoshilambo) to South Florida's fresh air.
The 600LT Spider is assertively aerodynamic, which not only makes it fast as lightning, but it also gives it an aggressive look.
The supercar uses a mix of sharp and curved lines to give the 600LT a distinct look that anyone in their right mind will love. What's more, the rear spoiler and forceful diffusor decidedly set the McLaren 600LT Spider apart from other models in McLaren's sport series.
Interior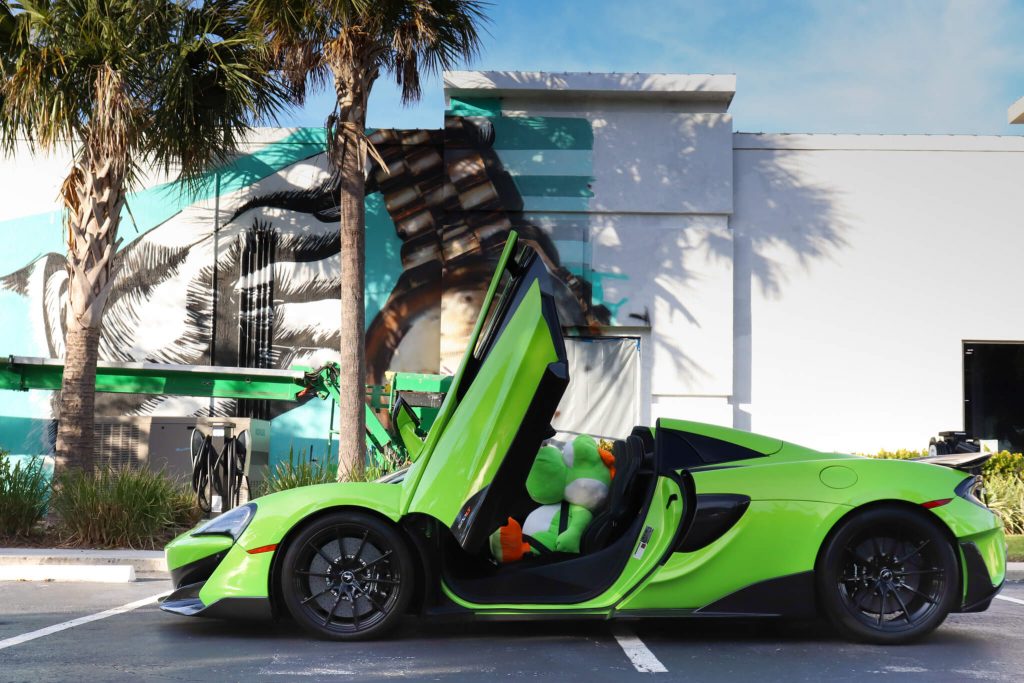 The interior is innately McLaren with its tablet-esque infotainment display and easy to reach driver controls. It has carbon fiber bucket seats, and the driver seat fits like a glove. However, for those riding shotgun, there's a lot more legroom in this one. Yoshi seems to appreciate it, not that his legs need the space.
All in all, everything about the interior is top-notch. It's one of the most comfortable McLaren's supercars we've experienced, and the all-black look is simply badass.
Driving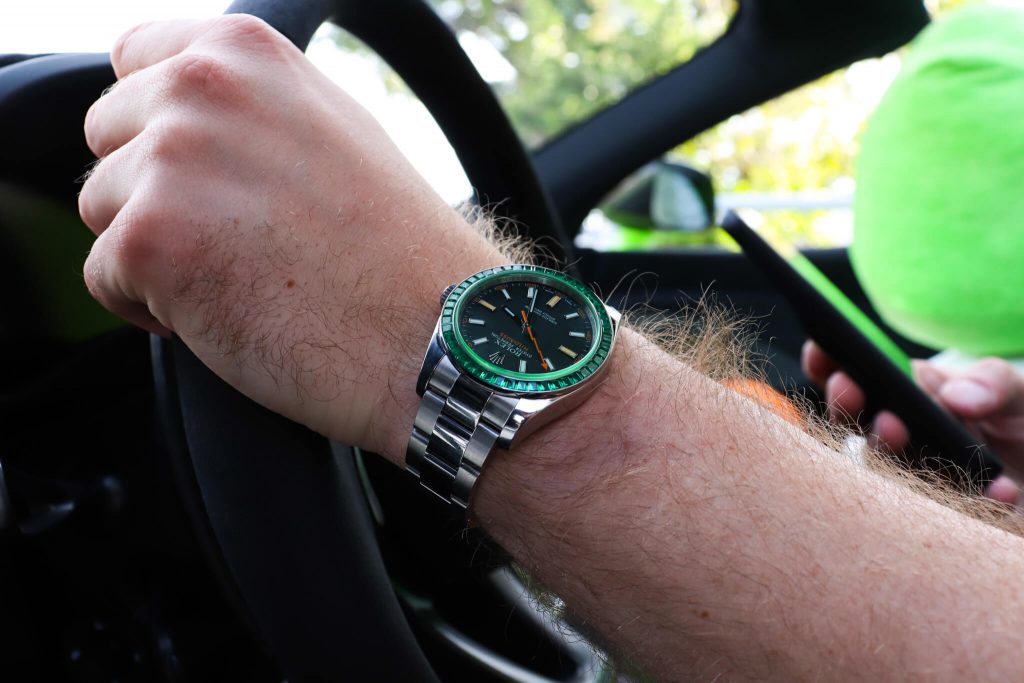 The car has incredible driving performance, speed and agility.
Thanks to its aerodynamics and carbon fiber MonoCell II chassis, this car is ultra-light and a maniac on the road.
How fast is the McLaren 600LT Spider?
It has a 3.8 liter twin-turbocharged V8 engine that makes the 600LT Spider hit 62mph in 2.9 seconds and a top speed of 201mph.
Moreover, the Active Dynamics gives it pin-sharp handling like you couldn't believe. AND, it has one of the most powerful braking systems ever invented (the same one as the 720S).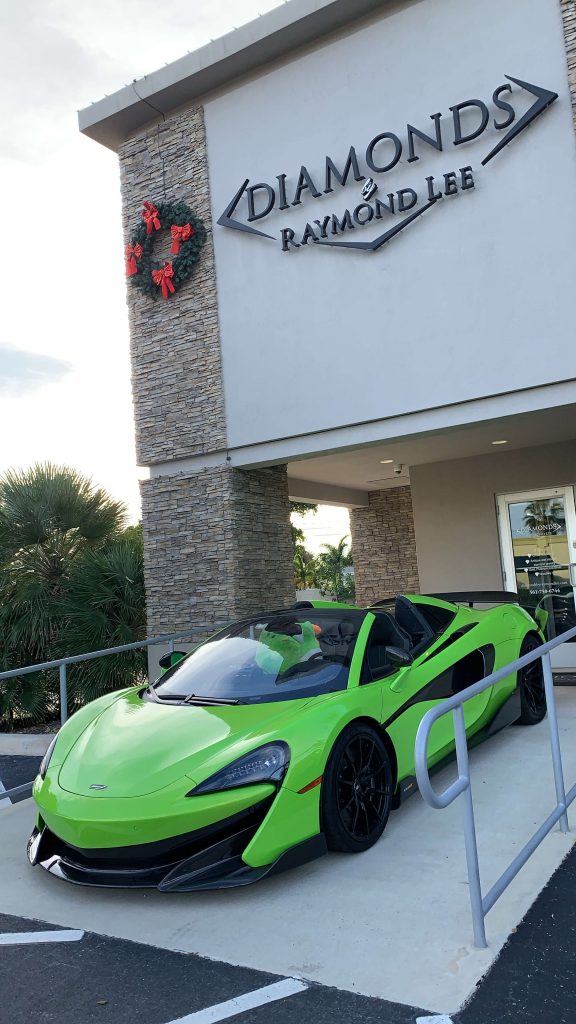 What does LT mean in McLaren?
LT mean Long Tail. It references the F1 GTR of 1997, which has a lengthened body. Fun fact, the McLaren 600LT is the fourth "Longtail" McLaren has ever made.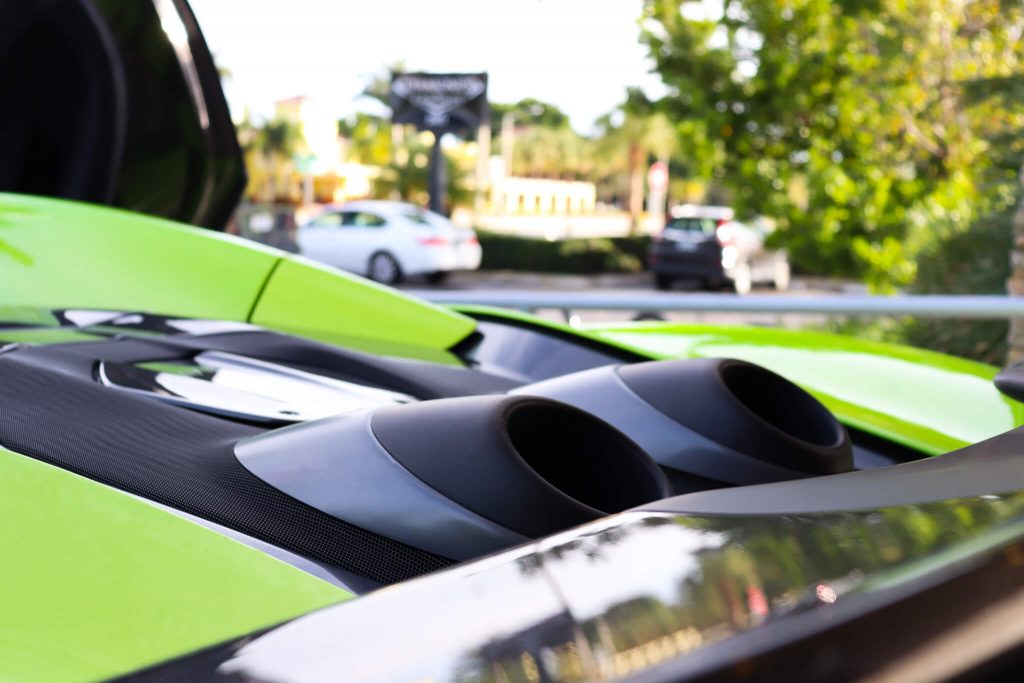 How much is a McLaren 600LT spider?
It's starting price, without any modifications is $256,500 (with an additional $2,500 destination fee).
At the end of the day, we could go on and on about the 600LT, but for now we will leave it at that. It was truly an honor to be in its presence. So, big thanks to @yoshilambo for giving us a tour. We can now honestly attest to the statement that the 600LT is the lightest, longest, most powerful car in McLaren's Sport Series, as we've seen them all. Plus, it's next level sexy, this whip will attract attention like no other.
See @yoshilambo's collection of cars.
Emerald Jewelry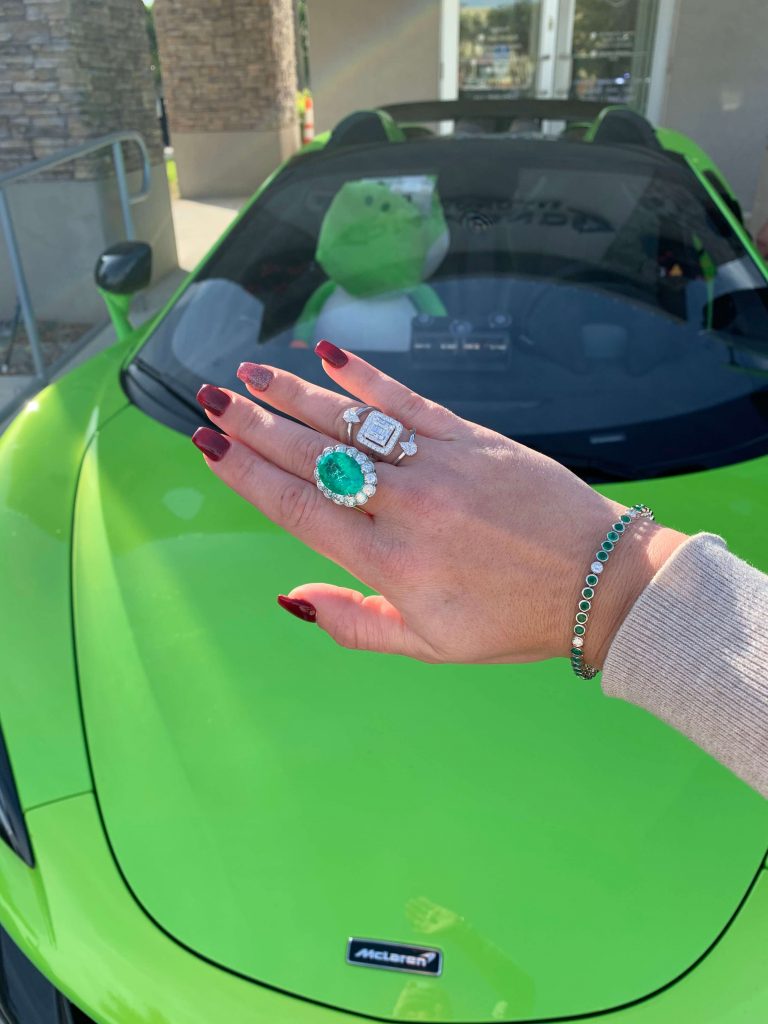 Can't get enough of green? Better yet EMERALDS?
It's time to get your lady some jewels to match the vehicle.
Here we have a stunning emerald and white diamond floral motif cocktail ring that like the car, can't be missed. It's resting side by side an 18K White Gold Three Strand Multi Diamond Ring. And on her wrist is a 14K White Gold 4.20Ctw Emerald And 0.96Ctw Diamond Bezel Set Bracelet. All together, they create an iconic, elegant, classy look that any elite, fashion-forward woman would adore.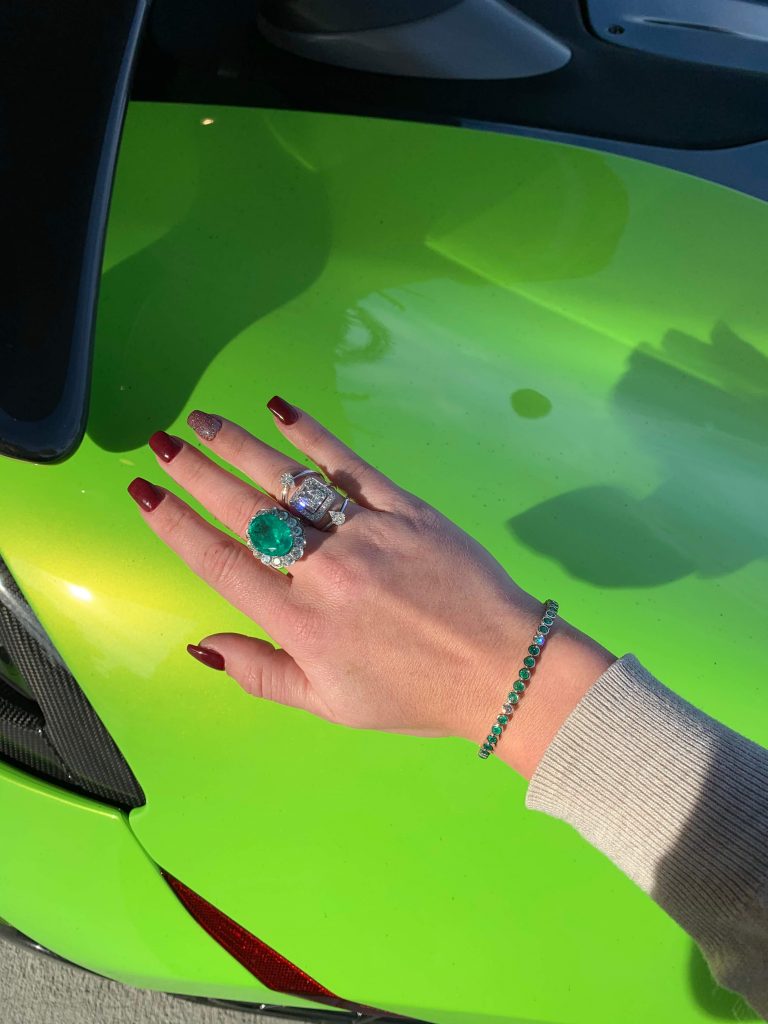 Stay tuned – New Gem-set Rolex Milgauss in Production at Diamonds By Raymond Lee
We are in the process of creating another aftermarket gem-set Rolex Milgauss. This one is going to be even more flashy. We are excited to show it off when it's finished. So stay tuned.
Want a Milgauss? Good news, we have a very special Milgauss reference available now at Diamonds By Raymond Lee. It is the Rolex Milgauss 116400 Z Blue.
You can read more about it here: Milgauss Z Blue Review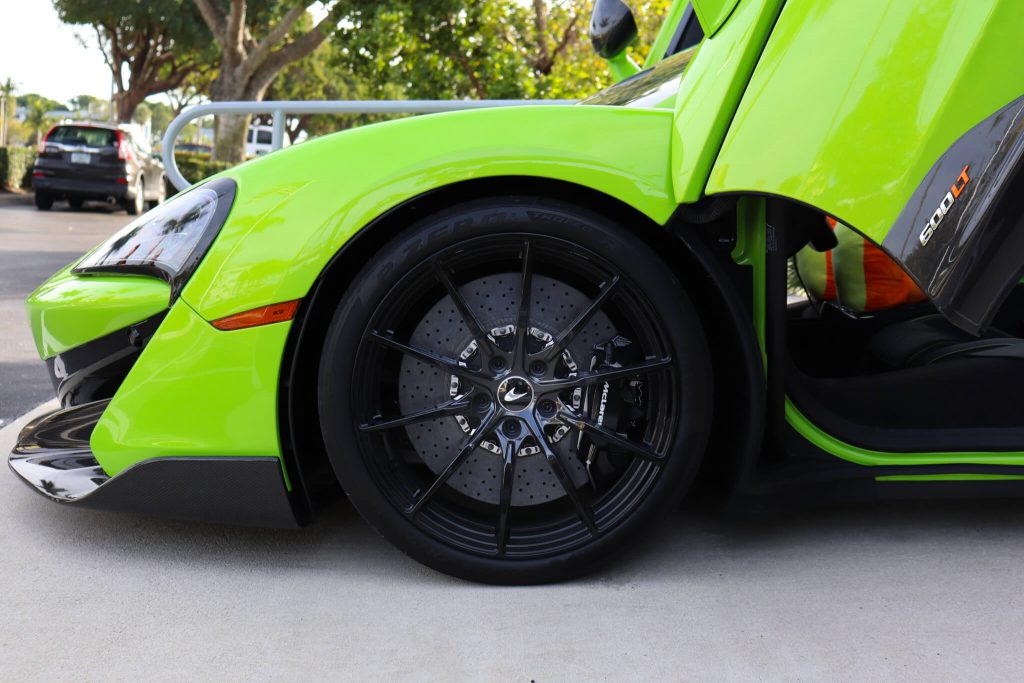 Share your thoughts on this custom emerald bezel in the comments below!