An Eternity Ring, which is also known as an infinity ring, may seem like a modern creation, however, it has been in existence for a long, long time. In this post, we are going to tell you all about the history of the Eternity Ring (dating all the way back to the ancient Egyptians) and it's symbolism throughout time. We are also going to show you some examples of breathtaking eternity rings available at Diamonds By Raymond Lee.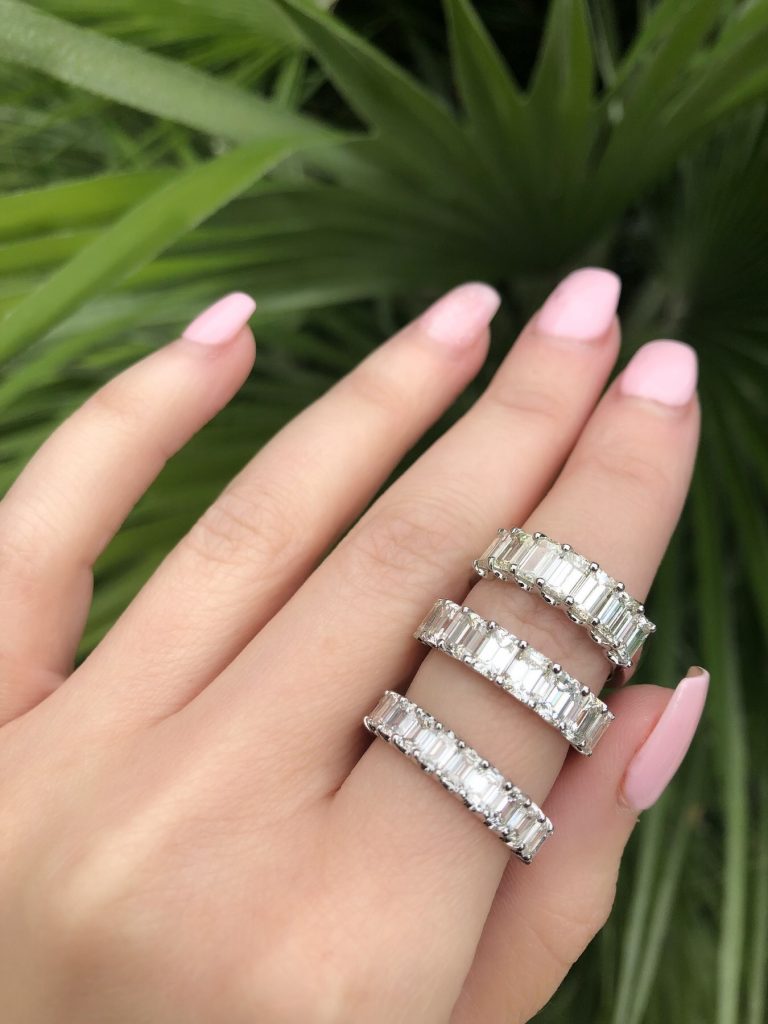 What is an eternity rings?
An eternity ring is a woman's ring that is made from a precious metal (gold or platinum) band set with a continuous loop of identical, perfectly uniformed gemstones, typically diamonds. The diamonds are set with either a channel, prong, cut down, or pavé setting. Prong settings being the most popular as it allows the diamonds to pop with immense, imposing beauty.
Eternity rings have no clear start or ending, just like eternal love. So this means any way you place it on your finger will be correct. You can do no wrong with an eternity ring.
Now, even though the standard definition of an eternity ring is a full circle of identical diamonds, there are also half-eternity rings, which feature the same style of ring but the gems that stop at about halfway around the band. Half eternity rings are more comfortable as the underside is free of diamonds. This is especially true when comparing larger full and half eternity rings.
What's more, it will be nearly impossible to distinguish between a half eternity ring and full eternity when it is being worn, as the diamonds fall perfectly into the crease of the fingers. However, if the woman's fingers are spread apart, of course, you will be able to see the diamonds stops at halfway.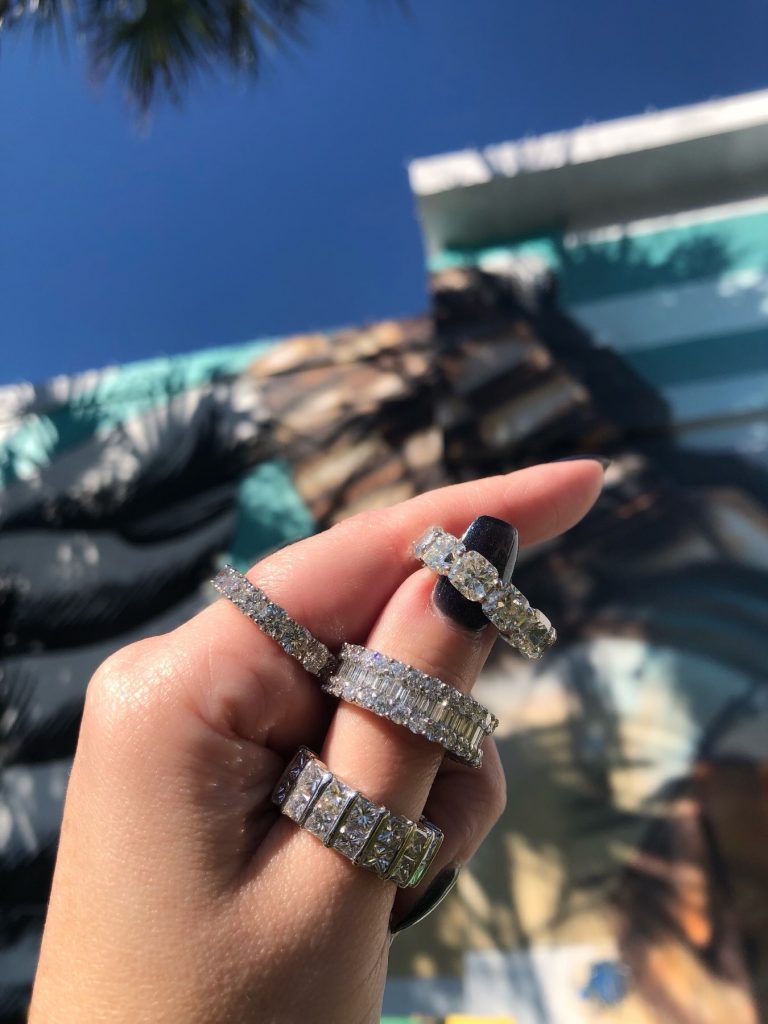 Eternity Ring Designs
Both half and full eternity rings have virtually infinite design possibilities. They can have one row, two row, or three rows (a.k.a. strands or plaits) of gemstones…sometimes more. They can be made using rubies, sapphires, emeralds, or the most customary, diamonds. And they can be any gemstone shape, cut and size. However, one thing that remains consistent is they are made from precious metal and the gemstones are identical with a setting that is perfectly uniformed.
What's even more special about eternity rings is that more often than not, they are custom made, as full eternity rings can't be resized. This means each eternity ring is unique to the wearer, not a mass produced item that other women have too.
Note: Half eternity rings are often simply called "eternity rings".
Another aspect of what makes an eternity ring an "Eternity Ring" is its symbolism, which is eternal love…
But has the Eternity Ring always had the same meaning or has it changed throughout history? Let's delve into the history of the eternity ring, which will also provide us insight into the symbolism of this stunning ring style.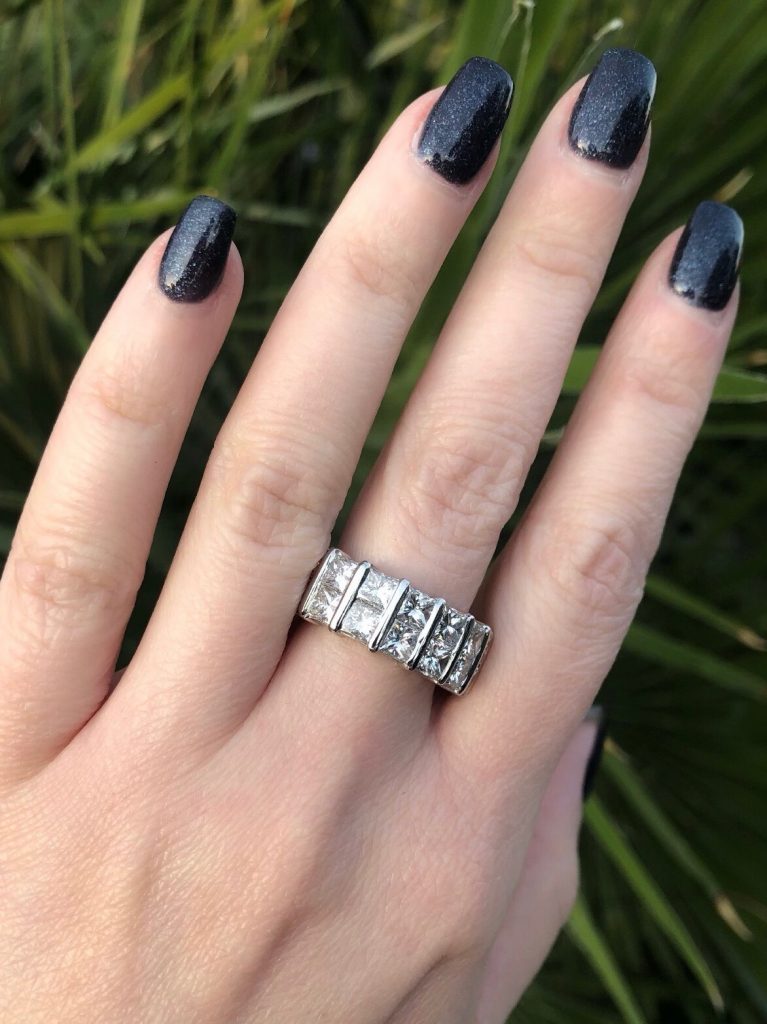 Eternity Ring History
Historians have stated that the first known Eternity Rings were created in Ancient Egypt around 4,000 years ago.
Of course, these rings were not exactly decorated or even necessarily adorned in the same way as they are today. Furthermore, they were likely worn on the wrist, finger or neck, not just fingers. However, the meaning behind them was essentially the same.
The Circle = Eternity
Old Egyptian hieroglyphics from 2,000-1,800 BC show that the circle was a strong symbol of eternity. They believed that the circle symbolized perfection and that it represented holiness and peace.
In fact, circles and rings have long existed in history, through many cultures, and the common theme was eternal life and love.
The Ancient Egyptians would present their loved ones with eternity rings as a token of both eternal love and life. The most well known ancient Egyptian ring is the Shen ring, which represents eternal protection. This eternity ring was often gifted by couples on special occasions. "Eternity rings" were also a way to honor their romantic love.
Ancient Egyptians felt that the bond of marriage was so powerful that not even death would put an end to it. As a matter of fact, Egyptians were the first to invent the "wedding ring", which was, as it is today, a symbol that represents a union of two people. So, the eternity ring and wedding ring were one in of the same (kind of like it is today, which we will get into further below). Ancient Egyptians wore a lot of jewelry, so the exchange of eternity rings would happen more than just on the wedding day.
Note: Some people believe that even prehistoric people gave their loved ones rings of some sort. They were likely woven rushes that represented their spirits being as one. Thankfully in modern time, we get to enjoy gemstones and gold and platinum eternity rings rather than rushes, but this helps us understand that the symbolism behind the eternity ring is far from a new phenomenon.
Now, the history of the eternity ring continues, but before we get into that, let's quickly go over what the ancient Egyptian's eternity rings looked like and learn more about the symbolism…
Ancient Egyptian Eternity Rings History & Symbolism
Archaeologists have found simple eternity rings carved from bone and intricate rings made from precious metals and gemstones in ancient Egyptian tombs.
So, it's clear that this token of love was common across all classes of people during those times. Although the wealthy used precious metals and gemstones, and the average person used bones with beads, the main point is that these were decorations and a symbol of never-ending love. They were both circular and they were adorned with carvings, beads, or gems along the entire circumference of the band. And this is what has inspired modern eternity rings.
One of the most commonly discussed eternity rings from ancient Egypt is a ring that depicted a snake swallowing its tail. This symbol is known to be a common representation of "eternity" and "wholeness" throughout history. The Celtics were also known for creating rings from this symbol. Moreover, this iconography can still be seen today, in rings, and it is often used in tattoos too. It is referred to as the ouroboros.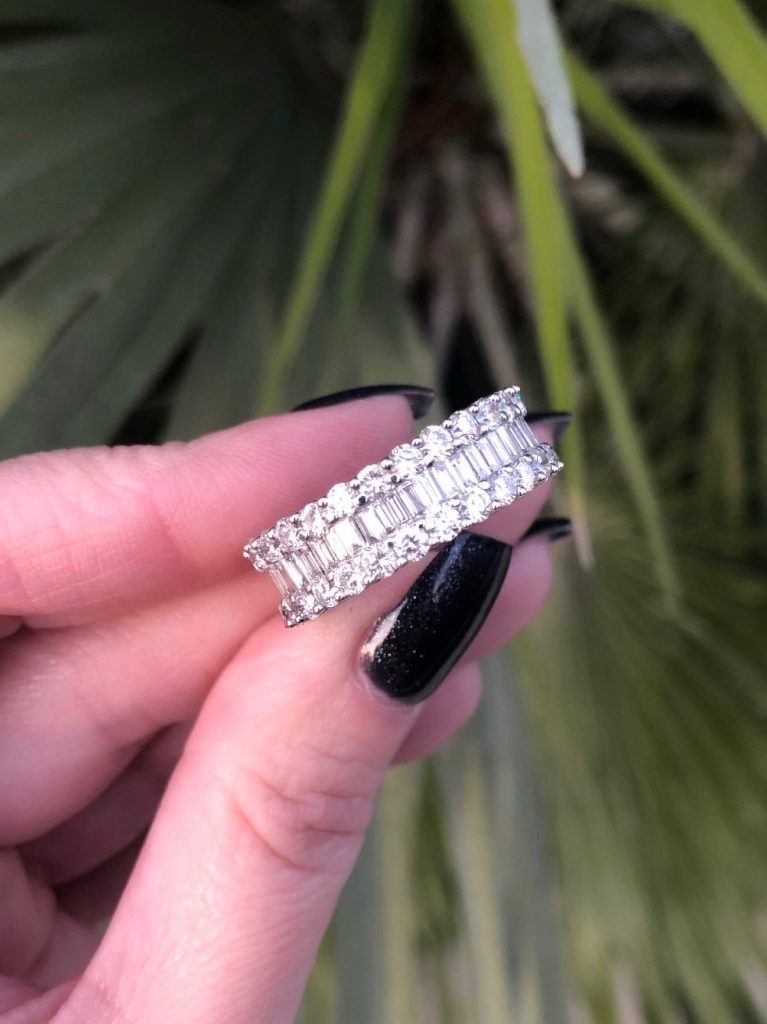 Jump to 18th century
Throughout the centuries, or better yet, millenniums, rings were consistently used as jewelry in many civilizations and cultures, but there is not so much info on "eternity" rings.
Then, in the 18th century, the eternity ring reemerged. These eternity rings, or promise rings as they were also known, were used by wealthy suitors. They were made from precious metal and they were sheathed with stunning colorful gems (paste gems, white topaz, and even a mix of stones were most common), rather than white diamonds, which is what you think of when it comes to modern eternity rings. Of course, back then, the general population did not participate in this practice.
So, even at that time, the eternity rings weren't really what they are today. They were more like promise rings with a similar design as an eternity ring. The eternity ring that we know and love today wasn't popularized until the 1960s.
1960s – The Birth of the Modern Eternity Ring
The idea for a diamond eternity ring was formed in the 1960s by two brothers who were diamond traders. Their last name was De Beers.
De beers is now an international corporation that specializes in mining and trading of diamonds.
De Beers x Eternity Rings
The De Beers company were advertising geniuses who knew how to manipulate consumer demand. They hired a young copywriter to create the slogan "A Diamond is Forever" at a time when they were attempting to make engagement rings the prevailing fashion. And it worked. This was around the late 1940s.
Then in the 1960s, the De Beers got into some agreement with the Soviet Union, were they had to purchase 90-95% of their diamonds in exchange for the ability to control a single channel. However, the Soviet's diamonds were small, typically less than .25 carats. This was a time when most engagement rings featured one large stone on a plain precious metal band.
So, to avoid stockpiling, De Beers began a new campaign, to promote a ring containing smaller stones. This is when the eternity ring was created. They crafted a new slogan "She married you for richer or poorer. Let her know how it's going." It was aimed at husbands and older, married women, which is why eternity rings are often thought of as gifts for milestones in relationships.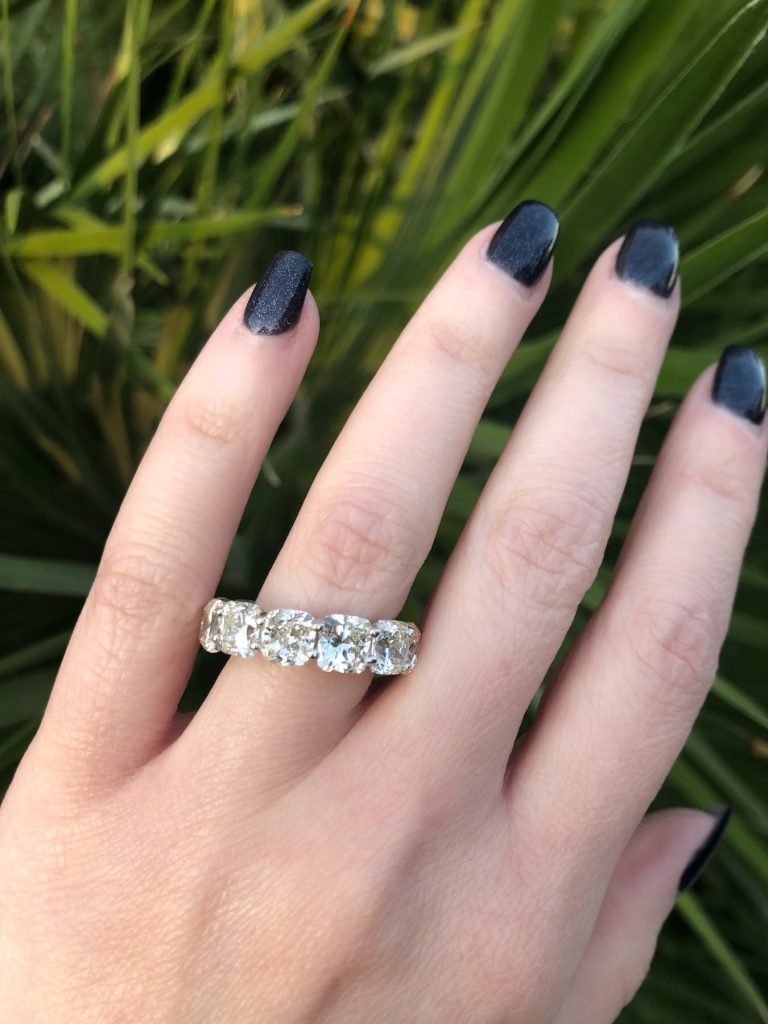 Eternity Rings Today
From here, the eternity ring only grew in popularity. The diamonds that made up the eternity rings also grew, with the change in diamond supply. And today, they are more sought after than ever. What's more, they are also more widely used for other purposes than just a husband presenting a gift to their wife on a special occasion in their relationship. They are used as wedding rings now. And some women wear them without any connection to a relationship, simply because they love the style.
It's very interesting that from a company's overabundance of diamonds, we are left with one of the best inventions of modern jewelry. However, we do have the ancient Egyptians to thank for that, because the inspiration came from them. So, the real meaning behind the eternity rings is infinitely special.
Modern Symbolism of Eternity Rings
Today, the eternity ring represents eternal love, just as it did in ancient Egypt.
When to give an eternity ring?
Eternity rings are typically given to a wife during a milestone in their relationship, whether that is an anniversary, birth of a child or a celebration for an achievement.
However, these days, an eternity ring can replace a wedding ring. So a man can give it to his fiance at their wedding ceremony as well, instead of a typical wedding band.
What's more, a man can give an eternity ring to his girlfriend simply because he knows she loves the style…Furthermore, a woman can even gift herself an eternity ring! This is very common.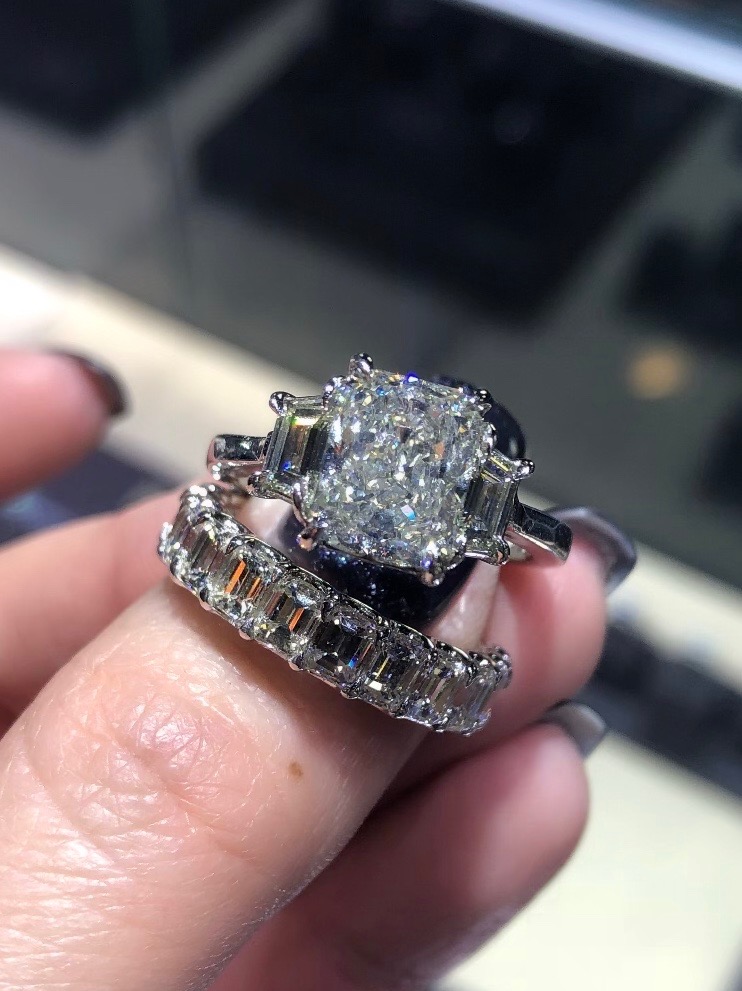 What finger does an eternity ring go on?
Traditionally, an eternity ring goes on the same finger as an engagement ring. The most common way is to stack it with the wedding band and engagement ring, as it is given later on in the relationship.
However, you will see women wearing eternity rings on whatever finger they please. There really are no rules when it comes to eternity rings, especially if they weren't given specifically as a "wedding ring".
Eternity ring vs wedding bands
Eternity Ring Stacks
Sometimes one eternity ring isn't enough. Another popular way to wear an eternity ring is with other eternity rings! Stacking multiple eternity rings on multiple fingers creates a wonderful, breathtaking look.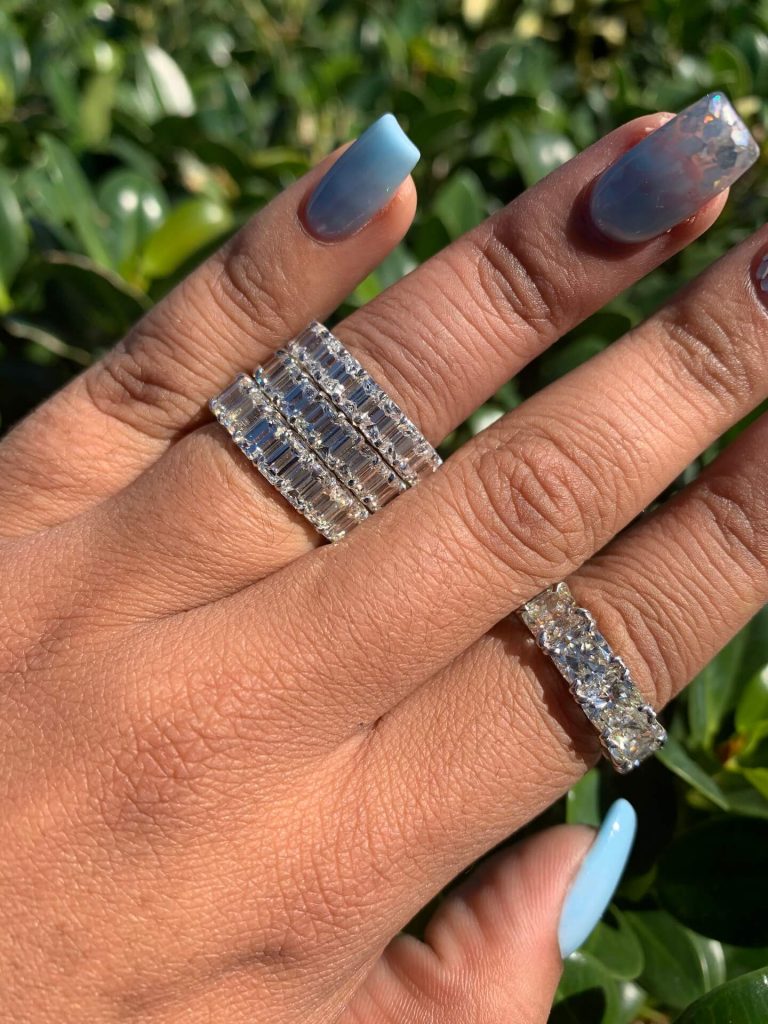 Diamonds By Raymond Lee in Boca Raton
So, from the ancient Egyptian's concept of an eternal ring to the modern eternity ring covered in large diamonds, it's clear that this special ring has a long and rich history with beautiful symbolism.
If you've heard enough and you want an eternity ring, check our extensive collection of eternity rings at Diamonds By Raymond Lee. We have jaw-dropping eternity rings at different price points, so we guarantee the perfect eternity ring is waiting for you.