Today we are featuring the Rolex Milgauss Z Blue. In this article, we are going to cover everything from A to Z (pun intended) about the most recent addition to the Rolex Milgauss collection, the Z Blue dial Milgauss GV.
The Rolex Milgauss GV Z Blue is for sale at Raymond Lee Jewelers and Diamonds by Raymond Lee in Boca Raton. Please contact us for special pricing.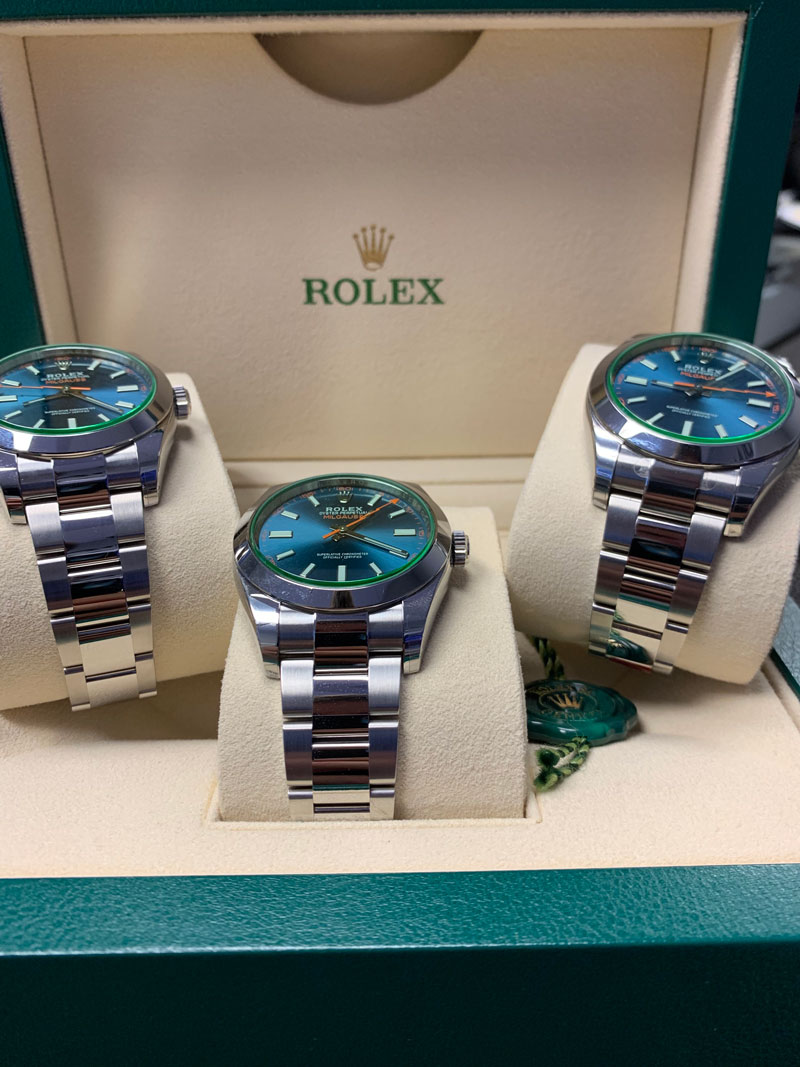 Rolex Milgauss Review
The Rolex Milgauss collection is a very interesting one, yet it doesn't get as much attention as your Submariners, Sea-Dwellers, Yacht-Masters, and GMT-Masters.
This is likely due to the target audience the Milgauss was designed for, which is…scientists.
The Rolex Milgauss has a distinct identity, even in the world of luxury tool watches. It was (and still is) designed to handle the acute demands of scientists who work in extremely high magnetic field conditions.
Typical watches are affected by magnetic fields of 50-100 gauss, but the Rolex Milgauss, thanks to innovative technology, can withstand magnetic fields up to 1,000 gauss (hence the name – 'mille' in French means 'thousand').
The Rolex Milgauss is the first anti-magnetic watch of this caliber.
For your average person, a watch that can withstand 50-100 gauss is much more than enough, but for many in the scientific community, it simply doesn't cut it. Some scientists deal with exceedingly high magnetic fields, so they require a special timepiece. As Rolex does with many professional niches, they addressed this unique need. Thus, Rolex Milgauss was born.
As you can imagine, watches are a crucial tool for scientists, especially when it comes to experiments. So, the Milgauss' ability to withstand extremely high magnetic fields was not only exceptional in terms of technology, but it was also sublimely useful.
CERN and Rolex Milgauss 
The European Organization for Nuclear Research (CERN) is the most notable group of scientists and engineers that utilize the Milgauss.
In fact, the Rolex Milgauss was made with this Geneva organization specifically in mind. CERN launched in 1954 and Milgauss was introduced around the same time.
CERN drives a lot of media attention, especially back in the 50s when they were first starting. So, this was a remarkable boost for the brand's new magnetic collection.
Now, six decades later, Scientists, Engineers, and Technicians all over the world are still enjoying the use of the powerfully electric Milgauss self-winding luxury watch. Moreover, Rolex collectors have a very unique watch to trade for some serious money.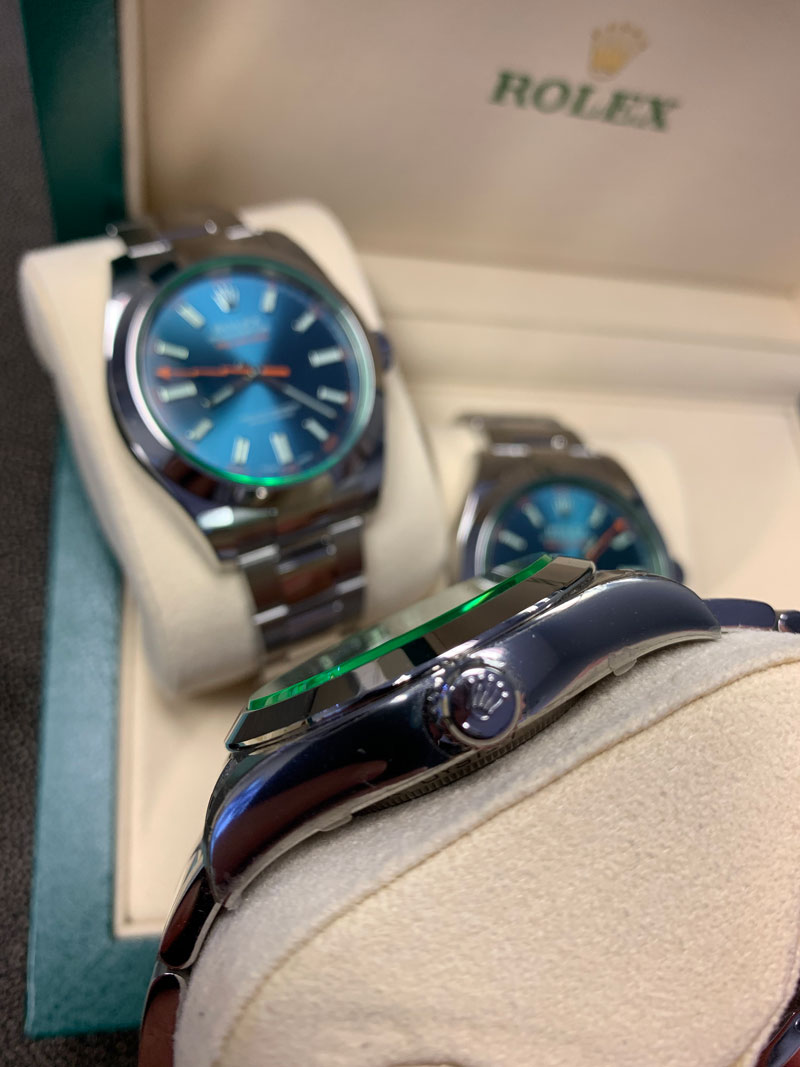 A Brief History of the Rolex Milgauss Collection
The first Milgauss was released in 1954, the same year CERN began it's nuclear research efforts. The Milgauss had a specific role to fulfill. It was to be the watch for scientists and engineers who work in an environment that is highly magnetically charged.
Rolex put out two references for the Milgauss during its launch. Reference 6541, and the very rare 6543 of which only 88 were ever created.
Despite the reference numbers, Rolex 6543 actually came out just before Rolex 6541.
Rolex Milgauss 6543 used an anti-magnetic alloy to create entire escapement, so the Faraday Cage, which we will discuss further below, was unnecessary for this reference.
Unlike reference 6543, reference 6541 used a Faraday Cage to re-direct magnetic interference. This was the first time they used a Faraday Cage and it stuck to this day.
These two references were one of the first wristwatches in history that could keep time accurately during exposure to very strong magnetic fields.
Rolex 6543 and Rolex 6541 were equipped with a Calibre 1080 and they had a rotatable bezel just like the Submariner. Both watches used the Milgauss' signature lightning bolt seconds hand. But for these, the seconds hand was made of steel and it was uncolored, unlike the new Green Milgauss 116400 which uses orange paint on the white gold lightning bolt seconds hand.
After the 6543 and 6541, the Milgauss only received one big update in the 20th century. In the 1960s, Rolex released reference 1019. This Milgauss watch came with a few modifications. The most noticeable changes were the smooth bezel, new hands, new indices, and the straight red tipped seconds hand rather than the lightning bolt seconds hand. Moreover, the dial didn't use the honeycomb pattern anymore and the watch used a larger case size at 38mm. For some reason, Milgauss never really secured itself in the market, so Rolex gave up on it in 1988.
It wasn't until almost two decades later that Rolex braved up and relaunched the Milgauss.
In 2007, Rolex released the new reference, Milgauss 116400. It took the last Milgauss reference and spiced it up…a few notches. It gave it a healthy splash of colors, it went back to the lightning bolt seconds hand that subtly tells the audience the purpose of this watch. They painted the seconds hand orange and gave the same color treatment to the minutes track and hour markers.
One of the most talked about features of the Milgauss Anniversary model was the lightly tinted green sapphire crystal covering the dial (Review of the Milgauss GV 50th Anniversary Watch). They called this Milgauss the Glace Verte, which means Green Glass in English. The green tint creates a special halo on the dial. Rolex has stated that they don't have a patent on this because it is so difficult to produce.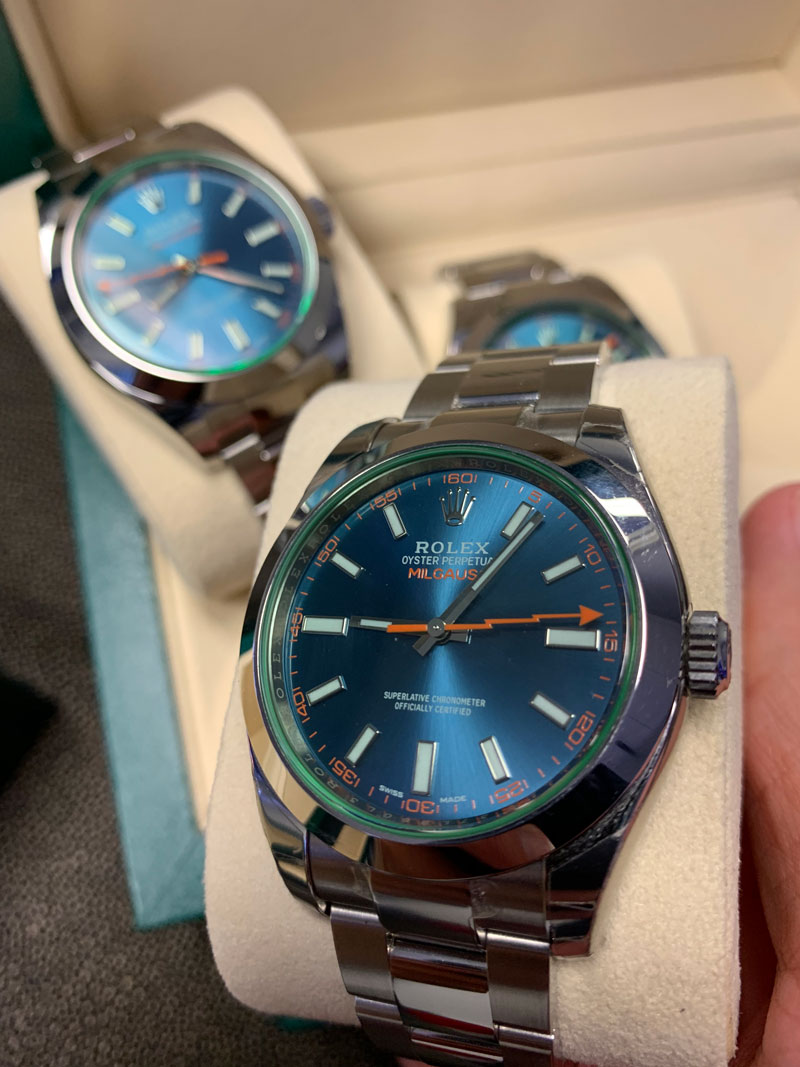 Rolex Milgauss 116400GV Z BLUE
In 2014,  Rolex introduced the new version to their Milgauss GV (Glace Verte) model. It was the new blue dial Milgauss dubbed the Z Blue. The Z Blue stirred up the pot in the Rolex community, as this was the first time a Milgauss was being sold above retail.
The Z Blue Milgauss is identical to the rest of the 116400 Milgauss models in terms of structure and movement technology.
It has the same, traditional 40mm Oyster case with beautiful finishing. The Oyster bracelet is also the same with its combination of brush and high polish finishing. Of course, the steel is Rolex's patented 904L stainless steel.
As with all Milgauss watches, at the heart of the Z Blue's innovation is its ability to shield the movement from magnetic interference.
They achieved this by creating their iconic 'Faraday Cage'.
Faraday Cage
The Faraday Cage is a shield made with ferromagnetic alloys that covers the movement. This dynamic shielding mechanism protects the sensitive hairspring of the movement, thus allowing the watch to withstand magnetism up to 1,000 gauss.
Unfortunately, you probably won't ever see the Faraday Cage in all of its glory. This is because only Rolex-certified watchmakers should be opening up a Milgauss. That said, if you were to open up the Milgauss' Oyster case you'd see its ferromagnetic shield, and on the surface of the magnetic shield you'd see an engraved symbol "B" with an arrow for its magnetic flux density.
Now, the Faraday Cage is only the first line of defense. The Z Blue's Rolex's in-house Caliber 3131, which is COSC certified, has more incredible anti-magnetic properties with its parachrom hairspring made from paramagnetic alloy consisting of niobium and zirconium, and the paramagnetic escape wheel made from a nickel-phosphorous alloy.
Note: A watch is considered anti-magnetic if it can manage 60 gauss. That's a mere 6% of what the Rolex Milgauss can withstand. So, the Milgauss far exceeds even the needs of Scientists who work with magnetic research.
Z Blue Dial
Now, the big change that made the Z Blue unique from the rest of the 116400GV Milgauss watches is situated in its face. The Milgauss Z Blue has an electric blue dial, which is the perfect allusion to the symbolical lighting bolt shaped seconds hand.
It's a metallic blue so it pops gorgeously. It can also look slightly green depending on how the light hits it and what angle you are viewing it from. Moreover, it has a brushed finishing which gives it a textural look as it gleams. It also makes the high polished hands and hour markers jump out so you can read the time easily.
And, of course, the dial is covered by the green sapphire crystal. This has been one of the defining features of the Milgauss GV watches since 2007. We still love this feature as much as the first time we witnessed it.
All in all, we think Rolex got this blue dial extremely right. It's super versatile and the colors work with each other in incredible fashion. The green glass and orange accents on a blue dial all complement each other beautifully. Overall, the face is eccentric, yet it's still impeccably casual and sophisticated. This is something that Rolex does remarkably well. They create distinction and spice things up without ever sacrificing luxury. And this watch is utterly captivating and undeniably luxurious.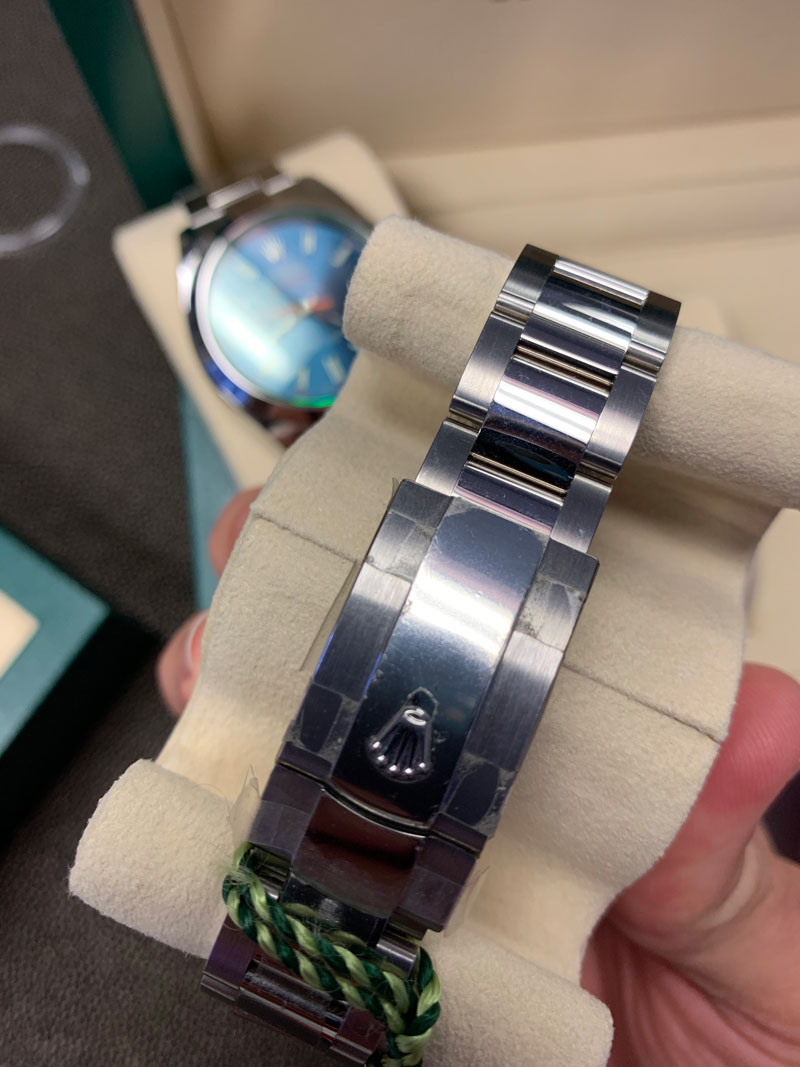 Rolex Milgauss Z Blue ON THE WRIST
Simply put, the watch is very fun to wear.
It's got so much personality and pizzazz…better yet, it's electric.
It shows no concern, it's rebellious, and it makes a statement.
It is kind of a paradoxical situation. The Milgauss Z Blue is ready to stop any magnetic interference, but the watch itself is like a magnetic charm that will pull you in.
With all that, though, in structure it is conventional, sticking to its Oyster roots. So it will never be overwhelming and it goes with everything. It can be worn to the lab, to lunch or to a formal setting alike.
Again, it's fun…but it will always be professional.
Now, from a practical aspect, the Milgauss is a smart choice. It has everything we expect from Rolex – corrosion resistant steel, waterproof to 100 meters, certified Superlative Chronometer movement, and it's charming as hell. And of course, that's not to mention its superior antimagnetic capabilities. It is another Rolex watch with special powers, and it's far from the most expensive watch in Rolex's lineup.
The 40mm case is a perfect size, so the proportions are exactly what you want from a sports watch. The bracelet is secure and thoroughly comfortable.
In regards to readability, the contrast for polishing and colors on the dial makes it marvelously legible.
All in all, it's a watch we'd wear every day. And, even though some people would say the Milgauss isn't an instant crowd pleaser, the modern world appreciates a distinct look, and this is one that stands out from the rest.
Plus, nothing beats the experience of wearing a Rolex watch, in general. With their meticulous details, balanced weight, and simply the comfort and feel that Rolex produces so well.
Milgauss GV Z Blue For Sale
We are currently selling the Rolex Milgauss 116400GV Z Blue on our website and at our retail location in Boca Raton. The watch has all of its original components and is in excellent condition. It comes with the original box and booklets too.
If this timepiece interest you, please contact us or come check it out at our showroom firsthand. We look forward to hearing from you.
Here is our Address and Phone Number:
2801 N Federal Hwy, Boca Raton, FL 33431.
561-750-7808
View the full sales listing for our Rolex Milgauss 116400 GV Z Blue.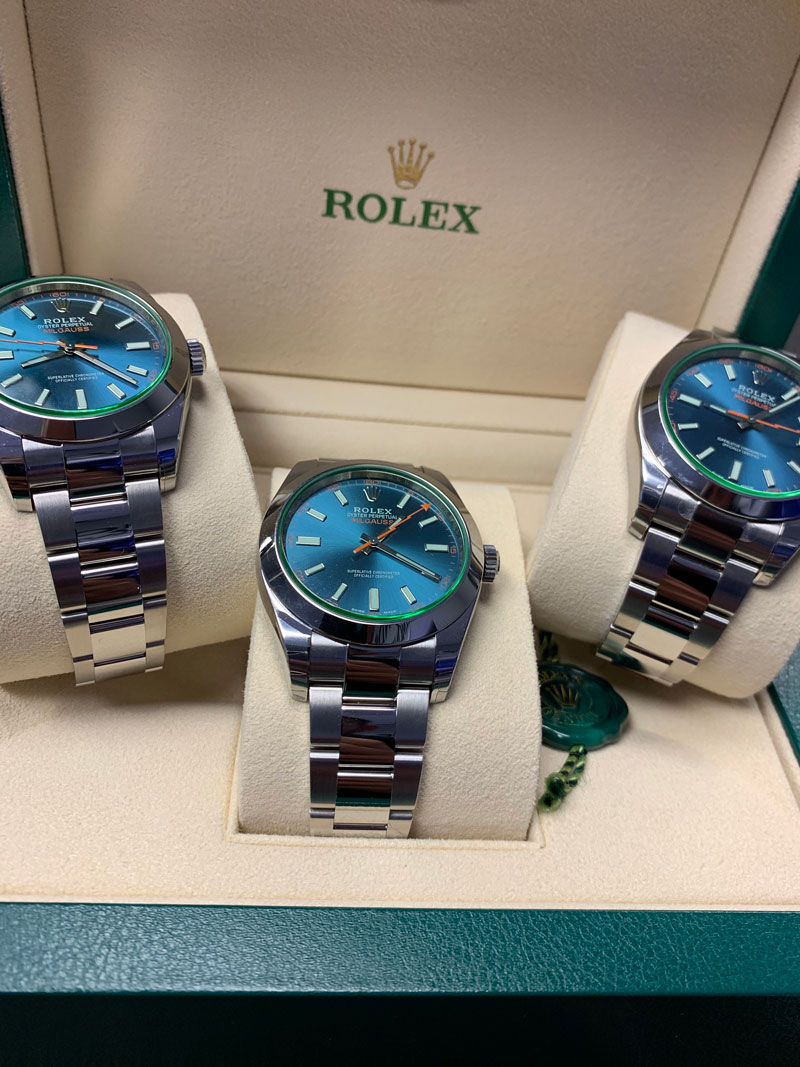 About Us – Raymond Lee Jewelers and Diamonds by Raymond Lee in Boca Raton
Raymond Lee Jewelers and Diamonds by Raymond Lee is one of South Florida's best sales and service centers for luxury watches, diamonds, and high-end jewelry.
Raymond Lee Jewelers is a family run business in Boca Raton. We have spent the last three decades building a solid reputation in our community and online. In fact, we are have an A+ rating with the Better Business Bureau.
Our goal is to meet the needs and exceed expectations for all of our customers. We aim to provide the best possible experience when it comes to any luxury watch dealing or servicing. Furthermore, we combine value, quality and the ability to meet and understand the needs of people of all ages.
Our services include buying, selling, repairing, and restoring watches, including but not limited to, Rolex, Patek Philippe, Audemars Piguet, Van Cleef & Arpelsbr, Hublot, Harry Winston, Bvlgari, Cartier, Breitling, Tudor.
What's more, we are proud to say that we have one of the largest collections of Rolex watches in all of South Florida.
Shop for Rolex Milgauss Watches Online at Raymond Lee Jewelers
Shop for Rolex Watches Online at Raymond Lee Jewelers
Please feel free to leave a comment below to spark a discussion on the Green Rolex Milgauss 116400GV Z Blue.