Top 6 Diamond Jewelry Every Woman Should Own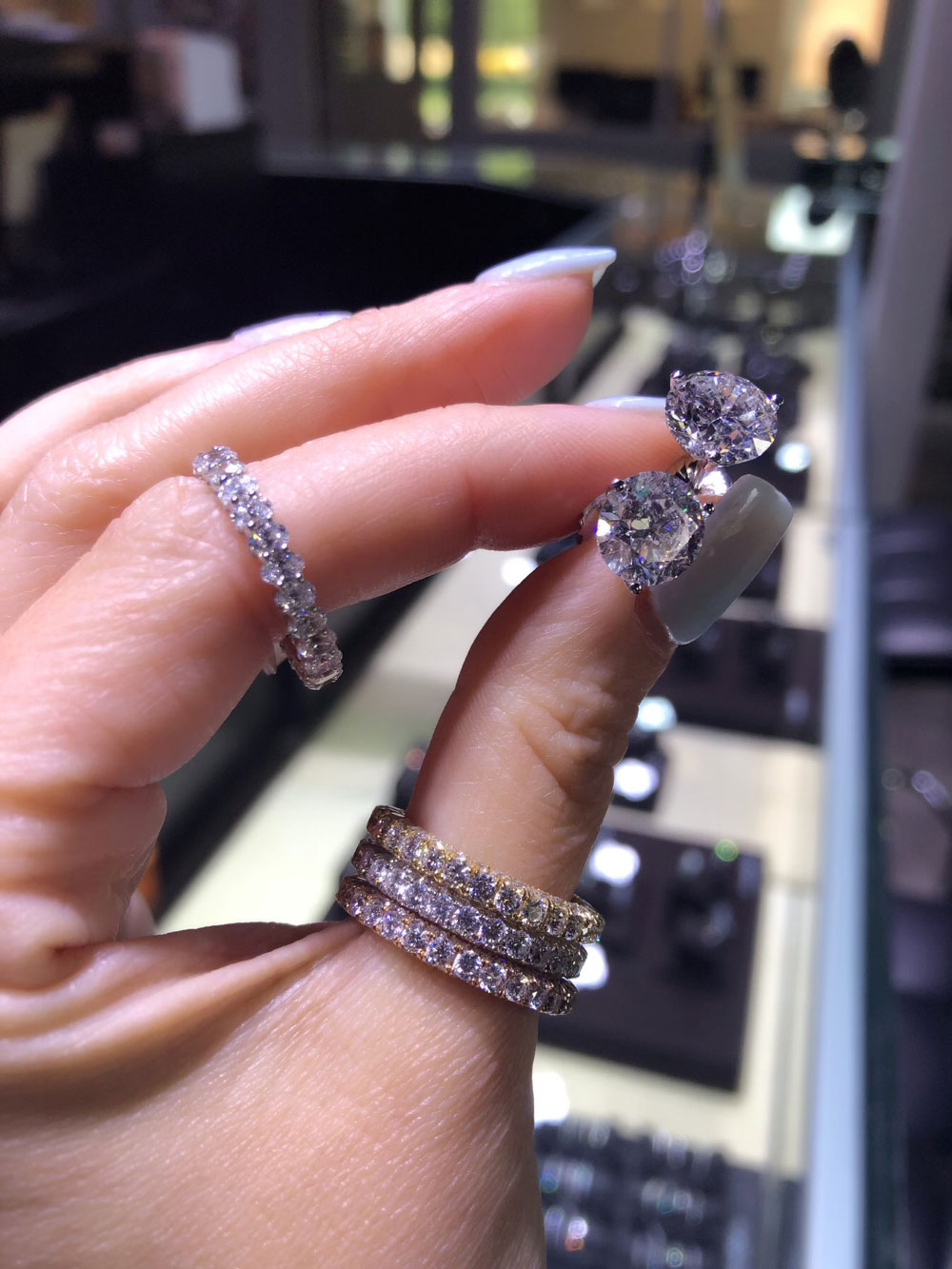 When it comes to a woman's diamond jewelry collection, she is free to express herself however she pleases. There are no rules and creativity is always key…
Nevertheless, there are some diamond jewelry essentials that every woman should consider purchasing.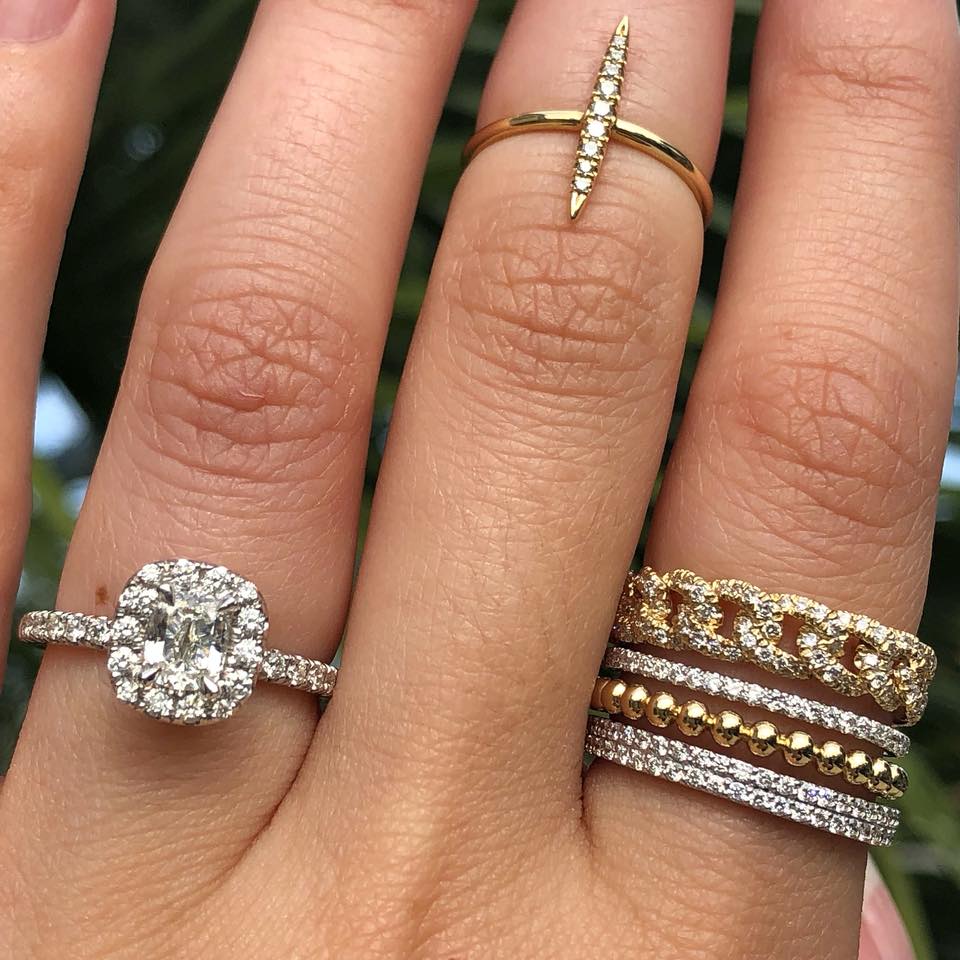 In fact, we strongly believe that there are a few timeless jewelry pieces that every woman must have, at least sooner or later…And today, we want to discuss exactly that – The top 6 pieces of diamond jewelry that every woman should own.
They are classic pieces of jewelry that transcend time. We are talking about jewelry that makes getting dressed a pleasure. Jewelry that will last a lifetime and can be passed down for generations. Jewelry that can be worn on different occasions, from a fancy night out on the town to a casual lunch with friends and family. These pieces of jewelry will be staples in your jewelry wardrobe, and some every-day-all-the-time-24/7-wear, as we all know, every woman has a few of those…The following must-have diamond jewelry are high-end luxury pieces that you will surely want to add to your collection.
So, let's get started…
Note: All of the jewelry featured in this article is available at Diamonds by Raymond Lee in Boca Raton. You can purchase them from us in person at our luxurious showroom or online. Simply contact us for more details and/or pop into our showroom to try them on.
Top 6 Pieces of Diamond Jewelry That Every Woman Must Have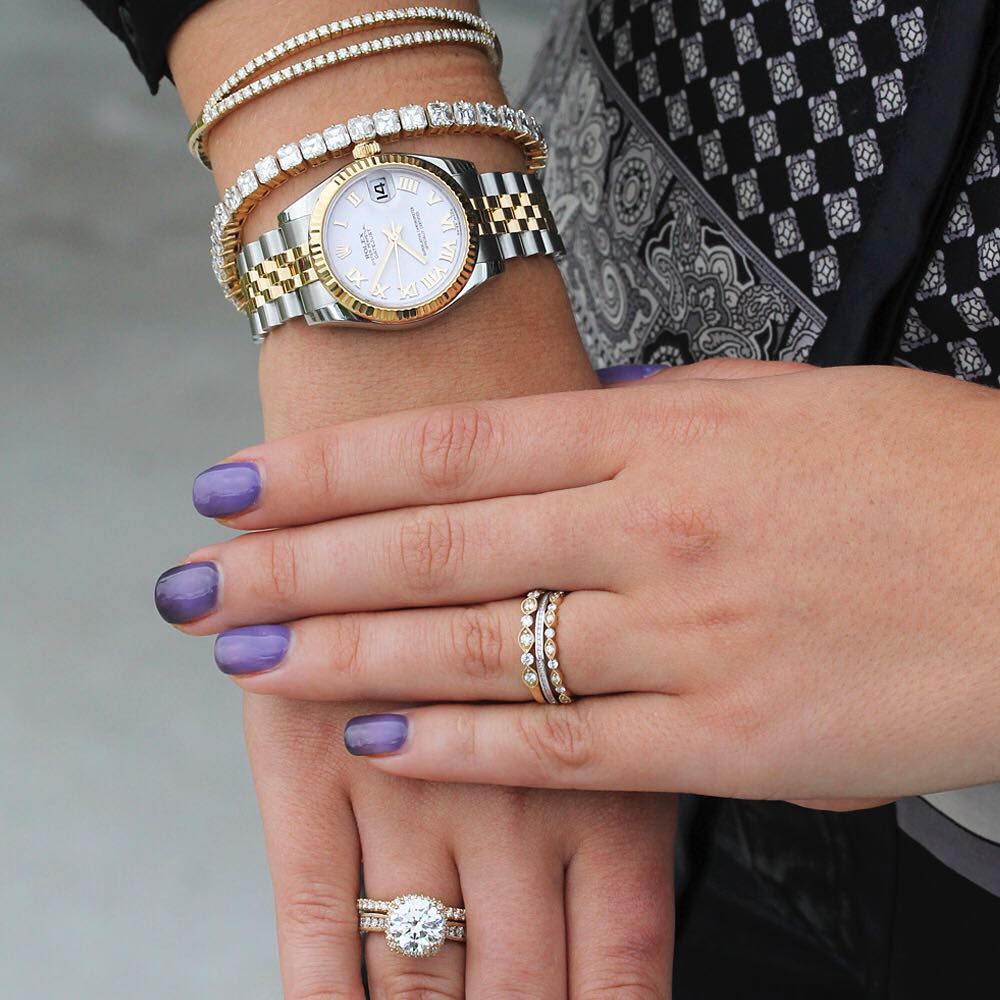 We are going to start from the top down, so that means earrings are first. We are breaking the 6 pieces of jewelry down into categories and featuring them in the following order: earrings, necklaces, bracelets, and rings. And, we are going to include a special piece of "jewelry" (although not technically jewelry), but still a must-have for any sophisticated woman, a timepiece.
Earrings
These are the best earrings that every classy, modern woman should own.
1. Diamond Studs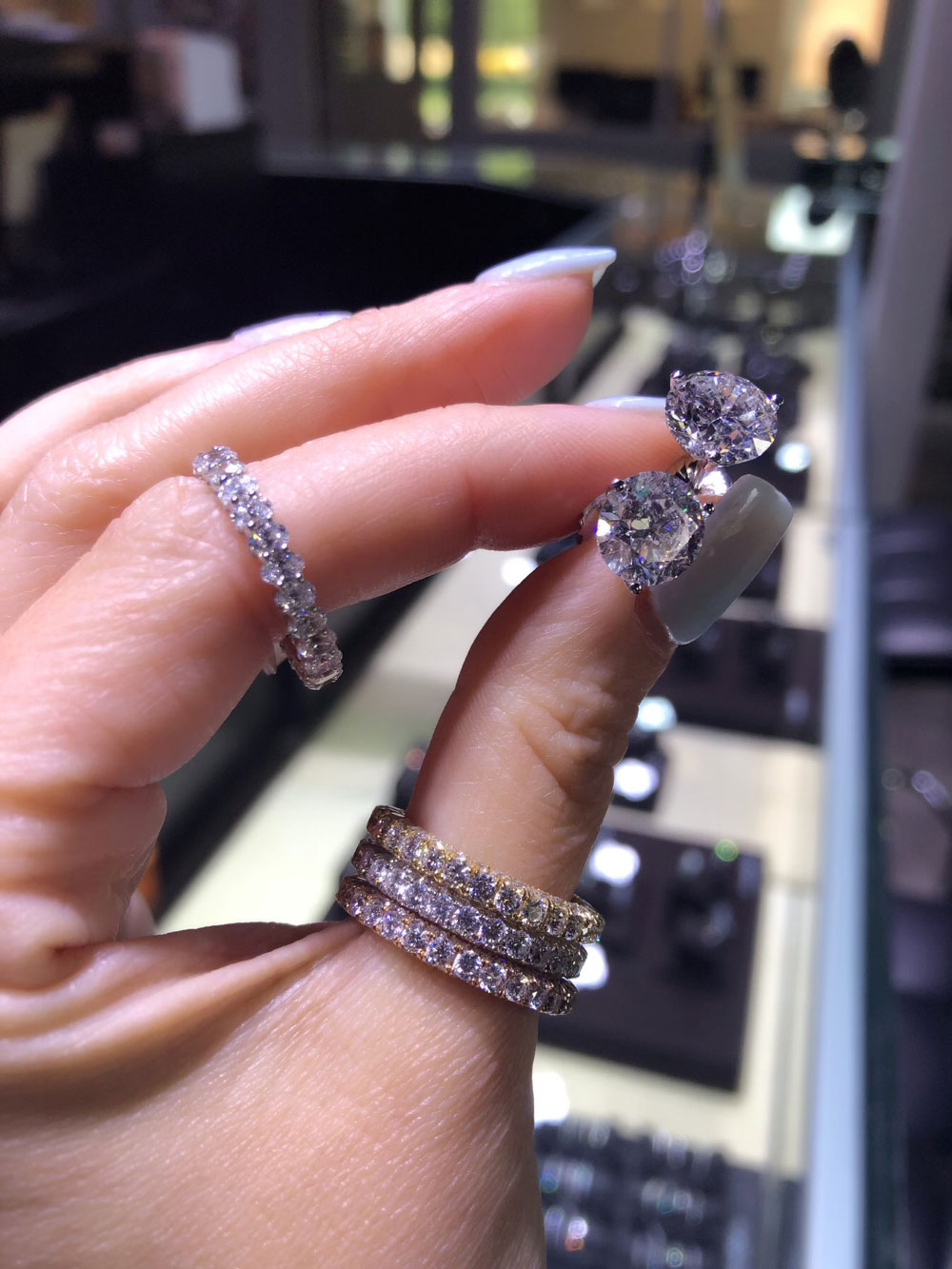 Diamonds are a girl's best friend, and when it comes to studs, that is her best friend in the purest form.
Not everyone can afford a statement piece or diamond necklace, but when it comes to diamond studs, they are very affordable.
Moreover, they are an accessory that can be worn literally on any occasion. Diamond studs are extremely versatile and they go with everything, especially other jewelry.
You absolutely can't go wrong with diamonds studs, and it seems the smartest, most elegant woman have known this for centuries, as diamonds studs have been in for a very long time.
14k White Gold 1.32ctw Round Brilliant Diamond Earring Studs
2. Diamond Hoop Earrings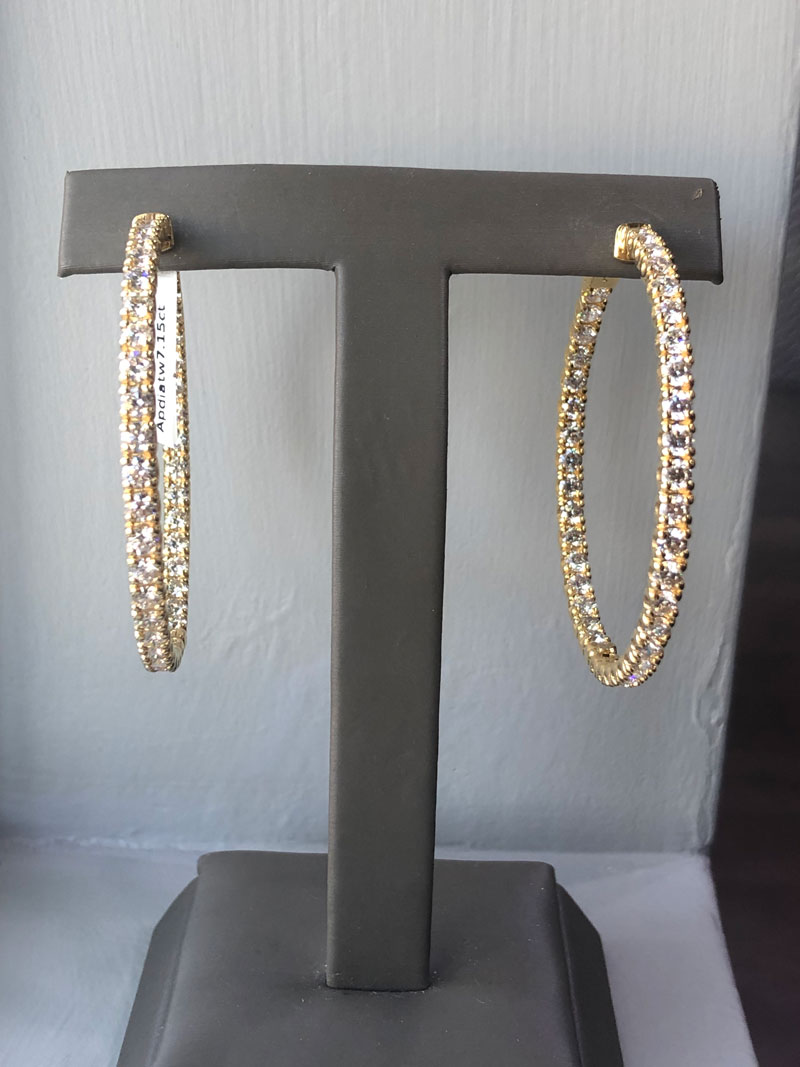 Every woman should own a pair of hoop earrings. They are a classic shape that works for everyone…
That's why you'll see hoop earrings everywhere.
What you won't see to often, though, is hoop earrings with diamonds. Brilliant diamonds hoop earrings are simply stunning. Diamonds take a minimalist, elegant look that is hoop earrings and turn the luxury up to 10. That said, even sparkly diamond and gold hoop earrings offer a polish look that will never be over the top. They are suitable for a dressy night out and great for a casual brunch. That said, in any case, they will make it clear that the woman wearing them has spending power.
If you are looking for the best size for hoop earrings, we recommend hoop earrings that are 2cm in diameter. They are not too big and not too small. Overall, this size is noticeable but won't be considered over-sized.
14k Yellow Gold 3.38ctw Diamond Inside Out Hoop Earrings
Necklaces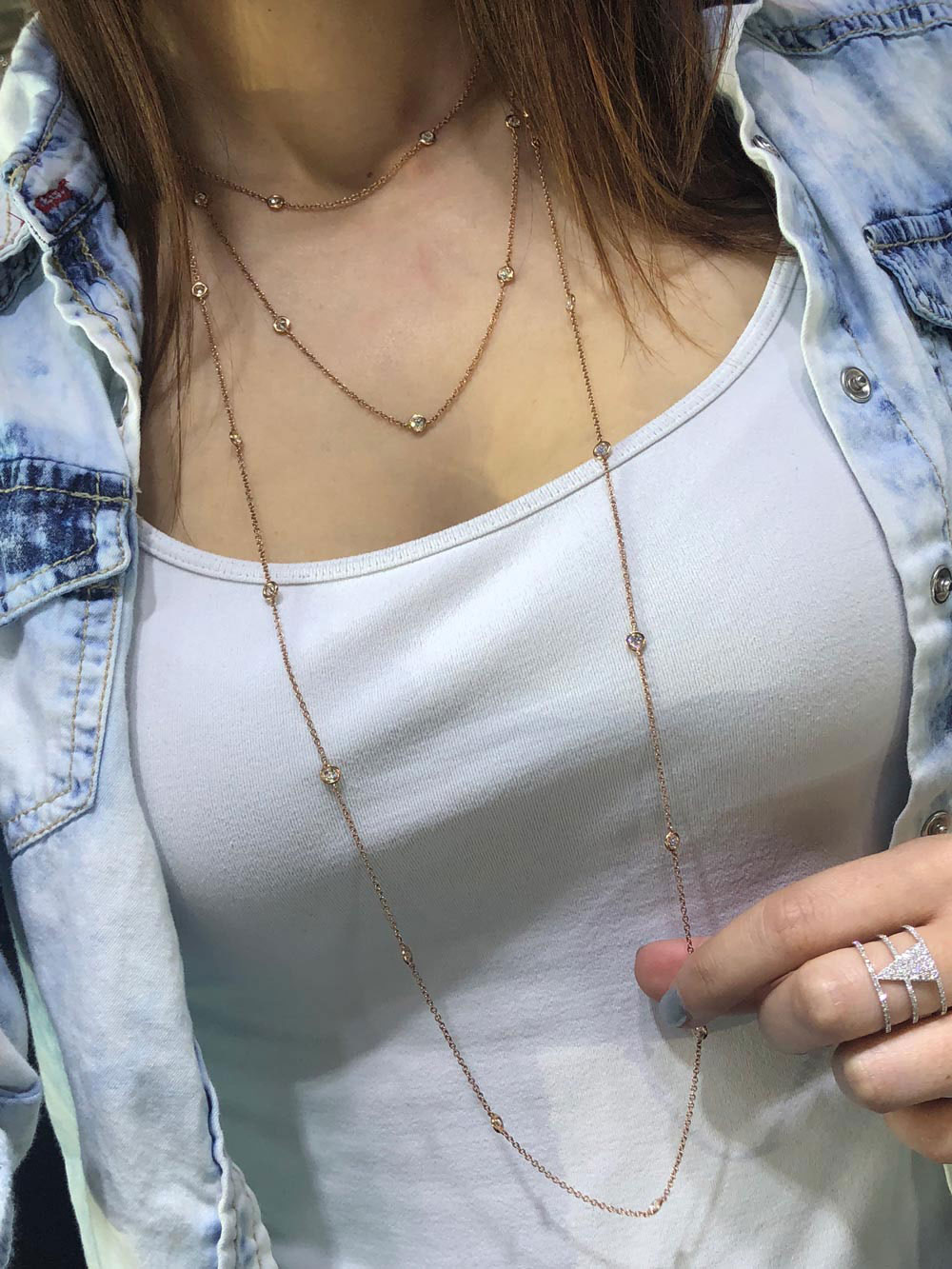 3. Diamond Pendant Necklaces
Pendant necklaces have a subtle way of catching the eye. This makes them great for everyday wear. A classic pendant necklace that every woman should own should be something thin and simple, made of precious metal, that has a meaningful diamond pendant hanging at the end. One of the simplest yet stunning pendants we see these days are big diamond stud pendants.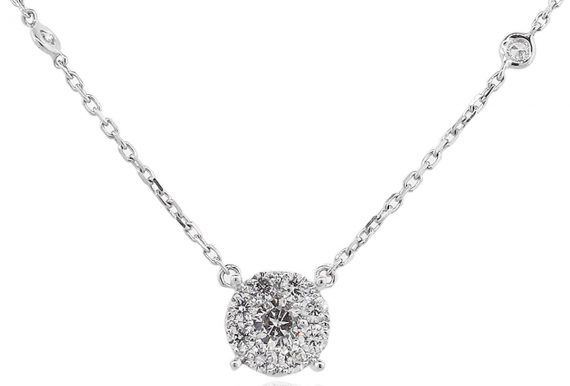 18k White Gold 0.95ctw Diamond Cluster Pendant On Diamond Chain
The chain necklace should blend in with your complexion while the pendant gets the center of attention This will give your pendant necklace a nice balance of "wanting to be seen" and "staying under the radar".
All in all, pendant necklaces are beautiful and reserved yet a little bold and mysterious. There is no woman that a pendant necklace won't work for.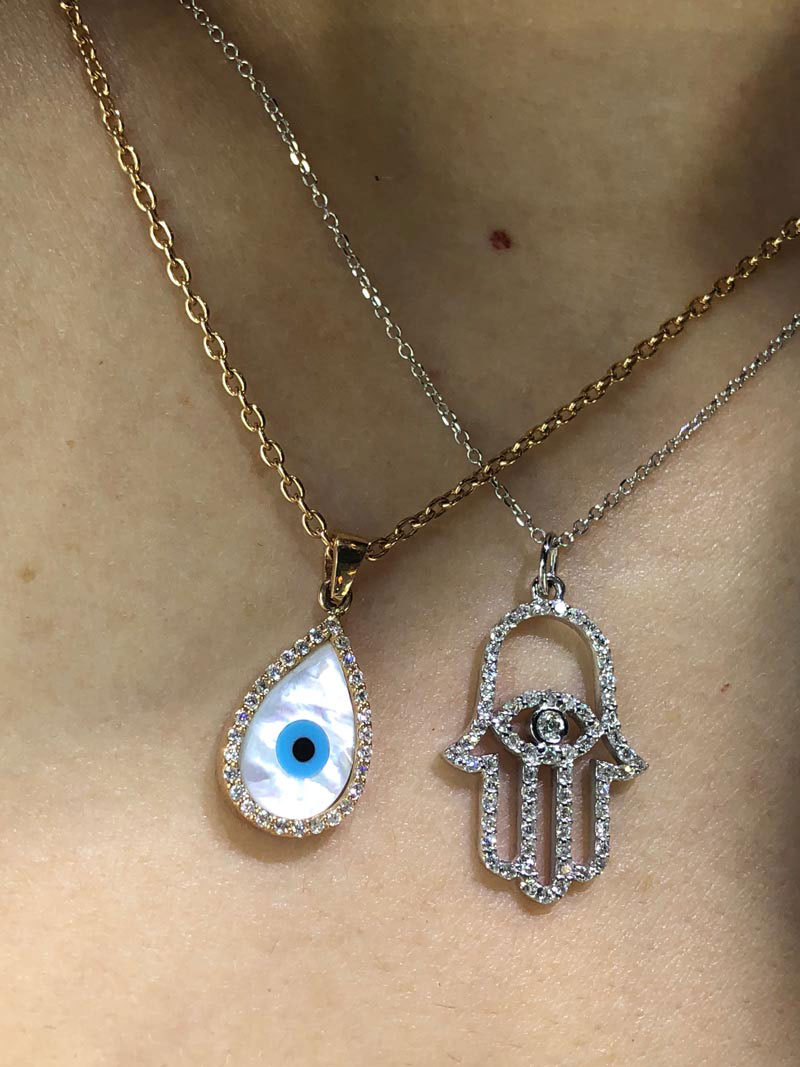 Ring
4. Diamond Eternity Ring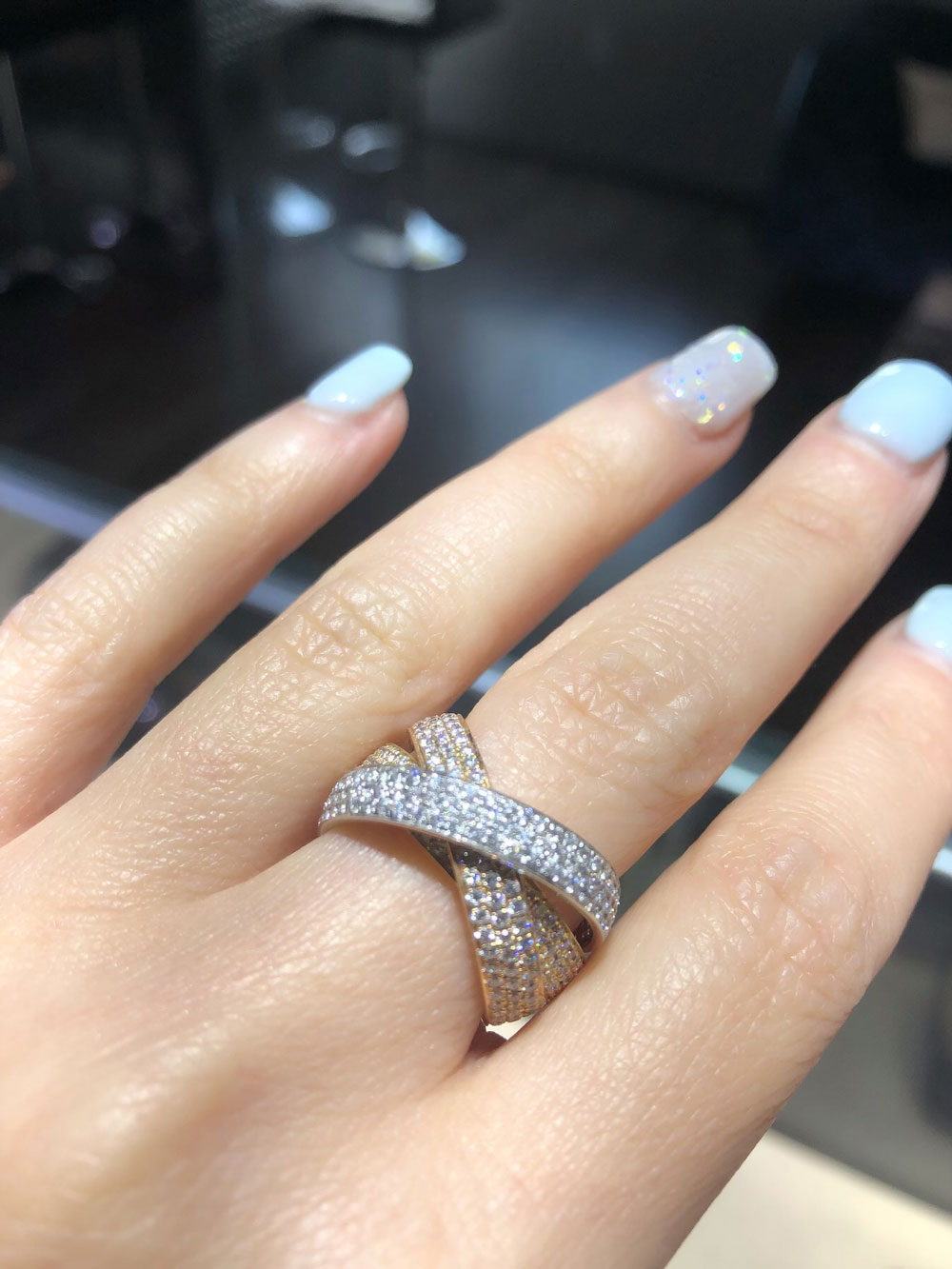 Diamond eternity rings are a timeless style that complements a woman beautifully.
They are made from precious metals and set with a complete loop of diamonds.
We absolutely love diamond eternity rings, and like the mixed metal ring stacked look. You can choose diamonds set in platinum, white gold, yellow gold or red gold.
Diamond eternity rings are pure sparkle and the ultimate symbol of love.
Typically these are given to women as a gift, but these days women are taking things into their own hands and buying themselves stacks of eternity rings so they can create the very on-trend diamond ring stack look.
Platinum 3.8ctw Round Cut Diamond Eternity Band
Bracelets/Bangles
5. Diamond Tennis Bracelet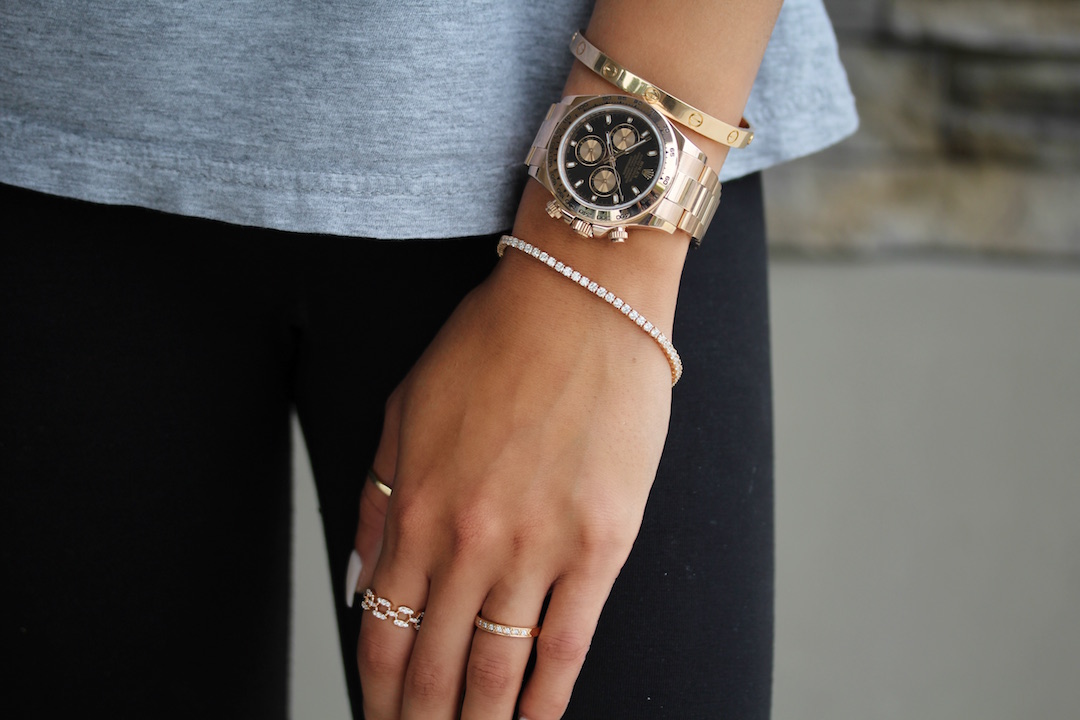 Tennis bracelets have been worn by elite women for a very long time.
They are bracelets with striking diamonds linked together on a narrow chain.
The most classic diamond shape for tennis bracelets are round brilliant diamonds, but you can get tennis bracelets with diamonds of all different kinds of shapes and cuts. You can even mix diamond shapes on your tennis bracelet.
Tennis bracelets are one of the more expensive items on this list, but at some point in a woman's life, she should own this lavish, stunning piece of jewelry. It's the perfect boujee piece of jewelry that plays very well with other jewelry and watches. Moreover, it will take any outfit to the next level. The only thing you need to worry about is other woman being jealous, because again, this is not something every woman can afford to have wrapped around their wrists.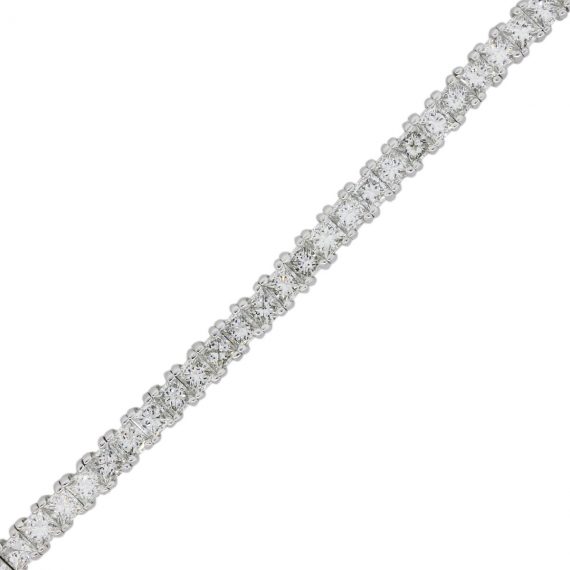 18k White Gold 10.25ctw Princess Cut Diamond Tennis Bracelet
Timepiece
6. Luxury Watch with Diamonds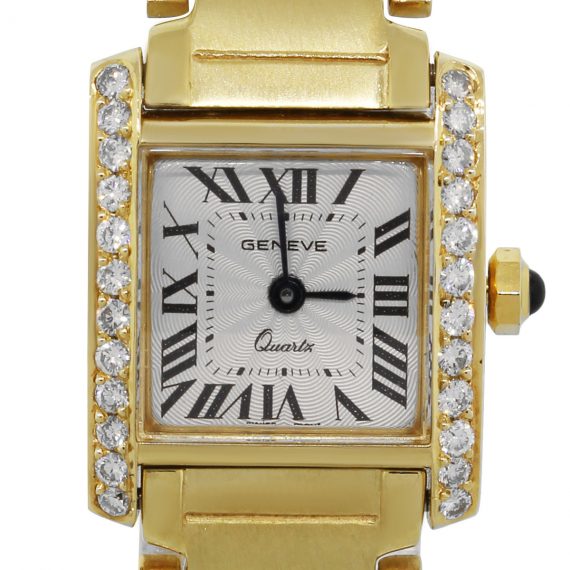 A watch is an everyday wear that works with cozy sweaters to tiny bikinis. It is more than a piece of jewelry, it is a tool.
They provide a look of sophistication and confidence, while also making it clear to people (and yourself) that the wearer is organized.
There are so many different styles of women's watches out there. Moreover, nowadays, men's watches are on the table for women too. This is one of the biggest trends of the decade. Women are going out in men's watches like it's nobody's business…and it is nobody's business, but most importantly, it looks fantastic. This is a trend that we love and appreciate.
Now, when it comes to diamonds, a woman with a diamond-studded watch, whether simple like diamonds hour indexes or lavish like a full pave diamond watch, will never look "extra". Diamonds are a girls best friend so it's only natural that she's covered in them. It's hard for men to pull off the diamond watch look, but any woman can do it with ease.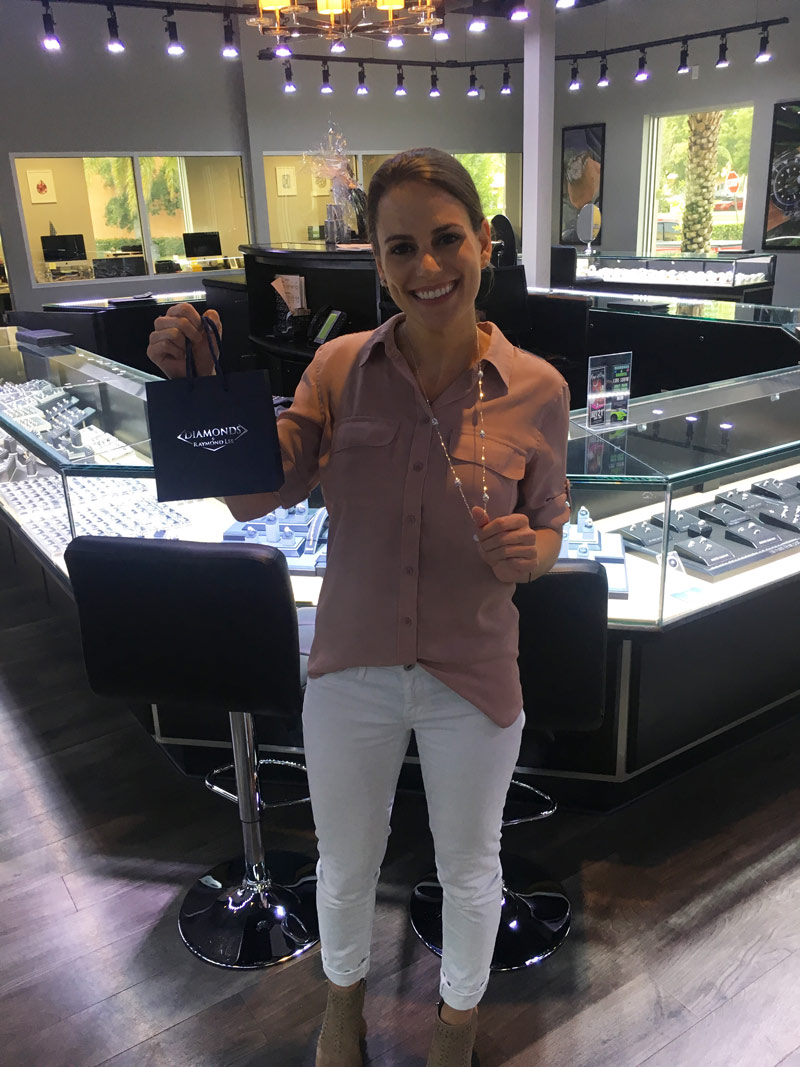 HOT TRENDS
There are three trends we want to touch on: stacking jewelry, statement pieces, colored stones.
Stacking
Right now, stacking jewelry is extremely vogue. Stacking rings, necklaces, bracelets, and even earrings is the look.
When it comes to stacking rings, you can mix metals, use multiple rings on one finger and/or multiple fingers, you can use rings of different shape and symmetry…the options are limitless and completely up to you. Stacking is all about being unique and telling your own story through your jewelry.
Stacking necklaces is another very common practice among modern women. The messy look is in, big time. Wearing necklaces of different lengths, multiple pendants on different chain necklaces, classic chain necklaces, rope necklaces with a choker. Again, the options are endless and the choice is yours and yours alone. Express yourself.
The same goes for bracelets and earrings. Bracelets are an easy stack. Just throw on your favorite bracelets…or if you are more of a strategic kind of woman, then be strategic. Here is an article we wrote on stacking one of our favorite bracelets, the Cartier Love Bracelet. By the way, watches are a staple in a bracelet stack. So don't be afraid to stack your bracelets on your watch wrist.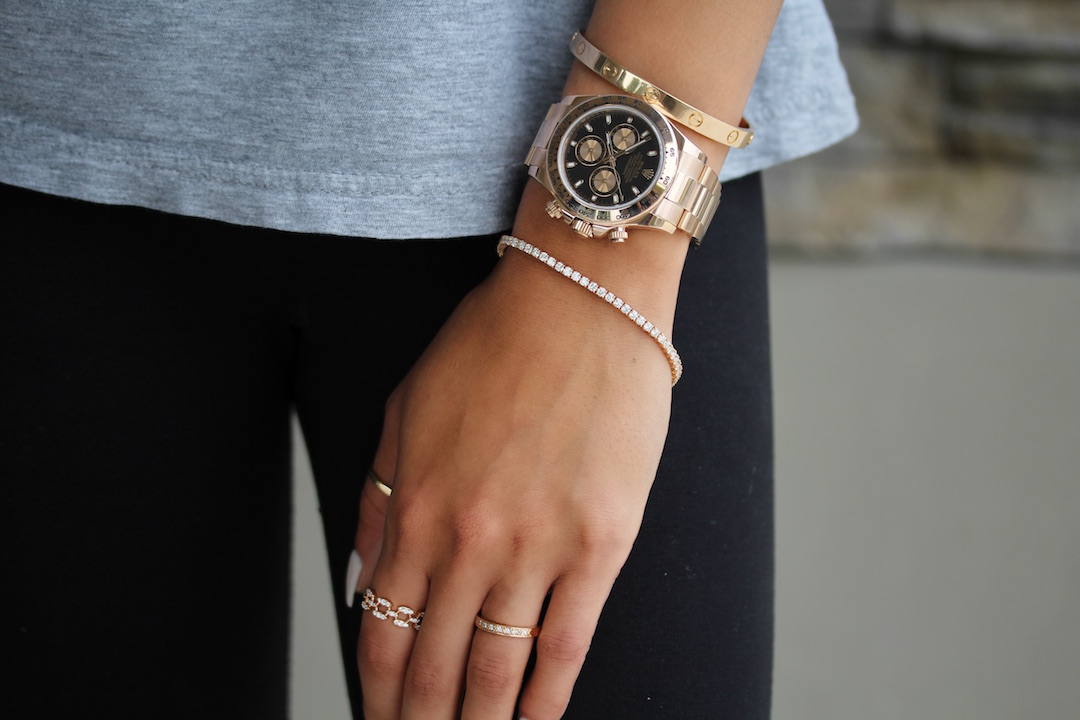 Color Diamonds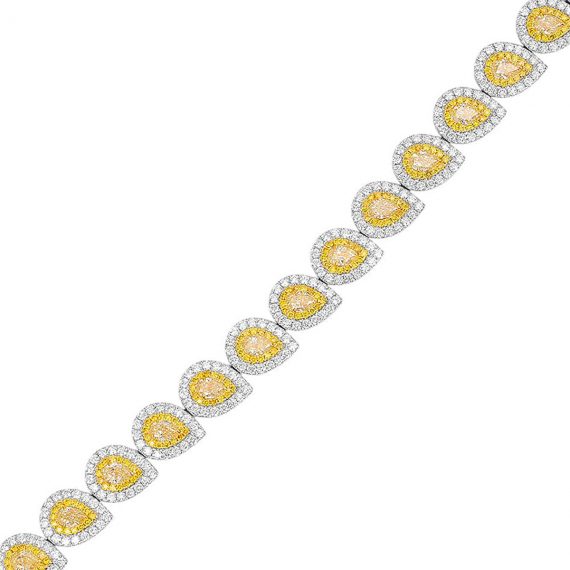 Although pure white diamonds are and probably always will be supreme in the world of diamonds, colored diamonds are getting a lot of love in the fashion jewelry industry. Women are rocking sunny canary yellow stones, delicious looking chocolate gems, striking black diamonds, and even more unique colors like blue and pink diamonds.
These colored diamonds are known as fancy diamonds, and the demand for them has been steadily increasing over the years. Fancy diamonds come in many palettes of shades, such as browns and yellows to very rare pinks, blues, greens, and even reds. The rarer colors will be more expensive than white diamonds, the yellows and browns will be cheaper, on average. But of course, the 4cs applies to any diamond to determine its price.
So, the point is, don't be afraid to show more personality by getting some fancy colored diamond jewelry. You will surely catch the eyes of any passerby.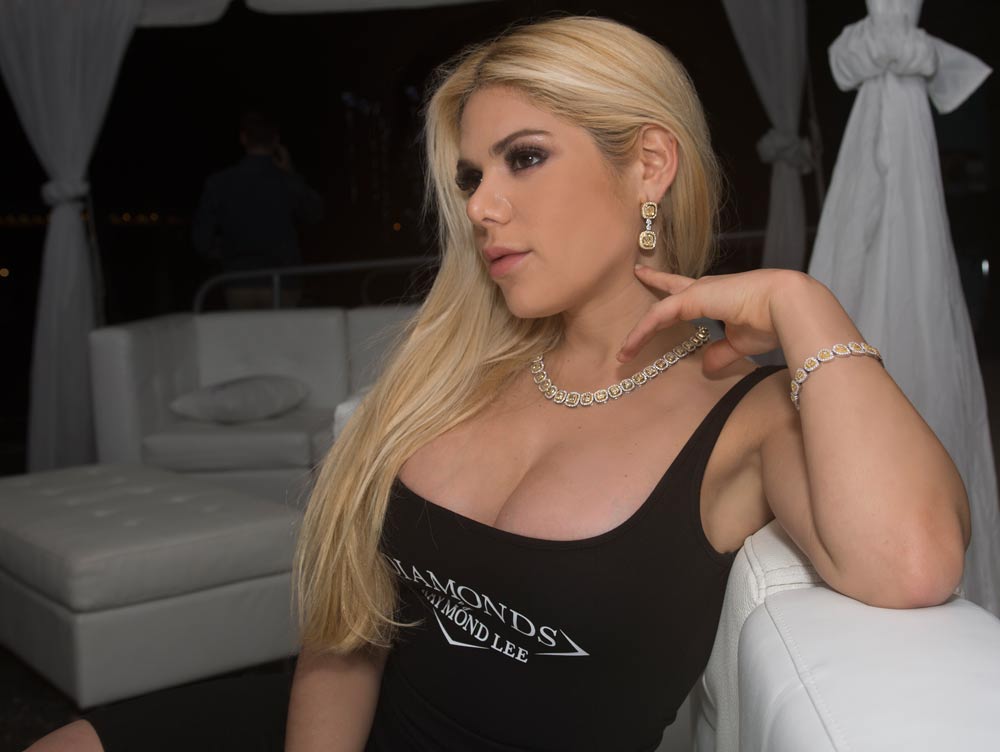 Statement Piece
Every woman should own a statement piece of jewelry, whether it is a….
statement ring…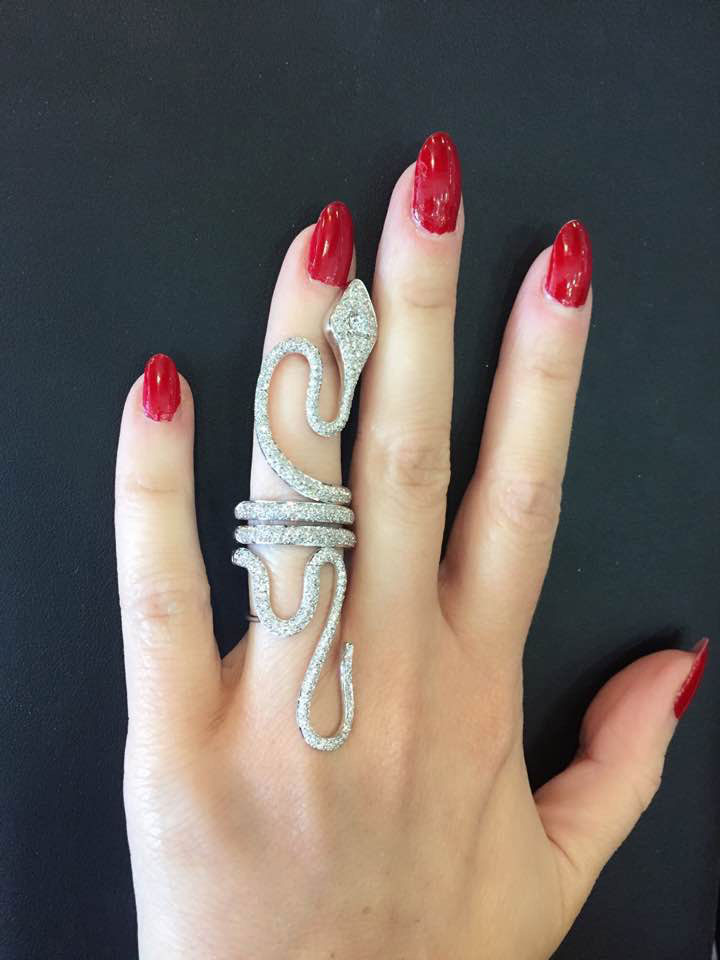 or a statement necklace….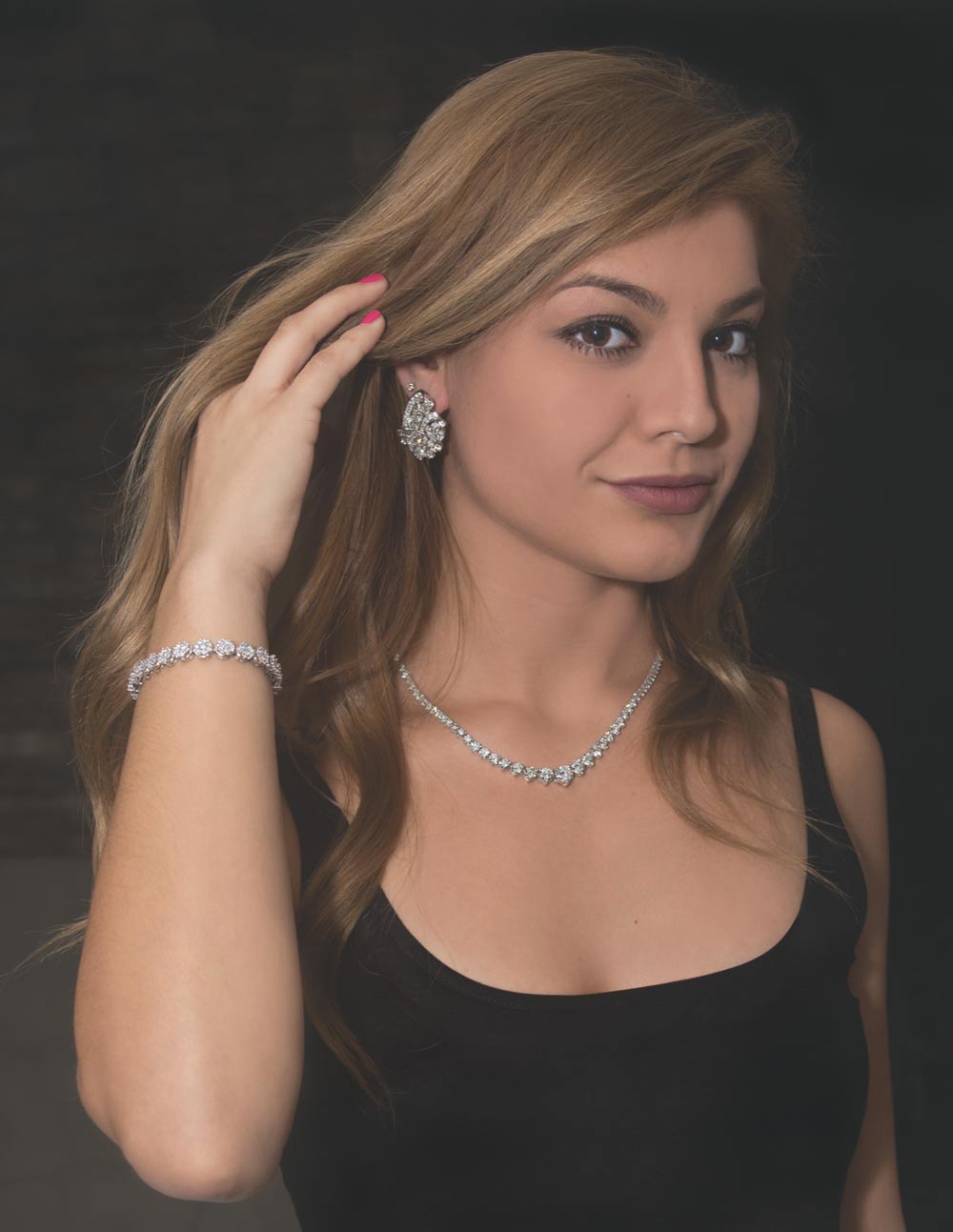 or statement earrings…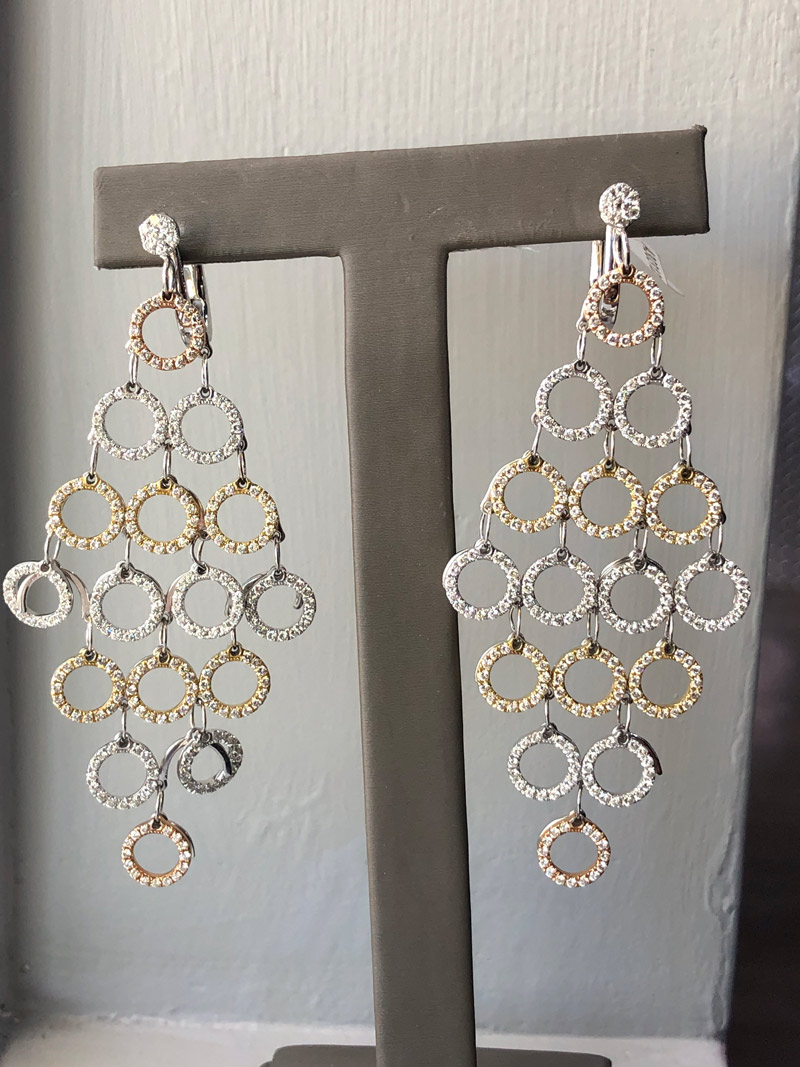 or all three, the world is yours, so make a statement and leave your mark.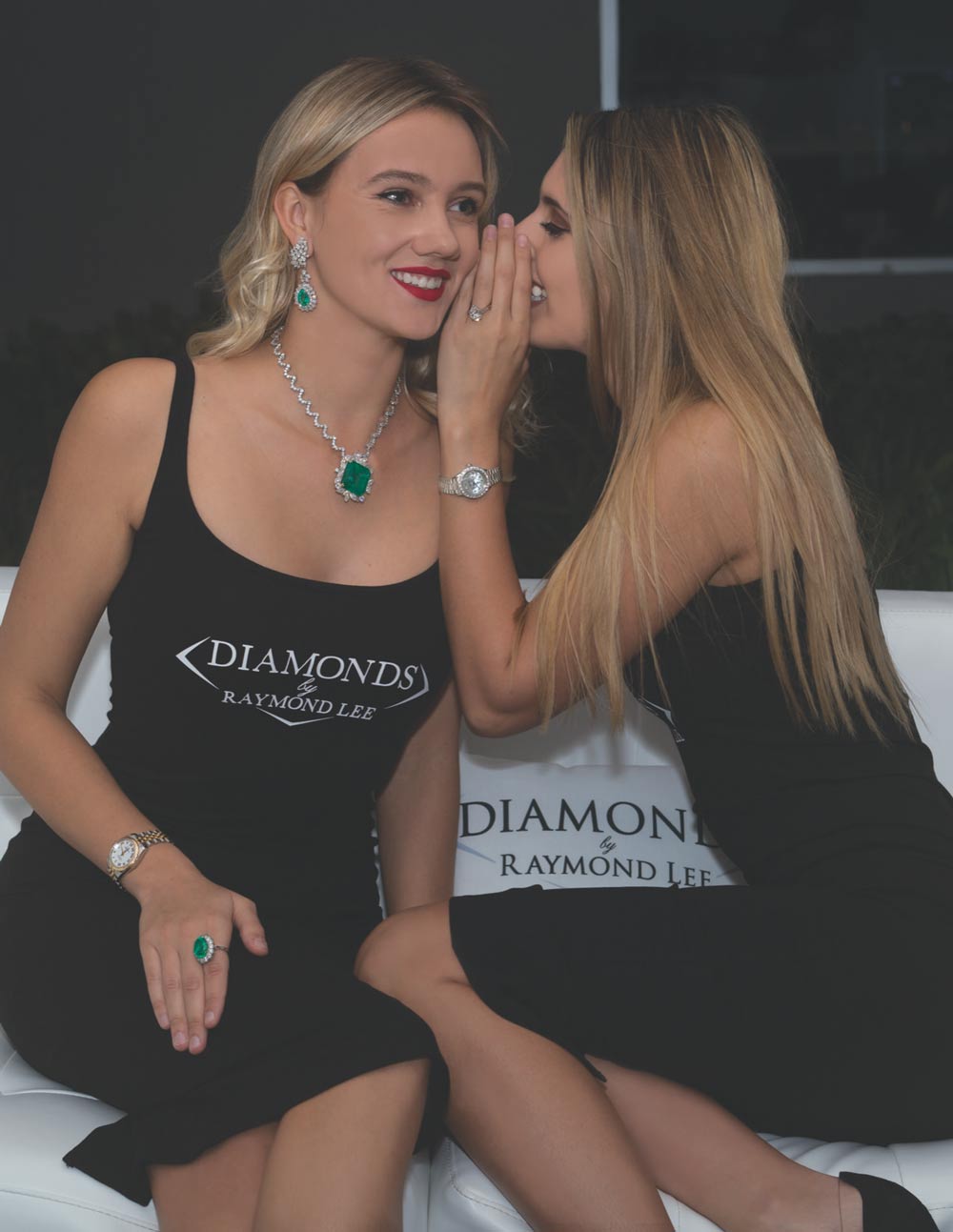 Statement pieces are great for special events and even everyday outings. They will turn heads and spark conversations. The bolder you are, the more confident you appear.
So, if you can, get a statement piece that suits your personality and style. You won't regret it, especially one full of diamonds. You may be flashy, but you will always remain elegant with diamond statement jewelry.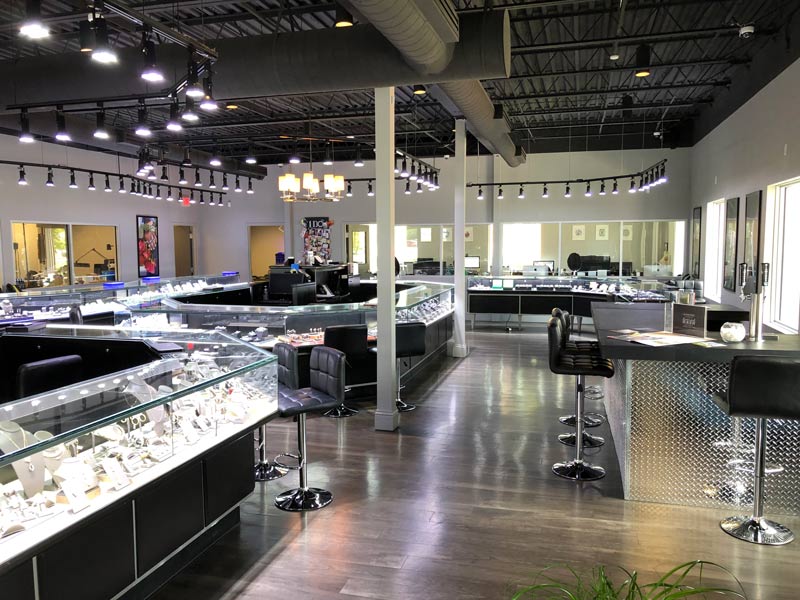 Build Your Timeless Jewelry Collection Now
You may already have a few things on this list, but for those you don't and those you want, you can shop Diamonds by Raymond Lee and Raymond Lee Jewelers for all your classic jewelry needs.
We offer the most competitive pricing for the highest quality diamond jewelry in South Florida.
Shop Raymond Lee Jewelers (pre-owned)
Unfortunately, not every woman (or man) can afford to have all of these. Therefore, you can pick and choose your favorite and add to your collection over time. Start with the piece that you will want to wear every day. that way you will get the most value from it. In any case, don't overthink it. Just get the one that speaks to you.
These are all timeless pieces of jewelry so they will be as hot in 2029 as they are today in 2019. They are diamond jewelry after all and we are Diamonds by Raymond Lee, so diamonds and jewelry are what we do and what we know best. We've been in the industry for over 30 years so we are confident that what you see from us is top of the line in both fashion and quality.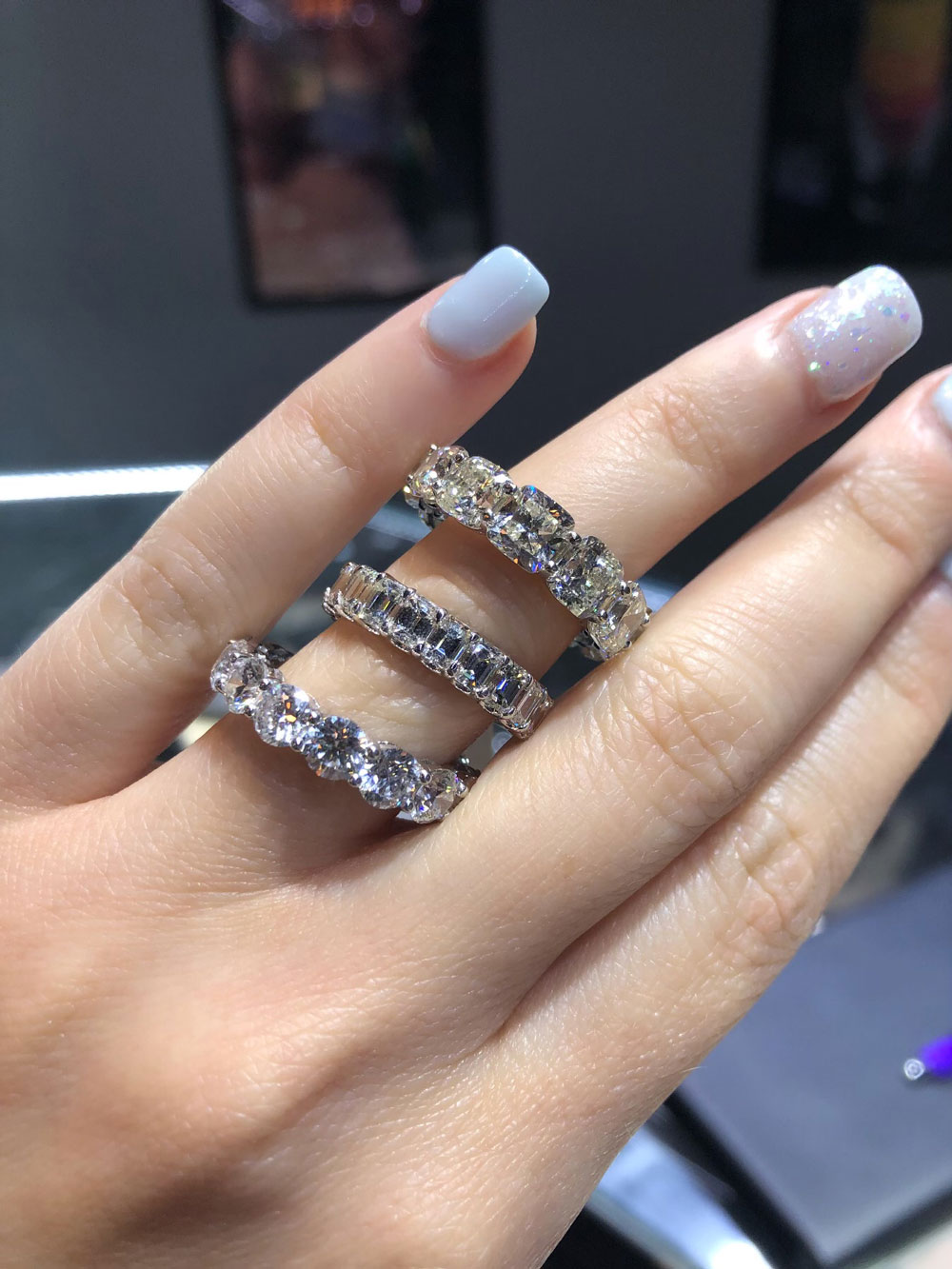 About us – Diamonds By Raymond Lee 
Diamonds by Raymond Lee and Raymond Lee Jewelers have been serving Boca Raton and South Florida's insatiable need for diamonds for over 30 years. Our team of diamond advisers is dedicated to assisting you in selecting the perfect engagement ring.
Our vision has always been to forge a unique, professional, and intimate vibe. We offer a shopping experience that works for all generations. We especially know what the modern jewelry buyer wants; and we keep traditions that never fade intact, such as sensibility, artistry, and craftsmanship. Furthermore, our prices are super competitive and the quality we provide is unparalleled for the price you pay.
There's a reason why Diamonds by Raymond Lee has been noted as South Florida's best diamond engagement ring retailer since 2016.
If you live in Boca Raton, please feel free to drop by our showroom anytime!
Diamond By Raymond Lee's Showroom in Boca Raton, Florida:
2801 N Federal Hwy, Boca Raton, FL 33431
Our hours of operation are:
Monday-Friday – 11 am to 7 pm
Saturday – 10 am to 5 pm
Sunday – 12 pm to 5 pm
Feel free to contact us if you have any questions.