Are you looking for some Cartier Love Bracelet Stack inspiration? Stacking Cartier Love bracelets makes for a stunning look. We are here to offer you some tips for stacking your Love bracelets together, as well as with other bracelets, cuffs, and watches.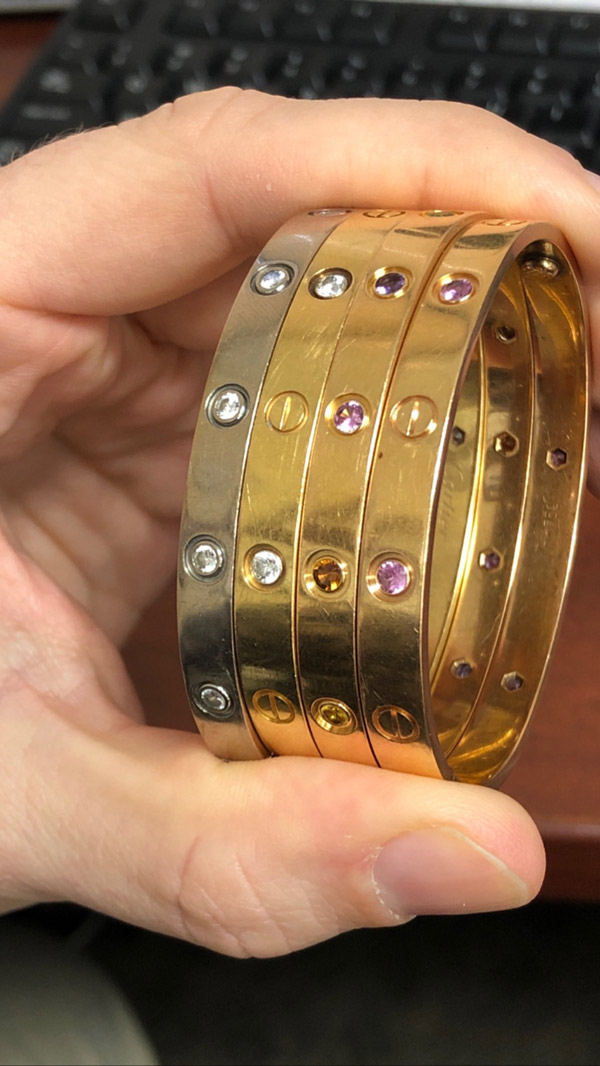 The Cartier Love Bracelet Story
In 1969, jewelry designer Aldo Cipullo created the Cartier Love Bracelet. His vision behind the creation was one of traditional romance, elegance and security. He wanted to make a bracelet that a man could give his loved one, that symbolized enduring commitment and everlasting love.
He did this by making the bracelet like a sort of lock for the wearer's wrist. By gifting this to your significant other, you are saying you are mine forever and we are locked in love.
Cipullo took inspiration from ancient cultures and was greatly influenced by the medieval chastity belt. His thinking was when you wear this bracelet, you are mine and mine only, and the giver of the bracelet is the only one with the key to the lock. It may sound a bit strange, but the meaning behind it had an undeniably romantic essence.
He was completely right.
50 years later, women are still coveting the Love bracelet and it is by far one of the most popular pieces of jewelry to ever exist.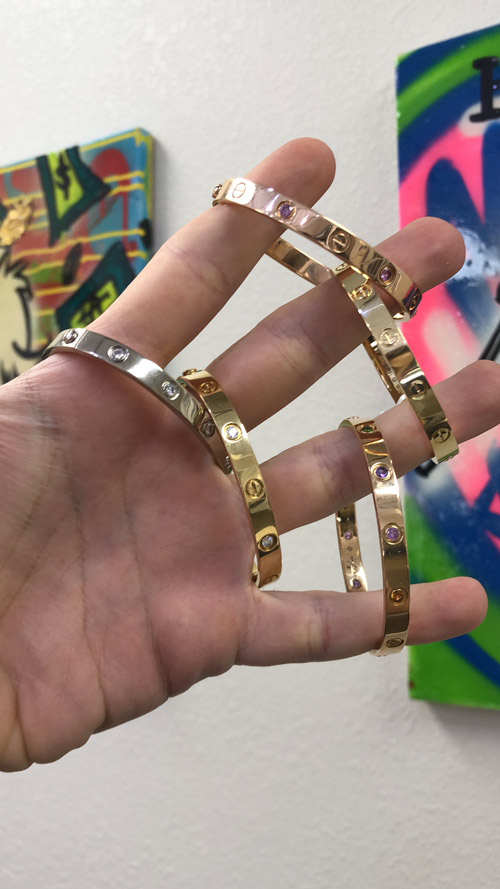 Carter Love Bracelets – Locked in Love
The Love bracelet is set onto the wrist by two pieces, then secured with a small screwdriver. It is to be worn "till death do us part". The screwdriver, which comes with the purchase of the Love bracelet, can be worn as a unisex necklace. So the giver or the wearer always has the ability to open the bracelet's lock.
Beyond it being a symbolic jewelry piece, it is utterly stylish and chic. Women can wear the Love bracelet dressed up or down, and always have that sense of elitism. It's a sophisticated piece made of high-quality materials. So it's no wonder people are so drawn to it.
The Love bracelet comes in a few variations:
Cartier Love Bracelet and the Cartier Love Bracelet small model. The small is not as wide as the regular Love bracelet. Both bracelets come in 18K white gold, yellow gold and pink gold, and they have the option of being diamond studded.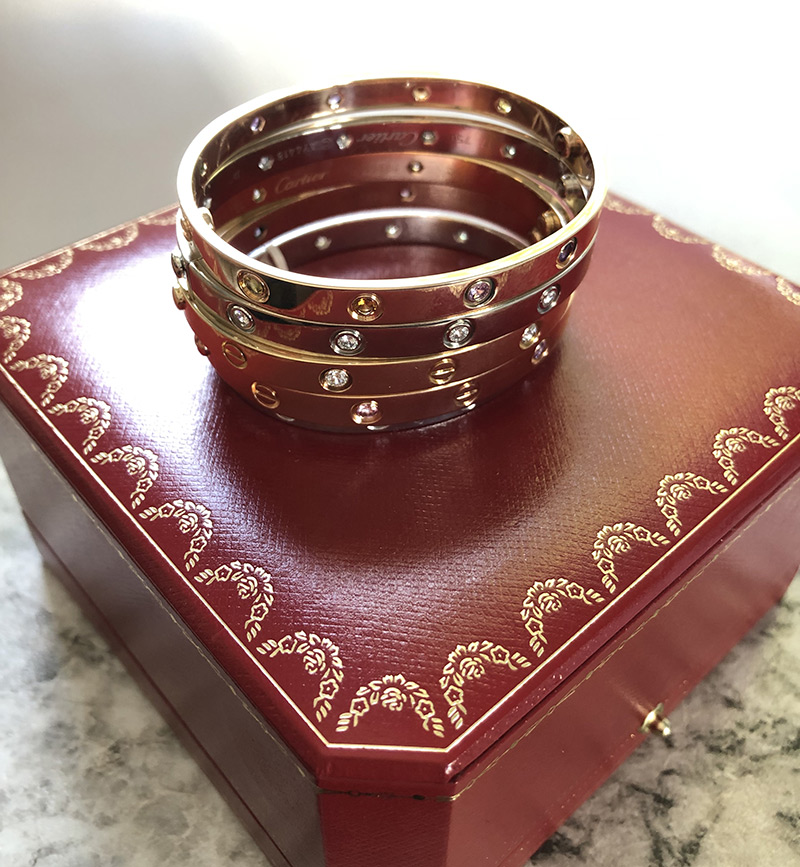 Love Bracelets & Celebrities
Cartier made a brilliant marketing move by presenting 25 Love bracelets to the world's most famous couples at the time of its release, such as Elizabeth Taylor and Richard Burton, the Duke and Duchess of Windsor, Nancy and Frank Sinatra.
Till this day, Cartier Love bracelets are a favorite among celebrities. Some notable celebrities who are often seen wearing Love bracelets are Cameron Diaz, Angelina Jolie, Lindsay Lohan, Eva Mendes, Mila Kunis, Jennifer Aniston, and more.
And guess what?
Many of these celebrities stack their Cartier Love bracelets with other arm candy, such as cuffs, bangles, tennis bracelets and watches.
So, to the point of this post…Let's discuss some important tips for stacking your Cartier Love bracelets.
TIPS For Stacking Cartier Love Bracelets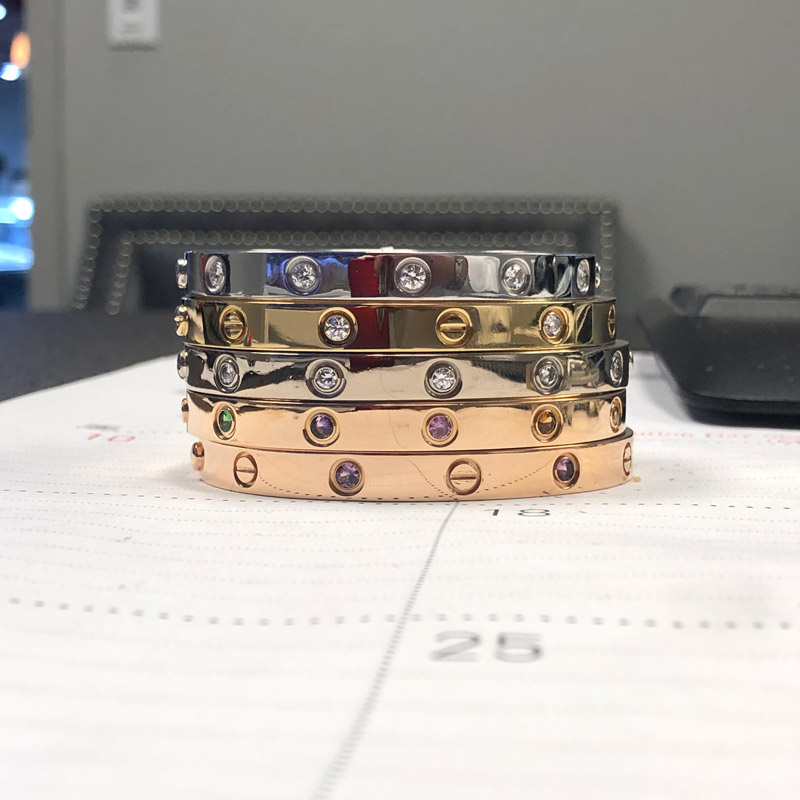 There are many ways that you can go about stacking your Cartier Love bracelets.
Are you ready to arm yourself with everything you need to know?
One of the best ways to stack your arm is with multiple Love bracelets. It's perfectly fashionable to mix your metals. So do it with a nonchalant attitude and never think twice. Trust us, mixing metals is hot.
Let's say you have two yellow gold Love bracelets (one diamond studded, one not), a white gold love Bracelet and a pink gold love bracelet…Can you wear all of them at once?
Absolutely!
What order should I stack my Love bracelets?
You can wear them in any order you want! Don't over think it. However, if you are the type to put more thought behind these kinds of things, then we recommend you stack them like the picture below.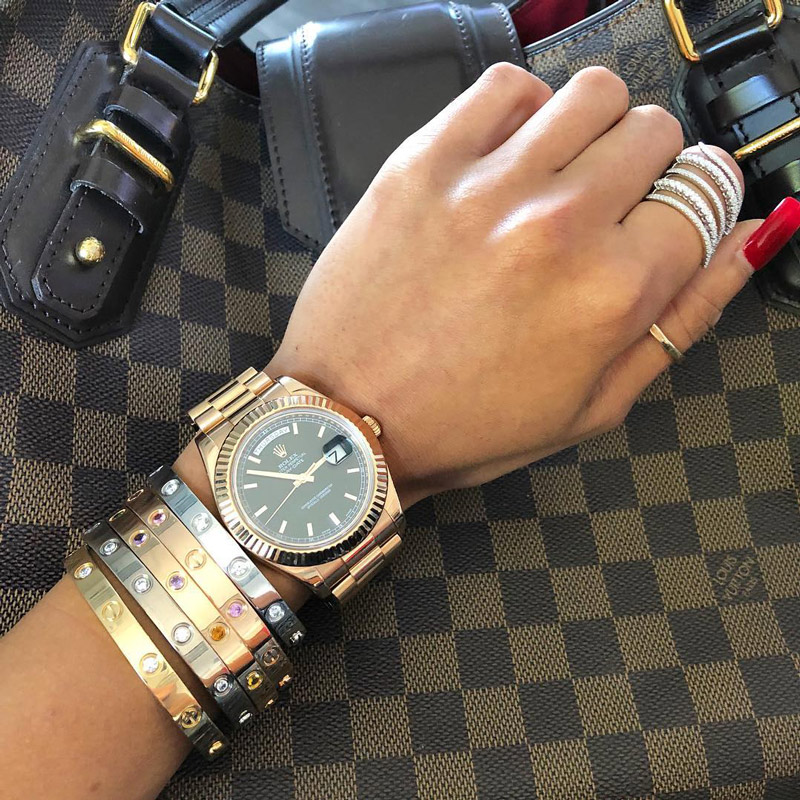 You see how we put the two pink gold Love bracelets together in the middle, and the white gold ones on both sides with a yellow gold at the bottom…it makes for a stunningly cohesive appearance. We didn't put much thought behind it. It's easy to make a cohesive look like this.
What types of metals should I mix for my Love bracelet stack?
You can stack all three precious metals. We actually prefer to stack all three. You can't deny that it screams sophistication…in a lavish kind of way.
However, if you can only get (or you only have) two types of metals, we really like the look of yellow gold and white gold OR pink gold and white gold. The contrast is really gorgeous.
How many Love bracelets should you stack together?
There's no maximum number, but stacking all the way up to your elbow will probably be uncomfortable. We've seen that more than once, though. Many women like to go crazy with their stacks. They pull it off.
Even though just one love bracelet looks good. We think 2, 3 or 4 love bracelet stacks look more impressive.
If you are looking for MAX appeal, we like the odd number of 5. Stacking 5 Love bracelets makes your arm look full, but not too full, and it's really eye-catching.
Changing the diamonds in your Love bracelet.
If you want to make each Love bracelet in your stack unique, you can go to a jeweler – like us, Diamonds by Raymond Lee – to have them replace the clear diamonds in your Love bracelet with either a fancy colored diamond or another type of gemstone.
As you can see in our stack, we swapped the clear diamonds for pink fancy diamonds in a couple of our Love bracelets. This special touch makes the stack pop even more.
Iced out Love bracelets.
A non-diamond Love bracelet goes sublimely well with an iced out Love bracelet. If you can make a stack with these kinds of combos, you and everyone who sees your wrist will be in love with your stack.
Cartier Love Bracelets regular and small.
Mix in some Cartier Love Small Model bracelets. This is one of our favorite ways to stack. Just like mixing metals, mixing sizes makes for a great look. There's so much beauty in asymmetry. Just look around at the world for clear proof of this.
Tips for Stacking other Cartier jewelry with your Love bracelet(s)
Have your eyes on some other Cartier bracelets? Don't hesitate to stack them with your Love bracelet. Thanks to Cartier's diverse collections, you have many options to suit your own personality. Our favorite bracelet collections, besides the Love collection, are Trinity, Juste Un Clou, Panthere De Cartier, Etincelle De Cartier and Clash De Cartier. This is a great way to differentiate your style from others, and it looks outstanding when you have different texture metals stacked together.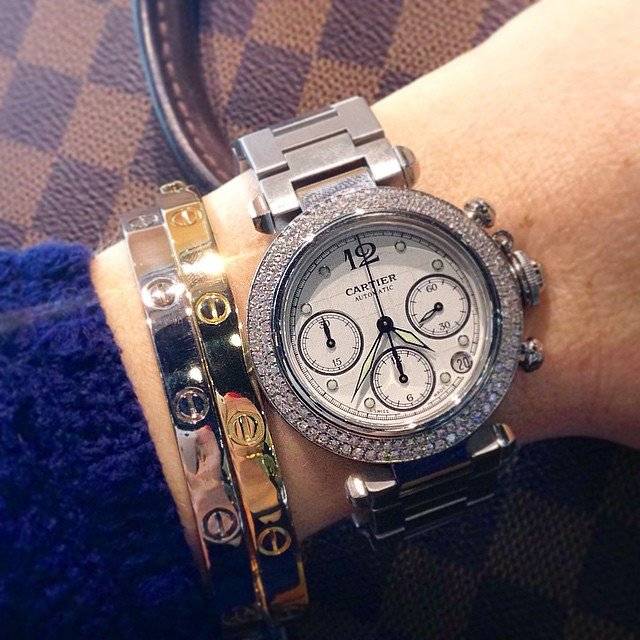 Tips for Stacking Cartier Love bracelets with non-Cartier jewelry
Is this acceptable? Of course!
You are probably seeing a common theme here. Everything is acceptable, so long as you think it looks good. That's the beauty of stacking. It's done to show individuality and creativity.
We like to stack vintage jewelry pieces from the Victorian era with our Love bangles.
Vintage pieces
Styles like wrap around swords and daggers, serpents and other animal and nature motifs really spices your stack up. A few Love bangles and a vintage piece makes for a completely chic look.

14K YELLOW GOLD BLUE SAPPHIRE PEARL FLOWER LINK BRACELET
Add color
Colorful precious gems like rubies, emeralds and sapphires look exquisite stacked with the elegance of the Love bracelet. Don't be afraid of color. Just like mixing metals, mixing colors is where it's at these days.
Tennis Bracelets
Bring back the tennis bracelets! Tennis bracelets are perfect for stacking. Especially tennis bracelets with some color. Fancy yellow and pink diamond tennis bracelets with fancy diamond shapes are back and better for stacking than ever.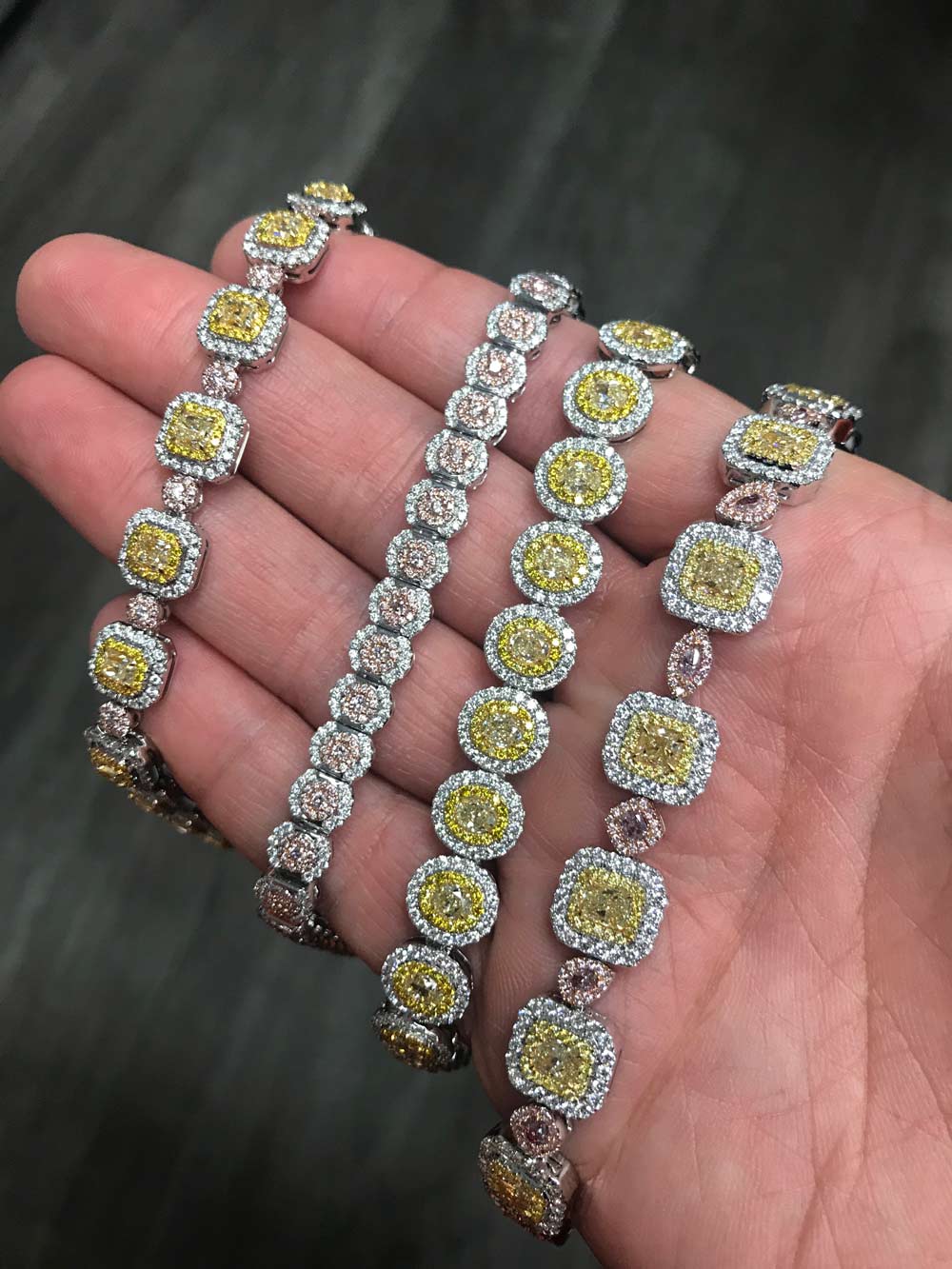 18K WHITE GOLD 5.62CTW FANCY LIGHT CUSHION CUT DIAMOND TENNIS BRACELET
Other designers
If you have other bracelets from your favorite designers, mix them in too. It's hard to choose between the top designers that we love, so why not wear multiple pieces from different designers…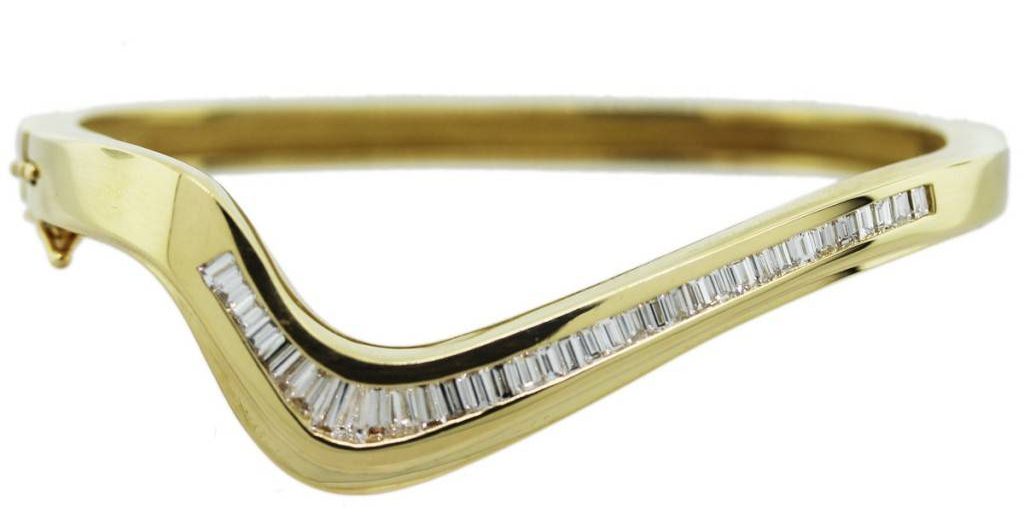 18K YELLOW GOLD DIAMOND BANGLE BRACELET
Custom bracelets
Customize a bracelet like the one below and add it to your stack.
At Diamonds by Raymond Lee, we do custom jewelry design.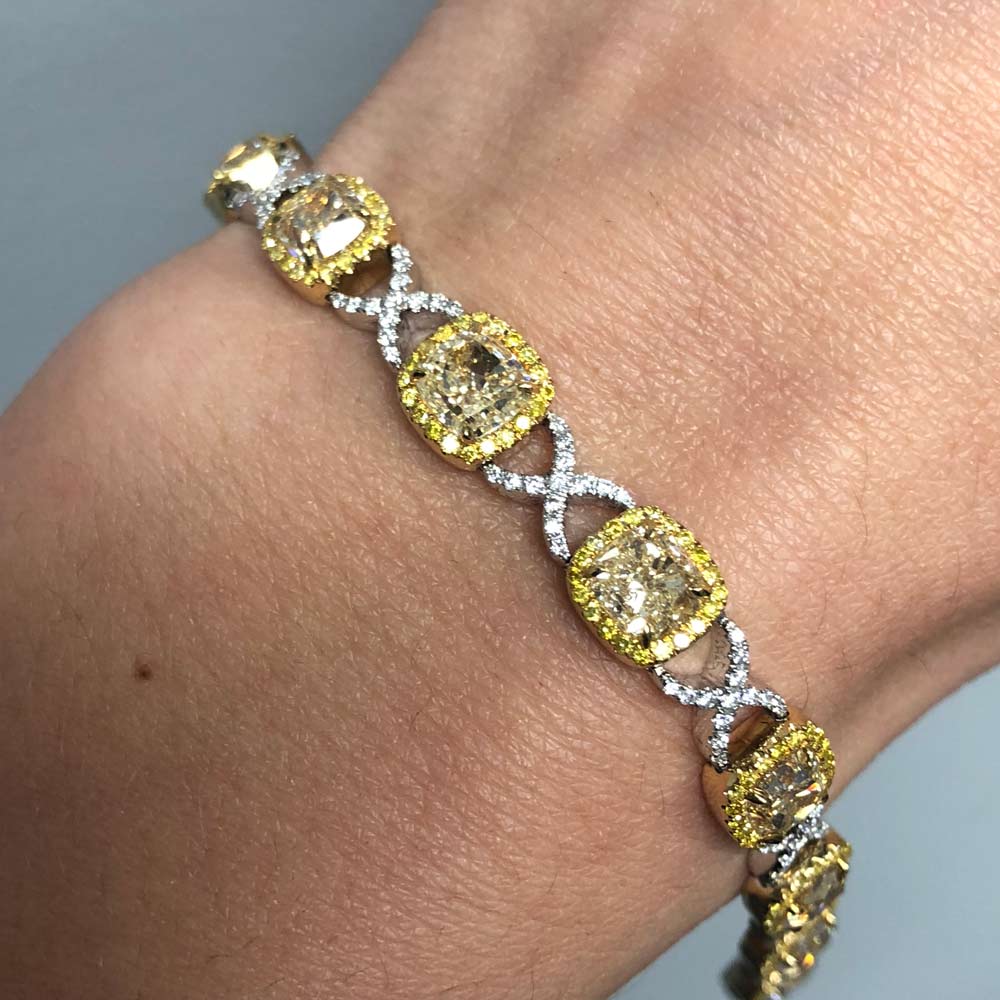 Tips for stacking Love bracelets with Watches
Can you wear a watch and a bracelet on the same wrist?
With all of the above stack styles and ideas, you can't ever go wrong with the addition of a luxury watch. In our minds, this is how you complete a stack. So the answer is an unequivocal yes.
Have a look at a Cartier Love bracelet stack with a Rolex watch. Have you seen anything more magnificent?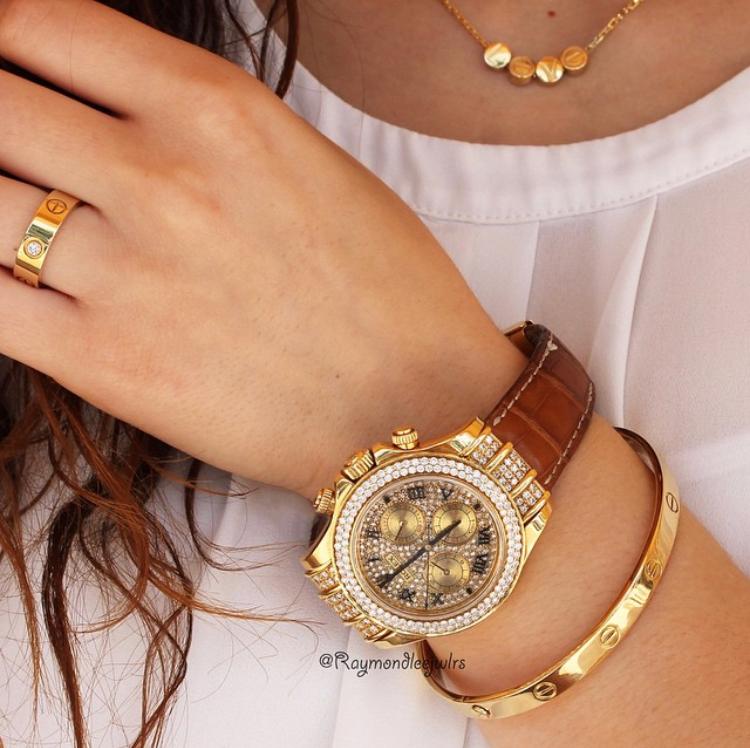 A watch of the same color as the primary color of your bracelet stack will be best. As you see, we used a yellow gold Rolex with a yellow gold Love bracelet. This is not a rule, but it makes for a flush look.
Things to consider:
There are common suggestions for stacking watches with bracelets. They are simply suggestions for what people think looks best, but you should always go for what you like.
Match the material of the bracelet to your watch. So for Love bracelets, a watch made of metal is best.
Consider the strap. If you have a leather strap, you can add some other non-metal material to your stack to make for a smoother appearance.
Colorful watch? Add some color to your bracelet stack.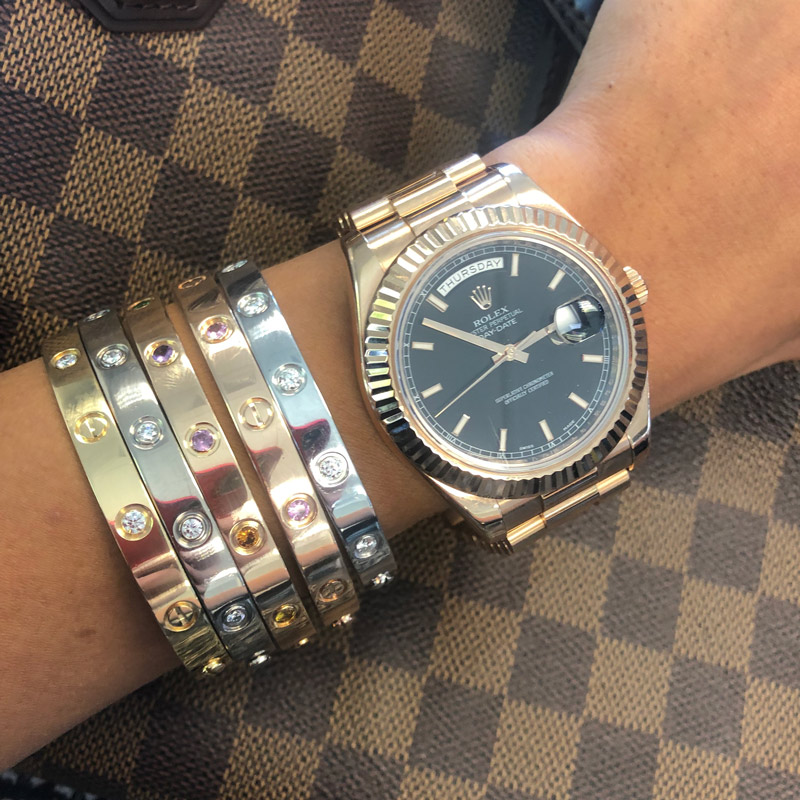 Use the watch as an anchor.
Put your Love bracelets on first, then a watch, and top it off with a tennis bracelet and/or a sentimental bracelet that you love…or another Cartier bracelet from a different collection and designer.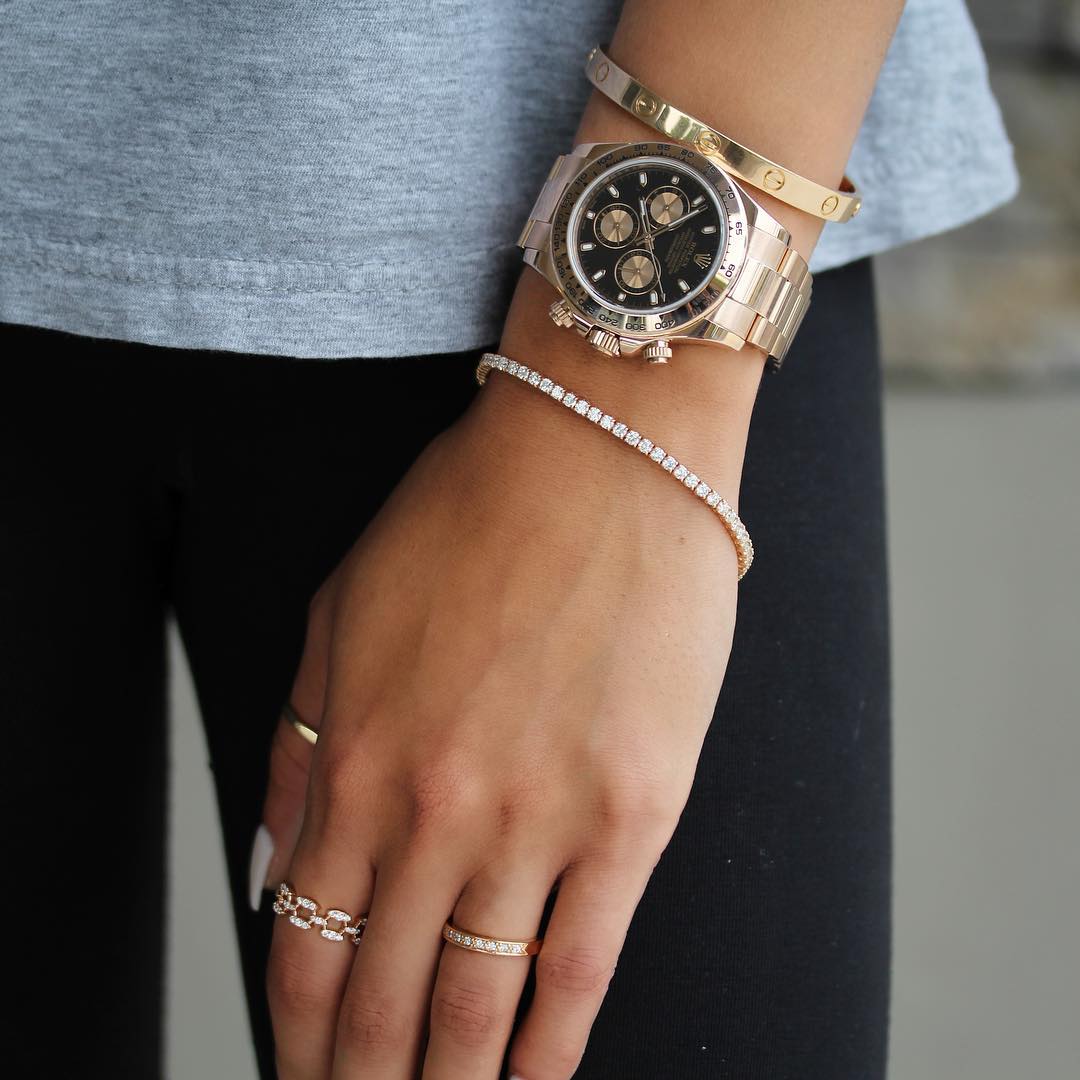 Messy is in. So don't worry if your stack looks busy. If you like that, go for it.
That being said, a simple single Love bracelet and watch combo is clean, minimal and looks great and well put together. Additional bracelets only add to the sharpness of the stack. However, the more bracelets you wear, the less the watch will be the center of attention. So keep that in mind.
TLDR – Top Tips for a Love Bracelet Stack:
Mix different metals. Different metal hues combine well and make for a cohesive look. It's super easy.
Mix different widths, textures and colors into your stack.
Add in bracelets and charms with sentimental value. We all have a sentimental jewelry piece. Wear it and express what's in your heart!
Use a watch as an anchor to make your own stylish statement.
FAQ about stacking bracelets
Should I worry about scratches or damaging the bracelet from stacking/layering?
First, the only way to not scratch a gold bracelet is to not wear it. You pay a lot for a Love bracelet, so just enjoy it, scratches and all. They make it unique and truly YOURS.
Second, stacking bracelets won't damage them, they may get some light scratches. The same thing will happen to your bracelet even if you just wear one. Your wrists are often rubbing or brushing on things, so it's normal. No one will care or notice. Especially when you have such a badass Love Stack.
Which wrist should you wear a Love bracelet stack on?
Ideally, you would stack your non-dominant hand. So if you are right-handed, stack your left. If you are left-handed, stack your right. Again, stacks look great with a watch so don't feel like you can't stack the same wrist.
Closing note:
Now that you know how simple stacking Love bracelets is, go and stack to your heart's desire. If you want any help creating your stacked bracelet look, don't hesitate to contact us. Diamonds by Raymond Lee is more than happy to help.
Want to buy Cartier Love bracelets? Contact us – We also customize bracelets!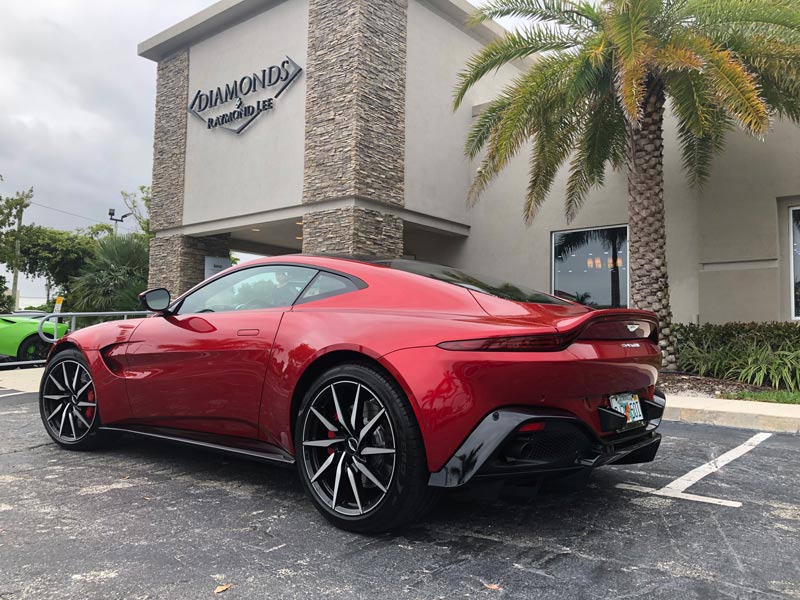 About us – Diamonds by Raymond Lee
Diamonds by Raymond Lee has been serving Boca Raton and South Florida's insatiable need for diamonds and luxury jewelry for over 30 years. Our team of expert advisers are dedicated to assisting you in selecting the perfect jewelry.
Our vision has always been to forge a unique, professional, and intimate vibe. We offer a shopping experience that works for all generations. We especially know what the modern jewelry buyer wants; and we keep traditions that never fade intact, such as sensibility, artistry, and craftsmanship. Furthermore, our prices are super competitive and the quality we provide is unparalleled for the price you pay.
If you live in Boca Raton, please feel free to drop by our showroom anytime! You can also shop with us online.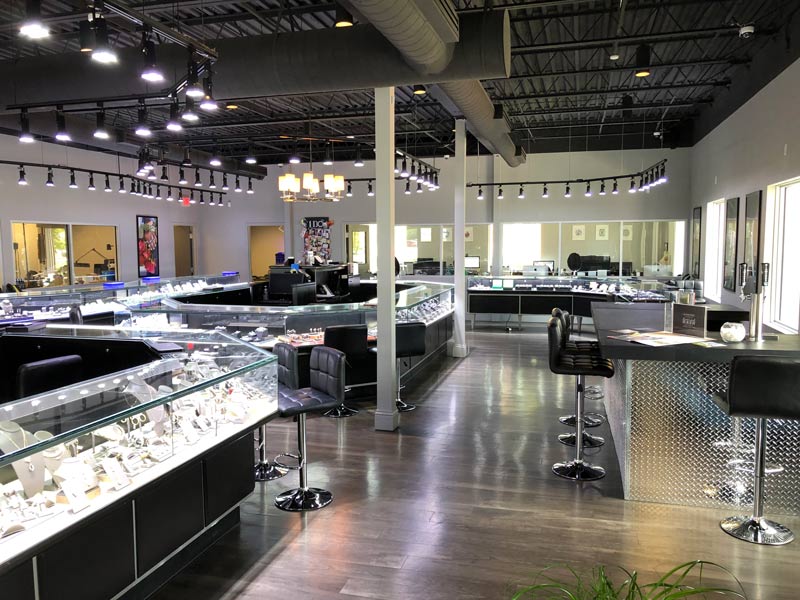 Diamond By Raymond Lee's Showroom in Boca Raton, Florida:
2801 N Federal Hwy, Boca Raton, FL 33431
Our hours of operation are:
Monday-Friday – 11 am to 7 pm
Saturday – 10 am to 5 pm
Sunday – 12 pm to 5 pm
Feel free to contact us if you have any questions.