Have questions about Cartier LOVE bracelets? Here are the most frequently asked questions regarding Cartier LOVE bracelets – Size, Weight, Value, Authentication, Story, and more…
Cartier Love bangles have always been a huge topic of interest for our blog readers and customers alike. Raymond Lee Jewelers established a reputation for selling authentic used Love bracelets for less than retail at the height of the Love Bangle craze. Though it seems this signature Cartier piece has withstood the test of time since its retro resurrection – it's still considered a jewelry wardrobe staple.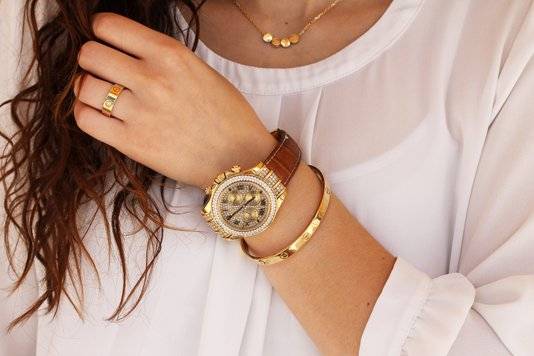 Top 5 FAQ About Cartier LOVE Bracelets
And we still buy and sell Cartier Love bracelets – the real deal only – and we still field questions pretty much daily about this iconic piece. However, there are some that recur more often than others, and we want to chat about those today!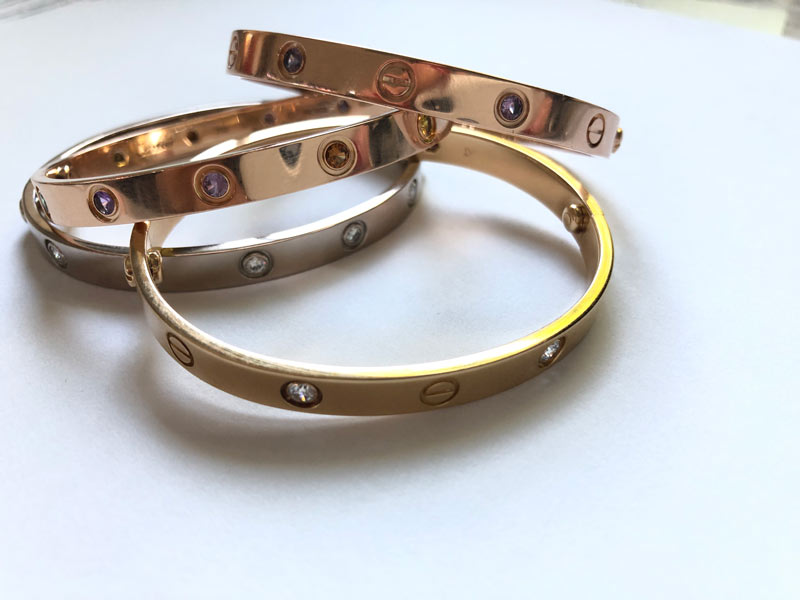 1. Can I authenticate my Love Bangle?
In a word, no. In a few more words, here's why. Cartier stopped authenticating them! We can't claim to be more knowledgable than the brand itself, so, unfortunately, we cannot authenticate your Love Bangle. That being said, we still only purchase the real deal. So if you bring your Love Bracelet to our store to sell it (no, we can't tell based off pictures via e-mail, unfortunately) and we make you an offer, it's 99.9%  sure to be authentic. Even we get duped by Superfakes occasionally, but that happens once in a decade, maybe. If you're considering a purchase of a Love Bangle that you want to authenticate, tread carefully, and feel free to borrow our favorite acronym to make sure you're not getting ripped off.
Longevity: Decades of happy customers don't lie.
Open Communication: Do they call you back? Facebook you? Text you? Direct message you videos of rings on Instagram when you request?
Verifiable: Do they have Yelp & eBay reviews? Will they show you proof of a diamond's certification, a watch's papers, or a designer piece's original box?
Easy Returns: Clearly stated, black and white, simple for you and protective of your money.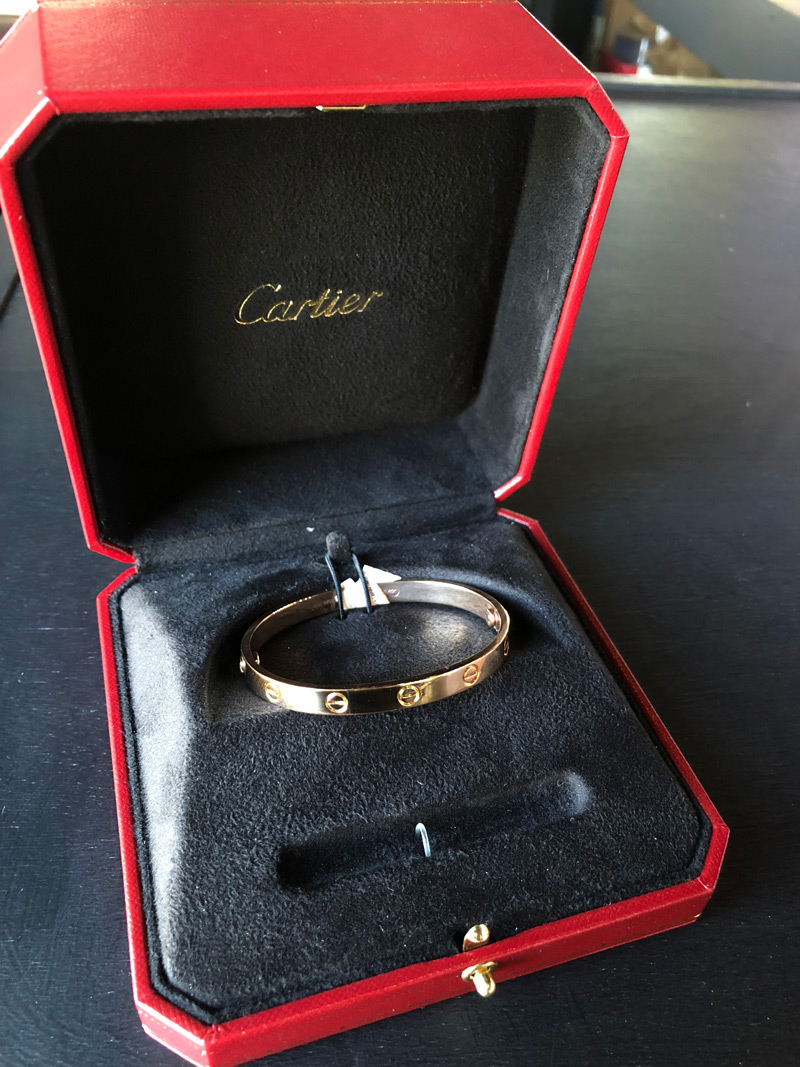 2. Does the Love Bangle come in sterling silver?
Nope. The Love bangle's white metals include white gold and platinum, with varying amounts of diamonds in the screws.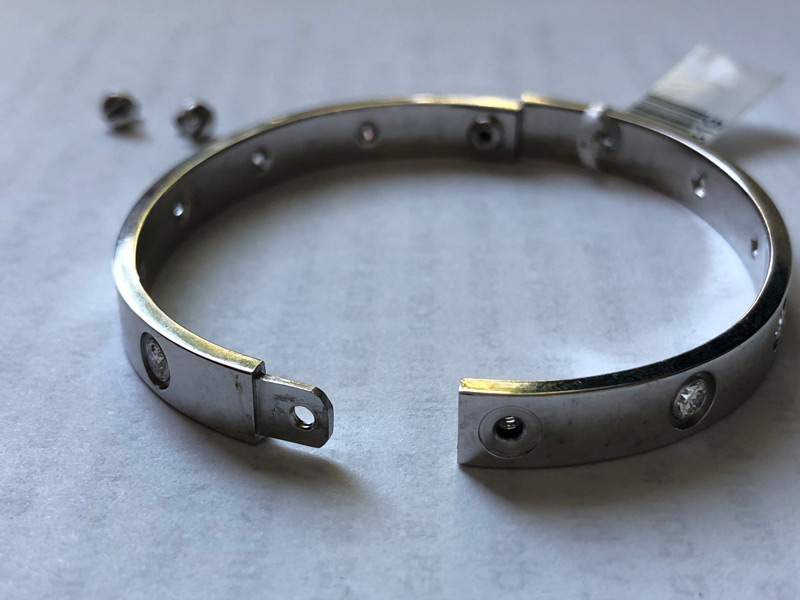 3. What's the Price Difference Between Used and New?
Cartier recently lowered the prices of their Love bangles (a plain 18kt yellow is now $6,300 USD plus sales tax.) So we're in the process of lowering our prices too. The baseline for our new price structure will likely put a used Love bracelet in 18kt with no diamonds at $5,500 USD.
However, overseas the prices may be lower. Just remember that customs charges are on the high end for our international customers, so we always recommend checking with your customs office to make sure the purchase makes financial sense.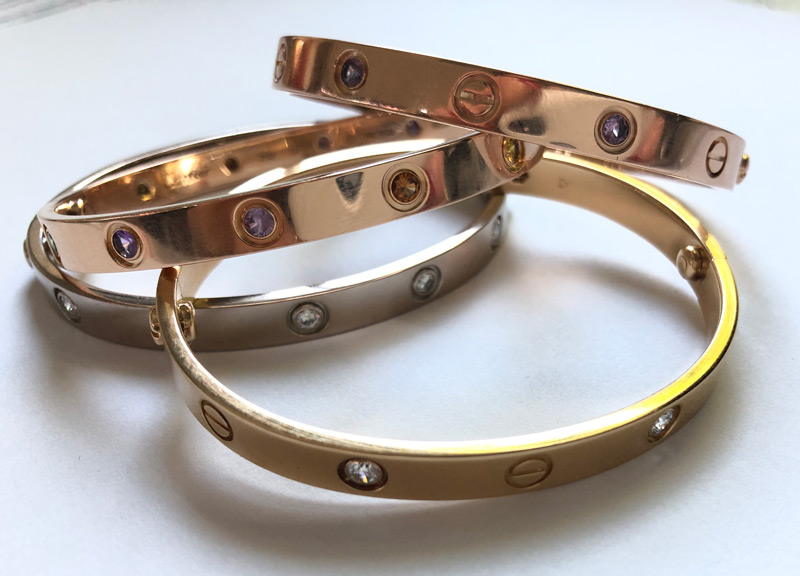 4. What's the difference between new model and old model?
We did an in-depth post on the differences between the new model Love bangle and old model, with plenty of pics, here. They're both gorgeous, but we're partial to the new style – never lose your screws again!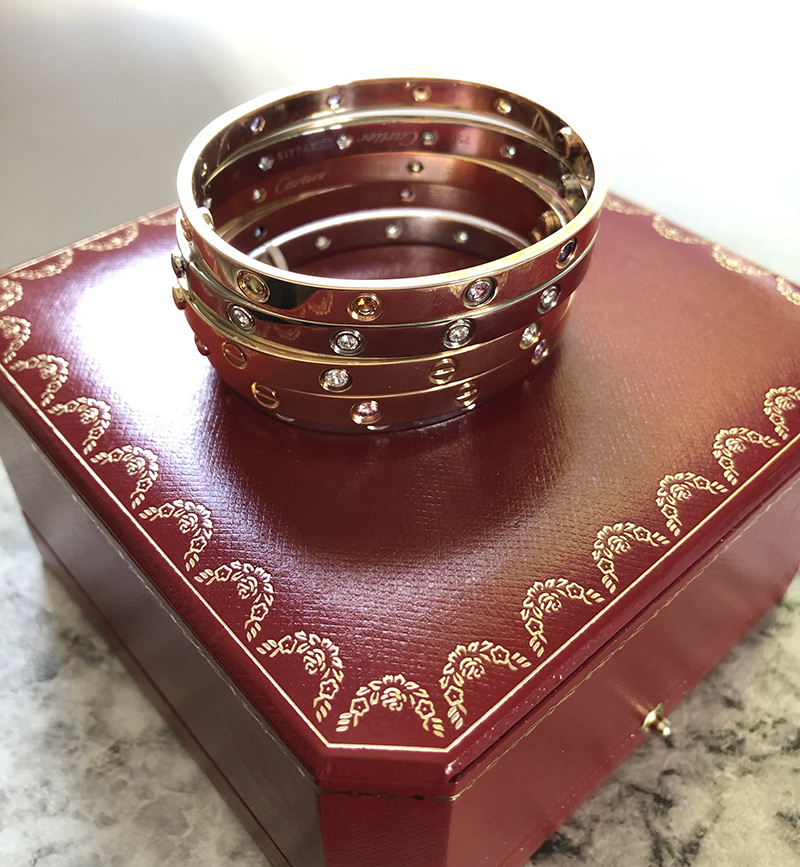 5. What size Cartier LOVE Bracelet should I get?
Love bangle sizes are based on the measurement of your wrist and correspond directly. If you do not see your size on here, you should ask Cartier about custom sizing. It's relatively easy to create larger bracelets, but when we asked our favorite Cartier SA about a smaller size, she cautioned about compromising the structural integrity of the bracelet by going that small. So if you have teeny wrists, you might just have to accept a looser fit for your beloved bangles.
LOVE Bracelet Sizes:
16 = 16cm (6.3 Inches)
17 = 17cm (6.7 Inches)
18 = 18cm (7.1 Inches)
19 = 19cm (7.5 Inches)
20 = 20cm (7.9 Inches)
21 = 21cm (8.3 Inches)
How do you measure your wrist for a Cartier love bracelet?
All you have to do is put your hand through a Wrist Sizer and pull the pointed end until it fits snugly around your wrist. Look for the number that lines with the edges of the opening, that will be the size of your wrist. If you don't have a Wrist Sizer, you can use a tape measure to the same effect.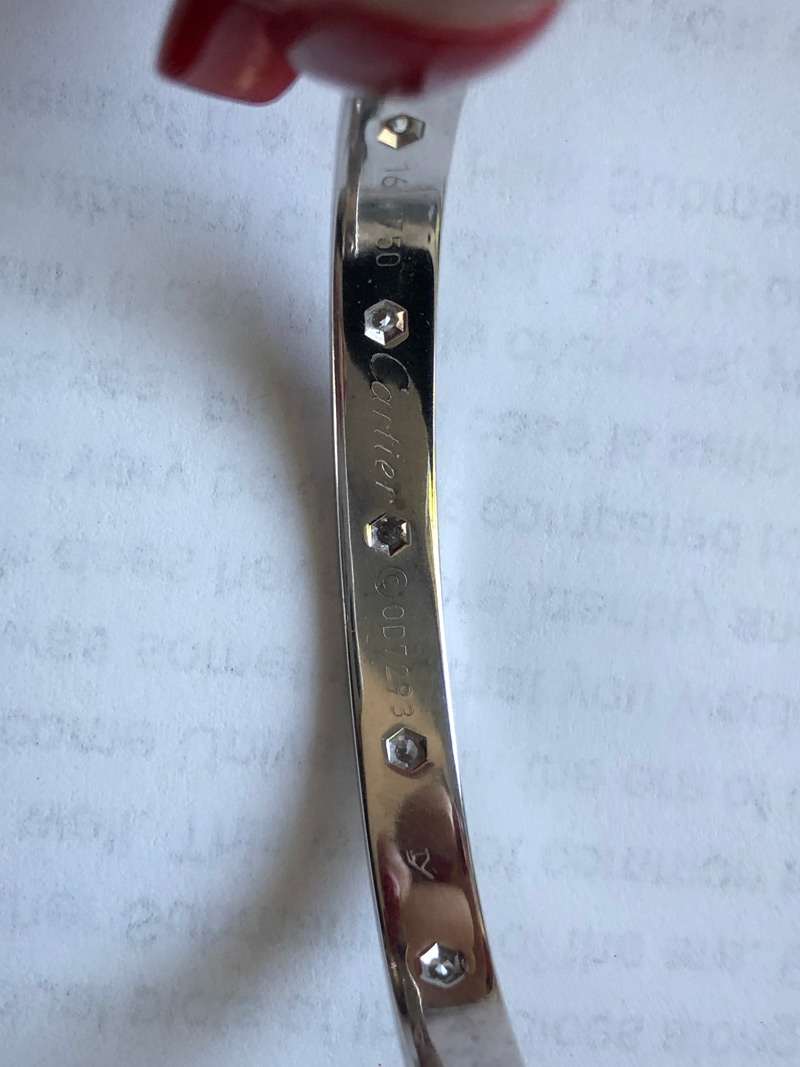 Other FAQs about Cartier LOVE Bracelets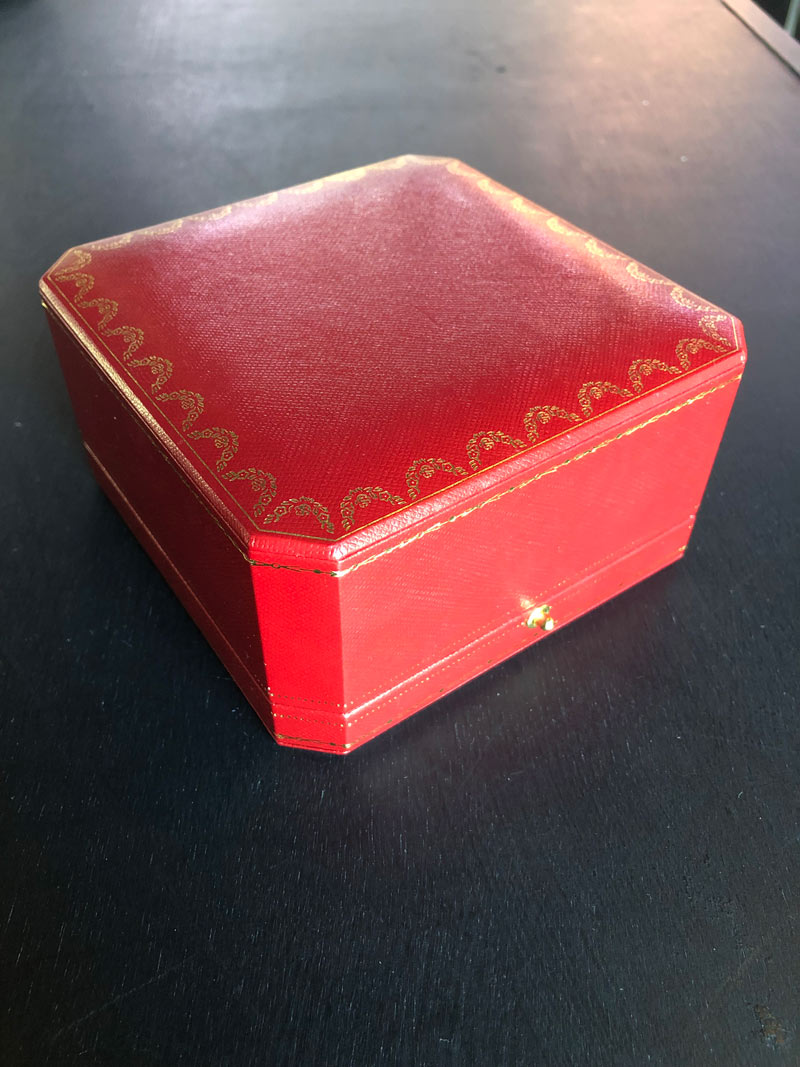 Does Cartier LOVE bracelet hold value?
The value of the Cartier Love bracelet has continually increased for both used and new bracelets over time. LOVE bracelets have stood the test of time and will continue to hold value for the foreseeable future.
What is the story behind the LOVE bracelet?
The LOVE bracelet was designed by Cartier Aldo Cipullo in 1969. His thought behind the creation of the bracelet was to be "locked into a relationship".  He took inspiration from chastity belts, which were used by men to ensure their women would be faithful. It's a strange thing to take inspiration from, but it worked wonders as this is one of the most iconic bracelets the world has ever seen.
How to clean a Cartier LOVE bracelet? 
You can clean a LOVE bracelet by yourself. All you need to do is brush the bracelet delicately with a soft small brush in warm soapy water. After, carefully rinse it in warm water and then wipe it clean with a soft cloth. You can also take your Cartier Love Bracelet to a jewelry store like Raymond Lee Jewelers to have them revitalize it.
How heavy is a Cartier LOVE bracelet?
Cartier LOVE bracelets have some good weight to them. They make you feel like you are wearing something substantial. The weight of a Cartier LOVE bracelet depends on the size and metal. On average, they weight about 35 grams.
Can I be added to your LOVE bracelet waiting list?
And finally, one last question we get asked pretty often – can you add me to your waiting list?! Yes, we definitely can! We never know when the perfect size/color/diamond combo is going to walk through our doors, so we keep a list of Cartier hunters in our customer database. It's first come first serve by the date you were added, but just know your RLJ team member is pulling for you and eagerly scoping out every new Love bangle that gets added to our inventory!
Have more questions about Cartier Love bracelets? Want to buy a Love Bangle? Contact us