Cartier Love Bracelet OLD vs NEW
Cartier's new style Love bangle debuted in 2011 and is starting to make its way into the used Love bracelet market. It typically takes a few months to a year before we start purchasing a new style of designer jewelry or new watch from customers who want to sell Cartier. They typically like to enjoy it themselves for at least a few months!
The new Love bangle through presents an interesting challenge to customers who want to buy a Love bangle on eBay or our website though. Love bangles are so heavily replicated that it's important to do your research before buying to ensure that what you're buying is an authentic Cartier bracelet. When a new style changes what an authentic Love bangle really looks like, it's time for us to continue our quest for customer education.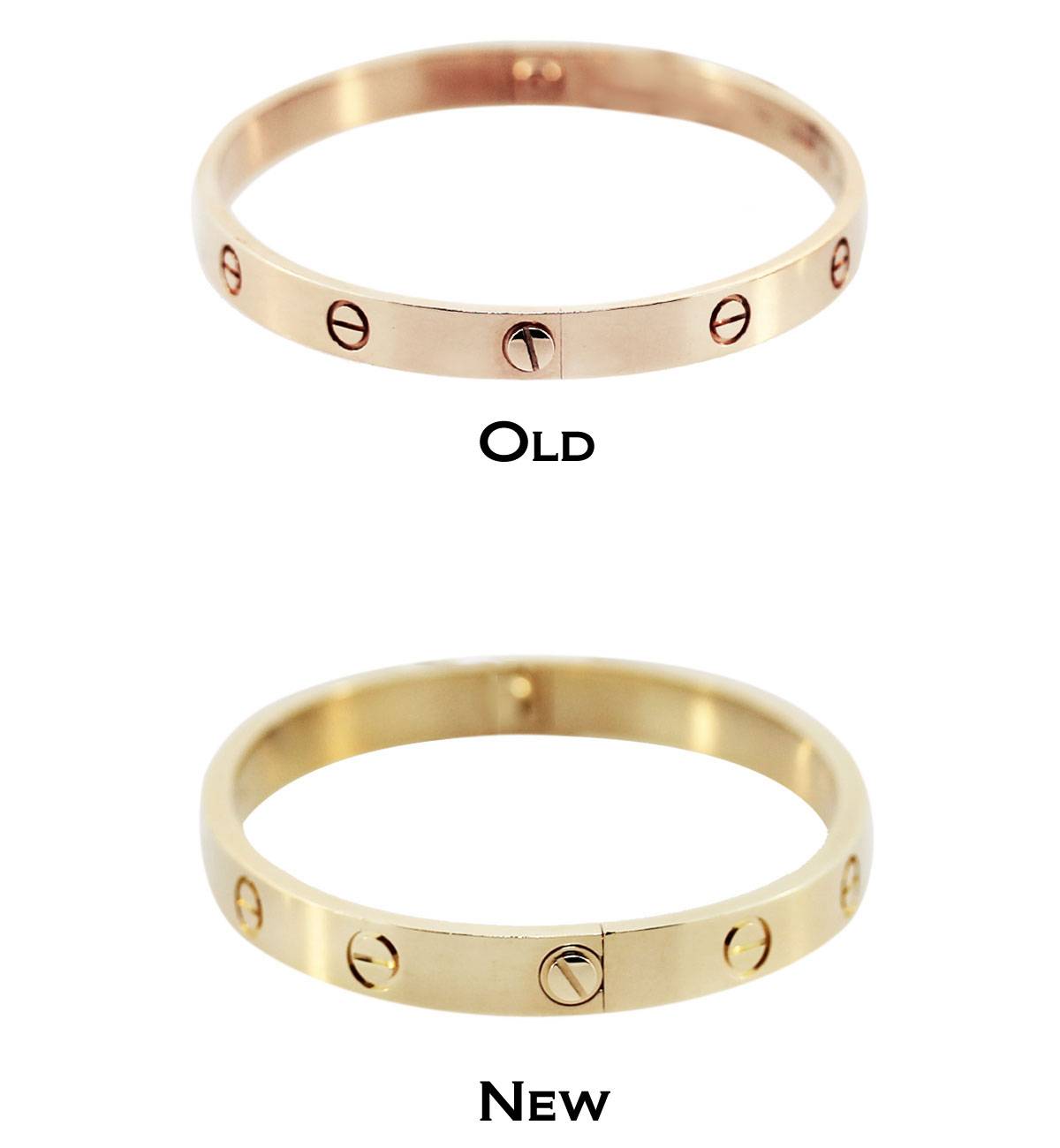 Cartier Love Bracelet New Screw System
We compared one of our older style rose gold Love bangles to a new style yellow gold Love bangle so you can see the small differences between the two. Where the old style's screws come completely out, the new style's screws only come out of the bracelet partially. This prevents loss of the tiny screws if you ever take off your bracelet.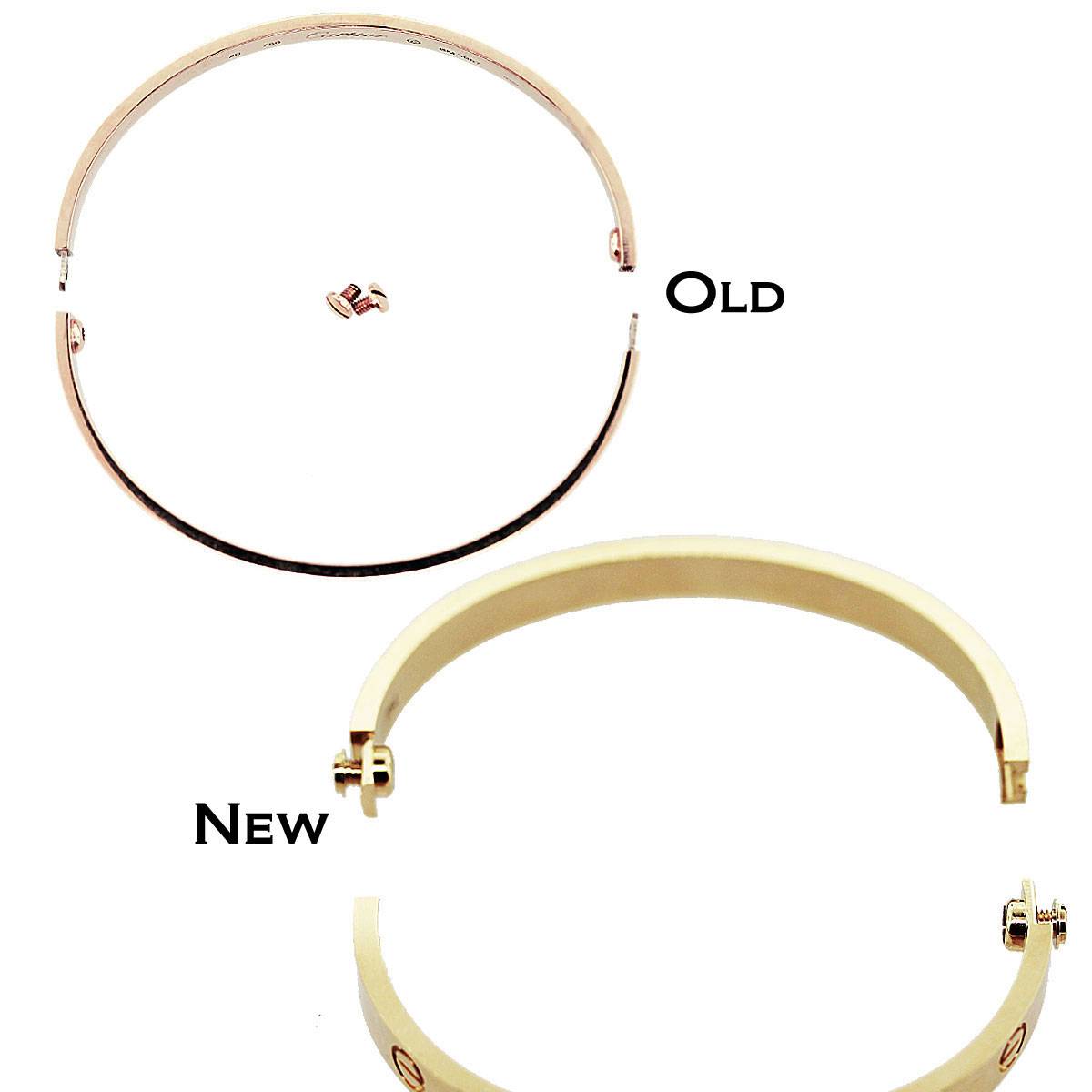 New Cartier Bracelet Screw Back
The older model also has a different screw back. You can see that it's slightly more dome-shaped compared to the cylinder shaped backs on the new model from the side. When looking at them closely, the old one looks like a bullseye where the new one looks like a smile.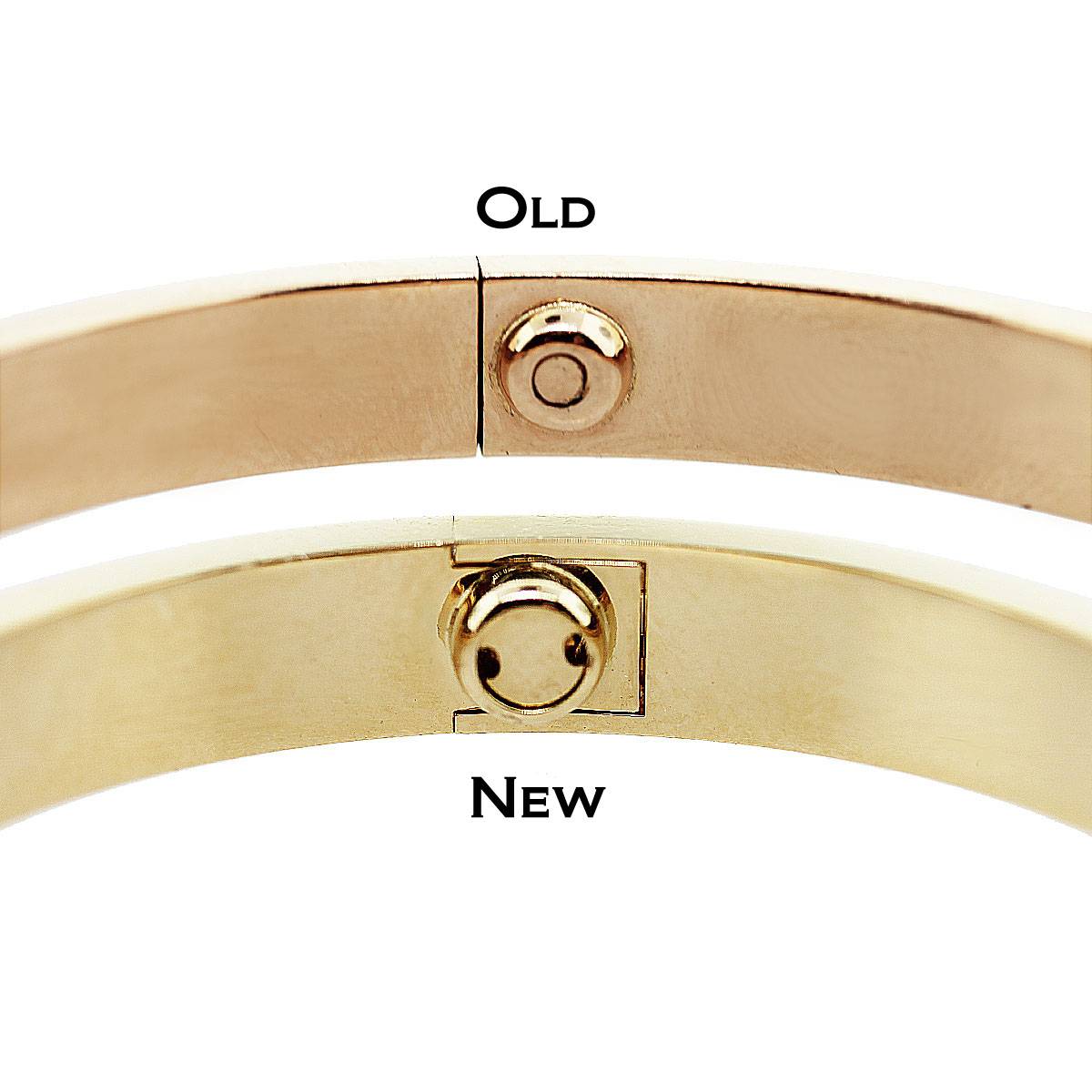 From the front, the two bracelets are nearly identical – same Love insignias, same smooth, crisp edges, but a slight difference where the clasp meets the rest of the bracelet and how the screw's Love motif blends into the rest of the bracelet.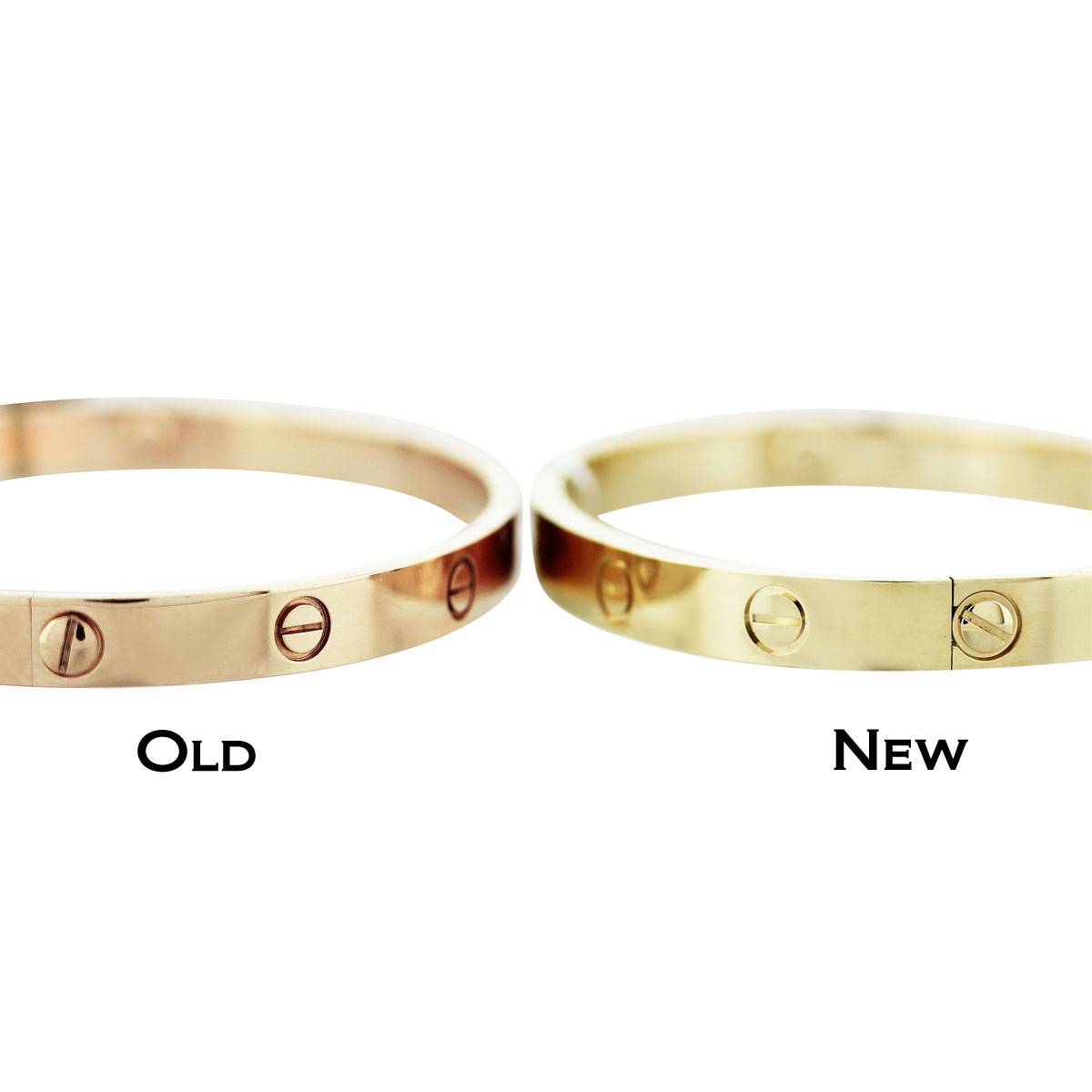 Other FAQ about New Version of Cartier Love Bracelets
Is the new Cartier Love Bracelet thicker and wider?
There are no differences in the thickness and width between the new and old Love Bangles. An authentic new Carter Love bracelet should be 2mm thick and 6mm wide. Furthermore, thickness and width between the diamond and non-diamond versions are the same.
Is the sizing the same for the New Cartier Love bracelets?
The sizing remained the same. So if you were a size 16cm on the old, you will be a 16cm on the new too.
How to spot a fake with the new Cartier Love bracelet?
When it comes to spotting a fake, the easiest way is to consider the quality of the material and price. Although there have been some changes between the new and old Cartier Love bangles, the points made in this article – How to Spot a Fake Cartier Love Bracelet? –  remains true.
Remember, if you ever have any doubts about a bracelet's authenticity, ask the seller everything you want to know. They should be more than happy to communicate with you, offer any service papers or boxes they may have, or even send the bracelet to Cartier for authentication for you. We carry a selection of pre owned Love bangles in several sizes and colors, and we do have a wait list for those interested in a size or metal that we don't have!
If you have any questions about New vs Old Cartier Love Bracelets, please don't hesitate to contact us.