One of the most frequent questions we're asked (on a daily basis) is how to authenticate Cartier Love bangles. It's no surprise to us – the timeless design of the Love bangle remains one of our favorite pieces of designer jewelry. And current trends set by celebrities, fashionistas and both only contribute more to the mass love affair with Cartier Love bangles. The "arm party" or stack is a jewelry trend that's been hanging around since 2010, and trust us when we say we're on board with it. Any excuse to pile on more jewelry has our support. And with celebrities/ reality stars, most notably the Kardashians, the Love bangle has reached a new level of prominence. Sisters Kourtney Kardashian and Kylie Jenner are two of the most ardent Love supporters out there. Stylish mom Kourtney stacks her gold Love bangles in the same size to create a bolder look. Little sister Kylie notoriously wears tens of thousands of dollars in Cartier on a daily basis.
For those mere mortals who adore Cartier as much as we do, waltzing into the Cartier boutique on a weekly basis isn't likely an option (if it is, take us with you on your next trip, we love playing dress up). So that leaves savvy fashionistas with one place to turn to find a good deal on Love bracelets: the Internet. Finding Love bangles online is as much sport as it is a skill.  The thrill of finding a deal that's not too good to be true, paired with the necessary patience and strategy it takes to win an eBay auction makes our heart race, and judging by the emails we receive every day asking to authenticate Love bangle listings, we're not alone.
Unfortunately, it's impossible for us to authenticate a Cartier bracelet (or any piece, really) based on a photo alone (if it's even the real photo.) Sometimes it's easy to spot a fake Love bangle in one shot alone, but we just don't feel comfortable giving our stamp of approval (or denial) without a hands on inspection. That being said, we usually advise our shoppers to look at three things: the length of time the seller has had an account, the amount of feedback they have and the positive to negative ratio, and their return policy. If any of these give you reason for pause, trust your gut. And most importantly if something seems too good to be true it probably is. A Love bangle under $1000? Not likely to be authentic.
We've even seen several listings where the seller uses original pictures of what appear to be authentic Love Bangles for certain shots, then swapping in the fake Love bracelet in other detail shots. That's, of course, if they're using their own photo, an original photo, or even just a Cartier photo from the official website. This is why it's impossible for us to determine the authenticity of a bangle just based on photos.
Once we've got a Love bangle to inspect though, it's a different story. We were recently sent a batch of bangles to buy, and we were inspecting each of them we started to notice a few little things that were…off. These counterfeit Love bangles passed for legit until we were really, really looking and found them to be fake. High quality fake Love bangles are nothing new, but what made these fake Love bracelets stand out was that they were counterfeit new model Love bracelets. We have guides for how to spot a fake Love bangle, but none for the new models. Please use this guide as an assistant in your online shopping adventures, and remember that Cartier will authenticate Love bangles for you if you are ever unsure – just make sure your seller has a good return policy.
How to Spot a Fake New Model Love Bangle
These white gold Cartier Love Bangles are all fake. They're not for sale (we only sell authentic pre owned Cartier Love Bangles). They were sent to us by a seller, who we informed they were counterfeit. This is how we spotted them.
The 6 diamond white gold Love Bangle Has a different Cartier S.A. stamp.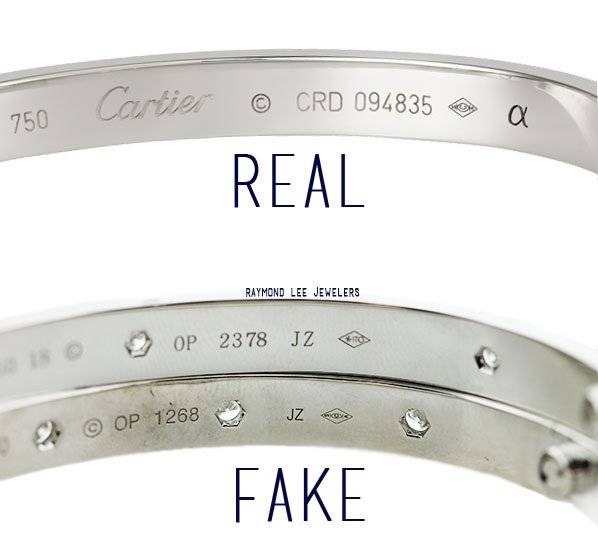 The no diamond bangle has screws that slightly overlap into the other side – remember that any sign of the smallest imperfection means you very well might be looking at a fake.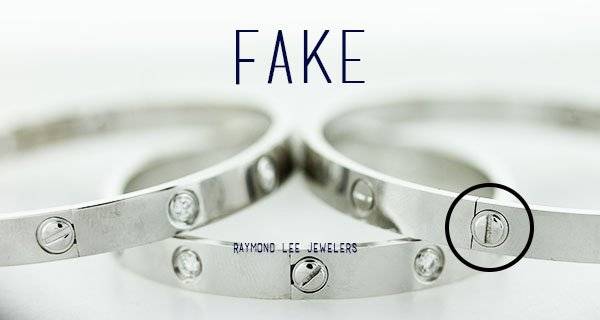 The all diamond bangle's screw axes are too wide. Notice how much thinner they are on the authentic Love bangle.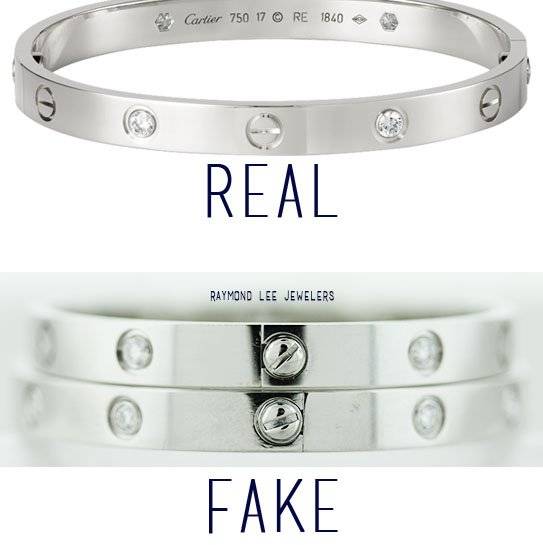 The engravings on the diamond bangle are in the wrong place.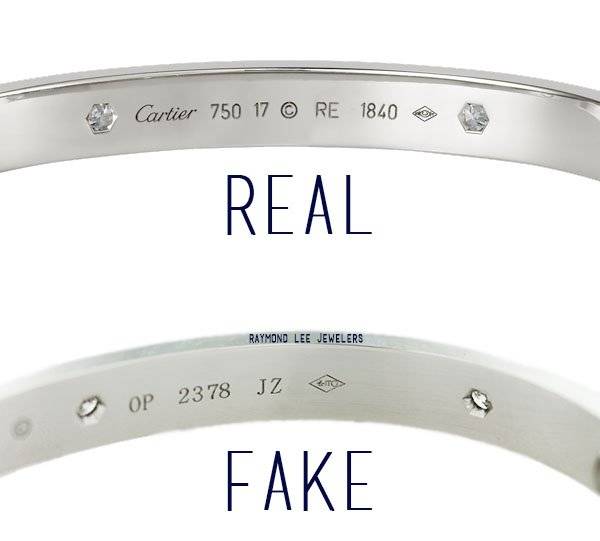 Each of these knock offs has a different font from the next – and from the authentic bracelet – for the "750" stamp.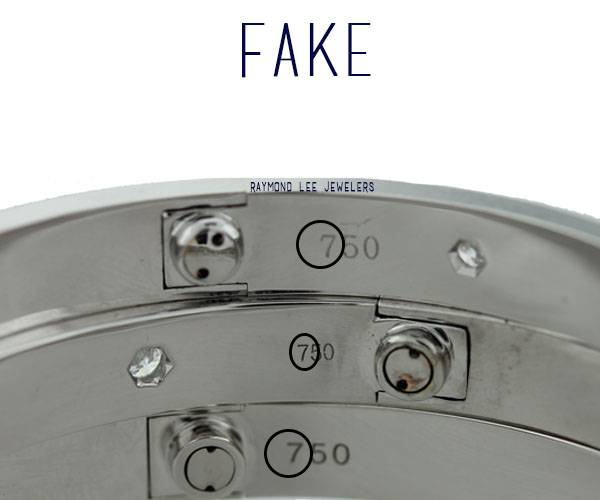 In fact, all three have different fonts from the real deal. Note the different 'J' on the half diamond, the different '2' on the all diamond, and the different '2','7′ and '0' on the plain white gold bangle.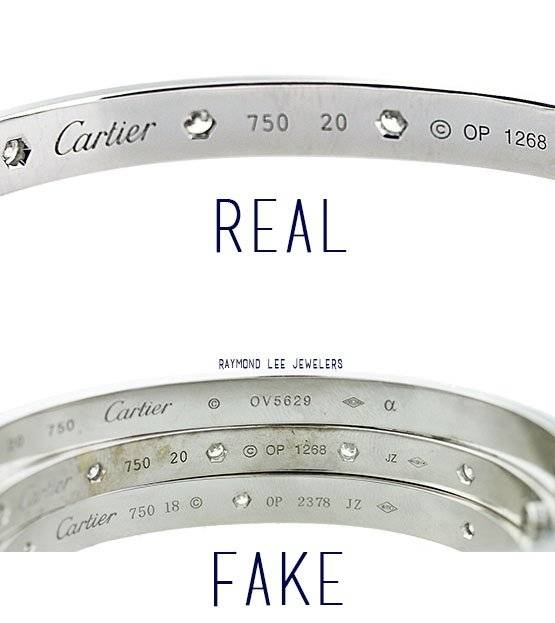 Related articles