Fake Cartier Love Bracelet – How to Spot One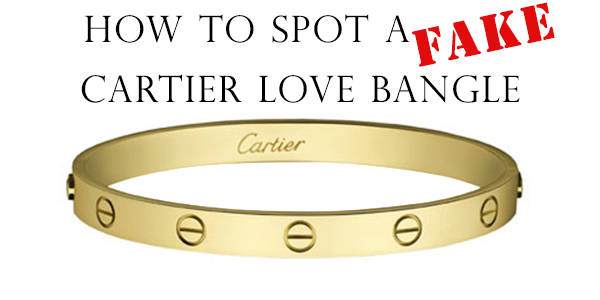 New here? Welcome to our blog! Raymond Lee Jewelers is one of the world's largest sellers of pre-owned authentic Cartier Love bangles – Authenticity Guaranteed.
Unfortunately, we cannot authenticate Cartier Love bangles, as Cartier no longer verifies the bangles themselves. Because Cartier has discontinued the practice, it is more important than ever to equip yourself with the knowledge of how to spot a fake Cartier Love bangle.
At Raymond Lee Jewelers, we are extremely firm when it comes to authenticity. We DO NOT buy or sell replicated goods. We guarantee 100% authenticity of all the jewelry we sell. Most of the Cartier products in our inventory have their original certificates and boxes. So, any Cartier Love bracelet from us is the real deal.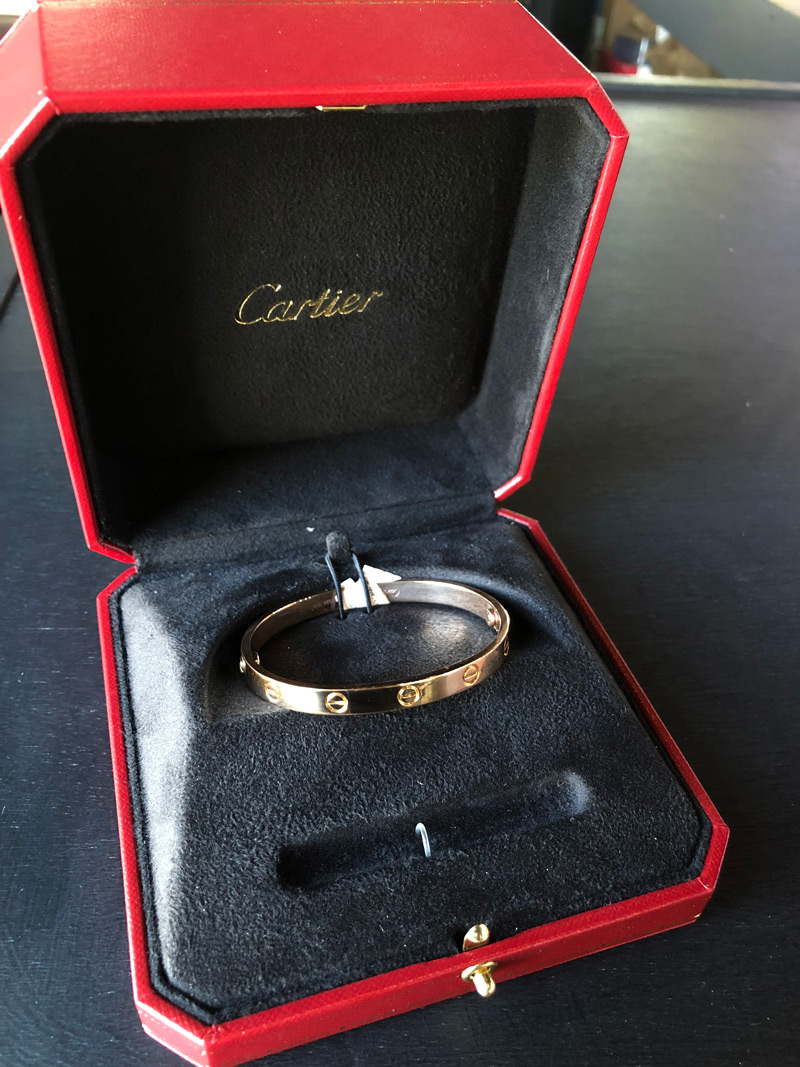 Cartier Love bangles are one of the most singularly iconic pieces of jewelry in history. They're highly recognizable, highly covet-able, and highly symbolic. Famous celebrities such as Kylie Jenner, Angelina Jolie, and Kate Middleton have stated that Cartier Love bracelets are amongst their favorites.
So as with most popular luxury goods, this combination leads to knockoffs.
We happened to catch one such knockoff at our showroom, and wanted to share with you so you won't be fooled by fake Cartier bracelet.
So, how do you tell if a Cartier love bracelet is real or fake?
A Brief History of Cartier Love Bangles
First, we go back to the beginning of the Cartier Love bangle story. In the 1970's, when Aldo Cipullo started creating these famed bracelets, they hadn't yet become the icons they are today. They were popular and chic, but weren't stamped with serial numbers. Counterfeiters seized this absence of i.d. as an opportunity to start churning out fake Cartier bracelets at a rapid rate. In fact, it's estimated that up to half of the Love bracelets from the 70's will be a Cartier Love bracelet replica.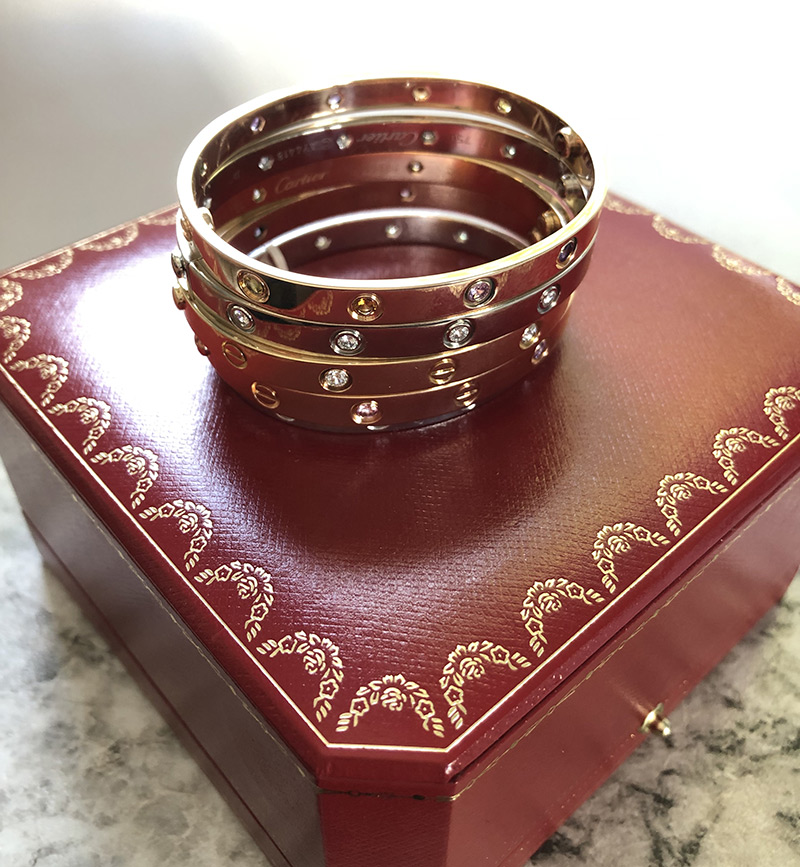 Related: Top 5 Questions We Get About Cartier Love Bangles
How to Spot a Fake Cartier Love Bracelet
When trying to determine if you are dealing with an authentic Cartier Love bangle, it's crucial to understand that not all Love bangles are made the same. Throughout the years, Cartier has made small changes in the design and style. Thus, there's simply no fool-proof way to tell a good fake Cartier bracelet from the real deal. Because of this, we only sell Cartier Love bracelets that were bought directly from Cartier.
That being said, a simple Google query of "Cartier Love bracelet fake vs real?" will tell you mostly everything you need to know. That's why you are here after all. We have the answers.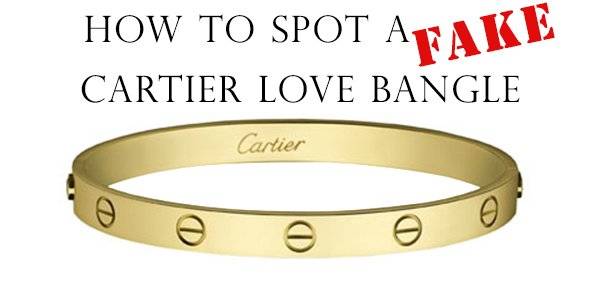 Here are some tips to assist you in spotting the main differences between an authentic Love bangle (Cartier IP 6688) and a Cartier Love bracelet replica.
1. Check the Stamps/Hallmarks, Metals, and Quality of Craftsmanship
Cartier's modern Love bangles are stamped not only with serial numbers, but with the Cartier logo and copyright, the 18kt gold 750 stamp, and a hallmark. Most fake Cartier bracelets will only imitate the stamps partially, and not very well at that. We'll use this as our first example of how to spot a fake Cartier Love bracelet.
Stamps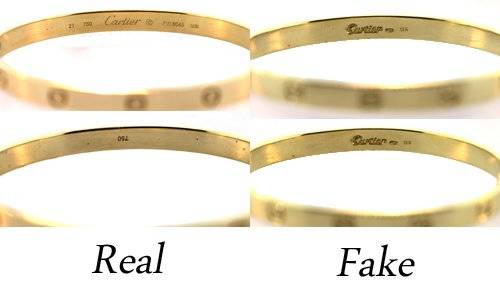 Note that the stamps aren't identical (the fake mistakenly puts the smudged Cartier logo on both sides and uses an 18kt stamp instead of Cartier's "750") and the fake's (on the right) are done sloppily and unevenly. The authentic Cartier love bracelet's stamping is crisp, level and easily legible.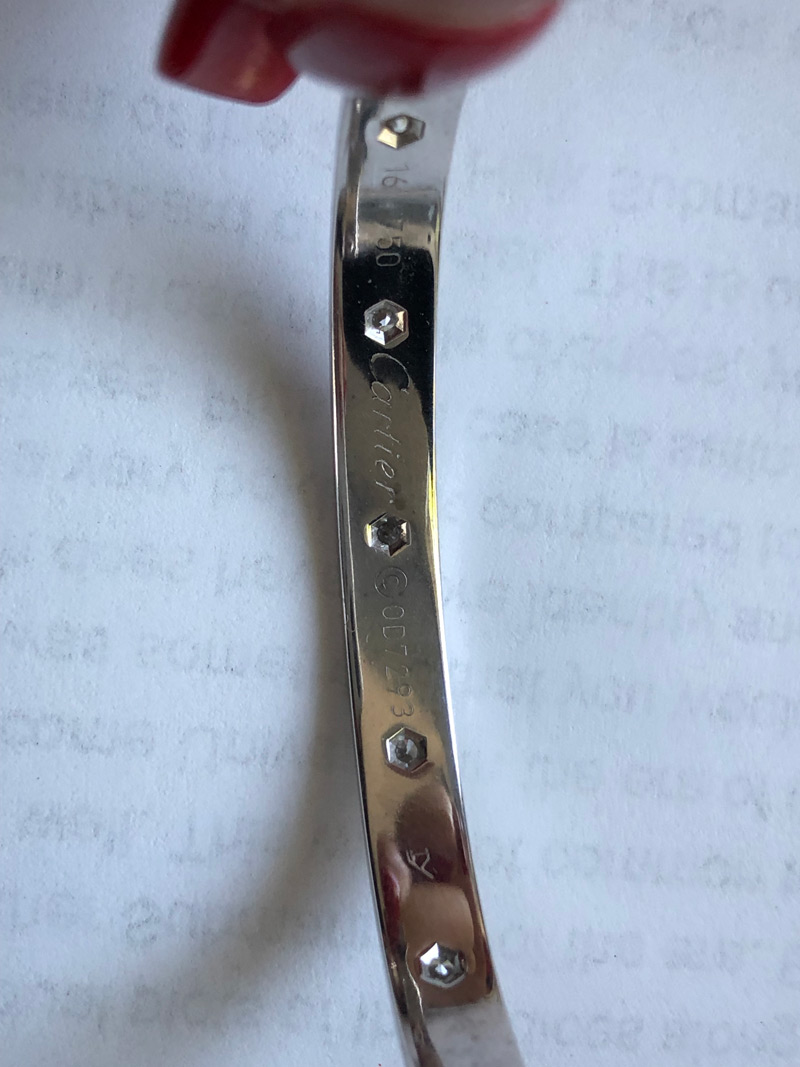 Genuine Cartier Love Bangle
Precious Metal (Colors)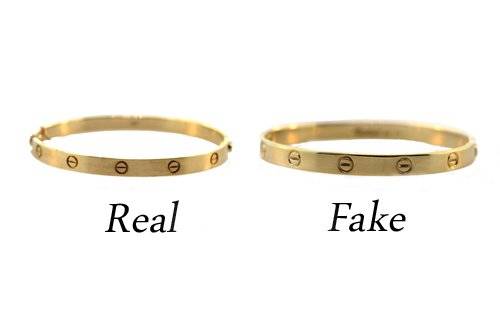 Another good clue is the color of the Love bangle. Cartier Love bracelets are made in yellow gold, white gold, rose gold and platinum. The options for customization with diamonds in combination with these metals are nearly endless.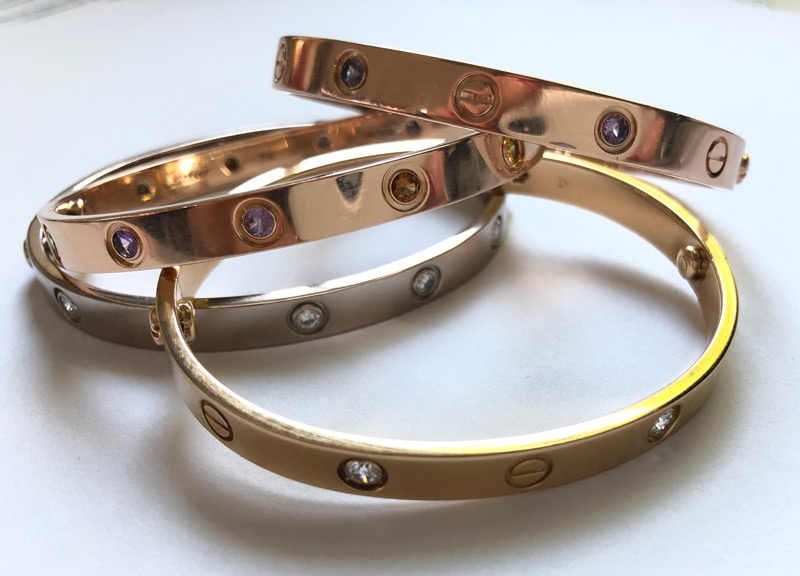 Real Cartier Love Bracelets
However, Cartier Love bracelet replicas likely will use sterling silver instead of platinum and white gold, and may use gold plate or fake gold to mimic the other gold colors. Any diamonds would likely be imitation as well. If the Love bangle in question has a brassy or chrome like quality to its color (or any tarnish around the stamps in the case of white metal), it's a fake Cartier bracelet.
Screws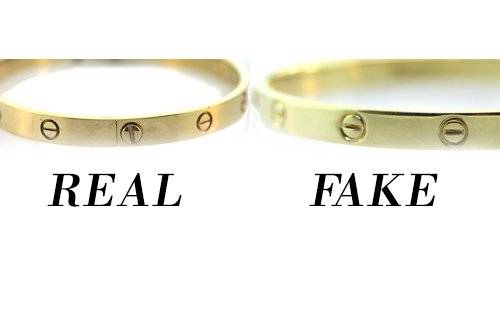 If you take a look at the screw stamps, you'll see the screws on the fake are all wrong. The indentation for the screwdriver is crooked on some, uneven in others, sometimes it slopes down to meet the outer perimeter of the screw stamps.
Moreover, the clean lines of the authentic Cartier Love bracelet's stamps all but disappear on the fake's screw outlines. See how the outer shape of the screws is softer? And note that the metal outside of the screws has an almost puffy quality to it. The authentic Love bangle, on the left, is smooth and even with crisp screws stamped right into the gold with no compromise of the surrounding metal.
Edges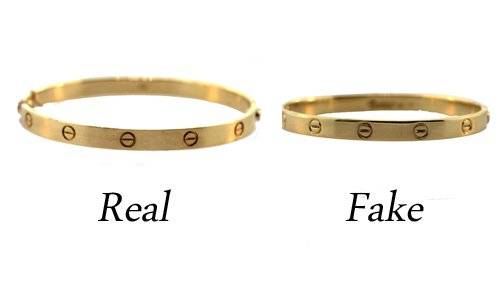 Also, you can see that the edges of the fake Cartier Love bracelet are more rounded and smooth than the authentic's.
Screw Clamp & Closure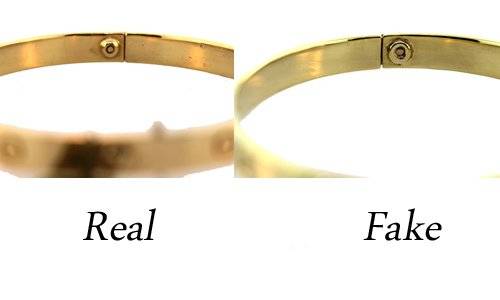 You'll also see this smooth, melded look on the screw clamps that close the bangle. The real Cartier Love bangle has screw caps with the same crisp stamping as the rest of its details. And about the screw – it should turn easily with the screwdriver. When we try to open the fake Cartier Love bangle, there's practically no give. The genuine Cartier's screw turns effortlessly to open the bracelet.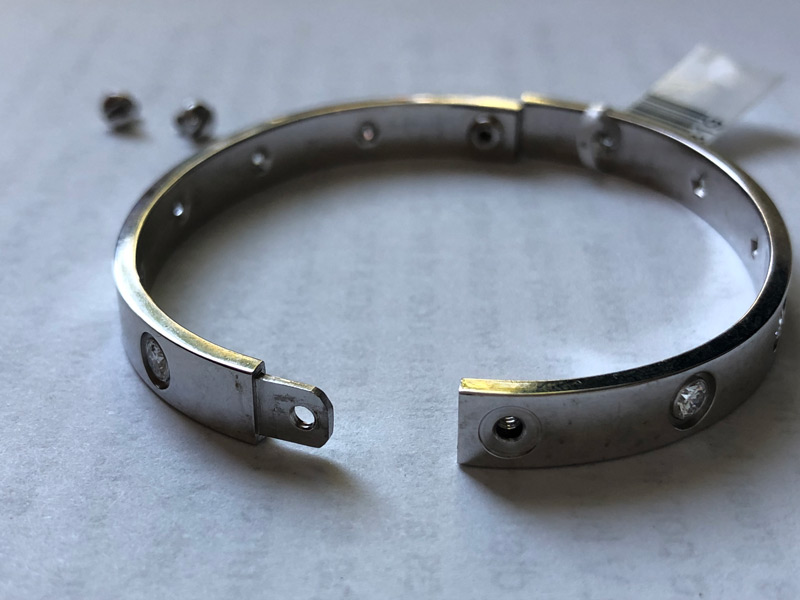 Authentic LOVE Bangle
Overall Quality
The best way to spot a fake Cartier Love bracelet is by looking for the lack of attention to detail imbued in every Cartier piece. Knockoff Cartier Love bangles are just like every other form of counterfeit goods – they just don't compare to the original. When it comes to quality, longevity, and your overall happiness with your purchase, you are much better off saving for your dream Love bracelet, finding a jeweler you can trust, and cherishing this iconic piece for the rest of your life when it's finally yours.
Related: Verifying a Cartier Love Bracelet
2. Weigh it
A Cartier Love bracelet should weigh 30-38 grams depending on which model (precious metal) you've chosen. If you compare a real Love bracelet with a fake, the fake Cartier bracelet will be lighter.
3. Consider the Price
You can also take a look at any accompanying Cartier box or bag for more clues, and you can read more in-depth about how to tell if a Cartier box and bag are real here. But typically, your best indicator will be the price of the bracelet – even our preowned Cartier Love bracelets sell for over $4,000. So if you see a Love bracelet for sale or online for a few hundred dollars, it is 99.9% not real.
Related: Amazon and The Cartier Love Bracelet – Too Good to Be True?
Other Tips for Spotting a Fake Cartier Bracelet:
When you're shopping online for Cartier Love bangles, the stakes are even higher. You don't have a chance to inspect the bangle in person before purchasing. And you can't bring it to a Cartier Love bangle authority for their input (reminder, we cannot authenticate Love bangles anymore since Cartier doesn't themselves.)
Check the serial number
The next best thing is doing your own digging online to look for telltale signs of a fake (like we hope this guide helps you do.)Or to even run a quick search for the serial number – one of our wonderful readers discovered her Love bracelet had the same serial as those in the stock photos on Cartier's website. Again, we cannot authenticate Love bangles, but this is pretty much a dead giveaway that it's a counterfeit. Every Cartier piece's serial number is unique and one of a kind. No chance of a duplicate.
Find a reputable dealer
While it's helpful to read articles (like the many you'll find on our blog!) and guides on eBay, in addition to asking Cartier devotees in online luxury shopping forums, remember there's no way to tell for certain that what you're buying is authentic unless you're buying from a reputable seller. We're easier to spot than a fake Love bangle, promise!
This is the handy acronym we use to find a reputable Cartier dealer:
LOVE
Longevity: Decades of happy customers don't lie.
Open Communication: Do they call you back? Facebook you? Text you? Direct message you videos of rings on Instagram when you request?
Verifiable: Do they have Yelp & eBay reviews? Will they show you proof of a diamond's certification, a watch's papers, or a designer piece's original box?
Easy Returns: Clearly stated, black and white, simple for you and protective of your money.
That last part – about returns – is the most crucial. This lets you, if you have any doubt, inspect the bracelet in person risk-free. Yes, you'll likely pay shipping costs, but if you do that and discover something's just a little "off" about your new purchase, it's better to be out $20 than $6000, you know?
With your Love bangle in hand, you'll need to have it authenticated in person. It's getting more difficult to do this – we don't do it anymore, we used to – because Cartier stopped the practice. Occasionally, you can catch a sales associate in a good mood and show them your purchase and receive a wink & a nod that you've got the real deal, but they don't authenticate Love bangles anymore.
If you want assurance that your Love bangle is real before buying, based on photos alone, you're out of luck. It's impossible to authenticate a Love bangle based only on photos, even for a Cartier S.A. – that's how good today's "SuperFakes" are. It spoils the thrill of the chase for the bargain hunters in us all, but Cartier has no reason to encourage shoppers to pay less for coveted Love bracelets, so they don't encourage the secondhand market.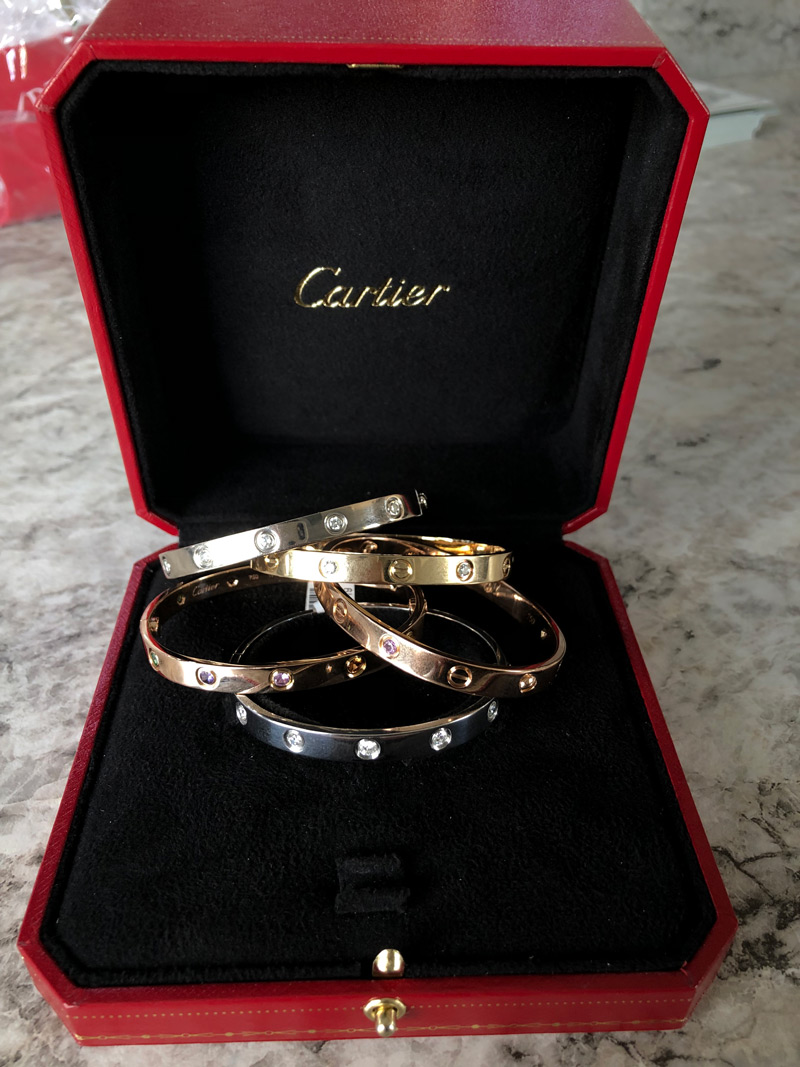 Cartier IP 6688
Raymond Lee Jewelers
As a business that enjoys buying and selling all Cartier jewelry – not just Love bangles – we clearly disagree! And while we cannot authenticate your Love bangle, either online or in person, we do stand behind our own Cartier inventory 100%.
We pride ourselves on selling only authentic designer estate jewelry, and if we have even the shadow of a doubt something is fake, we don't buy it. Unless, of course, we want to make an example of it with a highly detailed blog post. But rest assured we aren't paying the same price we do to our clientele selling authentic Cartier.
Raymond Lee Jewelers has a reputation as a trustworthy seller of pre-owned designer jewelry, and we'd never risk that with a suspicious piece. So when you're buying from us, you get our buyers' decades of expertise, often the original box and papers for your piece, and always our 30 day 100% money back guarantee. Because we LOVE our Cartier clientele.
The Difference Between Cartier Love Bracelet Old vs New
We hope this Cartier Love bracelet fake vs real guide has been useful. If you have any questions, please feel free to contact us or leave a comment below.