Today we are reviewing the discontinued Rolex Oyster Perpetual GMT Master II Reference 116710LN. This is the 2007 GMT-Master II green GMT hand, green signature, and Super Case with a Cerachrom ceramic bezel.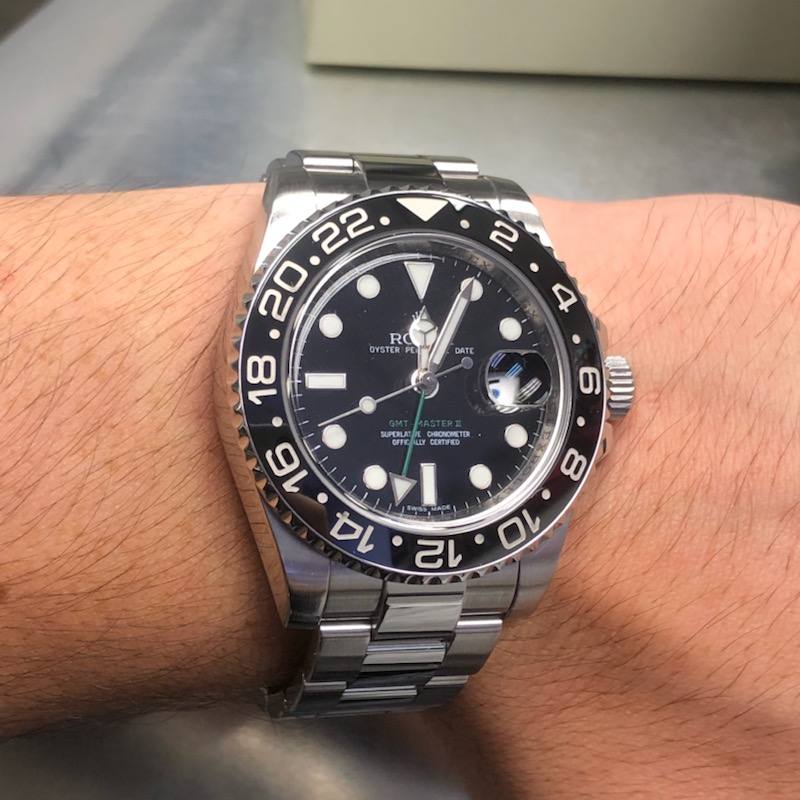 Note: This GMT Master II 116710LN is available at our store Raymond Lee Jewelers in Boca Raton. You can also purchase this online, just contact us here. We will provide you with complete pricing details in person, by email or via phone call. So don't hesitate to get in touch with us if you are interested in this amazing discontinued GMT II timepiece.
Here we have the basic stainless steel model of the GMT-Master II. It's a Rolex timepiece that was ushered in by the 2005 Super Case GMT steel and yellow gold reference 16718LN.
This is a watch that is extremely versatile, yet it's not as much of a forerunner for GMT Master II's as the ref 116710LNR (black and blue, aka Batman). That being said, in our opinion, it is more enduring and versatile in its aesthetics.
GMT Master II 116710LN Super Case
The case is Rolex's more substantial, more impressive Super Case. This case is pretty squared off and it doesn't have the Oyster Case's curvature. The sides of the case are quite perpendicular, which is something those who are used to Rolex cases with more ergonomics will have to get accustomed to.
The lugs of the case are more broad, aggressively outcropped, and robust, and you can notice this especially from the side view. All in all, it is bulkier than a traditional Rolex Oyster Case.
So, as it loses some of the elegance that comes with an ergonomic case, along with the tapered and beveled lugs of the prior GMT, it gains important features that many people appreciate – masculinity, stature and presence.
Furthermore, the new Super Case makes for a much more modern sporty appearance, akin to the AP Royal Oak.
GMT Master II Super Case Size
The watch wears super comfortably. It has a 40mm diameter, with a reasonable thickness of 12.1mm considering it has a rotating bezel. The lug to lug measurement is a clean 48.5mm, increasing to 51mm if you include the solid end-links in the measurement.
The plane of the case is flat but the bezel has a slope so you can easily slide this one underneath a dress cuff.
Again, it's a comfy size that has a substantial presence. It will be a good fit for a wrist even as small as 14cm in circumference.
GMT Master II 116710LN On The Wrist
The watch is an absolute stunner. It has a sublimely luxurious look and feel to it. It is also perfectly sporty. This watch can be worn in a dressy or casual setting in perfect fashion.
A big reason for the popularity of this watch has been its versatility and durability. The neutral colors will pair with any outfit and the strong structure will allow you to wear it carefree. It's no wonder so many people who collect watches are drawn to this reference. It's like having a Lambo on your wrist.
GMT Master II 116710 Bracelet & Clasp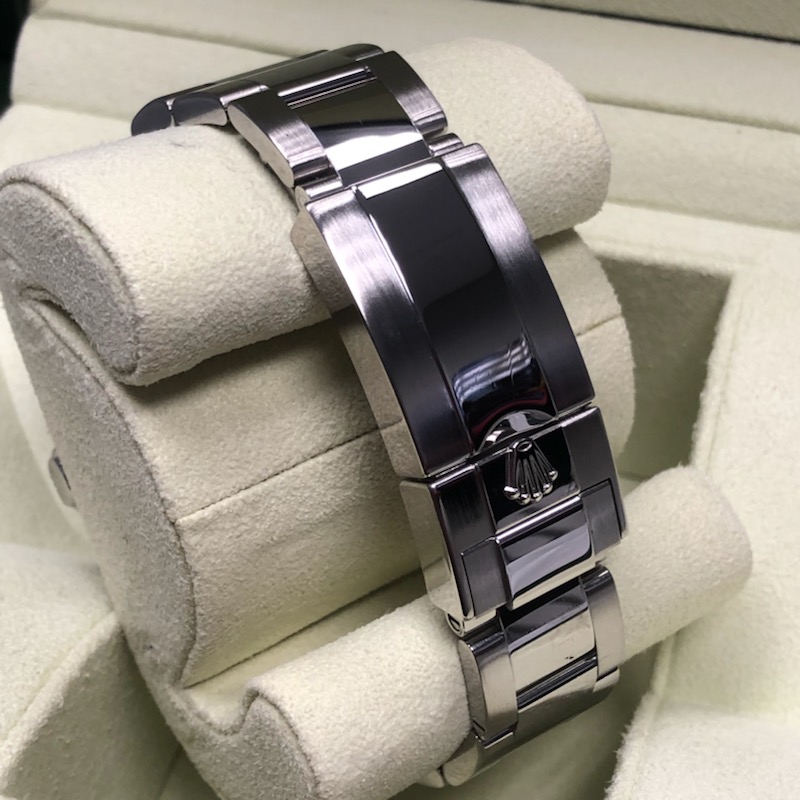 Bracelet
Rolex has come a long way from their historical practices. The bracelet on the GMT Master II 116710 doesn't use hollow end links or center links. There's no longer a stamped clasp. The bracelet is more luxurious and elegant than ever. So much so that it would essentially be blasphemy to even consider putting the case on a strap. Although, if you wish to, the spacing of the lugs is 20mm.
It has contrasting center polished links with satin outer links and polished flanks. It's a charming finish, which represents the superior quality of the GMT, as part of Rolex's impressive arsenal.
Clasp
You will find the same incredible attention to detail on the clasp. The clasp has a powerful stature. Furthermore, the clasp has a fully polished interior (something you won't find on an entry level Rolex model).
Moreover, if you take notice, you can see just how complicated and advanced the retention system for the clasp has become. This is a clear sign of Rolex's pride and investment into state-of-the-art engineering.
Beyond secureness, it has a lot of cleverness to it too. The Rolex clasp has a 5mm EasyLink system, which is obviously tool free (it's easy for a reason). Therefore, you can adjust the bracelet by 5mm (the equivalent of adding or removing one link).
The entire bracelet and clasp are exquisitely well-made and the attention to detail on all front is obvious. The bracelet to clamshell clasp is perfectly and beautifully flush in every aspect and component. It's supremely slick in both look and feels.
GMT Master II 116710LN Cerachrom Bezel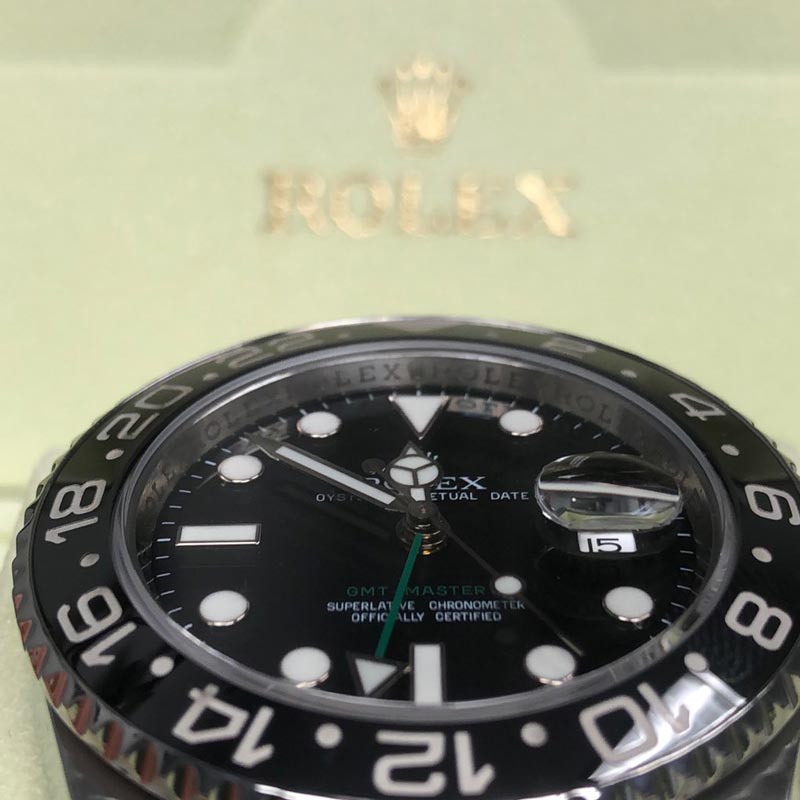 The bezel of the GMT-Master II is where Rolex's superior quality really comes into play. It's made from Cerachrom, a patented hard, corrosion-resistant ceramic manufactured by Rolex.
Cerachrom was first introduced in 2005 with the GMT Master II models, one of which was the 116710LN.
This Cerachrom bezel is a handsome gloss black. It is scratch resistant, just like the sapphire crystal covering the dial, and it is extremely lightweight and durable. Thus, you won't get scaring like you would on older models like the GMT Master, Sea Dweller and Submariners. Problem solved, thanks Cerachrom.
Furthermore, to make it even greater, platinum has been deposited in all of the engraved indices and numerals. Therefore, the numerals and indices will never scratch off.
New Bi-Direction Action
If you set the green GMT hand to Greenwich Mean Time, you'd be able to use the bi-directional rotating 24-hour GMT-style bezel to temporarily manage three time zones – local, Greenwich, and another reference time. So, comparing to the original GMT Master, which allowed you to track two time zones (truthfully it was just a single timezone watch with a rotating bezel), this one has a feature that makes it hard to go back in terms of daily wear. This is especially true for pilots, whom the watch was made with specifically in mind.
GMT Master II 116710LN Black Glossy Dial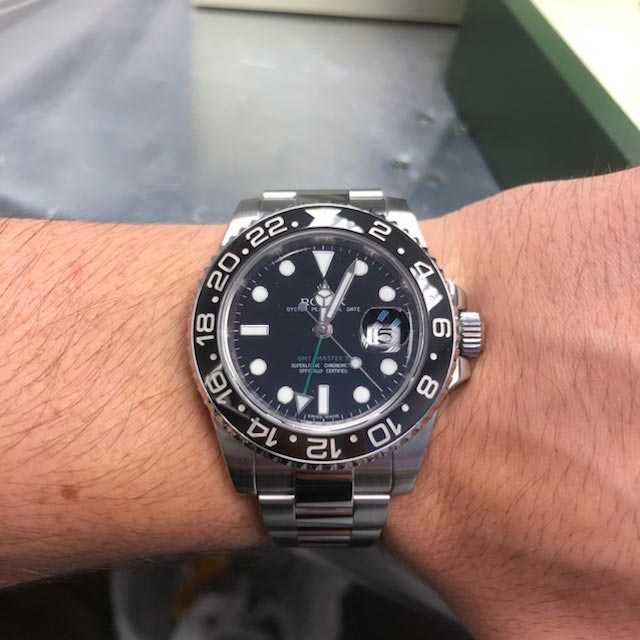 Everything on the dial is larger. Moreover, they are made from white gold to resist corrosion and tarnish indefinitely.
It offers optimal visibility. This is a maxi style modern Rolex dial with big boy indices, all of which are stunningly fierce. The lume is Rolex's proprietary luminescent material so you know its as good as it's going to get.
The indices are resting on an exquisite gloss black lacquer dial base. It matches perfectly with the bezel and white gold indices, adding more richness, reflectiveness, and shine.
Lastly, it has the wonderful splash of green with its green GMT hand and green signature.
Note: it does not feature the full green date disc that the yellow gold version has, as it is more reserved than the anniversary yellow gold addition.
GMT Master II 116710LN Movement & Complications
Inside, behind the impeccably clean and unadulterated caseback, you have Rolex's proprietary Caliber 3186. It has 31 jewels, a 48-hour power reserve (good to rest for a whole weekend), automatic winding with seamless bi-directional action, and numerous refinements, such as a full balanced bridge, and free sprung index for ultimate shock resistance.
Furthermore, as with everything on and inside a Rolex, they use their own Stella Bolts for the most precise adjustments of the timepiece in multi-positions to be able to achieve the highest chronometer rating (yes, meaning this watch is a chronometer).
What's more, to take reliability to another level, the watch has a Parachrome blue alloy hairspring to give it a good (in fact most likely more than necessary) level of anti-magmatism and the overcoil profile assisting the watch in keeping good time and remaining precise in any position with respect to gravity. This is something that is crucial for the chronometer test because watches don't stay in a static position on the wrist and when not being worn they are in a single position resting, so the features of this watch will step up and help to even out the timing gain or loss. Remember, +2/-2 is something Rolex achieves that even the top Swiss Brands have troubles with.
The GMT Master II 116710LN also contains a dual time functionality, which is a feature the GMT Master II's have been known for since the original 16760 was released in the 1980s.  This means the center hour hand and 24-hour hand could adjust independently of one another.
Triplock CROWN – Hacking Section
Pull the triplock crown and you will find it's hacking seconds function. Thus you can precisely sync to a reference time of your liking. This was a major change from its predecessor, which used a twinlock crown.
The triplock crown is larger due to the extra WR measure inside of it, something many people appreciate. The twinlock crown was somewhat awkward in the eyes of many Rolex enthusiasts. It was just slightly too small. That being said, it may have been slightly more comfortable. This might be the trade off for a better, more proportional look that the new triplock crown offers.
GMT Master II 116710 HISTORY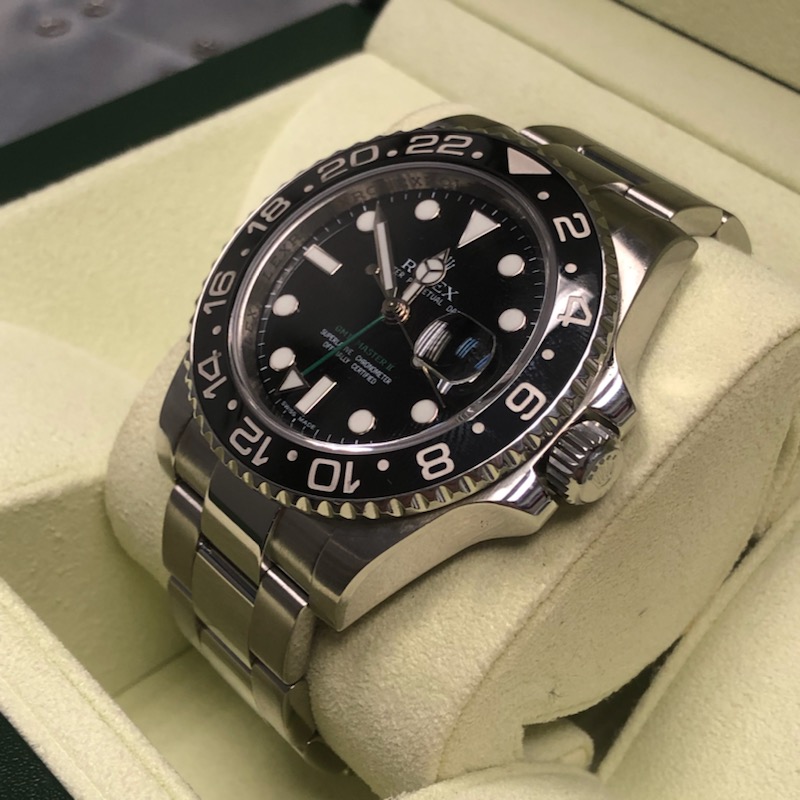 The GMT Master II was completely redesigned with the release of Reference 16718LN (yellow gold) in 2005. It was an anniversary model to the GMT Master II. It had a green dial base with a black bezel (later a variation with a black dial base was released).
In 2006, at the Baseworld fair, Rolex introduced the steel & yellow gold version – Reference 116713LN.
2007 – Release of the GMT Master II 116710LN.
In 2007, Rolex released the steel only GMT-Master II Reference 16710LN, which is the feature of this article.
There were many new upgrades/features that came with the Reference 116710LN, such as:
Triplock Crown instead of the old Twinlock Crown
Green 24-hour hand
Maxi Dial
Anti-Reflective cyclops date display
Ceramic Bezel with 24-clicks rather than 120 clicks
Indices made of platinum for added resistance to wear
Improved bracelet and clasp.
Smoother and more accurate hour hand thanks to the new Caliber 3186
New Parachrom Blue hairspring (better temperature resistance and high anti-magnetism)
More robust case
Rolex engraving on the inner track of the bezel ring.
Rolex "BATMAN"
In 2013, the famous and very popular GMT-Master II Batman was released (Ref. 116710BLNR).
Ref. 116710 was so well-received that it remained in production steadily for over a decade (2007-2018), and it is now recently been discontinued.
GMT Master II 116710LN DISCONTINUED
This is such a handsome and versatile watch. For some reason, it has been somewhat underrated during its production, but now that it has been discontinued (since 2018), we expect to continue seeing the Rolex community flock to the GMT Master II 116710LN.
Since the GMT Master II 116710LN is discontinued, this also means the extremely popular "Batman" black and blue bezel Rolex GMT-Master II 116710BLNR is now a discontinued model.
Where to Buy the Discontinued GMT Master II 116710LN?
You can purchase this aviator, water-resistant timepiece at Raymond Lee Jewelers in Boca Raton. It comes with the original box and paperwork. We also facilitate online purchases so if you are not in the area, feel free to shoot us an email.
Discontinued GMT Master II 116710LN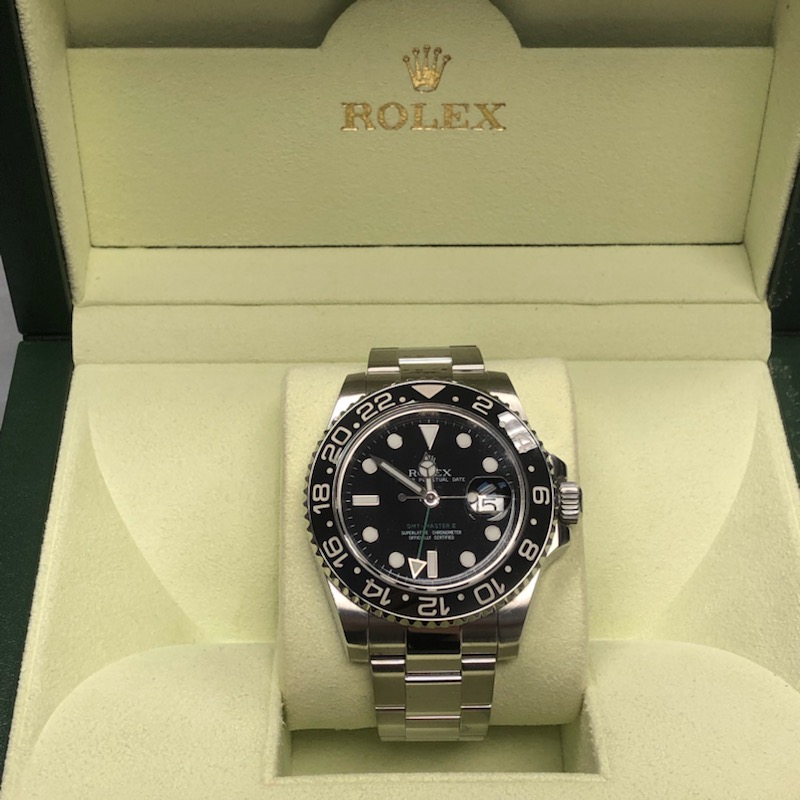 Raymond Lee Jewelers in Boca Raton
Raymond Lee Jewelers is Boca Raton's most recommended sales and service centers for watches, diamonds, and high-end jewelry. Our business is family owned and operated. We have over 30 years of experience selling fine certified luxury watches and in that time we have built an unparalleled reputation for fair, quality dealings in South Florida. Furthermore, we have one of the largest collections of Rolex watches in all of South Florida.
Our goal is to meet the needs of our customers at our Boca Raton retail store and online, and to provide our community with the best possible experience.  We combine value, quality, and cost with the remarkable ability to meet and understand the needs of the people we serve.
If you live in Boca Raton, please feel free to drop by our showroom anytime! You can see our Rolex GMT Master II 116710LN and many other vintage Rolex watches up close and personal.
Diamond By Raymond Lee's Showroom in Boca Raton, Florida:
2801 N Federal Hwy, Boca Raton, FL 33431
Our hours of operation are:
Monday-Friday – 11 am to 7 pm
Saturday – 10 am to 5 pm
Sunday – 12 pm to 5 pm
Phone: 561-750-7808
Feel free to contact us if you have any questions.