Amazon Cartier Love Bracelets – is there such a thing? Well, yes. And no. And like any good jewelry related question, our (very frustrating) answer is "It Depends." Amazon's fabulous marketplace hosts thousands of vendors. So it's not fair to say, as a rule, that there are no real Cartier Love bracelets on Amazon, or that Amazon sells authentic Cartier Love bangles.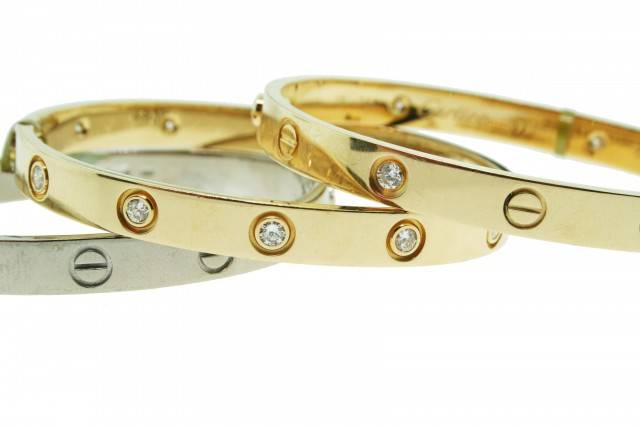 Amazon itself isn't stocking inventory of fine jewelry – that's up to the individual sellers. And, as a company that sells on Amazon, we can guarantee you that at least some of the Cartier jewelry on Amazon is real. Ours certainly is, and we're sure that other fine jewelers who sell estate and pre-owned Cartier can also say with confidence that they're selling the real deal. Our business depends on the fact that our customers can trust that they're buying authentic jewelry.
That being said, there are caveats. Amazon's marketplace is also rife with cheap, knockoff Cartier Love bracelet sellers. For some inexplicable reason, if you search for Cartier Love Bracelet on Amazon, the first dozen results are all under $30 cheap fake Love bangles. We've looked through the listings and none mention Cartier outright (understandably, they'd have their pants sued off.) So beyond customer reviews or image descriptions, there's no explanation for this.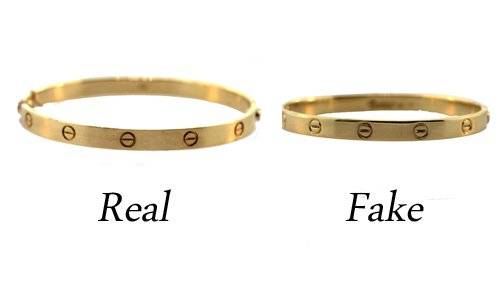 It's not – and it shouldn't be – Amazon's job to authenticate its sellers' wares. eBay doesn't, nor do many other online marketplaces. But it does raise a few red flags that the first page of search results are all knockoffs.
Now, this doesn't mean that there aren't authentic Love bangles on Amazon. It just means you kind of have to reverse engineer your search and do major homework before purchasing. You'd have to search for jewelers first, then find a reputable jeweler, then find one who also sells pre-owned jewelry, then find one that sells Cartier Love bangles, and also stands by their product. We love a good deal and the exciting pursuit of it, but quite frankly this is more work than anyone needs to do to find a real Love bangle online for less than retail.
You're better off searching online for AUTHENTIC Cartier Love Bangles – you'll get a list of jewelers who you can compare, and it should eliminate most of the black market peddlers. The biggest giveaway of a fake (or suspicious) Love bracelet will always be price. Love bangles, even the preowned ones, cost several thousand dollars. Not several hundred. Certainly not $40.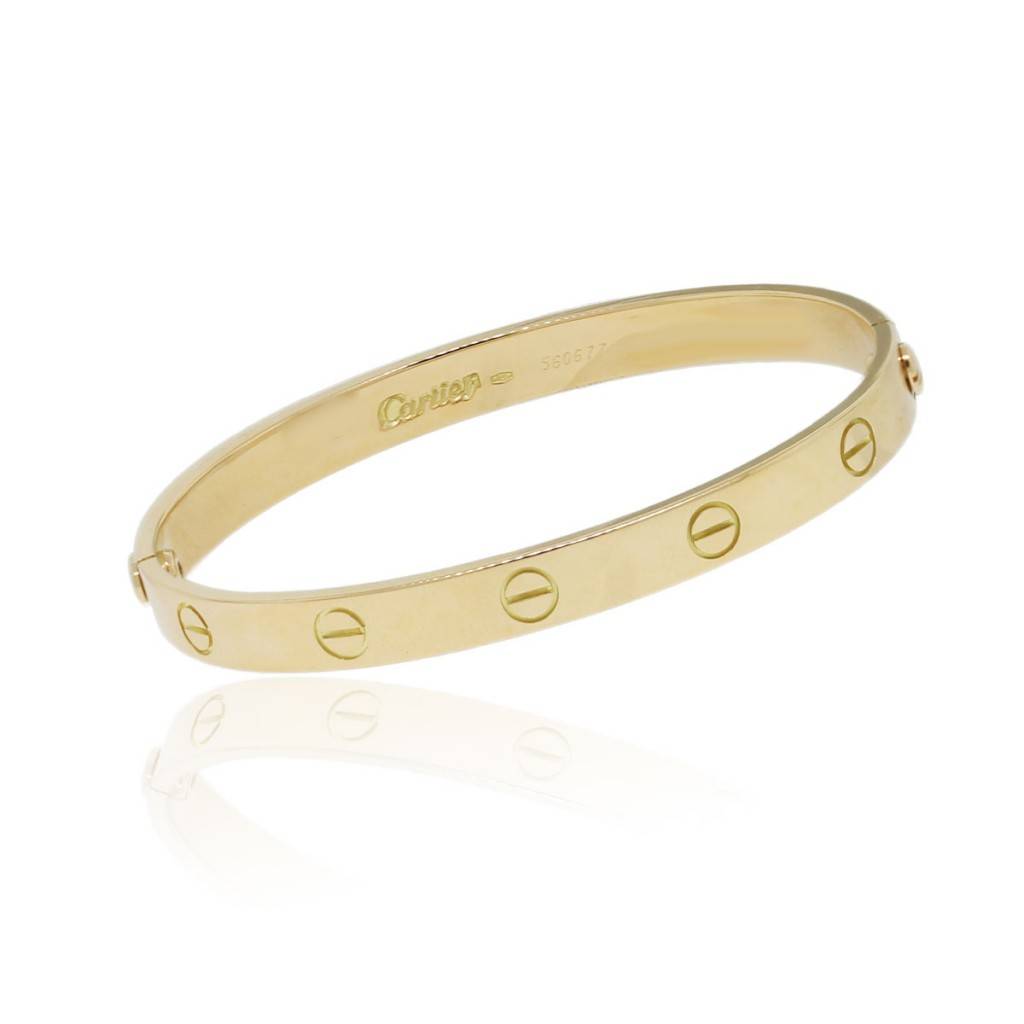 And while it's impossible to authenticate a Cartier Love bracelet without seeing it in person, you can use our handy acronym to lower your risk and decide if you're dealing with a trustworthy online jeweler.
Longevity: Decades of happy customers don't lie. Nor do hundreds of pages of eBay feedback.
Open Communication: Do they call you back? Facebook you? Text you? Help you choose between sizes?
Verifiable: Do they have Yelp & eBay reviews? Will they show you Cartier box & papers if the listing advertises them?
Easy Returns & Exchanges: Clearly stated, black and white, simple for you.
Related articles