What wedding band matches your engagement ring? Wedding band matching is one of the most common issues among our RLJ brides. Many women contemplate the style, setting and shape of their engagement ring, some with very specific designs in mind. But it's not until they start shopping for a wedding band that they realize they haven't given it any thought.
We've had brides who were absolutely distressed that no wedding band would match their ring – which happens more often than you'd think. Sometimes the ring's setting dips below the actual shanks of the ring (like this beauty we just finished for one of our loveliest RLJ brides):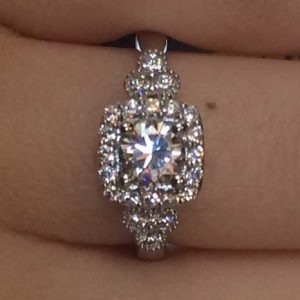 But not to worry, she still has options.
(The easiest) Skip the wedding band altogether. Many many couples are going this route because hello they just bought a ring, and the groom still needs one. She's content with her stunning engagement ring thankyouverymuch.
(Our favorite) Get a band you can wear separately on your right hand, or all alone on those days when you don't want to wear your engagement ring (like if you're volunteering, gardening, fishing, building a from scratch piñata, etc.)
(Most brides' favorite) Find a band that complements the shape of the ring, whether that means it hugs it tight, or leaves a little breathing room between the two rings.
While we have yet to shop with this bride for her perfect wedding band, we did do a little mixing and matching with a few of our gorgeous round brilliant engagement rings. We'll be sharing the wedding band options for engagement rings over a series of posts, starting today! The engagement ring is a stunning, 3.08 carat round brilliant solitaire in a vintage style platinum mounting with channel set diamond shanks.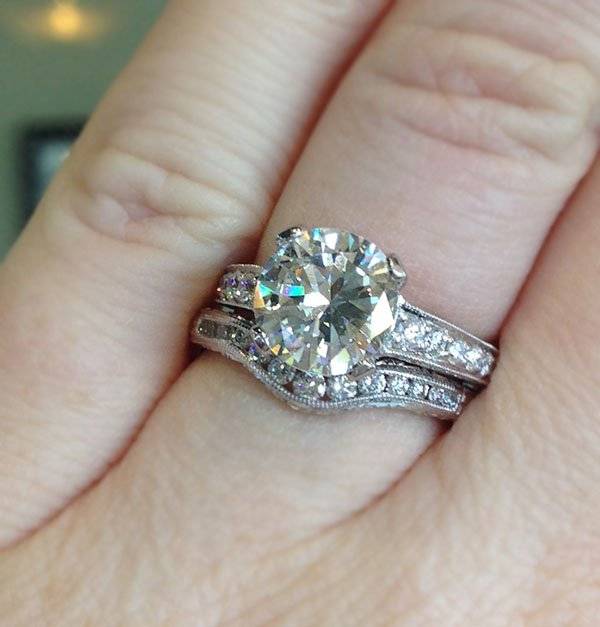 This first option pairs our ring with a channel set band that mirrors the milgrain border on the engagement ring. It gently swoops down to hug the curve of the center stone.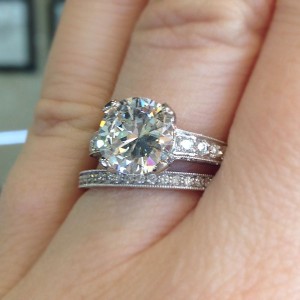 The next option is perfect for brides who may or may not want to stack their wedding bands eventually. This Gabriel & Co. white gold and channel set diamond band picks up the same style as the shank (with the milgrain and small, shared prong set diamonds that look like the channel setting.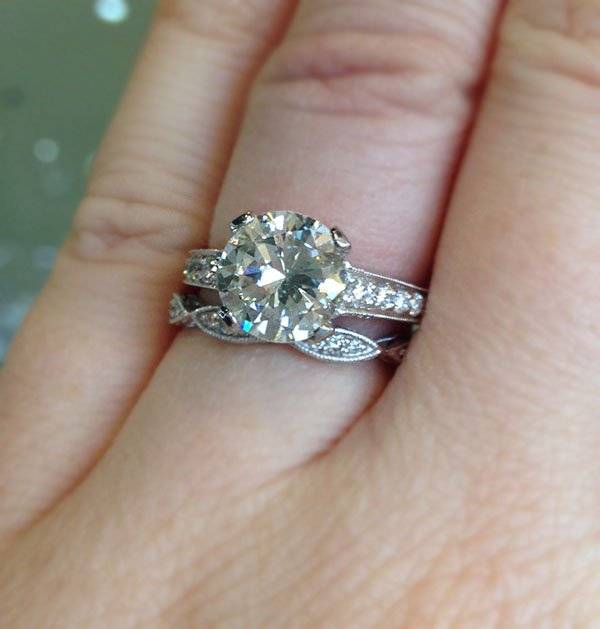 This Gabriel & Co band features a more contemporary design. It still creates space between the band and engagement ring to allow the eye to "rest" before moving onto the more intricate design. However, this one's undulating curves hug the large center stone slightly better.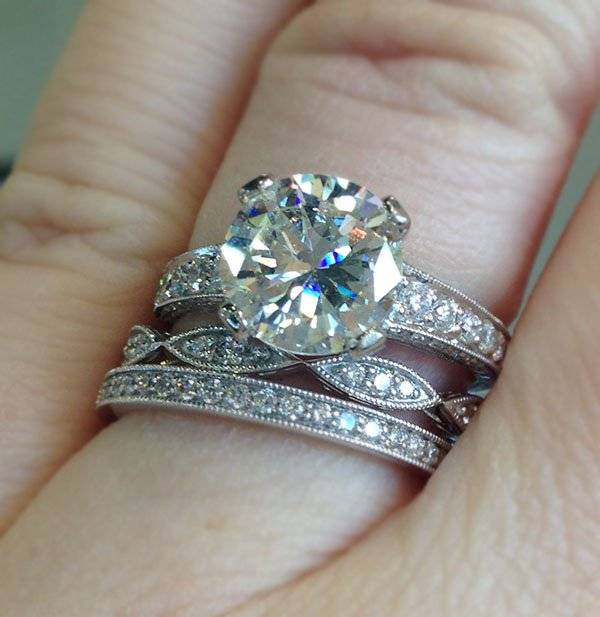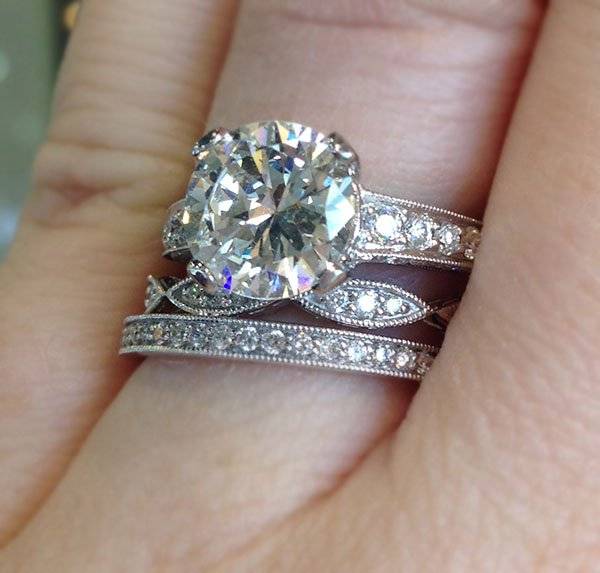 This combo is our favorite – we had to share two shots of it! It's the same Gabriel & Co. wedding bands as above, but paired together. It blends the two, letting the rings have their own distinct space, but with the wavy band in the middle of the stack, it marries the two beautifully. The entire stack is tied together by the milgrain element on every ring, carrying us through Victorian style, to contemporary, to the vintage style engagement ring!
Which of these bands would you pair with this ring?