Does Cartier make a sterling silver Love bracelet? We've certainly never seen an authentic Cartier Love bangle in sterling silver (see how to spot a fake here!) There's no current edition of sterling silver Love bracelets available through Cartier or any reputable re-seller. And we had doubts that they ever existed – Cartier's Love bangles are immensely popular, even at their high prices. Why would Cartier dilute the cache of the fabulous Love bangle by offering it in anything less precious than gold?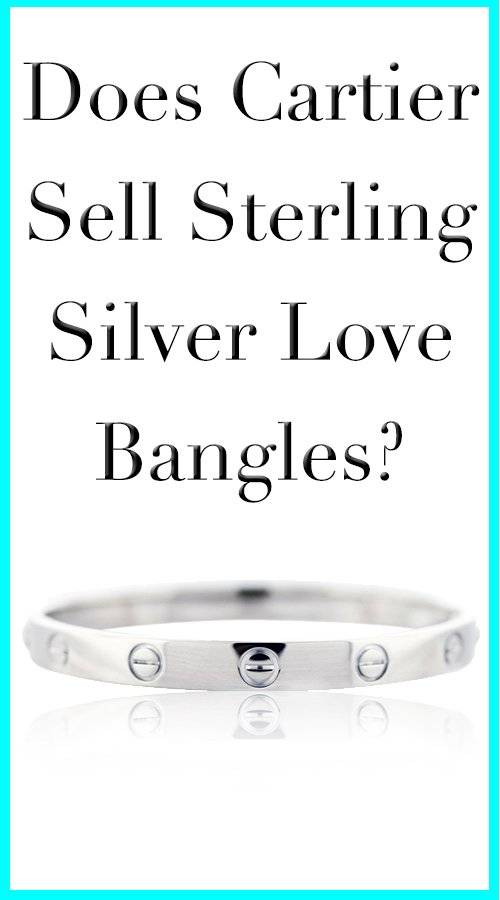 Of course, Cartier does sell sterling silver items, like cuff links, pens, baby rattles, lighters and other sundry accessories. So it wouldn't be completely out of the realm of possibility. After all, the original Aldo Cipullo bracelets were plated gold (quelle horreur!) And the solid gold model reigns supreme today. Was it possible that Cartier once issued a sterling silver Love bangle? We doubted it.
An RLJ fan who wrote to us, asking if Cartier makes silver Love bracelets, needed an answer, ASAP. Without being able to see the bangle in person, we couldn't come close to authenticating it, unfortunately. She was contemplating purchasing this allegedly authentic sterling silver Love bangle, so we gave our usual answer: err on the side of caution. If it seems too good to be true, it probably is. Especially when it comes to online Cartier sellers. Even a pre owned Love bracelet still sells for $5k at least. So we wished our customer luck, advised her to pass on this sale, and continue the jewelry lovers' hunt for great deals.
We're certain we gave her the best answer we could, but we needed to know: just because we'd never seen an authentic silver Love bangle, or seen another reputable vendor selling one, does that really mean they don't exist? According to three different Cartier boutiques, including the NYC flagship, our neighboring Boca Raton Cartier boutique, and the Chicago Cartier Boutique on Michigan Ave, they don't exist. Never have, never will. We even posed the hypothetical "Would you create a custom piece?" But nope, platinum or white gold only, thankyouverymuch. Ditto for all mass productions of the bracelet.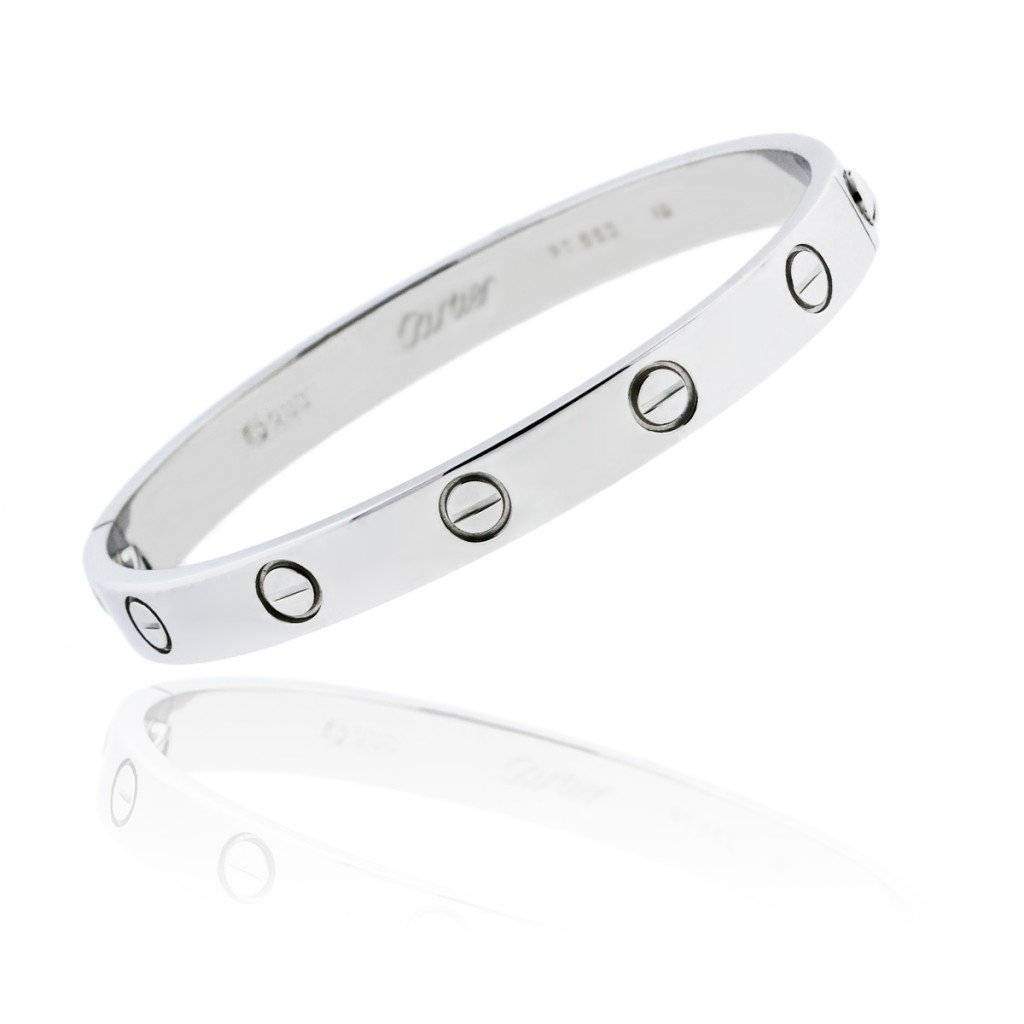 So now, we can say with finality, sterling silver Love bangles are not real. If you see one for sale, it's a replica, and a big fat fake – which we definitely think you shouldn't buy, and here's why. Your best bet for finding a good deal on an authentic Love bracelet is to shop pre-owned, but do your homework. If you're shopping in person, it'll be easier to gauge the reliability of the seller (no trench coat dealers on Canal Street, sorry.)
Look around the store – do they have other designer items? Are they willing to spend time with you, explain the various engravings on the inside of the bangle? Can they show you box and papers, and do they have an authenticity guarantee? Shopping online can be even easier, although we understand that some customers are hesitant about making such a large purchase online. Use this acronym to help you decide if the seller is legit:
Longevity: Decades of happy customers don't lie. Nor do hundreds of pages of eBay feedback.
Open Communication: Do they call you back? Facebook you? Text you? Help you choose between sizes?
Verifiable: Do they have Yelp & eBay reviews? Will they show you Cartier box & papers if the listing advertises them?
Easy Returns & Exchanges: Clearly stated, black and white, simple for you.
Related articles