Old European Cut Diamonds – Everything You Need to Know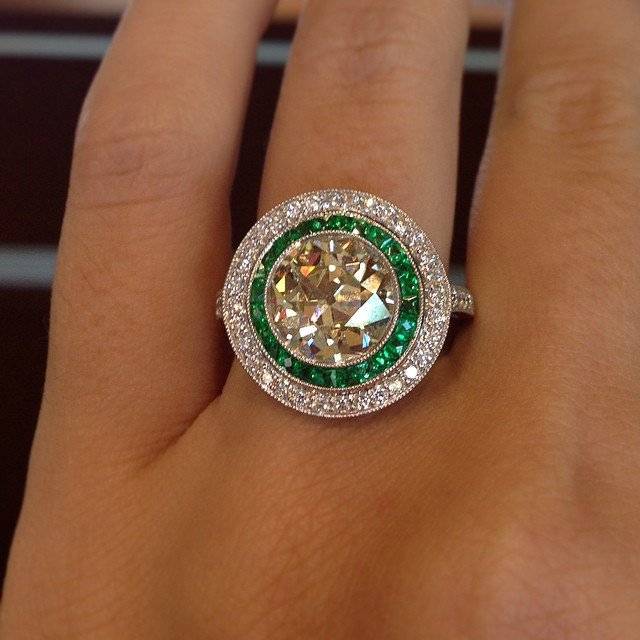 What is an Old European Cut Diamond? Old European Cut Diamonds (OEC) are an antique type diamond cut born of a time before modern technology enabled the precise geometry we see modern diamond cutters use. The Old European Cut evolved from the Old Mine Cut, with their trademark small tables, heavy crowns, deep angles, and large, visible culet.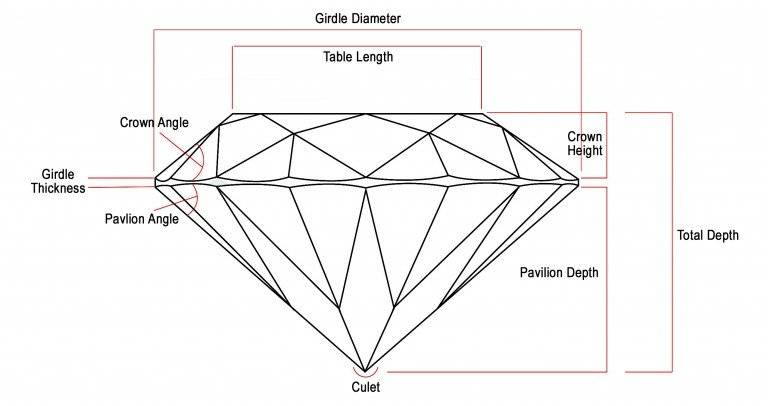 Click here to learn more about the parts of diamond anatomy
Old European Cut Diamond History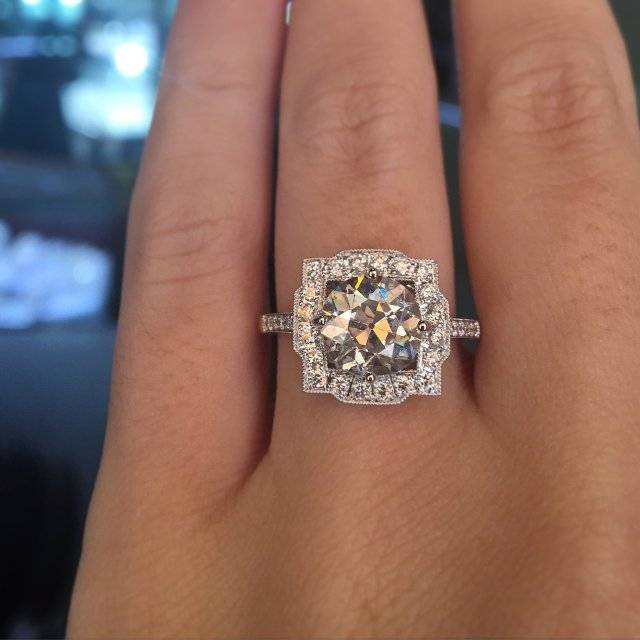 2.10 carat Old European cut diamond halo engagement ring
This 58 facet round (or occasionally round-ish, thanks to imprecise cutting) diamond with a round culet was the beginning stages of the modern round brilliant. It was used widely by 1750 after thousands of years of evolution in diamond cutting. After Single cuts, Rose cuts, and Old Mine cuts, the diamond finally evolved into the circular face-up appearance it's most known for today.
Transitional diamonds started emerging in the 1870s, before Marcel Tolkowsky developed the modern brilliant cut in 1919. By 1950, the modern round brilliant was the most popular style and technique.
Old European Cut vs Old Mine Cut – What is the difference between old mine cut and European cut?
In the meantime, the Old European cut was the star of  Art Nouveau & Art Deco jewelry design. Contrary to common usage, the OEC is not interchangeable with the term "Old Mine". Old Mine cut diamonds pre-date the OEC, and primarily anchor Victorian and Edwardian pieces. They more closely resemble today's cushion cut diamonds than do rounds. However, they too have a large culet, high crown, and small table. Because diamond cutting was so proprietary at the time, Transitional diamonds often blurred the lines between the two.
Related: Antique Engagement Rings Eye Candy
Typical Old European Cut Diamond Specs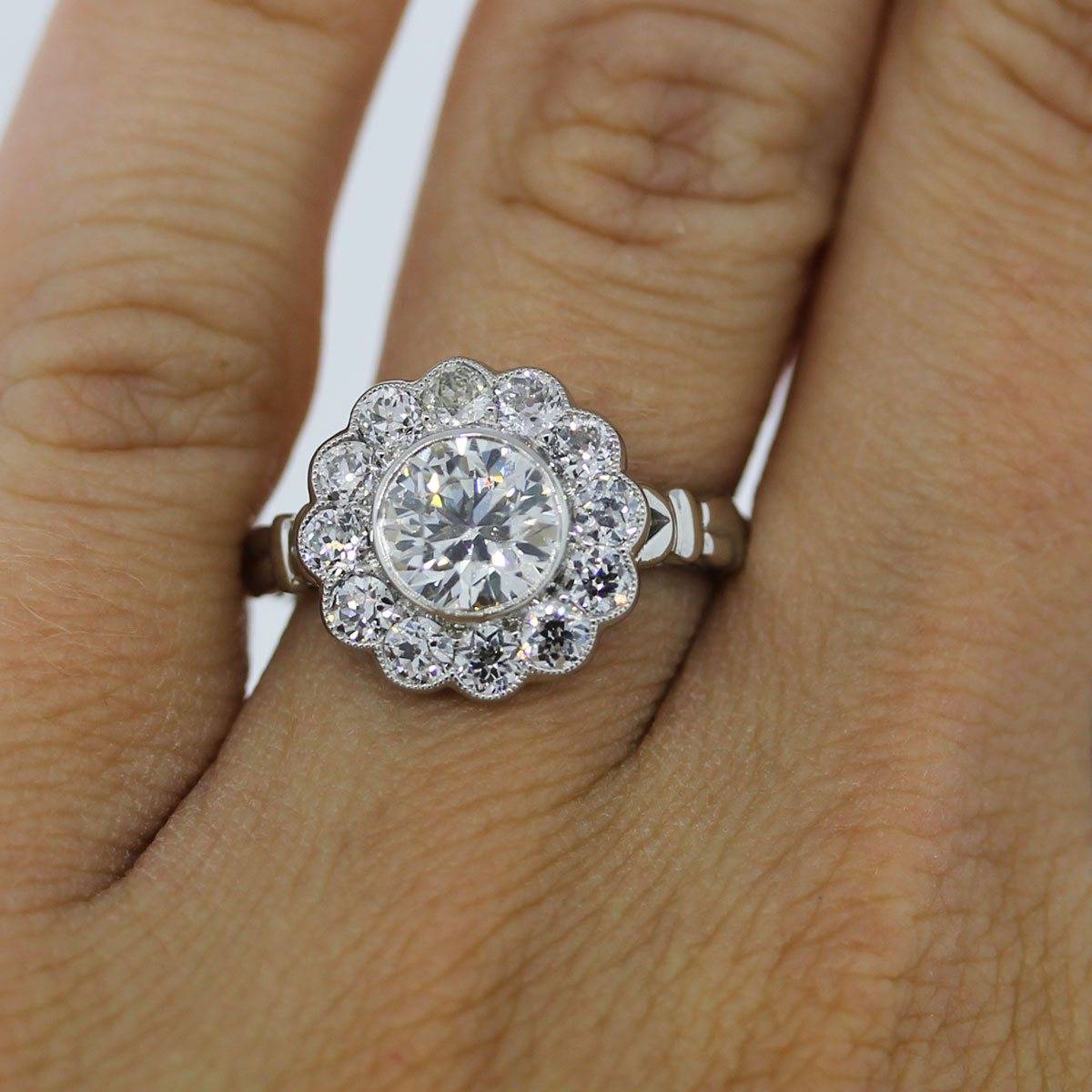 Platinum 1.15ct Old European Cut Diamond Flower Engagement Ring
Old European Cut Diamond vs Round Brilliant
Compared to today's round brilliant diamond, OEC's have smaller tables, much larger culets, and higher crowns.
GIA classifies any table less than 53%, which is the minimum for modern round brilliants, as Old European. However, you'll often see OEC's with tables as small as 38%. More specifically, GIA requires 3 out of these 4 criteria:
 Table size: less than or equal to 53%
 Crown angle: greater than or equal to 40%
 Lower half facet length: less than or equal to 65%
 Culet size: slightly large or larger
Do Old European Cuts Sparkle?
An Old European Cut diamond will not compare in terms of brilliance with a Round Brilliant Cut diamond, however, they have a lot of special features and a strong history which still makes them very appealing to the modern bride.
Related: What's The Difference Between EGL and GIA?
Special Features of the Old European Cut Diamond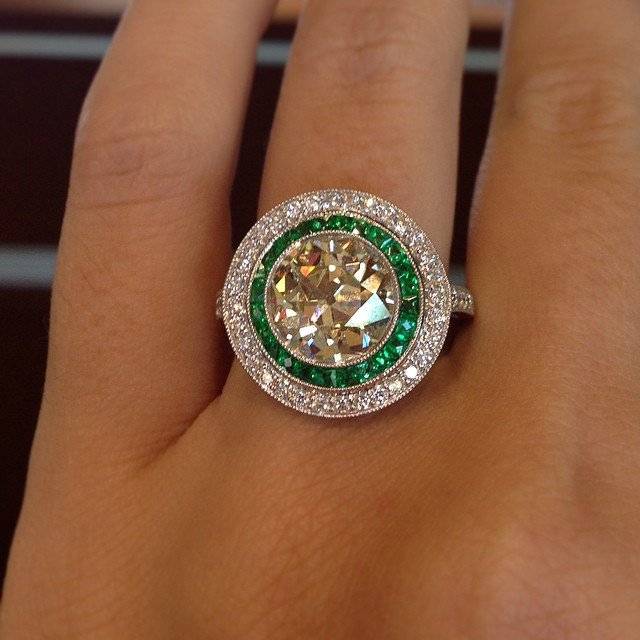 Old European Cut Diamond engagement ring with emerald double halo
GIA classifies OEC'S differently because it grades them differently – they don't assign Cut grades. Which our regular readers know is the most important of the 4 C's. But you also know that a diamond's certificate doesn't matter more than its physical beauty, and that's the exact reason GIA won't assign them a cut grade. Compared to a modern round brilliant, they'd pretty much fail. So rather than hold OEC's to impossible standards, grading them with criteria developed for diamonds cut with modern technology, GIA leaves them well enough alone.
To grade their cut with the modern standards would rob them of the chance to shine in their own right. OEC's have a beauty all their own, and the cut's "shortcomings" actually appeal to tons of customers more than a modern round brilliant.
"Compared to a modern brilliant, older gems typically show larger face-up patterns of light and dark—what might be described as a "checkerboard" or "blocky" pattern. A modern brilliant can display a tighter mosaic of light and dark that might be described as "splintery" by those who prefer older cutting styles." – GIA
Old European Cut Diamond Value
As far as costs go, it once again depends on the piece. Because OEC's are antiques, they're typically sold part and parcel with their original setting.
"It depends on the stone. If it's a low quality stone and nothing cool about it, obviously it will be less than a modern round brilliant. But, for instance, a cool Old Cut in its original mounting, pin, bracelet, it'll command more. Also if the piece is signed something crazy like VCA (Van Cleef & Arpels) or something it would be so expensive compared to the exact piece made today." – Lee Josephson, President of Diamonds by Raymond Lee
Many people ask…
Are old European cut diamonds worth more?
Again, this entirely depends on the quality of the diamond. However, typically an Old European Cut Diamond will be worth more than a modern diamond of similar quality. This is because OECs are rare.
Furthermore, Old European Diamond Cuts generally have bigger carat weights, so more often than not they are more valuable.
 Related: History of Engagement Rings
Pros and Cons of Buying an Old European Cut Diamond
Pros
Incredible "look" unlike anything made today
Valuable antiques
More aesthetically appealing to some people
Often comes with an amazing, one of a kind setting
Cons
If you have a loose OEC, you might run into difficulty finding the perfect setting. These diamonds really need an antique setting, or an antique style setting to maximize the ring's beauty – one that lets a ton of light in. And often these settings are very delicate – your jeweler might not want to swap a ring's existing diamond, as it might damage the antique setting. Going custom is a fantastic option, as long as your jeweler can properly honor the design style of the era. However, it will mean a longer wait for your engagement ring (typically only a month, you can read more here.)
Not as brilliant (sparkly) as their modern counterparts
Because they aren't graded completely, you can't trust a certificate alone and buy an OEC "blind." But we don't recommend you do that anyway!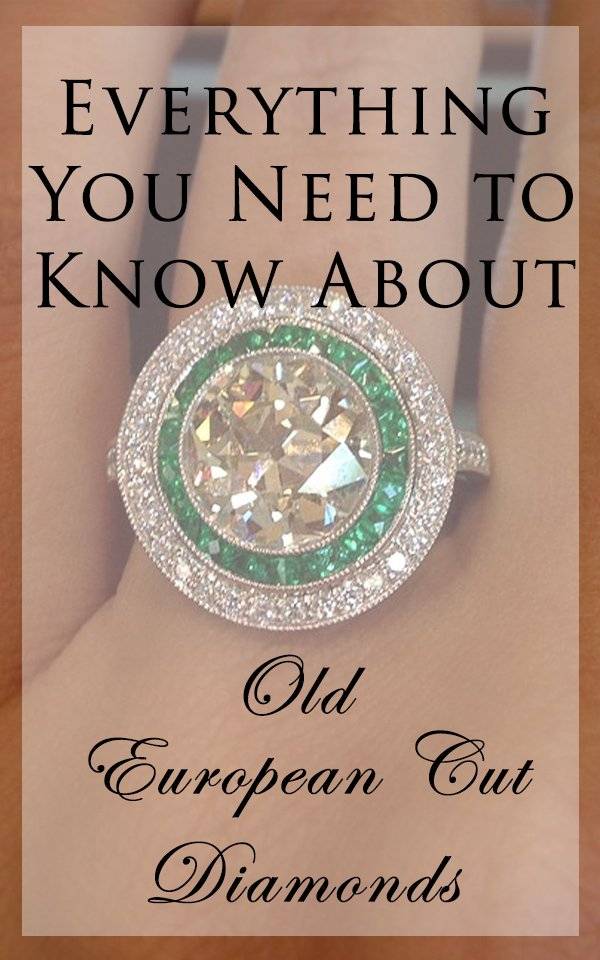 So, are you ready to travel back in time and choose the perfect Old European Cut diamond? Let us know in the comments!