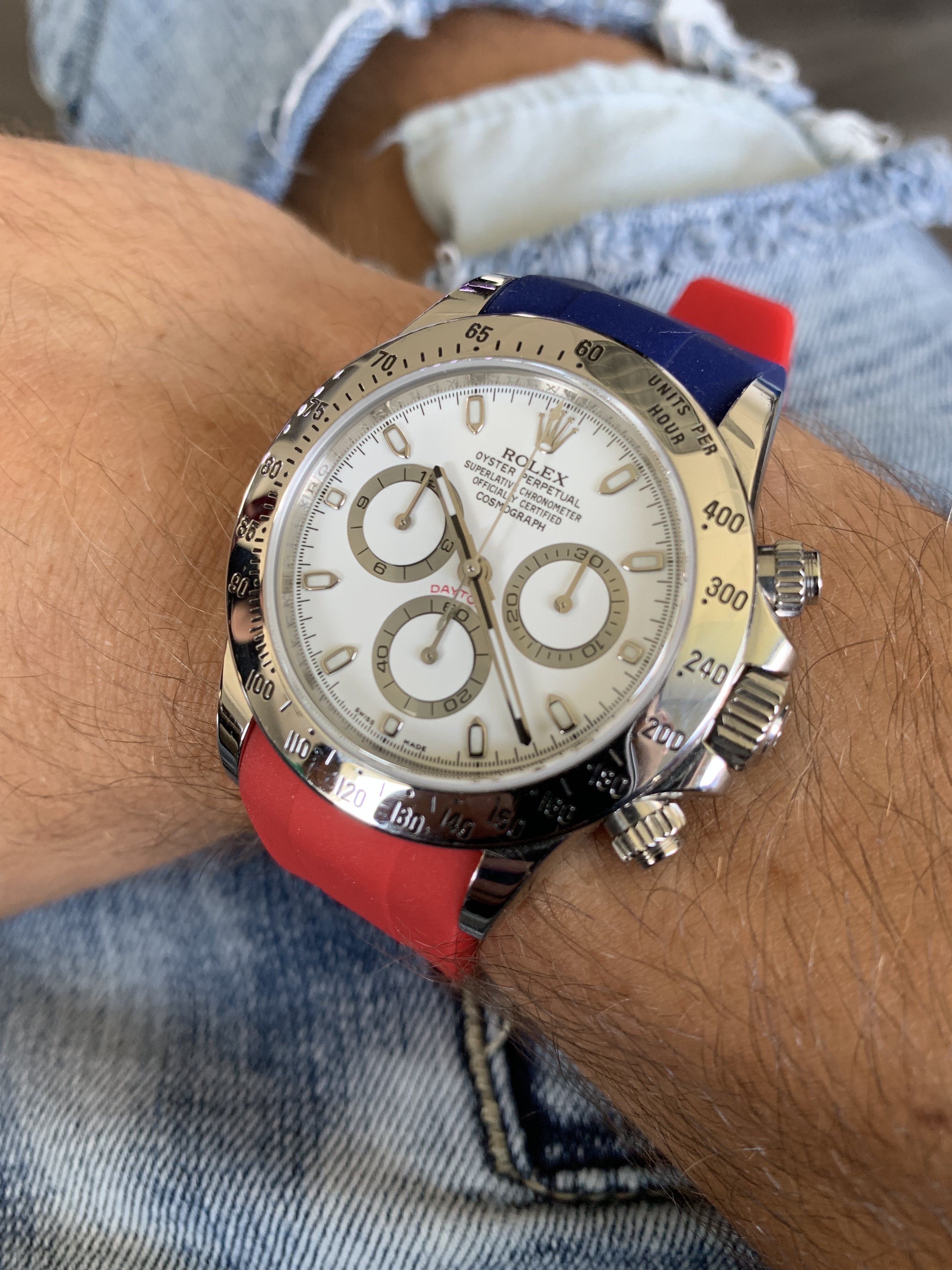 For every occasion there is a style. A look that ties together the entire theme. And of course what you are bringing to that occasion too. There are the moments for the formal. The traditional and the all black look. However, there are other festivities that call for color. They really ask for more personality and a big all American wave. No other day in the year could call for that more than the 4th of July. An all American barbeque and celebration of culture and history could not be complete with star spangled everything. Now Rolex does not launch a limited edition American flag themed watch. We have checked and no it is not in the books. However, they create classic icons that are stunning for all your events and daily styles. That is why there are luxury watch strap companies that now create unique style rubber Rolex straps. 
Whether that is a Yachtmaster II, a classic Daytona or a Date Just the Horus watch straps are some of the most versatile straps in the market. Best in class and world quality they are the straps that let you take your Rolex time piece to the fore front of the party. The watch band that can let you celebrate in whatever way that you want to in any occasion whatsoever. These are the finest quality rubber replacement luxury Rolex straps in the market. They fit a wide variety of different Rolex watch models as well. So if you felt this 4th of July that your time piece was missing that bit of red white and blue worry not. There are high quality luxury replacement rubber Rolex straps. You can give your watch a sportier look and feel while also getting fashionable options made specifically for your brand luxury watch. 
Horus rubber Rolex straps
Now when it comes to luxury watches like Rolex your accessories can be limited. With a strong focus on the creation of fantastic watches and cutting edge functionalities the Rolex straps might not be keeping up with the latest fashion trends. However, that does not mean that you do not have the opportunity to. A great innovative option to personalise and change up your luxury watches, particularly sporty ones, are replacement rubber straps. Rolex straps included, made specifically to the iconic watch collections specifications. These rubber straps are interchangeable and fixed. They are ergonomic and perfectly shaped to fit luxury watch specifics like the Rolexes. They fit snugly against the unique lugs. Meaning you keep your timepiece safe. No matter what your preferred activity might be. So whether you are looking for sportier and more eye catching Rolex strap options for sports or looks Horus straps are an excellent option. 
For the gentlemen that do not accept the status quo and are the trend setters of our times Horus Rolex straps offer alternative personalisation for luxury watches. Even for a classic piece like the Rolex Date just watch you can give it a sportier edge or colorful burst for a special occassion like the 4th of July.With a colourful rubber strap similar to the one on the featured Daytona above. The straps have surpassed expectations with high end aesthetic designs that are not just trendy but on point and edgy. No matter the occassion or way you are feeling, there is a strap for that. They are all exquisite high quality rubber straps for luxury watches. To show your all American pride there is nothing better. Not star spangled but taking on the red, white and blue this celebratory Rolex strap is perfect. Check out the individual watches below. 
Iconic Rolex watch straps
When it comes to Rolex specific straps it can be difficult to find your preferred styles. However, not with the Horus straps. These fit all of the different collections of Rolexes perfectly. They have many different styles, colors, patterns and combinations as well. So for next July's biggest barbeque day be ready. Have your fine time piece dressed up in the stars and stripes too. After all your luxury accessories need a ramp up themselves as well do they not? We think they deserve to. For a timeless time piece that is at the cusp of innovation and creation. The clasps that Horus uses for their straps are also super high quality and exquisitely made. So you can be sure that your time piece is safe and secure on your wrist for all of the fireworks your weekend will bring, literally and figuratively. So whichever of the Rolex icons you are sporting you can transform your time piece into an all American dream. 
Three Rolex stainless steel iconic styles: the Rolex Daytona, Yachtmaster II and Datejust watches
For an All American weekend a Rolex Yachtmaster II is the time piece that takes you from the barbeque or picnic directly on to the water. Not called the Yachtmaster for nothing this is one of Rolex's most iconic time pieces. The name of these watches really sets the tone for their design. Inspired by the world of sailing these intricately crafted watches are made for power and precision. So if you are ready to celebrate the fourth of July out on the open seas or the great lakes your Yachtmaster II is the perfect protagonist to join you undoubtedly. Ideal for regatta racing Rolex sets the standard for sailing timepieces. 
Known as the watch of the open seas the Rolex Yachtmaster is ideal both for the sailor and the man with a passion for the seas. All the Rolex Yachtmaster watches feature rotating bezels and to accentuate this feature many are a different tone or metal altogether from the bracelet. This means that it is the perfect candidate for a stylized Horus rubber strap. It is not a huge departure from the original design aesthetic created. Further, the traditional Yachtmaster II color scheme is already one that is ideal for a star spangled bloom. Overall the sailing lifestyle is embodied in the hues of blue. A marine theme staple and traditional sleek color the Rolex Yachtmasters that feature blue dials are unique and on brand. 
The luxury sport icon for regatta racing could not be better represented than with the color of the deep open seas. The rotating bezel with its nautical blues are accentuated by the white dial. These are masculine and refined with a maritime tradition staple theme. Furthermore the red details on the seconds hand and watch face bring us back to the all American theme.
Made to meet the toughest of requirements the Daytona Rolex watch is a race car drivers tool of choice. The leader in the market for so many incredible feats of engineering and haute horlogerie the Daytona collection is a leader in the sport watch series. A true stand out watch it features strong influences from automotive racing. A sport that is undoubtedly paired with the American spirit and sense of freedom specially on the open highway roads this collection is truly ready for an American star spangled splash as well. The highly sportive style of the watch is ideal for the Rolex strap in a sportier rubber material. 
Further, the grooves and ergonomic comfort make it one of the most comfortable straps for you to race around in. Whether you are participating in your local Fourth of July parade or taking your family out for a cruise on the hot summer holiday. 
The watch itself has distinct features that make it ideal for racing. An enhanced visual display with three separate sub dials as well as the Rolex cosmograph tachymeter the Daytona says a lot in just one look. The watch is crafted with a vertical rather than a lateral clutch making it easy to activate the chronograph with one hand. Using direct friction on a two disc contact this watch is made for professional drivers. An elite tool for those nail biting "beat you by half a second" races the Daytona Rolex is a sport's man dream watch. Iconic to say the least it also features some of the most unique Rolex features like the Oyster steel alloy, perpetual and cosmograph. All of it precise and prepared to estimate down to the last second. The three sub dials and chronograph are there for easy push button and bezel calculation. 
One of Rolex's most recognizable and iconic watches is the Rolex Datejust series. This Rolex series is a more modern series. The collection is a modern archetype with aesthetic design and function that transcend fashion trends. It is forever new, relevant and fresh. The design has spanned several eras throughout the Rolex lifetime. Further the features that are iconic and classic keep the tradition of Rolex alive within each and every one of the watches. It is traditional and modern. It is inimitable. An icon clearly it combines all of the tradition and legacy of the Rolex brand with the modern yet timeless look. That versatility is what makes it ideal to pair with a Rolex strap from Horus. The silver dial and stainless steel case. Which is Rolex's own foundry's Oyster steel. This is the perfect match with almost any color combination decided including the red, white and blue. 
First, this watch is a modern vintage. It is a Rolex 1601 Datejust Oyster Perpetual stainless steel watch. Combining all of the absolute best from one of the world's most formidable brands. The watch has one of the world's very first automatic date changing functions. This incredible ground breaking time piece feature was first released in 1945. The first wristwatch to automatically maintain the date function. Another unique feature on this Rolex is the silver dial. Most of the traditional Rolex watches have a rather simple white face. Meanwhile, this one has a silver dial face. Each one of the time markers is a simple and straightforward rectangular silver mark. It is a Rolex for the man who appreciates finer things without desiring to make so much of a splash. The silver dial is a unique touch that elevates the overall watch design. However, it maintains the traditional classic look. 
Where to buy high quality rubber Rolex straps? Your luxury timepiece destination Diamonds by Raymond Lee 
If you are looking for luxury and high quality watches as well as accessories for your luxury watch then look no further. We at Diamonds by Raymond Lee provide some of the finest watches and luxury watch accessories in the world. For the last thirty years we have been bringing these incredible luxury items to South Florida. Always keeping our refined clientele supplied with the latest and greatest that the luxury time piece world has to offer. Whether that is high brands like Rolex, Audemars Piguet, Omega and more or accessories for these pieces. From iced out modern looks to unique vintage pieces we have a far reaching collection of time pieces. Regardless of what your tastes and preferences are we have singular pieces for every gentleman and lady. Including bespoke pieces that were altered with personality. If you are keen to make your own bespoke additions or modifications too. 
We offer services to modify your luxury time piece beyond the straps and bracelets. If you are interested in doing so. For a timeless look that will glitter and shine no matter what watch strap you have decided to add on. Our commitment is to service and quality and we, therefore, hope to continue serving all of our clients over the next 30 years. We would love to meet you in person at one of our conveniently located and expertly designed showrooms to show you some of our collection. You can bring in your watch and try out some of our Rolex straps available. That way you can see for yourself how the expertly crafted bands fit perfectly with your time piece. We hope to continue serving our South Florida community for the next three decades to come as well. Always with superior service and a continued commitment to excellence.