Rolex Yachtmaster 2 Review | Stainless Steel | 2013 Edition (Ref. 116680)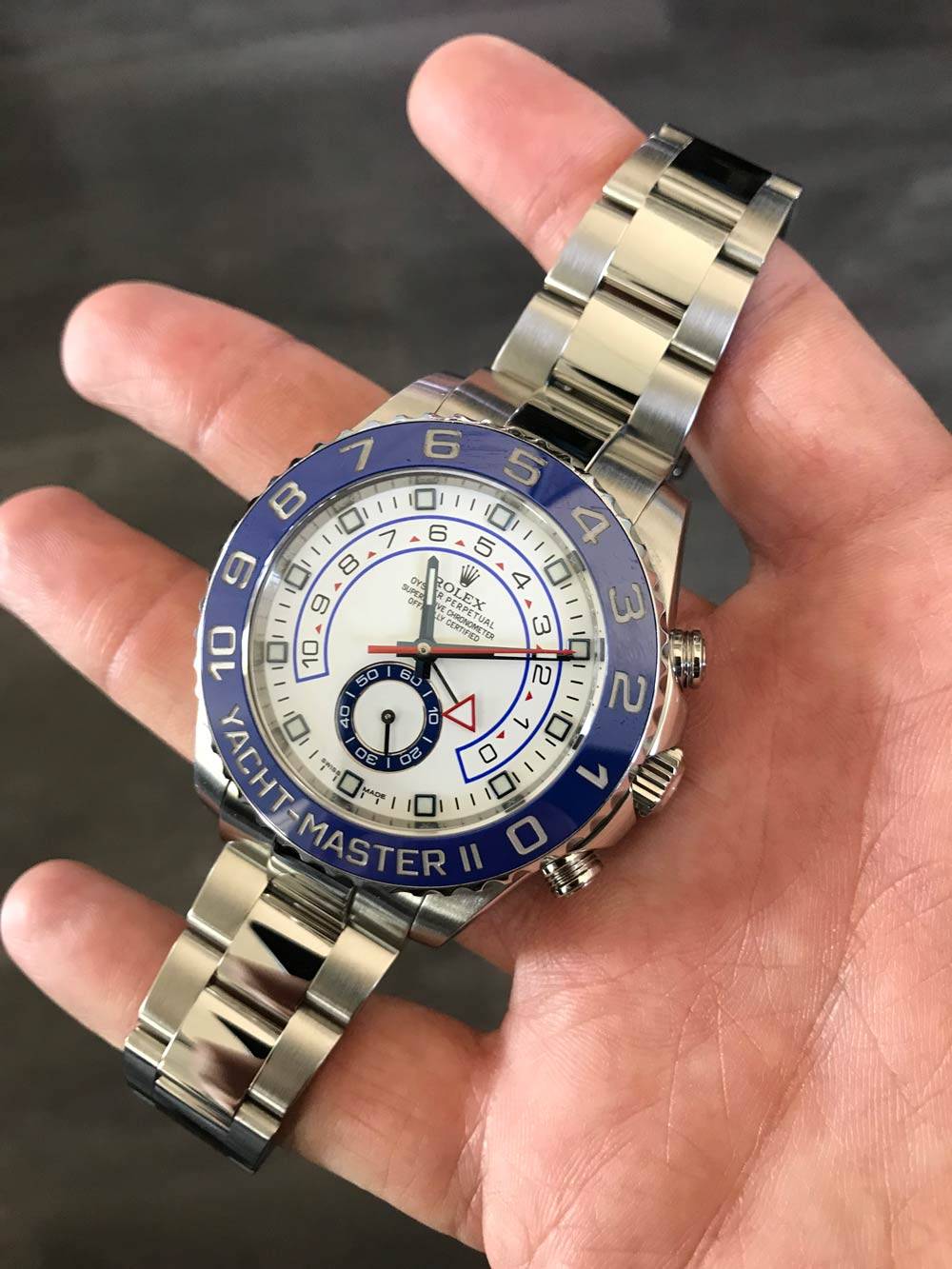 Presenting the Rolex Yacht-Master II Oyster Perpetual.
The Rolex Yachtmaster 2 Stainless Steel (ref. 116680) is a polarizing model that has stirred up the Rolex collector community like no other. It's a big, bold and vibrant watch that screams its name in the face of anyone that is graced with its presence. Although it may not be the watch for everyone, there is so much to appreciate about the Rolex Yacht-Master 2. In this Rolex Yachtmaster 2 Review, we will give you an in-depth look at all of the Rolex Yacht-Master II's features and discuss why we think this Rolex Oyster Perpetual will go down as one of the best watches of this decade.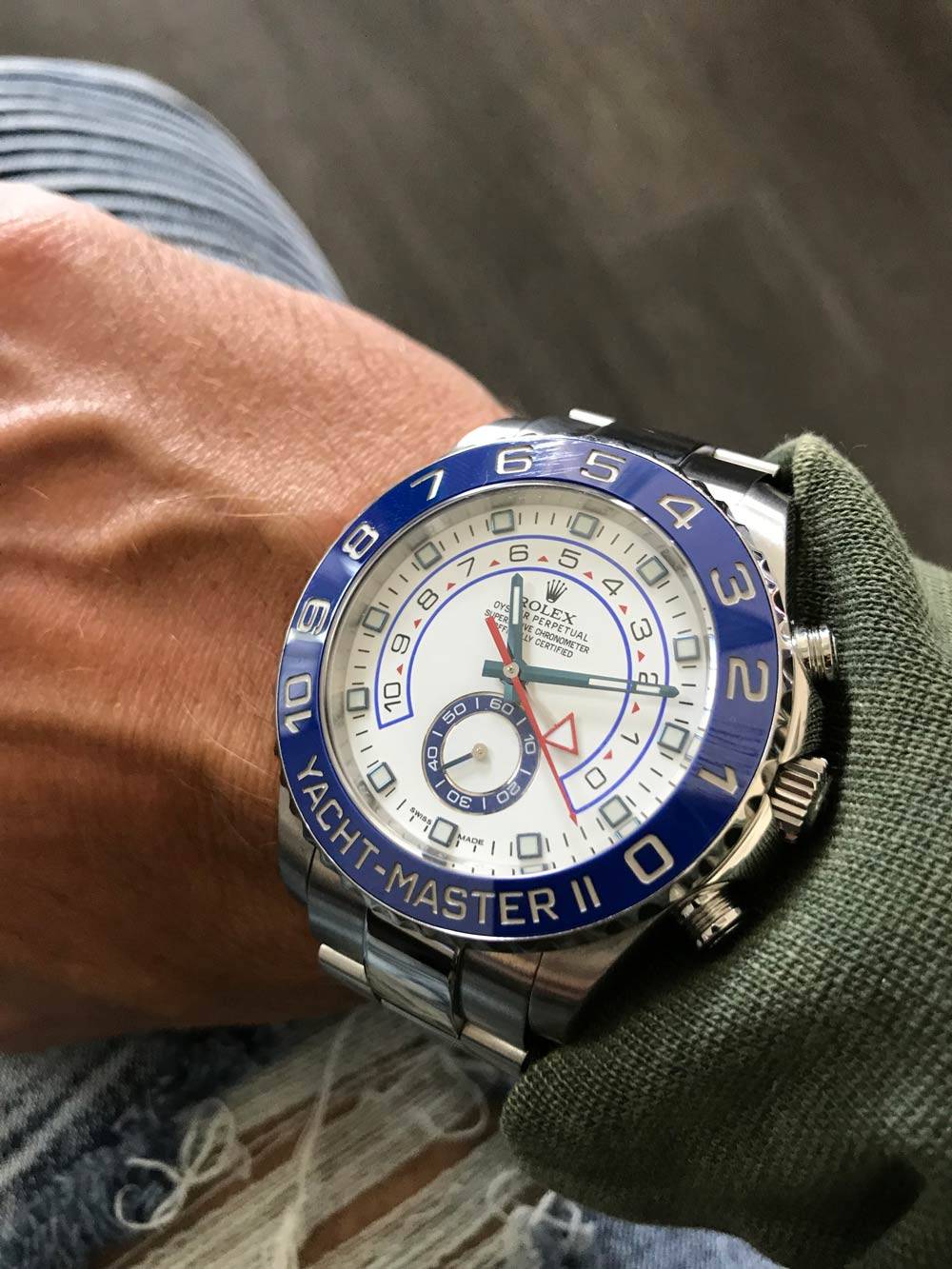 ROLEX YACHT-MASTER II STAINLESS STEEL 2013 EDITION
The Rolex Yacht-Master II 2013 edition has a large 44mm Oyster Steel case and an energetic blue bezel with big text. The Rolex Yachtmaster II is a distinguished watch that has amazingly unique qualities from other Oyster Perpetual watches that Rolex makes. It was created with a professional need in mind, that being a skipper of a yacht.
The Rolex 116680 has a programmable regatta countdown flyback chronograph, which is made in-house by Rolex. Furthermore, and even more noteworthy, it has complicated complications that allow it to manage a very specific problem remarkably, which is water pressure. The Rolex Yachtmaster II can handle water pressure superbly. This is a feature that allows Rolex to flex its historical muscles, once again.
Rolex released a new edition of the Yacht-Master II in 2017, but there are only two main differences from the 2013 edition.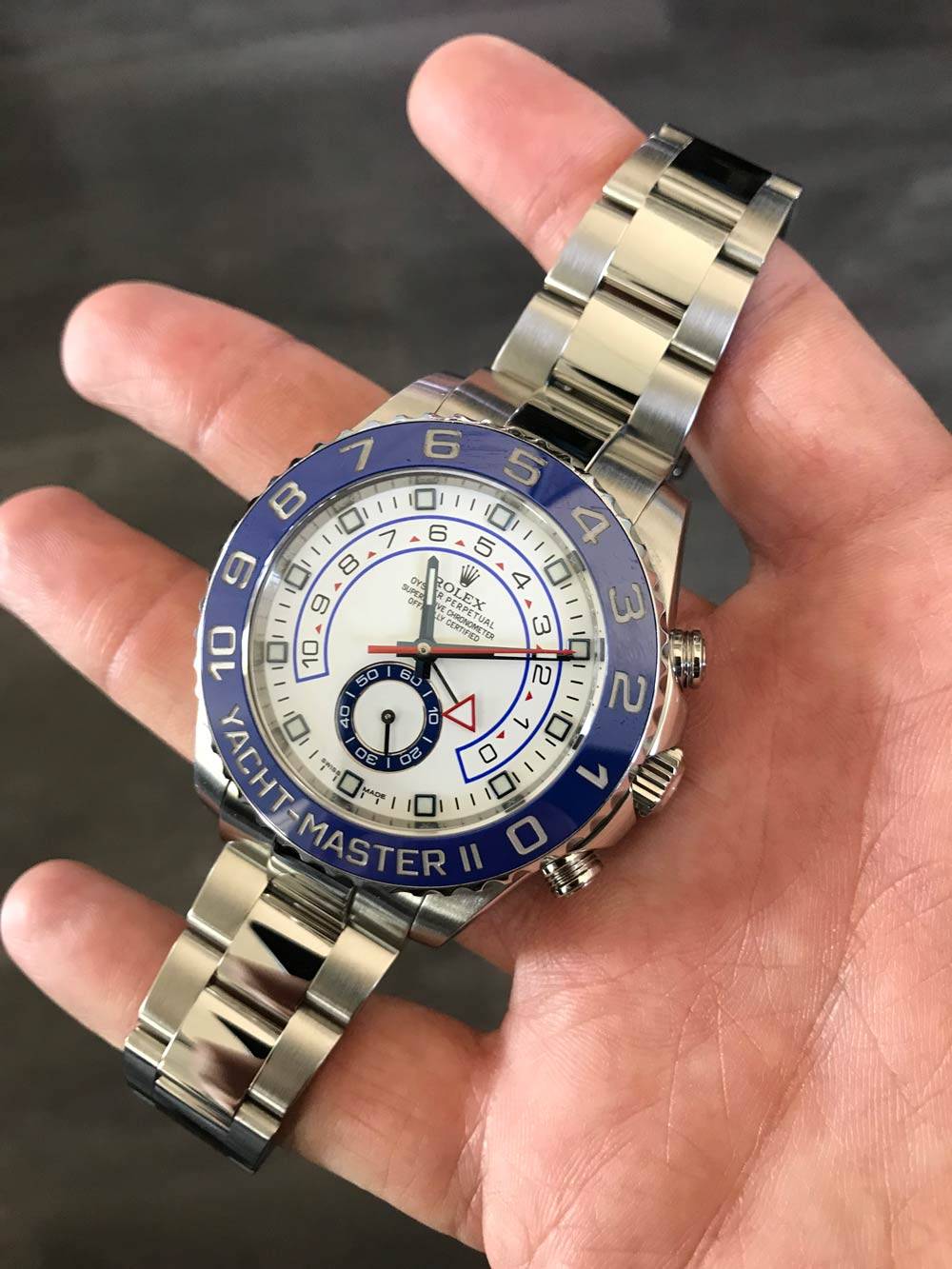 Two differences of the Yacht Master II 2013 and Yacht Master II 2017:
Most noticeably, the hour minute hands on the 2017 edition are slightly larger – The minute hand is more skeletonized and the hour hand rocks the iconic "Mercedes" hand on the 2017 edition.
and…
An inverted triangle marks the 12 o'clock hour marker and a rectangle marks the 6 o'clock on the 2017 edition. The 2013 edition, as seen in this article, has square markers all around.
The watch's complications are the same on both the 2013 and 2017 editions.
This Yacht Master 2 review is of our personal watch, the Yacht-Master II 2013 edition. The 2013 Yacht Master 2 is no longer available at authorized Rolex dealers; however, you can purchase one from Raymond Lee Jewelers.
Buy the Rolex Yachtmaster II [116680] by inquiring here
The Rolex Yacht Master 2 Stainless Steel has everything you could ask for when it comes to a sports watch, and the Regatta Timer really sets this watch apart from the rest. So, let's get into the specifics…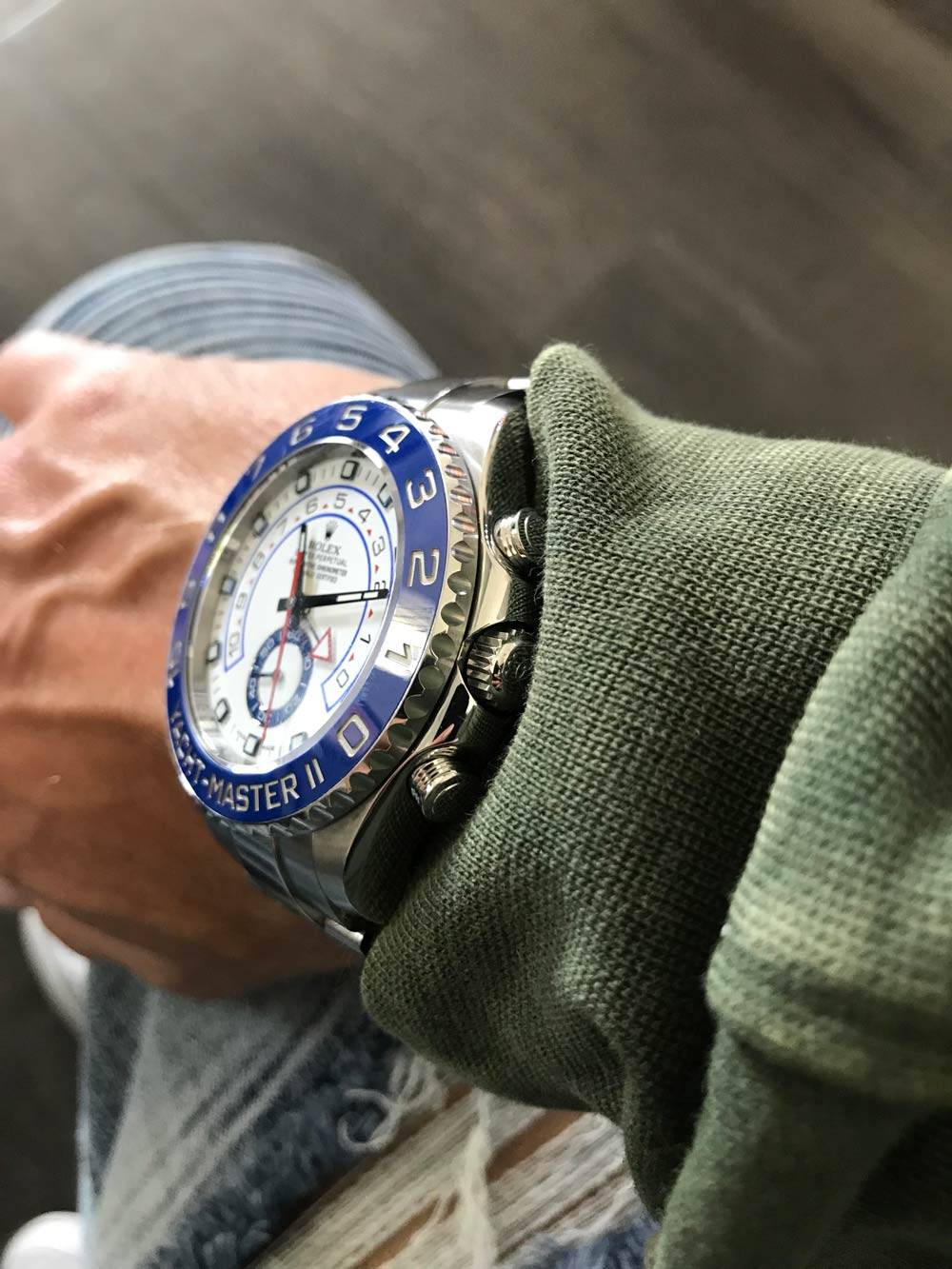 Rolex 116680 Blue Bezel and White Dial with Deep Blue Hands and a Red Countdown Hand
The boldness of this watch indicates that the person donning it is accustomed to luxurious goods and could very well own a yacht. As humble as most of us are, it's still nice to flex our Rolex on occasion.
The Bezel
The electric blue bezel is made of Cerachrom, which is developed and patented by Rolex. Cerachrom is a material that ensures lifelong beauty and functionality even after exposure to intense conditions, which is a common occurrence for yacht skippers and divers, amongst many other professionals who were Rolex watches. The bezel is the perfect combination for the whole of this extroverted watch, with its massive numbers and name, "YACHT-MASTER", proudly encircling the vibrant bezel. It is a bidirectional rotatable "Ring Command Bezel" with a purposeful function.
The bezel is actually the key mechanical component of the regatta chronograph. It allows the countdown duration to be programmed into the watch at any time, to meet the needs of the person wearing it efficiently and effectively. In fact, this is the first watch that has the bezel explicitly connected to the movement. This means it can be set and synchronized to the sequence of the start times during a race by using the bezel. It is simple in use and it functions impeccably. Further below we will explain how to use the Regatta timer.
The Dial
The dial is unique, with its strong, embellished appearance, which truly distinguishes itself from a normal Rolex. The matte finished white-lacquered dial is more than easy on the eyes. It is absolutely stunning. Furthermore, the matte finish and large numerals allow for easy readability.
The hands are of a deep blue and partially skeletonized, and the tip of the hour hand has Chromalight display, which is luminous for readability at night. There's a nice center seconds sub-dial just above the 6 o'clock as well, which comes in 10-minute increments and functions as a countdown timer.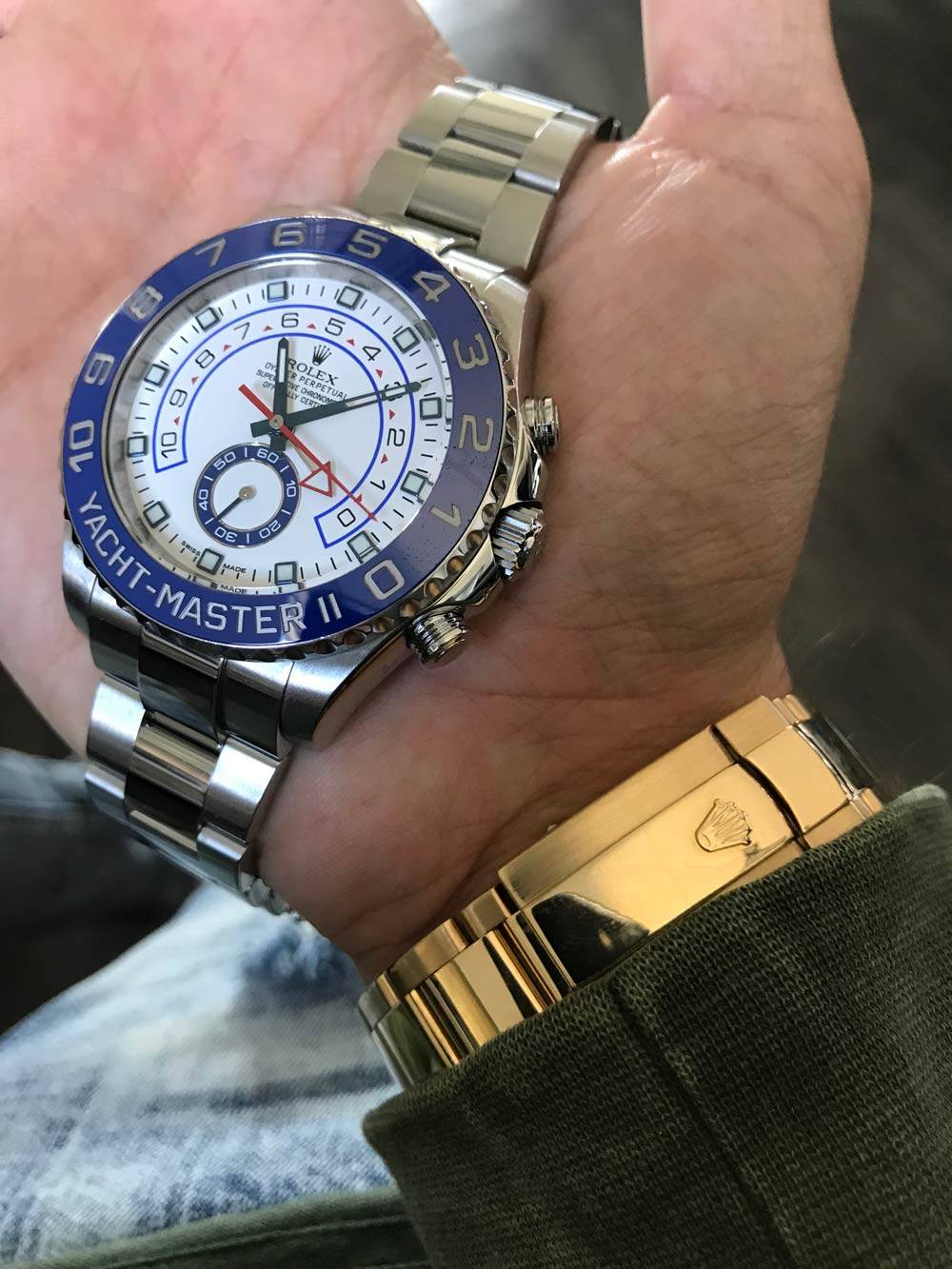 Rolex Yacht Master 2 Steel Case – Oyster Perpetual
The Rolex Yacht Master II 44mm case is made with a traditional Rolex Oystersteel. Rolex created Oystersteel, and the metal belongs to the 904L steel, superalloy family. This kind of steel is known for being used in high-tech industries such as aerospace, as it is necessary to obtain maximum resistance to corrosion. That means Rolex's Oystersteel is superbly resistant to wear and will maintain its polished beauty even in the roughest, harshest environments. This is an extremely crucial factor in why Rolex's Oystersteel watches are our favorite sports watches.
As mentioned, the case is 44mm in diameter, which is big, yet it looks great and is proportional on the wrist from both the profile and top view. It is a very noticeable watch, which is something that many Rolex collectors appreciate.
Triplock Winding Crown
An essential feature of the Rolex Yachtmaster 116680 is the Triplock Winding Crown. It is a patented triple waterproof design system made for divers and developed by Rolex. The Yacht Master 2 can handle immense water pressure thanks to the Triplock System. The Triplock system was released in 1970, consisting of 10 different elements. All of them are the most reliable materials you could ask for in a diving watch. The winding crown tightens down on the Oyster case just as a submarines hatch would; Sealing it shut and never letting water in.
The programmable countdown is controlled by the Chrono Pushers at the 2 o'clock and 4 o'clock position.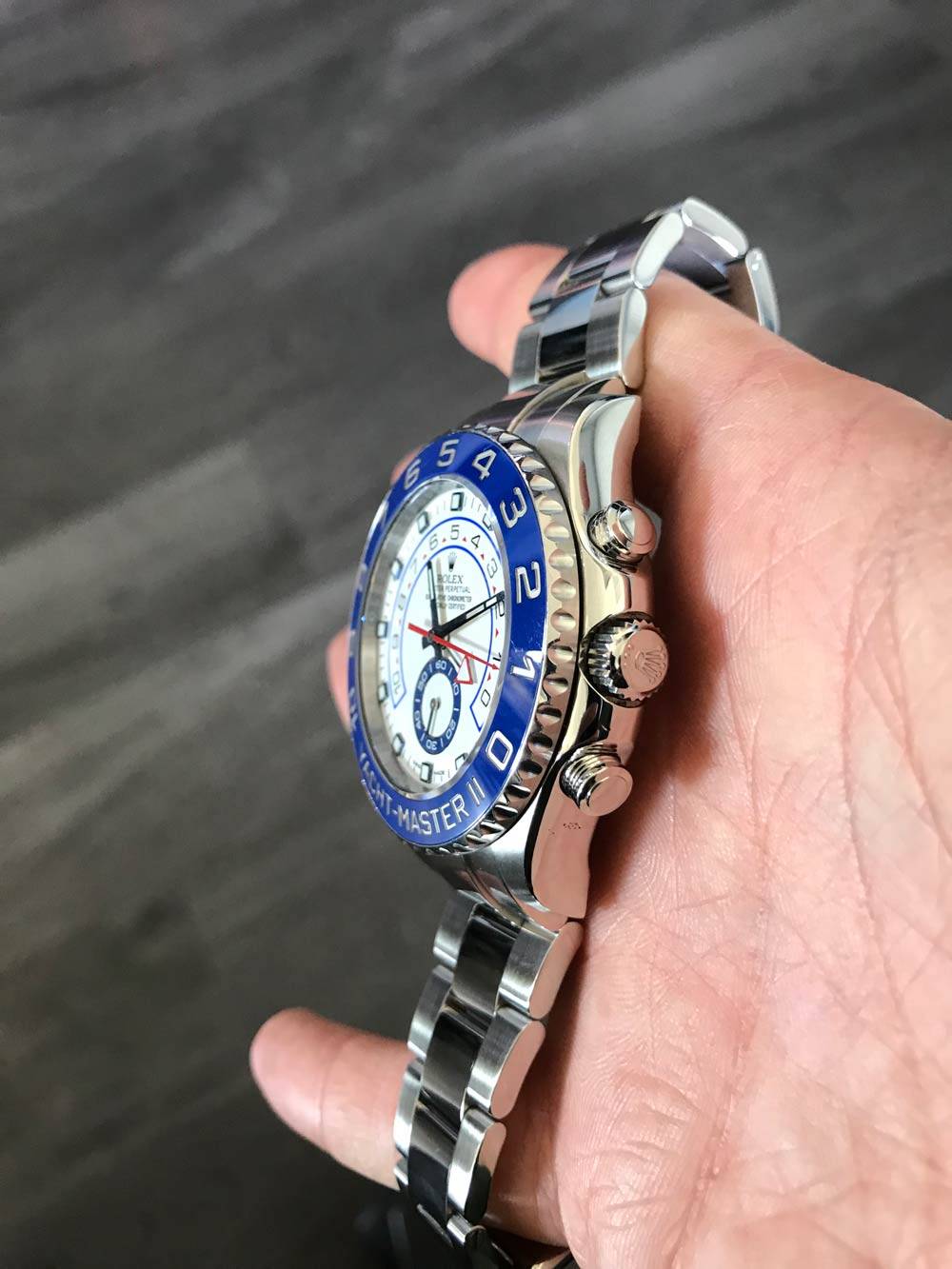 Rolex Yachtmaster 2 Movement
The Rolex 4161 movement is a hearty one, with great chronometry competence. It meets the standards of both the Rolex Chronometer Certification and the COSC.
Rolex manufactured it in-house with a calibre 4161 movement. This was an upgrade from the original Yacht-Master 2, which used a 4060. It is a self-winding mechanical chronograph movement, with its architecture, innovativeness, and manufacturing quality allowing it to be exceptionally accurate and stable. Additionally, it holds an added modification to meet Rolex's chronometer specifications of +/- 2 seconds a day.
How to use the Rolex Yacht Master 2 Regatta Timer
The Regatta countdown timer is a feature that truly makes the Yacht-Master remarkable, with its unparalleled mechanical function that can be programmed from 1-10 minutes, allowing skippers to accurately time and follow every race's official starting process. It's not only useful for skippers of course; it can also be used for anything that you want to time under 10 minutes.
In 2007, when it was first produced, the Rolex Yacht-Master II was the only chronograph that had a programmable countdown function. This was achieved by implementing the use of the bezel, which is a bi-direction bezel, not a diving bezel.
The bezel is called a Ring Command Bezel, and many people don't fully understand how it works, so we will explain in a simple manner:
Firstly, from the bezel's standard position, where the "YACHT-MASTER II" writing is at its 6 o'clock, rotate the bezel counter-clockwise until it clicks, which will be just about when the "1" on the bezel is at the top.
Then, take the bottom pusher and press it in, which will lock it in making it fully depressed. When it's in this position, you will know it's ok to go ahead and set the countdown timer.
So from here, you can rotate the countdown hand to set it to 1-10 minutes, depending on your need for a countdown-time. The countdown hand is the red triangle hand, and you will see it move as you twist the crown clockwise.
Once you have the countdown hand at the desired time, rotate the bezel back to its starting position, with the "YACHT-MASTER II" text at the bottom and the 1 at the crown. You will hear two clicks when doing this and the bottom pusher will pop back out.
Lastly, screw in the crown, as you want to make sure the watch stays watertight, and then to start the timer, push the top pusher, which is the traditional chronograph function. When you do this, you will see the second hand starting to rotate and the countdown hand/timer has begun.
Note:
– If you want to pause it at any point, just press the top pusher. And, to start again, do the same; press the top pusher.
– If you want to reset it, press the top pusher and then press the bottom pusher and the countdown hand will return the starting position that you set it at. Now, if you wanted to reset it to a different starting countdown time, you would need to go through the same process, starting at point 1 above.
It's really a fun feature and even if you aren't running a Regatta Race, you can find a ton of ways to use this in daily life.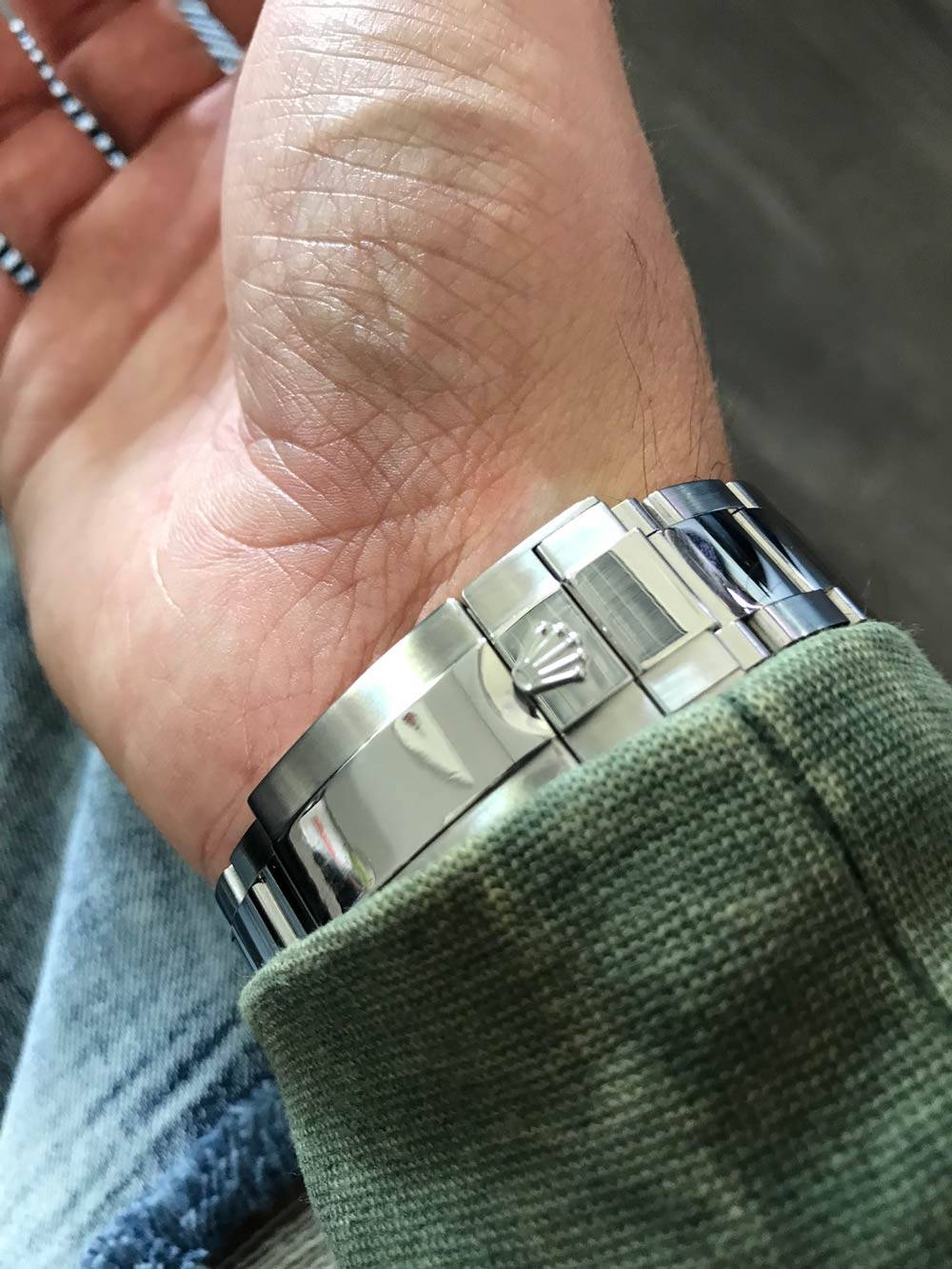 Ref. 116680 Rolex Yacht-Master II 2013 Oyster Bracelet & Oysterlock
Even though it is a sport watch, the bracelet has a high polished finish that you would see on a dressier watch. There is a high polish down the center of the three-piece link oyster bracelet. The clasp has a safety folding Oysterlock with a 5mm comfort extension that Rolex typically builds in. The Oysterlock is highly unlikely to accidentally open as it has an extremely solid construction. This bracelet remains the most universal style from the Oyster collections, as the old saying goes "don't fix what isn't broke", and this bracelet is one of the best.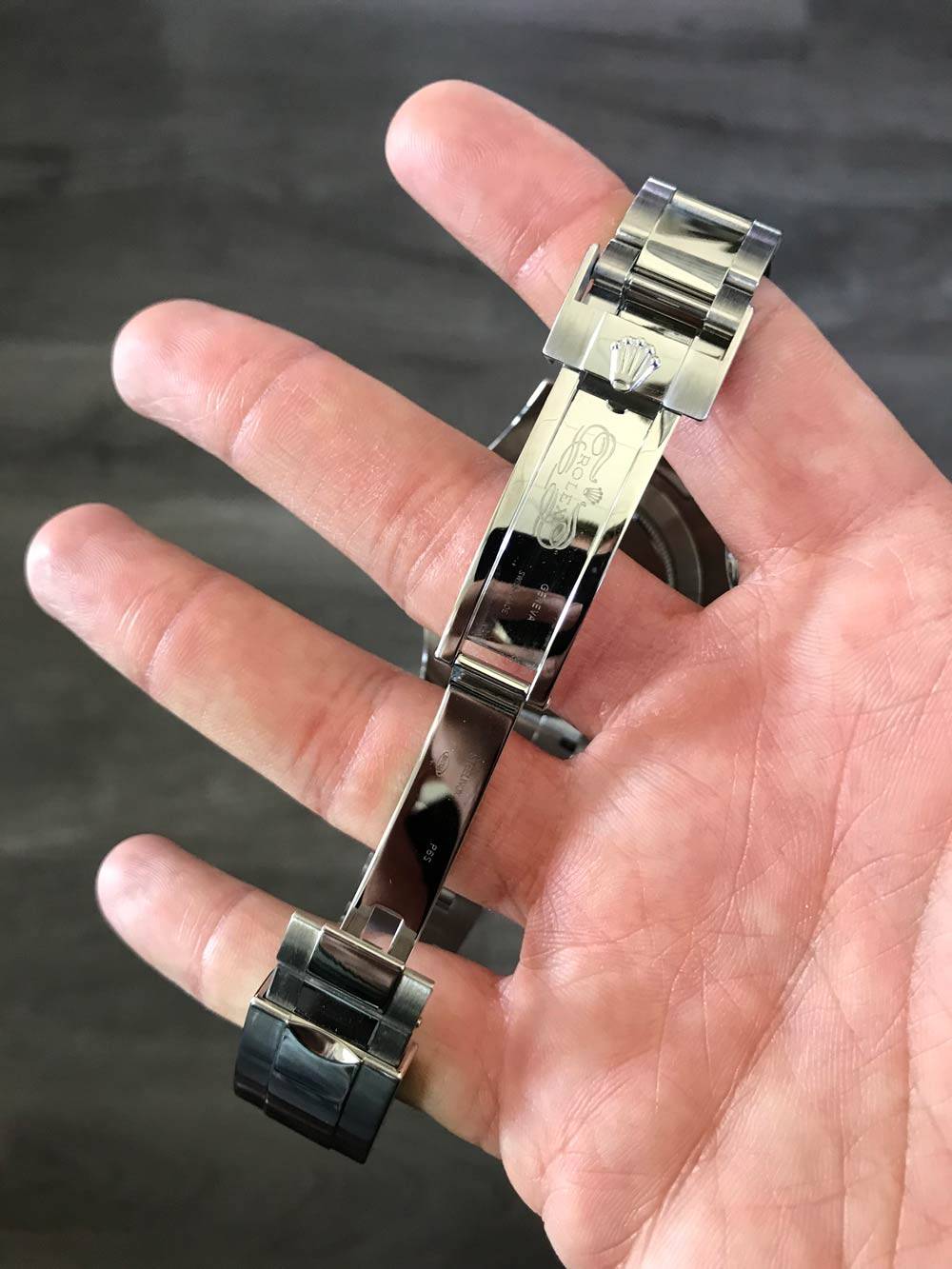 Rolex Yachtmaster 2 on Wrist – Watch Presence
Besides the fact that wearing the Rolex 116680 Yacht Master 2 means you have a mechanical phenomenon on your wrist, aesthetically speaking, in our opinion, it provides a marvelous presence as well. It's a colossal watch that is super fun to wear thanks to its sporty look. It is the type of watch that "can do both". So, you could wear this on a night out or on a fishing trip with the buddies, to the office dressed to the nine or to a basketball game donning your most casual wear. The Yachtmaster II 2013 is unapologetically flashy, yet it has an elegant style that makes it far from gaudy.
The blue, white and red colors create the perfect contrast, giving it an aquatic feel that is a pleasure to look at. This is the watch that you can walk around with proudly, and it (and the person wearing it) is sure to catch people's eyes. It can be a surprisingly refreshing feel if you are the type to wear mostly 40mm and under watches.
Although it is a heavy watch, comparably, the weight isn't a problem, and those who own the Yacht-Master II wear it all day without any displeasure despite its large size. This is partially due to the downward curvature of the lugs and the ergonomic design.
Who Is The Rolex Yacht-Master II For?
Put simply, this is the watch for someone who likes to stand out and appreciates and can find use of the Regatta Timer Countdown function.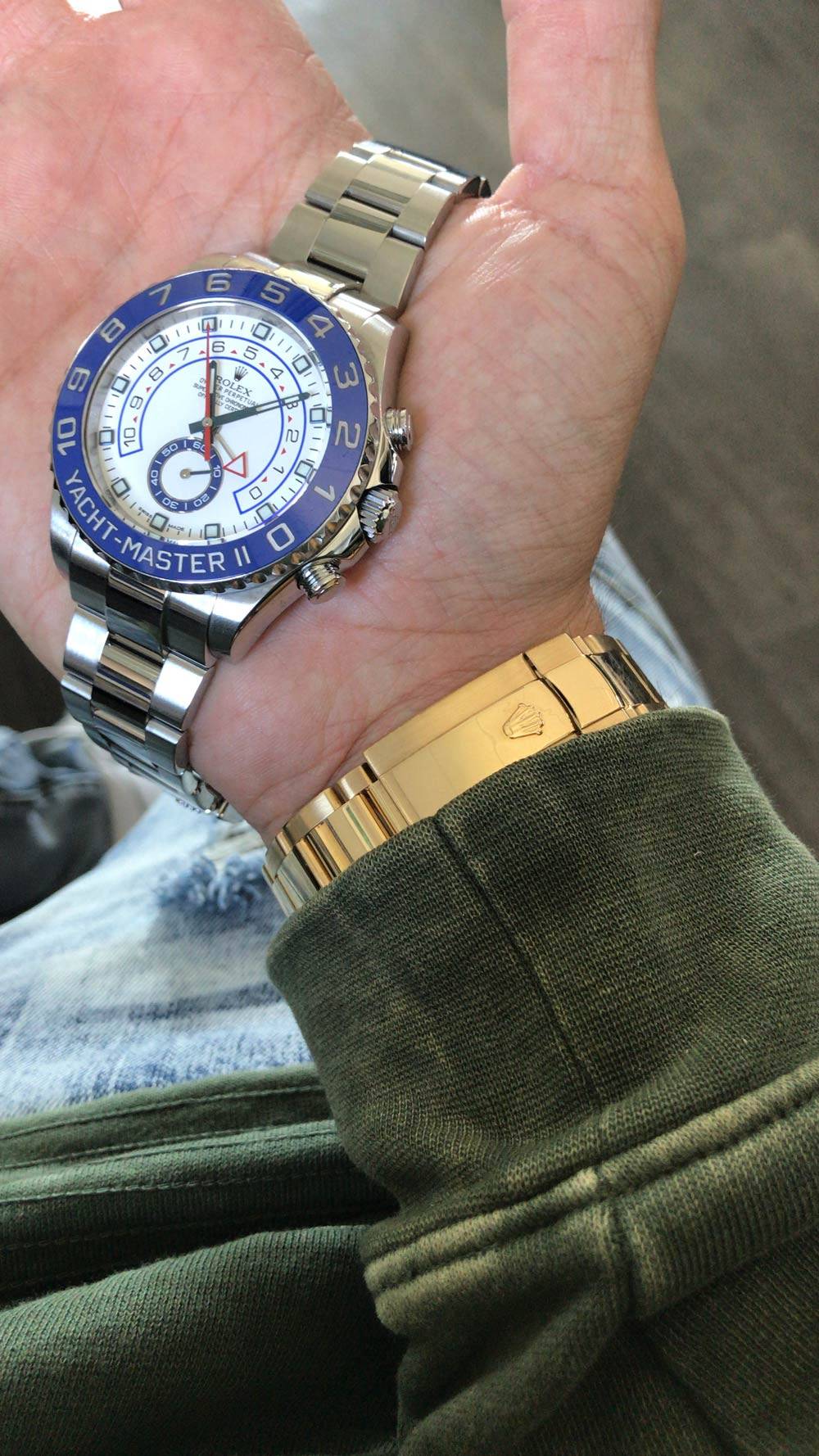 Rolex Yachtmaster 2 Weight
Although the Oystersteel is a bit heavy, it is by no means uncomfortable. The watch has some weight to it, though, which is something most people expect and want from a stainless steel Rolex watch. Comparing to the gold/steel, solid yellow gold, and platinum/white gold models, the Stainless Steel Yacht-Master 2 is the lightest of the bunch.
Rolex Yachtmaster 2 Stainless Steel Price – 2013 edition
The Rolex Yacht Master II 2013 Price: Appx. $16,000.
Rolex Yacht-Master II 2013 Stainless Steel Edition Specifications
Reference: 116680
Case: Round; Oystersteel, 44 mm diameter – Screw-down case back, Monobloc middle case, and Triplock winding crown.
Winding crown: Screw-down, Triplock triple waterproofness system
Material: 904L steel – Oystersteel
Bezel: Bidirectional rotatable Ring Command bezel. Blue Cerachrom, with ceramic, engraved numerals and inscription.
Crystal: Scratch-resistant sapphire
Water resistance: Waterproof to 330ft
Movement: Regatta timing – Perpetual, mechanical, self-winding, regatta chronograph, -2/+2 sec/day precision, after casing
Engine: Calibre 4161, Manufactured by Rolex
Functions: Chronograph, Hour, Minute, Second, Chronometer
Power Reserve: Approximately 72 hours
Bracelet: Oyster, flat three-piece links, 904L steel
Clasp: Folding Oysterlock safety clasp with Easylink 5 mm comfort extension link
Dial: White.
Hands: Luminous blue with red triangle countdown timer
Certification: Superlative Chronometer (COSC + Rolex certification after casing)
Gender: Male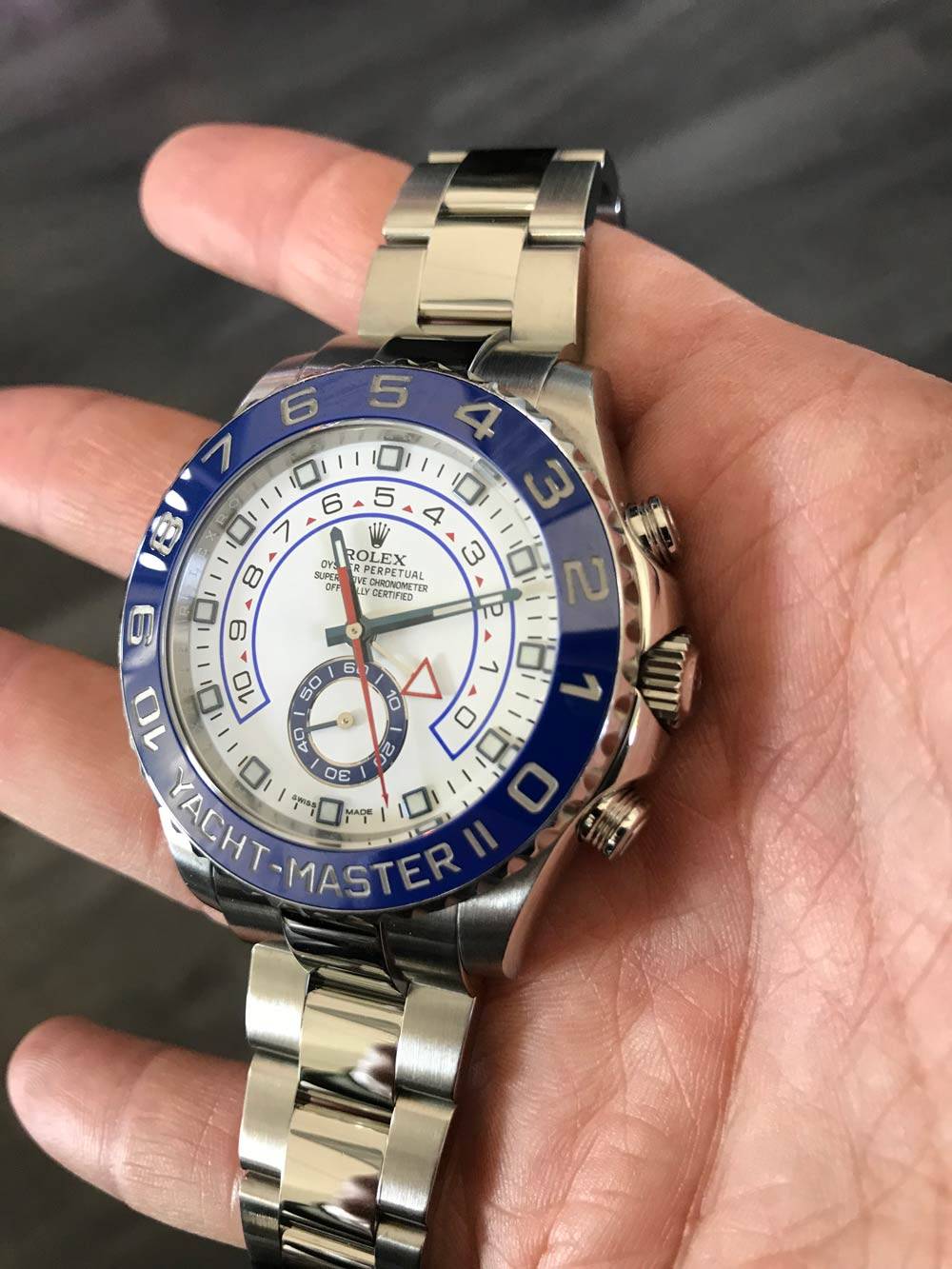 Rolex Yachtmaster 2 History
Rolex first introduced the Yacht-Master in 1992. It was a full-gold version, 40mm in size. Later in the 90s (in 1999), Rolex created the Rolesium Yacht-Master, which was a stainless steel and platinum version (ref. 116622).
In 2007, the Yacht-Master II was born. And, until 2013, there were only gold and bi-color versions. 2013 was the dawn of the stainless steel version, which is the feature of this Rolex Yachtmaster 2 review. You can see and read about the various Yacht-Master and Yacht-Master 2 watches here.
The Yacht-Master 2 was when the Regatta timer and new functionality came out. The original Yacht Master is very similar to the Sea-Dweller and Submariner of that time.
Where to buy a Second Hand Rolex Yachtmaster 2?
Raymond Lee Jewelers, located in South Florida's beautiful city of Boca Raton, has the 2013 Yacht-Master 2 for sale. Additionally, we have many other Rolex Yacht-Master watches. You can inquire about the Yacht-Master 2 featured in this article below.
About Raymond Lee Jewelers in Boca Raton
Raymond Lee Jewelers is one of South Florida's best sales and service centers for watches, diamonds, and high-end jewelry. We are a family business that has spent the last 30 years building a solid reputation selling luxury watches and jewelry at wholesale prices. Furthermore, Raymond Lee Jewelers has one of the largest collections of Rolex watches in all of South Florida. Our goal is to meet the needs of our customers at our Boca Raton retail store and online. We also aim to provide our community with the best possible experience when it comes to any fine jewelry dealings. We combine value, quality and the ability to meet and understand the needs of people of all ages.