Halo vs No Halo Engagement Rings: Pros and Cons | What is a Halo Ring?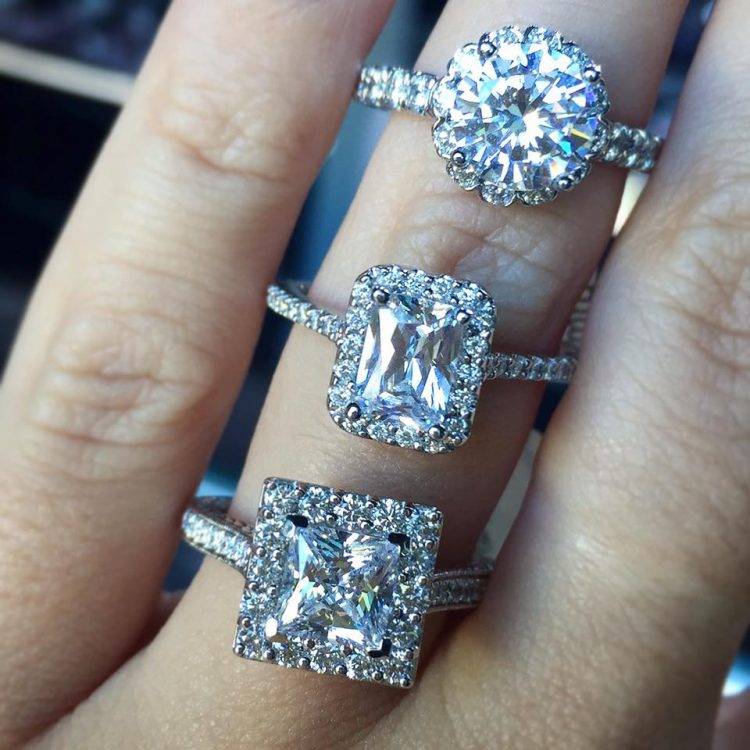 Here's everything you need to know when comparing Halo vs No Halo Engagement Rings.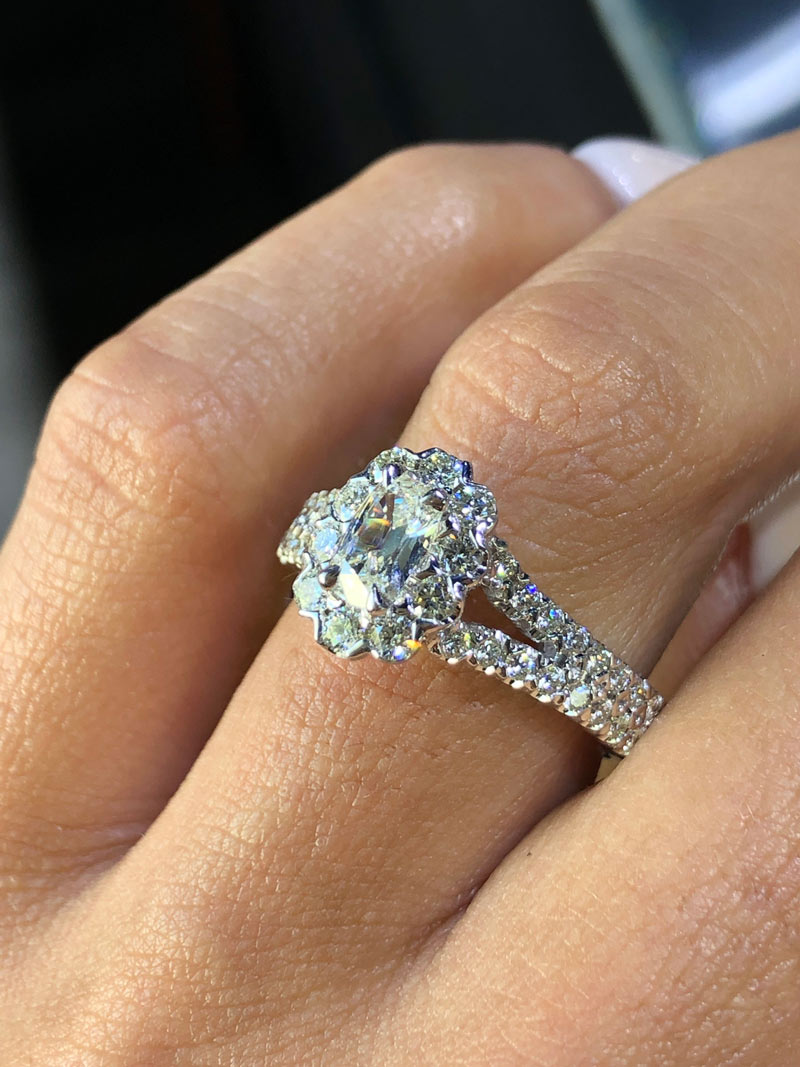 The halo engagement ring is the reigning queen of the bridal world. Engagement rings have, since their inception, captured the imagination and affection of designers and jewelry lovers (and brides to be, of course!) It's no wonder. They're beautiful and a symbol of romance. No matter which massive diamond company thunk up the idea in the 1920's, there's no denying that the vast majority of the Western world recognizes engagement rings as a symbol of love.
They're an investment, no matter what your budget is. Furthermore, they're something that a woman (and now men!) will wear for the rest of her life. They're something that you'd better be somewhat certain the recipient will love. So it's no wonder that today's bride starts doing her research early. She's eyeing rings that casually catch her eye on Pinterest. She might be window shopping, and she's certainly started to pay attention to all those ads in Glamour.
She may have even stopped be her favorite jeweler to play some dress up & drink champagne with Mom or her sister or girlfriends. She might even accompany her beloved to said jewelry store to either research or slide the perfect ring on her finger right then and there. She's educated, she know what she wants, and in an increasing number of cases, what she wants is a halo engagement ring.
However, the exceptions are typically women who, ahem, decidedly want no halo engagement rings. It's a pretty divisive matter of taste between the two camps. And, the number of women who don't have an opinion either way about halo engagement rings are few and far between. If you're one of the special ladies who are on the fence or, more likely, you're a guy who's decided to get down to the bottom of her repetition of "micropave" in her sleep, we're here to help. Let's jump into halo vs no halo engagement rings.
Before we start, let's make it clear about what is a halo diamond ring and a non-halo diamond engagement ring.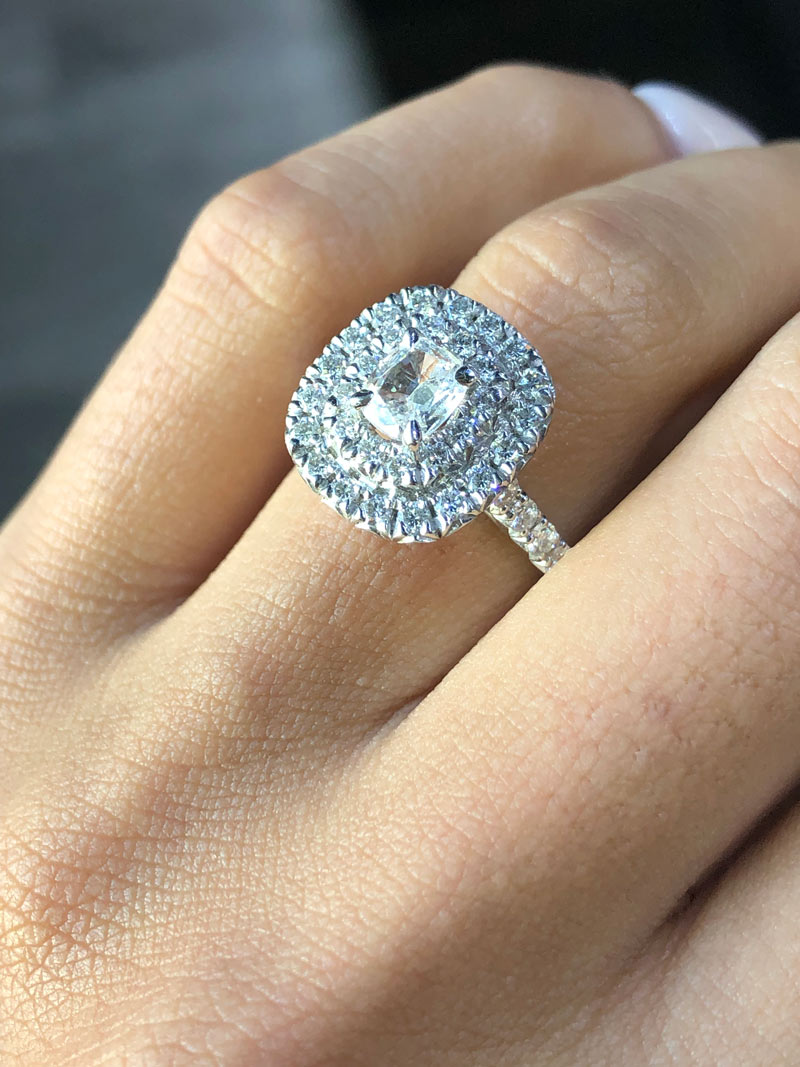 What is a Halo Ring?
A halo diamond ring is a type of diamond setting that features a center stone surrounded by additional gemstones.
Halo settings can be a single or double halo. Furthermore, all types of diamond shapes can be given a halo setting.
Most common halo engagement ring shapes:
The encircling diamonds, which are perfectly aligned around the center stone, are typically made up of small round brilliant diamonds, also known as accent diamonds.
Not only are halo rings gorgeous, but they also offer the ability to make the center diamond or gem appear larger. So a smaller carat centerpiece diamond engagement ring can have a lot more bang for its buck.
Below are some examples of halo diamond engagement rings.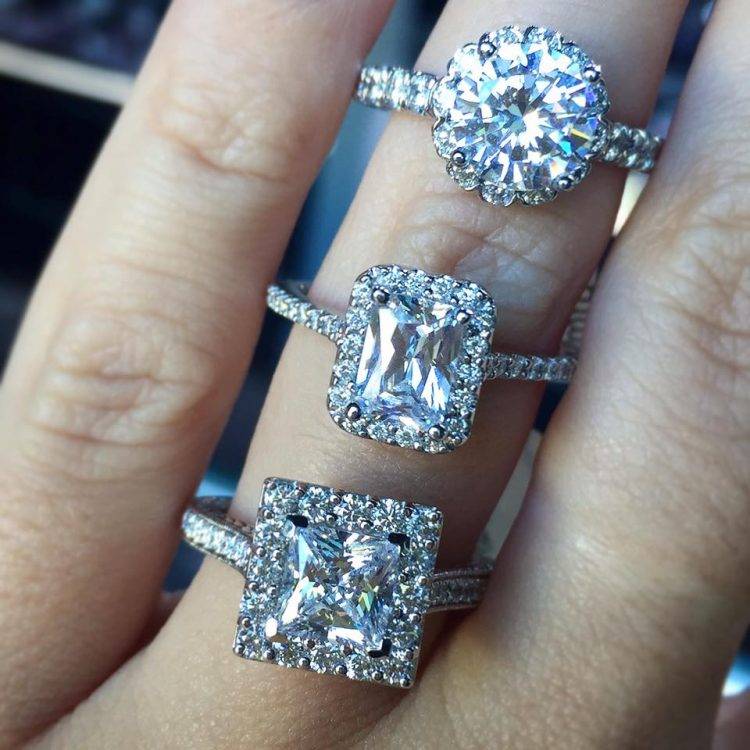 What is a Non-Halo Engagement Ring?
A No halo engagement ring is any engagement ring that doesn't have a halo setting. There are many non-halo engagement ring settings, such as prong, channel, tension, bevel, but for the sake of this article, when we refer to a No Halo Engagement Ring, we mean a solitaire setting engagement ring. 
A solitaire setting is a type of prong setting. The most common are 4 or 6 prong settings. The prongs are strategically placed to hold the diamond in place.
Essentially any diamond shape can be given a solitaire setting. The solitaire setting is considered the most classic diamond setting of them all…
Below is an example of a solitaire setting engagement ring…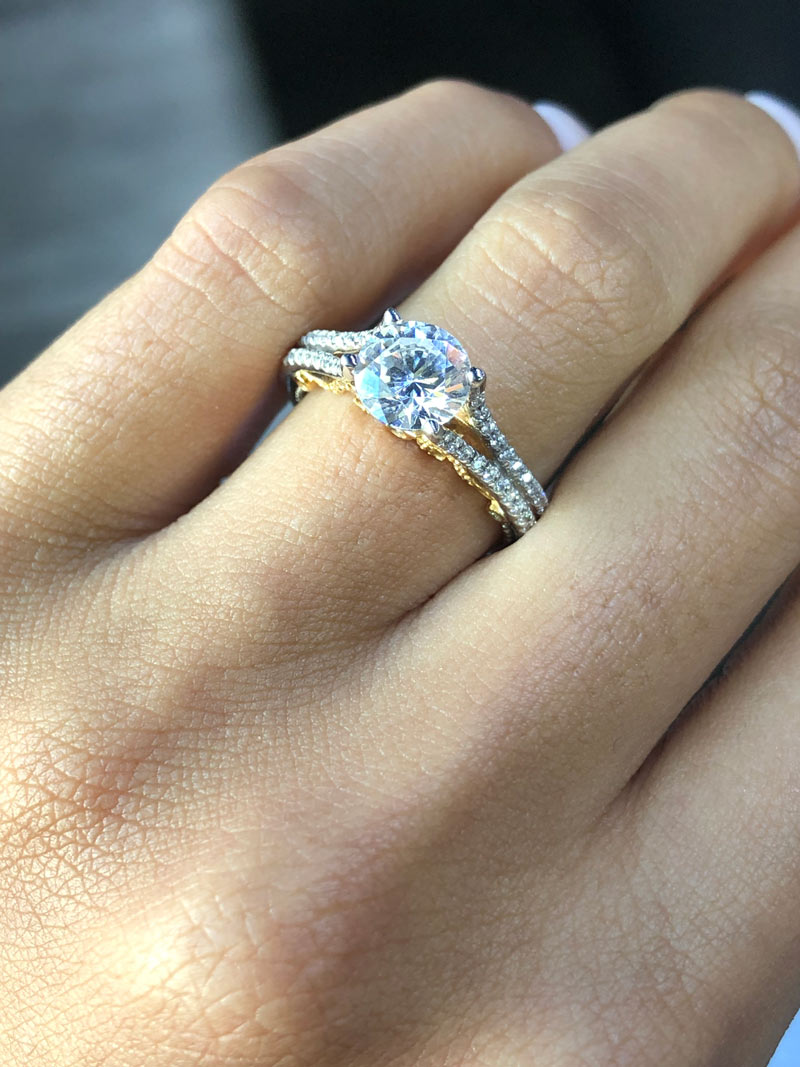 Now that we made that crystal…or shall we say, diamond clear…let's discuss both the pros and cons of halo vs no halo rings.
Pros and Cons of Halo Engagement Rings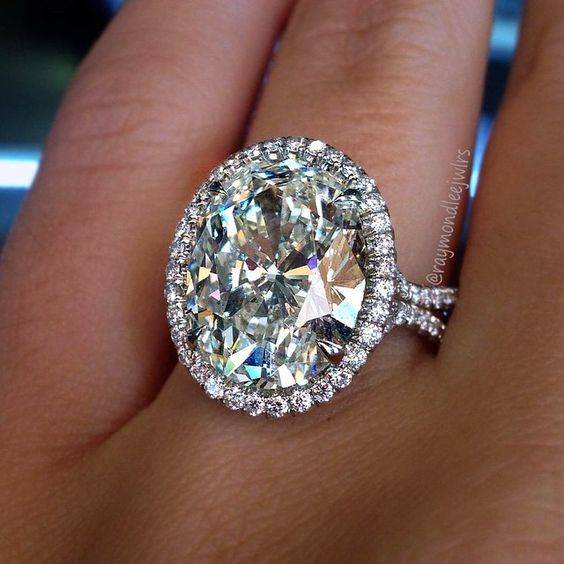 Halo Ring PROS: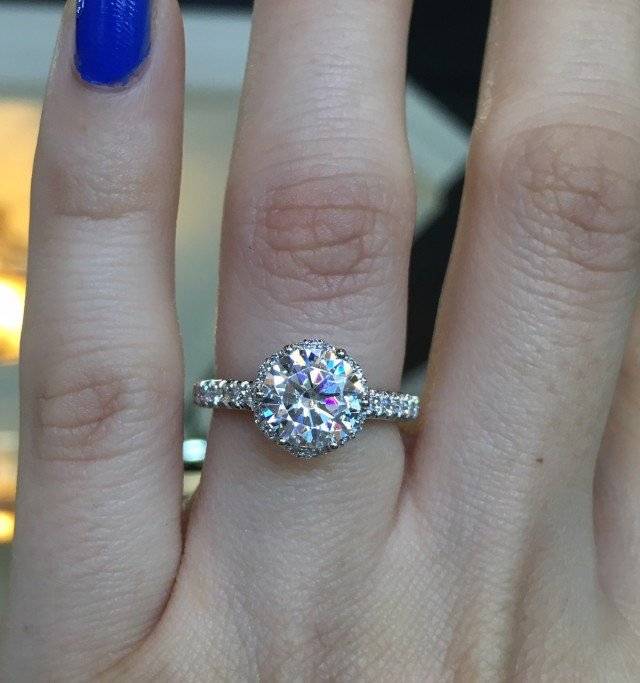 Halo Ring CONS:
Pros and Cons of No Halo Engagement Rings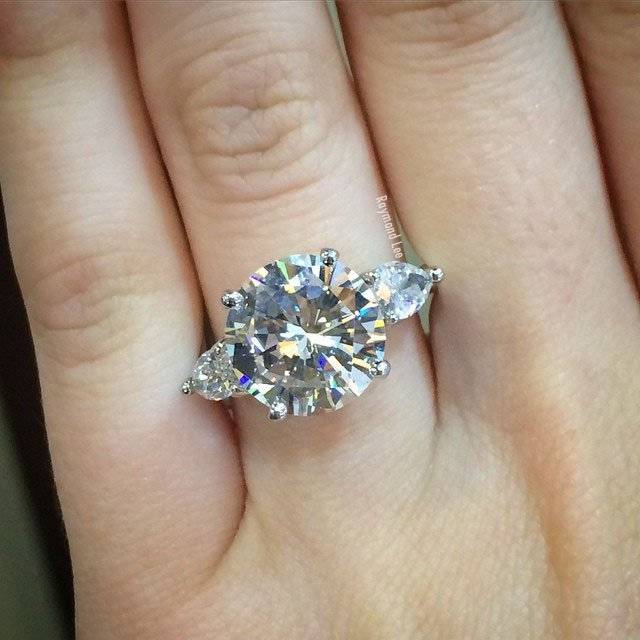 No Halo Ring PROS: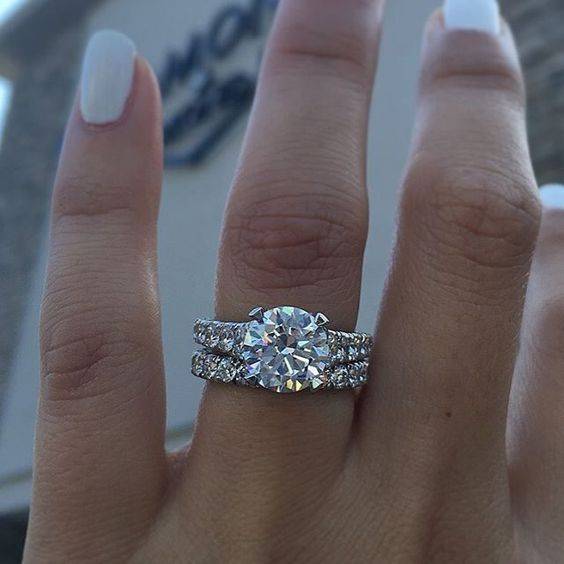 No Halo Ring CONS:
Are Halo Engagement Rings Tacky?
We definitely wouldn't call a halo ring "tacky". A halo ring is lavish and more eye-catching, but we would never use the word "tacky" as that has a negative connotation, and there is nothing negative about a halo setting. It is a classic design that has been around for a century. It's a staple setting in the world of diamonds engagement rings.
Are Halo rings more expensive?
This really depends on the size of the center stone. If you were to get a halo setting that has a total volume (including accent diamonds) that is the same size a non-halo, solitaire ring, it would be cheaper than the solitaire. That is because a larger carat diamond cost significantly more than many accent diamonds that equal to the same weight. So, if you want a diamond ring that is a total width of say 1cm, a solitaire engagement ring will cost much more than the halo engagement ring, as the halo diamond ring will have a smaller center stone.
More Examples of Halo Engagement Rings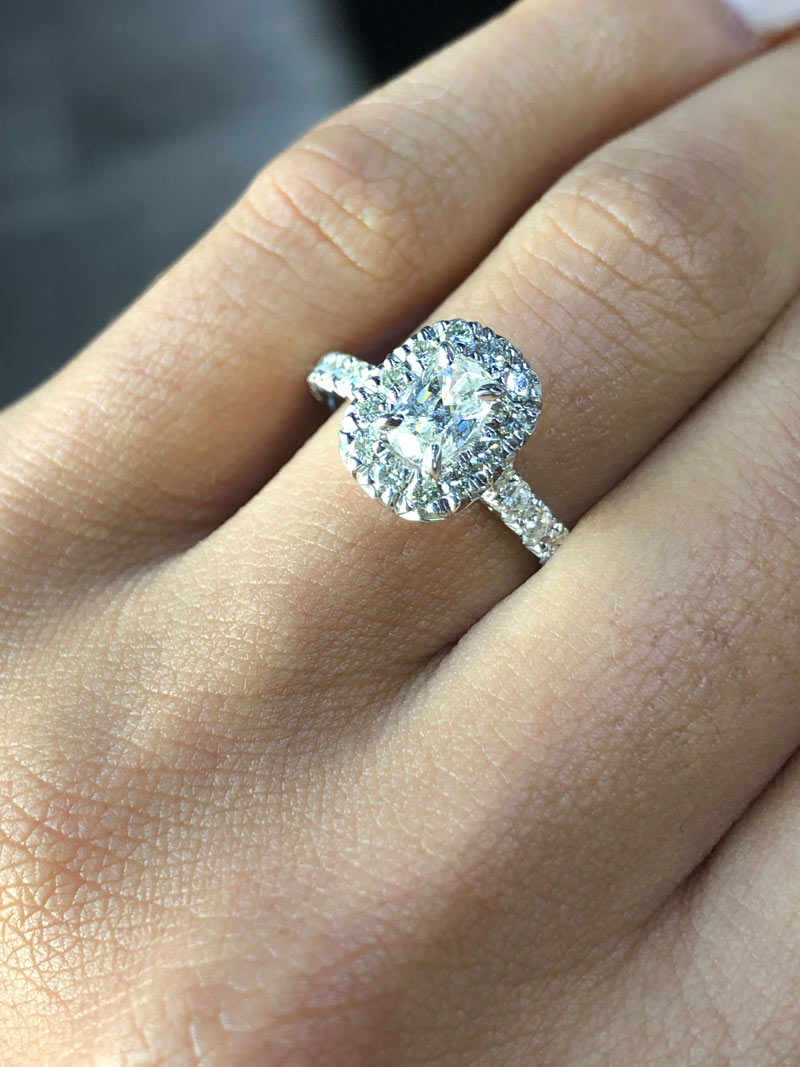 Henri Daussi AMDM850OA 0.51ct Halo Diamond Engagement Ring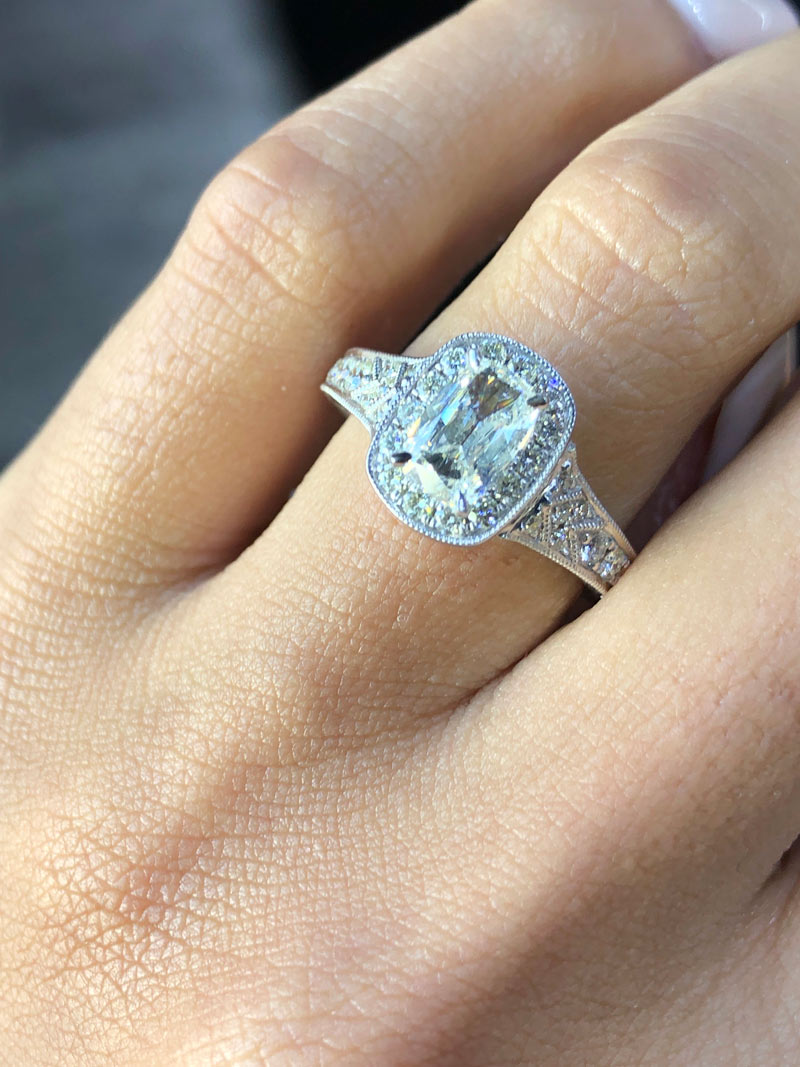 18k White Gold 1.22ctw Diamond Halo Engagement Ring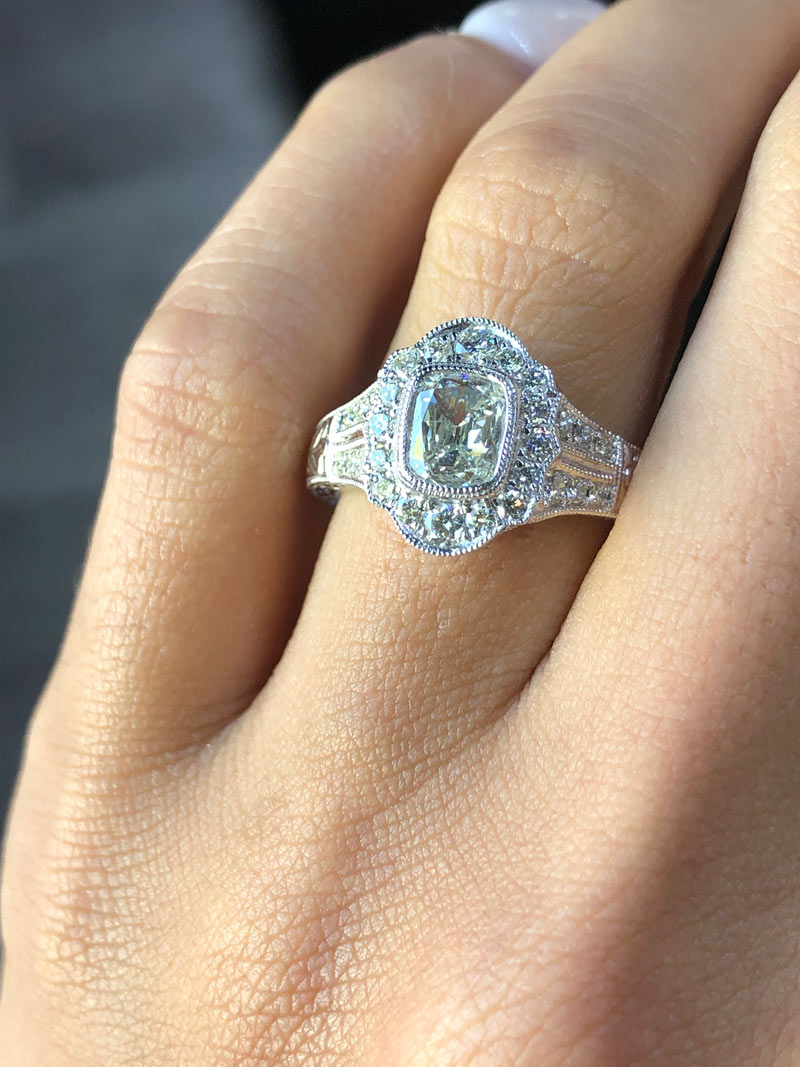 Henri Daussi AFL10 Victorian 0.79ct Diamond Engagement Ring
More Examples of Non Halo Engagement Rings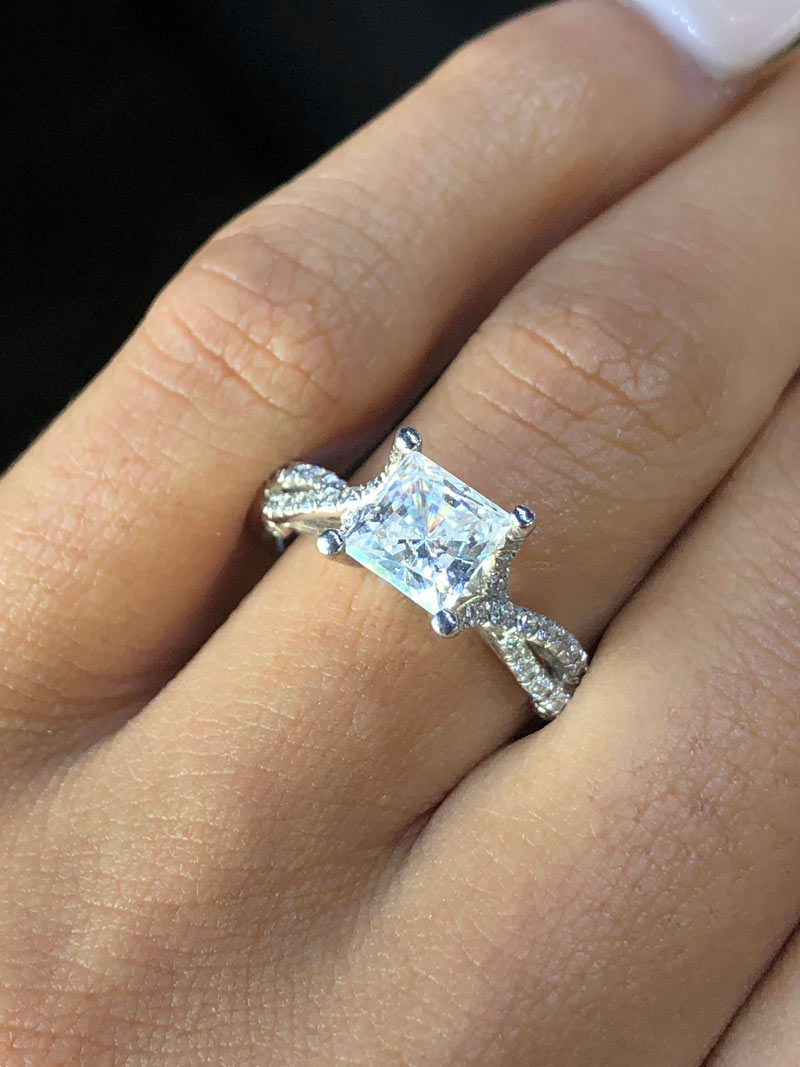 INSIGNIA-7060 0.35CTW Diamond Engagement Ring Setting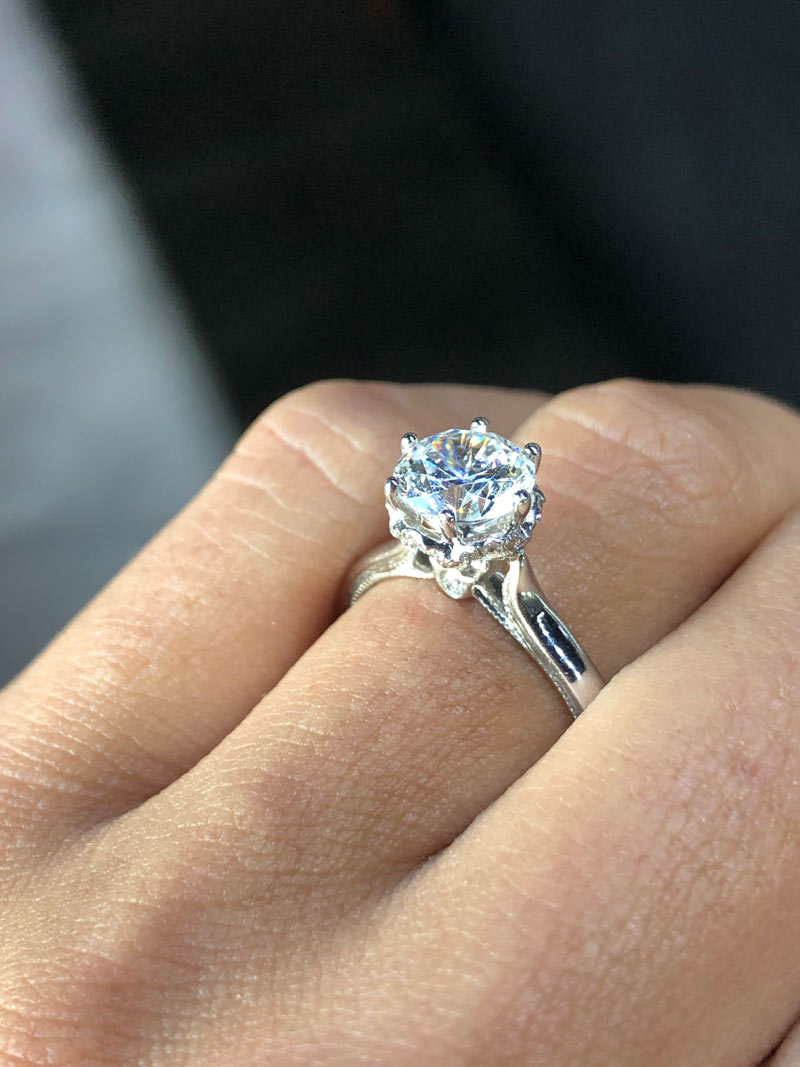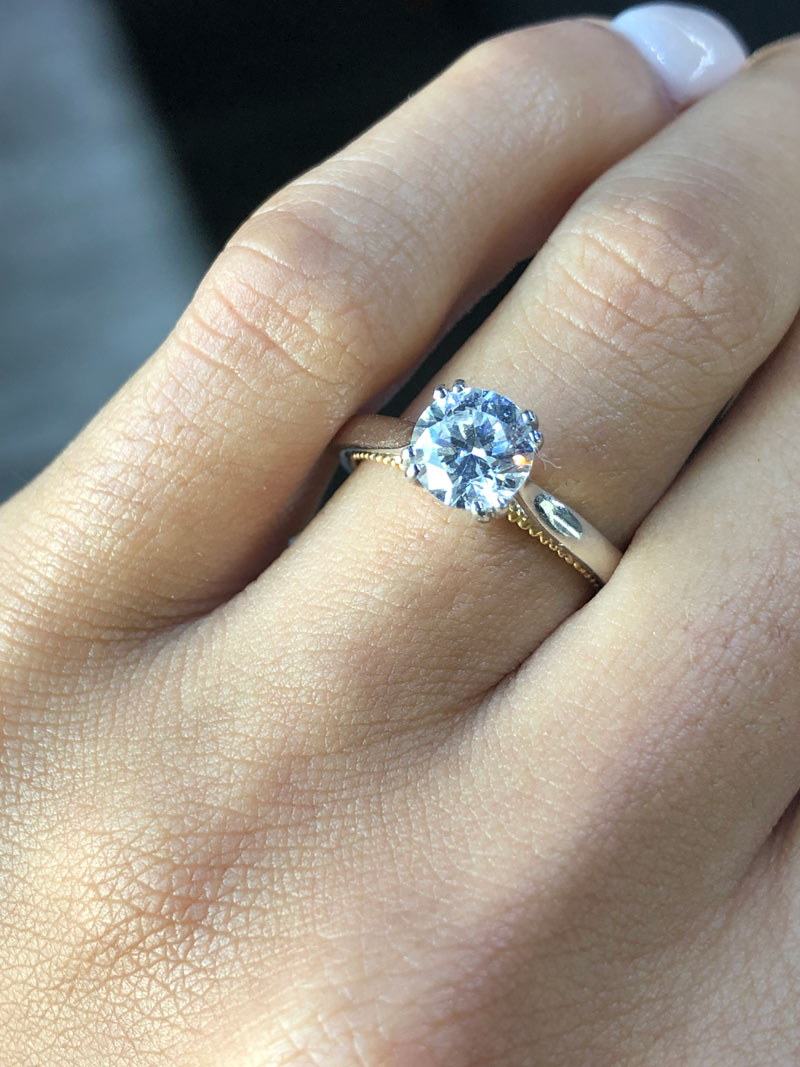 Halo vs No Halo – Final Verdict
Regardless of which style you prefer, remember this: at the end of the day it's your ring. It's on your hand. Not your fiancé's, not your sister's, not your Mom's, your old college roommate, your high school basketball teammate, or your dog walker's Facebook acquaintance. If you love a certain style, that's it. If you still love it in 10 years, who cares if it announces you got married in 2016?  And if it's the timeless beauty you've loved since you were 15 years old, who cares that your hair stylist thinks it's plain? It's your ring, it's your style, and that alone will make it the right one for you.
New: What is a Halo Ring? Pros and Cons of Halo Engagement Rings
Looking to Buy Halo or Non Halo Engagement Rings?
We are Diamonds By Raymond Lee, a high-end jewelry store located in Boca Raton. We are South Florida's best diamond retailer. Diamonds by Raymond Lee offers an upscale and unique buying experience at our state of the art showroom in Boca Raton, Florida. At Diamonds by Raymond Lee, you will find mostly all of the top engagement ring brands. We also do incredible custom work!
8 Big Beautiful Diamond Engagement Rings by Raymond Lee Jeweler
All of the rings featured in this article, plus many more, can be bought at our showroom or online via Diamonds By Raymond Lee.