Engagement Rings for Men
Today, the Supreme Court struck down the federal Defense of Marriage Act (DOMA), marking a huge stride in the gay civil rights movement. It also marks a huge opportunity for couples around the US to be legally married. And those couples who live in states where same-sex marriage is legal (and will now be recognized by the federal government) have reason to celebrate. It should come as no surprise that our favorite way to celebrate is with new jewelry, and for gents around the country, the celebratory jewelry in question might be more significant than a nice John Hardy bracelet. Yes, for some guys it might just be time to put a ring on it. While engagement rings for men are a well established thing in Spain and some countries in Scandinavia, the mangagement ring only recently rose to prominence in the US among gay and straight men alike. Guys who want some difference between their engagement ring and post-betrothal-jewelry even favor "placeholder rings" made of metals like copper or silver, before upgrading to their wedding bands after marriage. But who's to say that the ladies are the only ones who get to celebrate commitment with diamonds? Today, we're sharing some of our favorite engagement rings for men.
This two-tone 14kt gold ring is classic and bold in its shape, with a luxurious row of round brilliant diamonds that make a serious statement.
The slim profile, warn 18kt yellow gold, and bezel set diamonds and emeralds make this ring pop. The carvings remind us of Etruscan revival without being overly dramatic. It's the best of both worlds.
Tiffany's Streamerica ring is one of our favorites. A horizontal groove is quartered by vertical engravings,with each intersection marked by four round brilliant diamonds. In a brushed 18kt gold, the metal itself is matte, allowing the diamonds to sparkle subtly.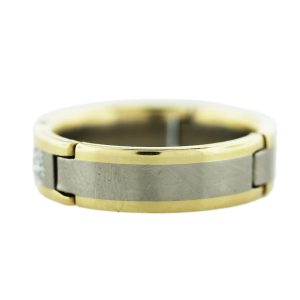 Another two tone option, this decidedly rugged ring is reminiscent of the links on some of our favorite watches. One .25ct diamond shines bright (it's G/H in color and VS in clarity) against the white gold inner band on this ring.