What does a 2 carat engagement ring look like? Well, that depends. Carat only measures a diamond's weight – you need to factor in color, cut, clarity, and the diamond's shape to answer that question. That's before we even dip a toe into the ocean of different engagement ring settings. However curious minds do wonder, and here at RLJ it's basically our mission in life to answer all the practical, day-to-day questions about jewelry. Even those that no one's asking (yet.) However this is not one of those questions! We're asked all the time (along with "How much does a ___ct diamond cost?") So today, we're going to try to show off some examples of the difference between sizes on otherwise comparable diamonds. We'll go with the classic round brilliant engagement ring diamond size guide, for teaching purposes.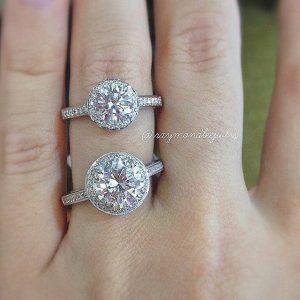 First Up, the hottest rocks on the block. Halos are the biggest engagement ring trend since white gold, and this shows the size difference between a one carat halo engagement ring (F color, VS1 clarity) and a 2 carat halo engagement ring (K, VS2). The 1 carat ring is smaller, yes, but has a much better color & slightly better clarity. It's also GIA certified (the big halo is not.)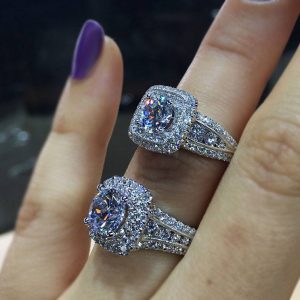 Now, it's well known that halo settings make a diamond look larger. It's part of the reason why they're so popular. This picture demonstrated the huge difference that tiny diamonds can make. This Tiffany halo ring  on top sold, but it was 1.01 carats with .25ctw of pave diamonds, bringing the total to 1.26 carats. The solitaire, on the other hand, is a clean, classic, 1 carat even (with a D color and VS1 clarity.) The halo looks huge in comparison!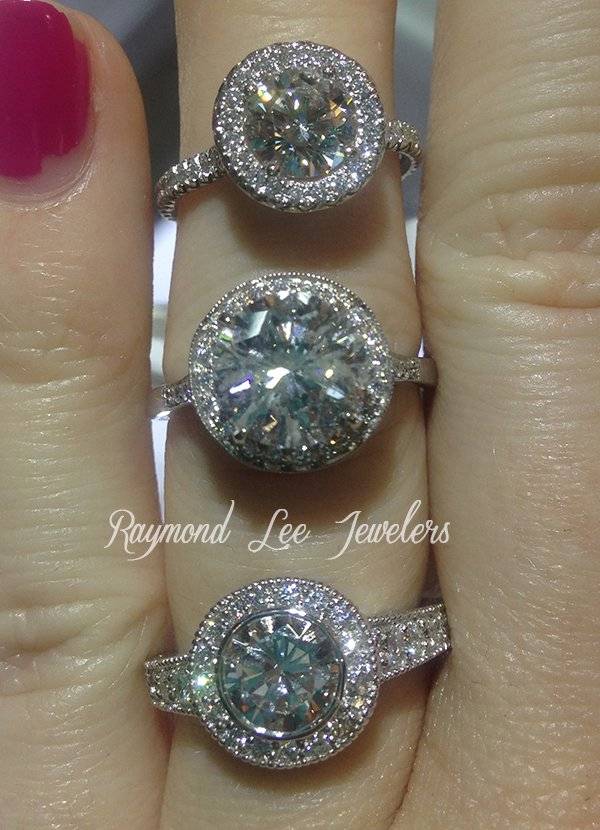 If you're 100% bigger is better, then halo is the way to go. The question is: how big can you go? Halos on the top and bottom are a smidge over 1 carat (the top is 1.07, bottom is 1.17) – you can see the difference in size the bezel setting vs. prong setting makes. The tapered shanks on the bottom one also give the ring more presence on the hand. The center ring features a 1.83 carat center stone. It looks much bigger than the other two, but it'll cost you significantly less than an even 2 carat center stone, because it's still in the lower price-per-carat bracket!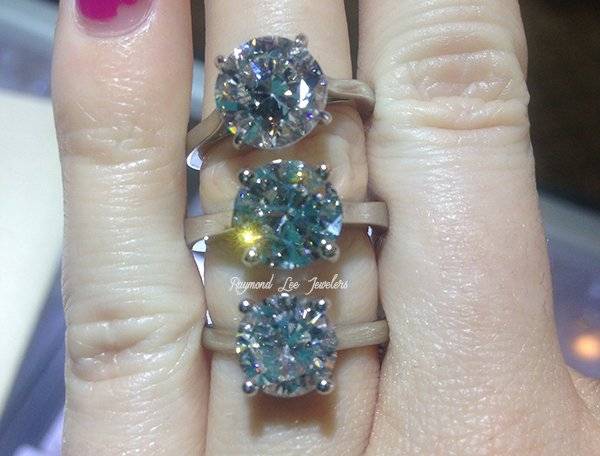 But if you prefer the solitaire look, here's an example of what a 1 carat round brilliant looks like compared to a 2.62ct solitaire and a 3.65ct huge round diamond. All are GIA certified, colors range from H – K with clarity grades from SI1-VVS2. Check out how similar in size the middle one is to the top one – though there's an entire carat difference, the middle diamond has good "spread" which means the surface area of the diamond's table makes it look bigger/heavier. Even the 1 carat holds its own thanks to a generous cut.
Finally, because no post is complete without sheer eye candy, you can compare large round brilliants to each other in video format. The top left is the only one we still have left in stock, although we can always make any of these for you. Or any ring you want, for that matter. The top left is a 5.04 carat center stone. Bottom left is a 2 carat center stone (with 1.5 carats on either side). Top right is a 2.96ct center stone (again, no one can tell it's not a 3 carat except for the person weighing it. And your wallet.) Bottom right is a stunning 3.57ct.
[sam id="1″ name="In Story" codes="true"]
Before we go, we'll also show off the difference that a diamond's shape makes – elongated shapes like emeralds, ovals, pears and marquise tend to appear larger than rounds and princess cuts. Check out this picture (diamond sizes below):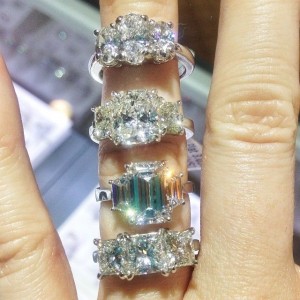 From Top: 1.06ct Oval cut center stone – 3.03ct Radiant cut center stone – 3 carat emerald cut –1.5ct princess cut center stone