Breaking out from behind the shadow of the Princess Cut has not been an easy feat for marquise diamonds.  Despite its glamorous history (King Louis XV of France commissioned the cut, meant to mimic the mouth of his mistress, The Marchioness Madame de Pompadour), the slender, double-edged  diamond was once guilty by association with the puffy sleeved brides who donned them throughout the 1980's and 90's.   This once forgotten diamond is now a new favorite among engaged couples and one of the most popular engagement rings for 2012.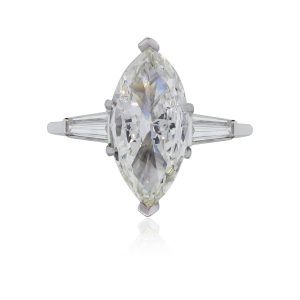 Reminiscent of old Hollywood, which is forever synonymous with glamour, the marquise is considered a vintage style diamond, claiming popularity further back than just the early nineties.  Considering the current global obsession with all things vintage,  it wasn't long before the marquise diamond would find its way back on the fingers of blushing brides everywhere.  Marquise trends have taken on a simpler style and presentation, opting for settings that highlight its shape and radiance.
The marquise cut's unique shape seems to elongate the fingers, making them appear more slender, which is an attractive magic trick for any woman and the most common sales point you'll read about this cut.  Another attractive aspect is that because the marquise has the largest top surface of any other diamond cut, the stone will appear to be larger than another cut diamond of the very same weight.  The style and precision of this cut adds to its beauty and the delicate points on either end maintain their charm in any setting.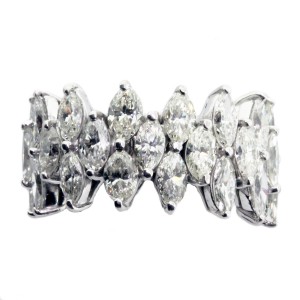 The marquise is the cut most often customized or commissioned by the purchaser, capable of being set length-wise or horizontally, creating the "bow tie" setting. This is the style Catherine Zeta-Jones wears for her antique, 10-carat ring.  Victoria Beckham also wears a custom marquise cut on her ring finger from long time husband, David Beckham. The marquise is also a common favorite among royalty, considering America's recent fascination with a particular Duke and Duchess, this fact perhaps adds to this diamond's new found glory.