Top 10 Round Engagement Rings of 2016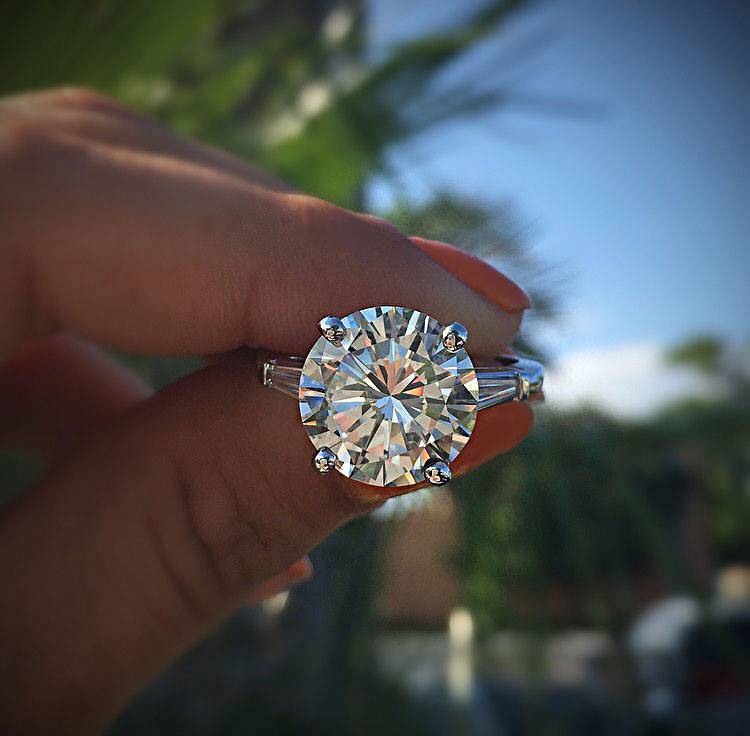 Time for the top 10 round engagement rings of 2016! So far, we've recapped our very best…
Gabriel & Co. engagement rings
And we can't think of a better way to round the corner into the final countdown than with the ultimate, classic diamond engagement ring: the round brilliant! Round brilliant diamonds:
Have 58 facets – flat panes carved from rough diamond to reflect and refract light.
Hide color and inclusions very well thanks to all those facets – you will pay more-per-carat for a round brilliant diamond, because it is so popular, but you can also use the leeway in your budget to get a larger diamond with a near colorless and Very Slightly included clarity grade.
Look fabulous in every setting style you can imagine: halo, bypass, three stone, mixed with fancy shapes, bezel set, and – of course – solitaire.
Have been around since about 1750 after thousands of years of evolution in diamond cutting.
After Single cuts, Rose cuts, and Old Mine cuts, the diamond finally evolved into the circular face up appearance it's most known for today.
In 1919, a diamond cutter names Marcel Tolkowsky published his thesis "Diamond Design: A Study of the Reflection and Refraction of Light in Diamond." This gave specific instructions for how to cut the modern round brilliant diamond.
Those specs were:  53% table, 59.3% depth, 34.5 degree crown angle, and a visible culet.
By 1950, the modern round brilliant became THE most popular diamond shape, and it still is.
There are so many reasons to love the round diamond, and we adore all of ours. It was really difficult to narrow it down to just 10, but because we love you, we made the Herculean effort. Presenting the top 10 round engagement rings of 2016 from Diamonds by Raymond Lee and Raymond Lee Jewelers!
1.
This split shank Simon G. engagement ring, with its gorgeous pear shaped side stones and generous diamond halo stole our hearts.
2.
A Verragio Venetian setting always puts a smile on our faces, and this intricately carved white gold and diamond halo is no exception.
3.
Have you ever? Can you even? This bright and bold round engagement ring still stays open and airy even though it's massive. That's two halos you see, one tightly cradling your center diamond and another orbiting it, with just enough space between to create dramatic breathing room. The lattice-work shanks are diamond studded and interlaced for a completely unique look.
4.
Another double halo by Gabriel & Co., this one is more traditional and every bit as stunning. The outer halo is sculpted so the diamonds look like petals on a flower – check out those half bezel prongs. They give it a look you've never seen before. The tightly stacked double diamond band keeps the diamonds delicate and small (a super popular look) but because there's two of them they hold up to the visual weight – and carat weight – of the halos.
5.
We love BIG diamonds. Unfortunately, we can't always agree on what constitutes "big." Our entire team – and our clientele – can usually agree on this 6.42 carat GIA certified jaw-dropper.
6.
We are a country divided. It's hard to even imagine how our friends and family can disagree with us on the most fundamental ideals. But each side has their own reasons for their beliefs, and we remain firmly neutral in the raging debate between solitaire vs. halo. We love both of these round engagement rings.
7.
Meet Tacori's take on the 6-prong solitaire. Beautifully rounded prongs meet large, snugly set round brilliant diamonds on the band. We paired it with its twin wedding band for a seamless look.
8.
This sweet Gabriel & Co. couple feature both our most popular solitaire setting and wedding band from that line.
9.
This A. Jaffe solitaire has twin, elegantly twisted diamond bands that take a back seat to the stunning center stone.
10.
Finally, the queen of our solitaires, the Tacori RoyalT. Fully loaded with 1.51ctw of round brilliant diamonds on the graduated shanks, just waiting for your dream diamond.