We're back recapping the best rings of 2016 – see our favorite Tacori engagement rings and our favorite A. Jaffe engagement rings. No countdown is complete without Verragio engagement rings! Our most popular designer line reigns supreme with appropriately regal details – every ring's gallery is like a crown itself!
This year, our Verragio engagement rings swept the internet popularity contest, especially THE most popular engagement ring on Pinterest. And did you happen to catch our other most popular Verragio engagement rings?
What makes these rings so drool-worthy? Well…
They're handcrafted right here in the USA.
Every Verragio engagement ring is designed with its ultimate wearer in mind: a woman. Verragio engagement rings mimic the unique feminine beauty of the women who wear them.
That means lots of hidden touches, exquisite details, and curves galore.
Verragio rings are multi-colored. Whether you want a rose gold engagement ring, yellow gold, or white gold, we've got you covered.
Verragio engagement rings let you get creative. They're super easy to customize, especially when it comes to using alternative gemstones instead of diamonds.
Every Verragio engagement ring has a perfect match wedding band, but it's also SO easy to mix and match coordinating rings for the perfect custom look.
Every Verragio collection has it's own signature look:
The Parisian collection has 4 rose gold bands on the ring's foundation leading around to its resting point.
The Insignia collection has the Verragio logo nestled into the ring's crown with two diamond pave scrolls leading to that diamond-accented "V".
The Couture collection is lined with large French beading that culminates with a diamond accented tapered resting point.
Verragio's Classic collection has shared prong set diamonds on its shoulders and the interior is lined with simple, micro-French beading. Just beneath the crown the ring displays a mini version of the Insignia's trademark scrolls and just the accent diamond, rather than the diamond-studded "V".
The Paradiso collection, the newest addition to the Verragio family, features scrolls of diamonds that line the rings' inner faces. This creates room for air to flow through the setting while it's worn, making it more comfortable. It also keeps them from spinning.
The Venetian collection is the "fanciest" aka most intricate. The ring's inner face features lace scrollwork surrounded by French beading all the way around. The ring's resting point is marked by a tapered diamond accent.
With so many collections to amaze us, we can't choose a favorite. But we DID narrow it down to our top 10 rings!
1.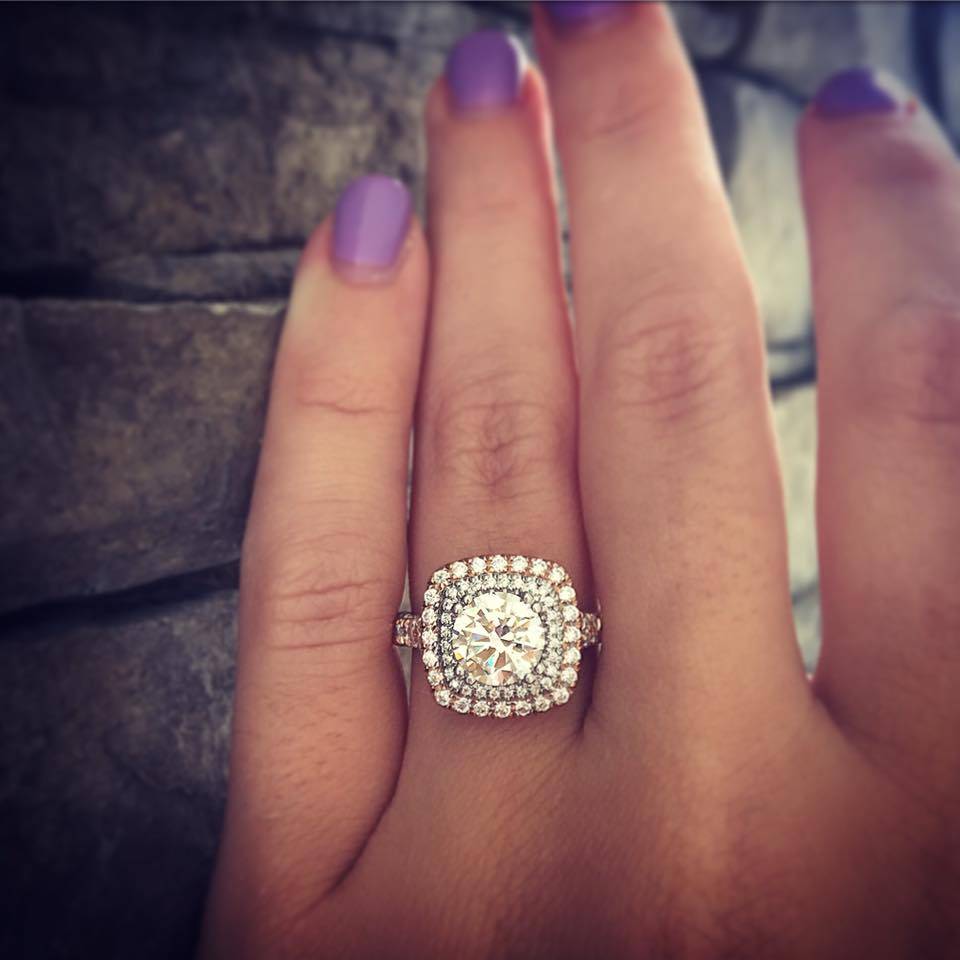 Hello two-tone! This soft square double halo is bold and breathtaking.
2.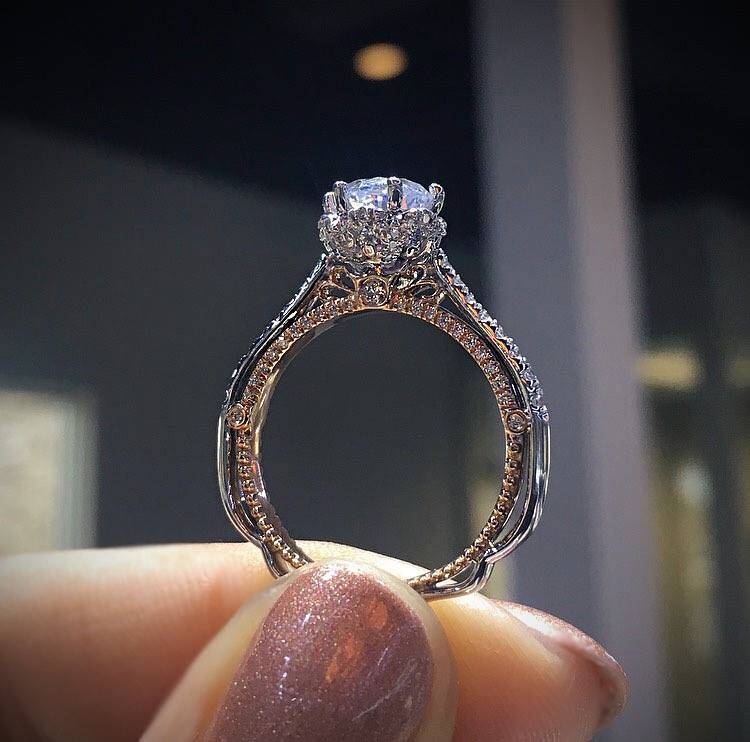 This solitaire from the Venetian collection stole our hearts and everyone's on Instagram.
3.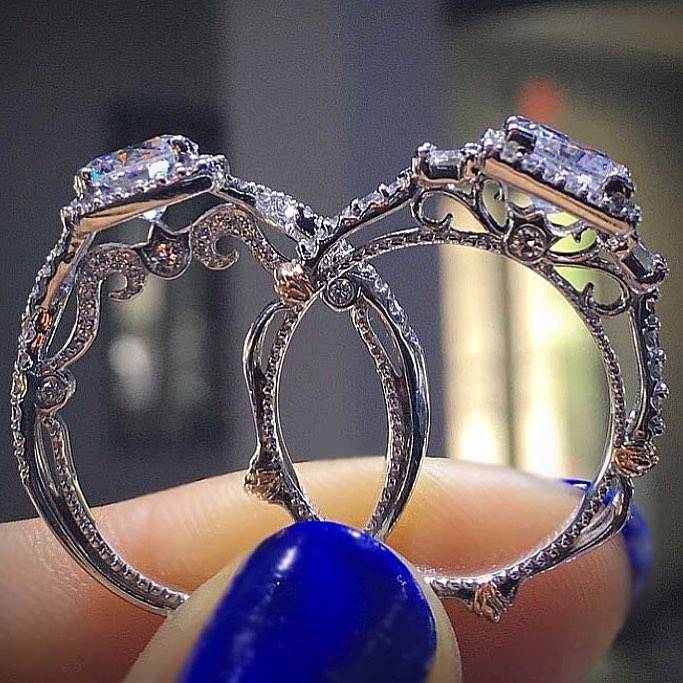 The square halo done two ways. On the left, the Insignia is a beautiful lace shank halo (one of our most popular styles in real life too – not just in our Instagram power-ranking.) On the right, the Parisian setting with side stones is more delicate, more sculpted, and every bit as gorgeous.
4.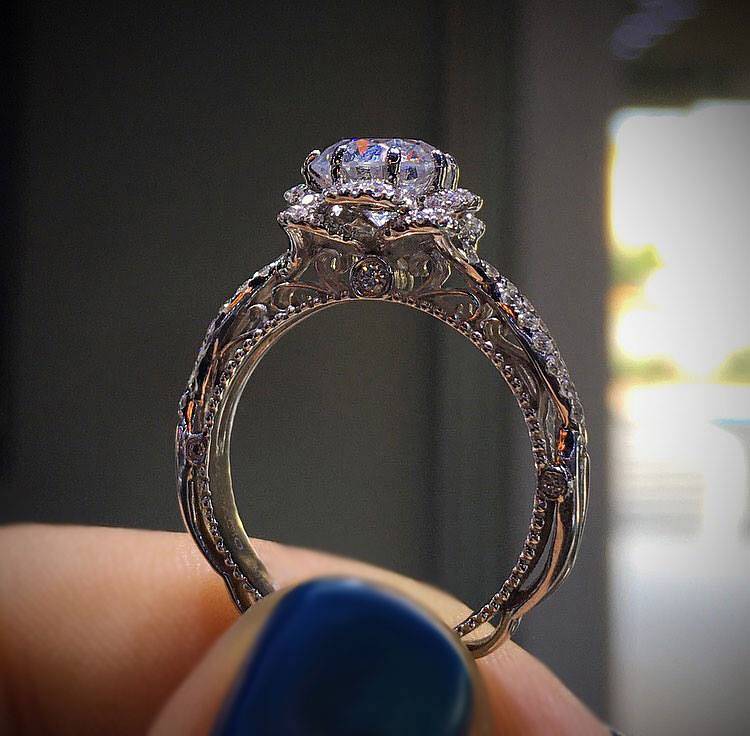 This floral halo might look familiar from its aerial view, but we LOVE this shot of the side perspective to show off those Venetian details.
5.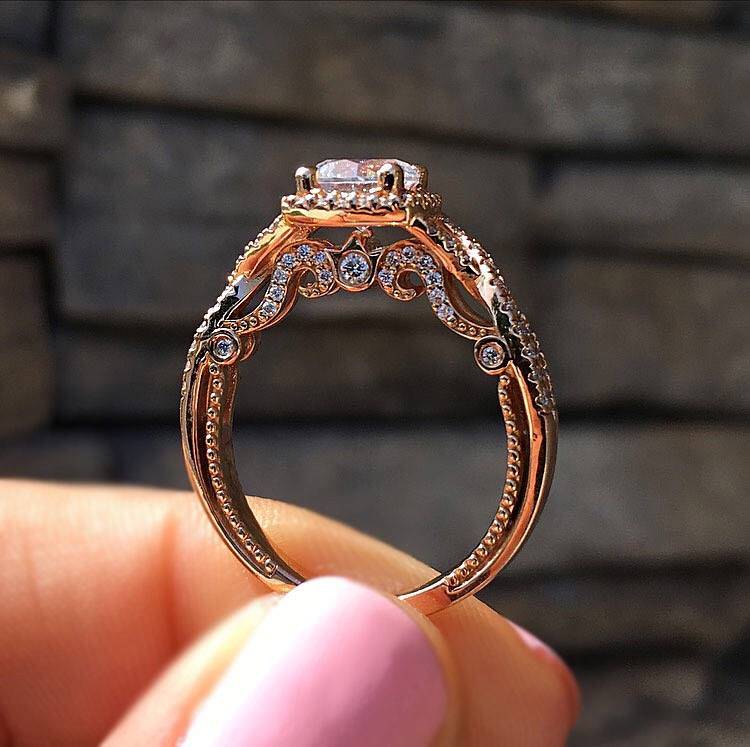 This rose gold Insignia number is so good it makes the list twice.
6.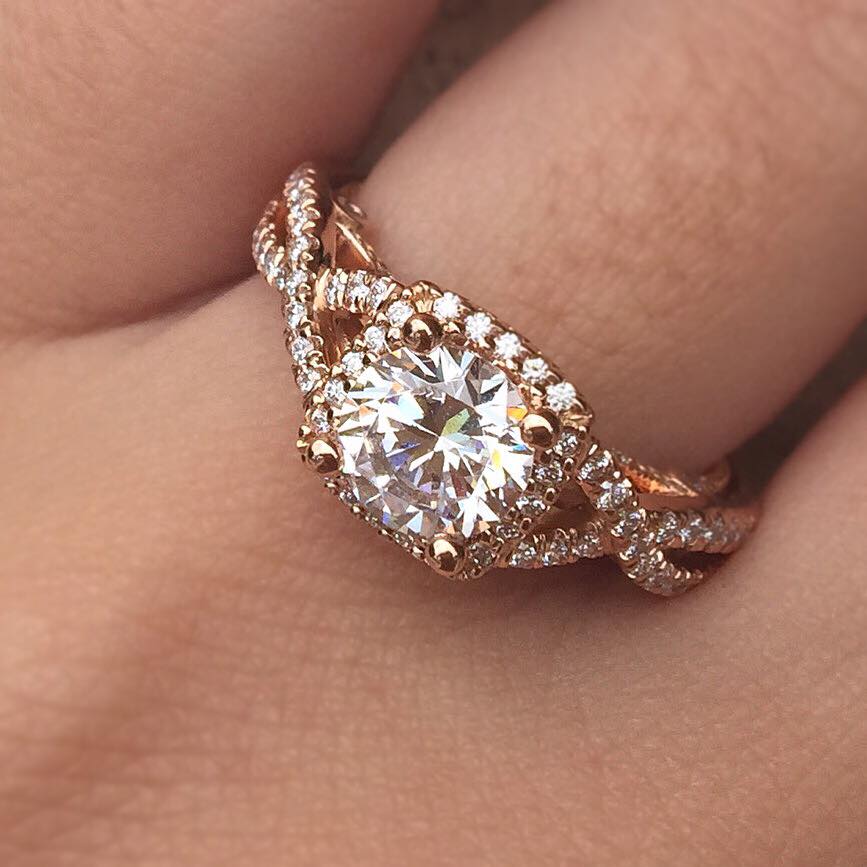 Yep. Gorgeous from every angle.
7.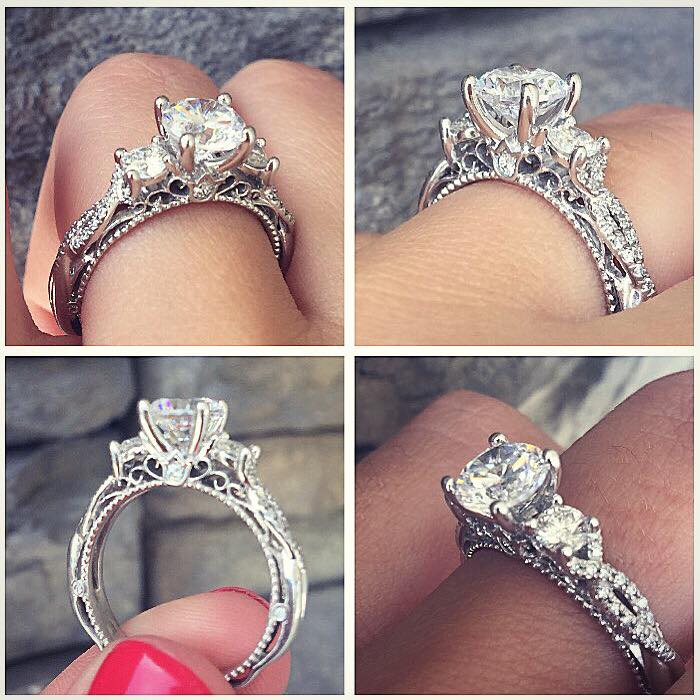 Speaking of gorgeous from every angle…take a look at this Venetian classic three stone!
8.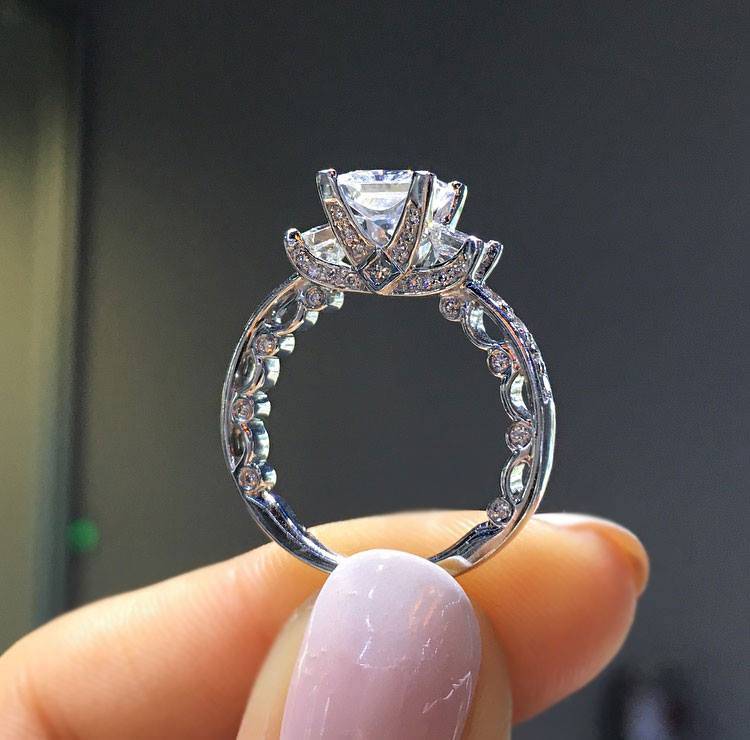 We love the Paradiso collection because #MoreDiamonds, but beyond the added carat weight the extra bling, shown here, serves a purpose. Each of those beautiful diamond-filled bezels keeps your ring perfectly positioned-no spinning on your finger!
9.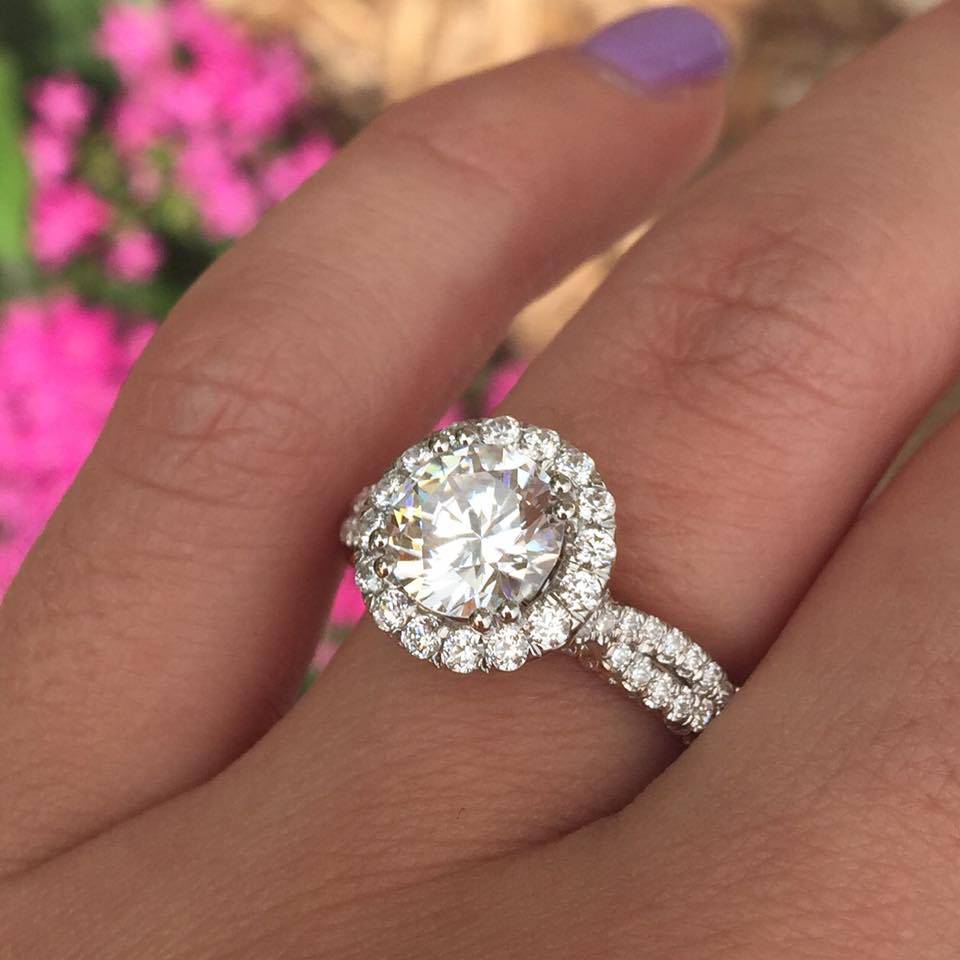 This ring is one of our favorite Venetian beauties, with a large single halo and tightly laced diamond shanks.
10.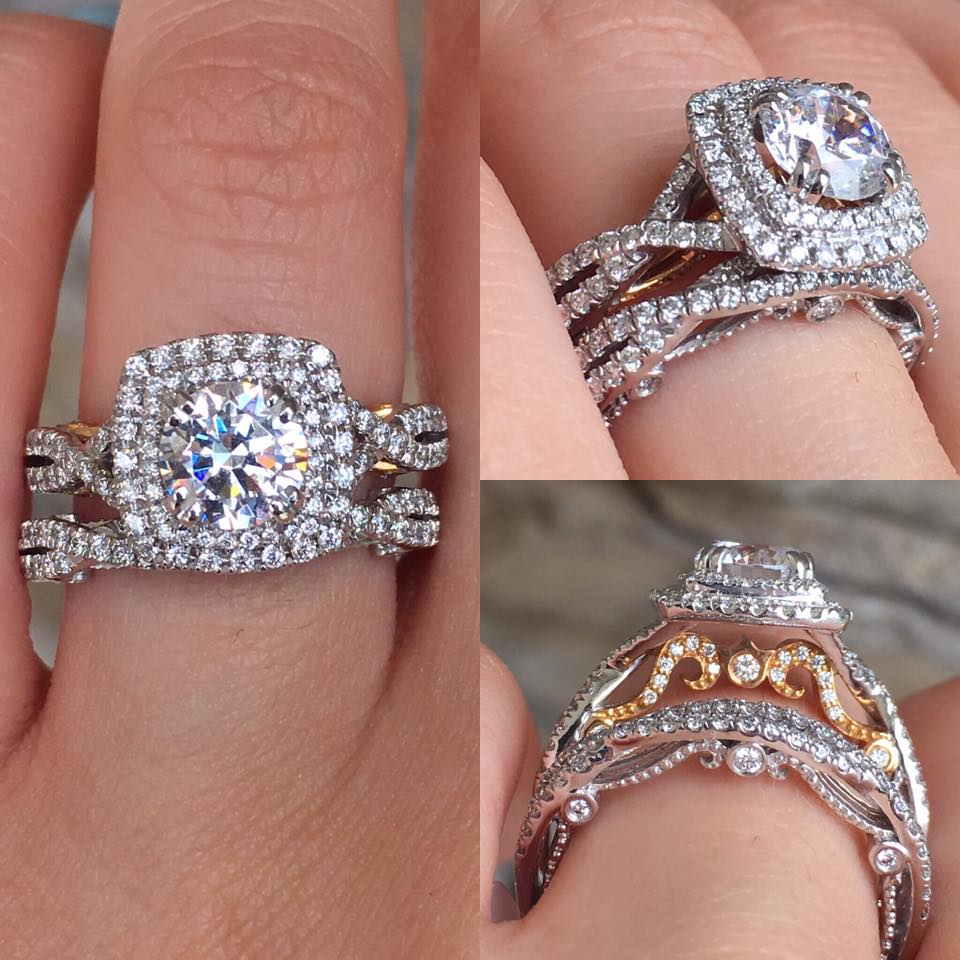 Finally, we leave you with this GORGEOUS and perfectly matched Verragio wedding ring set. If you like the idea of rose gold but aren't sure you'll love it for the long haul, this hidden touch is just perfect!