Henri Daussi Rings helped us make 2016 the year of the cushion cut. These fabulous engagement rings are famous for the way they use cushion cuts.
Henri Daussi began his career as a diamond cutter, most famous for – you guessed it – his trademark cushion cuts. Eventually an entire engagement ring empire was built in his name (and is still run by his family.) But to this day those famous Daussi cushion cuts give the brand instant recognition.
Henri Daussi cushion cut diamonds have a secret formula that gives them an extra large table, making them appear up to 30% larger than traditionally cut cushions. However, if tradition is the name of your game, HD is happy to cut you up a perfect, traditional cushion cut. They also specialize in mouthwatering round brilliant diamonds, and some of our favorite fancy colored diamonds and gemstones.
These settings are perfect for the modern glamorous bride. Their style isn't trendy or edgy, it will absolutely stand the test of time. However, HD uses diamonds in unconventional ways to achieve unique, high-end styles. These rings have a signature style all their own, and they never skimp on opulence.
In addition to our top 10 Henri Daussi rings from this year, here are the top 10 reasons we love them so:
Every ring is created specifically for the center diamond.
Whether that's your diamond or one you purchase from Henri (or us) the ring will be a perfect fit.
Want a Daussi diamond? You're getting something even more special. Their trademark Daussi Cushion cut makes cushion cut diamonds appear way bigger thanks to a 30% larger table. And their expertise doesn't stop there. The company was founded as a diamond cutter first, so their round brilliant Daussi diamonds are just as spectacular.
But if you want a traditional cushion cut they're just fine with that too.
You won't see any other rings like these. Even in popular halo styles, they still stand out in a crowd.
Henri has history on their side. Henri Daussi Loots founded the company in Antwerp over 60 years ago and stacked the deck with the best diamond cutters he could find: his family members.
They're still all about family. The Loots still own and operate Henri Daussi.
Every diamond is hand-set to ensure heirloom quality.
Those diamonds are all guaranteed to be conflict-free. They're sourced directly from the mine and cut on-site at HD HQ.
Let's get fancy – Henri Daussi sets some of our FAVORITE fancy colored diamonds.
Let's recap the very best Henri Daussi rings of 2016:
1.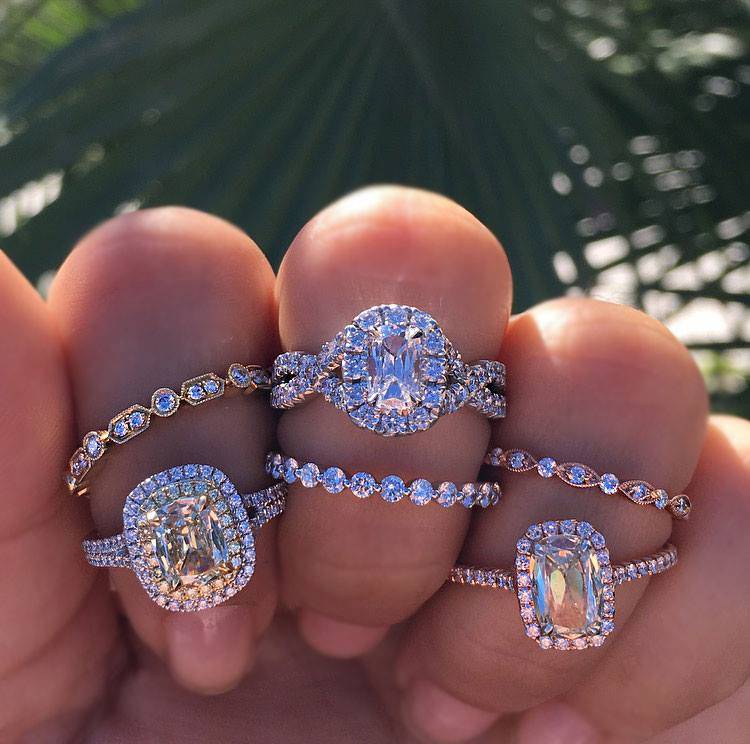 First up, a trio of Daussi cushions with three of our favorite stacking wedding rings to mix and match -shapes, styles, metals, you name it.
2.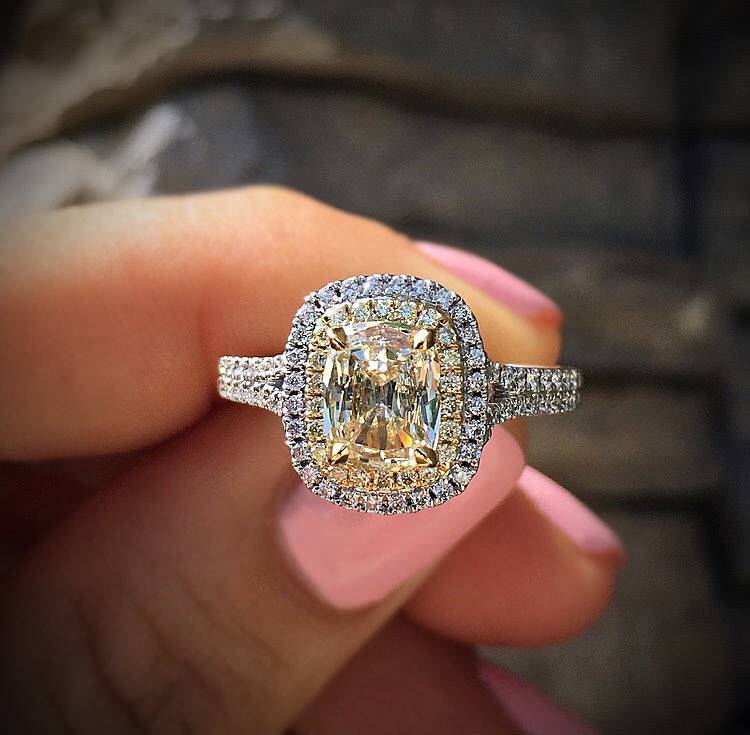 Now let's zoom in on the ring all the way to the left. It's a stunning, pale yellow diamond (L color) given a fancy boost thanks to a yellow gold and yellow diamond inner halo. The bright white outer halo and mini split shank band serve as great contrast, making the ring look like it features a fancy yellow diamond at a fraction of the cost (this whole ring is under $8000!)
3.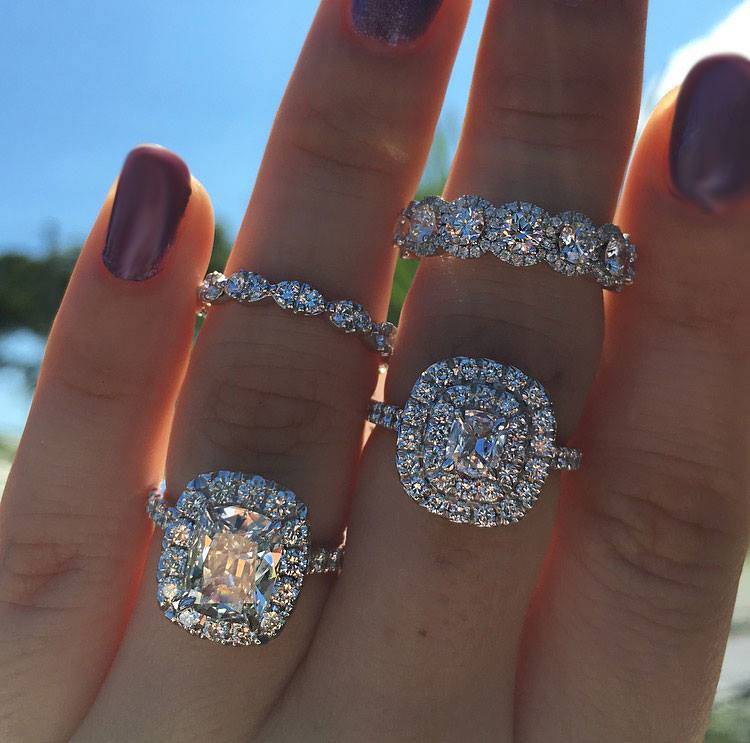 Another mix and match set we can't decide between!
4.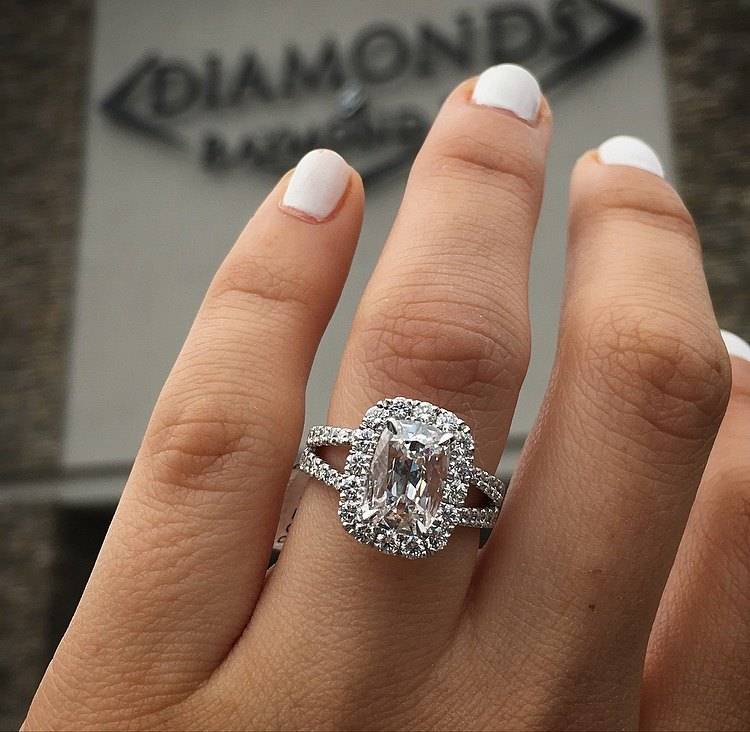 This crystal clean split shank set diamond was one of our favorites – and easy for us to re-create with the center diamond of your choice!
5.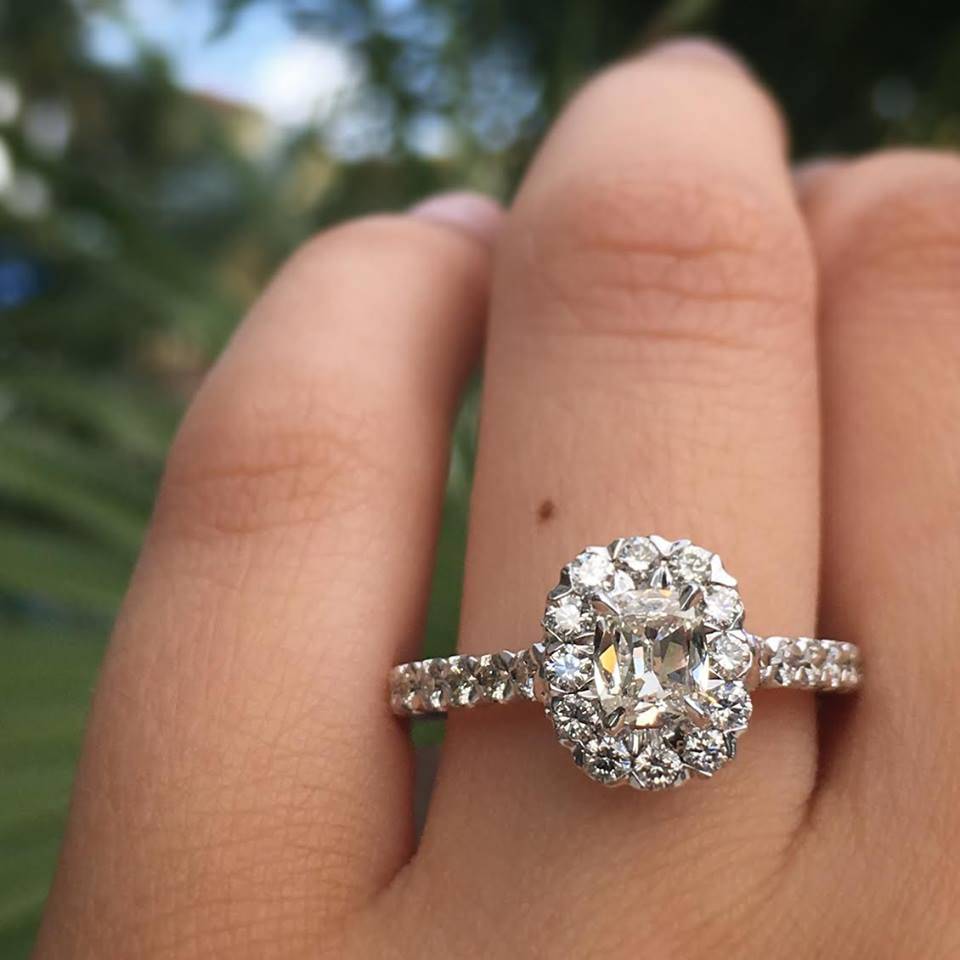 This delicate halo is one of our prettiest, and with a price tag under $5000 fits many of our brides' budgets.
6.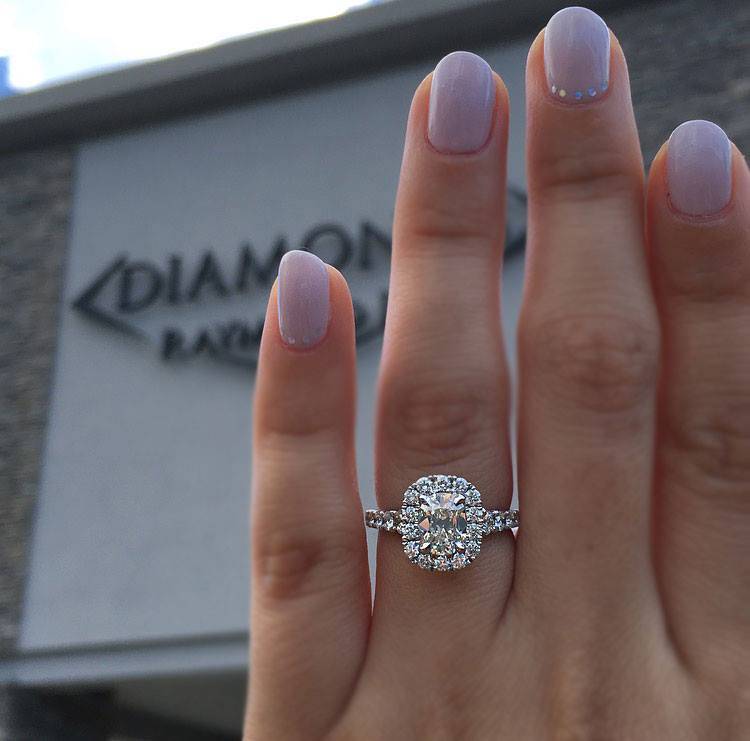 This beautiful rounded cushion halo features large, graduated round brilliant diamonds that make up the entire band.
7.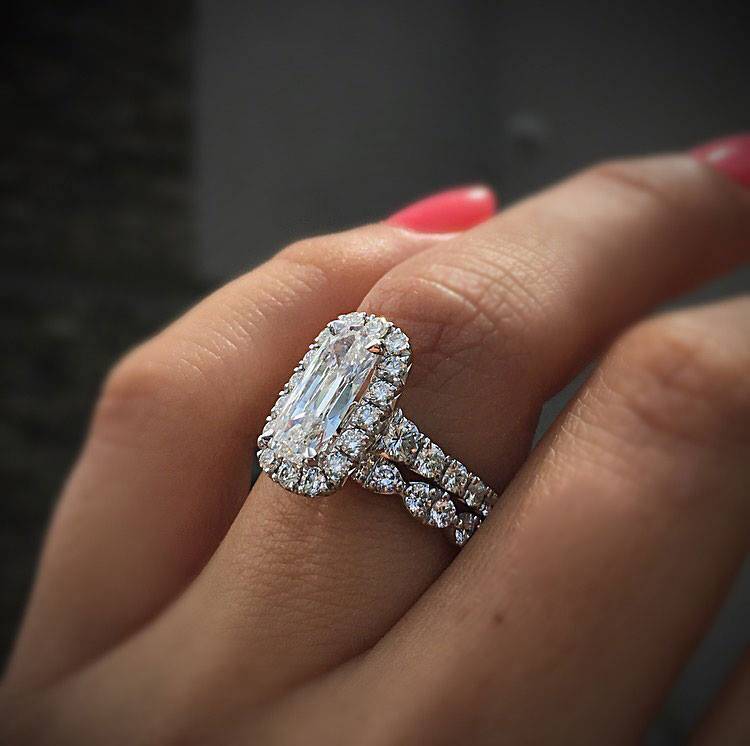 This is what we mean when we say Daussi rings are striking. This elongated cushion is one of our most unique rings, and it always stops us in our tracks when we walk by the showcase! We paired it with an equally distinct wedding ring – those diamonds are NOT East-West set marquise cuts. Nope! They're twin round brilliants set in ellipses to lower your budget and up the bling factor.
8.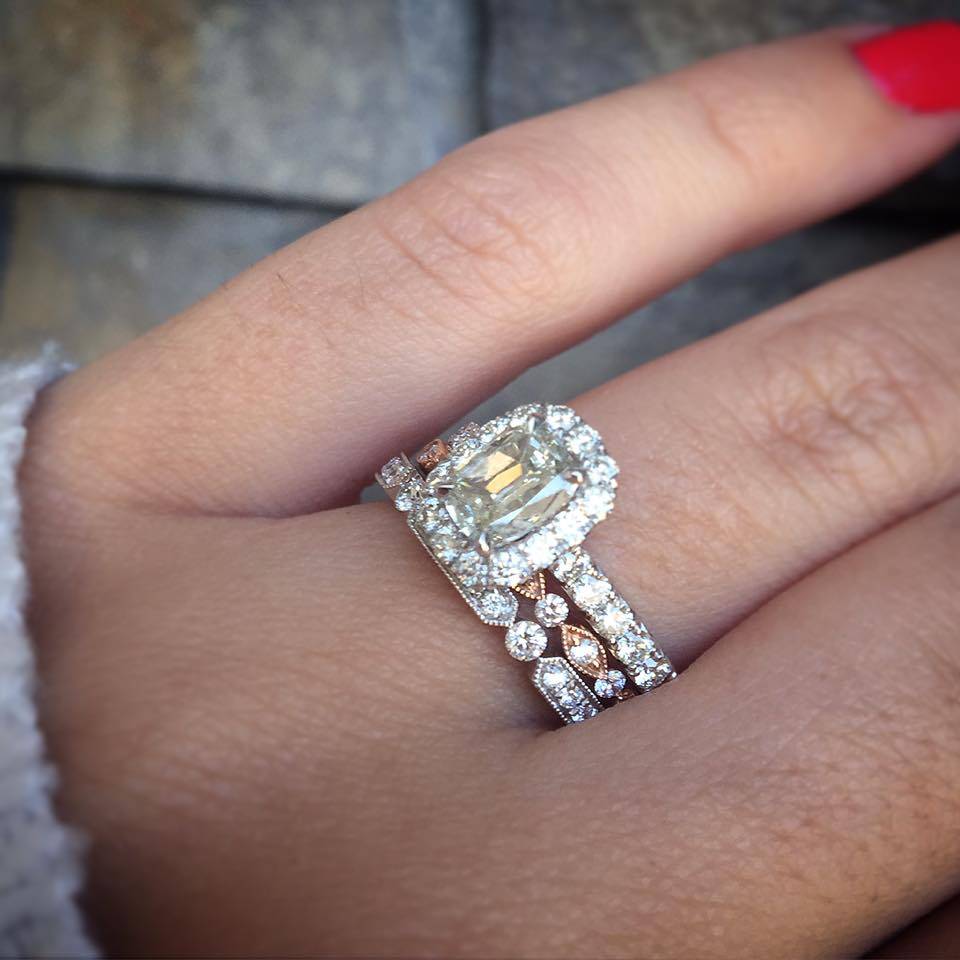 Say hello to one of our most popular stacks on Pinterest. We played up the warm, candlelit effect of the center diamond in this engagement ring by pairing it with two textured, antique-style rings, an 18kt rose gold number sandwiched right in the middle.
9.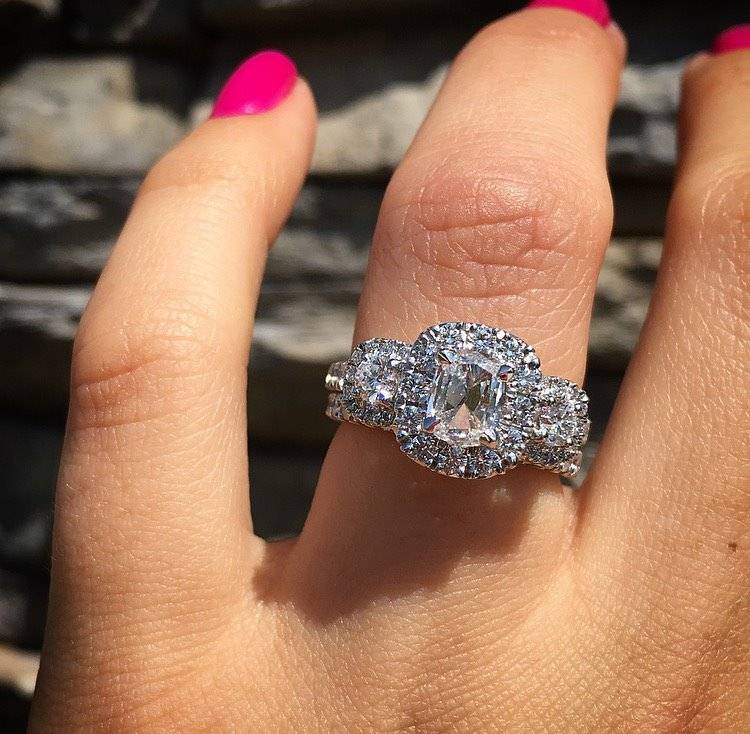 A three stone halo, done the Daussi way.
10.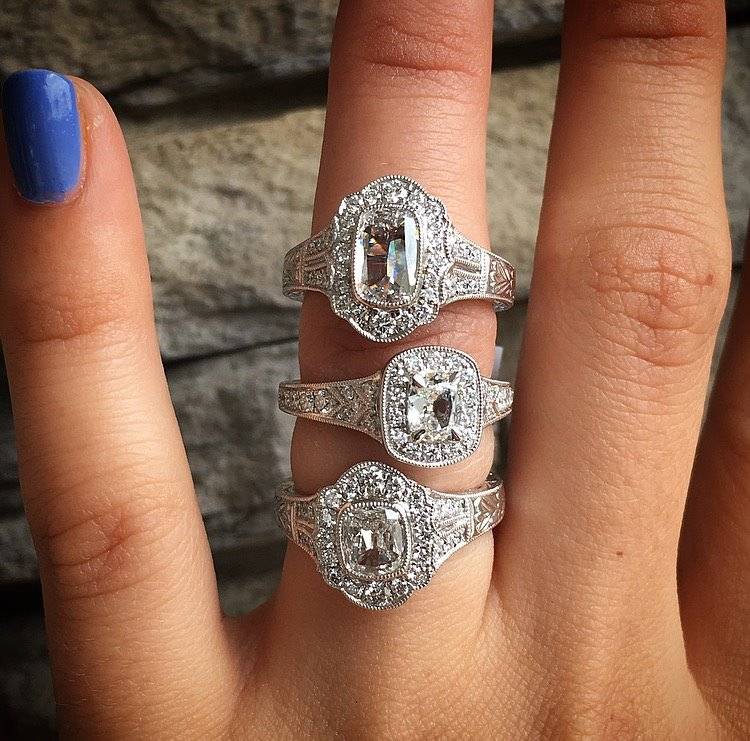 Finally, we want to wrap up with something different: these Henri Daussi Victorian style rings! They get a blast from the past with antique style details: