Top 10 A. Jaffe Engagement Rings of '16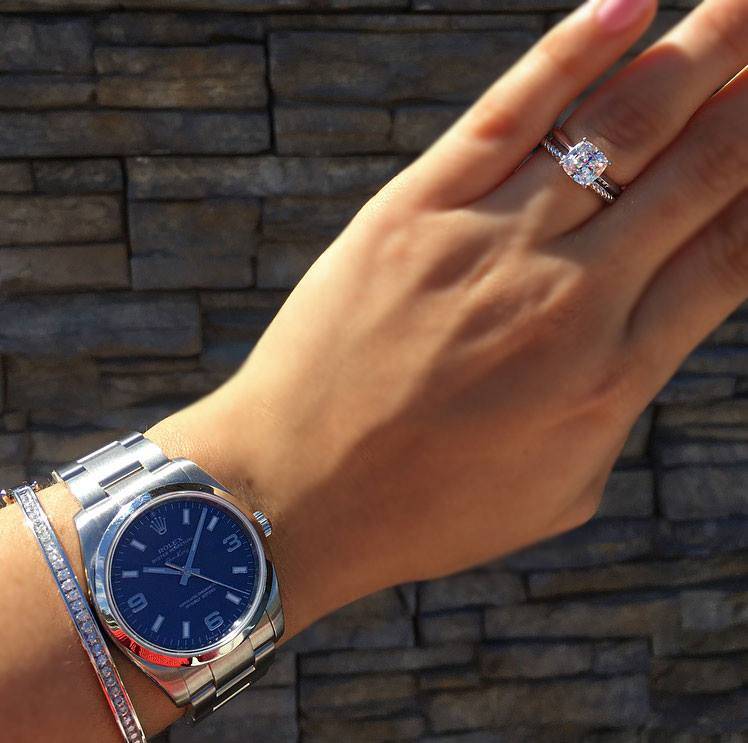 We're continuing to roll out the hits today with more of our top engagement rings from 2016. Did you check out all the gorgeous Tacori engagement rings from Monday? OMG you need to go right now if you haven't yet – don't worry we'll wait.
Back? Ok, mentally prepare yourself for even more gorgeous engagement rings! Because today, we're taking our talents on the road and heading back East. To NYC!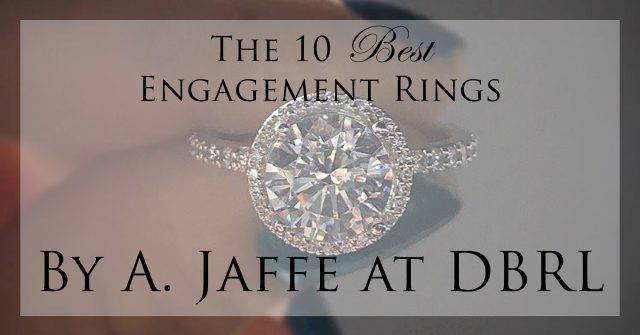 We love that all of our premium, customizable engagement rings (so, ahem, all of our engagement rings) are handmade here in the USA. We're so proud to sell jewelry made in America, and A. Jaffe is one of our designers that imbues every one of their stunning creations with the essence of their surroundings.
Because when your engagement ring company was founded in New York, by a spunky young upstart, and your HQ helped established one of the most famous diamond districts in the world, well, you gotta let some of the ambiance seep into your rings. And seep it does.
A Jaffe engagement rings scream NYC. They're architectural, they're sleek. They're classic. They're edgy. They're refined. They're bright. They're understated. Outspoken. Bold. Timeless. They're at once contradictory but totally cohesive. They're all the different facets of New York City, and there are enough engagement ring designs for every discerning, fashionable woman in New York. We're obsessed. Let us show you exactly why.
1.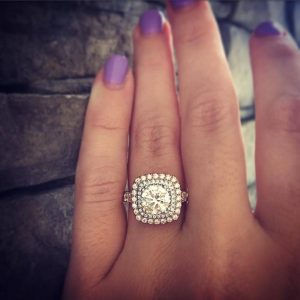 This stunning soft square halo is set with round brilliant diamonds in a smooth, bright polish 18kt white gold, 14kt gold, or platinum option (and in white, yellow, or rose too!) The beautiful accent diamonds add .53ctw to this ring, which can be made to fit any size diamond you'd like.
2.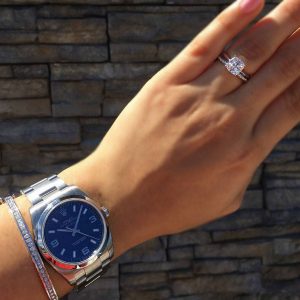 This beautiful solitaire shows how well A. Jaffe does pared-down elegance. There's no skimping on luxury, and no details are overlooked, but the ring itself steps back and lets your center stone shine.
3.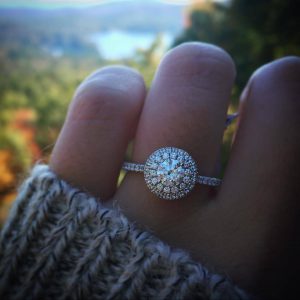 This fabulous double halo, on the other hand, proves that A. Jaffe can also shine bright like Broadway lights. .36ctw of round brilliant diamonds stud the surface of every level of this ring, from the super thin, delicate band, to the seamless outer halo, then finally the top layer of diamonds that form the larger inner halo.
4.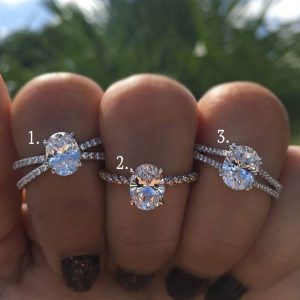 Here we have a three-fer. These ovals are delectable, whether they're edgy like the reverse split-shank on the left, twisted like the pretty in pink rose gold rope solitaire in the center, or classic like the split shank on the right.
5.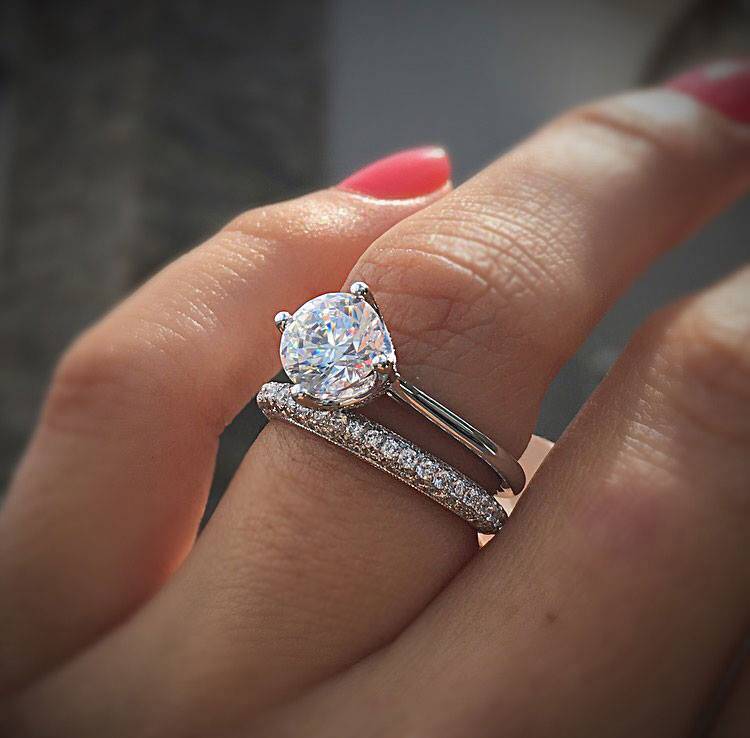 This elegant fo00-prong solitaire gets a twist thanks to its prong placement at North, South, East and West rather than the 2,4,8,10 o'clock placement you typically see. We love it paired with a bold, iced out wedding band to contrast the sleek, quilted band.
6.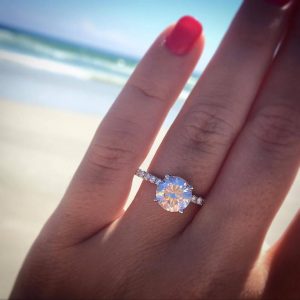 Here, we've got another solitaire with that traditional prong setting we mentioned above. Still gorgeous! We love the elegant, tapered look, and the large, shared prong round brilliant diamonds make up the entire band, adding .48ctw to this stunner.
7.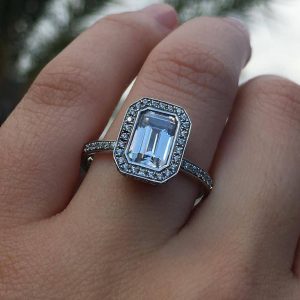 This triple level halo is PERFECT for an emerald cut! The tiered set up mirrors the clean beveled facets of the center diamond, and the channel + bead set diamonds in the band and slim halo are the perfect juxtaposition to all that geometry. They break things up, add some brightness and glitter (and, you know, .65ctw of diamonds.) Do us a favor, pleeeeeease click through to see a) the full effect of the triple level and b) the surprise on the side of them.
8.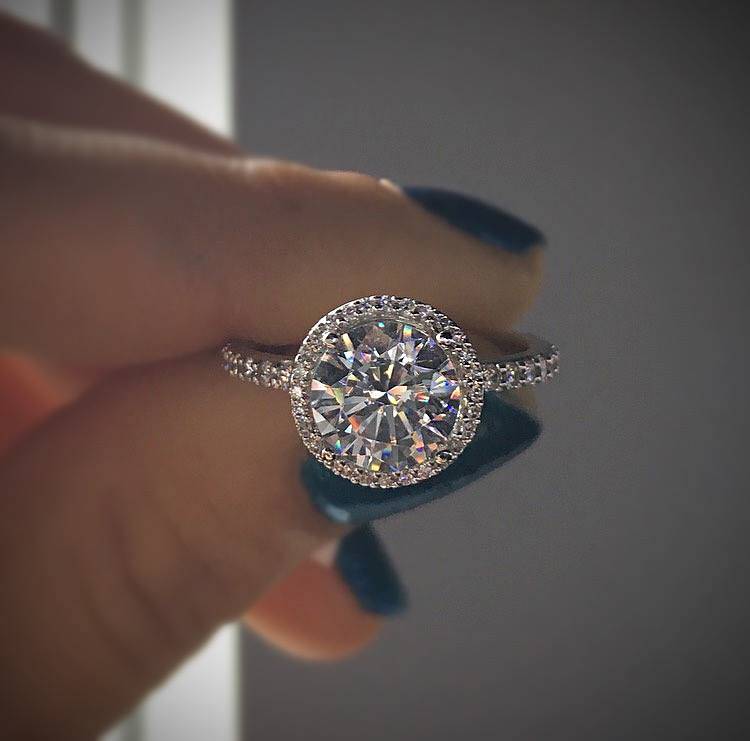 We call this on"The Perfect Halo." No other explanation necessary, right?
9.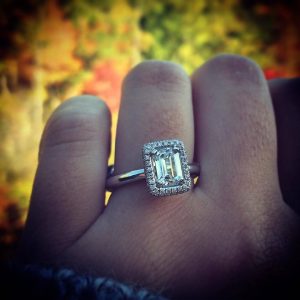 And while we may not call this one THE perfect halo… It's still a little bit, right? The halo is set on three side with delicate round brilliant diamonds, and we love that they soften the corners of the halo, even on a stark clean emerald cut center stone. That softness is mirrored by rounded, bright polish shanks. Gorgeous.
10.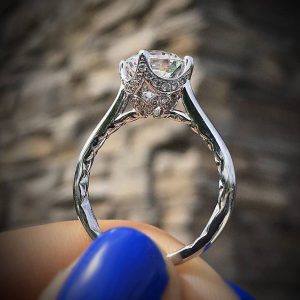 Finally, we wanted to show off the other side of what makes A. Jaffe engagement rings special. Literally. From the side, you can see the design thought that goes into each setting, beyond making them merely beautiful. The quilted inner face of the band isn't just for decor, it creates breathing room on your finger and prevents spinning. And the diamonds that accent the gallery are stunning, yes, but the way the gallery is built is solid – these rings are meant to become family heirlooms.