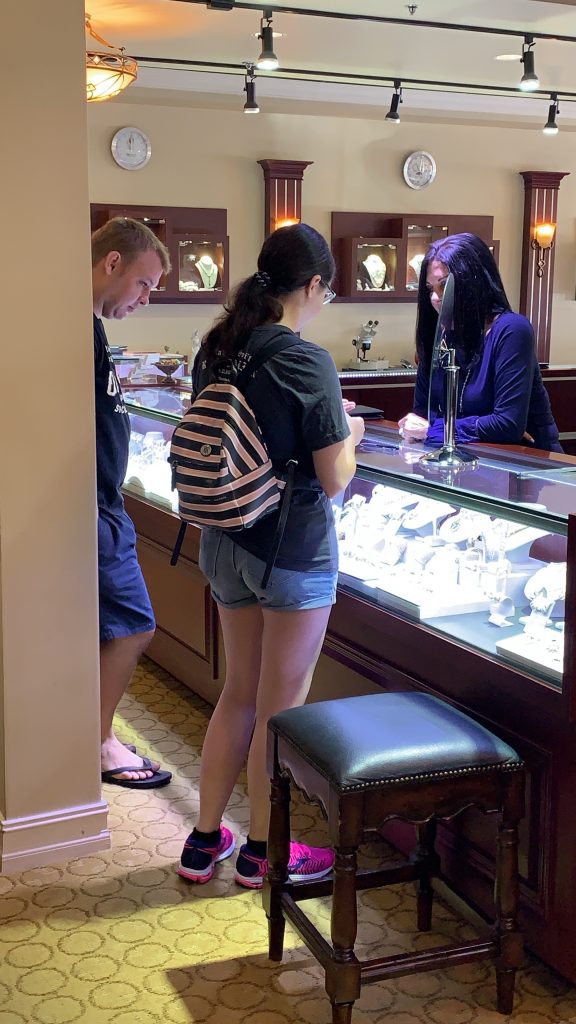 Where do you go to buy diamond jewelry? When searching for a showroom to look at diamond engagement rings your first visit should be to Diamonds by Raymond Lee. In convenient locations in Boca Raton we are proud to serve the South Florida community. Bringing all of the very best in diamonds, jewelry, fine watches and engagement rings. It is our family history and day to day passion. All of our diamond experts are ready to welcome you and assist with your search for your next piece of great jewelry.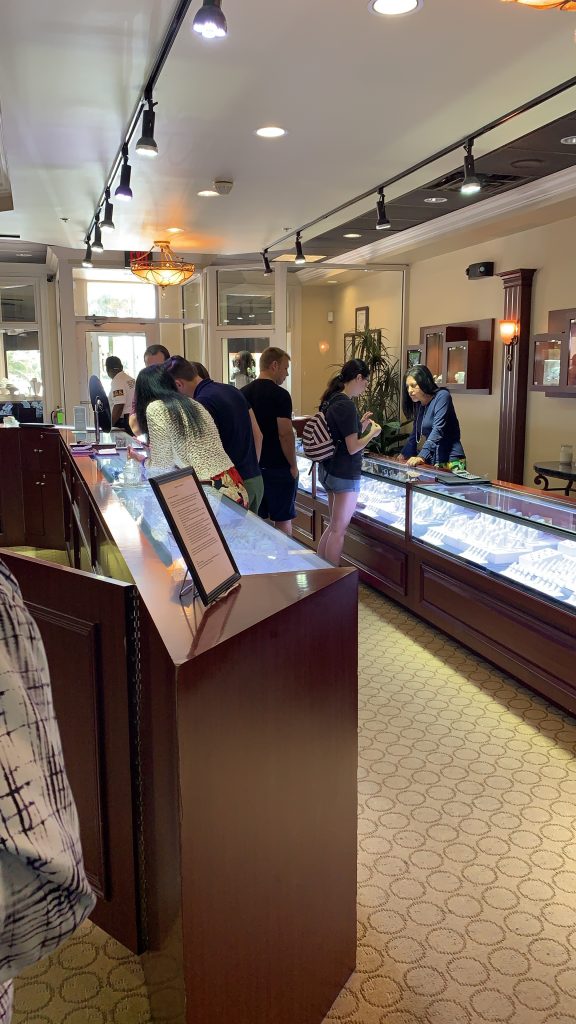 At Diamonds by Raymond Lee we specialise in fine jewelry and watches. Our locations are easy to find and bring together a curated collection of diamonds and precious gemstones. Some intricately set in gorgeous jewelry designs. When it comes to bridal jewellery and engagement rings we feature some of the world's finest brands. Beyond this wide ranging selection we also have bespoke services. At our showrooms you can not only browse through our jewelry collection. We also have repair, restoration and custom jewelry services. You can find your favorite loose diamond and create the ring of your dreams. Whether that is for an engagement ring or personal piece we can help.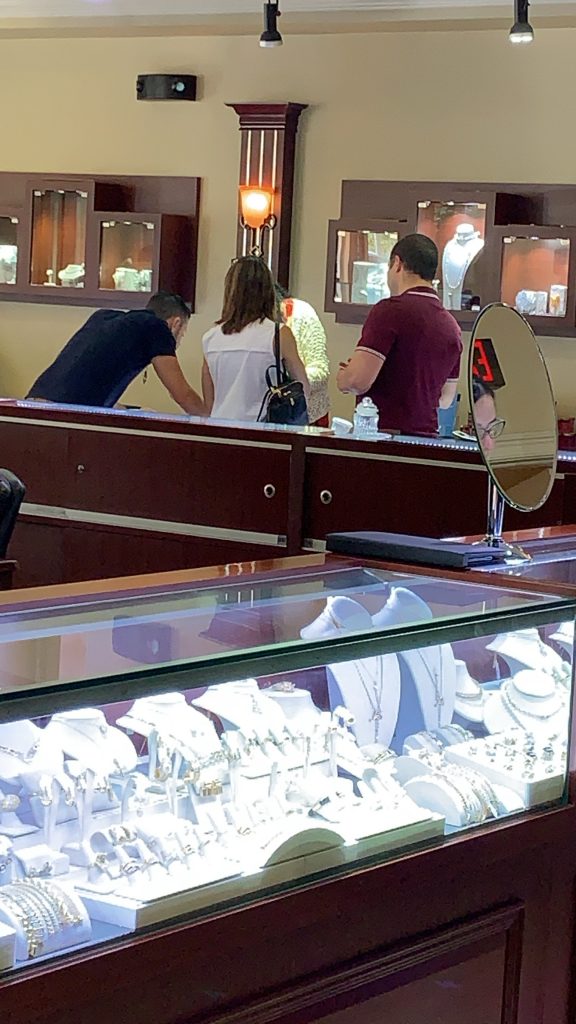 At all of our showrooms are equipped with state of the art equipment for these special services we offer. As well as the latest in security to make sure any of your jewelry you leave with us is kept safe. Just like all of our collection pieces. We encourage you to come and check out our showrooms for yourself. There is nothing quite like visiting a diamond jewelry showroom. Seeing the jewellery first hand and trying out a ring or bracelet is an entirely different experience. Particularly when you are choosing a special jewelry piece like an engagement ring.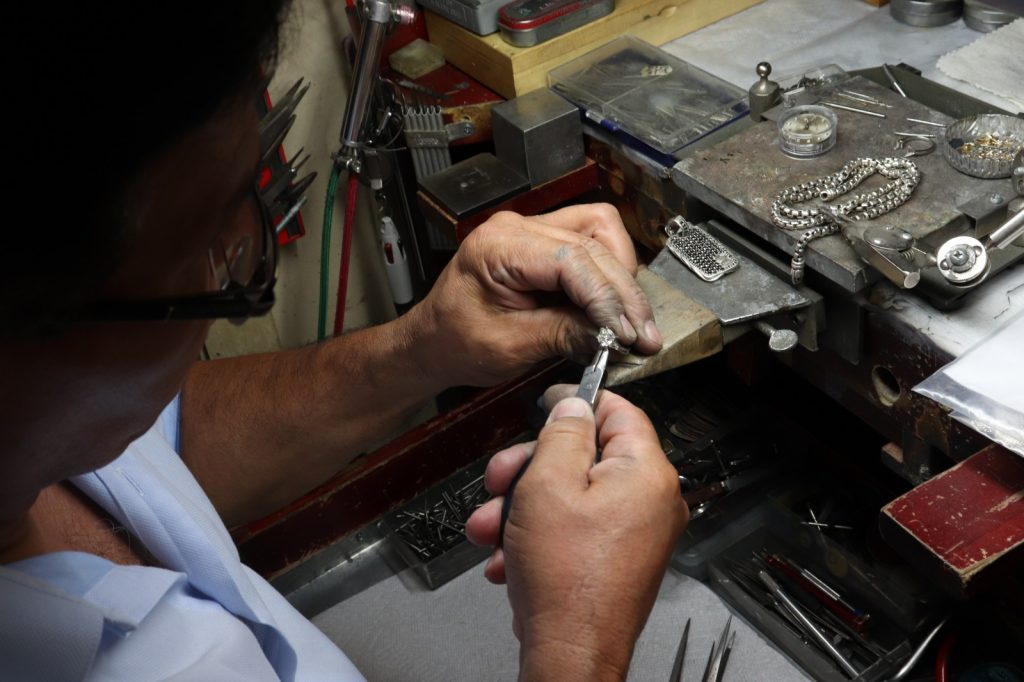 One of the really cool things about our Diamonds by Raymond Lee showrooms is that we not only sell diamond jewelry but we also create unique jewelry pieces. Because we want only the best of the best we also source our very own highest quality and grade materials. Including loose diamonds. Nothing makes diamond jewelry as much as the diamonds themselves! So how do we choose which diamonds to use in a piece of bespoke jewelry? Well our customers can actually browse and choose the stones themselves!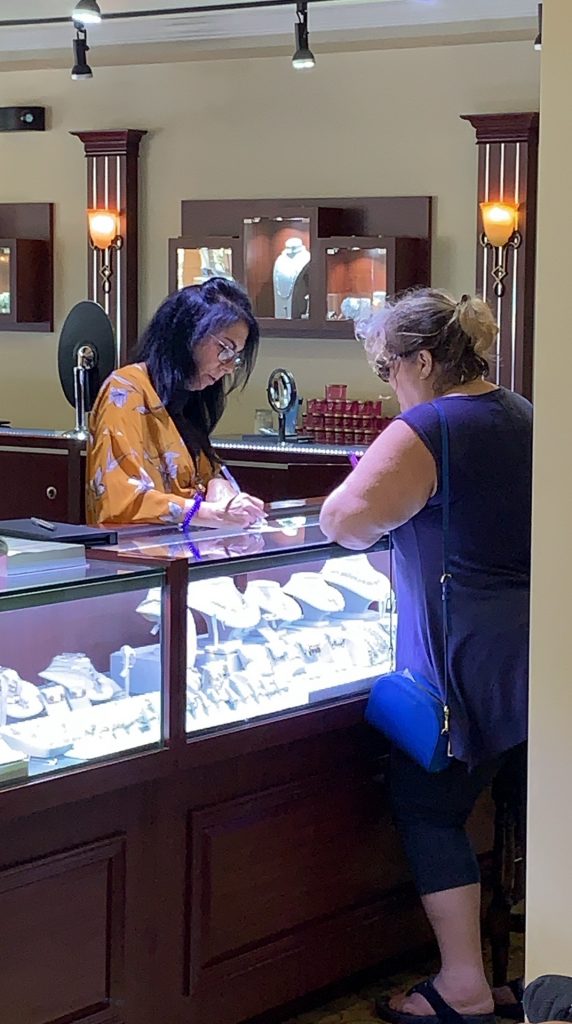 There are a couple of ways to differentiate and categorise diamonds. Here is a quick run down of diamond quality assessments so you can know what to look for while you browse. When looking at a diamond gemstone you want to understand four main things about the diamond:
The diamond cut
Its clarity
Where on the color spectrum it is
The carat weight
These are known as the diamond 4 C's. Cut, clarity, color and carat – pretty simple right? Now it is the combination of these four features that dictate the quality of a diamond. First, the diamond cut is more of an aesthetic feature. However depending on the cut three things about the diamond will change: the brilliance, fire and scintillation. These are the reflection of light, the colors that reflect in the diamond's interior and the amount of sparkle the diamond creates.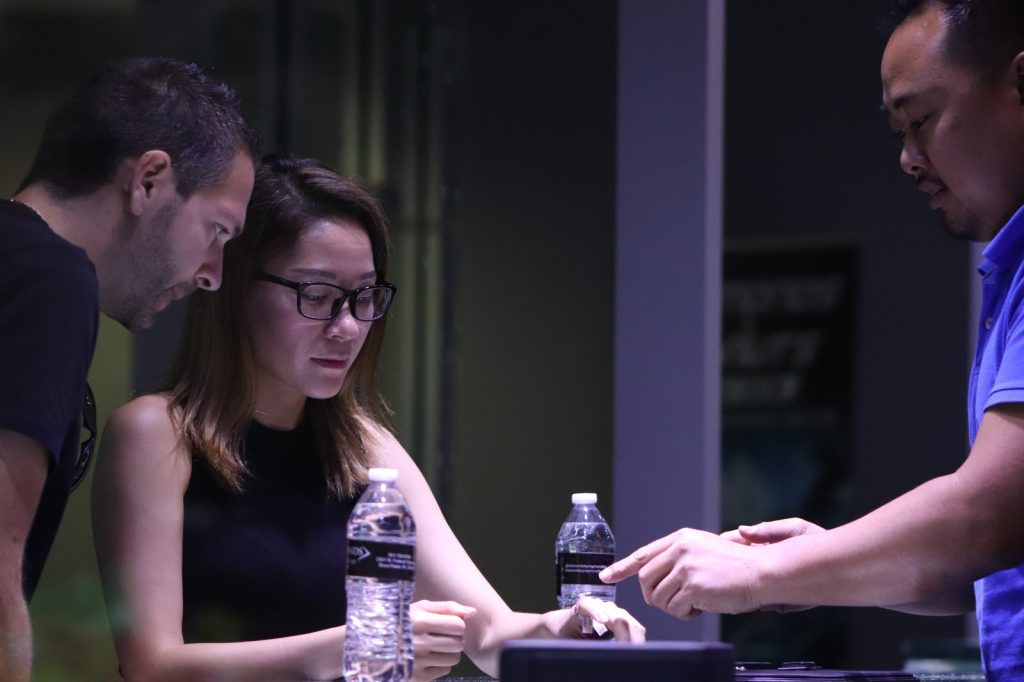 There is a lot more detail that you can go into when it comes to diamonds so if you are interested in knowing more check out our educational guide to buying diamonds.
You can also play with the filters on our Diamond Search feature to see diamonds that fit different combinations of the 4 C's. There you can see all of the different diamond features we have talked about.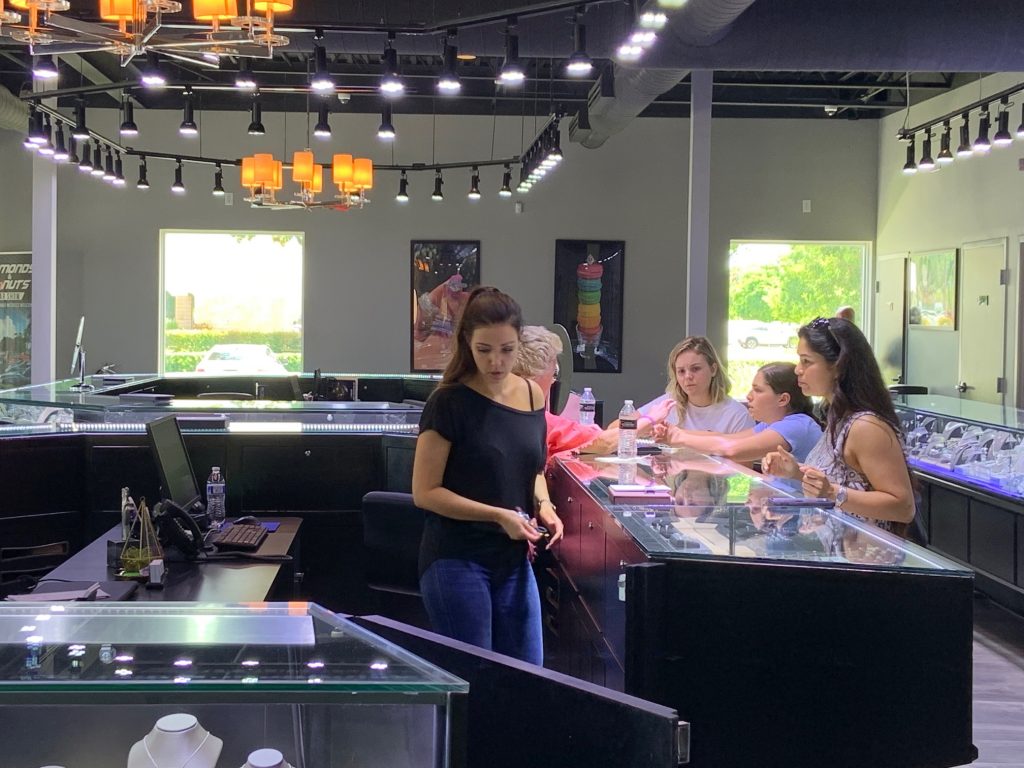 Where to buy engagement rings
Now that you know a bit more about our wide diamond selection we want to tell you a bit about our engagement rings. The question of where to buy an engagement ring can be a difficult one to find an answer to. Many times you may never had to look for a fine jewelry showroom before. Perhaps in Boca you do not yet know who to trust in making one of the most sentimental and important purchases, perhaps ever.
That is why at Diamonds by Raymond Lee our diamond and fine jewelry experts love helping couples find magnificent engagement rings and wedding bands. Whether you choose to have one specially custom made with us or choose rings from our wide selection we are here to answer any questions along the way. Our role is to guide you in finding the perfect fit and the perfect price.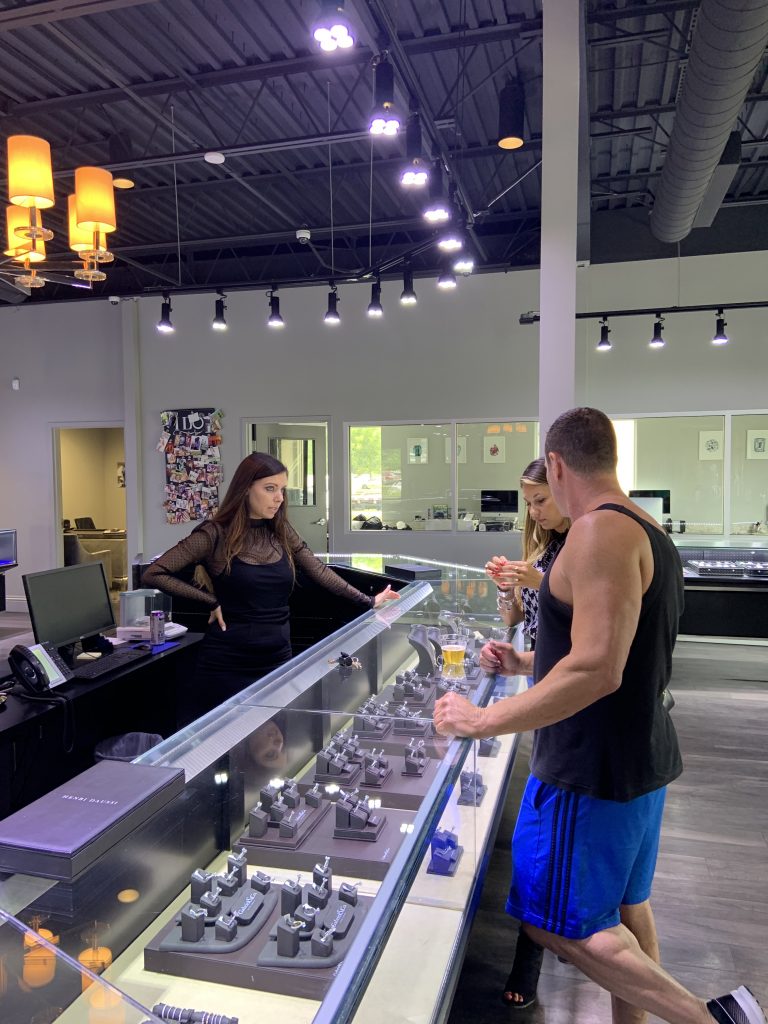 There are so very many options and it can take a while to see and feel which one is the right one in the end. It is an experience that you want to enjoy and experience together. We know so we have made sure our showrooms do not just have excellent lighting and expertly designed cases. Also prominent in our planning and design is comfort. So that you do not have to worry or tire yourself out while you search for the perfect rock. You can easily gauge the different offerings and enjoy refreshments while you explore the options.
It is all about the experience while you are spending time with us. Further that is why we have made sure to create ample room in our spacious showrooms. An inviting space that you can walk around in comfortably and see the different styles and designers we have and try on to find the one.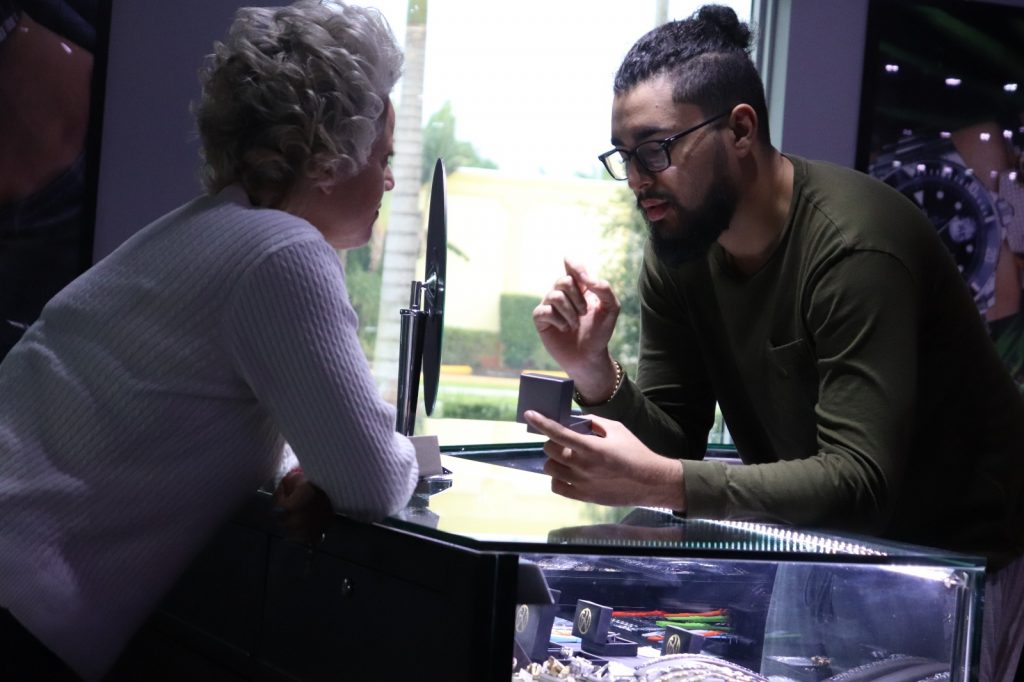 Designer diamond engagement ring
Some of the diamond engagement rings in our collection are private label bridal jewelry. These are pieces expertly designed and crafted by private labels which we classify separately from our name brand designer engagement rings.
Beyond this selection of engagement ring options we also have some very well known designer diamond engagement ring brands. These are the likes of: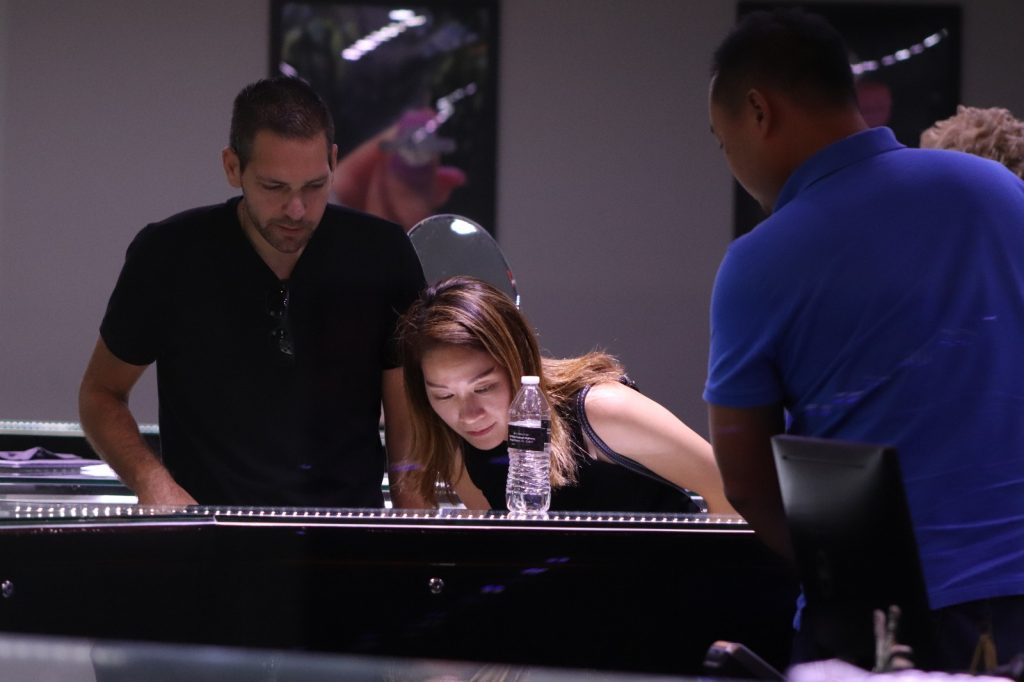 These are just some of the brand names we have in our designer diamond engagement ring jewelry collection. Beyond these we also have exclusive men's only designer bands from:
Focusing primarily on men's engagement and/ or wedding rings these brands bring innovative and incredible designs and styles. We are proud to carry all of these brands and more at our showrooms.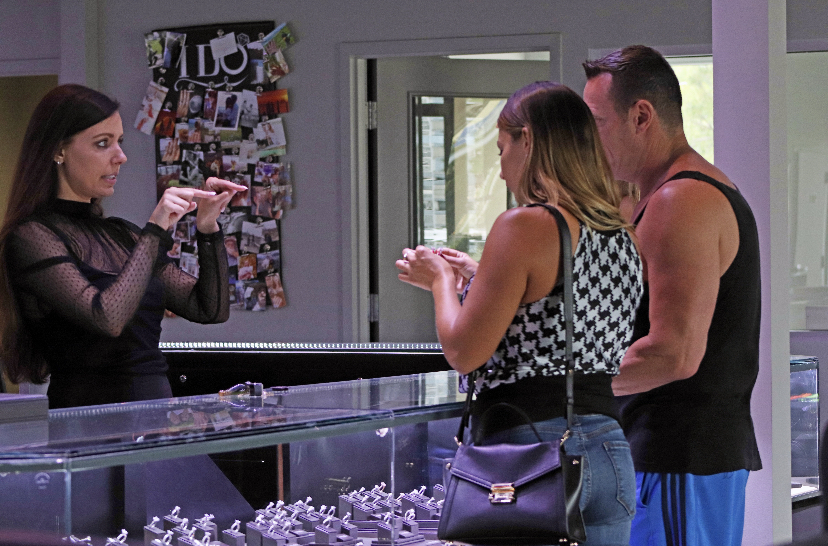 After all that big moment of I do is actually a culmination of all the little moments in between. We believe that the magic in two little words and four short letters show how the small things make a difference. Whether that is having an attentive expert help you answer questions you might not even know you have about the jewelry piece you are interested in. Or guiding you to find the best quality for your budget. The small interactions are what make a relationship. We have learned that from our refined clientele. And we have gotten to witness some of the most precious moments in their lives. When they are searching for the perfect sparkle to light up their big day. It's the top moment during our time here at the jewelry showroom. From the couple on their way to their engagement or wedding. To the small commemoratory jewelry pieces that mark an occasion. Even if it is just because.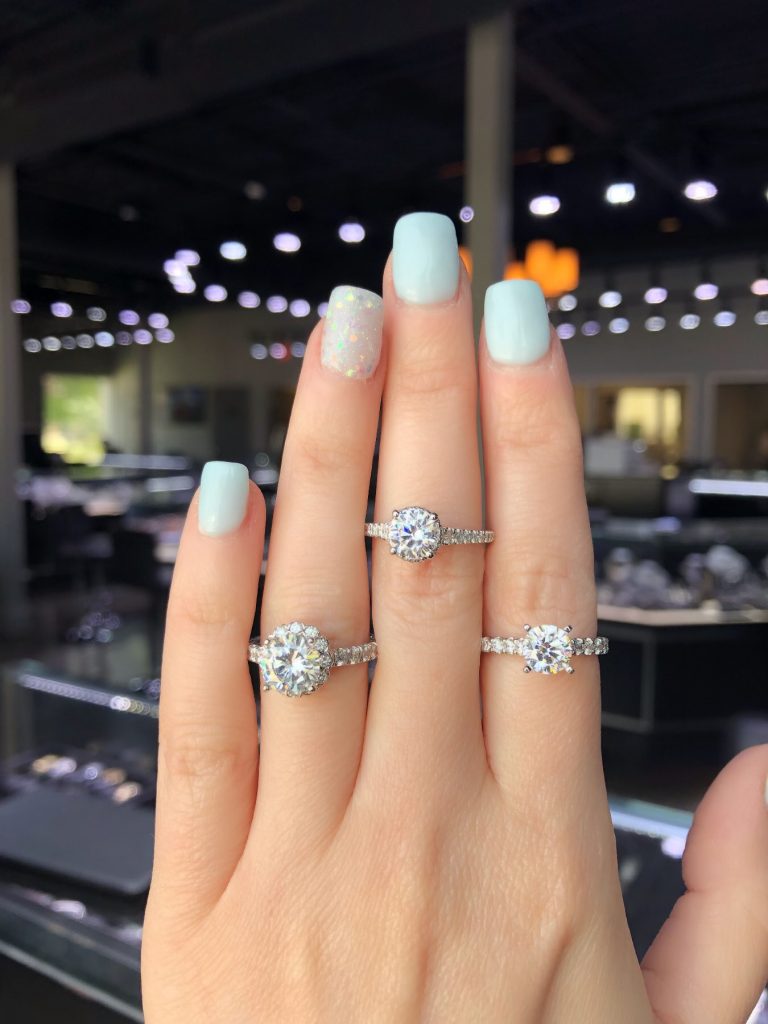 For the not so small pieces we have ring settings for large carat diamonds with every setting imaginable – from solitaire, bezel, halo, pavé, cluster, three-stone, tension and channel. Engagement rings can be resized or customized to your specifications while you wait and shop.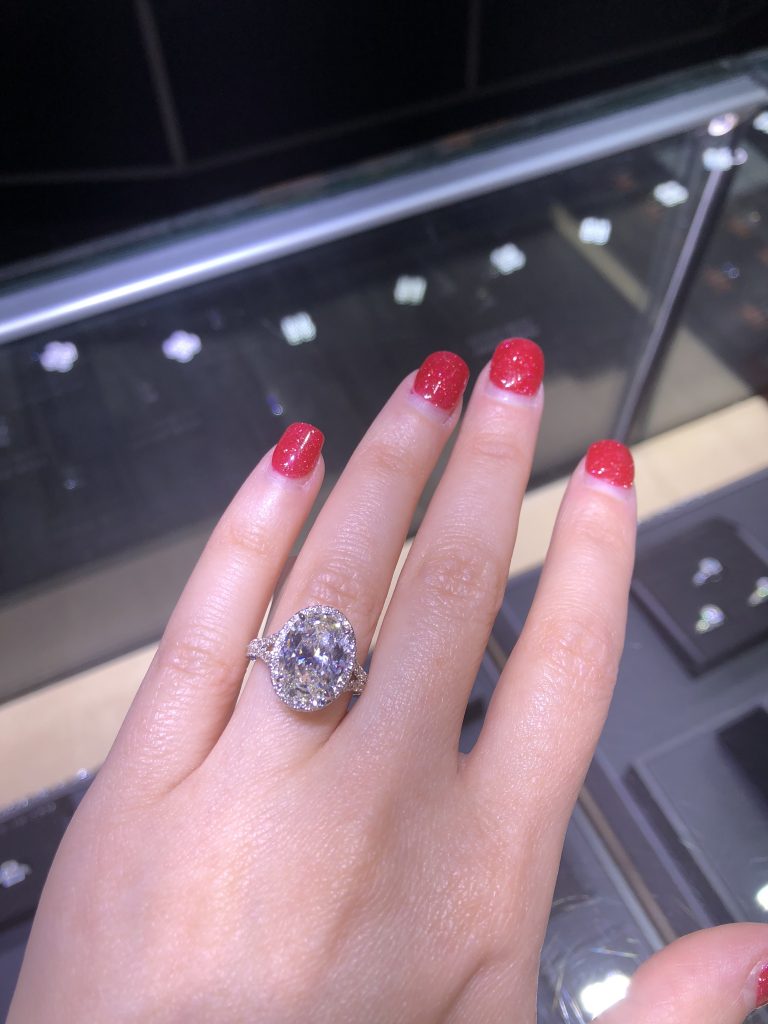 Diamond jewelry showroom
Our diamond jewelry showroom is the place to be when looking to get an iced out look. Whether your searching for a luxury watch, timeless jewelry or diamonds to add some shine we have got you. Our staff can help you with trustworthy guidance and support as you check out our dazzling jewels. With a massive space expertly designed for comfort and highlighting the jewelry collection you can find yourself getting lost for hours. A favorite spot in the community to find gold jewelry, fine watches and diamonds it is a comfortable and intimate space organized for your enjoyment.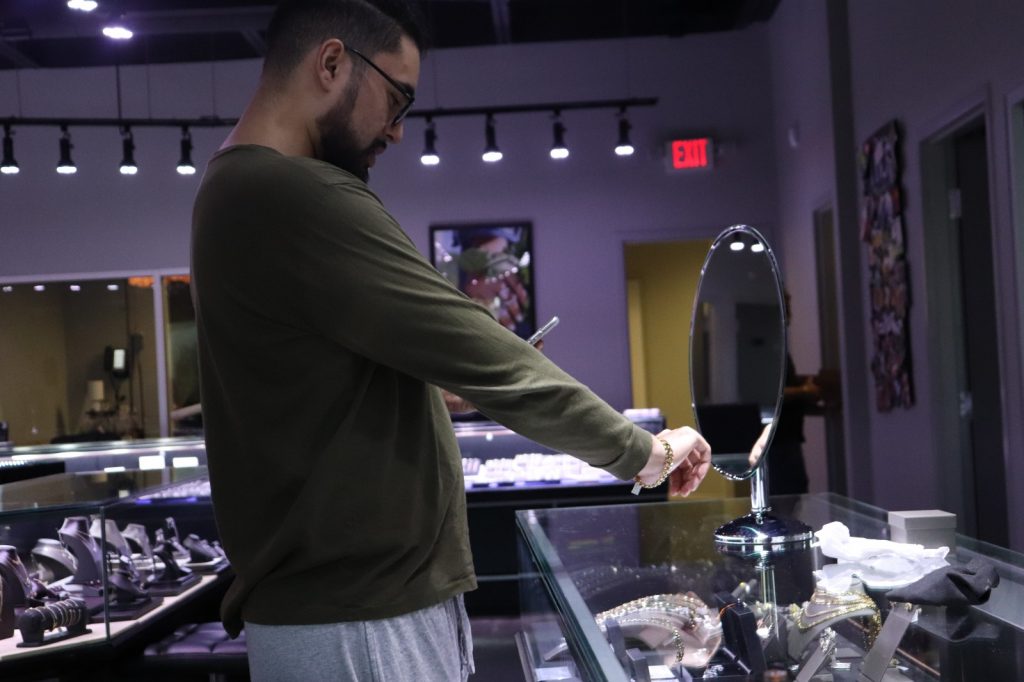 Our retail locations also host our state of the art work shop and repair station as well as our cases. One of the largest estate jewelry buyers in Boca our collection has something for everyone. Just let one of our people know what your style is all about or what you are looking for and they can lead the way.
All of our jewelry includes diamonds of a wide variety. Meaning we have stunning pieces featuring every shape, cut and color. From round brilliant cut diamonds – the most popular cut by far – to marquise, princess cut, emerald, heart, oval, radiant, pear and even some more vintage diamond cuts like the Old Mine and European cuts.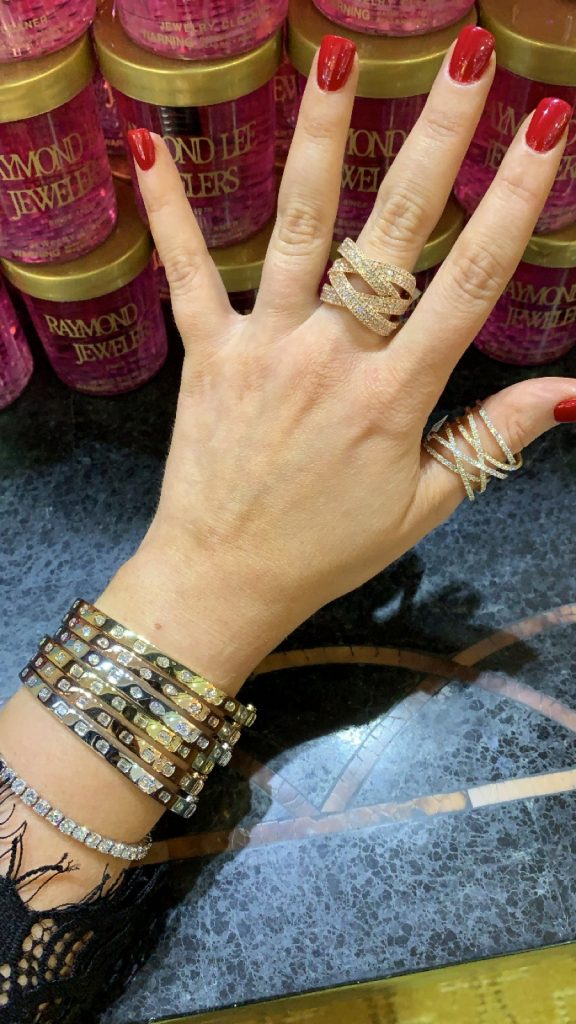 We have fine metal rings including yellow gold, white gold, rose gold, platinum and silver jewelry in a variety of carats. You will find some of the top diamond jewelry designer brands in the world including David Yurman, Officina Bernardi, Cartier, Amoro, Chanel, Faberge, Van Cleef & Arpels, Bvlgari, and many more.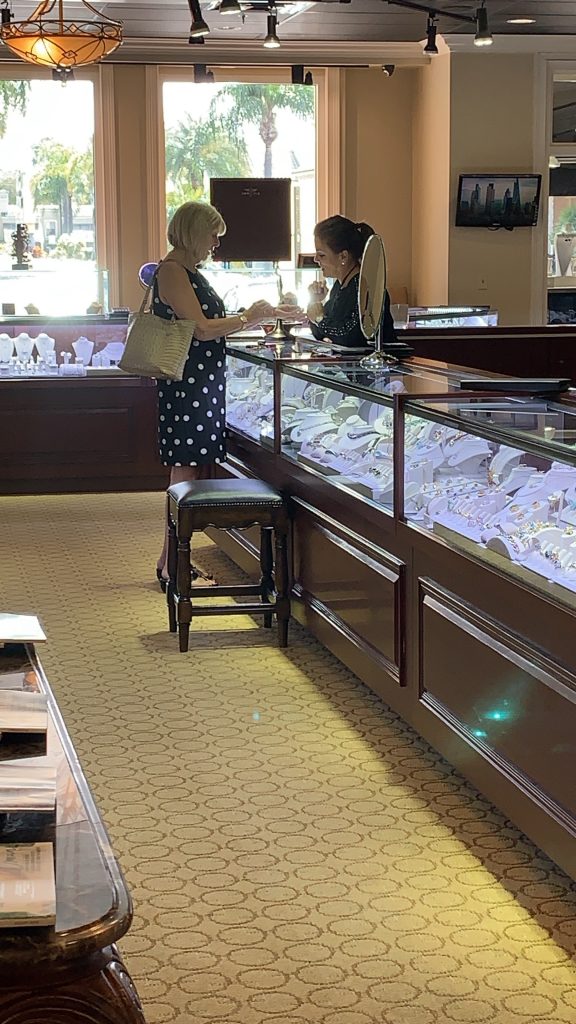 Jewelry showrooms – a family passion
For an experience unlike any other jewelry showroom come to our family run business. Founded in 1983 our family has been passionate about jewelry ever since. Forming strong foundations in our family values all aspects of our business are run with integrity and inclusivity. We believe in unwavering professionalism and building up personal relationships with everyone who comes through to our showrooms. Our focus is on excellence and superior service as well as the highest grade diamonds, jewelry and fine watches. We cater to everyone in the family from past generations to present. That is why our discerning eyes have brought together an extremely wide collection that has something for everyone in the family – regardless of age. Every style and competing look can be seen in our showrooms. From classic and timeless to modern and edgy. All expertly placed so you can find your perfect taste.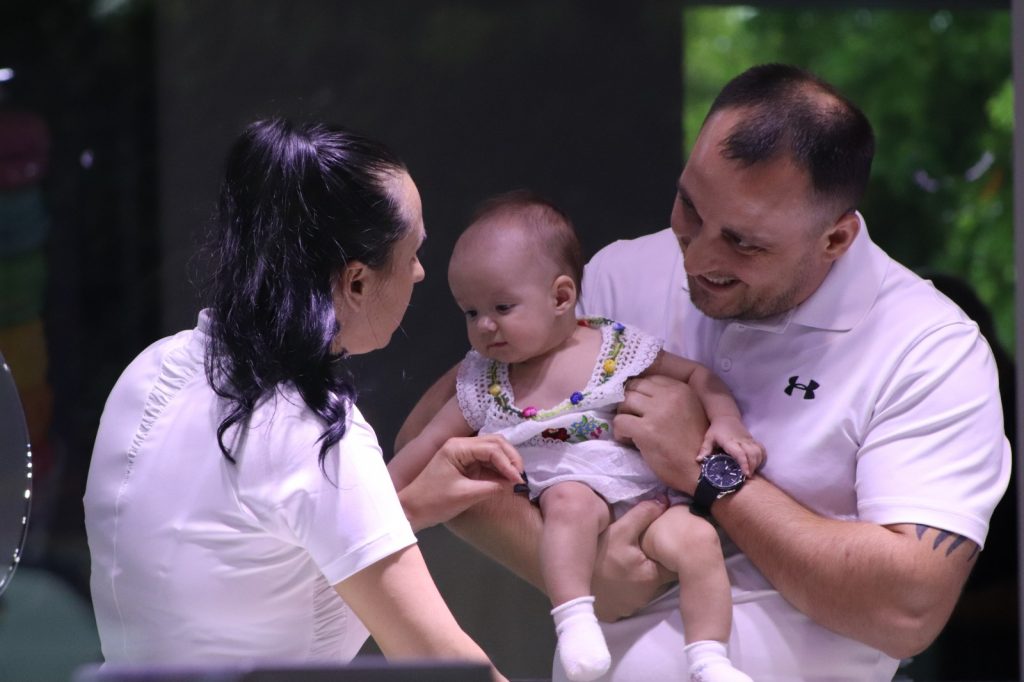 A premier jeweller in Boca Raton we have clients from all over the world. They come to us for fine jewelry and watches. Many of them make use of our bespoke services in order to modify, repair, resize or even create their very own unique pieces of jewelry. With us you can bring in unwanted jewelry and find yourself the heart winning piece that you have been searching for. If you are not sure what type of jewelry you would like to get next visit us and we can help! You can also look through our diamond lookbook featuring engagement rings and stunning pieces.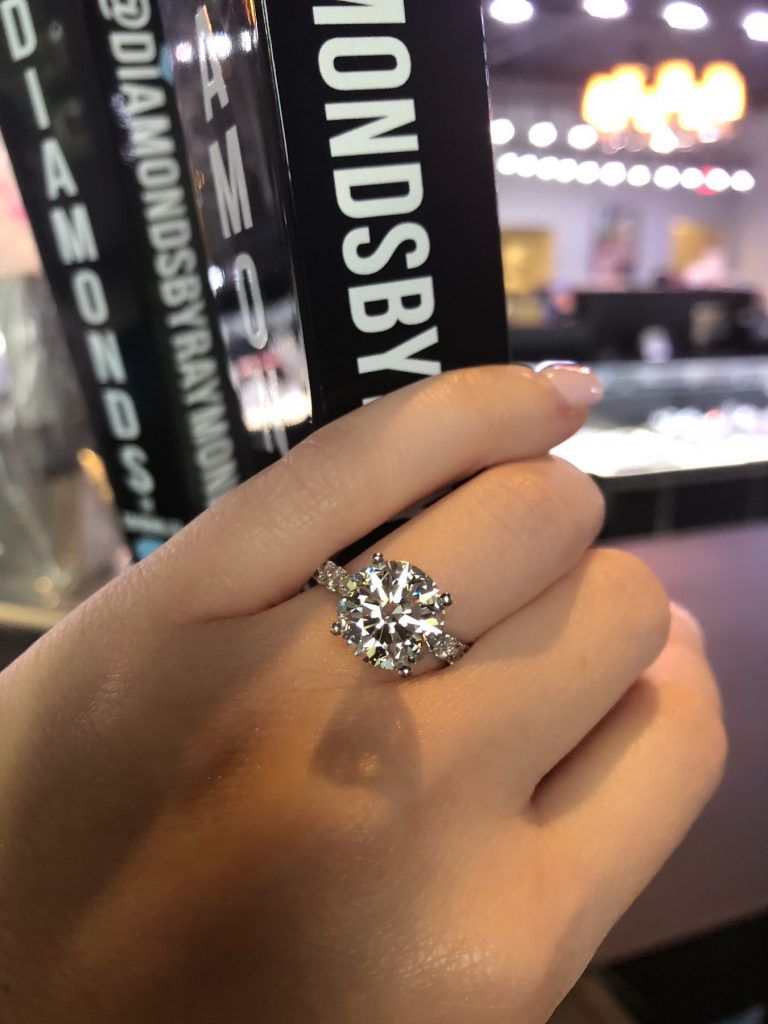 Our locations and contact information
We hope you will come and check out our conveniently located showrooms in Boca Raton. Get to meet with a diamond expert and chat about what you are looking for. For fine pieces of jewelry including necklaces, earrings, bracelets, luxury watches and more visit us in Boca Raton. Dazzling diamonds abound, you can feast your eyes on our wide collection of pieces.
For bridal jewelry to make your big day even more special we would love to see and hear about your wedding day plans. We can help suggest some of the latest jewelry in store or hidden gems to match your wedding theme. If you have not popped the question quite yet but are looking for the perfect ring we can help you here too!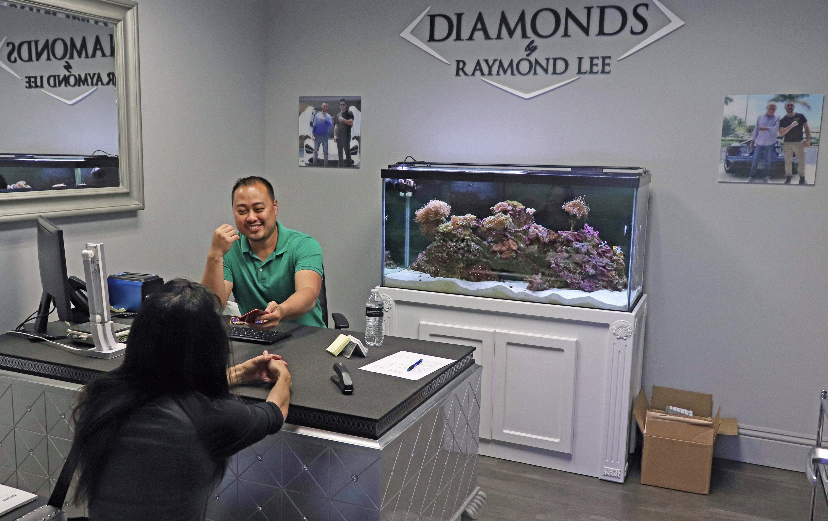 Our collection of engagement rings and diamond bands include the designs that are most in vogue now including halo engagement rings and infinity rings, also known as eternity bands. For some quick information on choosing a halo engagement ring and what eternity diamond band to get check out our guides.
East Boca Location: 2801 N Federal Hwy, Boca Raton, FL 33431
Hours: Monday-Friday 11am-7pm | Saturday 10am-5pm | Sunday 12pm-5pm
Phone: (561) 623-8205
West Boca Location: 22191 Powerline Road #12b, Boca Raton, FL 33433
Hours: Monday-Friday 10am-6pm | Saturday 10am-5pm | Sunday Closed
Phone: (561) 750-7808
Email: in**@di******************.com