There are so many options when it comes to diamond halo ring engagement rings that it can be difficult to choose. It is important of course to consider your wedding band particularly if you have already chosen or know which one you will get. The diamond halo on your engagement ring is an addition that takes the solitaire stone to another level with sparkle and an additional layer of accent diamonds. Let us take a look below at what kind of diamond halo ring to get with your wedding band.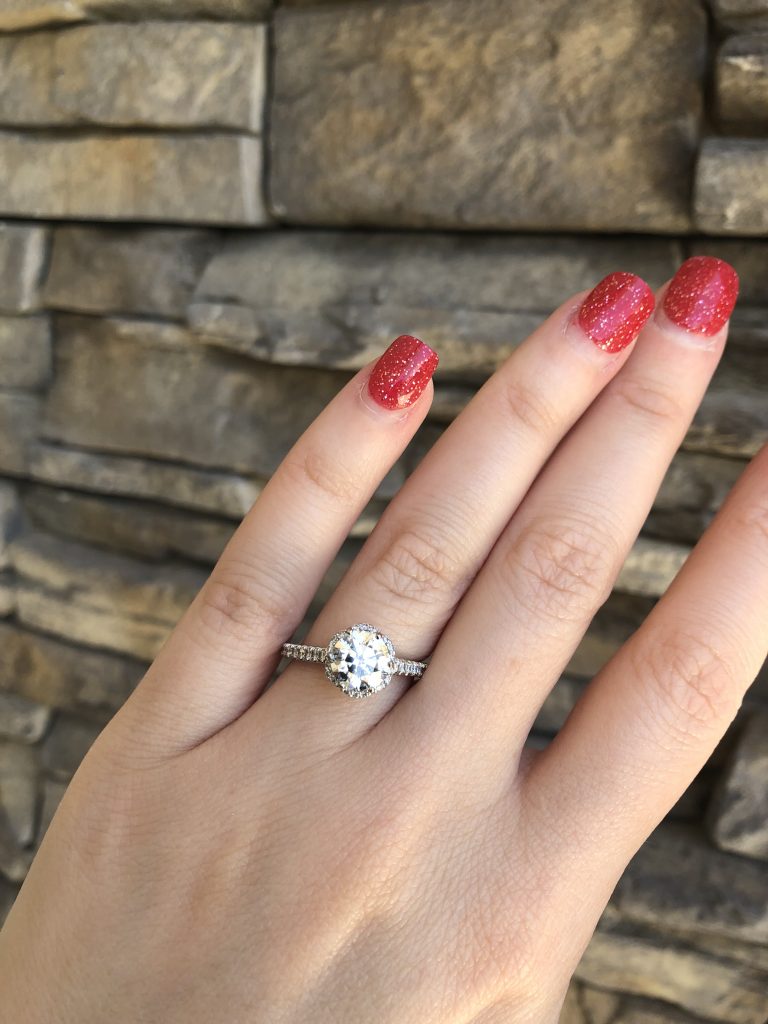 An engagement ring is an extremely important piece of jewelry that is without question. We would even say that it can be the most important fine jewelry piece that we end up owning. It is filled with meaning, symbolism and love. For the commitment of a life time an engagement ring must most of all be emblematic of the relationship. When looking for an engagement ring it is crucial to ask what is the bride's personal style like. What does she prefer and over the years will continue to cherish with her whole heart?
Many modern brides are tending towards a unique type of engagement ring. Particularly for solitaire diamond engagement rings. That is the halo ring. A halo ring is a special type of solitaire diamond engagement ring that features a series of smaller accent diamonds. These generally surround the central solitaire stone expanding its size and radiance outwards. It can do wonders for the visual weight of a diamond. Particularly for large carat diamonds.

Further a halo ring also pairs beautifully with wedding bands. So when choosing a halo ring for your wedding band it is important to note the height and style of the wedding band as well. Particularly the height as that will affect that shank of the engagement ring. Since the halo protrudes away from the central solitaire diamond the height may affect the wedding band. That is why it is important to take notice of these small but important measurements. Also there are different types of halo rings. These different styles dictate the distance of the halo ring from the central stone. As well as how many there are and what color diamond or precious metal they are. The combinations and options are infinite it is all about personal taste. Let's take a look: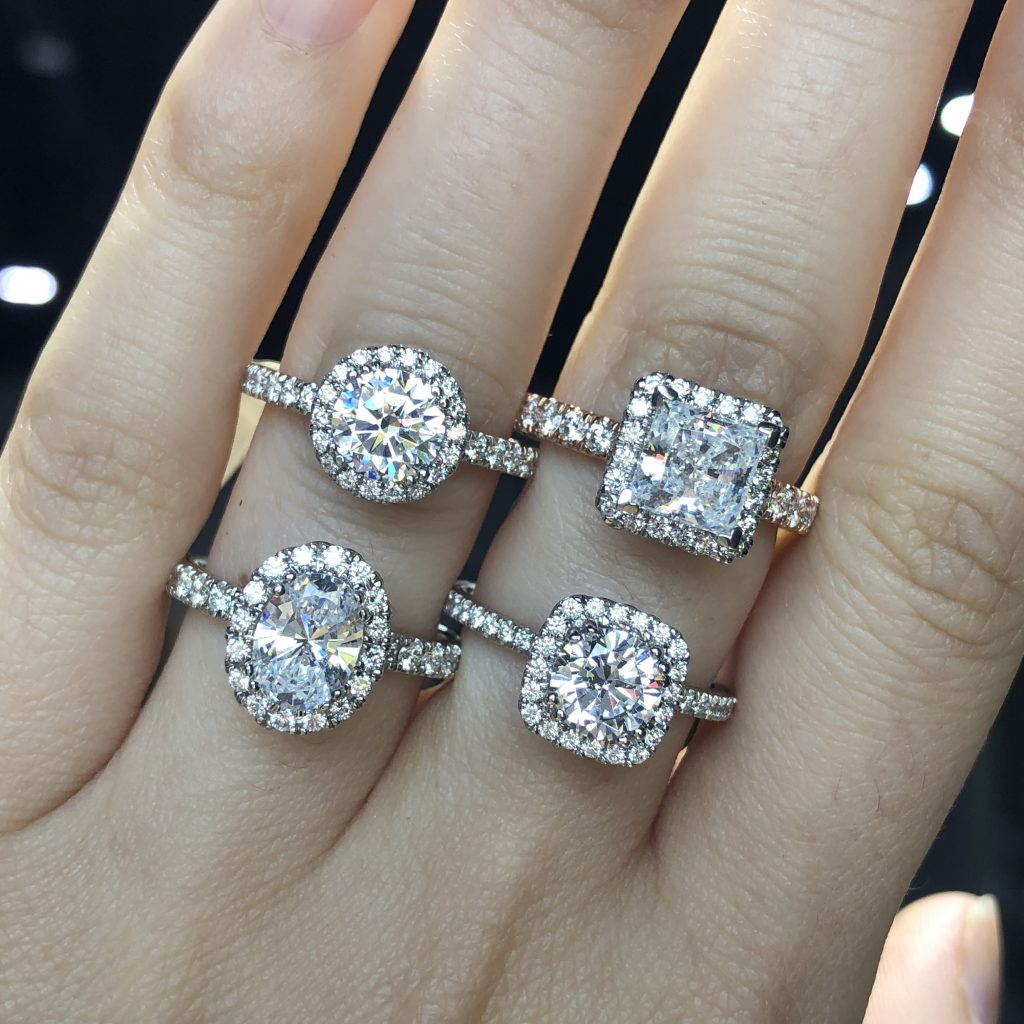 A halo ring is a type of engagement ring setting that has a frame of diamonds surrounding the central solitaire stone. It adds significant visual impact to the central stone and the ring overall. It generally features smaller accent diamonds of the same or different colors from the central stone. Since the halo stones are set separately they can be at the same level as the central stone or below. When they are set below this creates a raised effect. Above all the halo feature on an engagement ring impacts the visual size of the diamond. As well as add to the impact of the radiance and sparkle of the stone. There can be more than one halo feature on a ring. Even to the point where there are two or three or more halos surrounding the central diamond.
Generally we see with several halos that there is an interval of different diamond colors and or of fine metals. This is done to create a textured look as well as add to the larger size. There are highly intricate halo ring features that can create patterns, extend in different directions and heights, as well as "bloom" around the solitaire. It is a unique addition to a ring that can be either purchased as part of a setting or added on later.
For additions later on a master craftsman and jeweller will need to be able to securely place the additional diamond stones around the solitaire. Overall the halo ring is a unique and impactful detail for engagement rings. A halo ring has a bigger presence on the hand. It's a feature that can be used to create a larger looking ring from a reasonable carat size solitaire. Or just add onto the opulence of a large carat ring as well.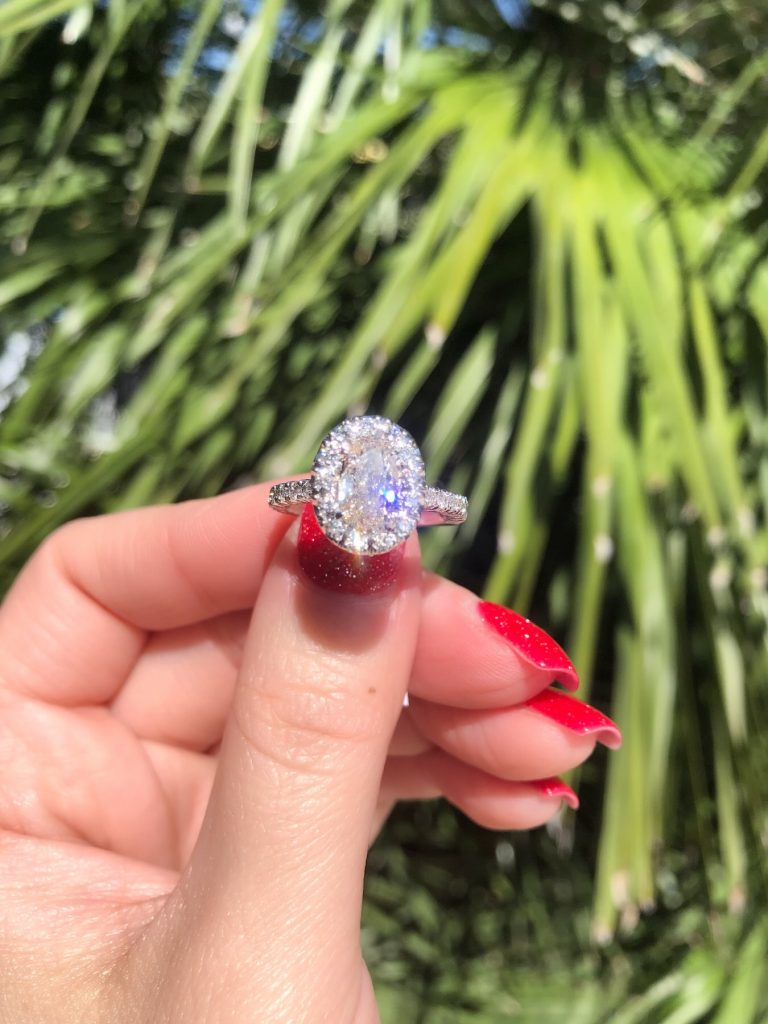 Different carat sizes for halo ring
The halo ring setting can take a third carat or half carat ring and make it look as much as half a carat bigger. That is because the round pave stones set around the central stone visually add more material but also the light refracted within the diamonds expands them as well. The halo ring setting really took off in the 1920's during the Art Deco movement. This was when art and most fine jewellery took on more geometric shapes. Currently these styles have come back with full strength. The classic traditional solitaire diamond rings with a twist or shall we say halo are unique and lovely. While the shape of the central stone can be almost any cut including the classic round cut. A vast majority of the halo ring accent diamonds are round cut. This is simply because this cut allows for easy setting. Since each one of the stones need to be placed directly next to one another.
When it comes to the carat size of your halo ring central stone it is also important to consider the cut grade of your stone. Since the accent diamonds in a halo are smaller they will most likely be high grade cuts. Therefore if you have a large carat but perhaps lower cut grade central stone the clarity difference between them might be notable. Also when a diamond has a high cut the light reflects more from it. This means that the light reflecting from the top will also make it appear larger. Add that to a halo ring setting and your maybe not so large carat diamond ring will appear significantly larger. Finally the carat size of your stone may not fit all of the halo ring settings available. It's important to check your setting does accommodate size.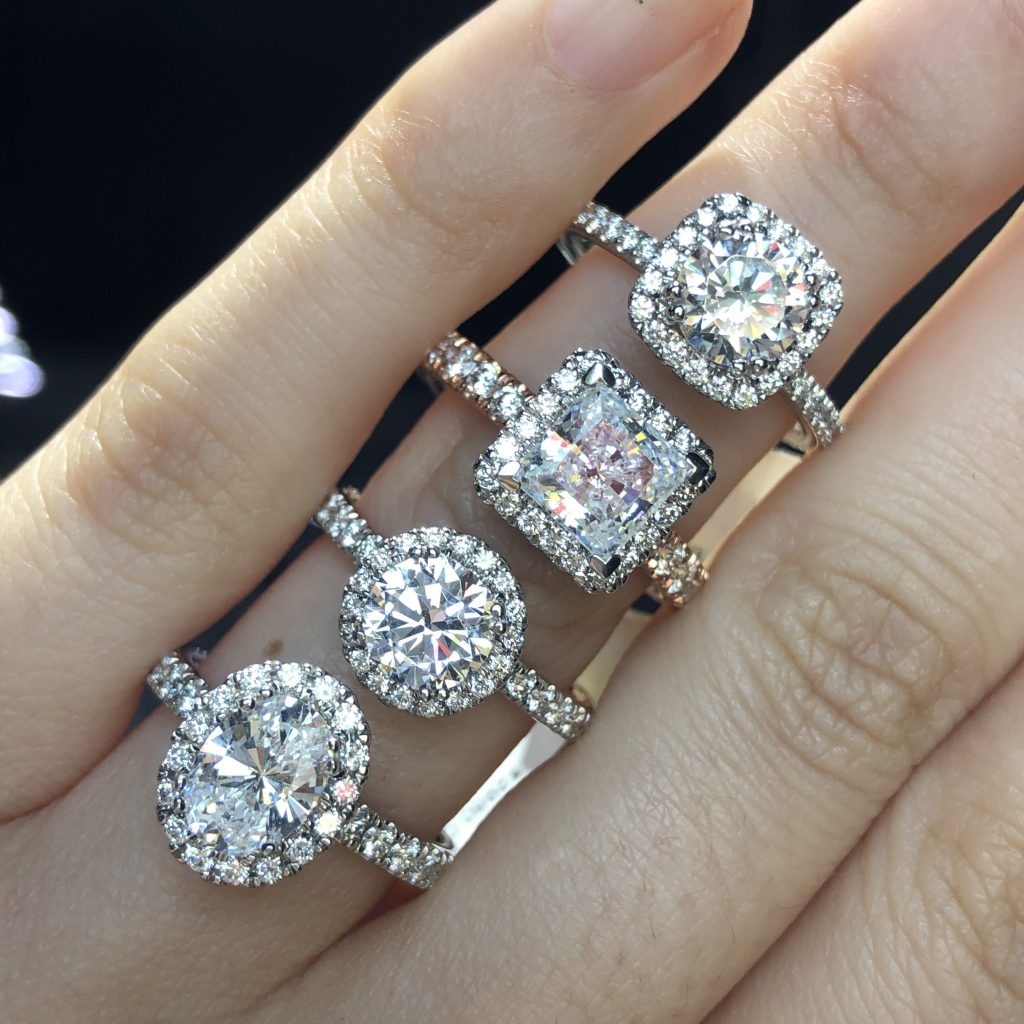 Different types of halo ring settings
When it comes to halo ring settings there are in fact more options than you might think. First we need to take a look at what the central stone cut of your ring is. For example if you have set your heart on a traditional round cut solitaire stone then the halo ring setting can be structured to look like a bloom. Or if your cut of preference is a princess, oval or cushion cut (or even an emerald cut too) you can use a bezel setting. These are deeper set and surround the centre stone closely.
These are just some of the ways that you can have a halo ring setting. There are also floating halo features and intricate modern halos that radiate away from the stone. It all depends in the end what your personal preference is. Whether that is romantic, modern or traditional there is undoubtedly a beautiful halo ring setting for you.
A flush halo feature
This is the halo features where the accent diamonds that surround the centre stone are flush against it. They can either share prongs or simply be incorporated closely to the stone. Generally a flush halo feature is on the same height level as the centre stone. They can make for a sturdy and visually weighted ring. It is the classic halo ring look. The flush halo is generally made up of round cut diamonds. These tend to be pave set and depending on the cut of the centre stone offer different results. On a round cut centre stone the halo ring style can give an illusion of blooming. A very natural and organic form. Bezel settings create a type of channel around the centre stone amplifying the solitaire. The bezel setting also prevents snagging as opposed to the floating halo setting below.
A floating halo setting
For a halo that has a floating effect there needs to be some space between the centre stone and the halo. The floating halo is structured slightly away from the centre stone and sometimes even below it as well. This gives an illusion of a floating centre stone. The floating halo ring setting can feature more than one halo as well. These tend to be quite large rings as they occupy a much larger portion of your finger. It is quite usual to see two or even three halos surrounding a centre stone. However, when it comes to the floating halos the space becomes a bit limited. The prongs hold up the centre stone above and away from the floating halo. There are many options and so it really is a matter of your preference.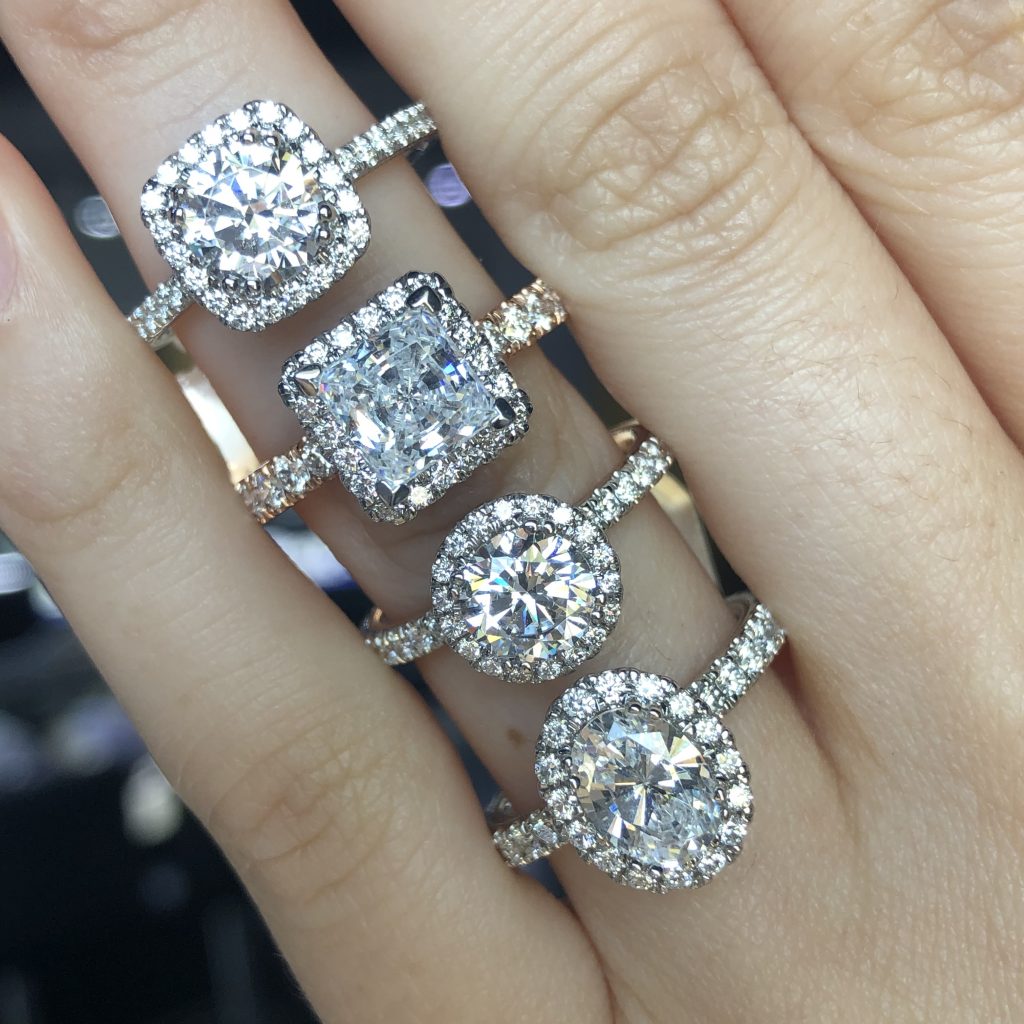 So now that we know more about halo ring settings and what the different options are it is time to choose a diamond halo ring. What is your favorite style? Would you want to get a flush halo ring or rather go for a floating effect? Depending on what your personal style is the different type of halo setting will complement it best. First it is important to think of what diamond cut you are looking for if a solitaire with a halo is what you want of course. Then the metals. What do you want your engagement ring to be? Also on the metals do you maybe want to play with colors and use a unique colorful fine metal like rose gold? Perhaps to accent some pink diamonds in a colorful halo?
There are so many options and beyond that you can style the halo in the way that works best for you. Whether that is based on the diamond sizes, colors, settings or your budget there is a halo ring setting for every bride. If you are wondering where to get a halo ring setting visit one of our stores! Our diamond and jewelry experts can walk you through all of our options.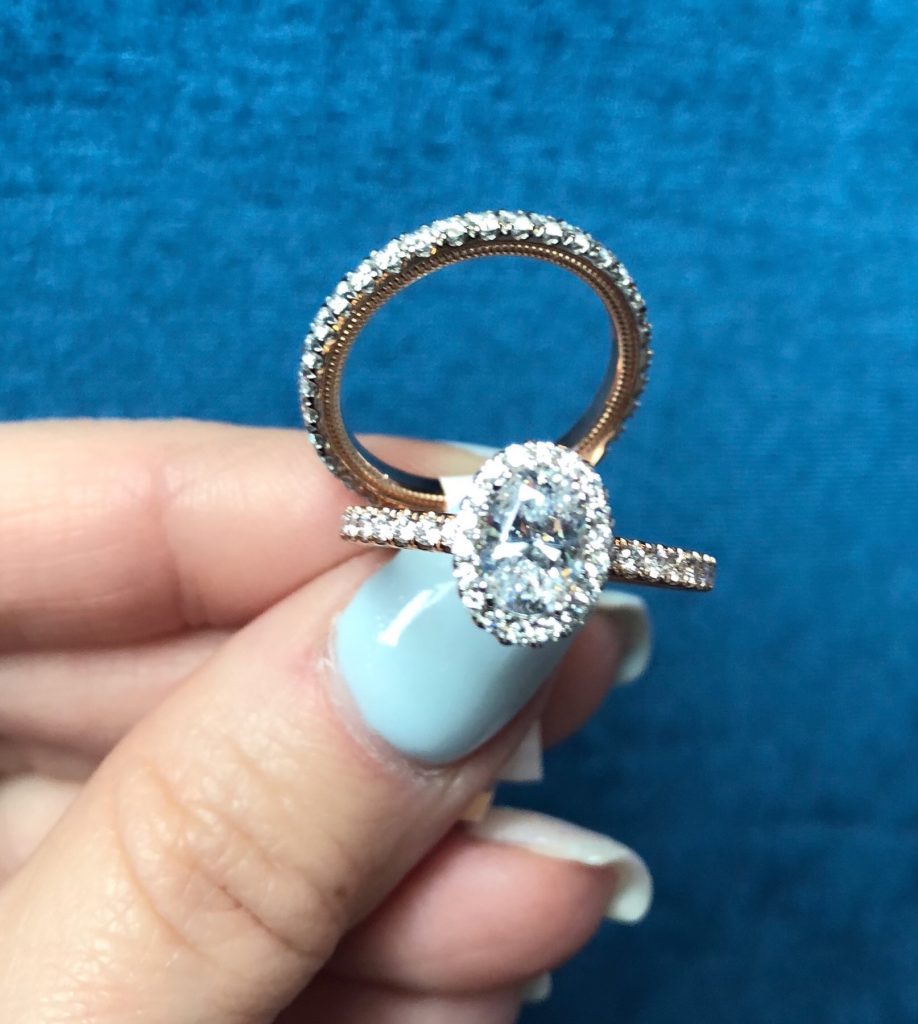 Where to buy a halo ring? Diamonds by Raymond Lee in Boca Raton, FL
When it comes to buying a halo ring Diamonds by Raymond Lee in Boca Raton, Florida is the place to go. Here we have diamond experts who have been in the business for the last thirty years. A family company we are heavily invested in sourcing the finest stones in the world for our refined clientele. We have the passion to match our experience and look forward to continuing to serve our South Florida community for the next three decades to come as well. At our finely designed showrooms you can comfortably browse our widely curated collection of fine jewelry and engagement rings.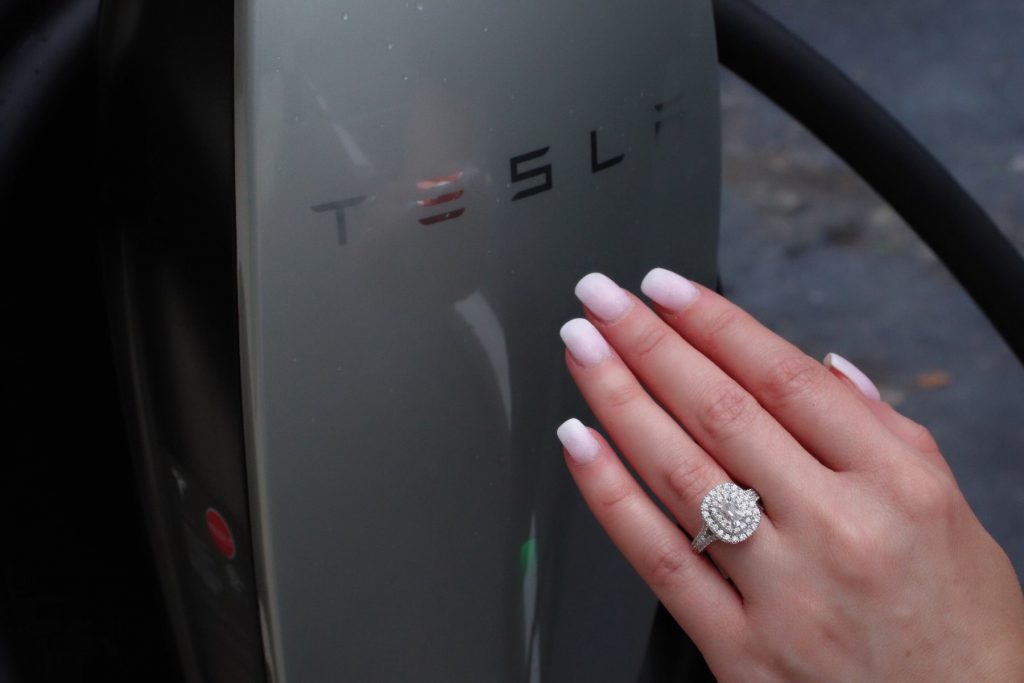 We have some of the best bridal jewelry brands in the industry at our shops. These include Henri Daussi, Tacori, A. Jaffe, Verragio, Simon G. and more. Our diamond experts will be happy to walk you through the different styles we have available. There are many different types of halo ring designs. They can help you find the perfect one. Check out some of our styles on the website and let us know in the comments below what you think of a halo ring! We love to hear from our customers and to know what the modern brides of today are after.
Our commitment to you is superior service and impeccable quality. Always. We devote special time to sourcing and also to caring for our clients. Over the years as your pieces need special care or maintenance you can have the peace of mind knowing we are here. Our master jewellers and craftsmen are prepared to assist in every way possible. Just drop by one of our showrooms or give us a call and we will be happy to help. It is with great pride that we bring the designer bridal lines to sunny South Florida.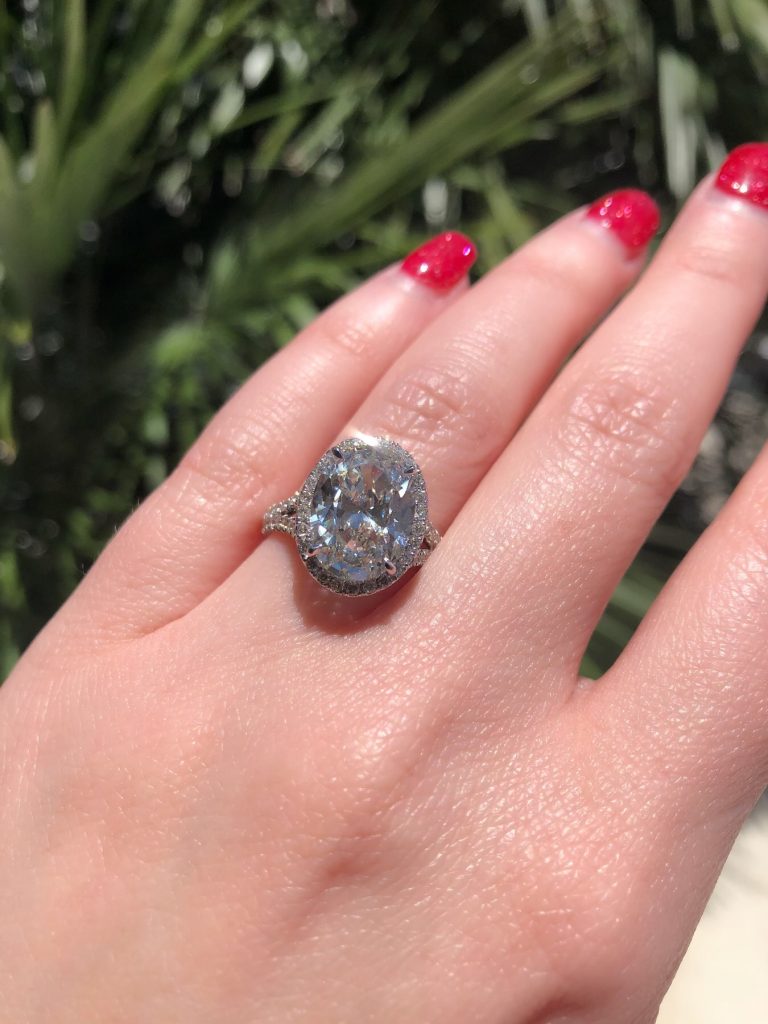 Getting a halo ring:
Our address: 2801 N Federal Hwy, Boca Raton, FL 33431
Hours of Operation:
Monday – Friday 10AM – 7PM
Saturday 10AM – 5PM
Sunday 12PM – 5PM
Phone number: 561-750-6744
Check out our Collection of halo ring & engagement rings FOR SALE