Big engagement ring settings for 3, 4 & 5 carat diamonds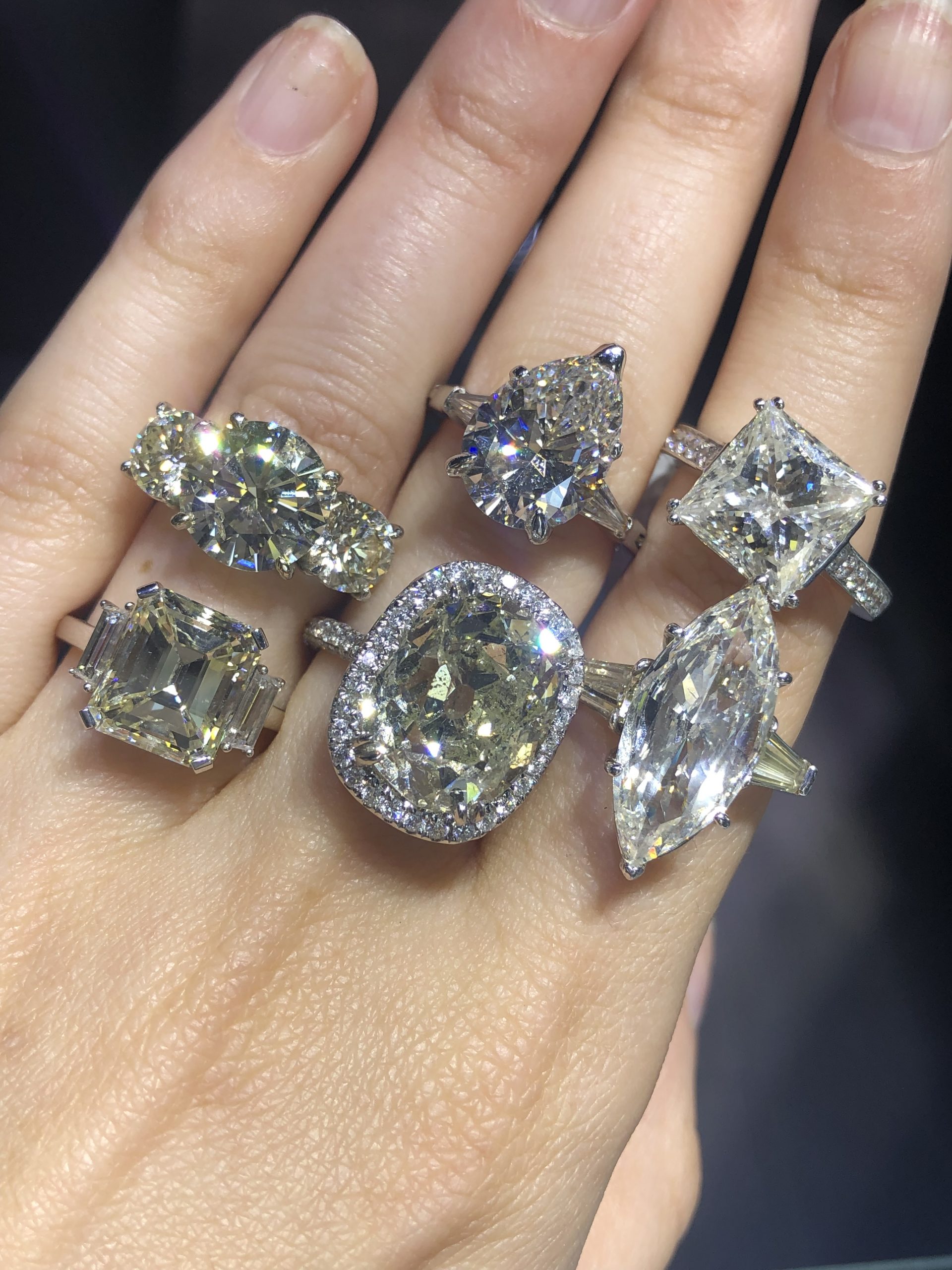 Big engagement ring settings are crafted in a way to perfectly balance large centre stones. Particularly for big solitaire engagement rings the settings need to be secure and comfortable. When we talk about 3, 4 and even 5 carat diamond rings the setting really needs to be able to handle the large diamond. Nearly every setting can be customised to accommodate different stones but any diamonds above 2 carats need special attention. Since there are many different diamond cuts and personal tastes there are also different types of settings for each diamond cut.
With large diamond engagement rings the first question to ask is actually quite similar to smaller diamond rings as well. That is what is the preferred diamond cut of the stone. This is important because depending on the cut of the diamond the setting and generally the design of the ring will have to be different. Particularly for the more unique cuts the setting must be able to reflect the style of the diamond as well. Further the actual size of the diamond is important. Most of the settings can be adjusted as we have mentioned above. However if the difference in size is significant like 2 or more carats you can run into some issues. Particularly if there are accent diamonds or other features that surround the ring itself. These features can make it difficult to adapt a ring setting to a larger stone as the space is limited.
This week we are taking a look at some big engagement ring settings. Starting off with 3 carat diamond engagement rings we have selected six unique large diamond engagement rings from our collection to showcase. They each have a unique diamond cut that then brings with it a design aesthetic to the ring itself. We will take a look at each of the different large carat diamond engagement ring cuts and what that means for the setting and style. First a quick refresher of the diamond 4 c's. Just so that we know what we mean when looking at these qualities in the 3, 4, and 5 carat diamond rings below. Also as a note another very important feature of a big engagement ring setting is of course the fine metal selected. Not only because of the color of the metal and how this can impact the diamond stone's appearance.
Diamond 4 C's refresher
When it comes to the diamond 4 c's these are the unique features by which we look at a diamond. The four different parts are how the industry determines the special features of a specific diamond. When you select the cut of the diamond for example that diamond will then have a series of probable results from the clarity to the fire and sparkle. But we will cover those three below as well.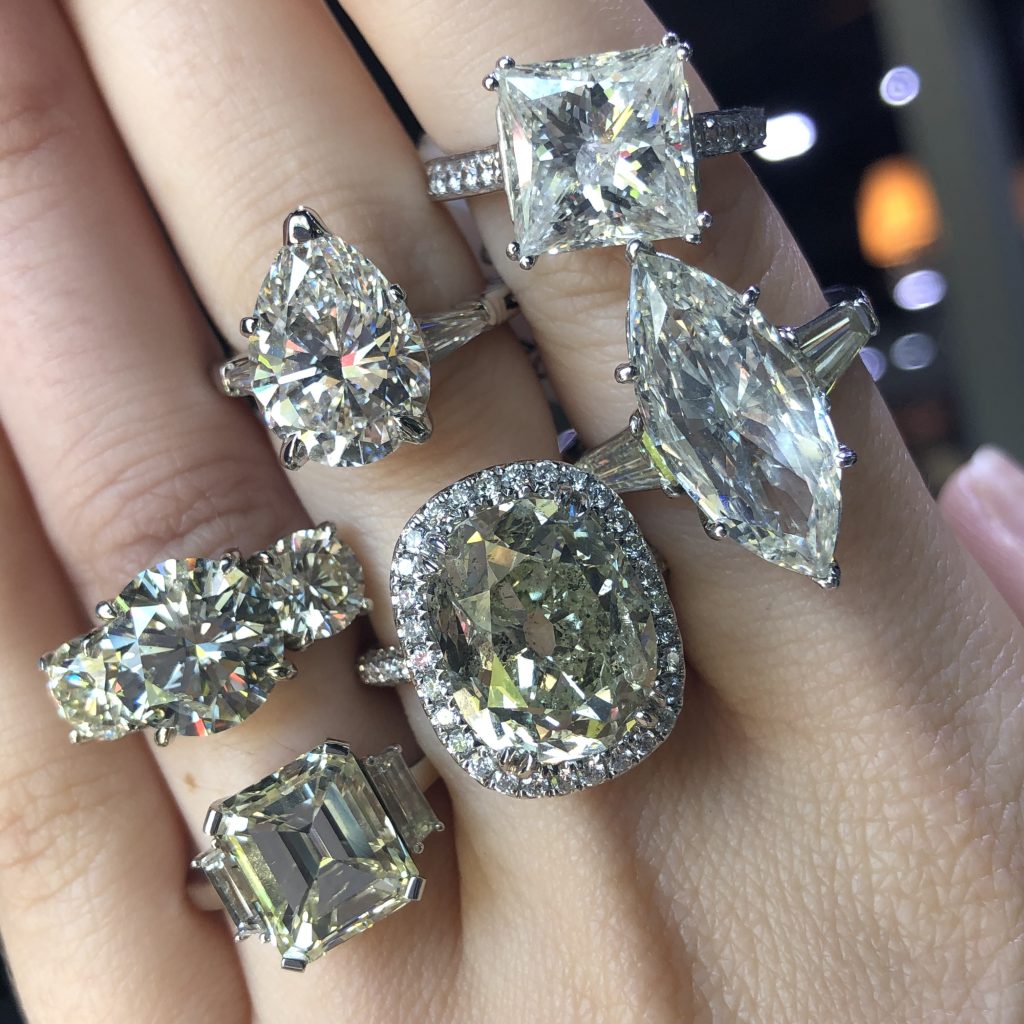 The Cut of the Diamond:
First is the cut of the diamond now there are several different kinds which we go into further detail below. But the important thing to note here is that the cut will define a diamond's value like nothing else. That is because it dictates the finalized diamond's properties. The three properties below are the defining features that will dictate the grade or quality of a diamond:
Fire: the scattering of white light into all the colors of the rainbow
Brightness: the internal and external reflection of white light from the diamond
Scintillation: the amount of sparkle a diamond produces, and the pattern of light and dark areas caused by reflections within the diamond

The Color of the Diamond:
Now while there are many colorful diamonds like pink and blue diamonds that are popular that is not what we are referring to here. The color of the diamond in this case is referring directly to white diamonds. They are prized for their lack of color and this is measured on a scale from D to Z, D being the preferred colorless grade. Although some of the lower color graded diamonds may seem yellow they are not considered colored diamonds.
The Clarity of the Diamond:
This is measured by the absence of blemishes or imperfections in the stone. It is a particularly important feature for emerald cut engagement rings for example. Since the cut does not allow any space to hide blemishes that may appear in the diamond. There are six categories in the GIA clarity scale. Further divided into a total of 11 specific grades these specify how many blemishes or inclusions are present and how difficult they are to see.
The Carat Weight of the Diamond:
Here the carat weight of the diamonds we are talking about are large. The carat is the standard for weighing diamonds and is most commonly the most prized of all features. The carat weight of the precious stone is derived from splitting a carat into 100 "points". Each one of the points weigh 2 milligrams and can be split further and further down. It is of particular importance when talking about smaller accent diamonds as well.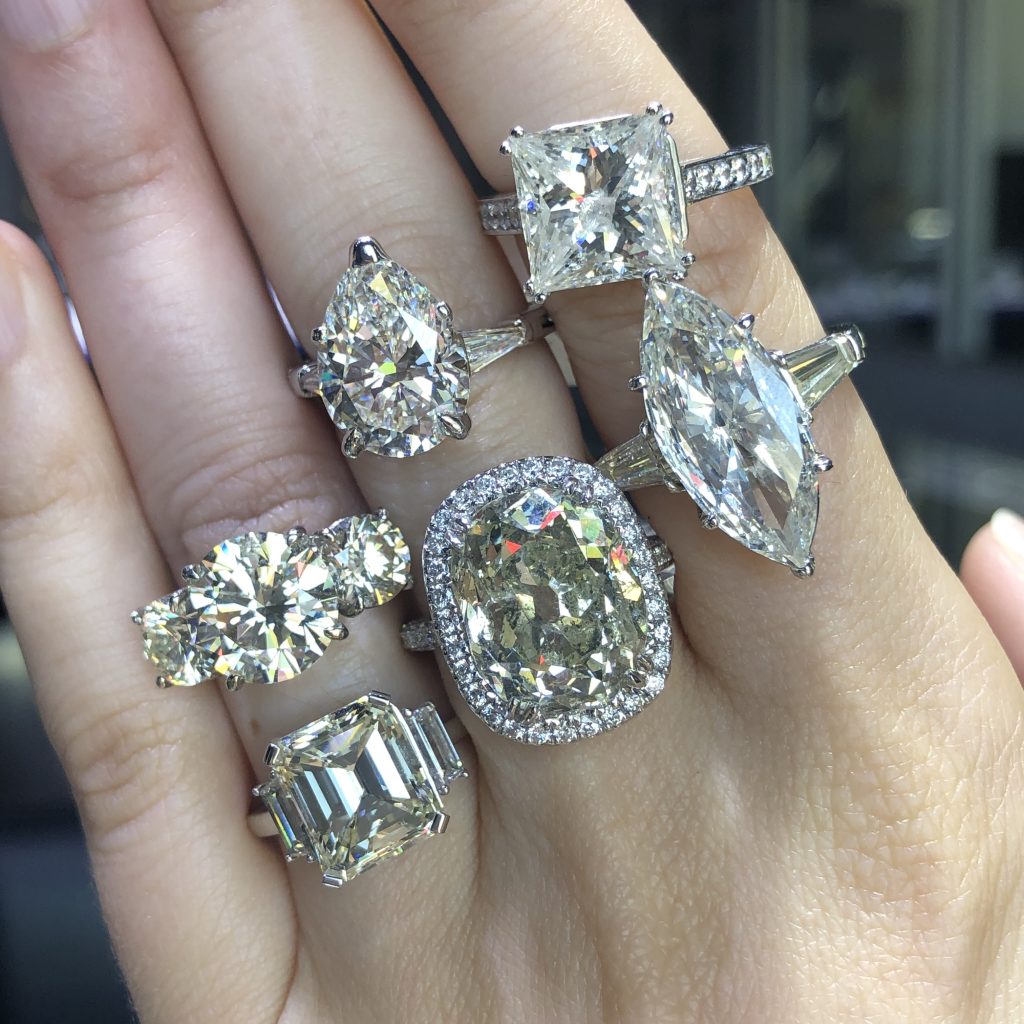 The different diamond cuts
Once we have the above details figured out about the diamond it is time to get refined. What are the different diamond cuts available in the world? Well there are plenty to choose from and each come with their own range of special features. Whether that is the historical or aesthetic style. Many of the diamond cuts can either be considered modern or vintage. However it is once you set the diamond stone that the style is truly set. So if you like a certain diamond cut but are not sure if it will fit with your modern or more vintage style do not worry. They can each be crafted in a way that is perfect for your dream come true engagement ring.
Craftsmen devote their time and expertise in cutting diamonds. Some of the diamond cut styles like the Asscher cut diamonds got the diamond cutter's name. Some of the most popular diamond cuts that we see are Princess, Round cut, Cushion, Pear, Marquise, and Emerald. Each one has different attributes.
Big engagement ring settings
Now let us get to the main event! Our featured big engagement ring settings. As we have mentioned these are the 3, 4 and 5 carat diamond engagement rings. They are set in different types of fine metal including 18 carat white gold, yellow gold, rose gold, and platinum.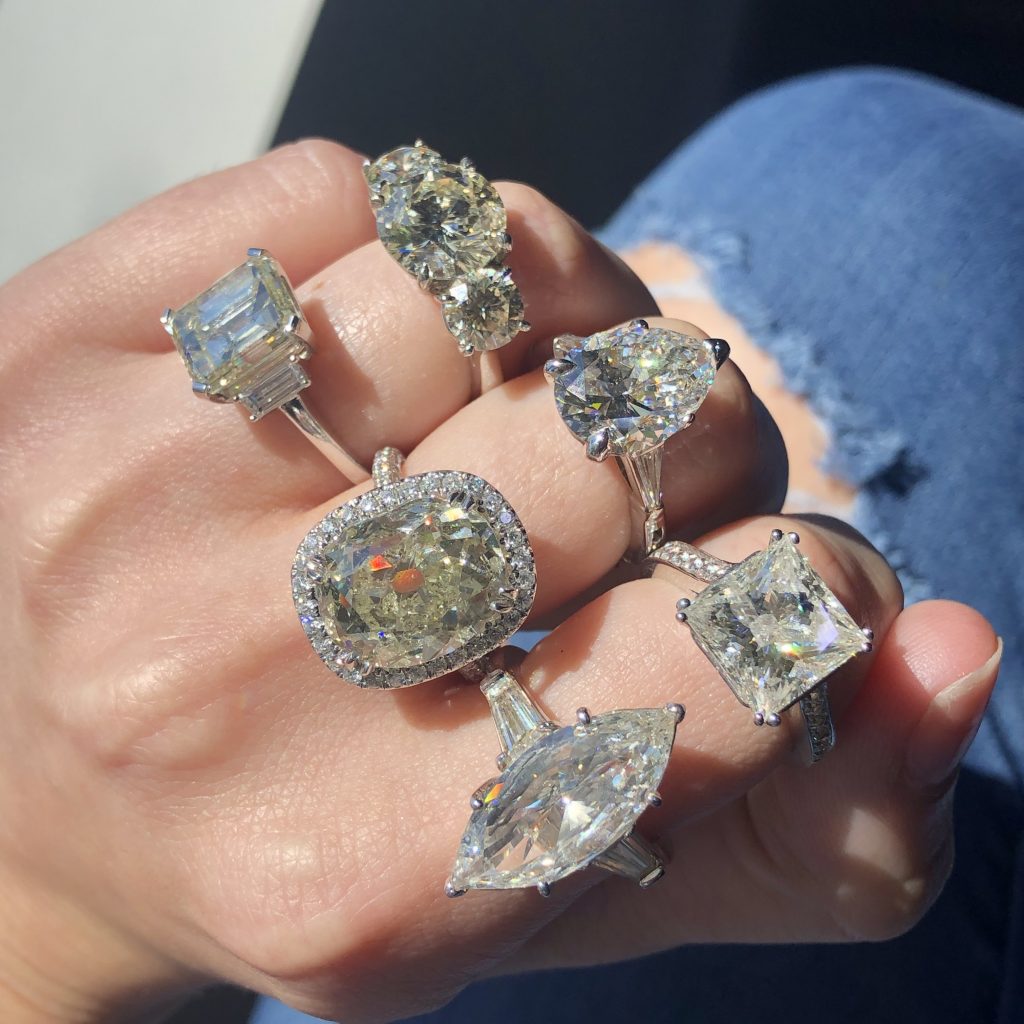 First is a stunning 3.01 carat designer diamond engagement ring. This beautiful 18 carat white gold big engagement ring setting is a Henri Daussi design. It features a 3.01 carat cushion cut diamond with 1.82 carats of pave accent diamonds. These are in the halo feature. As well as along the band of the ring. All of the diamonds are G in color and VS2 in clarity. The cushion cut diamond has a rounded top. Along with the accent diamond halo the large stone appears even bigger. For a classic and more traditional style of big engagement ring this cushion cut Henri Daussi piece is ideal.
Next is a slightly larger GIA Certified diamond. This pear cut stone is 3.1 carats. It is set in a 14 carat white gold band with two Trillion Cut Accent Diamonds on either side of the central stone. These two accent diamonds are G in color and SI in clarity. Meanwhile the centre stone is F in color and SI1 in clarity. Since the pear cut diamond requires extra prongs this setting has five points of contact on the diamond. Including the edge or point to protect it from snagging on clothing or direct impact. A favorite among celebrities like Lady Gaga pear cut big engagement ring settings are singular.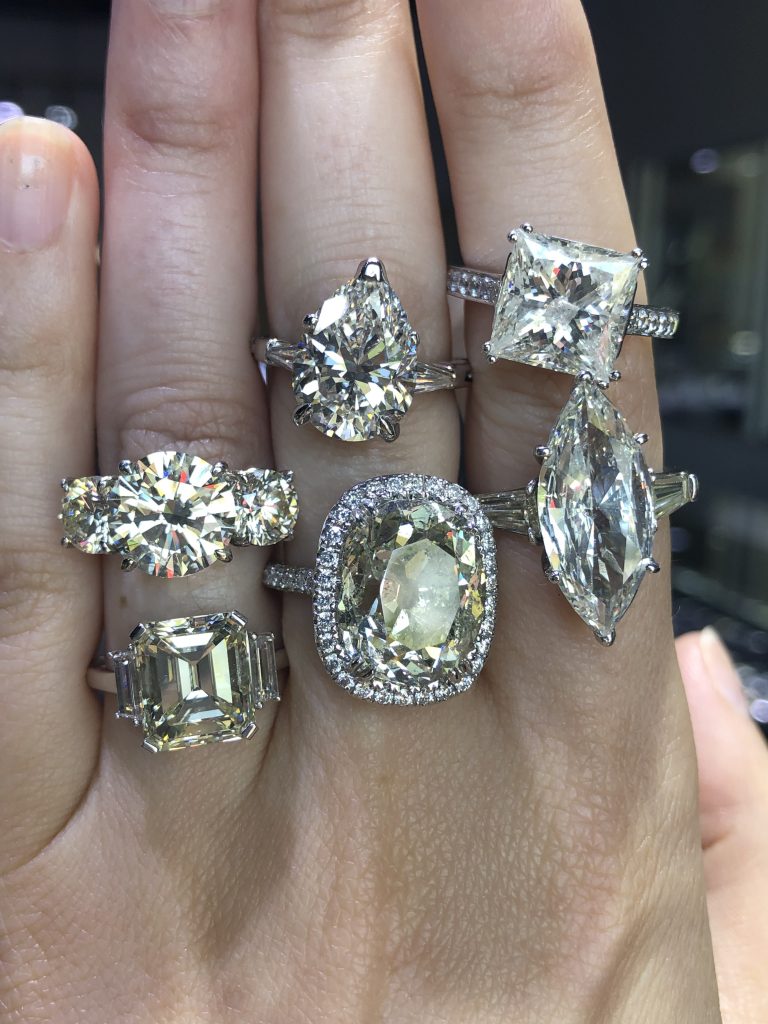 Another incredible and unique diamond cut is the Marquise diamond cut. Named after the Marquises who would wear a marquise cut diamond to signal their positions. The diamonds are shaped like an eye. They have two points and are generally worn long ways on your finger. This particular Marquise cut diamond is an amazing 4.61 carats. It is K in color and SI2 in clarity. Also flanked with diamonds this ring like the one above follows the three stone ring style. It has baguette cut accent diamonds. They measure approximately 7.87 millimeters x 4.09 millimeters each. These diamonds are G in color and SI in clarity. The setting is platinum, the world's hardest and most durable fine metal.
Something to note with the length of this diamond is that the length for those with shorter fingers may be a factor to consider. With other diamond cut shapes like round cut diamonds for example this is not an issue.
Even larger than the Marquise cut diamond engagement ring above is this 5.02 carat emerald cut diamond. An extremely high quality diamond this ring is set in platinum like the above. The emerald shape diamond is M in color and SI2 in clarity. Keeping with the trend of the other rings above this one is also set in platinum. Further it has the three stone ring look as well with approximately 0.30 carats of trapezoid cut diamonds. These accent diamonds are H/I, and VS2.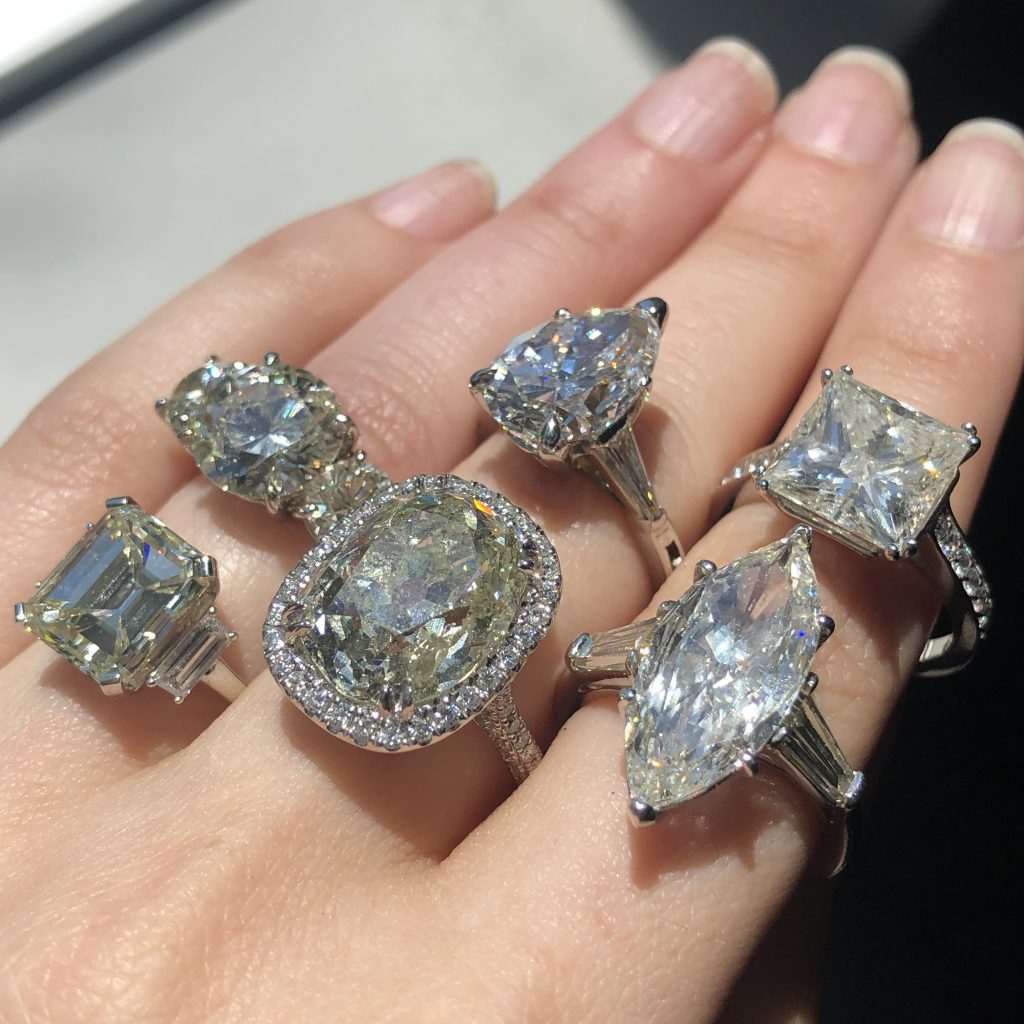 Finally is a versatile Tacori big diamond ring setting. From one of the most renowned brands in bridal and engagement jewelry Tacori has perfected the flexible and beautiful combinations. This Petite Crescent collection setting is made to accommodate Princess cut diamonds. However, talk about versatility it can also be used to set Asscher cut and round cut centre diamonds. This four prong solitaire has accent diamonds along the band. There are approximately 0.57 carats of Round Brilliant Diamonds pave set. It can accommodate diamonds anywhere above 2 carats. Also, it is available in platinum like the rings above. Otherwise it is also available in 18 carat white, yellow and rose gold.
From the profile view, you will notice the beautiful, petite crescent diamond details that Tacori is so well known for. It is not only a signature of the brand but also of the Petite Crescent Tacori collection. You can see the top right ring in the image above a bit of these details.
Where to buy big engagement rings? At Diamonds by Raymond Lee
We are a family business. We have been operating in South Florida for the last three decades. Caring for our refined clientele we source the world's finest diamonds. Particularly for fine items like big engagement ring settings. Our expertise and wide ranging experience helps us maintain a high level of quality. Our craftsmen test and inspect each and every one for the ultimate quality and reliability. From Tacori and Henri Daussi to A. Jaffe and Gabriel & Co. we have items from the leaders in engagement ring and bridal jewelry creation. We trust our partners to create unique and love filled fine jewelry pieces for the biggest milestones in life. It is a big moment for you and your partner. It warrants a big engagement ring. We are here to help you find the perfect one. To make sure it is secured and to offer the services you may need later.
If you are interested in a big engagement ring settings reach out to us! We are happy to welcome you in at our stores. If you have questions you want answered feel free to reach out to us in the comments below, by email, phone or on social media. You can also drop by one of our stores and speak to one of our diamond experts directly. We are committed to offering superior service. Always prepared to walk you through one of the pieces from our large curated collection. Our diamond experts can elaborate any of the features or help you find your perfect piece. Whether you are just beginning your search. Or if you already have a cut and size in mind, we are here to assist you. For our full range of big diamond engagement rings check out our collection on the website. We have stunning engagement rings.