Three diamond ring – engagement trends of 2019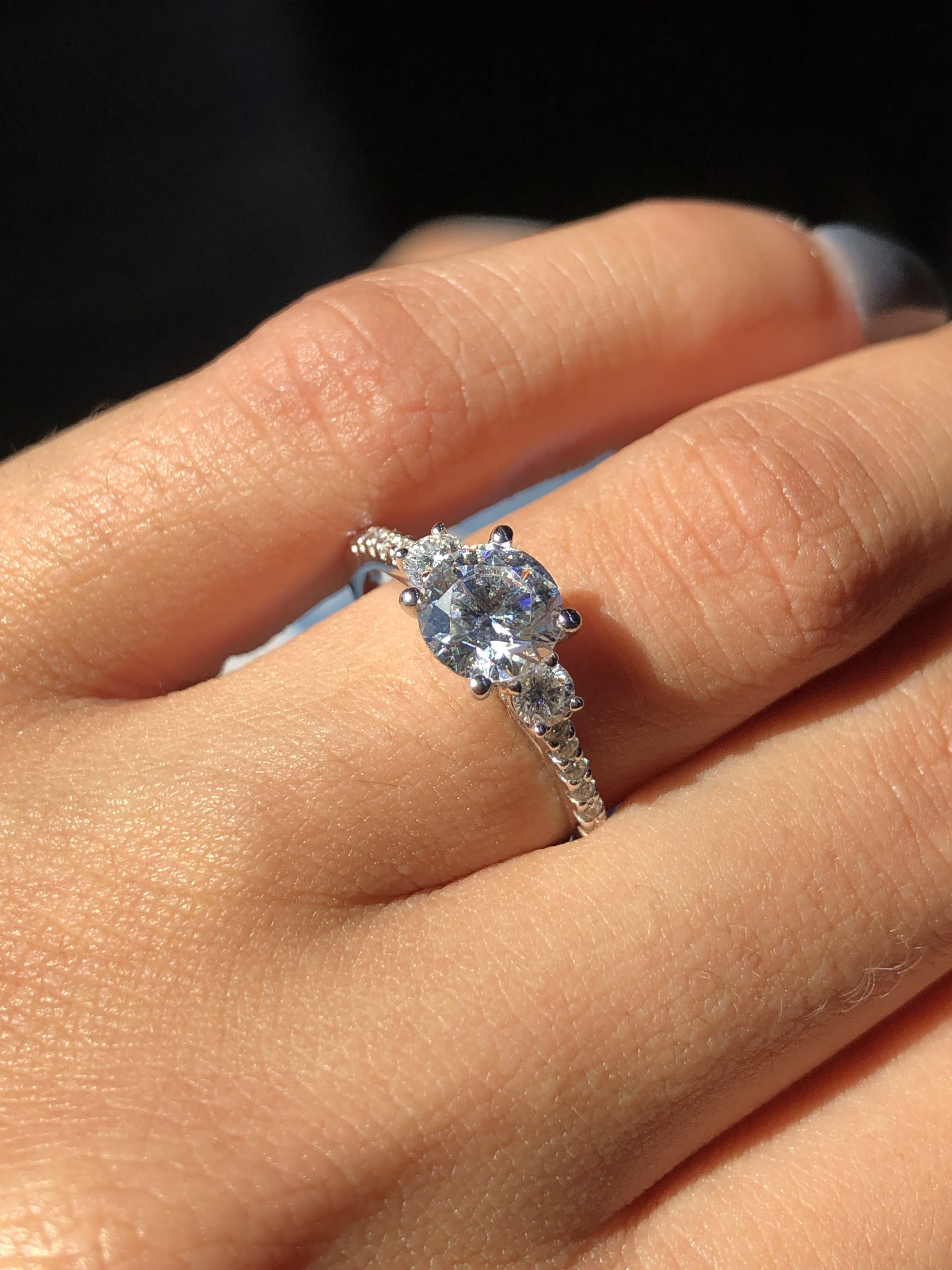 This year's engagement ring trends are in full bloom. From the rings featuring colorful gem center stones to more vintage inspired styles we have seen a significant uptake in unique engagement rings. Rather than the traditional classic solitaire diamond ring couples are looking for different rings. One particular trend of 2019 engagement rings are the 3 stone engagement rings. The most prominent one of these being of course Meghan Markle's engagement ring. Perhaps due to her influence or due to the versatility of the three ring setting this ring style is super popular so far this year. Generally diamonds or at least a central diamond stone flanked by smaller precious stones a three stone engagement ring can be set with several different diamond cuts including oval, cushion, princess and round. We will review the three stone engagement ring style, a 2019 trend, as well as feature some from our collection.
The three stone ring is a unique style that brings together a vintage inspired look with modern techniques. We have a lovely three diamond stone ring setting in platinum featuring emerald cut stones. As well as others in white, yellow or rose gold. It is more of a theme the three stone diamond engagement ring. It can be adapted and adjusted to your preference and the bride's personality. Mixing up the white diamond style with colourful gemstones is one way. Another is to pair different diamond cuts for a textured aesthetic. It is easy to see why this style of engagement ring is trending this year. From its unique and versatile style to its Royal celebrity associations the three stone ring is a feature of engagements and brides to be in 2019. Let us take a look at where this design came from and review some of the offerings available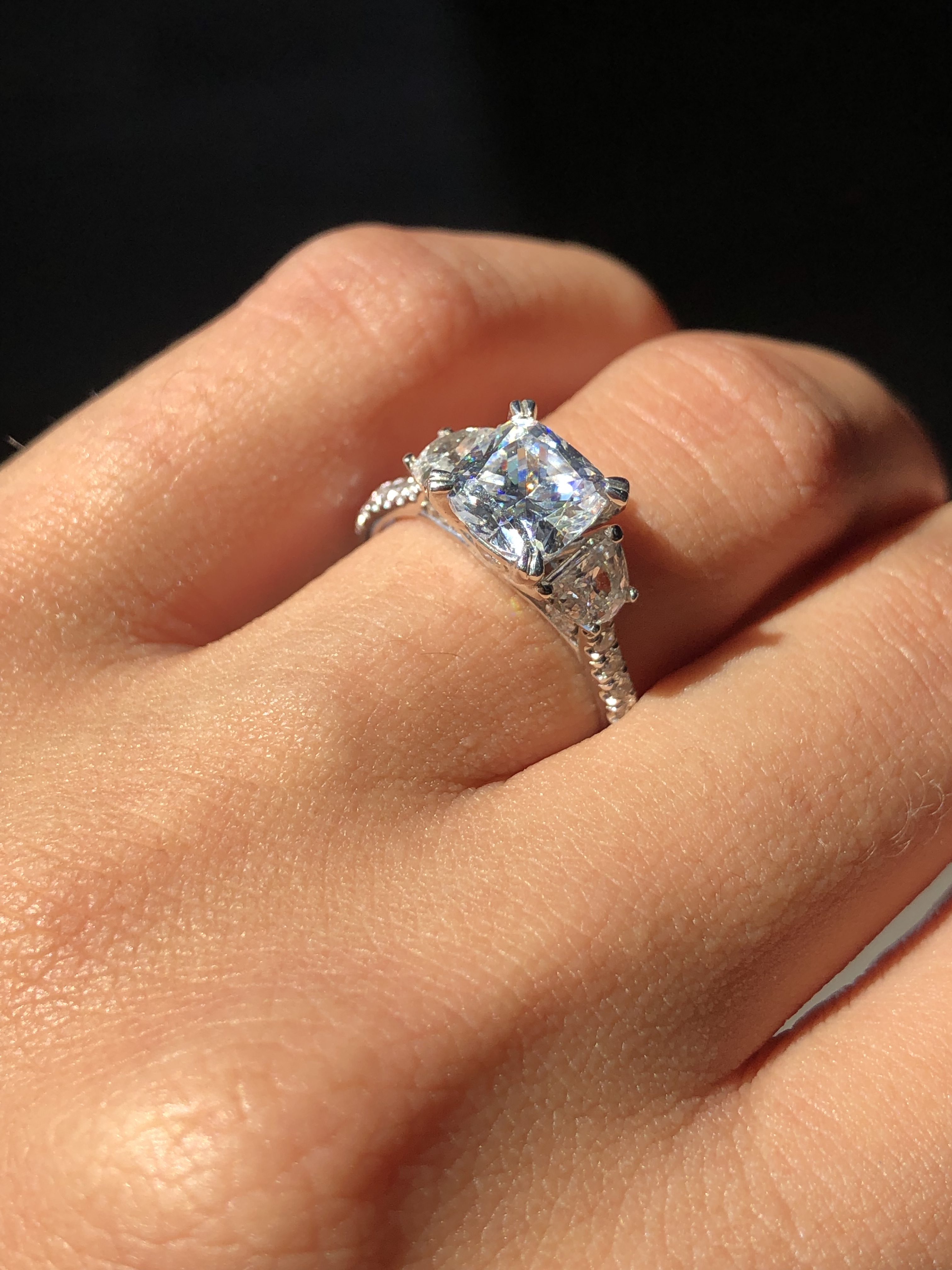 First of our three stone diamond rings to showcase this week is a lovely Gabriel & Co. designer engagement ring. Gabriel & Co. are a family company like ours that imbue each and every single one of their jewelry pieces with the love and symbolism that the occasion calls for. Deeper than beautiful design or innovative techniques their mission and calling is to create pieces that demonstrate their values. Their vision and story is one of family, service, love and passion. They showcase the love that their rings celebrate in each facet and setting. This particular three stone ring for example uses the symbolism of the trilogy, the past, present, and future and the diamond halo feature. It is intricately designed with 0.82 carats of round brilliant accent diamonds all long the band, and the halo.
While the center stone is a cushion cut  cubic zirconia it can accommodate a stone up to 1.75 carats. A 14 carat white gold ring this is an easy to pair ring with impeccable four corner double prongs. Whether you choose to go for the current centre stone, add a diamond of your own (a family heirloom perhaps) or choose a colourful gem instead this ring is a versatile fit ready for your bespoke touch.
The three diamond stone engagement ring design
The three diamond stone engagement ring design style is not a novelty. This is a design that has been in use for several years. These breathtaking rings are vintage inspired and filled with symbolic meaning. The three diamond stone rings also known as trilogy or trinity rings have a style that is versatile and easy to customize to your own. Beyond the symbolism and meaning these rings can be set with personal vintage stones handed down through generations. Or with brand new diamonds and colorful gemstones with meaning of your very own. Whether that comes from the stones' origins or the meaning you yourself give them. There are birth stones for every month for example, and these are:
January: Garnet for constancy, compassion and loyalty.
February: Amethyst for inner strength, healing and peace.
March: Aquamarine for courage, faithfulness and creativity.
April: Diamonds for true love and strength.
May: Emeralds for youth, rebirth and wisdom.
June: Pearls for purity, harmony and uniqueness.
July: Ruby for harmony and wealth.
August: Peridot for truth, love and hope.
September: Sapphire for optimism and peace.
October: Opal for change and confidence.
November: Topaz for confidence and healing.
December: Turquoise for posterity and protection.
You can combine or pair any of these stones or others together in a three stone diamond ring. Either using the diamond as the center stone and flanking it with your birthstone or even the birthstone of your partner as well for a truly colorful engagement ring. Otherwise you can have the center stone be one of the colorful jewels of your choice and flank that with diamonds on either side. It is really up to you when it comes to the combination particularly if you are looking for a ring setting to add gems to or creating your very own ring.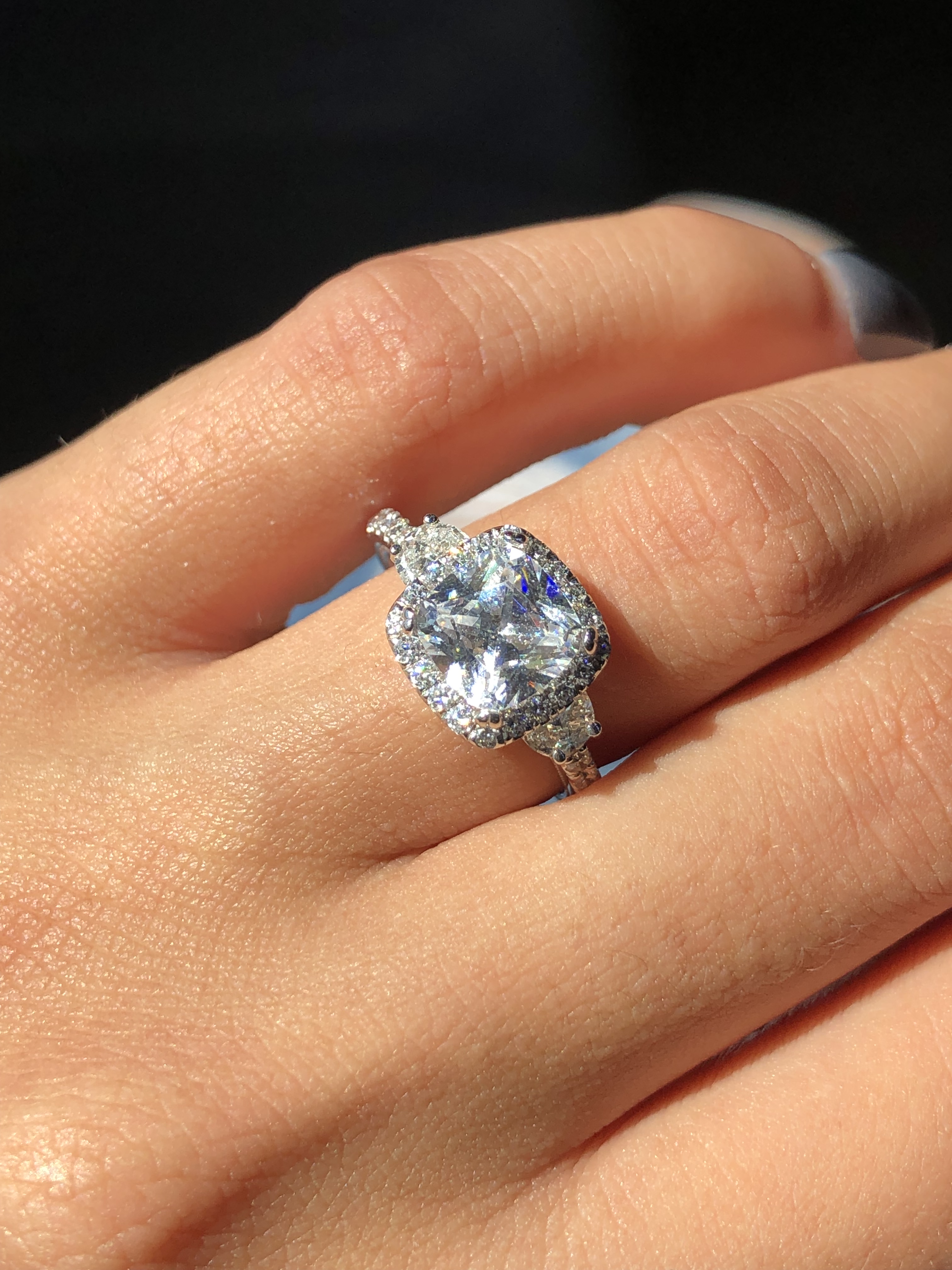 Another impeccable Gabriel & Co. designer three stone engagement ring in 14 carat white gold this one has a few differences. First off it is more of a Victorian inspired ring. The grace and beauty it has recalls the vintage styles more than the more modern ring setting above with the diamond halo. This one forgoes the diamond halo but rather opts for a more vintage style with an offset center stone. The increased height of the center stone the accent diamonds flanking it on either side face slightly towards the sides enhancing the visual grandeur of the center stone. Further it offers the opportunity for details to be tucked away beneath the stones. This ring features an intricately carved head. Holding the central diamond and at the centre of the two side stones on the shoulders the head features diamonds and swooping curves. Like a fountain bursting from the center.
There are approximately 0.70 carats of accent diamonds on this ring both along the band, the two accent diamonds and the ones tucked away on the side. The center stone for this ring really can be anything you wish as this mounting allows for adaptation for any fit diamond. Sweeping from the center stone these accent diamonds add to the brilliance and shine of your center stone. As well as add to the visual size of the ring.
Three stones symbolism, and meaning
So we have been talking a lot about symbolism and how these three stone diamond engagement rings are really filled with so much. But what is the symbolism behind three stone diamond engagement rings? It depends on who you ask and what traditions you follow or adhere to. An easy to see one if that of the passage of time. The trilogy of the three stones can represent the past, the present and the future. Particularly at such an intimate and crucial moment in your life like your engagement a ring that ties together those three time frames is truly symbolic. The past that the two of you share, the present moment when you are choosing to make a true life commitment to one another. And of course your future. The one that you are not just dreaming but building. One question, one decision and one ring at a time!
Another symbolic understanding of the symbology of three stone diamond rings is the trinity. For several religions and belief systems the idea of a trinity is held sacred. For this reason a ring of three stones holds strong symbolic significance. Even if you think of it from the perspective of you, your partner, and now your life together as one. The two separate lives coming together in unity. In the end it is a highly personal decision and one that is informed by your life. The symbol of the ring and particularly the engagement ring is wide ranging and highly dependent on the couple. So there are many symbolic meanings behind the three stone diamond engagement ring but the true one is that one that speaks to you. It is also why we see so many versatile three stone rings that can be adapted to any stones you prefer.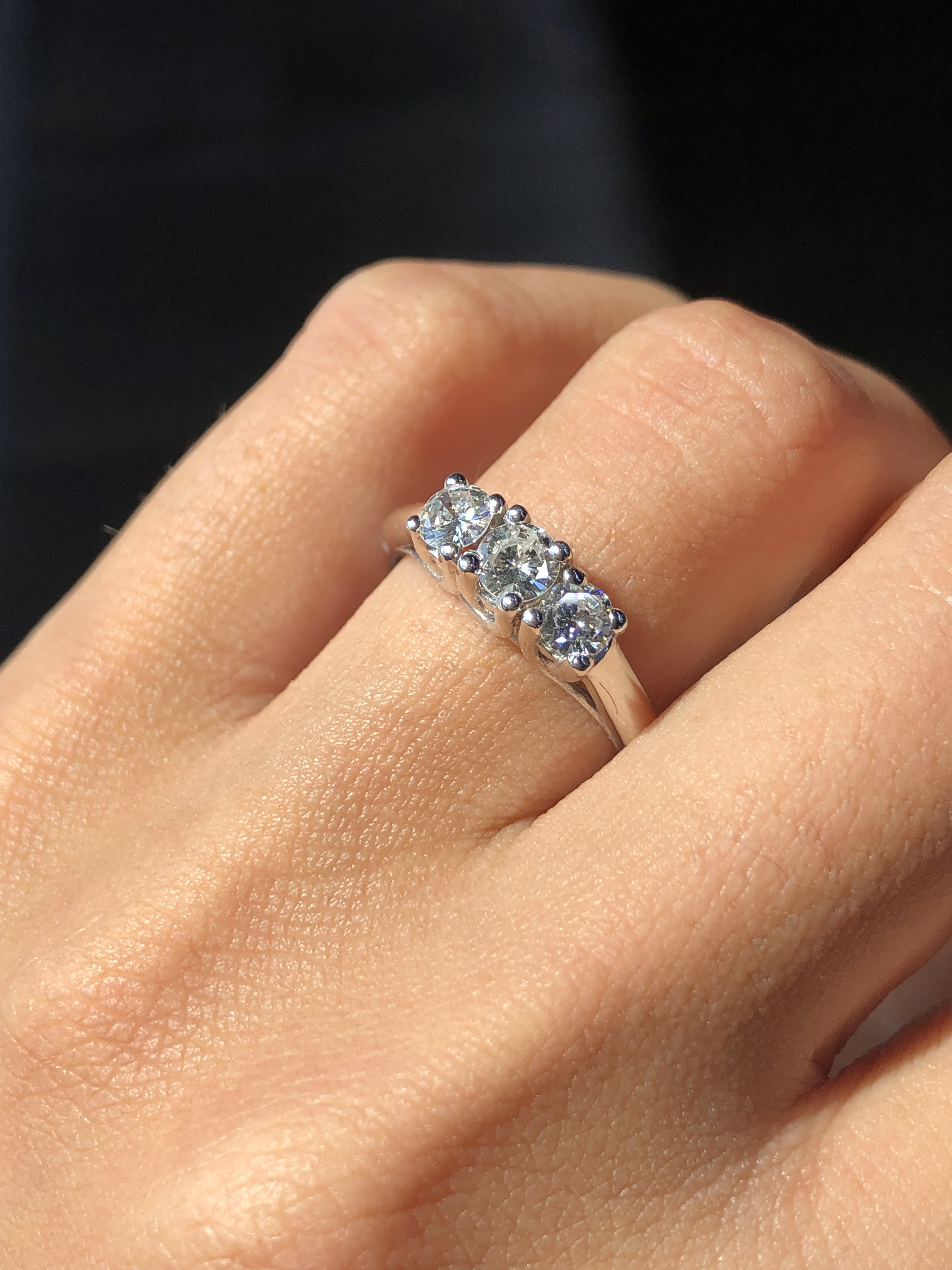 A third three stone engagement ring is a simpler more traditional style ring. This one also evokes the classic and iconic solitaire round cut diamond engagement ring. However, it has a symmetrical aesthetic look with the three diamonds being relatively the same size. These are interlaced together and set high above the finger for a lovely continuous loop. Timeless and understated this is a trilogy ring for the brides who prefer a ring to  wear every day for their lifetime to be more delicate and less embellished. Although if that is not the case for you or your partner do not miss the incredible 4 carat emerald cut diamond ring below!
Three stone engagement rings, infinite choices
With a three stone engagement ring each one of the stones in the setting can be your choice. You can use diamonds across the board, choose your birth stone as we discussed above for your center stone. Or use birth stones to flank a central diamond. You can even get stones that represent important places, moments or people in your lives. Whether that is a heirloom stone or one that comes from a special place there are infinite options when it comes to a three stone engagement ring. Meghan Markle's three stone engagement ring which we will talk about below is a perfect example of combining meaningful stones into a gorgeous three diamond engagement ring. A bespoke creation it speaks to her and Prince Harry's family and relationship.
Meghan Markle's three diamond stone engagement ring
In the case of Meghan Markle's three stone diamond ring each one of the diamond stones has a special meaning. A timeless three stone stone ring it features a center cushion cut diamond and two smaller diamonds flanking it. The two diamonds are from Princess Diana's personal collection. A touching heirloom from the Prince's mother. The central stone is from Botswana which the Prince has called his second home. Also it is where the two went on a date together! So the stones in her ring hold a lot of symbolic meaning. It is a bespoke made ring and the stunning piece features large stones for a high carat count surely. We have a striking large carat platinum three diamond engagement ring to showcase too! Here it is below.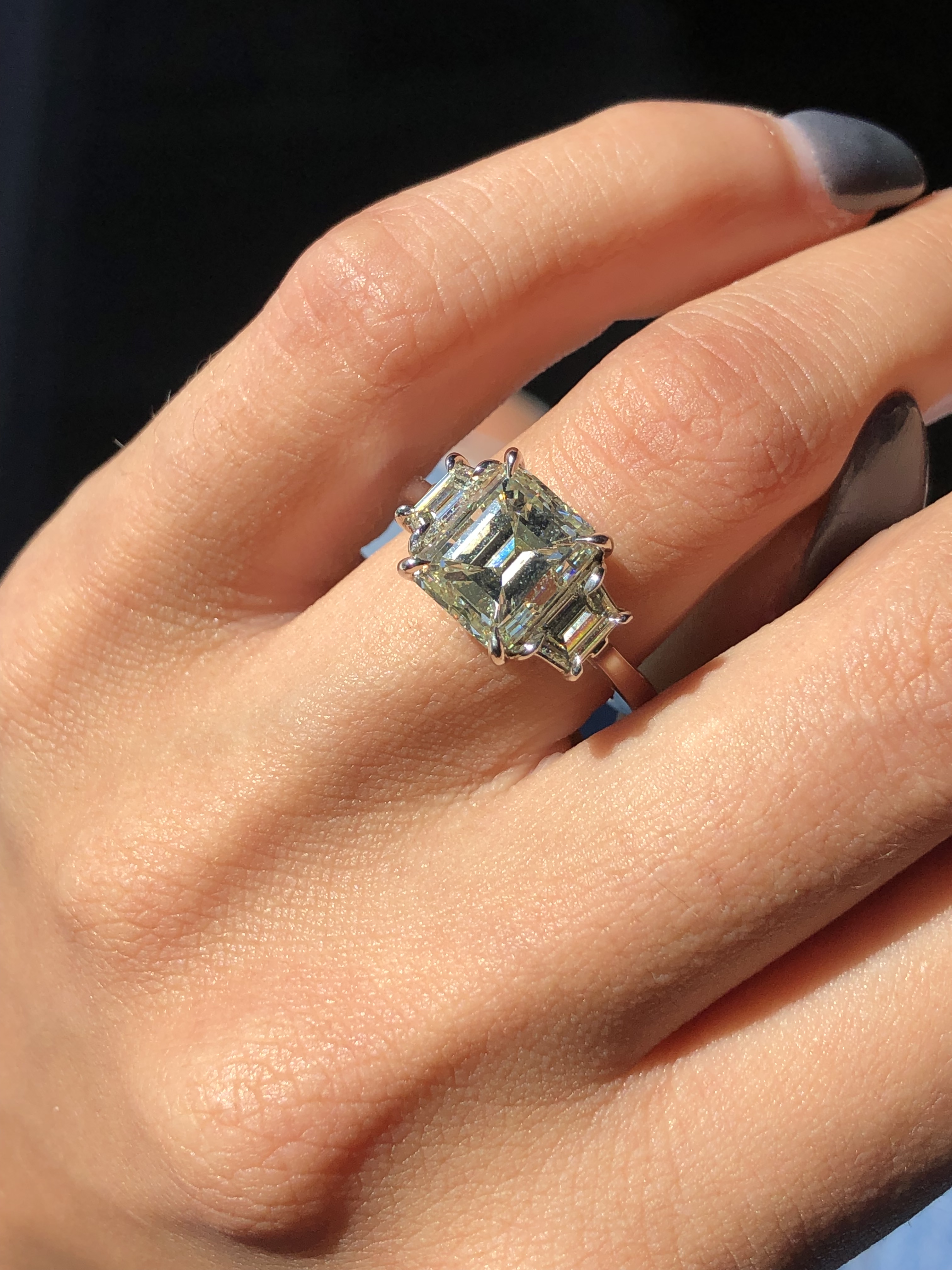 Another gorgeous trilogy ring we have to feature here is a platinum 4 carat emerald cut ring. With an impressive center stone and fabulous Art Deco geometric style this stunning ring has trapezoid cut accent diamonds. Handmade by "Al-Aletto" this 9.1 gram ring is EGL certified fabulously striking. For a truly vintage inspired three stone engagement ring nothing could be nicer than this heritage piece. The facets are clear and angular displaying the diamonds at their very best.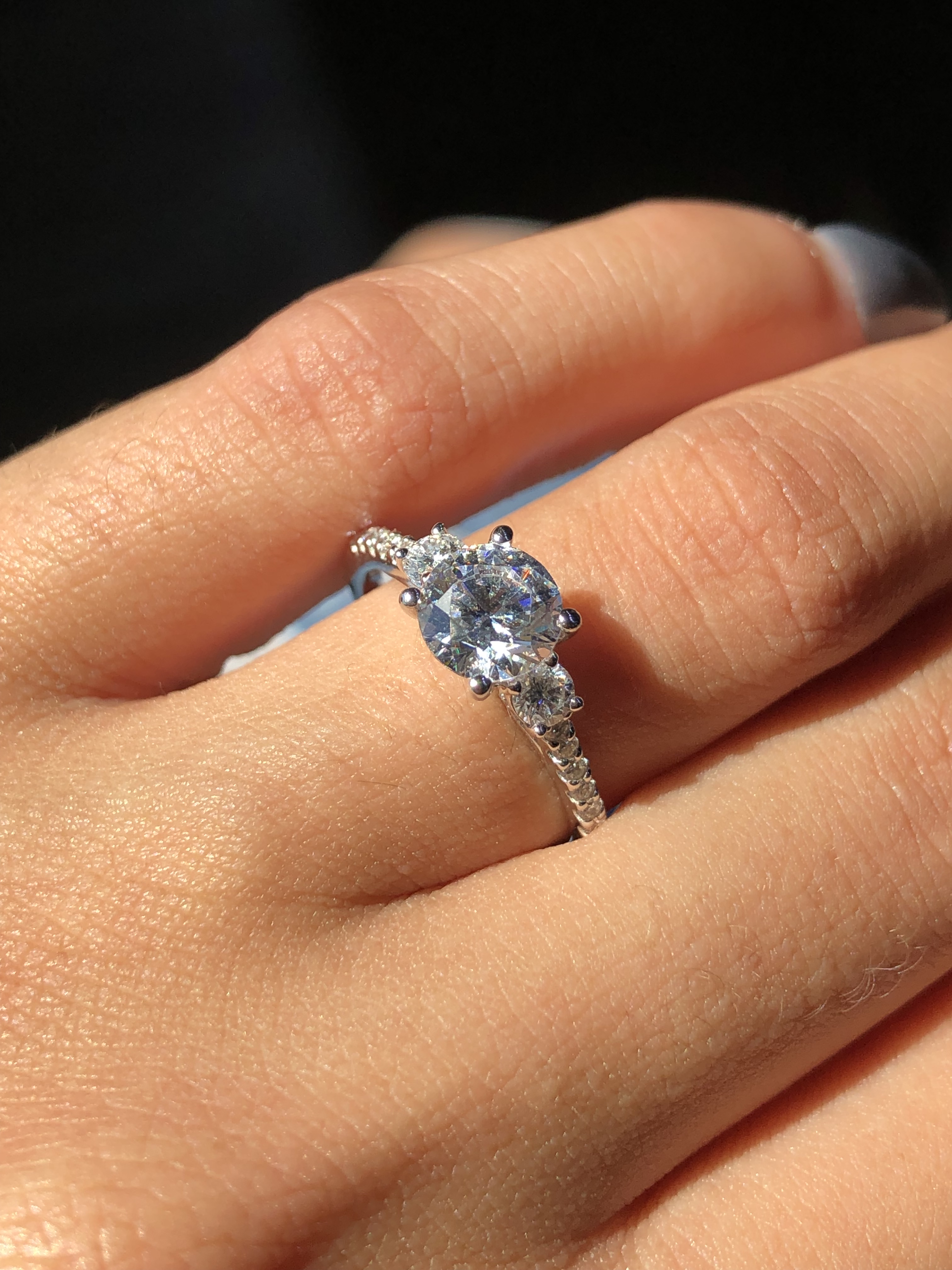 Finally the last of our three stone diamond engagement rings featured here is a last Gabriel & Co. ring. This one is also a 14 carat white gold beauty but features a much more traditional style. Branching off from the classic iconic diamond solitaire engagement ring this one uses a round cut center stone. This one is flanked by two other smaller round cut diamonds for the triple stone engagement ring effect. Finally it also has accent diamonds all along the band. A balanced trifecta very close to the traditional round solitaire engagement ring this setting can be adjusted to fit any center stone.
So if you want the classic look with your own diamond or want to change it up with a colourful gem you can! Check out some of the diamonds that we have available with our diamond search feature online. Also let us know in the comments below which ring setting is your favorite for a three stone engagement ring.