Diamonds are a girl's best friend. Whether they come in dazzling dangle earrings, tennis diamond bracelet or necklace, perhaps in a ring or fine luxury watch it is the stone of choice. After all a lady's watch can only get better with glamorous glimmer from diamonds. So where do you go for all of your diamond needs? Diamonds by Raymond Lee of course. The premier destination for diamond jewelry and fine luxury accessories. Serving the community of Boca Raton for the last three decades we have the experience and selection that you crave. So make a day of it. Visit us to check out some of these gorgeous jewels we have at our showrooms now!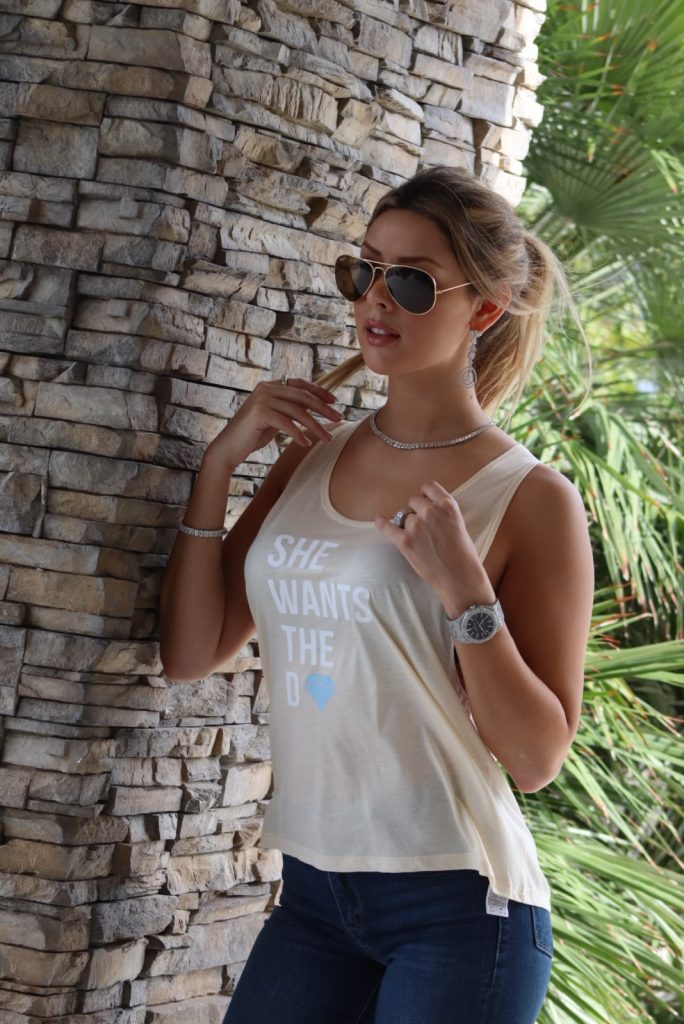 Here you will find not only fabulous jewelry and iced out looks but also some of the finest cars in the area. Not just during our Diamonds and Donuts car show the Diamonds by Raymond Lee showrooms tend to be flocked with some of the sexiest rides in South Florida. We know nothing goes better with a luxury car than diamonds and jewelry so come check out what best friends you are looking for – diamonds.
A gorgeous look for this pairing is this set of 14 carat white gold dangle diamond earrings. These earrings feature an incredible 12.68 carats of GIA Certified diamonds. The stones themselves feature several different diamond cuts. Because what is better than a selection of different glittering sparkles? There are pear shape, oval and round brilliant diamonds. These are F/G in color and VS2-SI2 in clarity. The earrings have Omega backs and hang at about jaw length. They are perfectly easy to match and pair with your other jewelry with their modern design. The bold earrings look accompanies a stunning diamond tennis bracelet and necklace. As well as of course an iced out Audemars Piguet watch.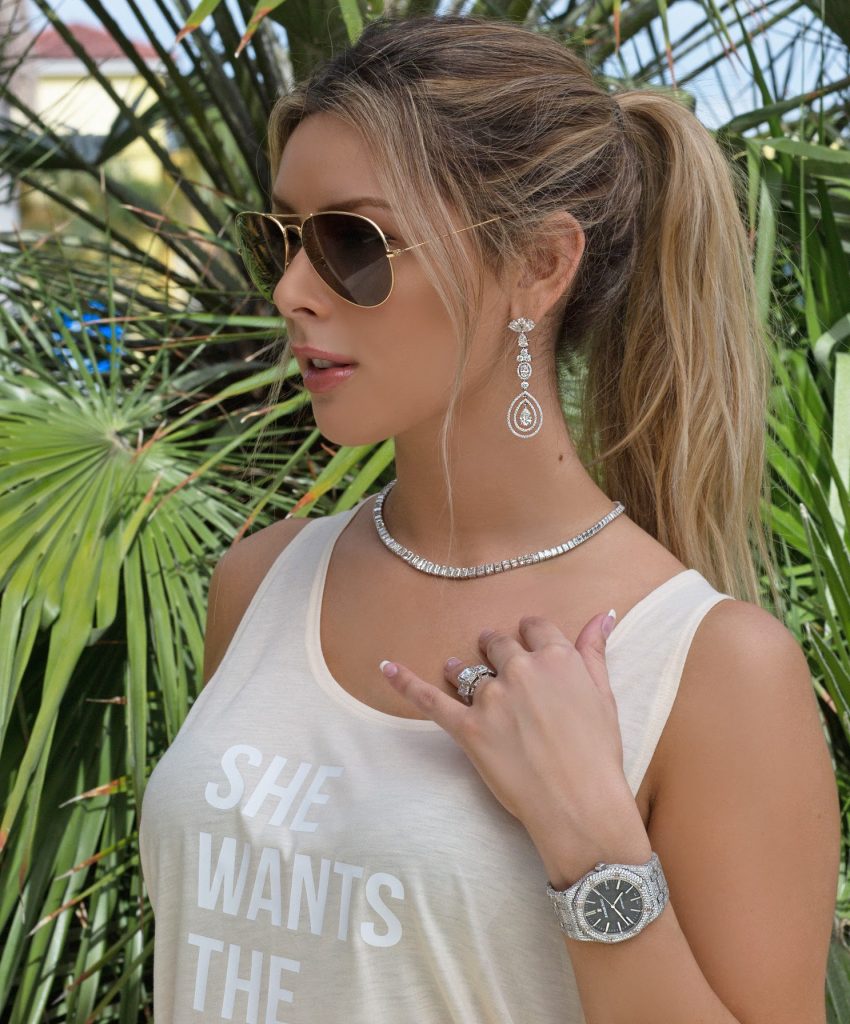 These earrings dangle with a lovely movement and fresh style sure to turn heads. Draped alongside your face they lead to a diamond necklace in a more muted simple design. However, nonetheless stunning in its own right. If you know anything about us at Diamonds by Raymond Lee is that we will always add more diamonds. So for a stunning time piece like the Audemars Piguet Royal Oak we of course added diamond stones. So not only is this time piece totally iced out it is paired with stunning jewelry like these earrings. Check out more pictures of this set of diamond earrings and jewelry below. 
Cars and watches are just one of those pairings that there is nothing like them. Particularly when it comes to luxury cars and stunning watches. Take for example this Audemars Piguet 15400 Royal Oak stainless steel diamond pave watch. It seems to be symbiotic with the Mercedes Benz G wagon. It is a strong presence type of style and goes with the statement jewelry it accompanies. Between the rings and bracelet you have dazzling diamonds to make eyes wander.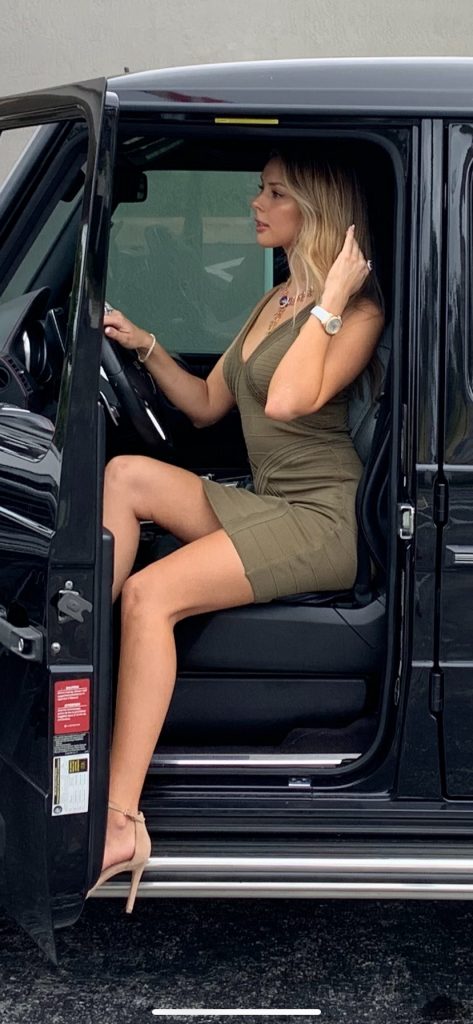 This watch is not only a stunning 41 millimeter AP Royal Oak but also features brilliant white round cut diamonds everywhere. And we mean everywhere. From the bezel to the bracelet and the dial this is an iced out through and through AP watch. Beyond that you have the incredible skeleton back to show all of the movements going on inside the watch.
A timeless design and look that matches perfectly with any other diamond jewelry you pair it with is the tennis necklace or bracelet. These stunning diamond strands are iconic jewelry pieces that you are sure to see on celebrities and stars as well as on stunning ladies around Boca. In a variety of different diamond sizes and lengths our showrooms feature a huge selection of these necklaces. This particular one on our Diamonds by Raymond Lee model is a 14 carat white gold graduated tennis necklace. There are approximately 7 carats of diamonds set in this one. They range from I-K in color and are SI in clarity.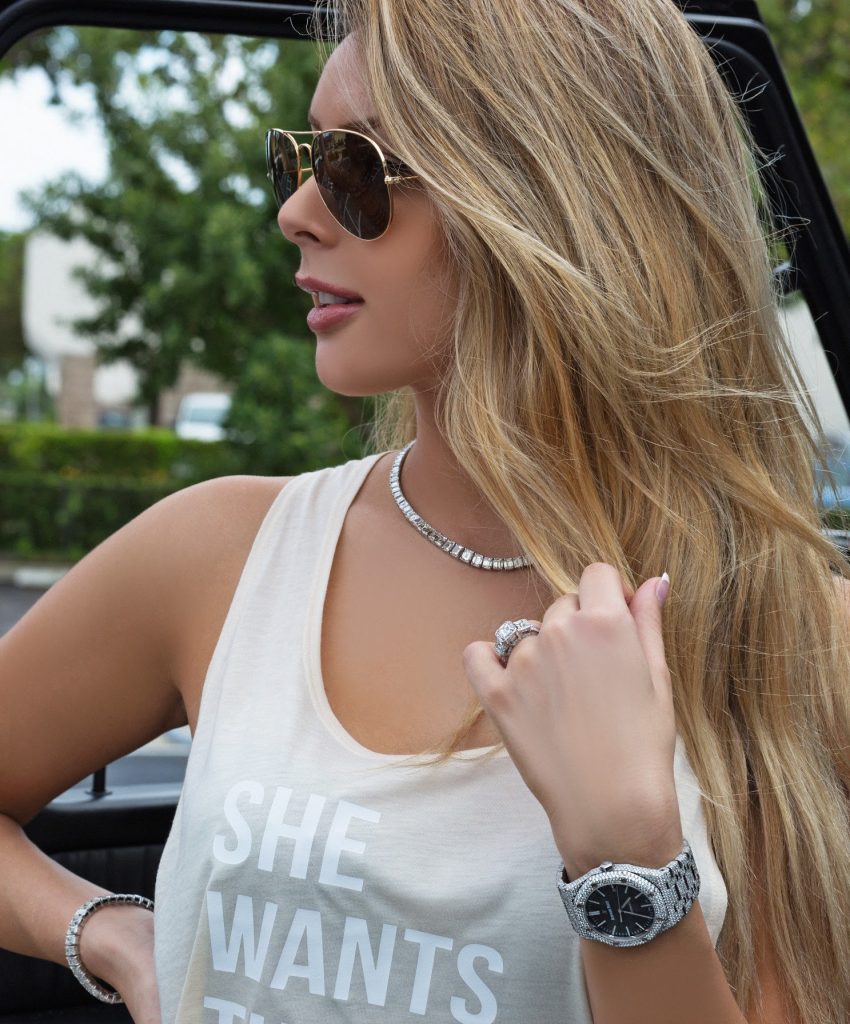 The necklace itself is about 16 inches long and sits comfortably along your collar bone. Further the fastening is a tongue in box clasp with safety latch. It weighs approximately 29.3 grams. As you can see diamonds like these can be worn casually or more formally. Whether you are rocking a designer dress or a tank and jeans. Timeless styles like tennis necklaces are ubiquitous. Below we have a pair of this necklace. The thin diamond tennis bracelet that matches this stunning necklace in a matching 14 carat white gold.
The bracelet is thinner than the diamond tennis necklace. It has approximately 4.11 carats of round brilliant diamonds. These stones are G/H in color and VS in clarity. In the classic style this bracelet has a similar fastening to the necklace. An icon of the tennis style for safety and an eternity look that goes uninterrupted. It has a tongue in box with double safety latch. It is a stunning look paired with the necklace and some diamond rings. As well as of course a luxury watch. We cannot imagine going anywhere without an iced out time piece on your wrist.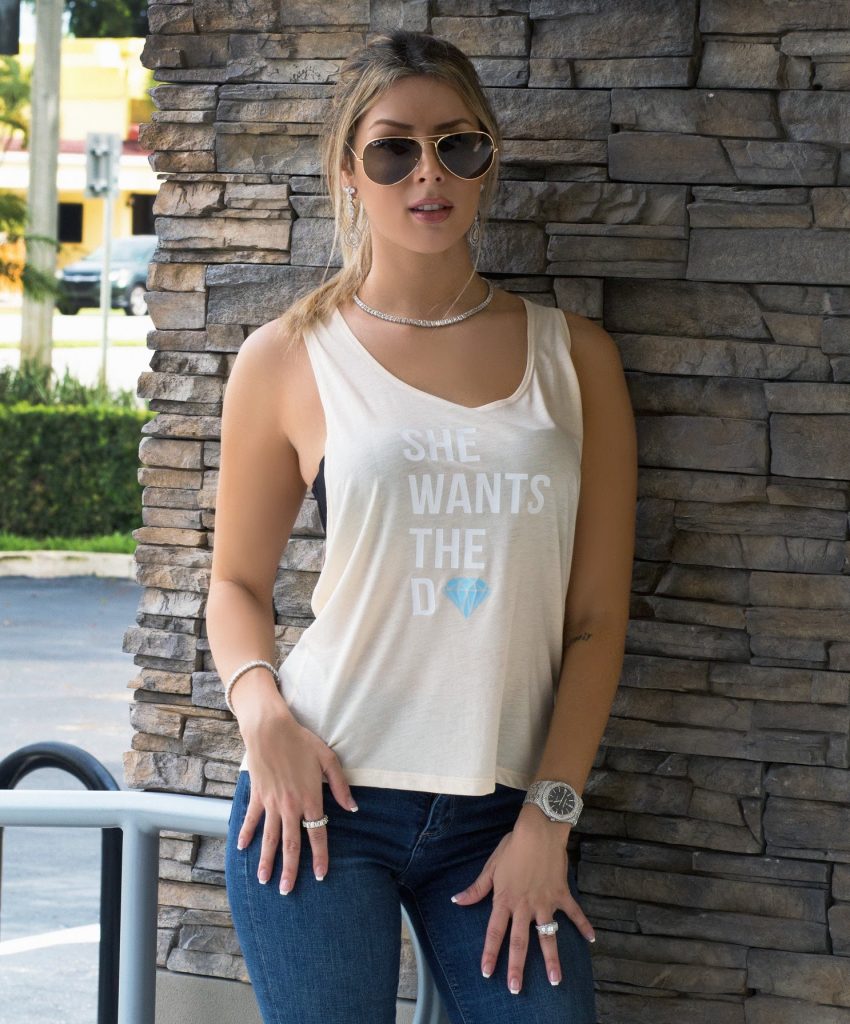 The tennis bracelet is a nice delicate touch added onto the bold statement of the watch. As well as the twinkling diamonds on your ring fingers. It is undoubtedly a must have for any jewelry collection. The bracelet pairs well with any combination of bracelets, watch and rings. As well as in a stack if you are looking for a range of them. Put a diamond tennis bracelet with some colorful gem bracelets and you have an arm party ready to go.
Another fashionable jewelry accessory that is perfect for a girl out on the town is this fabulous sapphire and diamond twist ring. A unique and colorful ring the stunning pattern of precious jewels give this ring a lovely exotic touch. Further the twist design is an incredible statement style. Match it up with some diamonds and an Herve Leger bodice dress and you have an outfit ready to go. Diamonds after all are the best accessory no matter what shape they take. This particular cocktail ring has approximately 1.85 carats of white round diamonds. These precious diamonds are G in color and VS in clarity. Meanwhile there are approximately 4.78 carats of blue sapphire gemstones. All these gemstones weigh in at a hefty 14.2 grams for a solid piece of fine jewelry.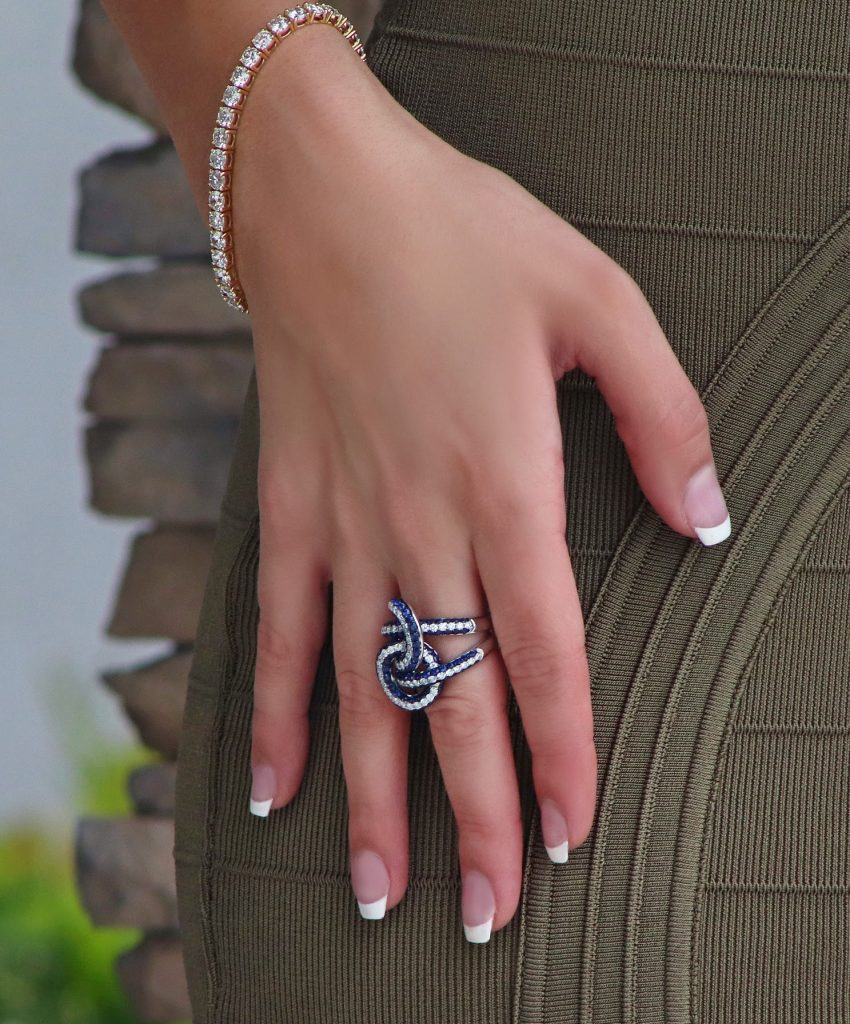 Another stunning diamond ring in our collection this 4.78 carat sapphire and diamond twist is set in 18 carat white gold. A fun and unique look. But if none of these jewelry pieces are quite your vibe we also create bespoke custom jewelry with fantastic loose diamonds. You can choose from your very own cut, carat weight and much more. Have it set into your favorite piece of jewelry or create your own with one of our expert jewelry designers.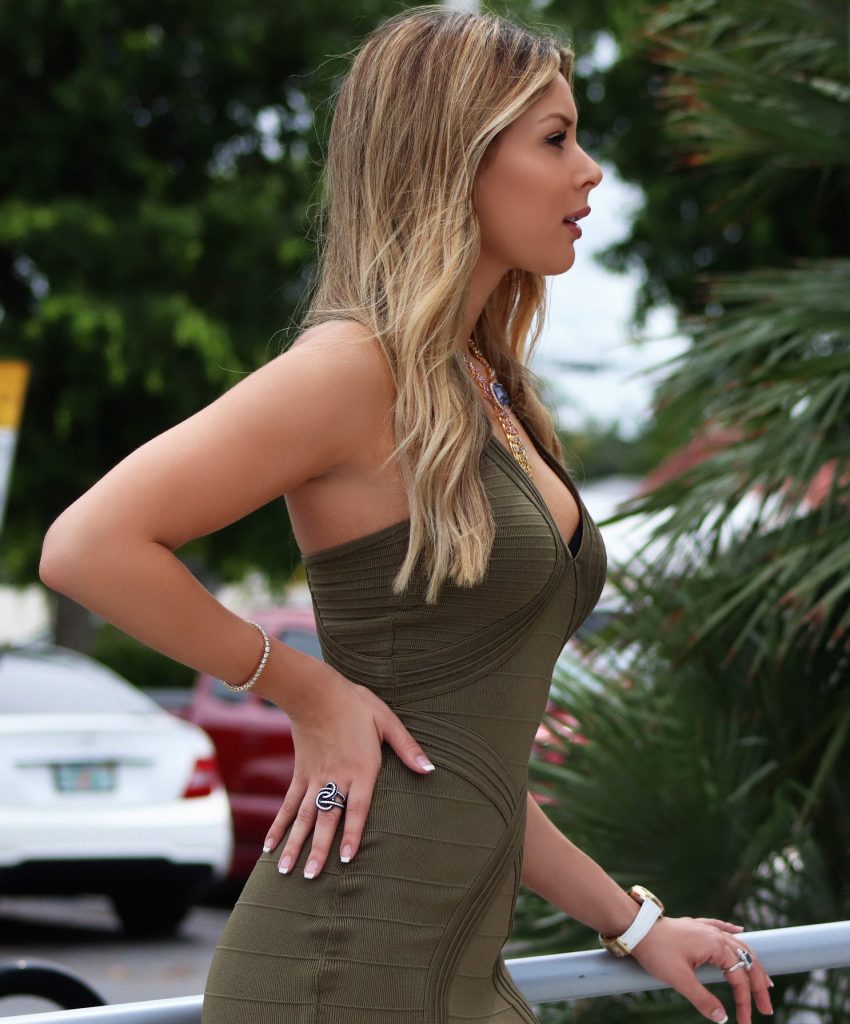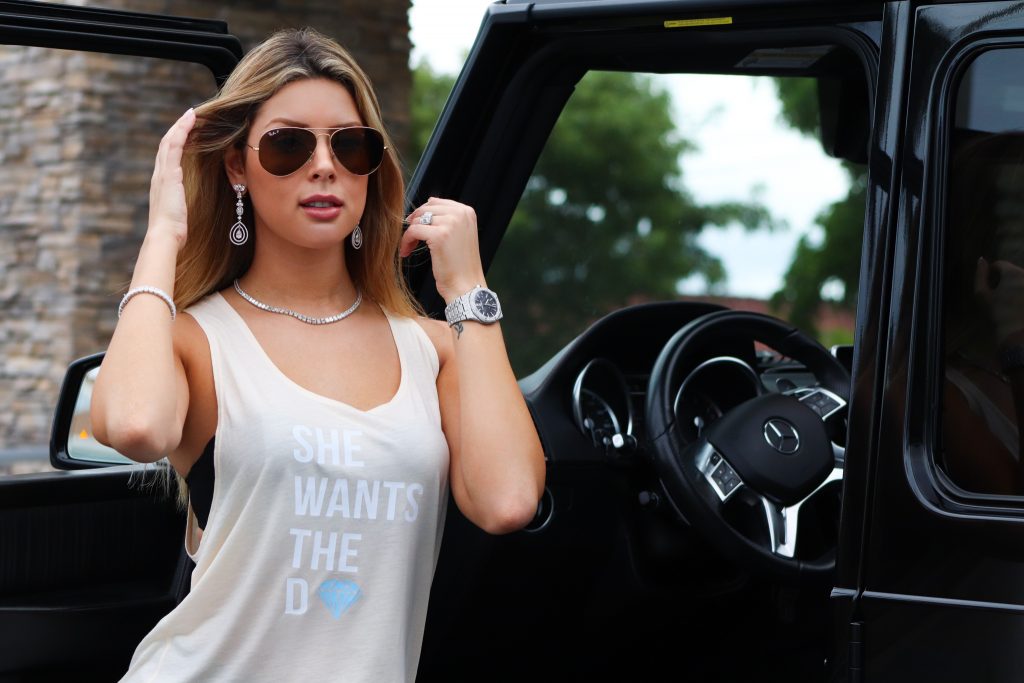 A gorgeous addition to any diamond jewelry set an eternity band can be used as a wedding ring or just to match your iced out look. This platinum set 5.64 carat emerald cut diamond eternity band matches the tennis bracelet and necklace look here. Also, it has a large chunky diamond cut that rocks well with the stunning watch and dangling diamond earrings. Who said a girl's best friend can't have friends of their own too? Whether this ring is to match your engagement ring rock or just to add some dazzle it is a stunning choice. The emerald cut is a clear and modern look. Since the emerald cut style is geometric and has repeating patterns the design is perfect for a tennis bracelet match up.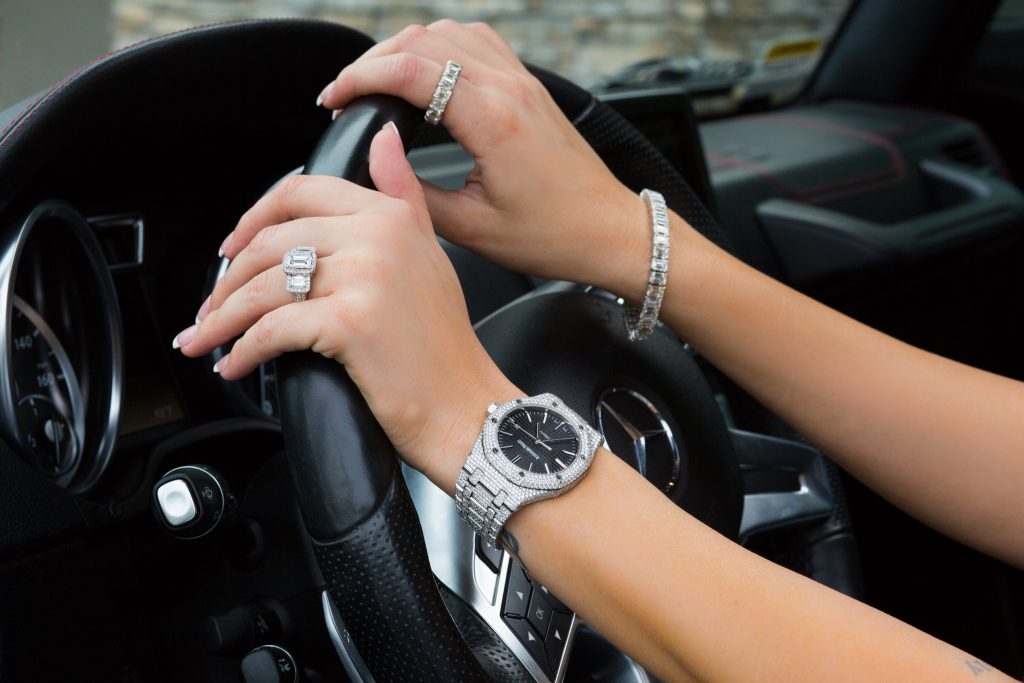 The best part of an eternity band? Other than being an instant eye catcher it also catches light from every angle. It is a ring that can spin on your finger and still sparkle no matter what. Just be careful not to get distracted while driving because this is one of those diamond rings that demands attention. Just the kind of attention a Mercedes G wagon carries with it too. So with one of these you know you will be catching everyone's eye when you arrive. With diamond jewelry like this there is no way you are not going to turn heads.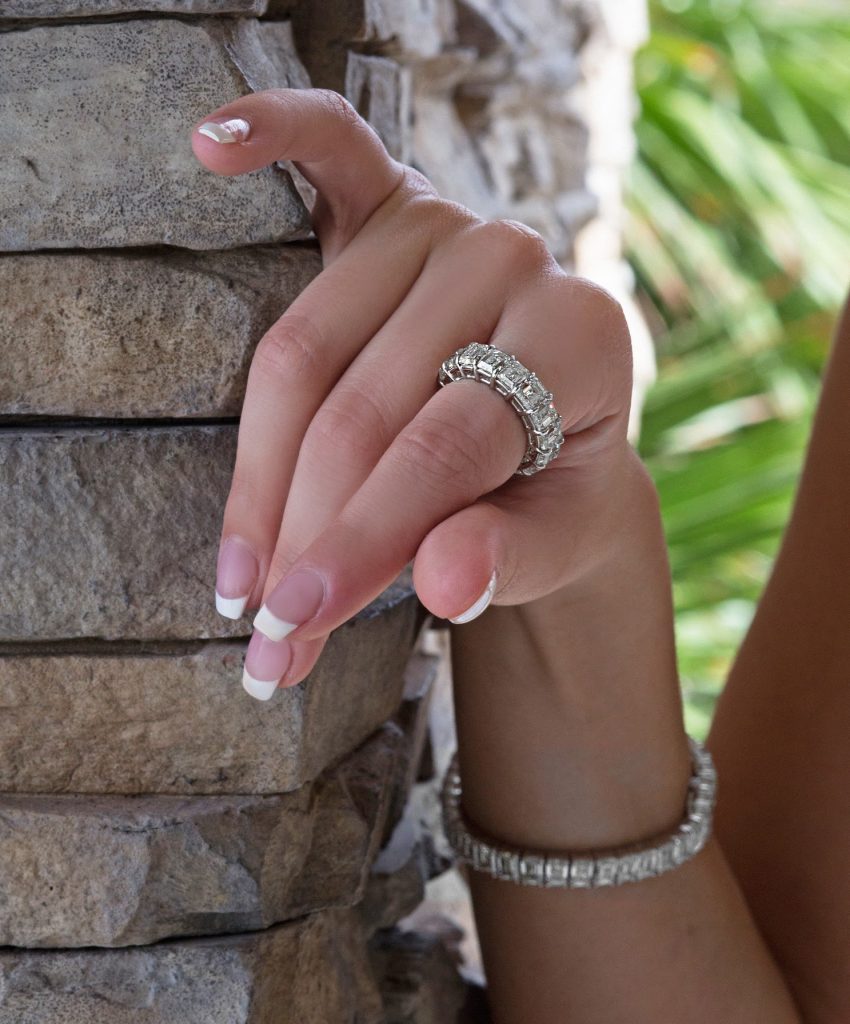 Looking for an engagement ring can take getting to know a few different brands and each company's ethos. After all this is one of those purchases that truly are for a lifetime. It is also a unique purchase because generally the person who it will belong to might not be involved. While we see many brides to be come in with their partners to find and try on the perfect ring we do also sell quite a few surprise "will you marry me?" rings too.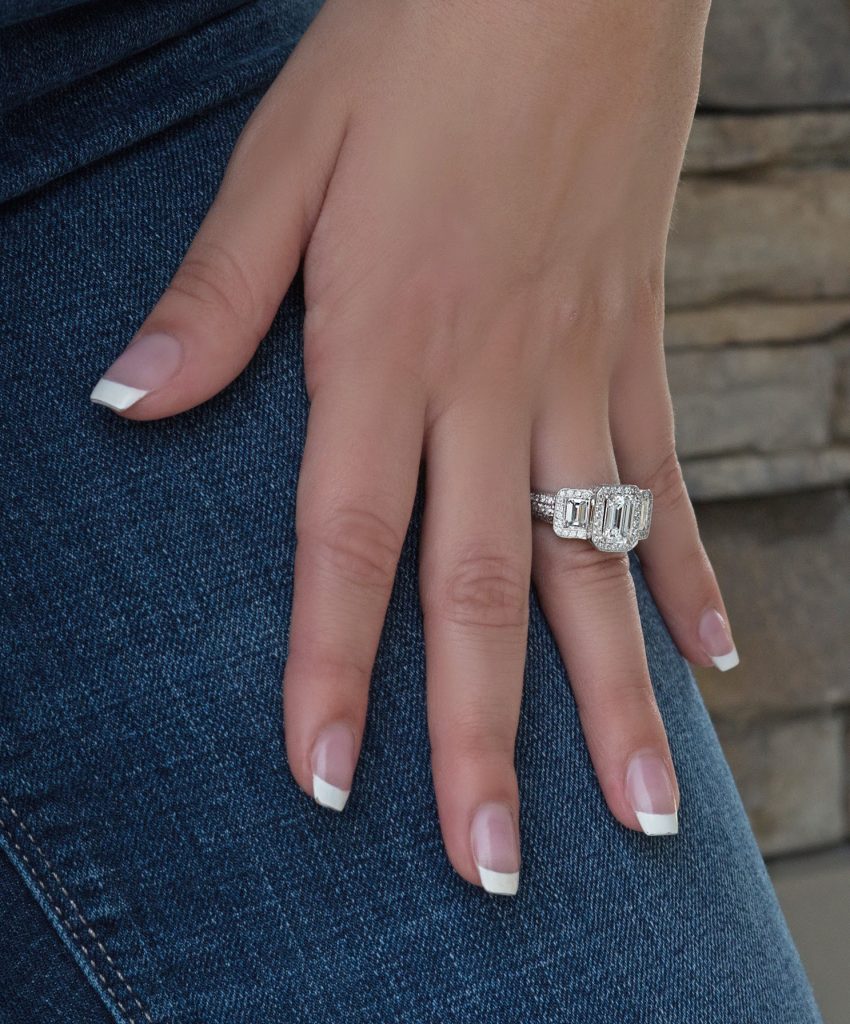 It depends on the couple and on what you are planning. However, one thing is true for all. That is the search for a high quality and genuinely involved company. We carry a wide variety of different engagement ring brands at our showrooms. Each one bringing unique styles and designs. For example this three stone Simon G 18 carat white gold engagement ring.
It is an exquisite ring that is also available in 18 carat white, yellow or rose gold. As well as platinum. The ring features approximately 0.28 carats of round side stones and 0.26 carats of round accent diamonds.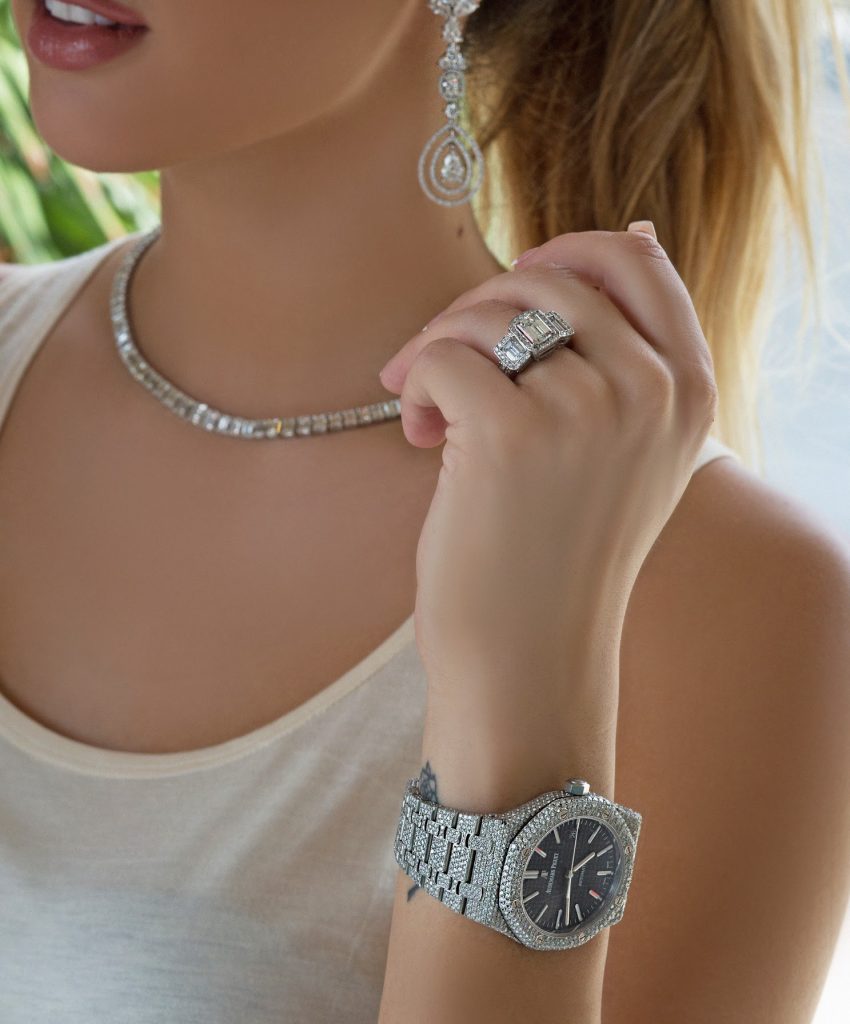 To read more about three stone engagement rings and the kind of royal history they have check out THREE DIAMOND RING – ENGAGEMENT TRENDS OF 2019
When shopping for an engagement ring you want to have the level of service that makes you comfortable with your purchase. That you know no matter what you will be able to come back for a quality service, maintenance or in the unlikely event of a necessary repair. That is why at Diamonds by Raymond Lee we make sure that your experience is one of unparalleled service. We have our in house workshop and expert craftsmen here ready to help you.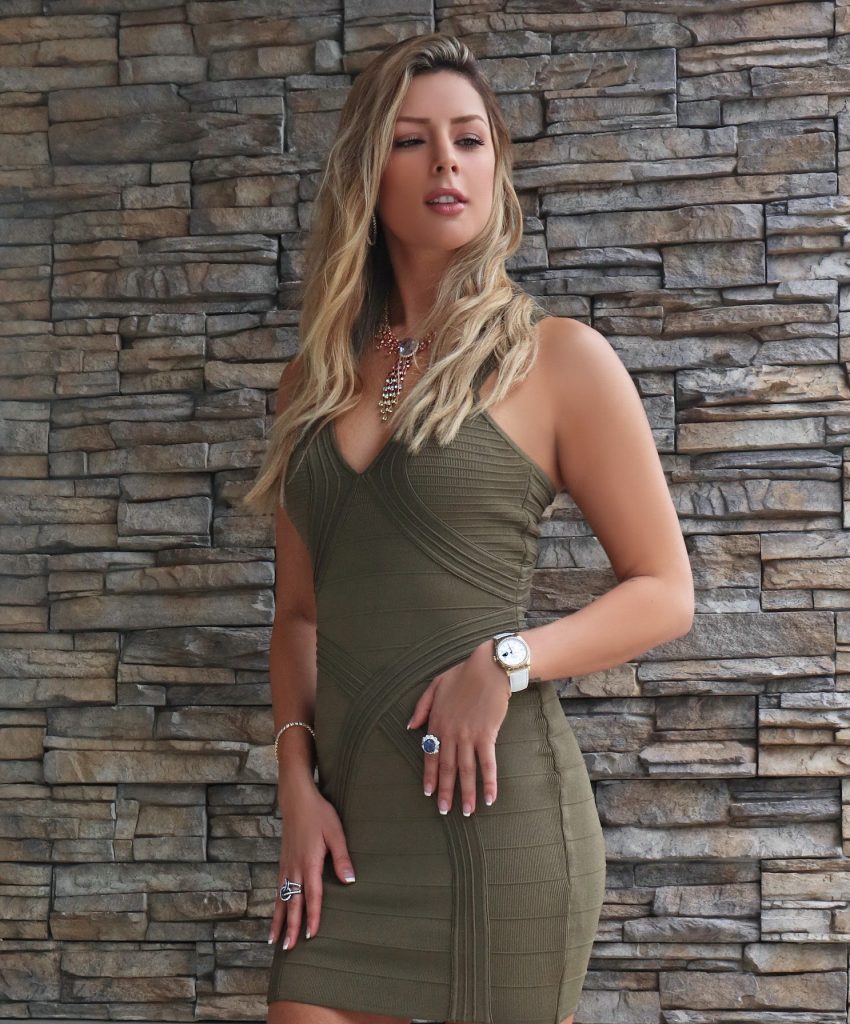 More engagement ring brands at our showrooms
Buying jewelry at Diamonds by Raymond Lee
So the next time you are looking to buy diamond jewelry come visit us at Diamonds by Raymond Lee. Our showrooms are expertly designed for comfort. Here you will find a huge range of diamond jewelry including earrings, diamond bracelet, necklace and fine luxury watches. Some of our favorite watch brands that you can find iced out here are Audemars Piguet, Rolex, Cartier, and many others. Come find your next glistening glamour piece. Because after all diamonds are a girl's best friend. We have them all here for you to pick and choose.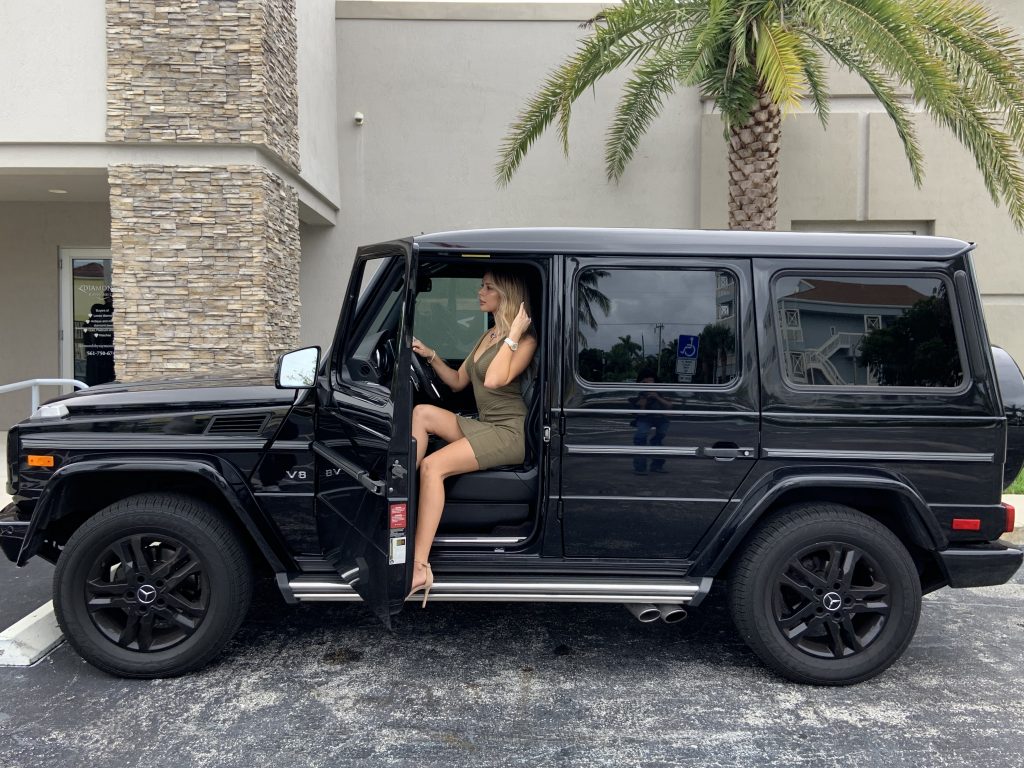 Whether you know what you are looking for or are just getting started searching for your next purchase come on in. It is always a good time to treat yourself and at our showrooms you are bound to find another new best friend. All of our diamonds and jewelry are of the finest quality and from some of the world's best brands.
At Diamonds by Raymond Lee we are a family company. We have been around for over three decades and have established ourselves as the premier destination for diamonds and jewelry. Our locations are in East Boca and West Boca where our diamond experts would love to welcome you in and show you our collection. Check us out and do not forget to let us know in the comments below what your favorite diamond jewelry is. If it is not one of the ones in this article tell us and we will show case it next time!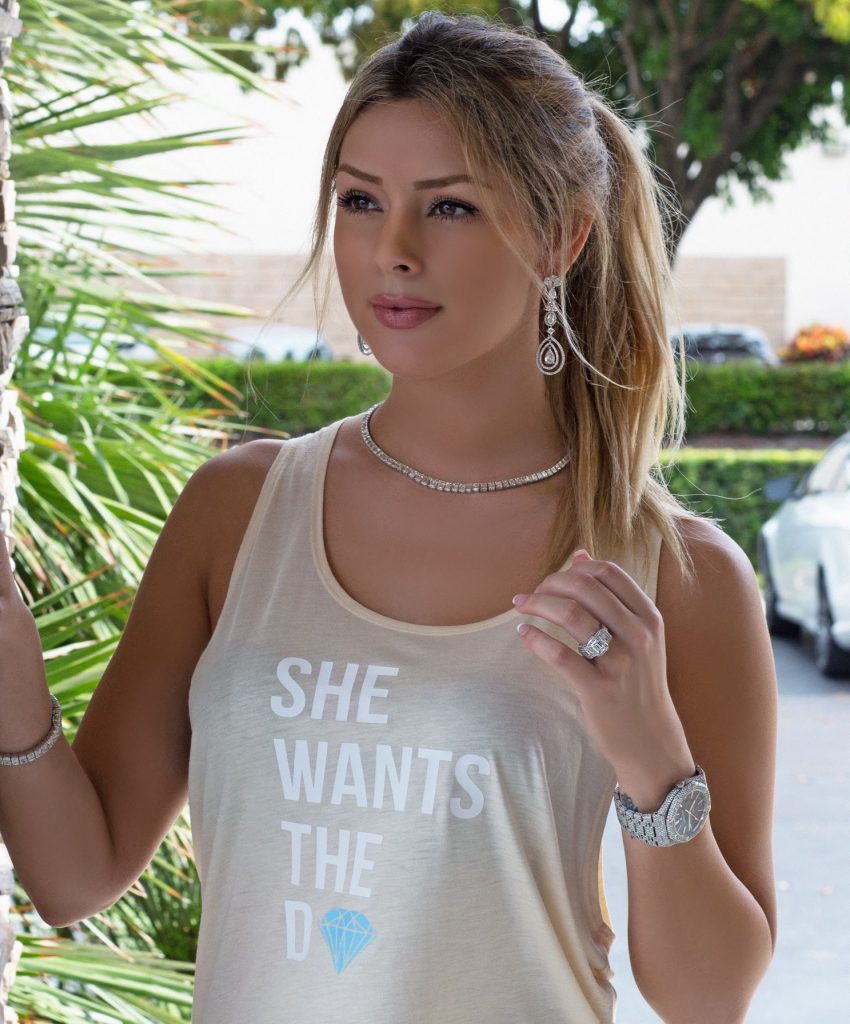 East Boca Location: 2801 N Federal Hwy, Boca Raton, FL 33431
Hours: Monday-Friday 11am-7pm | Saturday 10am-5pm | Sunday 12pm-5pm
Phone: (561) 623-8205
West Boca Location: 22191 Powerline Road #12b, Boca Raton, FL 33433
Hours: Monday-Friday 10am-6pm | Saturday 10am-5pm | Sunday Closed
Phone: (561) 750-7808Email: in**@di******************.com