What diamond eternity band to get and when? Everything you need to know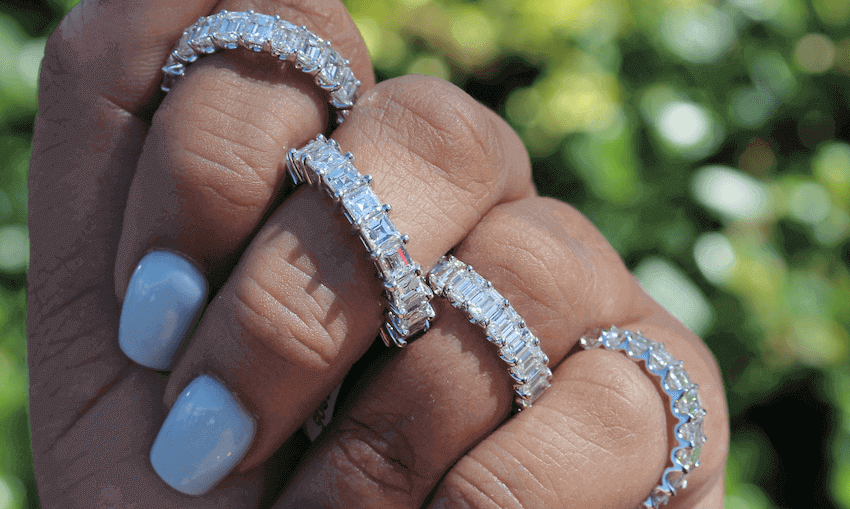 The latest trend when it comes to bridal jewelry and diamond rings is of course the diamond band rings. These can either be diamond eternity band styles where the diamonds are set all the way around the ring. Or otherwise half bands. These have diamonds as you would imagine set into half of the eternity ring. These diamond band rings are frequently worn as diamond anniversary rings. Although lately diamond wedding rings have also been diamond eternity band styles. Particularly with the coming and growing trend of wedding ring stacks the diamond band rings have really taken off. But now what eternity band do you get? Should they be diamond wedding rings or only anniversary rings? Which eternity band do you choose? Can you wear them just as diamond fashion rings? We will get into all of these crucial questions and more in this week's diamond band rings special feature.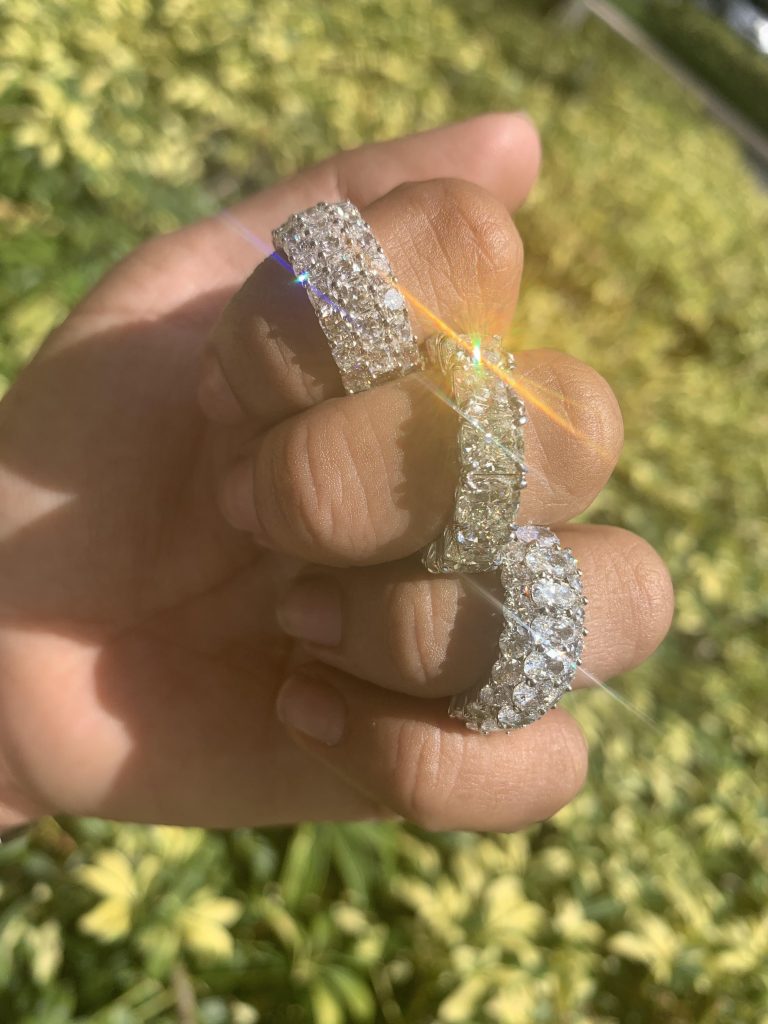 Diamond band rings also known as an eternity ring
There are so many different kinds and styles of diamond band rings. These bands which are often also referred to as eternity rings feature lots and lots of diamond stones. As we know there are several different diamond cuts. Each with their own unique look. This is how you get so many different styles and designs of diamond band rings. These can feature a whole different assortment of a range of diamond cuts. All of them of course unique in their very own way. 
What
What diamond eternity band to get is a very personal choice. There are all of the different diamond cuts that you can get a ring with. This will of course dictate the look of the ring because of the design that the cut will inspire. Also the size of the diamonds is very important. If you want a very thin and small slim diamond band ring then you cannot really use certain cuts. The ones that require a larger surface area in order to work for example.
On the flip side if you are looking for a large and bold diamond band then what diamond eternity band to get becomes a question of a few specific diamond cuts that can accommodate the large carat size. You will want to use the diamond cuts that can be set well and will fit comfortably on your finger. There are so many options when it comes to diamond eternity rings that the sky really is the limit. You can even create a stack of them using different diamond cuts too. That creates a sort of texture and stylized look that you can change up any time that you want.
When
Now that you know what eternity band to get the question is when do you buy it? Is this one of those purchases that you make once in your life? Is it reserved for diamond wedding rings or anniversary rings? Well the answer is as always up to you and how you want to show off your own personal style and jewelry collection! While depending on what eternity band to get you will have a better idea of how you want to rock it there is absolutely nothing stopping you from wearing them all together. Whether it is a wedding ring or anniversary ring or just because you love diamonds ring. There are unlimited options for how you want to wear it.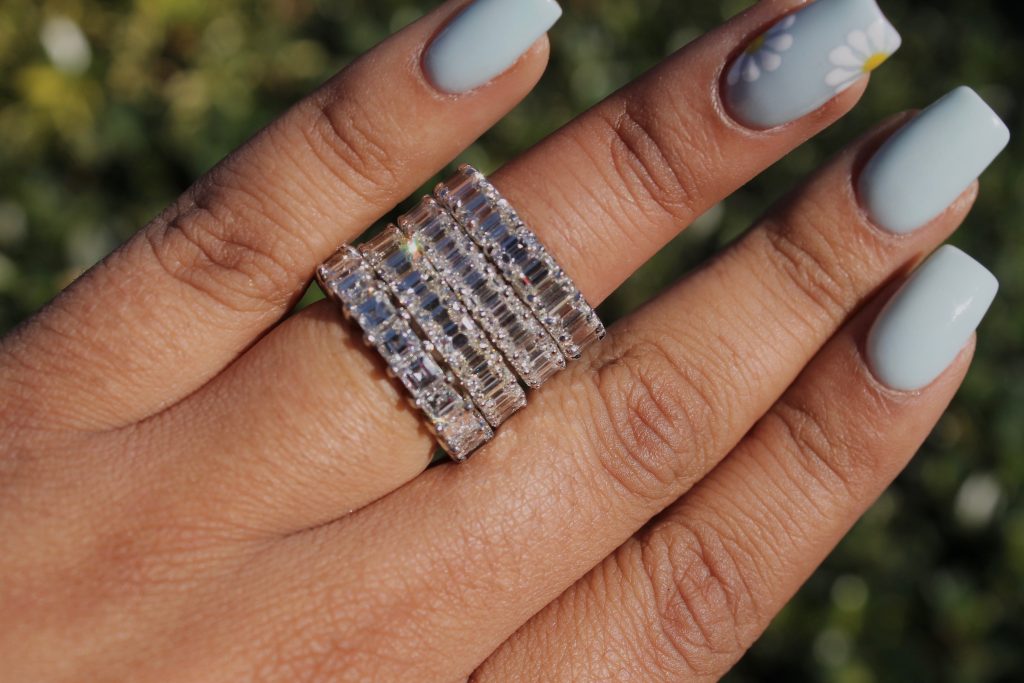 How much
When it comes to the price that you should pay for a diamond band rings it really depends. There are quite a couple of different factors that will affect how much you pay. The first and most obvious is of course the precious metal that you choose. That maybe a certain carat of gold or other precious metal like platinum. Each of these come with their own price points. This is based on the rarity of the metals. Then of course there are the actual diamonds set in your diamond band ring. The price of your ring will be significantly swayed depending on the size and quality of the diamonds. Then of course there are the diamond 4 C's. These are the be all end all for diamonds when it comes to their price. A quick refresher here on these different categories to look at when considering diamonds.
$2,995
The Cut of the Diamond
This will also affect the look of your diamond band ring as the cut will determine the general shape of the ring. There are three main aspects to look at when it comes to the cut. These are below and they are important because of the diamond cuts will fall into a different category for each one of these.
Fire: this is the scattering of white light into all the colors of the rainbow
Brightness: the internal and external reflection of white light from the diamond
Scintillation: the amount of sparkle a diamond produces, and the pattern of light and dark areas caused by reflections within the diamond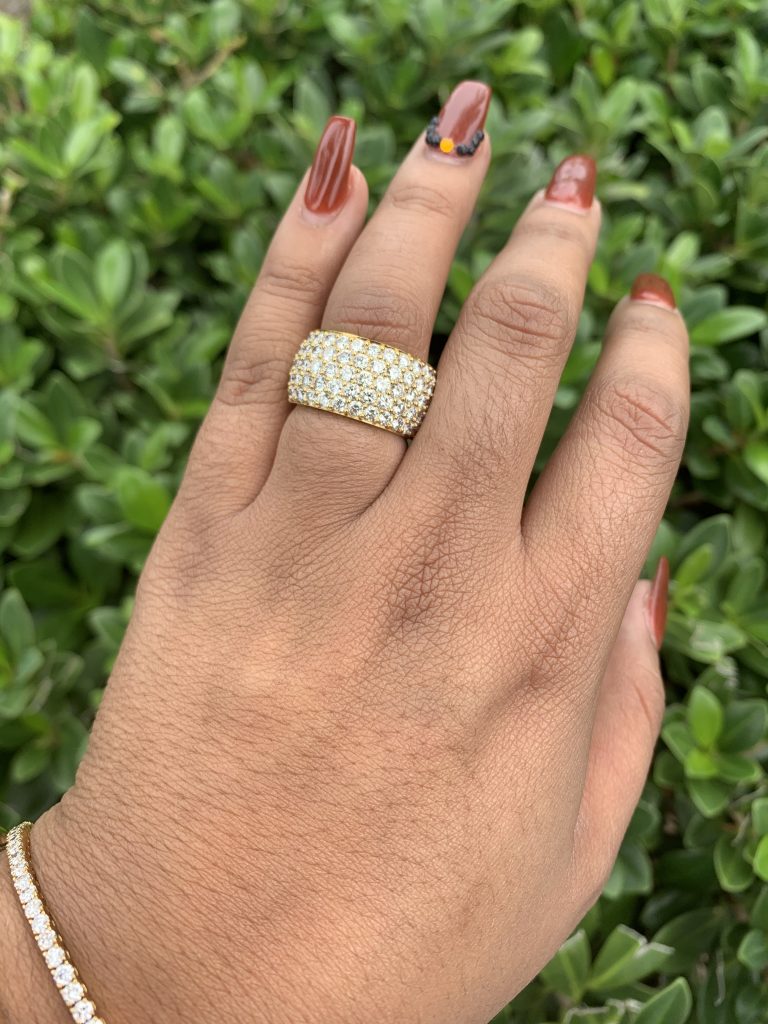 $3, 995
The Color of the Diamond
In general the diamond band rings that are worn as diamond wedding rings or diamond anniversary rings are white diamond rings. Although this is also changing with ring stacks in particular. These tend to feature all kinds of precious metal colors and even some colorful pink, yellow or even black diamonds too.
$6, 930
The Clarity of the Diamond
This is measured by the absence of blemishes or imperfections in the stone. It is a particularly important feature for emerald cut engagement rings for example. Since the cut does not allow any space to hide blemishes that may appear in the diamond.
$14, 995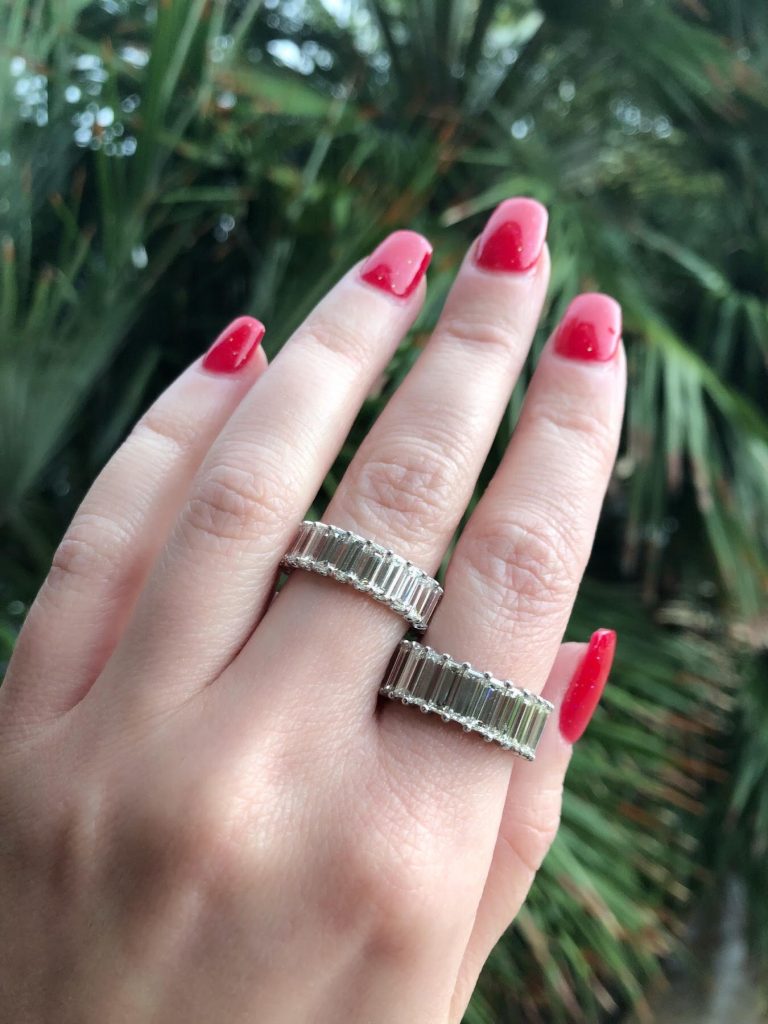 The Carat Weight of the Diamond
The carat is the standard for weighing diamonds and is further split into 100 "points". Each one of the points weigh 2 milligrams and can be split further and further down.
$20, 794
As you might have noticed the prices of the eternity band rings we are showcasing here can be radically different one from the other. This is particularly relevant because of the 4 c's of each of the diamond bands. As well as of course the metal and the setting itself. Some stones and metal designs are more difficult and intricate than others. This is how you can have diamond band rings that range from around $3,000 all the way up to $59,000 and beyond. The larger the carat of the diamonds as well as the quality and other features the higher the price can go.
$59, 000
Diamond wedding rings
So now that we have a better understanding and overview of these diamond band rings let us get to the question of when. As we have said it is not always diamond wedding rings that use diamond eternity bands. These rings have become much more popular lately now to be worn as such. However this was not always the norm. The diamond band rings were generally for diamond anniversary rings. Further these were not always eternity style rings either. A majority of these bands tended to be half bands. Featuring diamonds set along only half of the ring's length. The diamond wedding rings we have show cased above are of course the eternity ring style where the diamonds are set all around the ring. This style is quite a difficult setting to create but gives a dazzling look like no other.
All diamond anniversary rings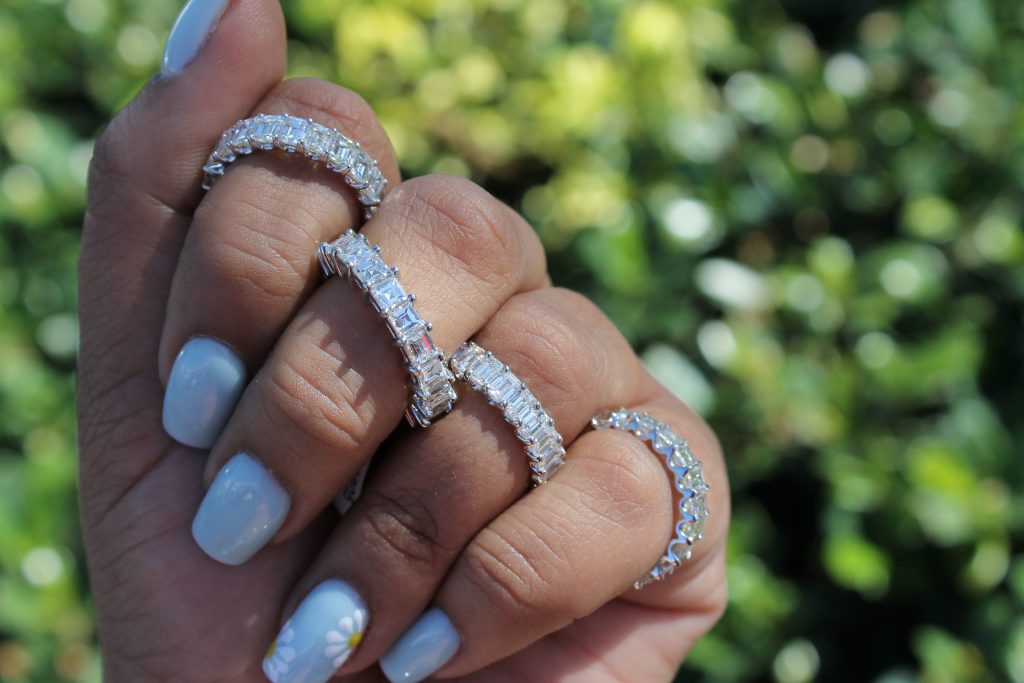 If you are looking for an all diamond band ring as your diamond anniversary ring then you are right in tradition. It is one of the more well known gifts to give during anniversaries to brides. The anniversary ring can be worn on top of or stacked with the wedding and engagement ring. Otherwise it can be worn on the other hand as well. Diamond anniversary rings have been popular for decades. It is one of the more traditional looks when it comes to diamond band rings.
When to buy an anniversary ring
The question of when to buy an anniversary ring is a funny one. Before it was quite cut and simple you get one as a present for a particularly auspicious anniversary. However we are seeing more and more diamond wedding ring sets that feature three rings. The engagement ring, a diamond wedding ring and then a third diamond band – the anniversary ring band. This one is meant to be worn on top of the engagement ring creating a stack around it. So it can be purchased all together or after your wedding. How long after? Well that really is up to you and when you want to add it on! It also does not have to be limited to one single ring either. This is the kind of gift that just keeps giving. The look these days is to stack the diamonds and to stack them high. 
Where to buy diamond wedding and anniversary rings? Diamonds by Raymond Lee
Our family owned and family run local jewelry shop has been serving the South Florida community or the last three decades. We are proud of what we have built up over all of these years and are incredibly grateful to our clientele. From their refined taste and sense of community we have built up a wonderful group. Whether we get together at the stores in East or West Boca Raton it is always a good time. From the Diamonds and Donuts car show where we see some of the sickest sports cars and luxury jewelry. To the toy and community drives to help those less fortunate. Our friends and family that drop by make the work that we do just that much more worth it. Beyond our passion for gemstones and precious metals transformed into the finest jewelry people are our number one. That's why family is our main focus.
From ours to yours we want to make sure that there is something for everyone. For each and every big occasion in life. And of course for all of the just because moments in between. It is not by chance or a casual accident that jewelry is so intricately intertwined with life's big milestones. These are the fine accessories and life long pieces that everyone can love. And of course like every thing else that really matters these are never once off moments. Which is why we are a full service jewelry store with an in house workshop. We have master craftsmen on call for any and all emergencies. Whether that is fixing up with a jewelry repair, adding on some special stones or creating the fine jewelry piece of your dreams. From luxury watches to jewelry. All of this and even more is possible at Diamonds by Raymond Lee.
Our locations
Check out all of the diamond band rings featured in this article and so many more at one of our stores. You can visit us any day of the week in both East and West Boca Raton. Below are all of our opening and closing times. As well as our address and contact information in case you want to speak to someone. Feel free to reach out or just drop by. We would love to welcome you!
Email: in**@di******************.com
East Boca:
East Boca Local Jewelers: 2801 N Federal Hwy, Boca Raton, FL 33431
Hours: Monday – Friday 11 am – 7 pm | Saturday 10 am – 5 pm | Sunday 12 pm – 5 pm
Phone: (561) 623 – 8205
West Boca:
West Boca Local Jewelers: 22191 Powerline Road #12 b, Boca Raton, FL 33433
Hours: Monday – Friday 10am – 6pm | Saturday 10am – 5pm | Sunday Closed Phone: 561 – 990 – 4977