Gemstones are the talk of the jewelry industry these days, and although gemstone jewelry has been around for centuries, it has never been done in ways like now. Moreover, gemstone jewelry has never been so ubiquitously sought after. Sapphire and emerald jewelry have become "must-haves" for modish and classy women across the world. And it's not just jewelry, women want watches with gemstones too! Gemstones, gemstones, and more gemstones…So, what the people want, Diamonds By Raymond Lee gives them.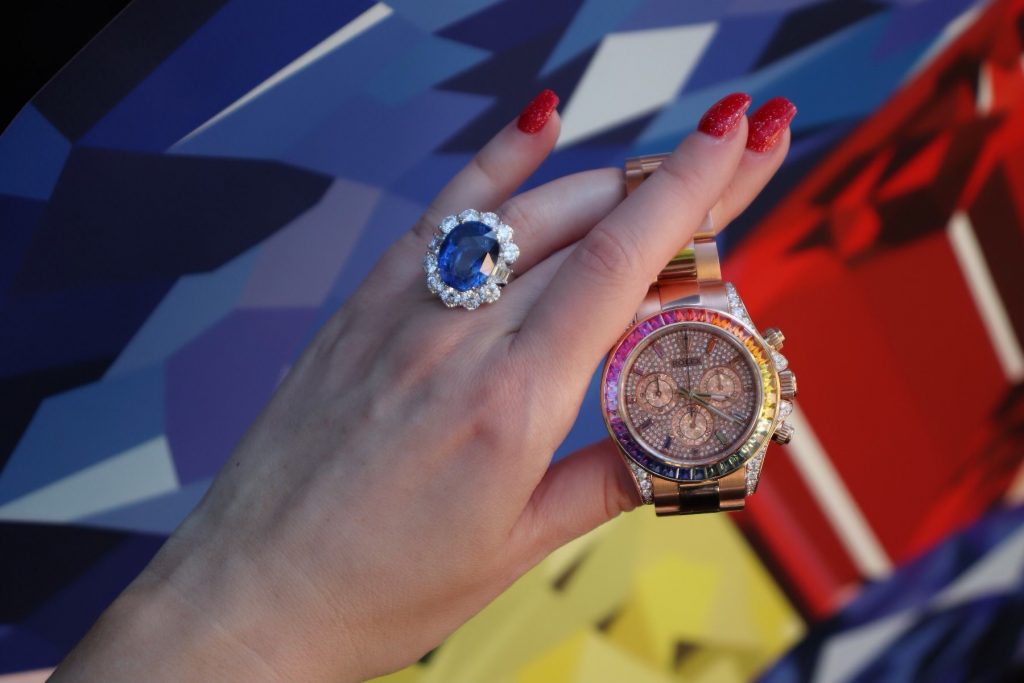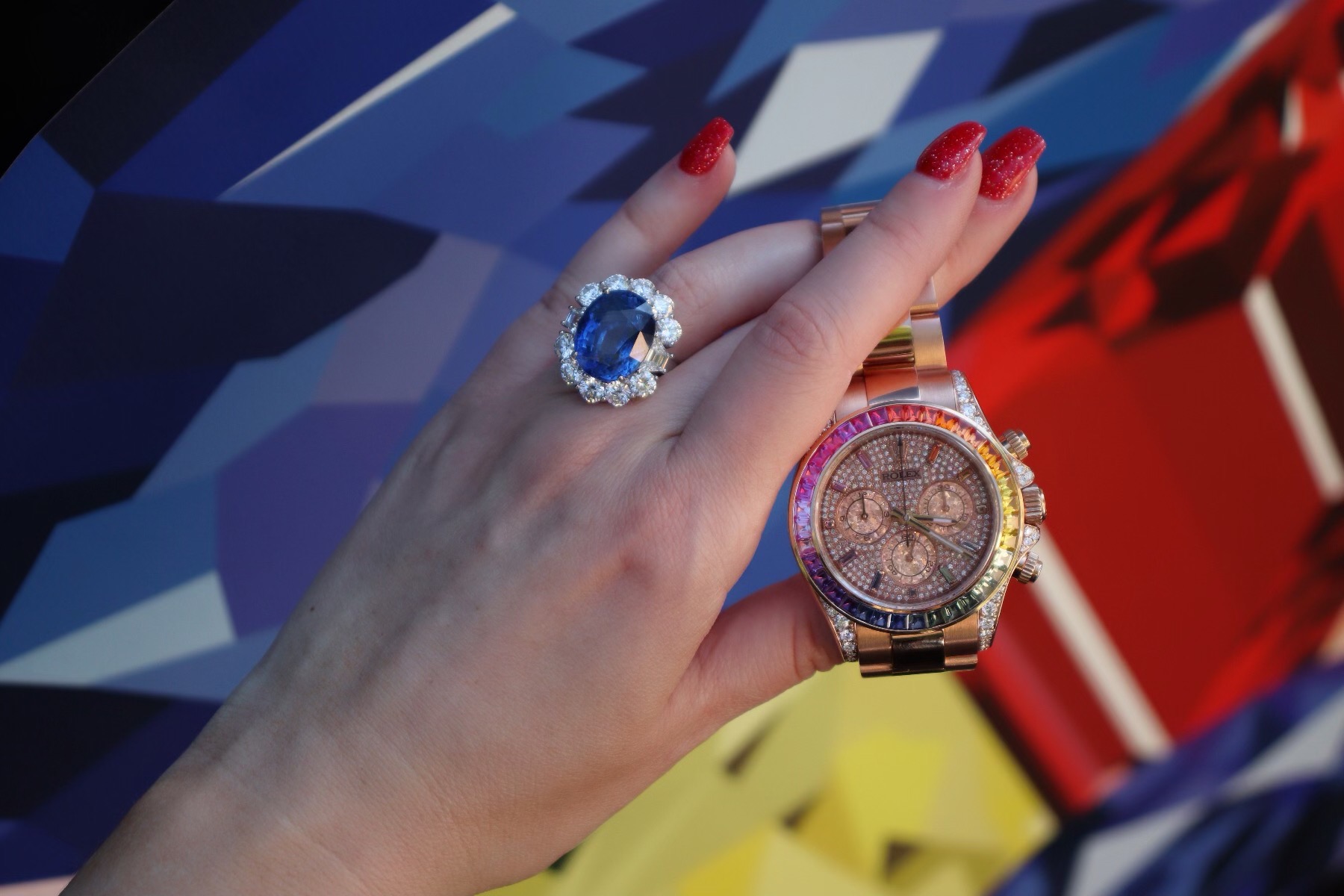 Today, we are presenting to you multiple styles of gemstone and diamond jewelry and watches. These ensembles are sure to brighten up your outfit and your day. They are sure to captivate all those around you. And we are sure you are going to fall in love with what we have in store for you.
THE BEST GEMSTONES FOR JEWELRY AND WATCHES
Although there are many gemstones in the world (200 to be exact), only 4 are labeled as precious gemstones.
Can you guess what those four precious gemstones are?
What makes a gemstone precious and semi-precious?
Gemstones are categorized by precious and semi-precious based on their degree of beauty, hardness, durability, and rarity.
Because of this, only diamonds, emeralds, sapphires, and rubies have a high enough degree in all categories to be considered precious.
Note: It's not all about rarity, as there are other gems that are rarer, but they are not "precious".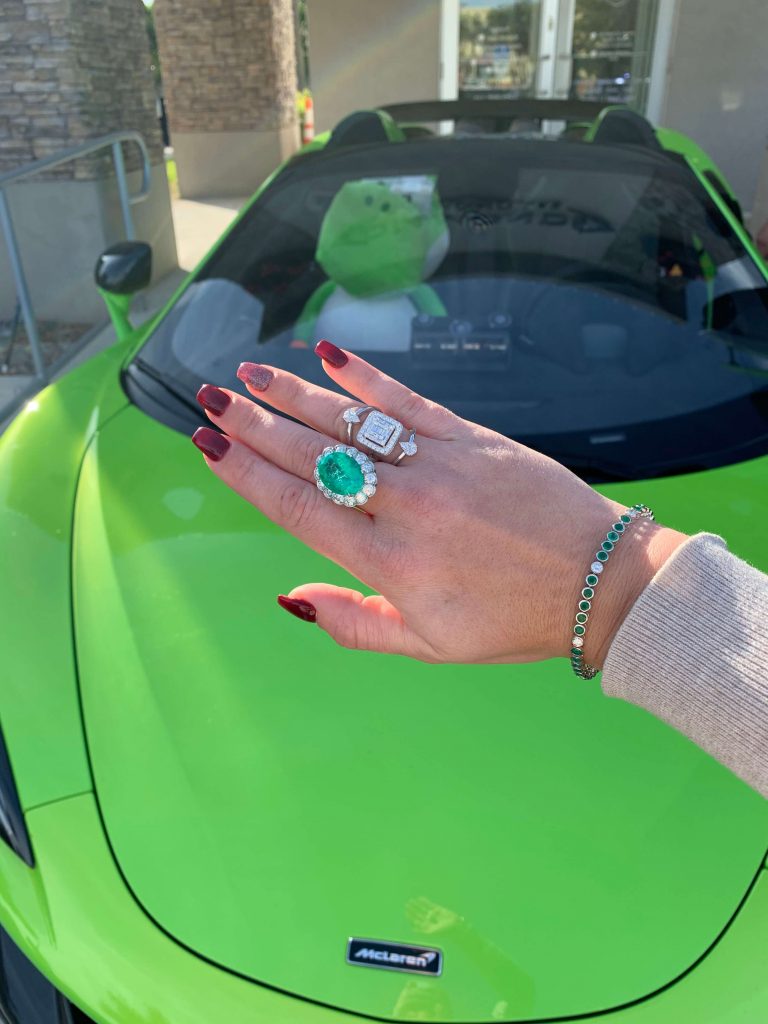 Sapphire & Emerald Jewelry
Today, we want to focus on Sapphires and Emeralds.
Why?
As we all know, diamonds take the top spot for the most popular gemstone in the world. Nevertheless, all four precious gemstones are highly sought after…
So, again, why are we only focusing on sapphires and emeralds? 
Well, sapphires and emeralds have really taken over the spotlight when it comes to colored gems. People want sapphire and emerald jewelry more than ever…
Yes, they've always been coveted, especially by royalty. But they've never been hotter and more ubiquitously desired than they are right now. 
So, although we cherish our rubies at Diamonds By Raymond Lee, we are going to let them sit on the sideline for this post. And in regards to diamonds, we regularly feature diamond jewelry and watches, so we are sending them to the bench for this one as well…for now.
Today, the main focus is going to be on sapphires and emeralds, which will give us all the colors we could ever ask for.
Sapphires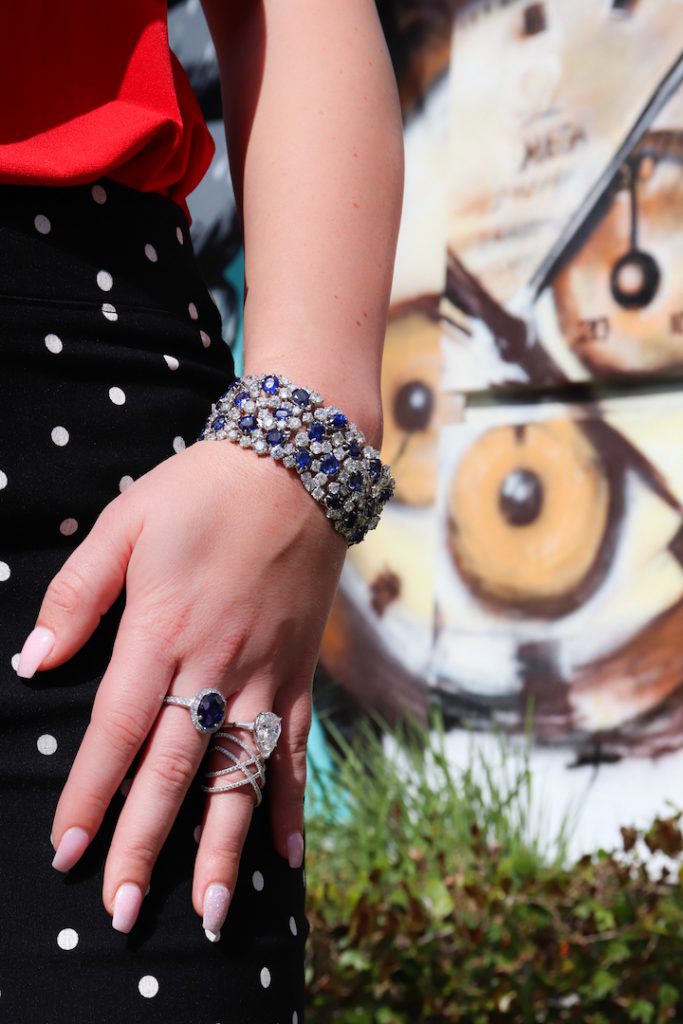 When people think of sapphires, they immediately picture a beautiful, vivid BLUE stone. And while the most common sapphires are in fact blue, they form naturally in a multitude of colors, hues and shades.
Sapphires are formed naturally in the following colors:
Blue
Green
Orange
Yellow
Pink
Colorless
Black
All of which can range in hues and intensity (light to vivid). Moreover, many sapphires have hues of other colors within them. All of these details affect the price of any given sapphire. 
No two stones are alike!
Note: Being darker and more vivid doesn't equate to more expensive. There are a lot of factors involved.
Fancy Sapphires
Any sapphire that is not blue, black or colorless is a "fancy sapphire" or "parti sapphire".
The most talked about fancy sapphire is the Padparadscha sapphire, which is a rare peach colored sapphire.
Natural royal blue, cornflower blue and Padparadscha sapphires are the most expensive, as they are the most desirable across the board. 
The second hardest gemstone that exists
Sapphires are the second hardest gemstone, just after diamonds. This means they are extremely durable, which makes them perfect for jewelry. Not to mention, they are absolutely stunning…
Now, while we could write a book on sapphires, as there is so much to learn about them, we will leave it here…for now.
Emeralds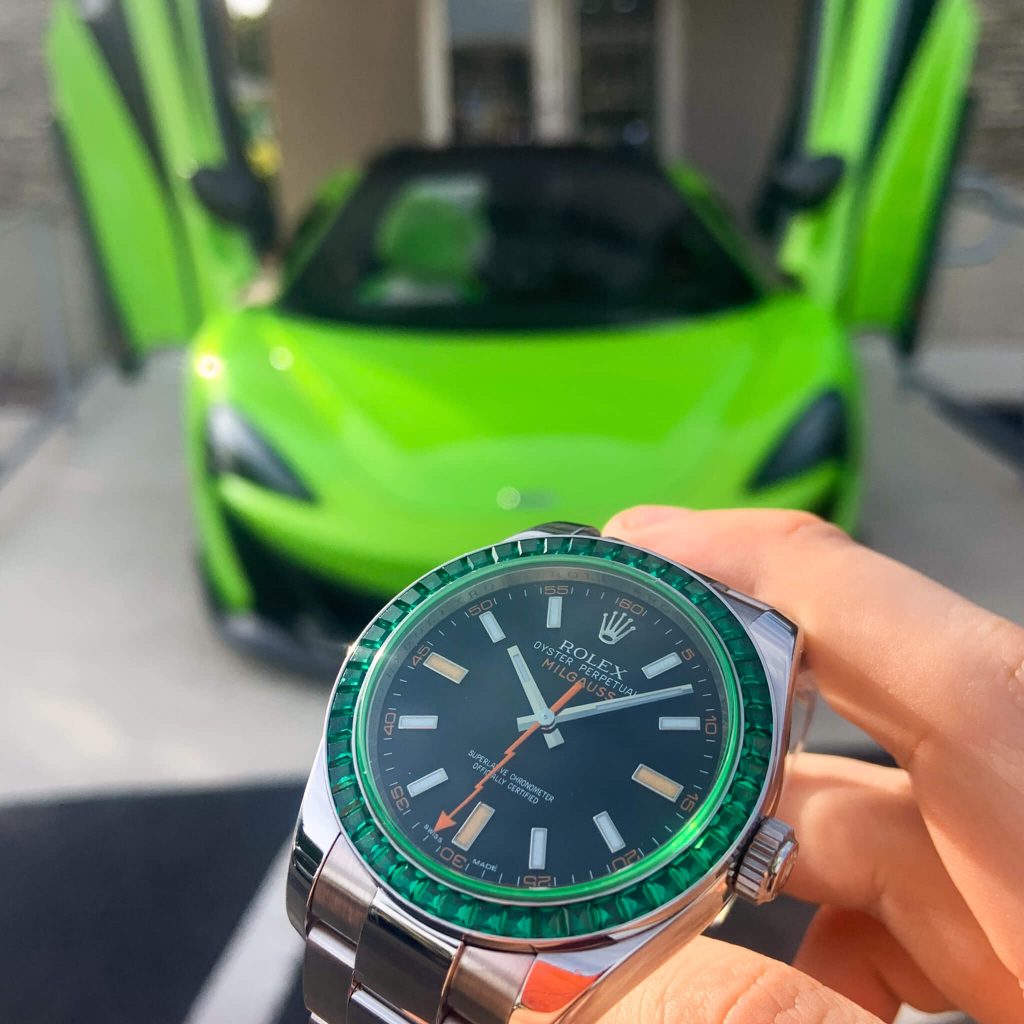 When people think of emeralds, they think "green"…and they are right. They range from light green to very dark green in tone.
That said, emeralds often have a blue or even pale yellow hue to them. The most expensive and desirable emeralds are rich forest green and slightly-blueish green. People want emeralds that are highly transparent yet vivid at the same time.
Emerald Hardness
Emeralds are hard gemstones, but they are softer than sapphires. On the Mohs hardness scale, sapphires are 9 while emeralds are 8.
Put simply, they are very hard, but they are liable to crack. However, in jewelry form, it would be a very rare circumstance for them to crack.
Why do we need emeralds when we have green sapphires?
That is a good question. The answer is simple though, emeralds are more vivid than green sapphires, which is why they command a high price per carat than green sapphires.

When looking at the two, you can see the difference and infer why people would choose an emerald over green sapphire jewelry. Moreover, the finest green sapphires are very rare (they come from Sri Lanka). The less rare green sapphires are simply not as stunning. They are still great, but overall, the general consensus is they don't compete with the beauty of an emerald if you want a green gemstone. Plus, emeralds hold a lot of status. 
Another very important aspect that differentiates the two is sapphires have trigonal crystals while emeralds have hexagonal crystals. This gives them a noticeably different appearance. 
What is more expensive a Blue Sapphire or an Emerald?
If we are talking about an equally stunning and sought after version of the two, they are priced very similarly. When it comes to pricing emeralds and sapphires, it all depends on the color (hue, tone and saturation), and inclusions.
Generally speaking though, sapphires are more common and they are more often found with fewer flaws, so they are more expensive.

As for popularity, since sapphires come in a range of colors and good quality sapphires are more commonly found, they are more popular and you will see sapphire jewelry quite a bit more. Moreover, they are quite a bit more versatile.
SAPPHIRE AND EMERALD JEWELRY & WATCHES
Now, let's have a look at some stunning sapphire and emerald jewelry and luxury watches that are available at Diamonds By Raymond Lee in Boca Raton. 
Note: The jewelry will also contain white diamonds as they offer stunning contrast when paired with sapphires and gemstones. This is an omnipresent jewelry design practice. People crave the combination. So, although the center of attention is the colored gem, diamonds are coming off the bench now as we can't win the game without them…so to speak. As for some of the watches, they will be diamond-free, as there is enough juxtaposition between the gemstones and the watch itself. 
Blue Sapphire & White Diamonds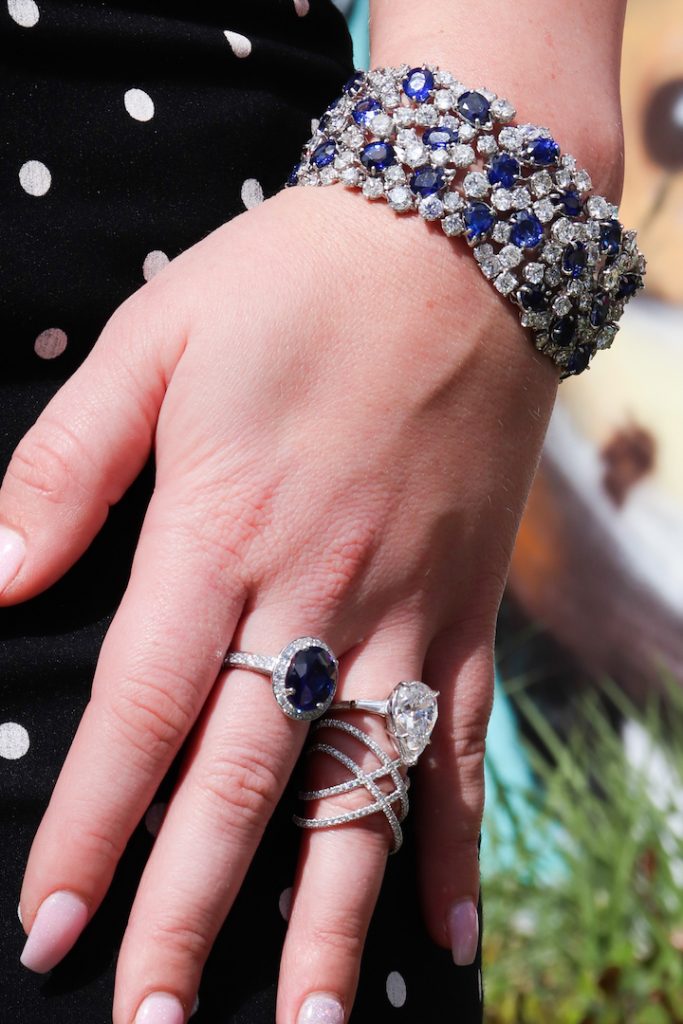 Let's start with a classic and classy look, blue sapphire and white diamond jewelry.
This ensemble provides a powerful look that immediately declares elegance, sophistication and spending power. The contrast of white diamonds and blue sapphires is simply hard to beat. It is just so aesthetically pleasing. Especially with pieces of this magnitude. 
The free form sapphire and diamond bracelet is imposing in size and if the overall carat weight is known to those around you, they will surely drop their jaws in shock. And that's not even taking into consideration the massive rings. 
Together with the pear diamond engagement ring, double crossover diamond band, and royal blue sapphire halo diamond ring, this set up is as regal as it gets. 
Emeralds, Emeralds, and more Emeralds…Oh, and Diamonds too!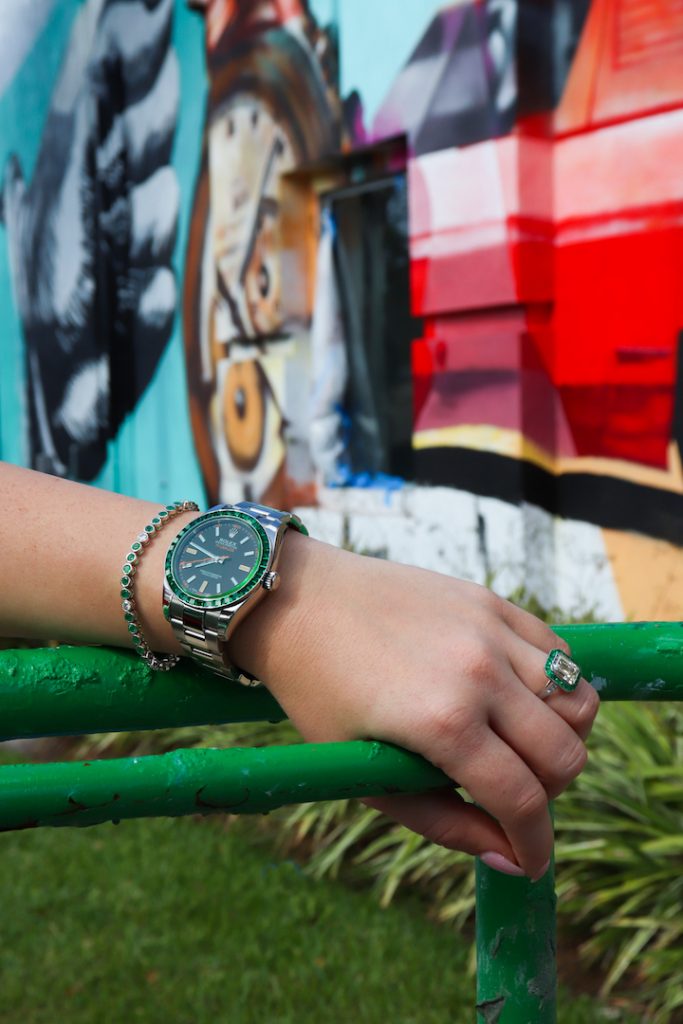 If anyone ever said to you a woman wearing a men's watch is wrong, they were sadly mistaken, and this picture is pure proof. 
The Rolex Milguass GV 116400 with an emerald bezel is so perfectly unisex it's almost surprising. This is a watch that will not look out of place on the wrist of a man or woman. As such, it is the perfect watch to share with your lover 😉
What's more, there is no better gemstone for a Milgauss GV than emeralds, as the emerald bezel goes with the green sapphire crystal and orange accents on the dial as if there was no other option than for it to be there. 
Match. Made. In. Heaven.
Then, to take this jewelry ensemble to the next level, we have a Platinum 3.15 Carat Diamond Emerald Halo Engagement Ring and a White Gold 4.20Ctw Emerald And 0.96Ctw Diamond Bezel Set Bracelet. Have you seen anything more stunning? More perfectly GREEN? It's undeniably gorgeous and it naturally offers a feeling of calmness and peacefulness in a way that most extravagant pieces like it could never do. That's the beauty of emeralds….
Learn more about the custom emerald bezel Rolex Milgauss GV 116400.
Rainbow Rolex with Rainbow Jewelry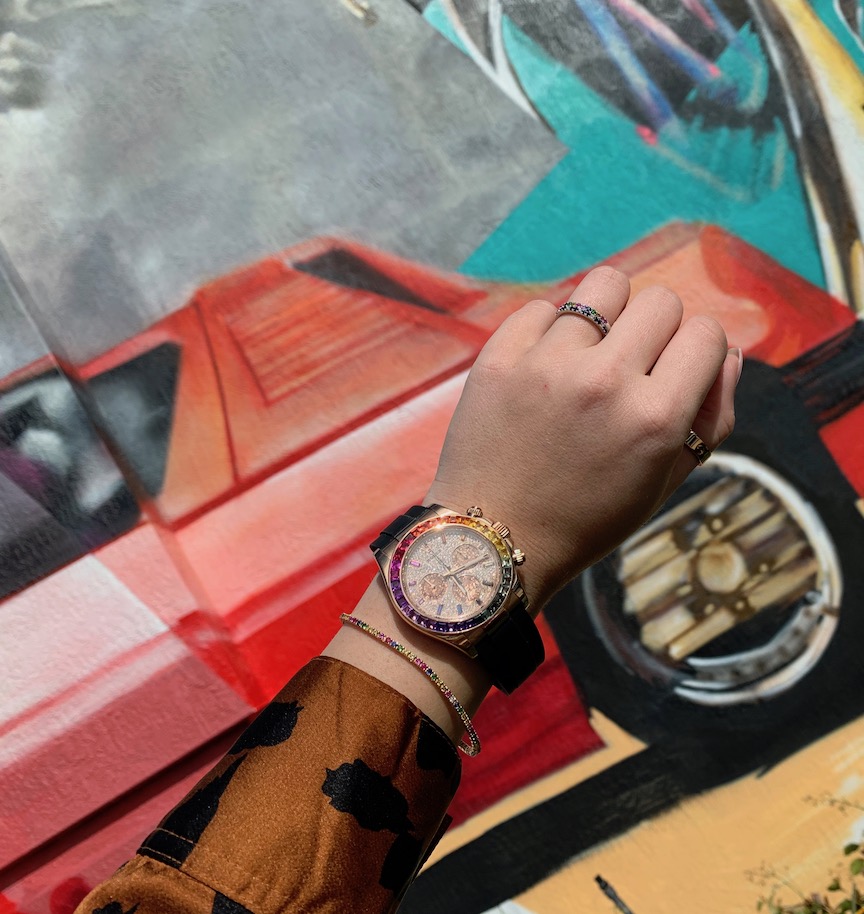 As you can see, we love the three piece ensemble – (multicolor) bracelet, watch and ring.
This one features a gorgeous rainbow tennis bracelet, an aftermarket Rainbow Rolex with an Oysterflex strap, and a rainbow ring. What are all those gemstones? Sapphires, of course!
Is there a better way to brighten up your day than with multicolor jewelry and a Rainbow Rolex? We think not. For women who love their colors, this is an everyday wear that will surely impress even the most neutral of people.
Learn more about how we created this absolutely breathtaking aftermarket Rainbow Rolex 116515 using a rose gold Daytona. You won't see an aftermarket Rainbow Rolex more identical to the factory Rainbow Rolex Daytona than this one. Our on-site watchmaking specialist is an absolute genius with his craft!
Want a custom gemstone watch or piece of jewelry made exactly to your liking? We do custom jewelry and watch designs too! Everything is done on-site at our state-of-the-art workout.
Taste the Rainbow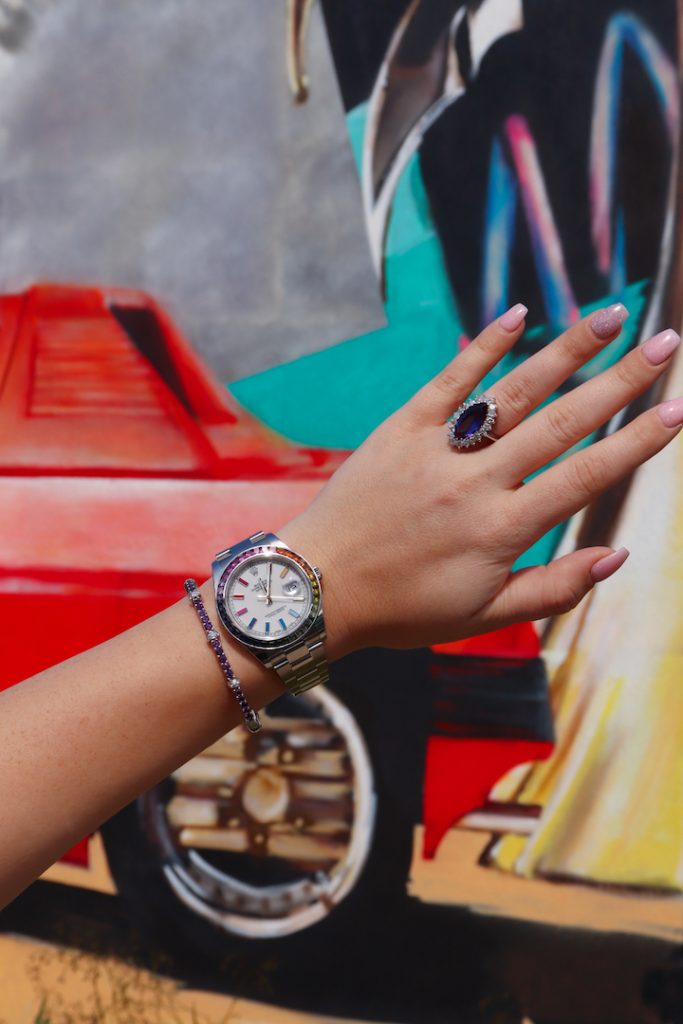 Here we continue with our multicolor theme and three piece ensemble. However, this time we do things a little differently. We create harmony through distinction.
The precious metal of choice was white gold, so that's congruent throughout, as is the nature of the gemstones, sapphires! However, we used a purple & diamond bracelet with a blue & diamond sapphire ring.
Now, that might look strange if just those two were together. BUT, with a Rainbow Datejust 126300 at the center, it pulls the bracelet and the ring together in a wonderfully coordinated way. That's another reason we love the Rainbow Rolex, it allows us to play with colors in ways that otherwise might seem a little off.
That said, we love mixing and matching colors! So don't get us wrong. Mixing up colors in terms of clothing, gemstones and precious metals is a super hot, care-free style that we personally appreciate. However, for this post, we wanted to create the perfect symphony of jewelry.
Where to buy gemstone jewelry and watches?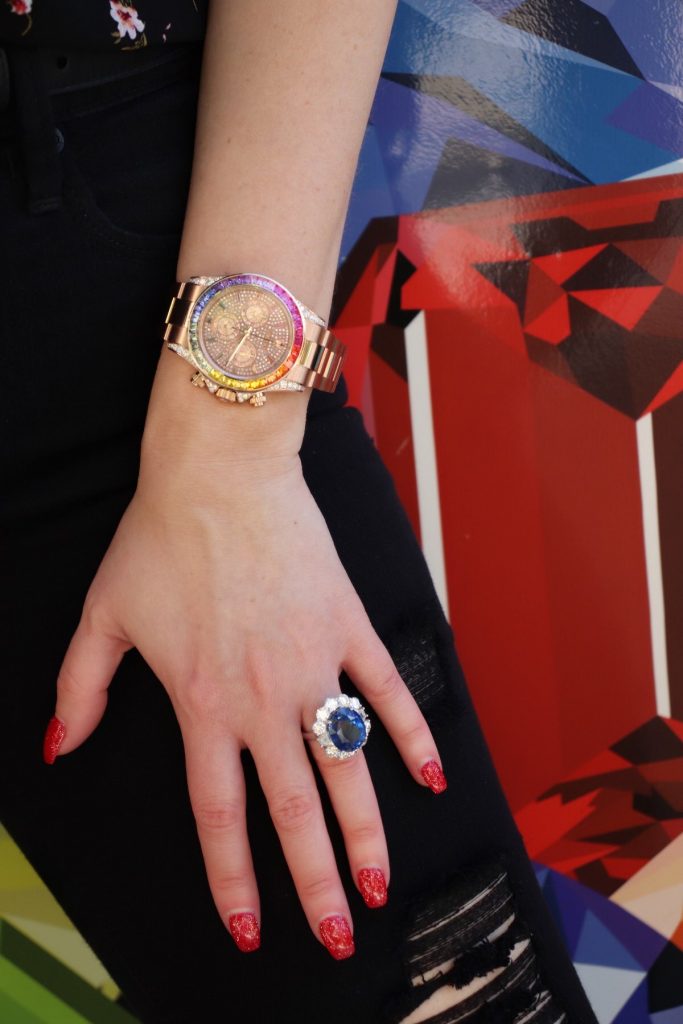 There's no better place than Diamonds By Raymond Lee in Boca Raton. All of the sapphire and emerald gemstone jewelry and watches that you see in this post are available now at our state-of-the-art showroom…plus many more. We also have fancy colored diamond jewelry that will blow you away.
There's no better way to brighten up your outfit and day than with gemstone jewelry and gem-set watches!
Want to see more?
Visit our online store for more gemstone and diamond jewelry and luxury Swiss watches
See more jewelry at Raymond Lee Jewelers (our original flagship jewelry store)
Have questions or you want a specific piece in this post? Feel free to contact us!
Let us know what your favorite ensemble was in this post in the comment below!