Diamonds and luxury watches. These are the accessories of a luxury lifestyle. Combine the two and you have an unbeatable combo. Picture the finest luxury watch. A Patek Philippe with diamonds. That is the ultimate luxury lifestyle look. This week we have got an iced watch to feature. The Patek Philippe with diamonds – a bust down Patek – the Patek Philippe Nautilus diamond watch. It is all diamonds everywhere. The ultimate and bad ass glitter and glam time piece. It is an eye catching look for the gentleman looking to impress. A best dressed choice, a Patek Philippe iced out is perfect for a total luxury iced out look. The stainless steel iconic watch featuring emerald cut diamonds around the bezel as well as pave set round diamonds in the face of the dial and along each link. It is a one of a kind iced out symbol.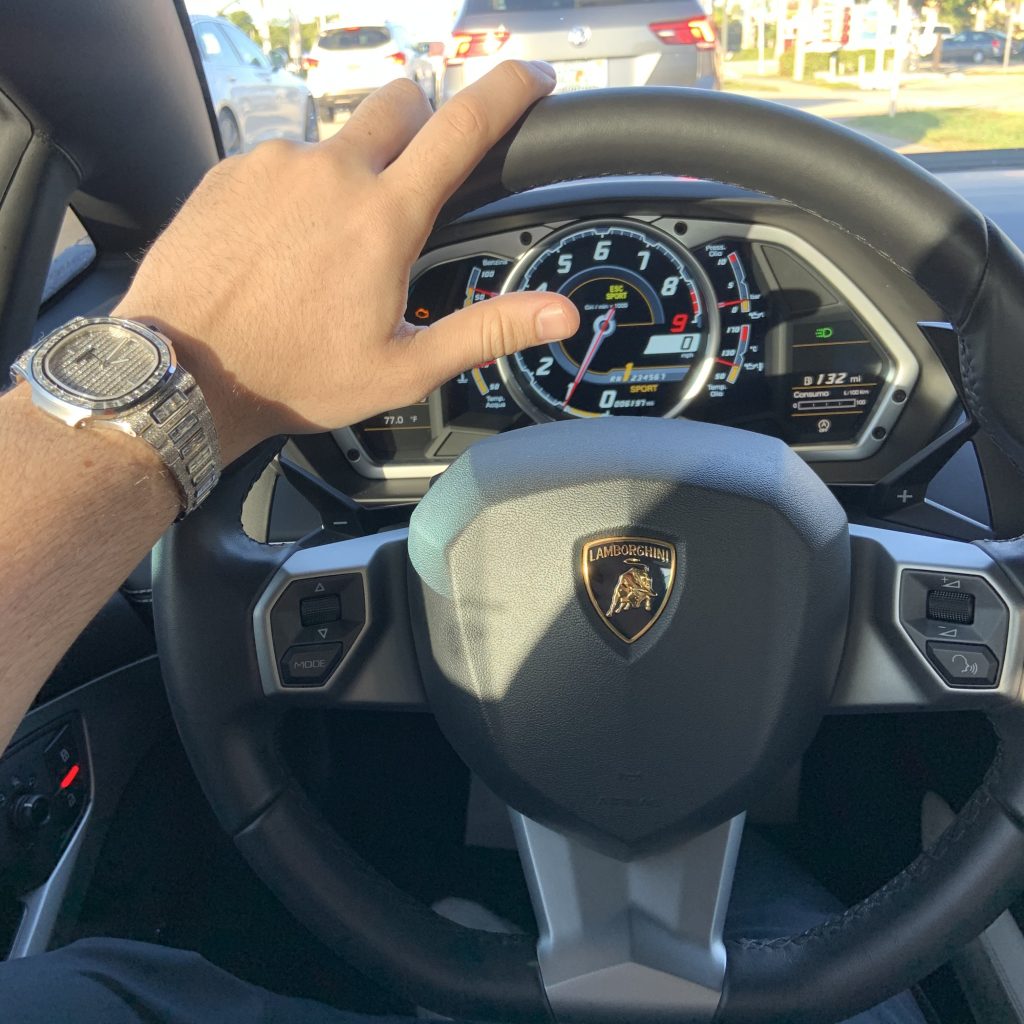 The saying goes that diamonds are forever right? Well we say you should ice out all of your fine jewelry. Specially when it comes to luxury watches. The combination is perfect. That is how you can take the luxury watch that is the peak of the brand, the industry and luxury style to the next level. That is the edge of innovation and of course personalisation. When you bling out a luxury time piece you glam it up with ice. It is what we aim for when dressing up the luxury watches and fine jewelry in our collection. It is a masculine feel that commands attention. In a fine and glamorous style the question is what watch do you glam out? Is there a Patek Philippe iced out version? Yes there is – the bust down Patek. An iced watch truly beyond your average luxury lifestyle accessories. Patek Philippe Nautilus diamond.
Luxury watch brands like Patek Philippe with diamonds?
When it comes to luxury time pieces and watches from the world's leading brands Patek Philippe is one of the top. While they might not be the most well known or even instantly recognizable to most the Patek Philippe watches are leads. Anyone who is passionate about watches or has been collecting them for a while will know a Patek when they see one. These unique watches are some of the finest in the industry. A subtly masculine look and some of the finest machinery within there are a couple of features that make a Patek. An iconic classic these watches have achieved cult classic status. From their initial creation in Geneva in 1839 to today they craft some of the best luxury watches out there. Widely considered to be one of the leading brands in the world it is no surprise how ultra luxurious these watches are.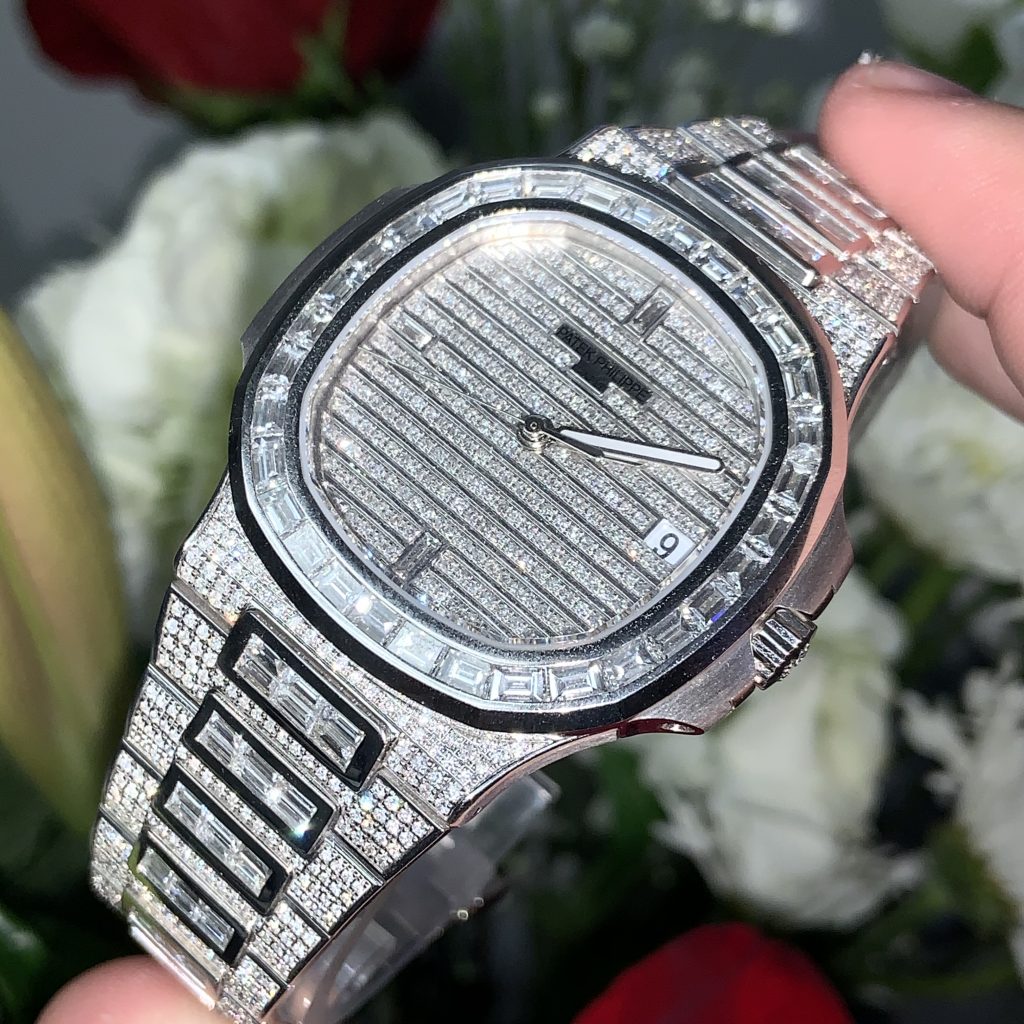 That is why there is no far jump to consider when you think about a luxury watch like these with diamonds. The world's most precious and well known stone the glittering and glamorous diamonds go hand in hand if you will with a Patek watch. While we see certain other watch brands like Rolexes for example frequently feature a few diamonds the Pateks are a bit different. The Rolex watch has become the icon of personalization and adding gems. However the Patek Philippe diamond watch is a different animal. Not everyone is changing up a Patek with diamonds. Nor can your average watch owner or collector afford a Patek Philippe diamond watch. The watches Patek Philippe with diamonds tend to be totally iced out. Featuring an entire assortment of different diamonds set all along and all around the time piece itself. That is their secret for truly stunning and striking.
Iced watch options
The all diamond iced watch options are not always for everyone. This is after all a quite unique look that focuses predominantly on the incredible array of different diamonds. These tend to be of different diamond cuts but most of the time they are all one color. The most popular of course being white diamonds. These iced watch options tend to be for large open faced watches. It truly accentuates both the generally bold and stunning designs of the watches. As well as of course offer wide open spaces for the diamonds to shine. Many of the iced watch options that we see tend to be on very unique luxury watches. Ones that even in their own right not iced out look so stunning. Adding on the iced out option is of course just another way to add on glamour for the luxury life style. It is never too much.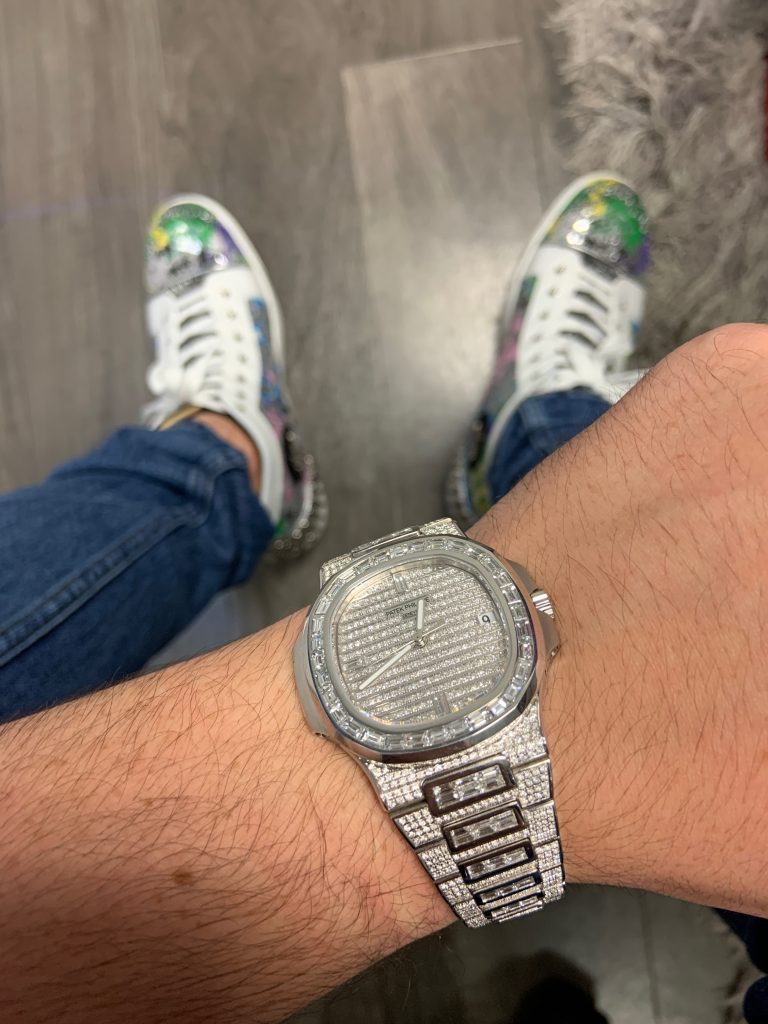 Each iced watch has its own features and unique look. Some of them feature different color diamonds. Meanwhile others have several different cuts of diamond. Each diamond is of course unique. Even if they are the same size and color. So a luxury watch like the Patek Philippe Nautilus diamond will absolutely be unique. Since the watch is of course a top luxury watch you would not want to go for lower quality or clarity diamonds. You want the price point of the luxury watch to match the diamonds that you are coating it in at the end of the day. This is a personalization or modification that truly stays with the watch for a lifetime. And if you are buying an iced out watch you want to be sure that this also remains true. The master craftsmen at our stores have checked out this Bust Down Patek for this.
Is there a Patek Philippe diamond watch? Yes – Patek Philippe iced out
We absolutely love this Patek Philippe diamond watch. It is one of the very best iced out watches in our opinion. An extremely valuable brand of luxury watch to own in any event the Nautilus – the watch we are featuring iced out here this week – is particularly valuable. You might not expect that it is available as an all diamond studded time piece. However with great value comes great opportunity. The super valuable watch is turned up a notch with the addition of rows and rows of diamonds. Stated as the world's most desirable steel luxury sports watch adding diamonds makes it absolutely irresistible. The wait time for these watches can be up to 8 years in the United Kingdom! So having a Patek Philippe diamond watch available right now? That is real exclusivity. Something that we pride ourselves on at Diamonds by Raymond Lee. Quality, prestige, versatility and significance.
Bust Down Patek Philippe Nautilus diamond watch
The Nautilus watch is an undersea beauty. A definitely sportive look of absolute elegance it pairs the most essential elements for a luxury sports watch in one. Epitomized as one of the most elegant watches in the market the Nautilus switches this around with the athletic look in a feel of luxury. Created since 1976 it is a vintage style look. The ingenious porthole construction of the watch is an absolutely splendid model. Active lifestyle of luxury and glamour. This is the ideal and perfect choice. That is how we got to the iced out Patek Philippe Nautilus diamond edition. It is an elevation of the luxurious and glamorous look. A favorite for the men who are not afraid to attract attention. This gorgeous watch is all white diamonds on stainless steel for a monochromatic look of totally pure elegance. But it is all about how you rock it though.
You can rock it out all on its own. Or you can pair it up with some other iced out luxury jewelry. For example bracelets for men. A cuban link bracelet for example coated in diamonds would be a gorgeous accessory to this luxury watch. Or even a Cartier bracelet would look absolutely stunning with this Bust Down Patek. We prefer as you might have already guessed the iced out version featuring diamonds all along the bracelets as well. This makes for a stunning contrast and absolutely beautiful texture. A large ring with diamonds or precious stones can also take this watch up a notch even further! Diamond studded jewelry always pairs well with diamonds. An arm party that is truly happening is mixing this watch up with other iced out jewelry. Bringing together the best of the best is turning the page to the future. It is luxury lifestyle.
Where to buy an iced watch like the bust down Patek Philippe? Diamonds by Raymond Lee in South Florida
If you are interested in buying the luxury Patek Philippe Nautilus diamond watch that is featured here just reach out to us. This time piece and many other luxury iced watch options are available at our show rooms. Conveniently located in both East and West Boca Raton they are expertly designed for your comfort. You can come in and have a look at all of our time pieces. If you are busy searching for the perfect watch that you would like speak with one of our watch experts then. They can not only help guide you on which of the watches are best suited to what you are looking for. Further they can search for those limited and special edition pieces you might be interested in. Finally if you already have a luxury watch like a Patek Philippe that you want to get iced out you've found the right place.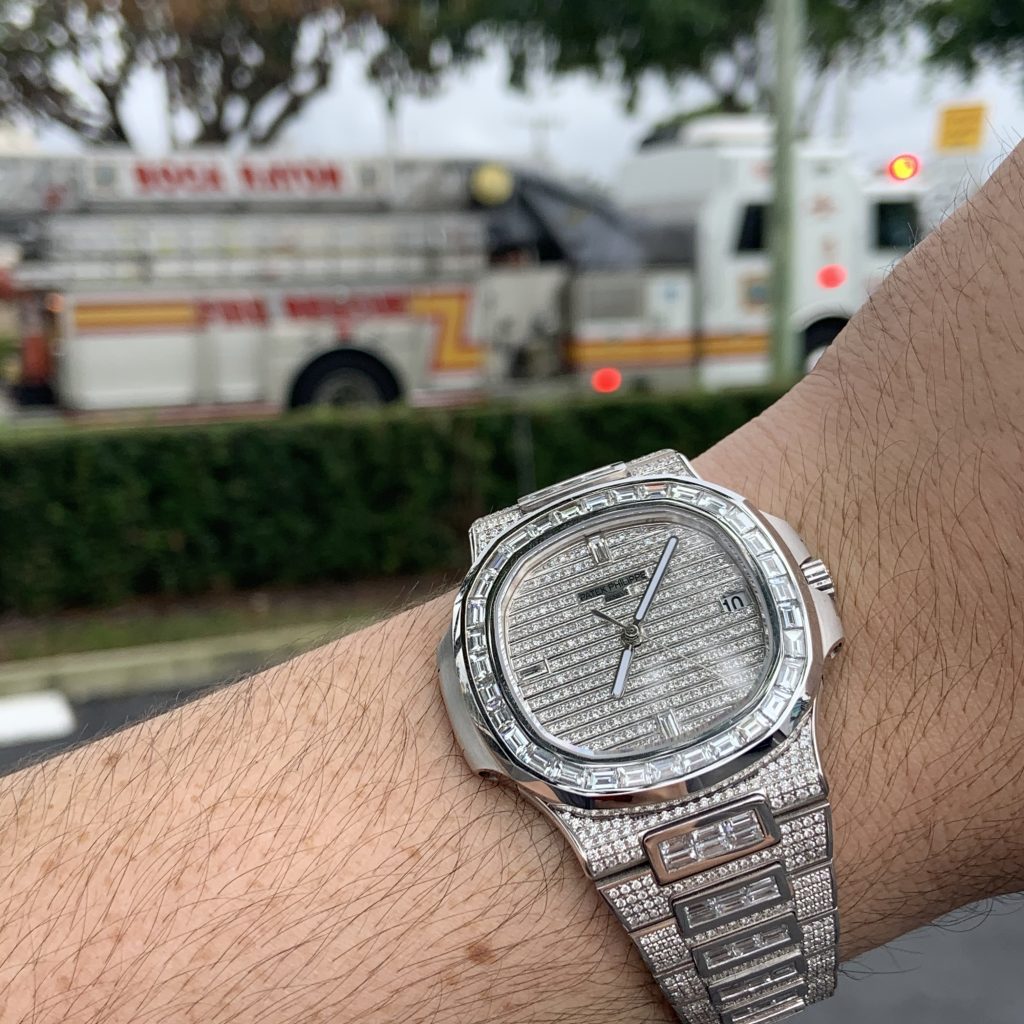 We offer bespoke custom services at all of our stores. With state of the art technology and a full service in house workshop we can ice out your luxury watch for you. Secure and guaranteed quality we will walk you through the whole process. Our designers can sit with you and figure out exactly what it is that you are dreaming for your time piece. Then finding the right diamonds to fit out your watch. And finally getting the stunning final piece going! It can all happen right here at your local family owned and family run jeweler. If you want to find a watch to ice out there are of course oh so many options in our widely curated collection. You can choose your perfect piece and then get it iced out with all of the diamonds that your heart desires. All right here at Diamonds by Raymond Lee.
Our locations
Feel free to reach out to us on email or by phone any day of the week. Our team of diamond experts would also love to welcome you into any of our showrooms. So come and join us for an ice cold local craft brew or a glass of our finest champagne while we check out the iced out luxury watch for you!
We can show you around our extensive collection of luxury watches and let you have a peek at our workshop. Here we keep the machines and cutting edge innovative equipment that lets us inspect watches and diamonds like the ones featured here.
Email: in**@di******************.com
East Boca:
East Boca Local Jewelers: 2801 N Federal Hwy, Boca Raton, FL 33431
Hours: Monday – Friday 11 am – 7 pm | Saturday 10 am – 5 pm | Sunday 12 pm – 5 pm
Phone: (561) 623 – 8205
West Boca:
West Boca Local Jewelers: 22191 Powerline Road #12 b, Boca Raton, FL 33433
Hours: Monday – Friday 10am – 6pm | Saturday 10am – 5pm | Sunday Closed
Phone: 561 – 990 – 4977