The Rolex submariner luxury watch is a dive watch legend. From gracing the wrists of numerous A-list celebrities to its many appearances in the James Bond franchise, the Rolex submariner luxury watch has become one of the most recognizable and coveted timepieces in the world. Furthermore, the line is varied and offers options in either an all 904L stainless steel, two-tone steel and gold, or solid 18k gold. Today, we have the privilege of comparing two of the most iconic Rolex Submariner references – the 116610 and 116613.
A Brief Rolex Submariner History
The Rolex Submariner was originally developed as a purpose-built professional diver's watch, meant to cater to the scuba diving community. The Rolex submariner first hit the market in the 1950s; it was the first watch in the world capable of offering users a water-resistance rating of up to 100 meters.
Since its original release, the Submariner has been a part of Rolex's portfolio. It has grown to become one of the brand's most successful and popular models of all time. The Rolex Submariner has evolved in a variety of ways. The watch currently boasts a depth rating of 300 meters. Despite the numerous modifications and continual evolution, the Submariner remains easily recognizable as the same diving watch that debuted more than a half-century ago.
You can use each aspect of the Rolex Submariner while submerged in water. Rolex has worked tirelessly over the years to refine and keep improving on its original design. However, while most watch collectors – or even expert scuba divers – would never find themselves 1,000 feet below the water's surface, the brilliance required to accomplish such a feat has earned the Rolex Submariner much admiration and respect among watch collectors. 
Examples of Rolex's legendary dive watch is on the wrists of countless individuals around the world. This includes both divers and non-divers.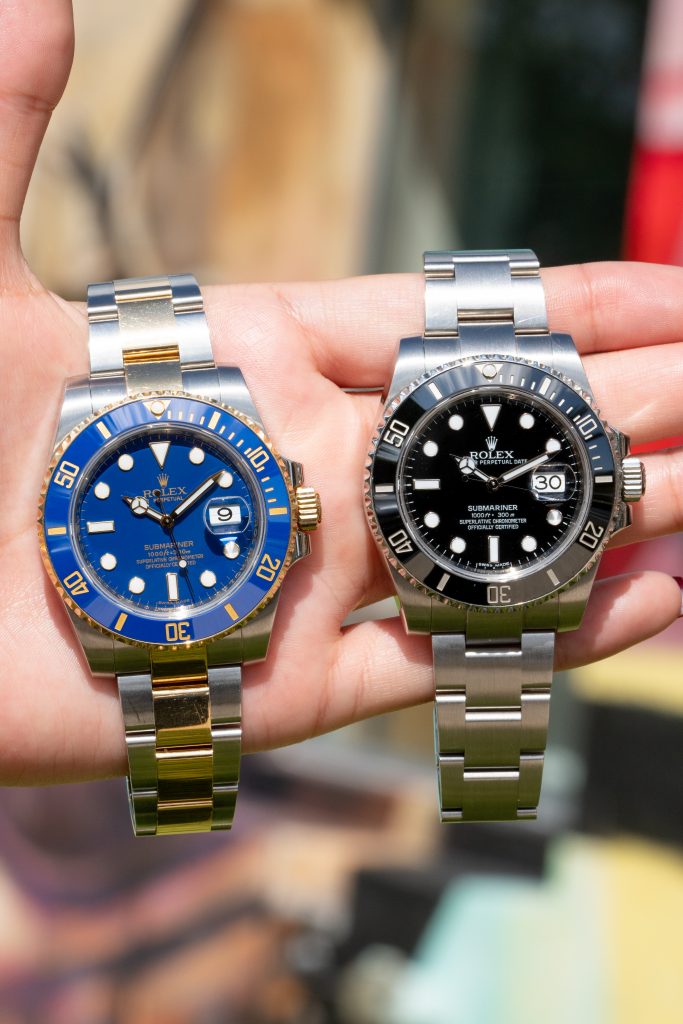 Rolex Submariner Date 116610LN Review
Over the years, the Rolex submariner luxury watch has steadily evolved. Over the years, the Rolex submariner luxury watch has steadily evolved. The Submariner only became better, more accurate, and more dependable as new horological innovations appeared. Many of this innovations came out patented by Rolex. One thing that hasn't changed is the Submariner's distinctive design. While watches have increased in size over time, the Submariner, which began as a 36mm watch in 1955, expanded through time and now stands at a bigger yet conservative 40mm size than it does now.
It wasn't until 1966 that Rolex added the Submariner Date to the long line of Submariners. Completed with the Cyclops lens which magnified the date display, the Submariner collection now offered a new feature. This made it one of the most recognizable symbols of a Rolex watch.
Rolex Submariner 116610: The Dial
The Rolex submariner luxury watch stainless-steel hands are also infused with luminescent material, providing for optimum visibility in low-light settings. At three o'clock, the Cyclops lens rests on top of the date display, magnifying the date.
The black dial features applied luminescent hour markers featuring polished steel rims and a printed second's track. You can find this on the perimeter. The hour markers use a combination of different shapes: 3, 6, and 9 o'clock positions used index hour markers. More so, all other hour markers aside from the triangle hour marker at the 12 o'clock position using a round shape.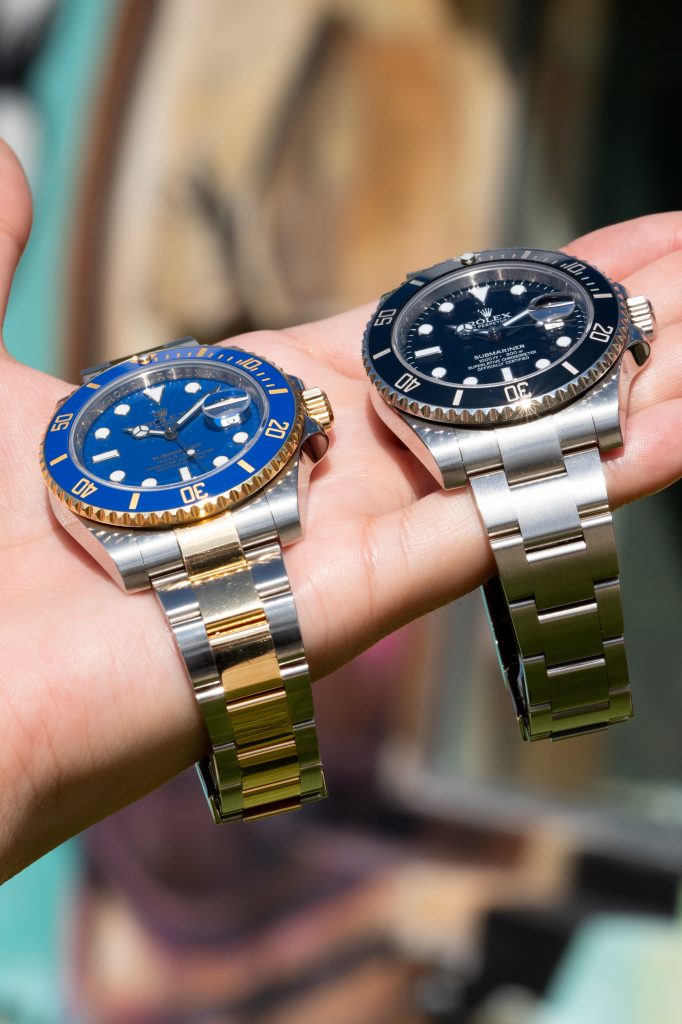 Rolex Submariner 116610: The Movement
The 116610LN is currently driven by the in-house Rolex 3135 Automatic movement, after various mechanical calibers adorned the casings of the Submariner throughout the years.
The guardian of time oscillator consists of a balancing wheel and Rolex's unique magnetic resistant blue Parachrom hairspring. It is useful in the 31 jewel 3135 movement. However, a spring that, when compared to most movements, surpasses typical hairsprings ten-to-one, even when subjected to shock.
Besides to the remarkable oscillator design, it is a Swiss-made chronometer that underwent many tests by COSC. Aside from the fact that the 3135 is a COSC certified caliber, it, like all mechanical Rolex watches, received further adjustments once it went back to the Rolex manufacturer after receiving its prestigious mechanical pedigree at COSC.
These in-house adjustments bring the accuracy up to -2/+2 seconds per day precision and this is over twice as accurate as a certified COSC chronometer.
Rolex Submariner 116610: The Case
Rolex designed the 40mm case with 904L of steel and is 13mm thick. It's a nice size for everyday use and not as thick as the Rolex Sea-Dweller or Deepsea watches. Moreover, the front of the case and lugs on this model use a satin/brushed finish with polished bevels and edges and crown guards.  
Nonetheless, the crown is also polished and uses a patented Triplock locking system ensuring that the crown screws-down to the oyster case. This, along with the screwed-down solid steel case back locks the crown and tightens the case with the same security as a submarine hatch allowing for an up to 1000ft / 300m water resistance rating.
Rolex Submariner 116610: The Bezel
The 116610LN features a bezel that rotates in a single direction. It emerged from polished steel with a grippy ribbed edge. The bezel has a black Cerachom bezel insert. Nonetheless, this ceramic bezel is highly resistant to the color fading associated with exposure to ultraviolet rays. 
More so, this material is also very scratch-resistant and is great at avoiding corrosion. The bezel features a luminous dot at the start position and matte silver-toned numbers and graduated indices.
Rolex Submariner 116610: The Bracelet
The Submariner 116610LN comes with an Oyster bracelet designed with 904L Oyster Steel. It uses Rolex's Glidelock extension system that allows you to easily make adjustments to the bracelet's size. This contraption allows for up to 20 millimeters of total adjustment in 2mm increments. 
The steel bracelet has a nice brushed finish with polished edges, fastened with a folding safety clasp with a safety latch. Primarily designed for maximum comfort and long-term use.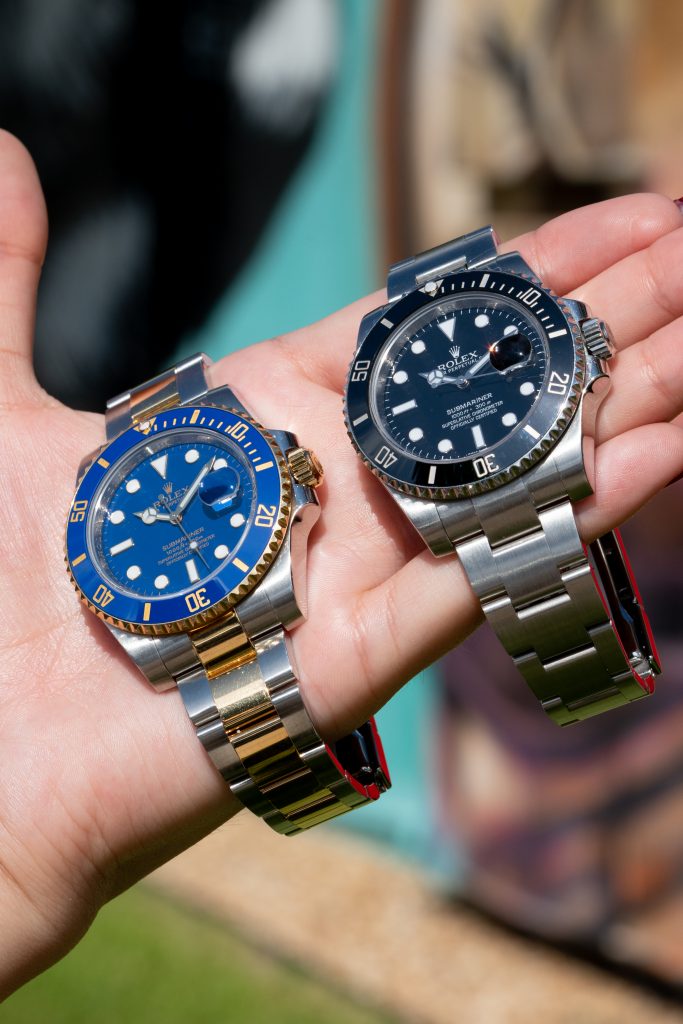 Rolex Submariner Date 116613LN Review
Rolex Submariner 116613: The Movement
Before talking about the aesthetic beauty of the Submariner 116613, let's tear it apart from the inside out. One of the things of beauty that you can't see is Rolex's in-house caliber 3135, the 31-jewel automatic movement.
Moreover, it features Rolex's proprietary magnetic resistant Parachrom hairspring. This self-winding wrist bling will run for approximately 48 hours on a full wind. The highly precise caliber is first COSC certified and then brought back to Rolex for further testing until it reaches a minimum accuracy of -2/+2 seconds per day. 
Rolex Submariner 116613: The Durability
This watch, like most Rolex watches, is built tough and solid. Rolex decided to apply some of their innovative hallmarks to this watch. Moreover, features such as the highly scratch-resistant Cerachrom ceramic bezel insert which fights the color fading normally associated with long exposure to UV rays.
Rolex Submariner 116613: The Bracelet
Another very convenient feature is built into the bracelet and buckle. Rolex's patented Glidelock Extension System on the clasp allows you to easily make quick 2mm changes to the bracelet size for a total of 20mm.
Rolex Submariner 116613: The Water Resistance
While the Rolex submariner luxury watch does have great water resistance at 1,000 feet/300 meters, which is great for scuba diving or board diving, you would need a different type of diver's watch to go much deeper than that. Furthermore, the Rolexes that offer a greater level of water resistance include the Sea-Dweller at 4,000 feet or the Deep Sea at 12,800 ft / 3,900 meters. The good news is that the Submariner uses a screw-down crown with Rolex's Triplock locking crown so things will be on lock-down.
Rolex Submariner 116613: The Size
The Rolex submariner luxury watch ref. 116613 is a 40mm watch which is an averagely sized watch. However, the trend for men's watch sizes is growing and watch sizes, in general, are getting larger for both men and women.
Rolex Submariner 116613: The Visibility
The electric blue dial has great visibility offering a stark contrast between its gold-rimmed luminous hour markers and lumen-filled hands and dial. You'll also see Rolex's "Mercedes" hour hand which is pretty hard to miss, even in the dark.
Furthermore, The Cyclops date magnifier is another very distinctly Rolex feature. Aside from being highly visible under low-light conditions, this watch has lots of wrist presence. From the sapphire blue dial to the many polished parts of the patented Rolesor it provides extra shine and will become one of the accessories that will add so much to your look.
Rolex Submariner 116613: The Price
One of the things that set the Rolex 116613LB apart from other Submariners is the list price. For a new one, at $13000, it's a notch above the entry-level Submariner Dates such as the stainless steel Black Sub 116610LN and the "Submariner Hulk" reference 116610LV.
However, since it uses two-tone steel and gold materials, it's not their most expensive all yellow gold or white gold models either. You can even pick up one that is a previously owned model for a few thousand less. Furthermore, In terms of pricing, the Goldilocks of watches would have said: "This one's just right." But if you want to buy one, get in line.
Is a Rolex submariner luxury watch a good investment?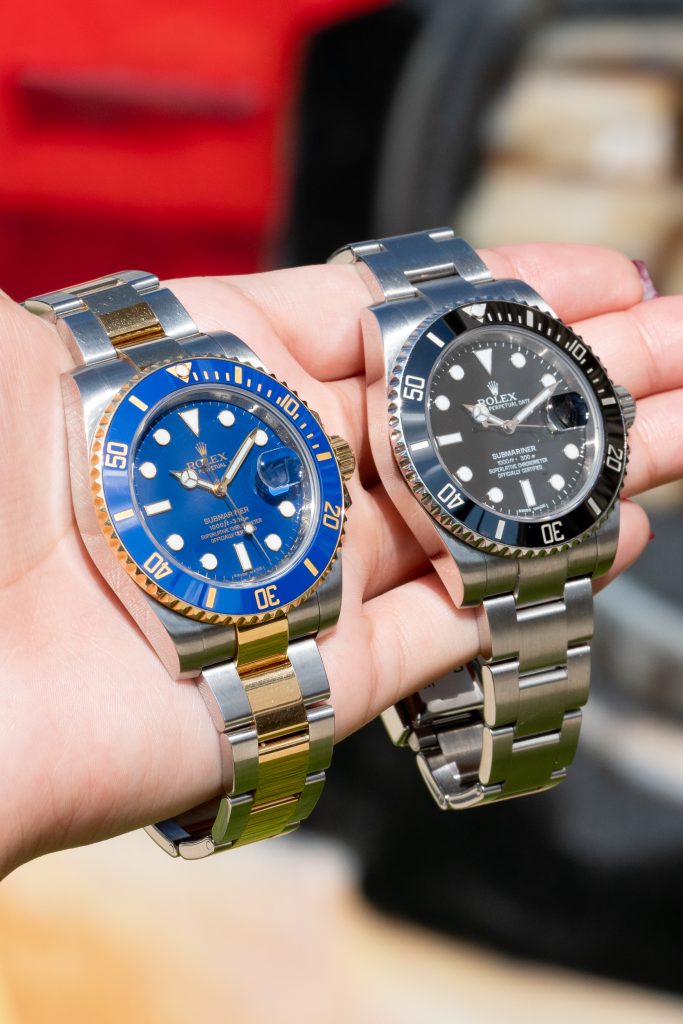 Investments are expected to increase in value. A Rolex, like any other consumer product, is doomed to lose part of its value the minute it is worn for the first time. Furthermore, even if you bought one, never wore it, placed it in a safe, and waited a long time, there is no assurance that it will increase in value unless the maker uses major market manipulation methods.
However, these things have both happened in the past. In fact, most Rolex sports models have recently surged in street value due to Rolex withholding inventory and limiting production. Most sports models will even sell at above retail price, especially stainless steel models.
So all that considered, a Rolex does have the chance of increasing in value at times like these, however, only if you had some kind of foresight to know that it will go up in value in advance of purchasing one. Furthermore, most people don't and therefore don't have the same status as a traditional financial security investment product or real estate. On the other hand, the Rolex submariner luxury watch, on average, will have a higher average resale value compared to any other watchmaker.
Where to Find the 116610 and 116613 Rolex for Sale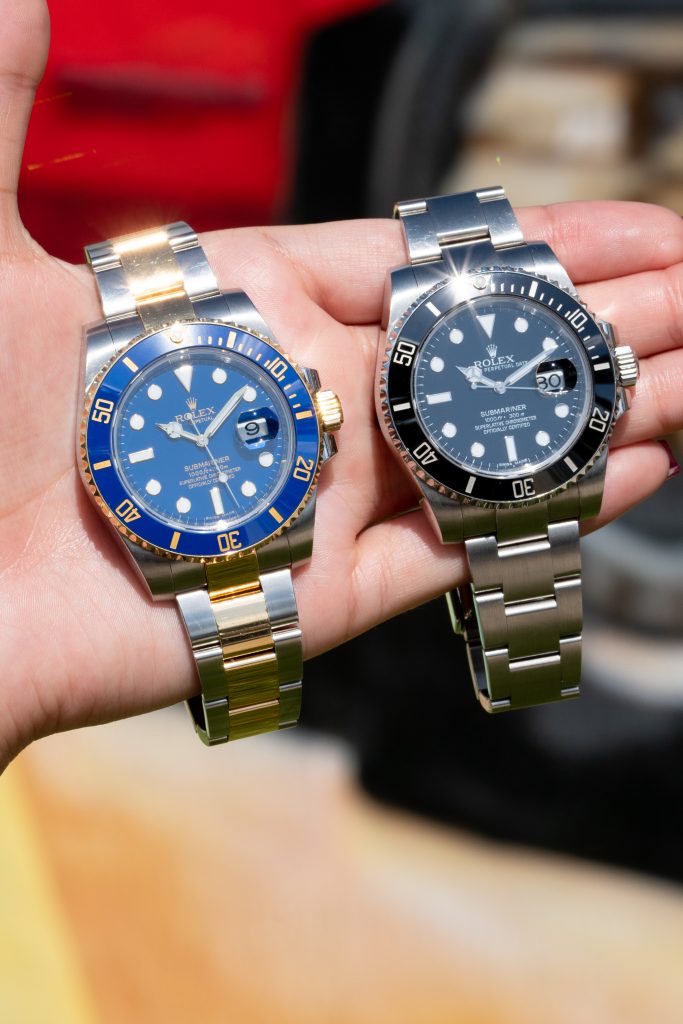 So, where is the best place to buy Rolex submariner luxury watch ref. 116610 and ref. 116613 watches? Both references were manufactured for roughly a full decade and are readily available in the market. However, where you choose to spend your money is an important decision.
Local jewelry stores could be a good alternative if you want to shop in person because you will be able to check the watch in person. Nonetheless, due to greater overhead, several jewelry retailers are unable to compete with online prices.
Furthermore, a jewelry retailer may not be as informed about Rolex Submariner watches as a timepiece specialist. If you want to get the best bargain, buying online is the best alternative.
Although Craigslist and eBay may appear to be appealing options, they are not necessarily the safest. Aside from the obvious risk of meeting strangers on Craigslist with a substantial sum of money, there is no way to be certain that the watch is authentic.
Furthermore, while these kinds of websites are well-known and respectable themselves, you are not actually buying the watch from the website, rather eventually getting the watch to just another user that wished to sell.
Rather, we recommend that you choose an online seller you can trust and that stands behind their products with a lifetime authenticity guarantee. Diamonds by Raymond Lee is the most trusted name in New and pre-owned Rolex submariner luxury watches and guarantees that any watch you buy from us is 100% genuine. More so, you can be rest assured that the watch you buy from us is completely genuine and competitively priced; every single watch listed on our site is in stock and ready to ship.