Skeleton Chandelier Santos: All-Diamonds or Multicolor Sapphires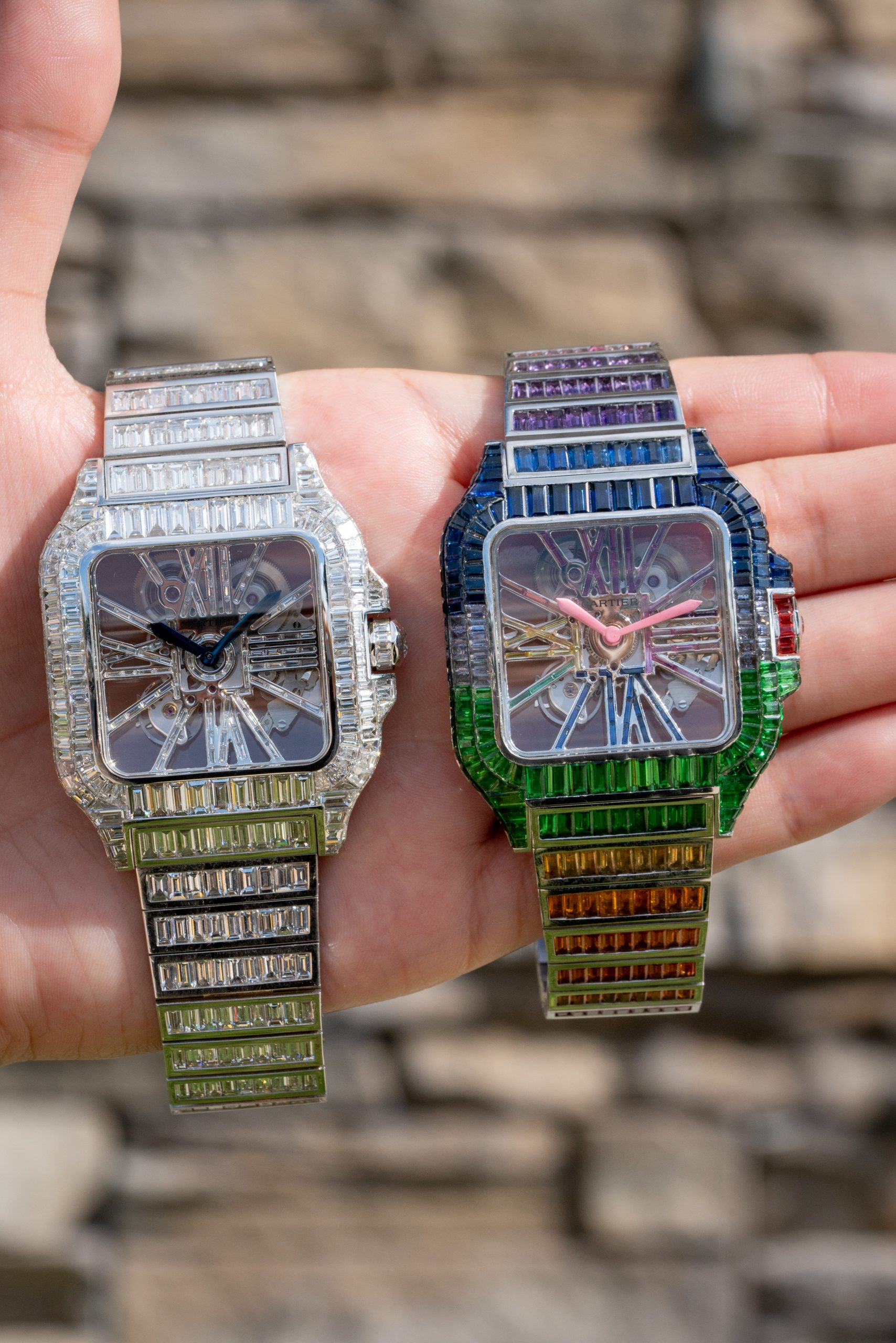 High-end accessories like the Skeleton Chandelier Santos watch by Cartier are a great choice for people who want something elegant, yet also bold and different. Cartier has a long history of being one of the most sought-after high-end jewelers in the world. In fact, during their long history, they have had an association with royalty and the upper classes. So it isn't a wonder that when we think of fine jewelry, this is a brand we think of. And, they make timepieces that are just as stunning as any ring or other piece of jewlery.
The difference with the skeleton Cartier de Santos watch is that you get something truly different and unique. The timepiece is already one of the most versatile accessories you can find. Add the bling and glamour of a Cartier piece and you get something that can make you the style icon of your peer group.
We all want to put our best face forward and give the best possible first impression we can. We do this with the clothing and accessories we choose, as well as how we carry ourselves. Most often, this impression will form without us ever saying a word and we only get one shot at a good first impression. So it isn't a wonder that the most stylish among us take great care when choosing their attire and accessories.
And you can't go wrong with a piece by Cartier, especially one as unique and eye-catching as the skeleton chandelier Santos de Cartier watch. The Santos line is one of their oldest and most popular lines and is still a favorite among discerning shoppers.
Versatile Accessories
It is hard to overstate just how versatile a timepiece really is. There isn't much a high-end watch doesn't pair with, even one as eye-catching as the chandelier skeleton watch. A quality timepiece adds an instant air of seriousness and professionalism, no matter what we are wearing. They can give us that put-together look of effortless polish as well. And the great thing about a great watch is that you can wear it with pretty much anything. It looks great on any social occasion.
There aren't many accessories that can effortlessly move with you from a day in the office to a night out with friends. But the Santos de Cartier watch is one of those. The line is really varied, so whether you want something that has classic and traditional design elements, or something a bit bolder, you can find what you want. The chandelier skeleton version of the watch is a bolder and more eye-catching model that has an edgy, urban look and feel.
This unique timepiece not only looks amazing with pretty much anything, but it is also an excellent blending of form and function. The internal workings of any Cartier watch will feature cutting-edge design and the highest quality materials available. These are watches that are meant to stand the test of time and go where you go. Comfort is a huge consideration in the design of this watch. This means you can wear it all day and not worry about the bracelet pinching or pulling your arm or hair.
You'll be surprised at how many different looks this stunning watch will pair with. From something formal to a pair of jeans and a t-shirt, this watch will take your style to a whole new level of elegance and class.
Take Any Look to a Whole New Level of Style
Anything you pair one of these watches with is instantly taken to a whole new level of style and glamour. Seeing all the sparkly gemstones that encompass the skeleton chandelier Santos de Cartier watch, it is no wonder that so many people covet this unique and stunning timepiece. Diamonds or any other precious gemstone will take an accessory to a higher level of style and elegance than it would otherwise have. When you are talking about many high-grade diamonds, this effect is just elevated all the more.
While this is a bolder and more eye-catching accessory, it is surprisingly versatile. Clear, high-grade diamonds and pure precious metals have a way of taking any look to a higher level of class and style. A nice business suit or a casual hip-hop-inspired outfit will really shine when you pair it with one of these watches. You can wear them with pretty much anything and go pretty much anywhere and not look out of place.
Whether you are looking for something that adds to your signature look or you want something to bring out on special occasions, a watch like this is a great choice.
The Cartier Difference
As we note above, Cartier has a long history of making some of the finest and most high-end jewelry available on the market. This French-born company quickly develops a name for itself as a high-class jeweler shortly after its foundation. The company would go on to provide custom pieces for a range of royal houses, including for the coronation of the king of England. This long association with royalty and the upper classes continues to this day. Cartier is a favorite among the upper classes, celebrities, and those with discerning tastes.
One of the things that have really given Cartier a solid name is their insistence on using only the finest materials in their pieces. From the internal workings of their skeleton Santos de Cartier watch to the stones and metal in any of their engagement rings – you get the peace of mind that only the purest and highest-grade materials will feature in these pieces.
The inner workings of their timepieces are cutting-edge and feature the latest in watchmaking technology. Every element of the watch is deliberately designed and serves an important function. These pieces expertly combine form and function into some of the most stunning timepieces you can find.
The Skeleton Chandelier Santos de Cartier Watch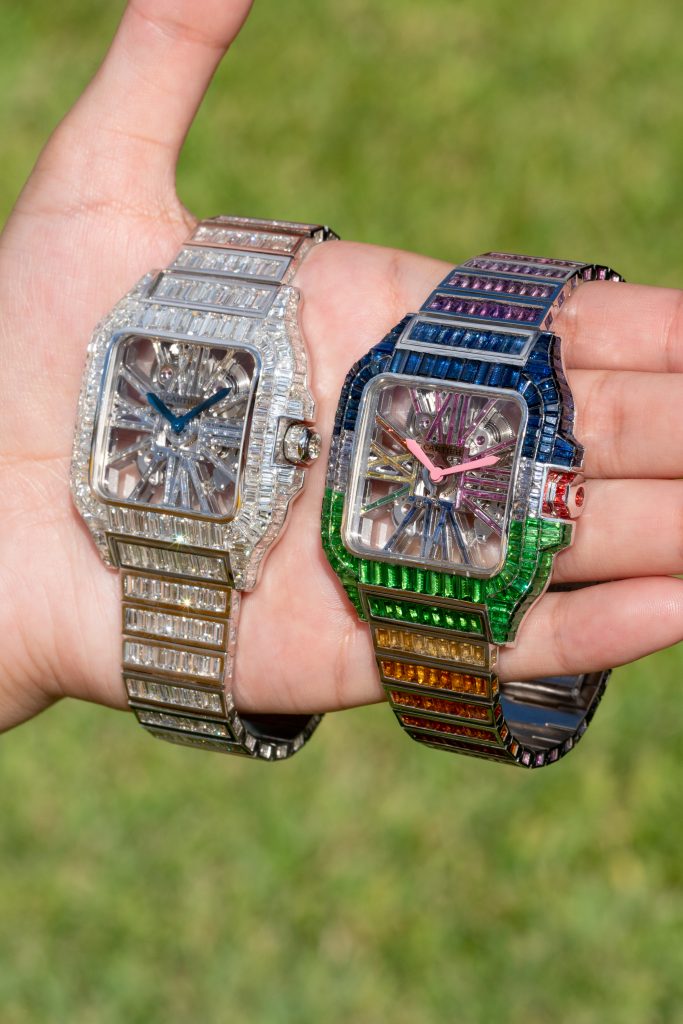 The Santos de Cartier line is one of the company's oldest and most popular lines. The focus of this line is to create high-end watches that combine form and function beautifully. They feature some of the most cutting-edge and advanced internal mechanisms and also feature elegant, eye-catching design. Comfort and aesthetics are the main emphases of this line of watches and the skeleton chandelier watch is no exception.
Since comfort is such a big focus, the bracelets of all Santos de Cartier watches are designed to be comfortable enough to wear all day. And with the skeleton chandelier model, you get something truly differnet and eye-catching. This watch allows you to see the internal workings of the watch. This gives it a bit of an industrial and urban feel. The chandelier part of the watch just means a ton of bling. Like a chandelier, these watches are meant to catch the light and give an amazing amount of sparkle and shine. Most models of this watch will feature as many as 80 high-grade diamonds.
There are gemstones on the dial, bezel, and bracelet of the watch. This is not your dad's watch, it is a stunning, elegant, and truly eye-catching piece of statement jewelry.
All-Diamonds or Multicolor Sapphires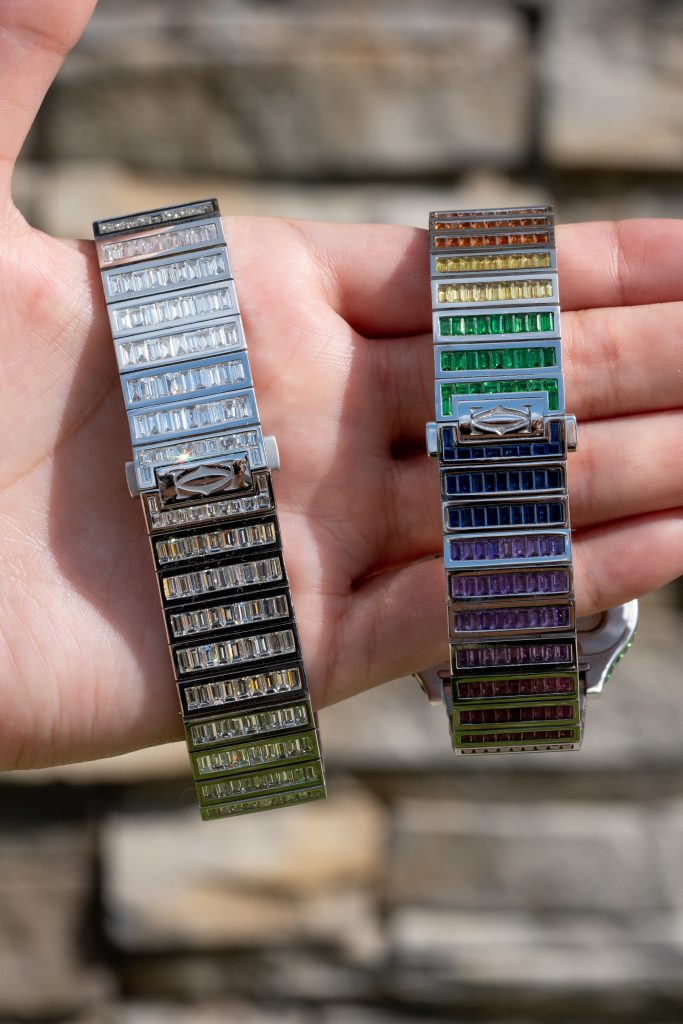 When you buy a skeleton chandelier Santos de Cartier watch, typically it will feature an all-diamond layout. The name says it all. This watch will feature many quality, high-grade diamonds. Smaller diamonds surround the bezel and cover the dial of the watch. Larger, often rectangular-cut diamonds run the entirety of the band of the watch. It really is hard to beat the clarity and sparkle of fine diamonds. But not all of us want clear diamonds. Some of us like a little color with our sparkle.
Lucky for us, there are aftermarket additions that you can add to your watch. For example, we recently obtained a piece from a famous soccer star that features a rainbow of colorful stones as opposed to diamonds. This version of the watch features high-end sapphires in a range of colors to give the watch that sparkle we want, but also some color as well. Since this is an aftermarket addition, it is a one-of-a-kind watch. You really can't beat having something that nobody else will have.
These aftermarket additions give us more options that allow us to personalize these watches to our exact tastes. If you like a lot of bling, the all-diamond version is likely the best choice for you. If you want something exclusive and with a lot of color, something like the multicolor sapphire version is also a great option.
Either Make Excellent Choices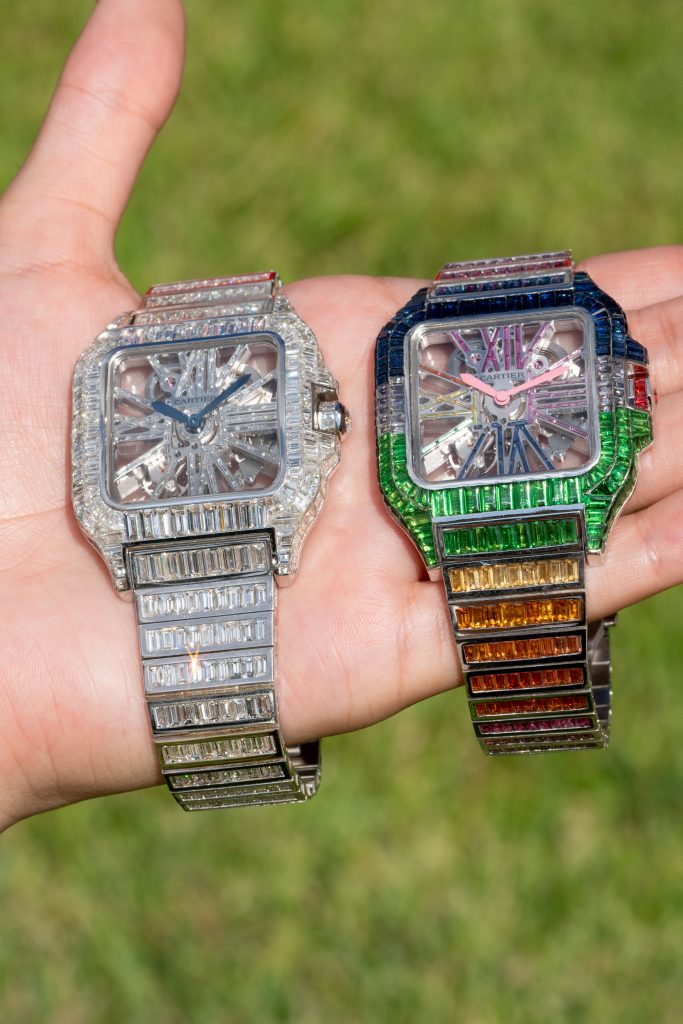 No matter what you choose, we are sure you will instantly fall in love with your skeleton chandelier Santos de Cartier watch. With its unique look and feel, as well as the versatility of the timepiece, it is a great investment and will add a ton of glamour to your wardrobe. Think of how easily you can pull off a look of effortless glamour with the simple addition of one of these watches. Something covered with high-grade diamonds or a rainbow of sapphires is going to draw the eye to the piece and give you a look of glamour that you cannot beat.
If you want a lot of sparkle and shine, the all-diamond version of the watch is a great choice. The cut and shape of the diamonds are meant to enhance light refraction and thus give it a higher level of sparkle and shine. If you want color and don't mind giving up some of that sparkle, something like a multicolor sapphire version is a good option. When deciding what works best for you, just think about what you want out of a luxury timepiece. Do you want shine or color more?
Urban, Eye-Catching Design
When many of us think about wristwatches, we often think about stodgy, boring watches as an accountant wears. But this is a mistake. There are a lot of differnet watch styles. Some of them are classic and traditional, others are sportier, and there are even some that have design features that allow them to withstand things like pressure and magnetic fields. And then there are watches that have eye-catching and bold designs. That is what you get with the skeleton chandelier, Santos de Cartier.
The ability to see the inner workings of the watch gives it an edgy, urban, and even industrial feel. This watch doesn't try to hide what's under the proverbial hood. Rather, it wants to highlight that. Combine this look with lots of high-grade diamonds or stunning sapphires and you get something that is perfect for the bold trendsetter. The sparkle of the watch will naturally draw the eye to the piece. This is not a watch for the modest. It is for those who have a big style and personality and want to show it off in a unique way.
In Closing
The watch is one of the most versatile and undervalued accessories out there. Wearing a high-end watch will give you an instant polish and elegance that your look might not otherwise have. They can give you that put-together look of professionalism, or simply bring an entire outfit together. But not all watches are modest and classic in their design. Some are bold and meant to be seen. They are meant to catch the eye of anyone who sees it.
This is exactly the case with the skeleton chandelier Santos de Cartier watch. This is a highly unique version of their popular Santos line of watches. This watch is bold and edgy. It allows you to see the internal workings of the watch and features many high-grade diamonds that give the piece a sparkle and shine that is stunning to behold. But you aren't just stuck with diamonds. Some people choose aftermarket additions to really customize their pieces.
We recently got just such a piece from a famous soccer player that features high-grade multicolor sapphires instead of diamonds. This gives the watch a colorful shine that is unlike any other skeleton chandelier watch by Cartier. This unique aftermarket addition really makes the timepiece one-of-a-kind and is a great choice for those who want some color with their shine.