The 10 carat GIA certified Marquise diamond ring is a Rare and one of kind. It is a large and beautifully bespoke custom rose gold engagement ring designed with precision. The center stone is 5 carats. It has a color and clarity of I-SI2. The center stone is stunning and has an amazing cut.
It (the center stone) consists 1.3 carats of matching color and clarity round brilliant diamonds. The ring also has two carats of white matching marquise diamonds. It holds up the center stone and gives this ring a unique and crafted look. This ring will be accompanied by a GIA Certificate and a Graduate Gemologist Appraisal. The ring is sized to a 6.5 but can be sized at no additional cost once purchased.
The Fine Details about the GIA certified Marquise diamond ring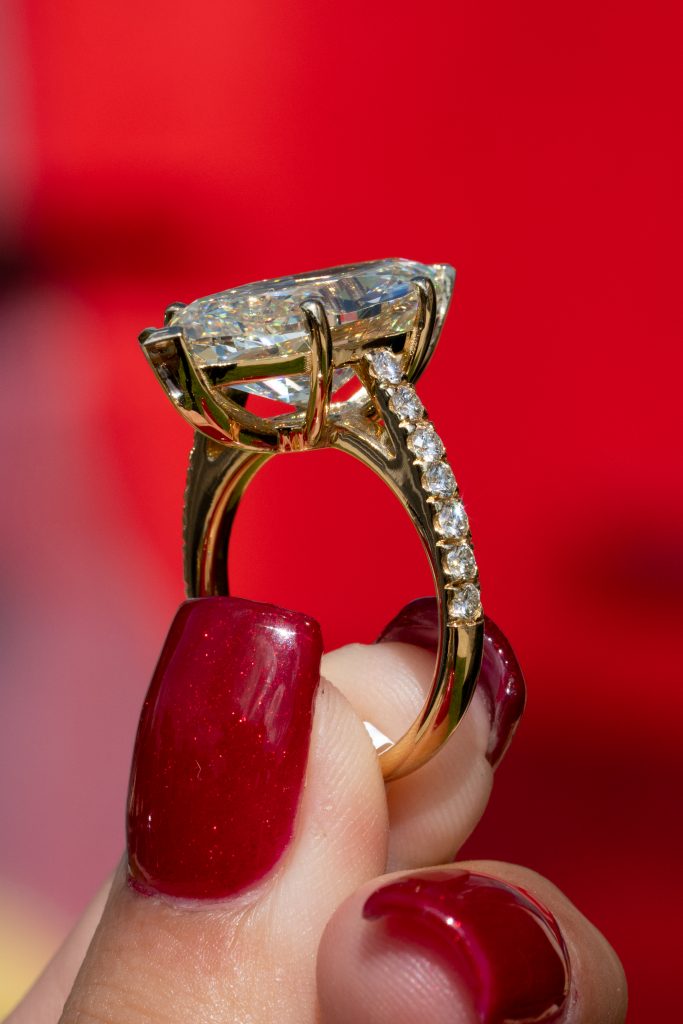 The GIA certified Marquise diamond rings features a curvaceous shape. This aggravates the feminine beauty if you know what I mean. Hence, it is very suitable for all the females. These elegant loose marquise diamonds are brilliant, complementing slender fingers with its elegance. It is ideal for the ladies searching for a unique ring. A natural marquise diamond resembles the shape of a football. It consists tapered upward, downward regions and flattened center. 
Due to its rectangular shape, the GIA certified Marquise diamond ring appears larger in size than most rings in its category. Marquise diamonds have some degree of bow-tie effect that varies from nearly invisible to extreme. We cannot fully understand the visibility of a bow-tie effect by reviewing the diamond certificate or dimensions. You can only understand it through visual inspection.
Furthermore, you must understand something importantwhen choosing the GIA certified Marquise diamond ring. You have to check some details by minute. Symmetry is very important in marquise cuts. The two endpoints should stay aligned with each other and the right and left sides should form a near mirror image and remain identical. Even a slight misalignment or mismatch in the points can result in an unpleasant appeal in the final setting.
Hence, it is for this reason that we recommend excellent symmetry. The most preferred setting for a marquise cut diamond is the prong setting. It may be a two prong or six prong setting which protects the finely cut marquise diamond. 
Although these points were once nearest the outer edge of the rough stone, we can find flaws here. Examples of flaws include naturals, extra facets, and other inclusions. Since prongs cover the points, these flaws will become invisible once the diamond is set.
The Allure of the GIA certified Marquise diamond ring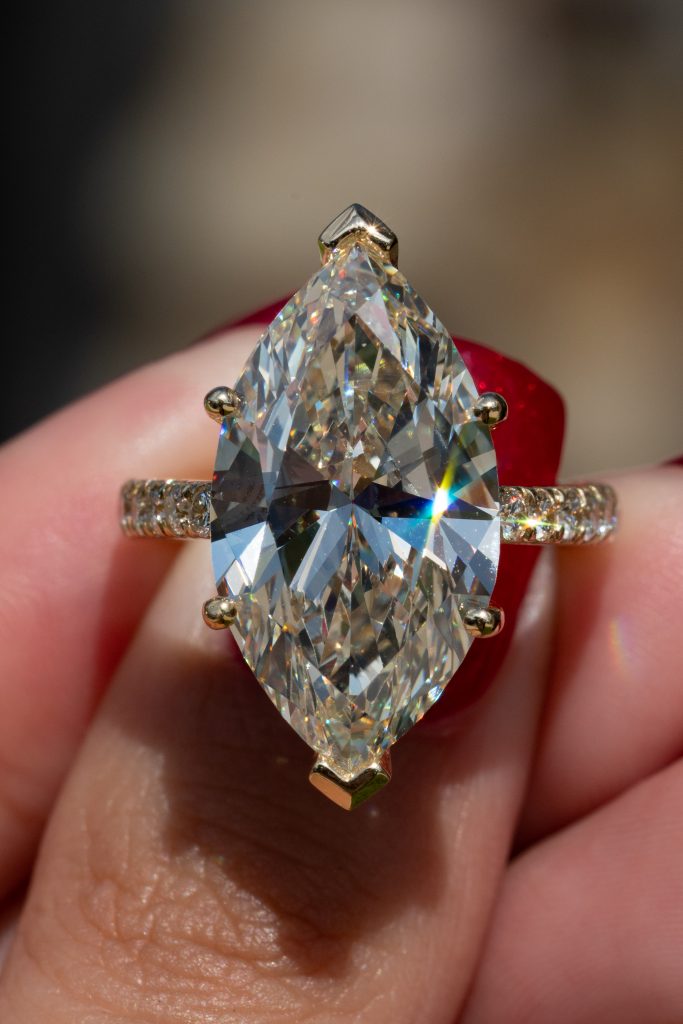 The GIA certified Marquise diamond ring is a distinctive choice for any couple to share. Its elegant length and sharp detail makes it a great option for couples. There is much more meaning and symbolism in the marquise shape than several couples realize. However, understanding those nuances can help couples make the right decision. 
What You Need To Know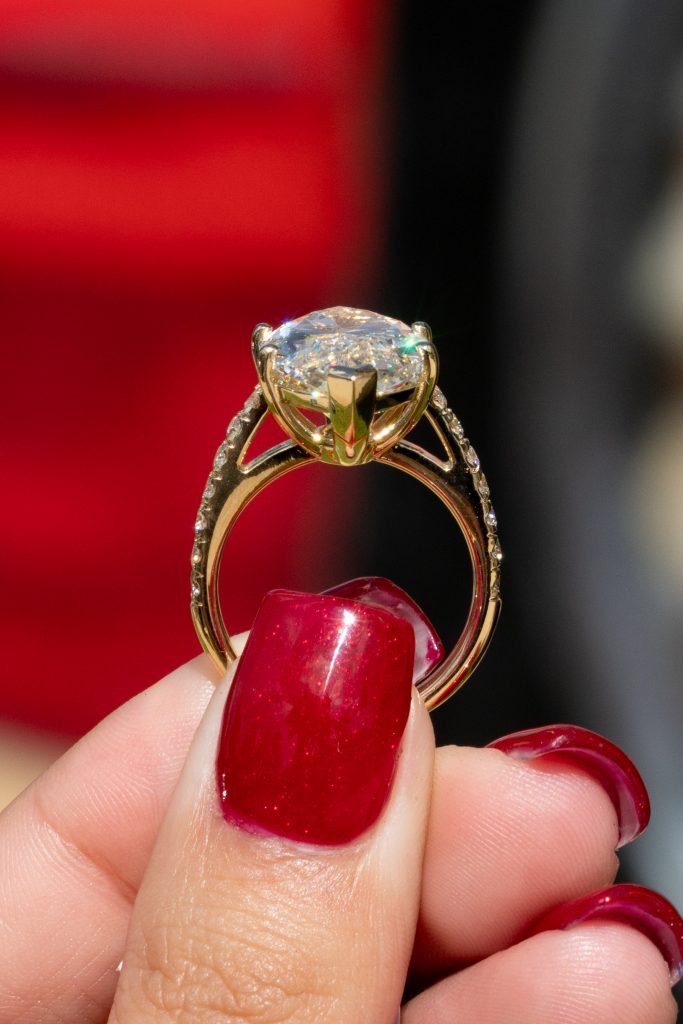 Like we mentioned earlier the GIA certified Marquise diamond ring is a rectangular, tapered oval with sharp tips. The ideal length to width ratio is between 1.5 to 1.75- 2.15. This shape either be very narrow or very thick and the overall dimensions are largely a matter of personal preference. 
Marquise diamonds are variations on the round brilliant cut. It has 58 total facets to maximize sparkle. Because of the longer shape the diamond's crown is typically larger than expected. Also, the size of the stone is larger, making it appear larger than its carat weight.
This diamond cut was first created in the mid-1700s at the request of King Louis XV of France. He desired a diamond shape that imitated the perfect lips of his mistress, the Marquise of Pompadour. That royal title gave the diamond shape its most popular name. But, this cut is also known as the navette or lemon cut.
Marquise Shape Meaning and Symbolism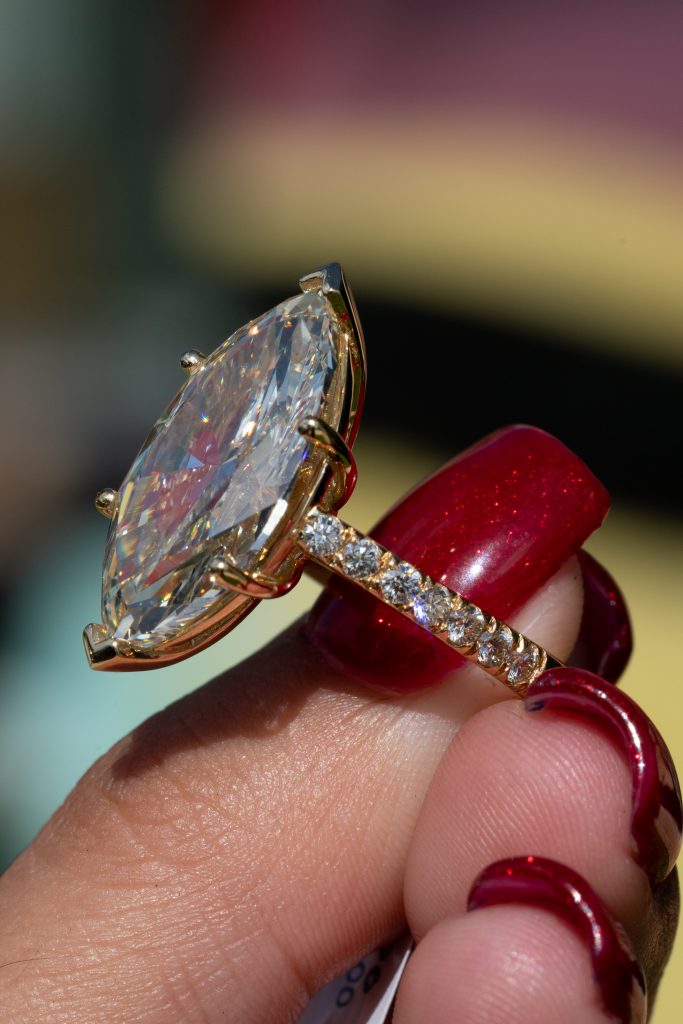 There are many different types of symbolism that we can associate with the GIA certified Marquise diamond ring. And couples can interpret the distinctive shape in any way they wish. This is mostly about highlighting their own relationship, preferences, and style.
Shape Symbolism
The distinctive shape of the GIA certified Marquise diamond ring can relate to lemons – ideal for a couple who may have special memories of picnics with fresh lemonade, or whose proposal may have connections to citrus regions, such as the Amalfi Coast of Italy or lemon orchards in California. The shape is also similar to a cat's eye; making it the perfect choice for a cat lover or it could represent a football, making it a great shape for any sports fan. Couples who prefer the boat-shaped symbolism might relate the stone to a romantic cruise, or other aquatic adventures they've shared.
Royal Symbolism
Do you know that the marquise shape emerge in reference to a marquise's lips? The cut itself represents royalty and Old World aristocracy, for a marquis is the level of nobility between a count and a duke. This shape is also part of different crown jewels and adds a hint of royal connection to any engagement ring.
Geographic Symbolism
The marquise diamond came into existence in Paris, France. Couples who share a connection to the City of Light might choose a GIA certified Marquise diamond ring. This is for that hidden meaning, or it could also represent a plan to honeymoon in Paris, one of the most romantic travel destinations in the world.
Personality Symbolism
We can associate Marquise shapes with a creative or theatrical personality. We can also associate it with anyone who enjoys a touch of drama tinged with glamour. The sharp points of the stone also convey a sense of edginess, a great option for a bride-to-be with a strong personality and a sharp sense of her own style.
Historical Symbolism
The marquise or navette cut is prominent in different jewelry fashion eras, and can bring couples a sense of that vintage flair. Popular in floral Victorian engagement rings, the marquise shape is also present in some Art Deco patterns. Mid-century modern styles also occasionally use the marquise shape. Also, a resurgence of the cut's popularity in the 1980s allowed it to be popular in many vintage and estate rings.
Celebrity Symbolism
Couples can enjoy a touch of Hollywood flair with a marquise cut ring when they see it as part of the style of their favorite celebrities. The GIA certified Marquise diamond ring has graced many famous fingers, including Catherine Zeta-Jones, Jennifer Lopez, Ashlee Simpson, Eliza Limehouse, and Portia de Rossi.
Choosing a GIA certified Marquise diamond ring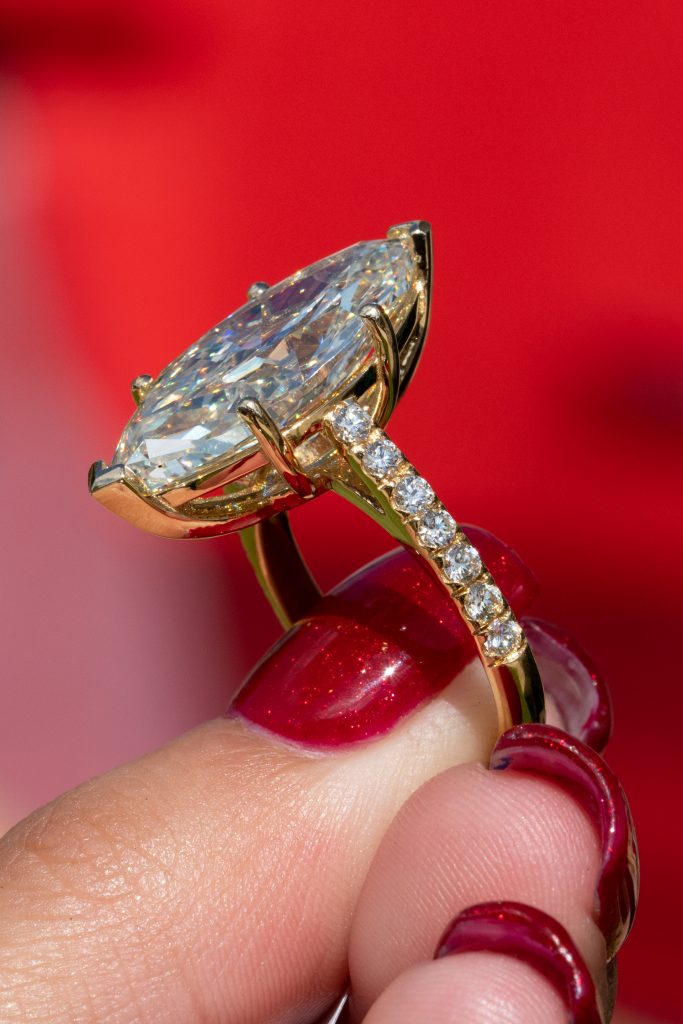 It is no surprise that the marquise diamond is a popular choice for engagement rings. It is particularly stunning as a solitaire to lend a sense of length to the finger. However, it comes paired with side stones and accents. These include baguettes or round stones in graceful arcs that highlight the marquise's length. Prong settings are the most popular for marquise shaped stones. It may be set either north/south parallel to the finger, or east/west perpendicular to the finger. Other settings that beautifully complement the marquise shape are bezel, pave, and halo designs.
Couples have many options to choose from when interested in a GIA certified Marquise diamond ring. Regardless of their personal symbolism, this stone shape is sure to have deep and heartfelt meaning as part of a stunning engagement ring.
A GIA certified Marquise diamond ring for Everyone
No matter which era is your favorite, these time-honored rings have a rich history and individualized character and will continue to have a timeless beauty and elegant appeal that is part of a legacy to pass on to future generations.
Find the Perfect Marquise Engagement Ring
We determine the price of antique diamond rings not only for their beauty. Other important factors include exquisite attention to detailing and design. If you're looking for a ring with a sense of glamour, sophistication and vintage charm, explore our collection of marquise diamond rings today!
What makes the GIA certified Marquise diamond ring so Special?
If you like the shapes of the oval cut diamond but want something with a bit more flare then the GIA certified Marquise diamond ring is the one for you. The marquise cut diamond is truly a historic and classic diamond shape that is sure to capture hearts right from the beginning.
If you want a diamond that will make your fingers look the most slender then the marquise cut diamond will be your best friend. Of all the diamonds they will make your hand look the most rectangular and graceful.
As mentioned earlier the marquise cut diamonds are sometimes called a "navette?" and this means "little boat" in French. It was given this whimsical name because of its sweet boat-like shape. If your beloved likes the ocean, or to sail, well then you know what diamond to choose for her.
Pros and Cons of the GIA certified Marquise diamond ring
Do be aware of the bow-tie effect on marquise cut diamonds. This diamond will have some degree of a darkened bow-tie but with the help of a diamond expert and visually examining the diamond yourself you should be able to mitigate this problem.
Since this diamond has such a boat-like rectangular shape, clarity and color are certainly more discernible than say a traditional round cut diamond. It will take a little more time and diamond expert advice to find the perfect marquise cut diamond. It's all worth it though!
On the other hand, there is so much to adore about this type of diamond. The fact that it has such a rectangular shape actually helps the diamond to give off the illusion that it actually looks larger than it is. Plus, they are not the most popular diamond so if you want something a bit more elusive and special then this is the cut for you!
Pros:
It looks Bigger than many other cuts
A unique choice for an engagement ring
Make your fingers look slender
More affordable than other cuts
Sparkle comparable to rounds
Cons:
Not many setting options
Can have dark bow-tie areas
Not as great of sparkle
Are they Expensive?
You will be happy to know that the GIA certified Marquise diamond rings are actually less expensive than other diamonds because there is less rough diamond waste when they are being cut. They will cost less per carat than their round counterparts.
What is the estimated Price?
For a nice well-cut, marquise 1 carat diamond, the average cost will be about $3,700. Of course, the price goes up if you want a larger caret or heightened clarity and color.
What is the best Setting for a GIA certified Marquise diamond ring?
These types of diamonds have such a dramatic look, they usually look best when used in a solitaire or halo type setting.
Remember also that both tips of the marquise diamond should be completely aligned because if there not once they have been encased in the prongs you will be able to really notice it. Ensure to go with V-tip prongs as this diamond has two unprotected corners and needs to be protected.
A great tip for settings with this diamond is if you set this diamond with a pear-shaped or round diamond it will actually make the diamond look larger.
Just like all fancy shaped diamonds, clarity and cut are the most important factors to think of when picking out the right stone. Also, don't choose a diamond that has a shallow cut as this will enable the diamond's ability to fire and give off sparkle.
Another valid consideration is that the GIA certified Marquise diamond ring will show color more. It would be good to always choose one color grade up with this type of diamond to ensure a nice bright white diamond with no slightly yellow tinge.
The stunning marquise stone certainly is considered a classic shape for engagement rings and is truly breathtaking. It will be sure to make any bride grin ear to ear with complete happiness!