One Carat Diamond Ring Eye Candy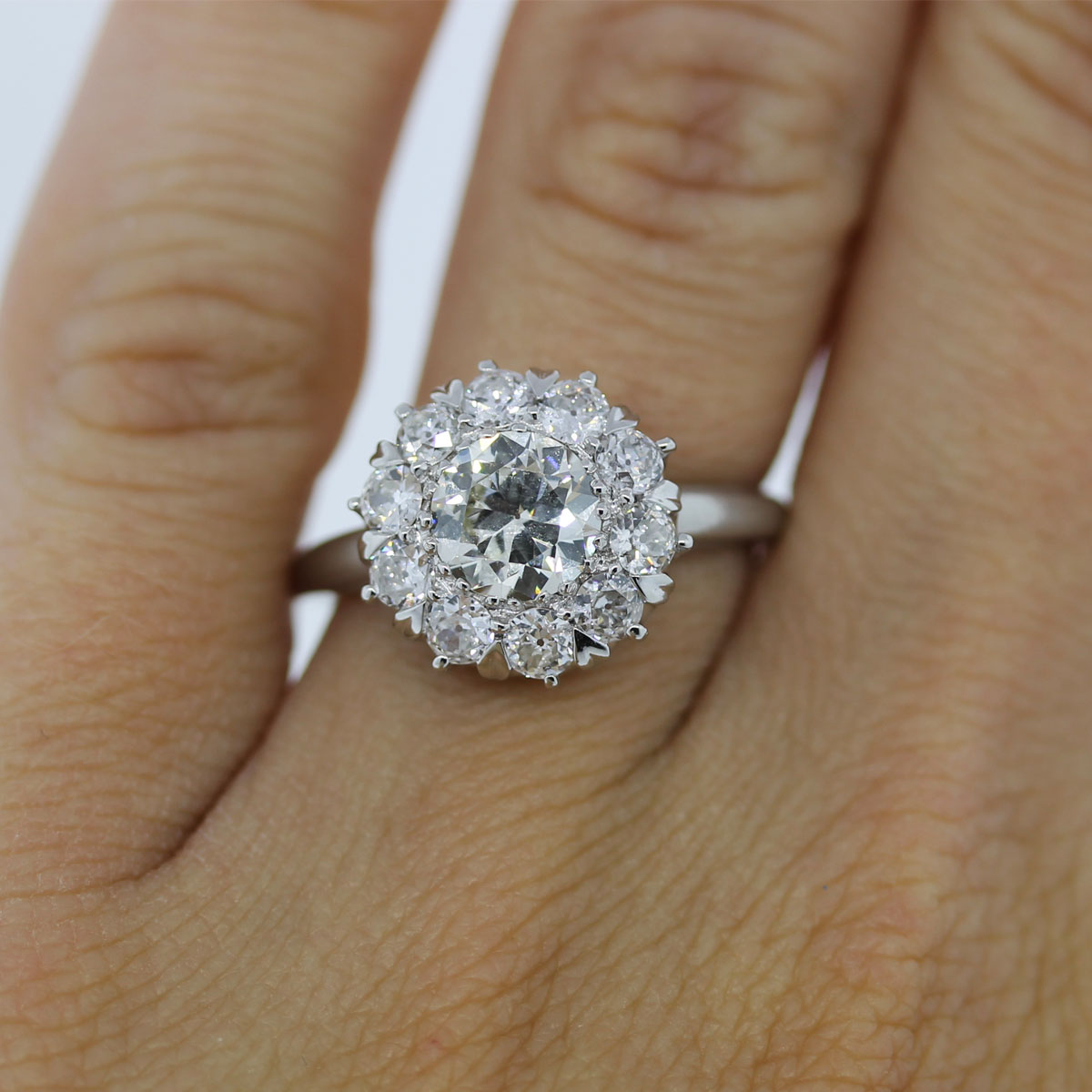 When you think of a one carat diamond ring, what comes to mind? For many, a classic solitaire in a platinum setting pops into your head first. But your options actually span centuries of different engagement ring design styles.
Related: Solitaire vs Halo Engagement Rings
Many grooms begin their engagement ring search with the hunt for a one carat diamond ring. Maybe the price tag on this initial research option pleasantly surprises them, and they decide to add some carat weight to the perfect ring. Maybe this popular carat weight is just right, Goldilocks style. Maybe we get creative with the way the ring reaches a one carat diamond rate, using halo settings and accent diamonds to our advantage.
Related: To Halo? Or Not to Halo?
But one thing's certain: this carat weight remains the most popular inquiry for Raymond Lee Jewelers and Diamonds by Raymond Lee. You'll even notice most of our designer engagement ring settings hold one carat CZ'S to give shoppers an idea of what the finished ring would look like.
Related: How Much Does a One Carat Diamond Cost?
So, given that the one carat diamond is the most popular weight (not size!) requested by our clientele, we need to show off some one carat diamond eye candy! We kept it between .98 – 1.02 carats (learn more about why this shouldn't matter.) Some of these are the designer settings mentioned above, set with CZ's for display. But we mixed in some "live" one carat diamond ring styles too! 
Let's start with the "live diamonds", shall we?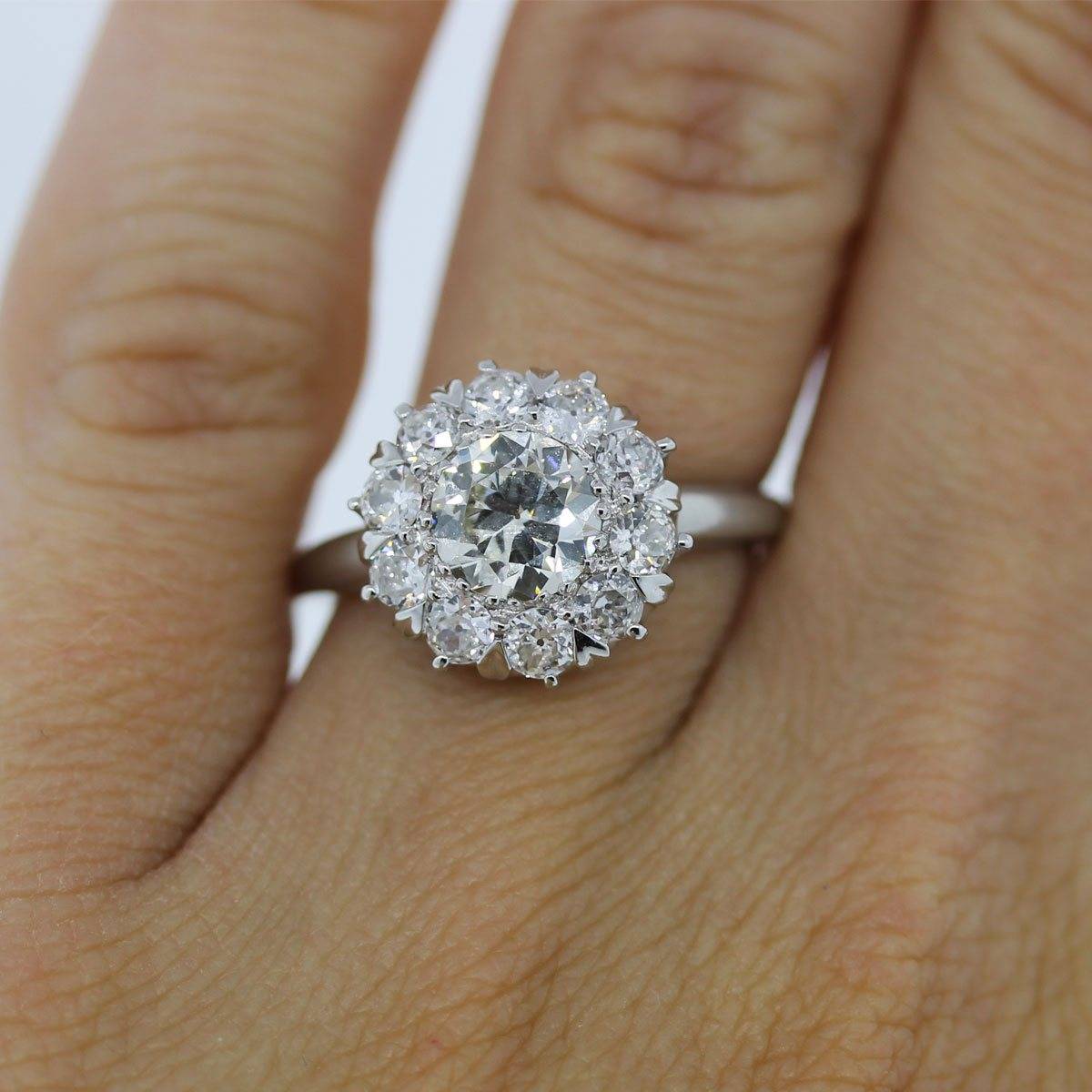 Ready to step outside of the solitaire genre? Us too! This Old European cut one carat diamond shows off in a vintage style cluster halo. The main diamond is 1.01 carats, K color and VS1 clarity, while the accent diamonds add .81ctw of extra carat weight. Now, let's head back to the future.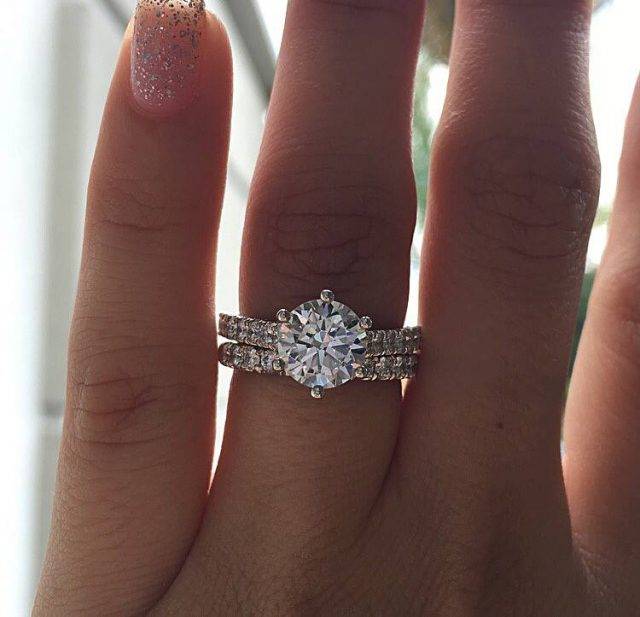 This Blooming Beauties setting by Tacori shows the magnifying effects of a halo. Tacori settings come with CZ's that range from .75-3 carats (for the RoyalT collection) This resembles a one carat diamond pretty closely, giving you a great idea of what the finished masterpiece looks like.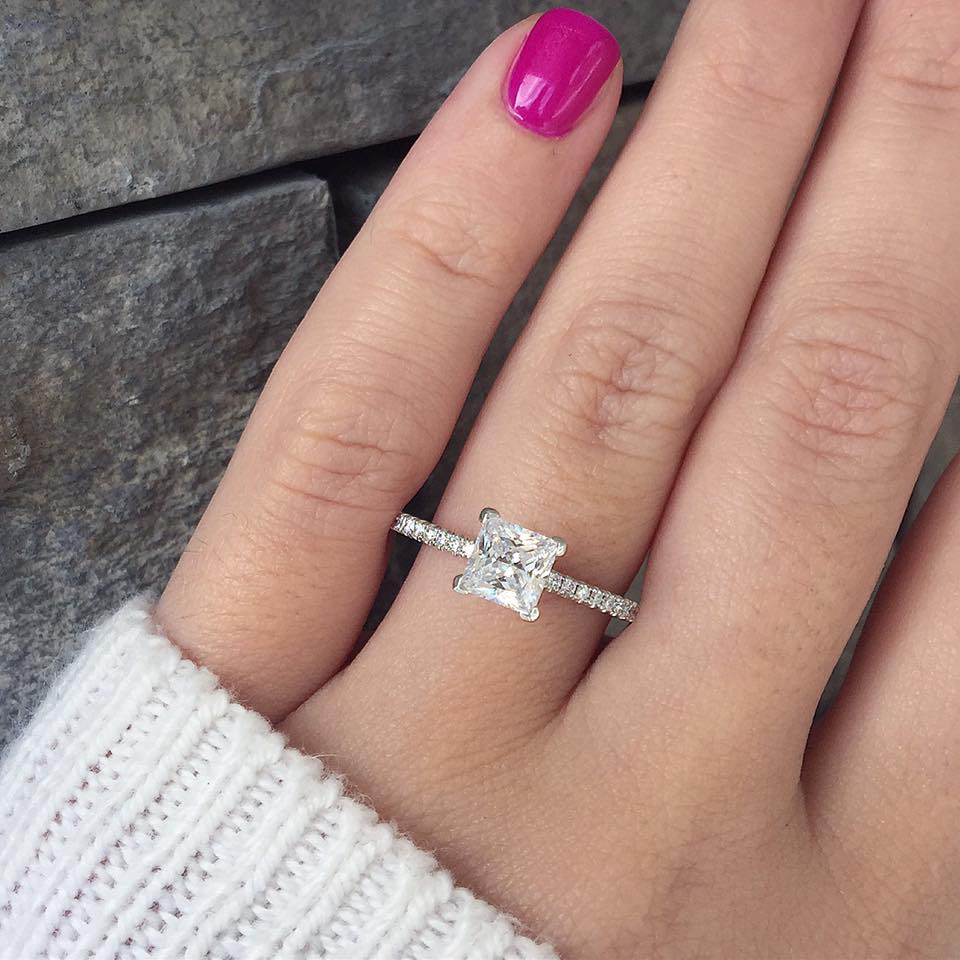 This stunning Tacori Petite Crescent solitaire shows off a beautiful princess cut one carat diamond lookalike. The diamonds "live" (real diamonds) on the band add .23ctw to the final weight.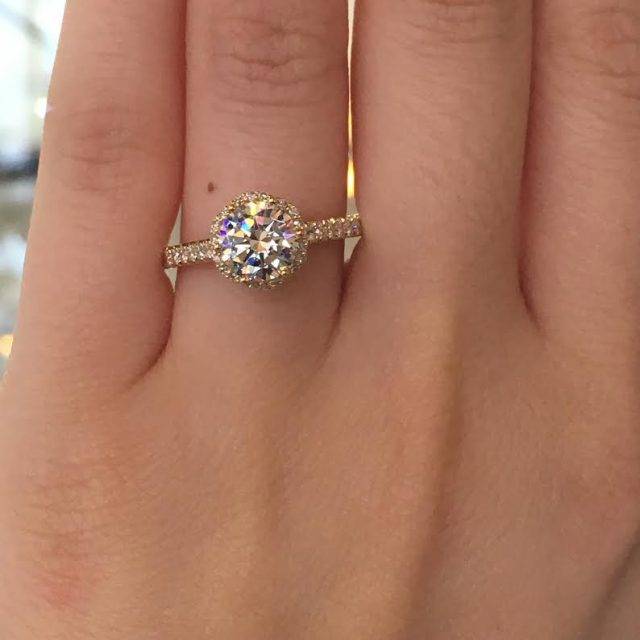 This floral Tacori Gold halo shows off a smaller pop of diamonds to the center stone, but the halo still enhances that center rock!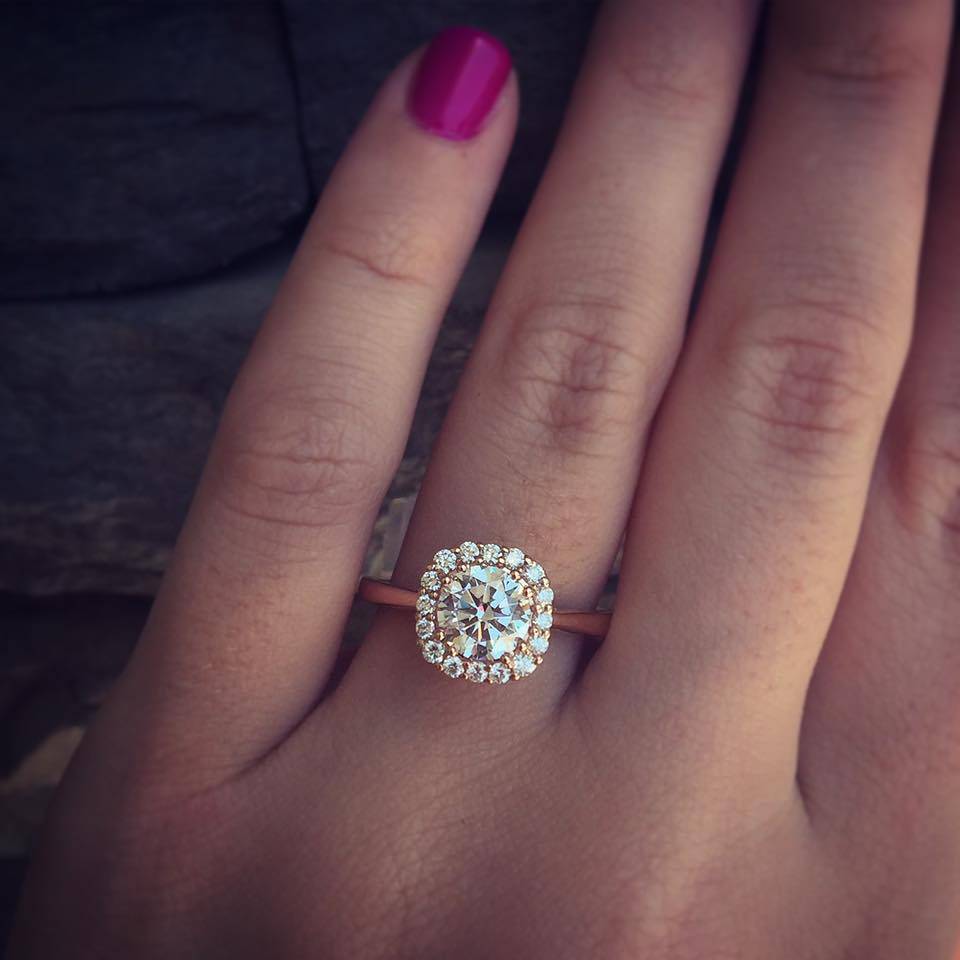 Moving on to everyone's favorite part of engagement ring eye candy – the rose gold segment! This Tacori Pretty in Pink halo uses .31ctw of round brilliant diamonds to make the one carat center CZ look huge.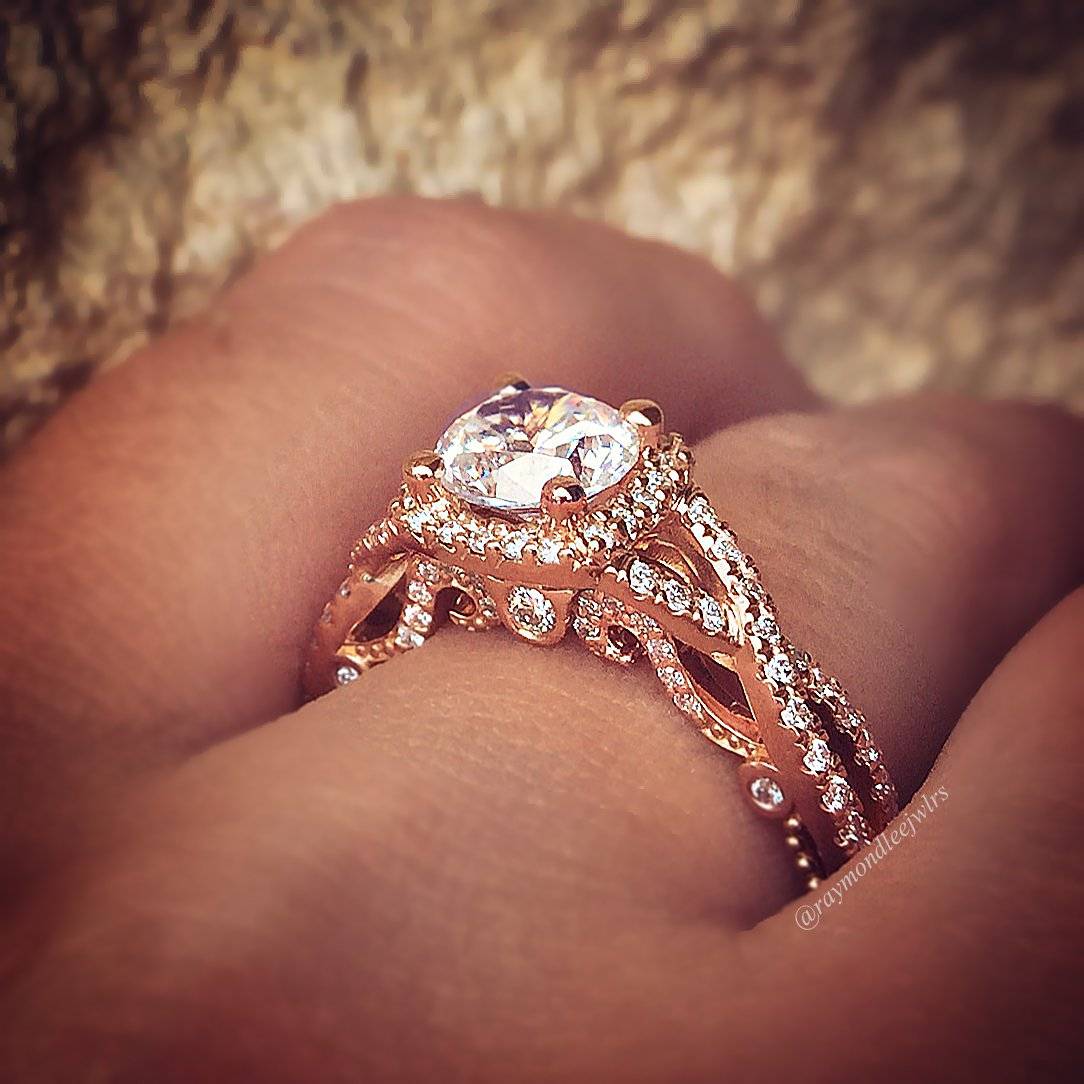 This Verragio setting takes the rose gold cake as our most popular pink gold style. This Insignia beauty features Verragio's trademark lace shank and the hottest engagement ring trend, the soft square halo.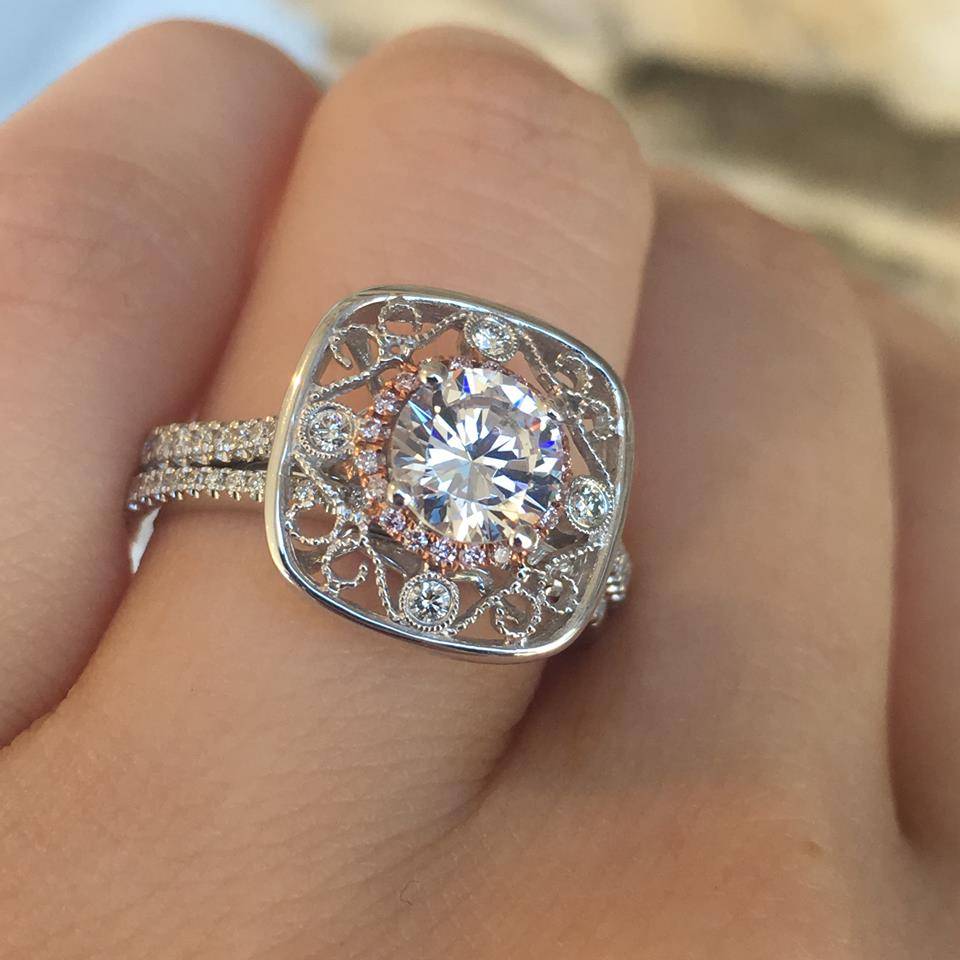 Finally, this two-tone Simon G floral engagement ring uses tons of openwork metal to create major impact. The negative space between the scrollwork and diamonds still offers plenty of breathing room, but adds impressive visual weight.
The variety of one carat diamond ring styles runs the spectrum of engagement ring fashion from antique to thoroughly modern. Luckily for the many (many!) diamond lovers looking for this particular carat weight, the perfect setting is just waiting for you.
Let us know your favorite style in the comments!