How to customize your Luxury Rolex Datejust Watch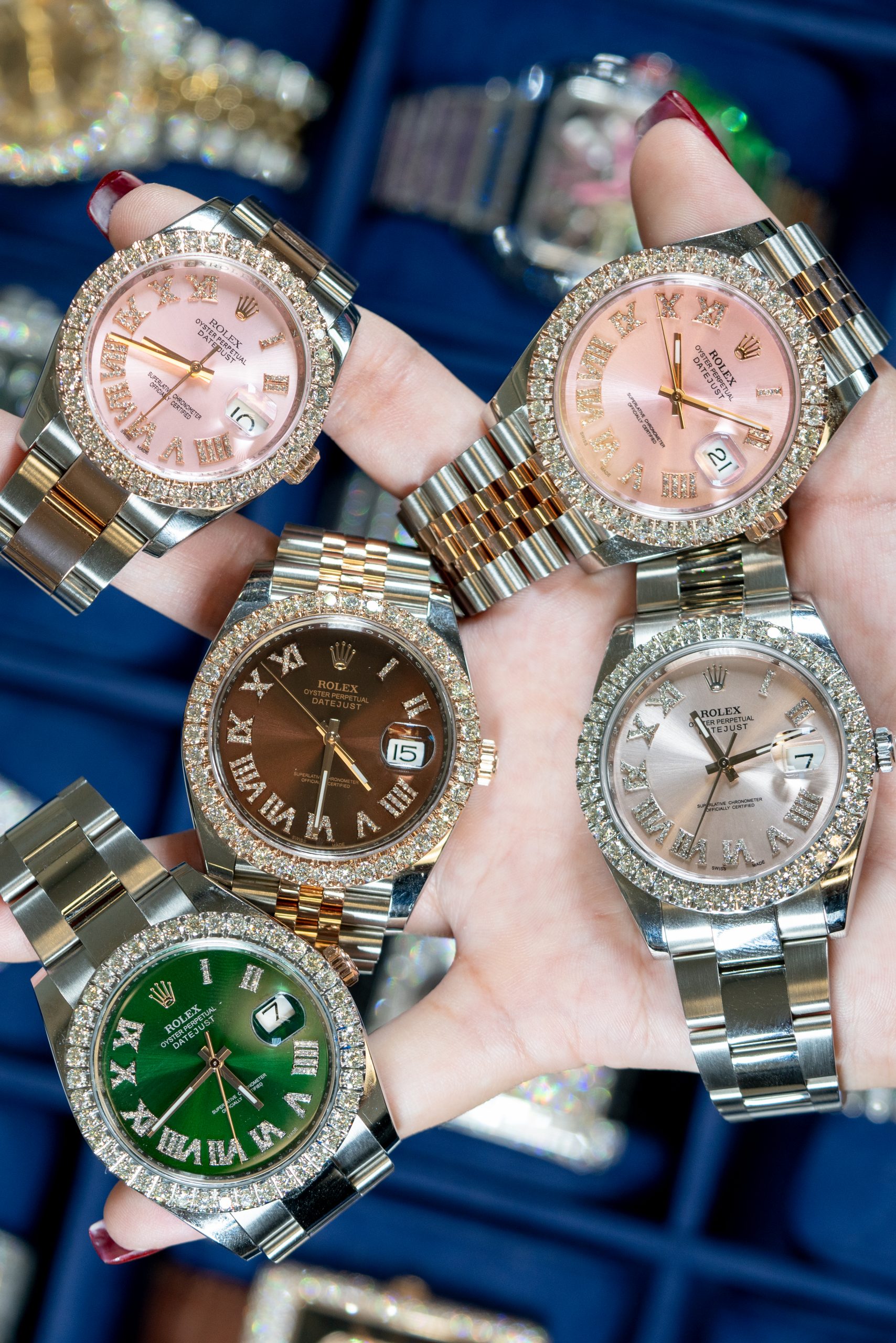 The Datejust has been the archetypal Rolex watch for 75 years. It is Rolex's most varied watch collection with a slew of styles and sizes for men and women. Yet, regardless of the material and design variations. It is always recognizable thanks to its iconic look. Here's everything you need to know about the Luxury Rolex Datejust Watch.
Ways to customize your Luxury Rolex Datejust Watch to suit your style
While some people are content with a Luxury Rolex Datejust Watch in its original form. Some others love customizing Rolex watches according to their tastes and preferences. There are a lot of buyers who buy pre-owned Rolex watches. Because they are from the second-hand luxury watch market with plans to customize. There are a multitude of ways to customize a Rolex watch, and today we'll be exploring a few of them.
Over a century ago, Hans Wilsdorf found a company to distribute specialized Rolex Watches. There is an interesting story behind Rolex's birth, as Hans said, "a genie whispered Rolex into my ear."
When such "magic" is involved in even the name of a company, you know the product will be nothing sort of special. Rolex began with the concept of one-of-a-kind timepieces. But Wildorf's innovative mind to invent wristwatches for the public put the company's name on the map. A Luxury Rolex Datejust Watch is not only reliable but elegant too. Meanwhile, Rolex has been famous for this since the beginning of its time.
Whenever luxury watches are considered, Rolex already reigns supreme. And several people love its minimalist and pristine look. But, people are now looking forward to adding their personal touch to these epic beauties. It could be anything, including changing the material of the strap and adding a little sparkle. Also, it could be sprinkling with a bit of diamond love or asking for an attention-grabbing dial.
At Raymond Lee Jewelers, we pride ourselves in customizing Luxury Rolex Datejust watches. Watches that are not only worthy in a classic sense but offer a uniqueness unparalleled by any other. But, the real question here is which one is right for your style?
Unless you are lucky enough to have a collection from which you can choose the watch you wear each day. You are most likely wearing the same watch every day. A Luxury Rolex Datejust Watch stays with us for life. Hence, it is vital that it reflects your personality and feels comfortable on your wrist.
If you would like to make your Rolex more unique to your tastes. Here are 5 different ways to customize your Rolex Datejust to suit your style.
Go with an Iced-out Rolex or Customize a Rolex with Diamonds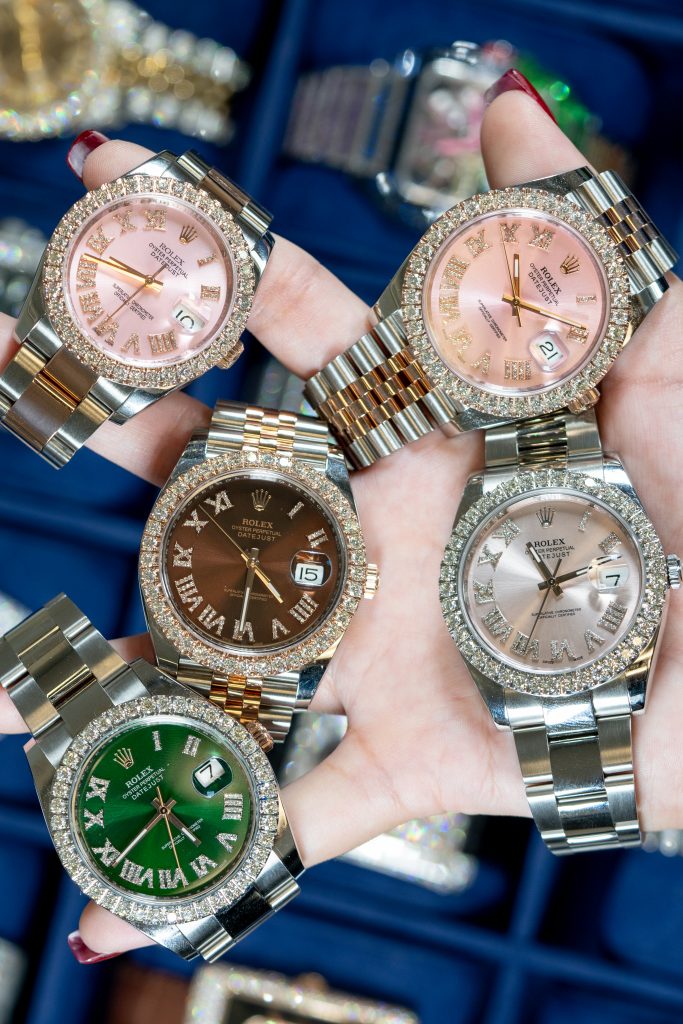 One of the most popular ways to customize your Luxury Rolex Datejust Watch is to set it with gems. You can add some extra sparkle to your Rolex watch in a variety of ways. You can go subtle with some diamond bezels or diamond hour markers on the dial. 
Because you're a man doesn't mean you can't sport a few gems. Likewise, because you're a woman doesn't mean the diamonds can't be bold in color. A row of stones embedded on a classic Rolex watch is like a signature bonnet decoration on a vintage car. Of course, Rolex is justified without this chic addition, but with it, the sky's the limit.
If you love an iced-out Rolex, then you can almost cover your watch with a diamond pavé from the dial and bezel. You can cover them with a case and bracelet. Be sure to visit a reputable jeweler. Jewelers with experience in customizing high-end watches with gems.
Etch-A- Rolex Datejust
If you're wearing a Luxury Rolex Datejust Watch, you might feel somewhat special. But, let's say you want to increase this euphoria by adding a little touch of your own. Getting something unique to you engraved on the case back is the best bet. But Rolex rarely offers engraving service unless you hold an influential position.
What's in a name? This Shakespearean dialogue must have been enough for the likes of Romeo and Juliet. But, it is not true in the modern era. People love seeing their name printed, whether it's on a type of clothing, or, wait for it – on a Rolex watch.
For those few who'd rather skip seeing their name eternalized, do not be afraid my friend. There are options galore to choose from, including simple carvings. Which displays your sense of style and ornate patterns snaking down to the bracelet?
Some people are more than happy to use the case back of their Rolex as a canvas to paint something precious. Of course, one of the most famous inscriptions for people is their name. But, whether it's your birthday, anniversary date, or a sweet note to your loved one, we've got you covered.
Customize Your Rolex Datejust by Showing off Your Clock Face
Original Rolex dials come in many colors. Colors like blue, green, black, white, champagne, and silver. So, because it's a Luxury Rolex Datejust Watch doesn't mean you can't add your sense of style to it. Or because it's a Rolex, and it doesn't deserve your individual touch. You can customize your dial with an inscribed message, a striking color, or an embossed image.
Many times, dials are also made from semi-precious stones like onyx or opal. Try to keep it in mind before you head out to transform your silver dial into a bright pink one. Rolex does not acknowledge any changes to its products. So you'll have to find an alternate mode of service in the future.
Customizing Rolex Datejust Watches gets better if you change out the bracelet
One of the easiest ways to get your Luxury Rolex Datejust Watch customized is to switch out its bracelet. For example, switching between a metal bracelet and a leather strap is a wonderful method. If you wish to immediately change the look of your Rolex. It is inexpensive and temporary, and you may return to your original bracelet if you like.
There are several strap and bracelet types to select from, and the options are limitless. Even if you love a metal band; switching from a Jubilee to an Oyster bracelet may change the look of the Rolex watch. And this would transform it from sporty to classy.
Aside from leather and metal. Other materials for watch straps include NATO-style straps and rubber straps. These are particularly popular with Rolex dive watches like the Sea-Dweller. Let's not forget James Bond wore his Rolex Sub on a NATO-style fabric strap. And you are not going to argue with 007's sense of style, are you?
Changing out the straps or bracelets is a common occurrence among Rolex owners. So much so that there are companies out there that specialize in making high-end watch straps. What's more, there are plenty of original Rolex bracelets in the second-hand market. If that's your thing, you can buy that too. But, try to ensure that the strap or bracelet you want fits the case of your Rolex watch.
Something to note is that Rolex began phasing out lug holes in the mid-1990s. This is important as it is easier to change out bracelets & straps on a Luxury Rolex Datejust Watch. This is because they have lug holes on the case. It is a bit more challenging to remove a bracelet from a case without lug holes. But when you give it to experts, they do this with some patience.
Customize Your Rolex Datejust Watch by PVD or DLC Coating
In PVD coating, a wafer-thin layer of metal compounds is added to the steel surface of a watch. It was used in the military to decrease friction on metal parts. But it is now used for aesthetic purposes on luxury watches. In the past decade or so, people's interests have boomed in blacked-out watches. And the only way to get your hands on a Luxury Rolex Datejust Watch is to go with a custom one.
Origin of the Rolex Datejust
Rolex launched the Oyster Perpetual Datejust in 1945. They unveiled this watch to celebrate the brand's 40th anniversary. The Datejust brought together two Rolex innovations from the prior two decades. The Oyster case and the Perpetual movement—and combined it with a date sign.
The Datejust made history as the first automatic chronometer wristwatch. The watch was the first to display the date via a window on the dial. The watch featured a 36mm case in yellow gold and it was topped with a fluted bezel. This was also the Rolex watch model that debuted the now-famous Jubilee bracelet.
Within a decade of its introduction, Rolex enhanced the Luxury Rolex Datejust Watch. The watch improved in a few important ways.
By 1955, the date mechanism was updated to switch to the next day at midnight. Also in the mid-1950s, the name DATEJUST became a permanent fixture on the dials. Finally, near the end of the decade, the Datejust silhouette moved away from the "bubble back" case back. And they moved towards a flatter shape due to a redesigned movement with a flatter rotor. These features are still an integral part of Rolex Datejust watches today.
To go with the men's Datejust watch, Rolex added the Lady-Datejust to the collection in 1957. The Oyster Perpetual Lady-Datejust included key features of the original Datejust. But the features came with a smaller 26mm case.
Over the next decades, Rolex continued to improve the movements powering the watches. And this led to new Datejust reference families.
A particularly significant development was the addition of the quickset feature. And this allowed the date to be adjusted without having to turn the hands around the dial.
The Must-Have Rolex Watch
As you can see, the Luxury Rolex Datejust Watch is an immense collection that spans 75 years. This translates to plenty of pre-owned Datejust models for men and women. These watches are available in the secondary market, and they differ in price.
From simple steel models to opulent precious metal gem-set editions. There is a Datejust watch to suit any luxury watch fan out there. With an appealing combination of vast variety and enduring style. It's very easy to understand why so many people have chosen the Datejust as their everyday Rolex watch.
Get a Customized Rolex Datejust Watch at Diamonds by Raymond Lee
Watches are worn for several reasons, and style is a personal sense of self and can be tweaked. The combination of the right watch to suit your style is the million-dollar question. Whether it is the Luxury Rolex Datejust Watch or GMT Master, the choice is still yours. The correct answer here lies more in the psychological realm. Practical speaking, the truth is that your style is what you want to make of it.
The Luxury Rolex Datejust Watch can be a magnificent addition to any collection. And its custom-made watches are the icing on the cake. To begin with, Rolex brings a valuable range of details to life. But now, there are countless options, which can make these classics yours in every aspect. And here at Diamonds by Raymond Lee, you can turn this classic choice of yours into reality.