Watch of the Week: Rolex Daytona Zenith
After checking out that Zenith up for auction earlier, we hunted through our showcase for a Zenith of our own – but got sidetracked by this Midas-touched Rolex Daytona Zenith.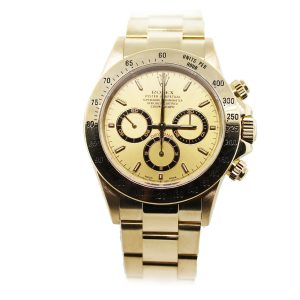 The Daytona in any of its incarnations is a beautiful watch (and especially in its newest edition, the 2013 platinum Daytona). But this 18kt yellow gold is our personal favorite for today.
The watch's beautiful yellow dial is accented by white sticks and black enamel subdials. The pristine yellow gold case features the Daytona's trademark tachymetric bezel allows accurate measurement of speeds up to 400 mph (or kilometers, if that's your preferred unit of measurement). The central sweep seconds hand allows an accurate reading of 1/8 second.
The Daytona's screw down crown ensures water resistance for day-to-day wear (though if you're planning on submerging or yachting, exploring Rolex's world of diving watches is your better bet).
The classy Oyster bracelet rounds out this all over luxurious Daytona. This look is elegant, refined, and works just as well on the race track as it does over dinner at your favorite Palm Beach restaurant.